Silva: New signings predicated on player sales
Friday, 11 January, 2019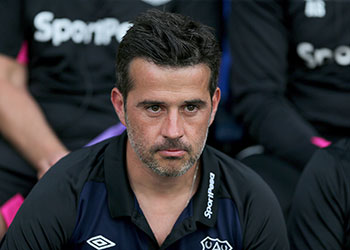 Marco Silva has repeated his stance over the prospect of incoming signings to Goodison Park this month, saying that there would have to be movement out of the squad before buying new players would be considered.
The Portuguese has been asked about potential January signings on more than one occasion in recent weeks and his answer has always been in line with the rhetoric from Director of Football, Marcel Brands, who has played down talk of significantly bolstering the team this month.
"Let's see what we will do," Silva said in his pre-match press conference today. "Like I say every time we are here talking about the [transfer] situation, we did a lot of good things last summer and clearly improved the squad and it's something that is always in our mind.
"For us to do something in this market, it would have to improve the squad and it's not easy in January, because we spent money last summer and it's not always possible to always spend big, big money. So for us to do something [this month] it would mean another player leaving the club.
"At this moment, it's not something that's in our mind."
With the team in general struggling to consistently score goals, the need for new striking options is a particular preoccupation among Everton fans.
Asked about the speculation linking Michy Batshuayi with a move to Everton, Silva gave his customary answer when discussing members of other clubs' squads.
"I don't like to talk about players from other teams," the manager responded. "What is important for me is our players and what we can do with our players.
"We are aware of what's happening in the market but it's not a priority for us."
Talking more generally when asked for his thoughts on what Farhad Moshiri said at the Annual General Meeting earlier this week, Silva reiterated his faith in the scale of the ambition at the club.
Moshiri's assertion that a look at the current Premier League table shows the Blues in a position that is "just not good enough" has been picked up by the media but Silva agrees that the club are aiming much higher.
"No, [there is no extra pressure]. When you take out the headlines you want, and take these words out of context, you can read them in your own way.
"We are talking with our owner and our Chairman every week. We don't need a General Meeting to contact each other. I know their opinion and they know my opinion.
"I said at that meeting of our goal for the second [half of the season] — it's clear that we need to do better than we did in the first half. I want more and our players want more.
"[What was said at the AGM] reflects our goals as a club, what we want to build and achieve in the future.
"We have a project as a club to build a team that is stronger step by step and ready to challenge for these types of ambitions while also working behind the scenes to build new facilities like the new stadium.
"I think it's also important to look at things in a realistic way because the other clubs have big [resources] also and they never stop."
---
Reader Comments (55)
Note: the following content is not moderated or vetted by the site owners at the time of submission. Comments are the responsibility of the poster. Disclaimer
Jerome Shields
1
Posted 11/01/2019 at 00:01:48
Though Everton did do some good signings and the style of football is better, the coaching has not been good enough. That is why Everton are in 11th position in the League, clearly exposed over the last run of matches, with a nervy fixture coming up.
Marco must be relieved to exchange words in idle transfer talk and not about his own performance. Everyone knows that players will have to be sold to fund any incoming purchases. Only when definite sales take place will a transfer in be considered.
I am more interested in how Marco's escape plan is coming on, and the selection of players to make it workable.
Bill Watson
2
Posted 12/01/2019 at 00:05:17
Much as we need a striker, I agree – players have to be moved out first as the wage bill is already dangerously high. Even loan players come at a cost and need feeding!
Kase Chow
3
Posted 12/01/2019 at 00:18:40
It's a damning indictment on the amount of wastage that Koeman undertook that we have to pay the wages of Sandro meaning we can't get in Batshuayi. Add Tosun and Niasse, both of whom are totally useless, and we can't get any striker in from anywhere.
We're left in this weird position whereby we can't score goals, we have no proven striker on our books whatsoever and we still haven't replaced Lukaku (and I don't mean with another 20+ man (that the fans can moan about) I mean with any proven goalscorer). I still can't believe we let him go without replacing him And I still can't believe that we Still haven't replaced him! What a dogs dinner!!
Instead we have Calvert-Lewin to look forward to up front. A decent footballer but not a prolific nor proven goalscorer. Brilliant. Another boring crap waste of a season.
How boring being an Everton fan. How utterly crap and miserable. We don't ever beat any top teams. We don't ever win anything. We don't ever play any consistently free flowing or good football for both halves with an end product. And we rarely excite the fans with goals.
Wonderful!!!
Fran Mitchell
4
Posted 12/01/2019 at 00:38:16
We have been so truely wasteful in the transfer market: Niasse £13 million, Walcott £20+ million, Tosun £27 million, Bolasie £28 million all on big £60k+ wages, added to Sandro's absurd £5/6 million a year wages (the guy hasn't scored a goal in 18 months, but has earned almost £10 million in that time so absurd). That's all of the Lukaku money and change down the pan.
And word of warning: all of these players are so-called 'proven players', as opposed to signing 'risk' potential. (With the exception of Niasse who was just a bizarre signing.)
We need rid of all of the above, and to be replaced by 2 players of real quality.
Tosun to a team like Palace or Huddersfield for £10-15 million. Niasse similar for £5-10 million. Sandro to anyone, just anyone who'll take him for a subsidised wage. Bolasie for £5-10 million. Walcott for £15-20 million to a West Ham, Southampton or the likes.
Then sign 2 players in the mould of Malcolm, Pavón, Pepe, Abraham, or Luan.
Anthony Murphy
5
Posted 12/01/2019 at 00:38:59
I fully expect some movement in the window this month. Lots of desperate teams out there looking for a Niasse or a Tosun. We will see at least one of these to move on and I'd expect at least one through the door. My money is on a Portuguese or Brazilian.
Soren Moyer
6
Posted 12/01/2019 at 00:51:59
Fran Mitchell #4,
You forgot Besic, Schneiderlin and Williams... lol.
Fran Mitchell
7
Posted 12/01/2019 at 01:15:49
Soren, I was focusing mainly on forward players... But yes, the wastage has been desperate.
Looking at those forwards signed:
Sandro 0 goals.
Tosun 7 goals.
Walcott 7 goals.
Bolasie 2 goals.
Niasse 9 goals.
Total: 25 goals
Lukaku on his own got 27 in his final season, and many on here said he would be easy to replace.
Derek Knox
8
Posted 12/01/2019 at 02:31:27
I think if it was down to us, which, unfortunately it isn't, we collectively know who we would want to move on and out!
We have a surplus of players, who have proved not only they were overpriced in the first place, but are on ludicrously immoral wages, which even if they were decent, which in most cases they are not, makes it even harder to move them out.
The annoying factor in all this is that the useless managers who brought about this fiasco, have all been generously compensated for ridiculous decisions and performances, on and off the field.
Ajay Gopal
9
Posted 12/01/2019 at 03:14:23
Don't forget - Rooney, Klaassen, Vlasic! At least Wayne scores some important goals to stave off relegation. Add to that Pickford and Keane, who have not exactly set Goodison on fire, and now we begin to understand why we are in the position we are in.
Fran Mitchell
10
Posted 12/01/2019 at 03:27:36
Bit harsh on Pickford, Ajay; he's been great apart from a bit a below-par form recently. If we were to sell him today, we'd get double or more than we paid for him. And Keane has improved drastically... but he too has seen his form drop since the derby.
Of the signings from the previous 3 regimes, only Pickford and Lookman are players we could probably sell for a profit. Maybe Vlasic. And Calvert-Lewin and Holgate, who were signed for a nominal fees as 18-year-olds.
Marcus Reynolds
11
Posted 12/01/2019 at 08:08:56
Too many non-performing players At the club, earning ridiculous amounts of money and, may I say, quite happy to sit there and do so. Let's get rid of all the wasters and bring in 2 or 3 players with some real desire and ability to play football for our great club.
Tony Graham
12
Posted 12/01/2019 at 10:05:02
We need a goalscorer, get two deadwood out, and for Christ's sake, someone up front... It can't go on with our so-called snowflake strikers.
Jim Bennings
13
Posted 12/01/2019 at 10:51:40
Out should be Niasse and Tosun.
In would be at least one proven Premier League striker even on a short term fix until summer.
It didn't work too badly under Moyes getting short term fixes.
What I see when I look at Everton right now is a very jaded, clueless fatigued squad that looks like it will seriously struggle to get over the line.
We need fresh blood to inject some new life into the squad.
Bobby Thomas
14
Posted 12/01/2019 at 10:53:31
Ajay #9,
Of all the obvious names mentioned (not Pickford & Keane, harsh) the one I feel could do something is Vlasic.
He came here very young. There's a talented player there. When the loan is done, he should get another go. We could do with a player like that for another option.
Bobby Thomas
15
Posted 12/01/2019 at 11:08:30
Fran #4.
I hope someone does but can you see anyone in this league taking Tosun for £10 - 15 mil after the lack of impact?
Its going to have to be Turkey to get £15m. Preferably back to Besiktas, which represents the best chance of minimising any loss.
Walcott will be another for the ever-growing "£10 million drop in valuation" club as well.
I think Bolasie will be around a £15 - 20 million drop in valuation. Good grief.
Steve Walsh. Holy fuck. I work in an office and even I knew Bolasie was over-priced by £10 million, the wrong age and not very consistent.
Kase Chow
16
Posted 12/01/2019 at 11:09:33
Jim #13,
They're clueless because we don't have a finisher.
All the good approach play isn't worth a damn without a goal and now they've lost belief.
And we can't improve the situation.
What a joke. Bored of it.
James Hughes
17
Posted 12/01/2019 at 11:25:53
We all keep saying Niasse should be moved on but the sad fact is there has hardly been a queue outside Finch Farm. Throw in the murky rumours of bullying and this is a boil that needs lancing.
Maybe we could do a special offer a "Buy one, get one free" deal: Him & Tosun.
Jim Bennings
18
Posted 12/01/2019 at 12:19:34
Kase,
I agree! That's why I think we should be looking for someone to just come in and at least do the job short term, a seasoned performer who could add a bit of presence to the team; I dare say someone like Deeney or the mentioned Austin.
Hardly world beaters but more than a focal point than what we currently have there now and certain games need a certain approach. Then in summer we could really go hell for leather in our top class striker search (although bear in mind the summer window itself is shorter nowadays).
I'd move Tosun on it just hasn't worked and I don't think the English league suits him Apparently he's valued at £20 million by us (a bit steep) so maybe we'll do a deal close to that with a bit of luck.
If anyone takes Niasse it's going to be for around £4-7 million which again we just have to take; another player who needs a move away.
Bill Watson
19
Posted 12/01/2019 at 12:39:57
Transfer fees are usually spread over the term of the contract so we don't take as much of a financial hit as you may think. The real problem is the wage bill which is excessively high. That's why we need to move players out before more come in.
Of course, the huge wages some of these players are on makes it even more difficult to move them on.
Paul Jones
20
Posted 12/01/2019 at 12:47:00
Brian Williams
21
Posted 12/01/2019 at 12:49:49
Glad I visited this thread, brightened my day up no end. 😁
Len Hawkins
22
Posted 12/01/2019 at 13:10:36
As far as I am concerned, letting Rangers snatch Defoe was a bad move – he is a "proven" Premier League striker and he could have done the job required until the end of the season. Players like him don't come along that often, and he has scored goals wherever he has been.
Having said that, the club may have offered him a contract but he may have fancied the non-league set up in Scotland.
Dave Abrahams
23
Posted 12/01/2019 at 13:17:53
Brian (21), me too, turned out nice again. All together now: "Always look on the bright side of light."
Anyone got some happy pills?
James Flynn
24
Posted 12/01/2019 at 13:50:23
We have several players 27+ in age who are on good-to-great wages (add Besic too). Brands can get solid transfer fees for any of them; he really is our best signing since young Rooney.
Dave Evans
25
Posted 12/01/2019 at 13:54:13
Ah well, I'm still looking forward to the Bournemouth game though.
Anyone know a good tattooist? I'm thinking of getting 'happy clappy' done on my forehead and 'low standards' done on my arse.
I'm sure the missus will agree.
Bobby Thomas
26
Posted 12/01/2019 at 14:33:06
Bill #19,
Yes, transfer fee payments are nearly always spread over the contract. However, the practice of signing players and consistently flogging them at a significant loss is clearly unsustainable.
Is anyone able to confirm whether something I think I read years ago is still in place? When there's a transfer between English or British teams does half the transfer fee have to be paid immediately?
Alan J Thompson
27
Posted 12/01/2019 at 14:36:55
I hope this just confirms that the rumours that we are interested in players in positions in which we, at least, have numbers (central defence, defensive midfield, wide men as in wingers) are just that, rumours.
Tony Graham
28
Posted 12/01/2019 at 14:39:11
We are below the three Ws and Leicester now; we must improve n win games or we'll sink down among the nobbers... For Christ's sake, Silva, shake things up! This is getting beyond a joke.
Ray Roche
29
Posted 12/01/2019 at 17:17:15
Jim @18
An injury prone Austin? No thanks.
Some interesting valuations considered for Tosun and Niasse on here, especially when an untried, injured Solanke went for £19M. Taking that into account, how much would Calvert-Lewin be worth, according to the ToffeeWeb experts? He has scored goals despite everything so why is he a lesser player than Solanke?
Len Hawkins @22
Defoe? Behave yourself, if he was still good enough, Bournemouth wouldn't have shown him the door.🙂

John Keating
30
Posted 12/01/2019 at 17:36:07
There will be nobody half decent in this window available to us.
Our season is over so we should just concentrate on getting the best money we can for the deadwood we have. Preferably sell but better getting some loan money if that's all we can get.
Michael Lynch
31
Posted 12/01/2019 at 17:40:40
Realistically, we could finish anywhere between 7th and 13th this season. The difference in prize money between the highest and lowest place within those positions is £11.5m.
Perhaps that should be the budget to spend on a stop-gap striker in the window.
Iain Johnston
32
Posted 12/01/2019 at 17:47:52
Bobby #26,
No, mate. English transfer fees are now the same as it was felt that foreign transfers had an unfair advantage. What does make English player valuations inflated is the homegrown significance due to the limits on EU and non-EU players allowed in your squad.
It's why we see so many European teenagers in the UK. If they play X amount of games from the age of 17 here in England, they're homegrown.
Players such as Schneiderlin, Sigurdsson, Lukaku, Fabregas fall into this category so the 17-man limit isn't affected by them.
Frank Sheppard
33
Posted 12/01/2019 at 19:08:14
It would be great if Vardy was disenchanted with Leicester and came to us
Bill Watson
34
Posted 12/01/2019 at 19:26:37
If Solanke is worth £19M, then Tosun is worth at least that... and Niasse too for that matter. I'm no great fan of Calvert-Lewin but it would put him in the £30M bracket.
Eddie Howe also signed a Liverpool winger (I can't recall his name) for silly money and he's failed to hack it.
If Howe is choosing these players himself, it really does bring his judgement into question.
Len Hawkins
35
Posted 12/01/2019 at 19:29:51
Ray, #29 – did you say that when Kendall brought the knackered old Andy Gray in. Goal scorers are goalscorers they have attributes that can't be coached into non-goalscorers.
By the way, what's the name of that Bournemouth player that everyone would sign tomorrow, perhaps he was scoring too much to bring in Defoe and they wanted his wages off the outgoings.
Peter Laing
36
Posted 12/01/2019 at 22:55:36
Brands has got the challenge of making Everton leaner and hungrier. Far too many average Joes on the books picking up obscene wages and contributing little.
Schneiderlin is a prime example of the calibre of player that Everton have been fooled into signing. Bad signings and bad decisions have crippled the Club's development and there is much more mid-table pain and mediocrity before this shitstorm created by the bagman Walsh, fraudulent Koeman and carpet-bagging Allardyce.
Mark Wilson
37
Posted 12/01/2019 at 22:59:14
So many words, Marco, so many times you've said we improved the squad in the summer. All we want is to see a tiny bit of evidence to support the claim?
We are 11th, we don't score goals, we don't win many games, and we rarely put two decent halves together. Words. The AGM was full of them, as it has been over the last few years. Action? Results? A sign of genuine progress? Not so much....
We can and should beat Bournemouth. We really need too. We are just 9 points off relegation. Those players who improved the squad so much in the summer need to step up and start showing us early signs of their value.
Others need to stop the personal errors and recognise the urgency of stopping a dire run of results with strong performances. Unless we stop sliding, we will be in trouble, real and genuine trouble and I can't see the list of quality players wanting to come here being a long one.
But it's just more words, isn't it? The only progress is winning. It needs to start soon.
Soren Moyer
38
Posted 13/01/2019 at 00:12:25
Fran Mitchell @7, I can't agree more.
Ajay #9, Spot on about Keane. He is useless and has been so under our 3 latest managers. Definitely not worth the money we paid for him.
James Hill
39
Posted 13/01/2019 at 00:21:21
It's really funny reading about all this need to have a striker. If we were missing four or five sitters a match, I could get it, but most of our strikers are lucky if they get one clear-cut chance every two matches.
Not saying the current crop are great but they don't get a heap of chances, like Lukaku, who played in a much better side than we have today.
Our approach play is slow and ponderous in most cases and side to side and backward which gives the opposition time to regroup. On the odd occasion we do break quickly, we tend to put it in the net.
I'd like to see a top-class striker too, but I'd also like to see us create a lot more chances than we do. Frankly, I don't see much difference from last season and the table never points lies. I think Marco Silva needs time but we have bigger problems than just a striker.
Mal van Schaick
40
Posted 13/01/2019 at 00:33:36
I can think of a few for out, but Brands and Silva have to look at what can improve us for freeing up cash and squad places. I can't see Batshuayi making a big difference.
Rondon would be a good target man, but he would only be as good as the service he receives, like any other forward.
Ray Roche
41
Posted 13/01/2019 at 07:52:43
Len @35,
Austin has stated that he is happy on the south coast and would not want to uproot his family even if we wanted him. Gray was in a different league to Austin and Austin would cost daft money anyway.
Regardless of the Bournemouth player "everyone would sign tomorrow", Defoe went for nothing. No Premier League club were interested, Cardiff, Huddersfield etc – clubs who can't buy a goal – didn't bother. Why not?
Mike Powell
42
Posted 13/01/2019 at 11:16:35
We are desperate for a striker; the ones we have are poor. Looks like we are stuck with them till the summer, so I don't expect us to finish in the top 8.
Calvert-Lewin worth £30 mil? Really? More like £3 mil if that he is a poor Championship player at most.
Saying that, I hope he proves me wrong... but I can't see it.
Harry Hockley
43
Posted 13/01/2019 at 15:50:46
Mr Brands has his work cut out.
Theresa May has an easier job!
Matty Pritchard
44
Posted 13/01/2019 at 22:22:59
Soren — "Spot on about Keane. He is useless and has been so under our 3 latest managers. Definitely not worth the money we paid for him."
Are you for real?? And the Austin, Defoe calls??? Fuck off!!!
Matty Pritchard
45
Posted 13/01/2019 at 22:27:59
Ajay #9,
"Spot on about Keane. He is useless and has been so under our 3 latest managers. Definitely not worth the money we paid for him."
Erm... bollocks, mate.
Neil Peters
46
Posted 14/01/2019 at 02:06:11
I have been an Evertonian since August 1966 when we played Fulham at Craven Cottage... the day Alan Ball made his debut.
I was at the 1968 FA Cup Final when Jeff Astle's goal won the Cup for West Brom.
I remember Joe Royle, Jimmy Husband, John Hurst, Ray Wilson and other great Evertonians of that era.
Today, it is so hard to be an Everton fan... but: Once a Blue, Forever a Blue... it is a disease; I just love Everton.
Please get a striker in before the end of the Transfer Window and let us all be happy and enjoy being Everton fans again.
It is painful to watch a team you have supported for 52 years and even today the frustration of waiting till the last few minutes to beat a second rate team in Bournemouth.
I live in The States now and my heart goes out to Evertonians going to work and listening to Red Shite supporters.
Marc Hints
47
Posted 14/01/2019 at 10:10:07
A lot of work to do in the summer once again from Marco and Marcel if we don't unload any players in January... still a big overhaul needed:
Maarten Stekelenburg
Morgan Schneiderlin
Cenk Toson
Oumar Niasse
Ashley Williams
Yannick Bolaise
Kevin Mirallas
Sandro Ramirez
Cuco Martinez
Muhammed Besic
Shani Tarashaj
Thats 11 players to get rid still and need to buy Gomes if we can and replace Kurt Zouma as Chelsea are not willing to sell. So much work to be done!
Ray Roche
48
Posted 14/01/2019 at 16:48:05
Marc, Ashley Williams's contract expires at the end of the season, so he's history anyway. Not sure about any of the others though.
Mark Andersson
49
Posted 14/01/2019 at 00:35:09
Some good posts. Personally I feel Everton will take another few years to even break into the top 6...
As for challanging for silver wear not in my life time... so I'm glad I was lucky enough to have witnessed the golden era of the '80s.
Marco is under pressure judging by results and performances..
The win against Bournemouth still showed to many weaknesses and most fans came away not feeling optimistic...
That shadow across the park is getting bigger and darker. Spurs loss to Man Utd is a blow too...
Can the Red Shite get through a season without hitting a loss of form... I feel it's their year.
As for being an Evertonian, it's a lesson in life to know that you only have the ability to change your perspective on how you feel about life... no amount of planning, wishing, or hoping will ever change the outcome of karma.
Marc Hints
50
Posted 15/01/2019 at 12:22:59
Ray #48,
Yes, I did see that thankfully, but what a scary list of players to try and get rid of.
Lee Courtliff
51
Posted 15/01/2019 at 19:22:03
Anyone know anything about a young Danish lad at Ajax called Kasper Dolberg? You'd think Brands would, given he's Dutch.
Apparently, he's very promising and that is what we need to do. Just like when we signed Lukaku. Stop gaps are no use as we're not going down so we must build around youth. Exciting young players who are hungry.
Steve Ferns
52
Posted 15/01/2019 at 19:39:09
Lee you're 18 months too late. He had a cracking season with Davy Klaassen and then, like Klaassen, he was poor last season. He's the same age as Calvert-Lewin and now looks like a one season wonder.
Well have to wait and see if he can hit those heights again, but he'd command a big fee and be one hell of a gamble. As someone who thought he was the man to replace Lukaku, I would advise against it now.
Stephen Davies
53
Posted 15/01/2019 at 19:41:22
We've offered to meet the €25M release clause at Espanyol for Inglesias. He's turned us down.
But is it Julio or his son? Hmmmm....
Eddie Dunn
54
Posted 15/01/2019 at 20:12:32
I had to laugh at the Defoe comments. Heard then bigging him up on TalkSport yesterday. If he still had the pace, guile etc, why didn't the cherries give him some proper minutes?

Jason Wilkinson
55
Posted 15/01/2019 at 22:55:08
Shelve Bramley-Moore Dock. Buy a Mickey Mouse club abroad like Man City have. Sell all the cash-sucking leeches to this enterprise, then liquidate the business.
Start again with a football man (Marcel Brands), build a proper squad, then think about spunking £500m on a new ground.
Or am I being obtuse?

Add Your Comments
In order to post a comment, you need to be logged in as a registered user of the site.
Or Sign up as a ToffeeWeb Member — it's free, takes just a few minutes and will allow you to post your comments on articles and Talking Points submissions across the site.