Report
Ponderous green-shirted dross of old too easily defeated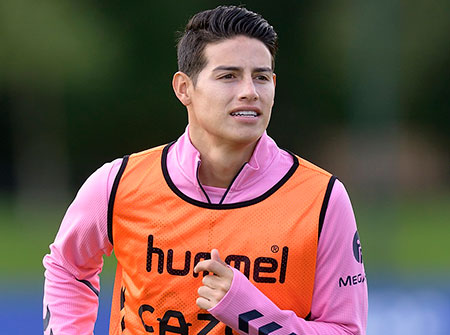 Carlo Ancelotti was handed a fitness boost after James took part in training today and starts the game for Everton at St Mary's today.
An Everton side well below par, wearing a hideous green and grey kit, rocked up at Saint Mary's seemingly determined to surrender all the good work so far this season.
Ben Godfrey got his first start in place of the injured Seamus Coleman but it was a baptism of fire as he was relentlessly targetted, with James Rodriguez declared fit but not helping him in defence.
Richarlison was suspended after his late red card in last weekend's derby, with Iwobi preferred to Bernard as his replacement. Gomes stepped down to the bench, with Sigurdsson preferred and taking the captain's armband. Theo Walcott, on loan with Southampton, is ineligible to play against his parent club.
The game kicked off in the autumn sunshine on the south coast with Everton in their sickly green and drab grey strip — why not royal Blue? — getting things going but scrappy stuff to begin, Southampton getting a free-kick that was headed behind by Keane.
Keane tried to get Iwobi moving for an early forward ball but the Nigerian wasn't interested. When Iwobi did get a chance to cross, he stalled, allowed the Southampton defence to form while wasting more time before crossing straight to McArthy.
Some good build-up play saw the ball fall to Iwobi again but his ball in was poor. Doucouré and Allan were doing fine work to pick up possession in midfield but a giveaway by Godfry led to a strong attacking move that saw Adams stroke his shot wide of the far post.
James fed his trademark cross-field ball to Iwobi who again took too long but saw his lame shot deflected behind and nothing coming from the corner. Calvert-Lewin drew a foul in a dangerous area that Sigurdsson and James discussed, and then James drove through the Everton decoy players in the wall but straight at McArthy.
A fine piece of build-up play through Allan and James was this time seized on by Sigurdsson who put his foot through it and got the ball to dip viciously, flying off the top of the bar. That effort was well worth a goal.
But Saints looked tricky in attack, playing in low balls that were getting close to being converted. The game went through a flat spell symptomatic of neither side being able impose themselves although Romeu fired in a pile driver that Pickford had to parry. But on the next phase, Ward-Prowse drove through and lashed his shot wide of Pickford to open the scoring.
It needed more care from Sigurdsson, who gave the ball away in an advanced position, and Everton resorted to working the ball around the back until it was launched aimlessly out of play.
Mina was spoken too over something, as Everton looked at risk of being unable to kindle the required intensity, with the Saints now moving the ball well and it was some shocking defending at the end that let Adams lash the ball into the net, deflected past Pickford at the near post.
Everton's forward play was seriously lacking with only 5 touches so far for Calvert-Lewin, Digne advancing far less often down the left. But the Saints strolled forward, striking a third only for it to eventually be flagged offside.
A couple of Everton corners were easily defended, although James was blatantly shoved off the ball on one of them. Everton tried to build but sloppiness ensured they went nowhere as the clock ticked toward the break. Godfrey was set up nicely for a cross but drove it far too hard and behind.
The utterly useless Iwobi was thankfully spared the second half, with Bernard, who has been little better, on in his place but struggling as he usually does to create enough space for his artistry to influence the game.
Godfrey was badly taken out by Redmond but no card from Friend. No guile on the ball in from Sigurdsson, that was easy meat for the Saints defence. Digne was overlapping better without Iwobi in his way but a corner was well wasted by Rodriguez, playing it short and then getting flagged for offside. Dreadful stuff.
At the other end, a rather clumsy challenge by Godfrey on Bertrand was waived away. A deliberate handball by Walker-Peters saw Digne put in a decent ball from the free-kick but not picking out any of the sickly green shirts as Dooucoure was replaced by Gordon and Sigurddssson by Delph.
And it looked like an immediate improvement with Bernard getting into the area and getting the ball to James but he could not get the shot off. At the other end, Keane needed to be sharp to stop Ings advancing on goal.
Gordon had the ball stolen and the Saints swept forward, so close to getting a third. Bernard was late getting to the ball and went in the book. Everton were attacking persistently but the final ball just wouldn't drop for a green shirt. Nothing was really coming off but at least now they were really trying.
That was until Digne tried to stop Walker-Peters and failed, then idiotically chased him from behind and stood on his Achilles... straight red card. How utterly fucking stupid can professional players be??? With a quarter of the game still to go, that ended it as a meaningful contest and underlined Everton's new reputation as the dirtiest (read stupidest) team in the Premier League.
Everton tried to break but James this time risked frustration. He was really suffering going into the at 10 minutes but, with all subs used, he would have to stay on the pitch with Everton effectively down to 9 men. Calvert-Lewin got a late card for blocking Vestergaard as they went through the motions of a well and truly lost cause.
Scorers: Ward-Prowse (27'), Adams (35')
Southampton: McCarthy; Walker-Peters [Y:57'], Vestergaard, Bednarek, Bertrand; Armstrong (86' Diallo), Romeu, Ward-Prowse, Redmond; Adams (89' N'Lundulu), Ings.
Subs: Forster, Stephens, Long, Tella, Vokins.
Everton: Pickford, Godfrey, Keane, Mina, Digne [R:], Allan, Doucouré (57'Gordon), Sigurdsson, Iwobi (46' Bernard [Y:63']), Rodriguez, Calvert-Lewin [Y:90+2'].
Subs not Used: Olsen, Nkounkou, (57' Delph) Gomes, Davies.
Referee: Kevin Friend
VAR: Simon Hooper
---
Reader Comments (317)
Note: the following content is not moderated or vetted by the site owners at the time of submission. Comments are the responsibility of the poster. Disclaimer
Rob Birks
1
Posted 25/10/2020 at 13:02:50
Just seen the team. Iwobi and Sigurdsson plus James.
Derek Knox
2
Posted 25/10/2020 at 13:06:05
I like that line-up, Michael, Gomes needed to be dropped, not only for last week's poor showing but for previous lacklustre outings. That's what we want to see: if they don't produce, bench or drop them and make them play for their right to get back in.
Chris Williams
3
Posted 25/10/2020 at 13:09:37
Still all about Pickford on Sky, even now. The story is moving to his state of mind. Watch the agenda unfold in the commentary.
Jay Wood
[BRZ]
4
Posted 25/10/2020 at 13:12:11
Agreed, Derek. That's what you want. Competition.
Perform, or your dropped. For those striving for a place, perform well in training and when you get a chance, and you can be promoted to a starting berth.
Plenty of cover on the bench:
Delph, Nkounkou, Bernard, Gomes, Gordon, Davies, Olsen.
I hope Gordon gets some game time today. I wager he is itching to go.
We keep passing our mini-tests with each game. This is another one which will inform us how good our season could be.
Derek Knox
5
Posted 25/10/2020 at 13:15:04
Jay, depending on how the game goes and God forbid no injuries, I think 3 subs will get a run out at some point.
Alan Williams
6
Posted 25/10/2020 at 13:15:07
Sigurdsson and Iwobi are both liabilities. I would have preferred Delph and Gordon and pushed Doucouré further forward.
Robert Tressell
7
Posted 25/10/2020 at 13:16:35
Looks a good line up for us. Sigurdsson has a genuine goal threat so helps to offset the loss of Richarlison. Iwobi is a better bet than Bernard away from home.
Presumably Salisu, the big left footed centre half we were apparently courting, is injured for them.
COYB
Dave Abrahams
8
Posted 25/10/2020 at 13:19:56
For the next three games we are depending on Dominic, not just to produce but to stay fit, there is no cover for him within the club.
Tony Williams
9
Posted 25/10/2020 at 13:21:10
Anyone know where I can stream it?

Simon Dalzell
10
Posted 25/10/2020 at 13:24:44
vipbox.lc
vipleague.lc
soccerstream100.com
vipbox.lc has never failed for me Tony.
'Popular brand stores' comes up at start, but stays away after exited 2 or three times.
Billy Roberts
12
Posted 25/10/2020 at 13:38:02
3 points today please, I don't give a flying fuck how we get them, but let's get them.
If there is one thing we have changed definitely this season, it is our ability to find a way to win in all sorts of scenarios and against different styles.
I just want to stay top and to keep saying to the others "Catch us if you can!"
Let's see their condescending smiles turn into worried grimaces. It's funny how everyone else's fixtures suddenly start to become an opportunity for us to progress.
Don't you just love teams below us grinding out draws or surprise losses, this is something we don't really appreciate until we are at the summit. It truly is a win-win situation, let's fight to stay there.
Jay Wood
[BRZ]
13
Posted 25/10/2020 at 13:38:34
Direct link to the VIP stream.
Be prepared to click off the windows that open, but usually it is an excellent stable stream.
Tony Williams
14
Posted 25/10/2020 at 13:38:37
Simon, Ta ever so!
Derek Moore
15
Posted 25/10/2020 at 13:42:00
In many ways this a very important game. Southampton are a good bellwether team; if you want to finish in the top 4 you'll need to be beating them.
I'm also interested in the boys' mindset today – the derby drama and the small matter of being top of the table are the sort of things that a team can find overwhelming or galvanizing. Not every opportunity is a problem - but some definitely are.
A clean sheet and 2-0 to the league leaders, Dom at the double. UTFT.
Danny Baily
16
Posted 25/10/2020 at 13:47:40
Would love a win today. Every mention of our being top is followed by a snide comment. Let's keep this up and make them eat their words.
Darren Hind
17
Posted 25/10/2020 at 13:51:29
Indeed, Danny.
It's really pissing me off. I would love to put a few points between us and the Red Shite
Ciarán McGlone
18
Posted 25/10/2020 at 14:01:53
Gomes rightly dropped..
Let's go.
Ciarán McGlone
19
Posted 25/10/2020 at 14:37:15
Utterly clueless today. 10 headless chickens.
Simon Dalzell
20
Posted 25/10/2020 at 14:37:56
Godfrey really being exposed. Looking a terrible right back.
Steve Ferns
21
Posted 25/10/2020 at 14:38:58
Sigurdsson having his usual impact on the side. All the Gomes critics must be able to see the difference now?
Ian Flanagan
22
Posted 25/10/2020 at 14:39:01
Iwobi clueless at times, just a headless chicken.
Get him off and Gordon on.
Ian Lloyd
23
Posted 25/10/2020 at 14:39:09
Back to normal, I see! For fuck's sake!
Ernie Baywood
24
Posted 25/10/2020 at 14:40:24
Two easily avoidable goals. Asleep from a throw and then I think our out-of-position centre-back needs to learn from the second.
We really miss Richarlison's movement in attack.
Danny Baily
25
Posted 25/10/2020 at 14:48:21
I'd swap Godfrey and Iwobi for Davies and Gordon.
Lad's having a tough time of it at right back.
Derek Moore
26
Posted 25/10/2020 at 14:50:19
Wear crap kit, play crap football.
That was not a good half of football. Much better required.
Steve Ferns
27
Posted 25/10/2020 at 14:53:23
We've been terrible across the park. Carlo has his work cut out here. Can't see us turning this round today as we need players who are not available and James to be fitter than he is.
Tommy Carter
28
Posted 25/10/2020 at 14:54:07
Half time and where do you start with this performance. Absolute garbage. Zero intensity and talented players unable to control a ball properly, anticipate anything, complete a pass or cross the ball past the first man.
I thought we were poor last week. Had we performed we could've beaten them.
But this performance is much worse again. All as bad as each other. For some reason, don't know what it is.
We've done nothing right. In theory, it's very simple. Defend well. Get James into the game. Deliver with quality into the box for Calvert-Lewin to attack.

Jim Lloyd
29
Posted 25/10/2020 at 14:54:26
I'm just listening to the EFC Commentary (Sylvan Distain is co-commentator... a great buy for us and still a Blue) and both are pointing out how isolated Ben Godfrey is on the right. Two on one on a number of occasions.
I think this game so far is pointing out that we have the weaknesses from last season still here. No forgetting, though, that Southampton have a good side and are playing well.
Si Cooper
30
Posted 25/10/2020 at 14:56:27
Iwobi on the left just not working; if he is not subbed then they've got to move him positionally.
Our corners have been very poor with absolutely no threat from what must be a decent number of them.
Not sure Davies would be any less exposed at right-back than Godfrey is so don't see that as a good option.
James may be fit to play but is he 100%? Seems to be just that shade slower today which is making him much less effective.
Ciarán McGlone
31
Posted 25/10/2020 at 14:56:37
Backwards and sideways passes.. footballs nemesis
Paul Birmingham
32
Posted 25/10/2020 at 14:56:52
Decent start and the the team switched off and lost the focus. Too much time and space and their midfield has turned the screw and have been more efficient with their forward play and transition from defence to attack..
There's a long way to go, but I hope that the second half sees a more focused and effective attacking display from Everton, and no more freebies down the sides, both goals avoidable, both times guilty of standing off, and not stopping the cross.
Interesting if there's any direct swaps at half time else, Carlo changes after 10 minutes if Everton, hasn't clawed a goal back.
Jay Wood
[BRZ]
33
Posted 25/10/2020 at 14:56:58
Well I thought we were well in control of the ball and playing by far the better football when we switched off from a throw-in following Pickford's excellent save.
We have a problem down both flanks without the energy and defensive cover Richarlison offers.
Digne has been poor from the first minute and he was partially responsible for both goals. Godfrey needs more help than James will ever offer him in an unfamiliar position.
Both goals avoidable. Once again, Yerry Mina simply jockeying Ings for the second rather than squeezing him out further up the pitch.
I'm guessing James' injury is preventing him from taking our corners as Siggy is back on them and not delivering the same quality as the wee magician.
Allan and Doucoure doing well in their roles and Siggy, James and Iwobi have had their moments, but Dominic is not getting any service.
We need an early goal in the 2nd half to get something from this now.
Tony Hill
34
Posted 25/10/2020 at 14:57:28
We're too strung out, there's no cohesion and the space in midfield is alarming. We look generally leggy and we still badly need at least one midfielder with pace.
Ernie Baywood
35
Posted 25/10/2020 at 14:58:41
They've targeted Godfrey from the start. Especially with James in front of him. Not sure that can carry on - usually you'd just switch James and Richarlison for a bit more protection but he won't get too much more from the other options.
Iwobi isn't Richarlison, but not many are.
Gylfi plays much further forward than Gomes. Not sure if that's tactical or unintended.
The biggest issue is that Southampton are asking us to press and we're pressing. Then they're hitting the space we leave. We're back to being the perfect sparring partner.
Time for Carlo to get a grip on what's going wrong. With the Saints defence, I don't think this has to be finished yet.

Jim Lloyd
36
Posted 25/10/2020 at 15:02:44
I'd like to see Gordon come on as right winger and give us a threat going forward to help Dom out. He also has he energy to team up with Ben Godfrey in attack and defence.
Tony Heron
37
Posted 25/10/2020 at 15:03:07
Both centre backs out of position for 2nd goal. Iwobi atrocious, looks to turn back every time he receives the ball.
I'd try James in the middle and put Doucouré on the right to help Godfrey.
Christy Ring
38
Posted 25/10/2020 at 15:07:45
Sigurdsson should be off as well as Iwobi, prefer Gomes every time.
James isn't helping Godfrey, the same as Coleman was left exposed last week.
Dave Bowen
39
Posted 25/10/2020 at 15:23:20
Having just witnessed that 45 minutes from Iwobi, it's even more puzzling Carlo didn't include Bolasie in the Premier League squad.
Ernie Baywood
40
Posted 25/10/2020 at 15:28:47
Today getting better and better.
Jim Lloyd
41
Posted 25/10/2020 at 15:31:55
It seems to be disjointed today and probably shows how much Richarlison is being missed.
Ciarán McGlone
42
Posted 25/10/2020 at 15:32:50
At least weve got cover in Digne's position... but this looks like our good start coming to a screeching halt.
Awful sideways and crap football. Deserved that.
Phil Wood
43
Posted 25/10/2020 at 15:36:59
I cannot watch anymore or the TV will go out the window. This has been garbage.
What has Anthony Gordon done to not start in this game? Iwobi looks like a luxury player. Godfrey isolated all game as James does not look 100%. Digne stupid tackle... Team with no balance.
Spent the first 20 minutes passing around at the back scared to go forward. Soton took one look and thought "This lot are shit scared and clueless" and got stuck into us. This is as bad as last season. Poor Team selection today Carlo.
Let's just regroup and comeback stronger – if we have any players left. Well in, Richarlison, for your stupid tackle last week, we look rubbish without you.

Simon Dalzell
44
Posted 25/10/2020 at 15:37:27
Looked accidental. Pickford reparations, and one of many incompetent referees.
Peter Neilson
45
Posted 25/10/2020 at 15:38:04
Like Sigurdsson, Iwobi destined to go through his career with excuses being made that he's never played in his best position.
Ernie Baywood
46
Posted 25/10/2020 at 15:38:57
We caught our old disease today. The worse it gets, the safer you try to play, the slower you pass the ball, the worse it gets. And so on.
I haven't seen our players having to wait for passes to arrive to them before this game. It's been an epidemic that went right through the team today.
Needed a bit of bravery to grind this one out and we lacked it.
Never thought Jonjoe Kenny would be vital.
Danny Baily
47
Posted 25/10/2020 at 15:40:25
Before the sending off, the changes really had made the difference. A positive there.
The big problem is right back while Coleman is out.
Phil Wood
48
Posted 25/10/2020 at 15:41:31
Think it was obvious that, if any of our players so much as coughed today, he would get done by the Ref or VAR.
We look worse than Fulham today.
Phil Wood
49
Posted 25/10/2020 at 15:44:41
Going out for a 100-mile walk to get away from it.
Fearing the streets will be full of cars at full time with red flags hanging out the windows and honking their horns.
Phil Smith
50
Posted 25/10/2020 at 15:46:23
Ancelotti got it wrong today. Like Southgate, he's stuck with the same team. James is clearly not fit. Gordon should have started. Only 1 team been at it today. Richarlison a big, big miss today.
Ciarán McGlone
51
Posted 25/10/2020 at 15:47:42
The Digne tackle reminded me of the Son one... if that had been against a player of ours we'd be apoplectic.
Stupid and dangerous. Red all day long.
Tom Dodds
52
Posted 25/10/2020 at 15:55:18
Straight back down the snake...
In Style.

Jim Lloyd
53
Posted 25/10/2020 at 15:55:52
I think we can only afford 1 creative player, and Jimmy's the best we've got at that. Sigurdsson and Iwobi are not quite enough for the first team. But, considering where we were last season, we're improving and that's good enough. Two daft sendings off haven't help the cause though.
Andrew Keatley
54
Posted 25/10/2020 at 15:56:20
Not many redeeming features to today's performance. Gordon showed a few bright touches, and Delph did well when he came on. Beyond that...
Mike Price
55
Posted 25/10/2020 at 15:56:22
Disjointed and lethargic. The players looked liked strangers and there was no fight; all very worrying signs.
Colin Metcalfe
56
Posted 25/10/2020 at 15:57:34
That was as bad as any game last season, poor to a man!
I think this performance clears up a few things: Iwobi shouldn't get near the first team and Gomes, no matter how poor, is a better option than Sigurdsson.
Brent Stephens
57
Posted 25/10/2020 at 15:58:26
Ciaran #51 I agree - if that Digne tackle were made on one of our players we'd be screaming red.
Some saying it wasn't deliberate. A red doesn't require "deliberate", does it?
Michael Lynch
58
Posted 25/10/2020 at 15:58:49
Very poor overall, but special mentions for Iwobi, Sigurdsson and Digne – who was having a poor game even before his nasty little foul. No idea if Godfrey is a good central defender, but he is definitely not a right-back.
Nkounkou at left-back next week, but who the fuck plays at right-back? Davies was awful when he filled in there, and Godfrey looks no better. I would probably start Gordon for Richarlison, but does Gomes return in the middle? Probably. Pickford didn't have too much to do, but still managed to look error-prone.
Still top of the league, but we won't be for much longer; we're not a bad side, just not a top-of-the-table side. I'd like to see us come back strongly from this setback and work towards a top 6 finish and a League Cup final appearance (win).
Kieran Kinsella
59
Posted 25/10/2020 at 16:00:21
Could've been worse. Highlights lack of depth in the squad.
Sigurdsson, Gomes and Davies all have their proponents but none of them are consistent or top six material. Iwobi doesn't seem to read the game or other players' intentions at all well.
Godfrey was exposed as he is no right-back with James in front of him: Doucouré couldn't seem to find his way into the game. Calvert-Lewin was completely isolated so had no chance.
Roger Helm
60
Posted 25/10/2020 at 16:01:23
We still haven't beaten a top side so our good early season flattered us a bit. Carlo Ancelotti needs another good window to get us threatening the top four at season's end.
How we bounce back from this will be a sign of the players' characters.
Derek Knox
61
Posted 25/10/2020 at 16:02:02
Why is it when a player has an off day, it affects everyone else, the whole pack of cards collapse?
Kieran Kinsella
62
Posted 25/10/2020 at 16:02:58
Ernie Baywood
63
Posted 25/10/2020 at 16:03:13
One of the worrying things for me is us not winning many second balls. We were like that against Liverpool but I wrote it off. We were like that again from the start today.
Slow passing, half-hearted pressing, no confidence in the right-back, lack of movement in attack. It was all there today.
Can't just write that off as a bad day as there were real problems to address.
Ian Flanagan
64
Posted 25/10/2020 at 16:03:59
Delph at right-back is the best option if Kenny is not fit. He has the experience to cope with it.
Derek Knox
65
Posted 25/10/2020 at 16:05:15
Iwobi was guilty of ball watching, his head was in his shorts!
Steve Ferns
66
Posted 25/10/2020 at 16:06:19
Gomes isn't poor though. What Gomes has excelled at this season is pressures in the middle third. He gets after the opposition and slows them down. He's our main man to do this. Allan and Doucoure do their work in the defensive third. Gomes also plays in a narrower band. He doesn't drop as deep as deep as the other midfield two, but he doesn't get as far forwards as Doucoure or Sigurdsson did today. That means he's not out of position as much as Sigurdsson and so doesn't boost his running stats as a result.
Sigurdsson doesn't have a good touch. He receives the ball and it's always going back or sideways. Gomes receives much more passes because he can take it under control and turn and pass. Sigurdsson seems incapable.
Yeah, he hit the bar. But that's all he did all game. He one great season under silva, stats wise at least, because he was allowed to wander where he wanted. But he hardly ever assisted that season and if you count him as a striker, because his job was really just to score, then he didn't score very many in reality.
If Gomes played today, he'd have been level with the other two, Doucoure would have been pushed slightly right, and he'd have done his usual of helping the right back and keeping an eye on James.
Sigurdsson plays and the balance of the side goes out the window, but hey he will have a few more action clips for his YouTube highlight reel, or insta in the case of Iwobi.
Steve Ferns
67
Posted 25/10/2020 at 16:07:48
Ian, Delph is left-footed. He cannot play right-back. You'll find that Delph plays left-back and Kenny comes in at right-back as Kenny was close to being fit for this one. He should be fit next week.
Tony Hill
68
Posted 25/10/2020 at 16:09:48
Today was a test which we badly failed. Ancelotti said that we would have difficult moments and this was certainly one. He also said that we mustn't panic when things go wrong. True, of course, but that was worrying.
I'm afraid Digne's foul was a shocker and cost us any chance we might have had.
Dave Abrahams
69
Posted 25/10/2020 at 16:09:53
Did any player have a decent game? Worst part of it, we looked tired, very physically weak and dispirited. The squad is still nowhere strong enough to compete throughout the season – but we knew this anyway; suspensions and injuries have already made this obvious. More work to be done in January, let's hope we get a couple of strong as well as good players in.
Oliver Molloy
70
Posted 25/10/2020 at 16:10:17
Ciaran 51 and Brent 57.
And Son's red card was overturned. You two may think it warranted a red card, I don't. Hope the club appeal and it is overturned, a total accident.

Steve Brown
71
Posted 25/10/2020 at 16:10:29
Derek @ 65, the player who lost his runner for the 1st goal was Sigurdsson Same guy who got under the cross for the second and deflected it into the net.
The midfield was simply not there today in terms of intensity, but Ancelotti also made a mistake playing James ahead of young Godfrey on the right.
Still top, so regroup and move on.
Alan Williams
72
Posted 25/10/2020 at 16:11:09
I agree – never a red card.
Jay Wood
[BRZ]
73
Posted 25/10/2020 at 16:11:28
Poor. Digne made an improbable recovery impossible.
He had a very poor game. He has that devilment about him too. Senses an injustice, the red mist descends and he goes chasing the ball in anger. No sympathy from me.
Pickford played well given the week he was put through.
Sorry, but Godfrey was poor and not just because he was playing out of position. Like last week, there are moments he seems to have the situation under control and he coughs up the ball too easily. Lots to improve, this lad.
Keane the best of our defenders. Mina should have done a lot more to prevent Ings getting into the position he did to get in the cross for the second.
Allan and Doucoure gave us early control in midfield, before cheaply coughing up from the 1st goal. Allan our best player for me today. Siggy 1-2 moments of brilliance, but the first Everton player I've seen this season to give away a poor pass - and stop. I mean, stand root still whilst the play continued close to him. Shocking. Shortly after, Carlo took him off.
Alex Iwobi teases that he is going to finally become a player, but I'm losing count now of the number of times he starts and has been withdrawn at half-time.
I thought it was a risk playing all 3 subs so early and keeping James on and he was reduced to walking pace for the last 10-15 minutes. I hope that hasn't aggravated the injury. Moments of sheer class when he does get on the ball.
Dominic didn't even have scraps to feed on. Totally anonymous. Though his yellow card harsh.
Bernard, rinse and repeat with Iwobi. Brought nothing to the table. Delph effective in what he does. Anthony Gordon surely has to start in front of Iwobi and Bernard in Richarlison's absence. At least he brought pace and attacking intent to the team.
The first test this season which gets a total fail.
But...still top of the leage!
Ciarán McGlone
74
Posted 25/10/2020 at 16:12:02
Nkounkou surely at left-back, Steve...
Steve Brown
75
Posted 25/10/2020 at 16:12:07
Steve @ 66, we all know Gomes didn't have a good game in the derby. But that midfield was far worse without him.
Steve Ferns
76
Posted 25/10/2020 at 16:12:39
Dave, if you had been saying we looked tired last week, after basically playing two games a week, including 3 internationals, then yeah. But we've had 8 days to get ready for this one. Tiredness shouldn't enter into it.
It's the Sigurdsson factor, I'm telling you. He makes any midfield look leggy and disjointed. The guy has no positional awareness and can only play in attack, and he's not good enough at that.
Steve Ferns
77
Posted 25/10/2020 at 16:13:38
Ciaran, I'd pick him as well. But I'll put money on Carlo picking Delph.
Barry Rathbone
78
Posted 25/10/2020 at 16:15:58
Totally expected we played reasonably well in early games but had the rub of the green; the real challenge of the derby exposed players acclaimed as top drawer as anything but. One or two injuries and suspensions later and the squad is revealed for what it is – 7th to 12th place monkeys.
The more things change, the more they stay the same.
Kevin Molloy
79
Posted 25/10/2020 at 16:16:08
Clearly Allan is injured, cos he was fucking shocking. No press or drive. But if he can't play properly, he needs to rest and get back, not trot around like that.
I'm afraid to say, this does not feel like a blip. As Evertonians, we know deep down when the wheels are starting to wobble, and they are wobbling now, madly.
Forget top 4. No fucking chance.
Brent Stephens
80
Posted 25/10/2020 at 16:17:04
We've had a few signings that have strengthened the squad but it's still not as strong as we'd like. When it's a toss-up whether to play the likes of Iwobi, Bernard, Delph, Gordon (like him, potential, but it's early days), then that tells us where we need more quality signings.
But we weren't going to go unbeaten for long. A disappointing way in which we did lose (very few chances created, some poor defensive lapses for the goals) but look at some of the losses suffered by the other top team.
Regroup and come back strong. Boy we missed Richarlison.
Tony Abrahams
81
Posted 25/10/2020 at 16:17:48
Not the same creativity, a centre-back playing wide, and back to last season with Sigurdson and Iwobi. The pitch is too big for the way we are set up with Doucouré having to do two jobs, and the right flank to often the out ball for our opponents.
Godfrey looks very athletic so maybe he could play in the midfield? I think he will get in at centre-half though, because we need that pace.
Missed Richarlison, Digne was really poor by his standards, but we have been in the mix for a reason, so it's back to the drawing board because we were just to easy to play against today.
Jack Convery
82
Posted 25/10/2020 at 16:18:18
If Digne deserved a red, which I don't think he did - why did Shaw get just a yellow when he hacked down the Spurs player at Old Trafford earlier in the season? I know which was the more dangerous 'tackle'. Digne's was an accident and hopefully he will have the red rescinded.
Stephen Brown
83
Posted 25/10/2020 at 16:18:25
I think 3 at the back might be an option until Coleman or Kenny are fit.
Very disappointed with today but I'm hoping we can bounce back against Newcastle who are nowhere near as good as Southampton.
Gordon Crawford
84
Posted 25/10/2020 at 16:18:42
Learnt a lot today about our team. Apart from Calvert-Lewin, we have no pace up front. Iwobi is useless out wide and there are big question marks around him.
Sigurdsson is just too slow and isn't what we need. Playing with one striker is also a bad idea if we can't get support to him.
Godfrey isn't a right-back. Pickford wasn't to blame for the goals but is still a massive liability. James isn't fit. Carlo made a few bad calls today, but no-one is perfect.
Oh and Southampton were brilliant.
Brian Wilkinson
85
Posted 25/10/2020 at 16:20:03
Had that been an Everton player, I would have been screaming for a Red card, some might think accidental but Red all Day long in my eyes.
We cannot play Godfrey at right-back next game, he offers nothing defending or attacking and I know he will be much better playing as a preferred centre-back, but not at right-back.
Poor as we were, I thought Southampton got their tactics spot on and deserved their win.
Tony Everan
86
Posted 25/10/2020 at 16:21:11
Outfought and outplayed when it mattered in the first half. Iwobi and Sigurdsson are luxury players and we've already got one in James. I am not jumping on the bandwagon against these two, they are trying but they do not have the tenacious traits we need to get some control to win games.
At times, it was too easy for Southampton. The midfield just gets over-run with players who are not fast enough or tenacious enough to fight and win balls. It would be mitigated to an extent if either could retain possession to relieve pressure on the team but they are not good enough to do it. Bernard is not the answer to this issue either.
To win games like this, you have to win the battle first, then pick them off. Today, we didn't have the players on the pitch to make winning the battle possible.
Fran Mitchell
87
Posted 25/10/2020 at 16:21:15
We were poor, we were due a poor performance and we had it at a very good club. Southampton played well, passed well, closed down and pressed us and we didn't respond. DCL didn't even have scraps with which to feed off, and James was quite clearly unfit. Doucoure also looked off the pace, while Sigurdsson and Iwobi did nothing to suggest they have any long-term roles to play. The Red Card was harsh, but it will never be overturned (you only over-turn red cards if you split the ankle of Everton players then cry), so that is Digne out for 3 games.
Our left side is where we are most dangerous, it is where James sends his wonderful passes and the pace of Richy and the delivery of Digne makes it our most dangerous area.
How we adapt we be crucial. Newcastle, Man U and Fulham, without that axis.
A chance, on the one hand for our much praised frenchman Nkounkou to make a statement. Newcastle and Fulham are 2 clubs there for the taking. Gordon should also play, he wasn't great today, but he came into a match with it already lost, then wwe quickly lost our left back and played essentially a damage limitation exercise.
In midfield, who should be the 3rd man? Siggy, while occasionally a threat (the game could have been much different has his shot dipped 1 inch lower), he offers nothing when out of possession. I think we should persist with Gomes and think he'd have done better today, but both Delph and Davies may also press their cases.
Right back is a real dilemma. Godfrey is no right back, and Coleman's absence (and by default Kenny's) was sorely felt. He would usually give us a width which would in turn free space for James, and occupy the minds of their left sided players. Today that didn't happen. James was too easily closed down, and there was no threat from the right meaning both bertrand and Redmond had free reign down the right knowing they were unlikely to be caught out of position. How do we deal with this? some mention Davies. This is difficult and think we'll have to cope with Godfrey doing his best there, or change up to a 3-4-3/3-5-2.
But we're still top and our next match is Newcastle. So much to play for still.
Joe McMahon
88
Posted 25/10/2020 at 16:22:20
A reality check, but the squad lacks quality throughout. Gonna take Carlo at least 2 more transfer windows. Sadly I can't see us battling for a CL spot, not with Pickford and a lack of strikers. If DCL gets injured we are knackered.
I remember somecomments on this site questioining Mark Lawrenson for predicting we would lose 2 - 0. Maybe some ex reds occasionaly are not anti Everton and get it correct. Today Everton were awful. Richie is a big miss and so is Coleman.
Gordon Crawford
89
Posted 25/10/2020 at 16:23:43
We will win more games than we will lose this season. Wether that's good enough for Europe only time will tell. I'm very disappointed today, but we need some perspective. We are still top of the league. More players will be brought in and some will eventually leave. We are a work in progress and not by any means the finished article.
Kevin Molloy
90
Posted 25/10/2020 at 16:23:44
Joe
Lawro's predictions this weekend have been eerily accurate.
Stan Michaels
91
Posted 25/10/2020 at 16:23:44
Dreadful performance today. Southampton won every ball on every inch of grass. More willing than us and more eager than us. Ok we have two key players missing out but still its no excuse. A big game for Iwobi and the fact he does not last 45 minutes. Says it all about him to be honest. Sigurdsson is great at pointing around the pitch. But not good enough anywhere else. Bernard is just too weak for this league. Should of sold him to Roma.
Big reaction needed next week as it is gonna be a difficult game. But surely a much better performance than today (fingers crossed). Hopefully we appeal the red card for Digne.
Very bad day at the office. So hopefully players get the rocket up their arses this week and perform much better next week.
Stephen Brown
92
Posted 25/10/2020 at 16:24:11
3-4-3 while Coleman and Kenny out
Pickford
Godfrey Keane Mina
Davies Allan Doucoure Nkoukou
James DCL Gordon
Thomas Roberts
93
Posted 25/10/2020 at 16:24:55
The gap between the back 4 and midfield was ridiculous and so easy to play through just like last week. The fact that neither Carlo or the players could spot this and fix it is very worrying moving forward. Disappointed at the lack of spirit also.
Fran Mitchell
94
Posted 25/10/2020 at 16:26:47
On Iwobi, he is a player who just can't do the simple things. Always making 5-6 touches when he could have made 2 and passed it, but instead, makes 5,6,7 touches and 90% of teh time loses it. Occasionally we keep possession and it looks fancy and skillful, but generall it is just ponderous and poor. One that stuck out was in the first half, Iwobi seemingly did well, beat a man. James was next to him, unmarked on the edge of the area, if he had passed, i'd put good money on James getting a goal. But he took another 3 touches then shot wide.
He's just not very good.
Kieran Kinsella
95
Posted 25/10/2020 at 16:27:48
Tony Abrahams
Doucore has done some great tackles for us this season but so far we don't seem to have figured out how best to utilize him. As you suggest maybe we have him doing too much covering too wide an area. Offensively he hasn't got going yet and his wild long distance volley seemed to borne of frustration. We need to work on division of labor in the midfield to see the best of him
Joe McMahon
96
Posted 25/10/2020 at 16:27:48
Kevin, that is true. I'm so wanting the day when it's a prediction Everton will beat Liverpool!
James Head
97
Posted 25/10/2020 at 16:28:33
Dreadful, DCL, james and Godfrey constantly isolated with the useless Sigurdsson doing absolutely nothing in the middle and the liability that is Mina looking arthritic at the back, should've started with Gordon instead of Iwobi and that should be Bernards last game as he was hopeless. The red card for digne was so avoidable, you could see the foul coming as soon as he lost it, lack of squad depth coming home to roost I think.
Paul Tran
98
Posted 25/10/2020 at 16:29:16
They did the basics we've been doing all season. We didn't. Will be interesting to see if that red card gets rescinded - a dreadful decision.
I still don't know we bought, and keep playing, Iwobi. Could someone enlighten me? Bernard is the kind of player to bring on when we're 2-0 up and coasting against a tired team.
We got kicked up the arse, we're still top and we can get back to basics next week.
Kieran Kinsella
99
Posted 25/10/2020 at 16:29:53
Steve Ferns
You're accurate about Sig but Gomes is ponderous and slow and makes rash tackles. Neither of them are great options
Steve Brown
100
Posted 25/10/2020 at 16:31:24
Sigurdsson lost his runner for the first goal, got under the cross and deflected the shot for the second and killed our midfield fluidity.
Selecting him was a bad mistake from Ancelotti, as was picking a half fit James ahead of Godfrey - that left him totally exposed and they rightly overloaded the left. If he isn't confident of the form of Gomes, I would play Delph alongside Allan and move Doucoure further forward.
Will Mabon
101
Posted 25/10/2020 at 16:31:53
No holding back on the title, I see!
Chris Williams
102
Posted 25/10/2020 at 16:32:07
We lost to the better team and you have to give credit to them and their coach. They were set up to take advantage and far sharper than we were. It could have been worse.
That's 2 sendings off consecutively, and whatever you think about today's, it was a dumb tackle as was Richarlesons, last week.
We are often opened up down our right, today and also last week, and in other games. It gets targeted. We concede too many goals anyway, and we've outscored teams so far, so it hasn't mattered. But over a season that could be an issue.
Everton will appeal the red card seemingly.
I suppose Kenny back next week, and hopefully a start for Gordon. I hope James hasn't hurt himself further. Maybe a start for Delph alongside Allan if he's fit enough.
Onwards and upwards and over to Carlo.
Gordon Crawford
103
Posted 25/10/2020 at 16:32:57
Fran, five or six touches to do a simple thing usually means the player lacks confidence. Another sign is when he looks more at the ball than what's around him. Develops tunnel vision. That needs rectified ASAP, how to do it though I'm not so sure.
Christy Ring
104
Posted 25/10/2020 at 16:33:46
Sigurdsson so poor today, his workrate non existent, he wouldn't even follow his man, for the first goal, how is he even given the armband. It was a mistake not starting Gomes.
John McFarlane Snr
105
Posted 25/10/2020 at 16:34:08
Hi Dave [69] I listened to the game and it didn't sound too god, but I get the impression that any game we lose is described as 'dross'. I know that over the years you and I have witnessed many substandard performances, and I value your views. Was it as bad as that? or do you think that some fans have set the bar too high following the good start to the season? Losing any game is disappointing, but in my opinion the addition of the new players while bringing an improvement is only the beginning, and we can anticipate other frustrating days before we can field a side strong enough to compete with the leading teams.
Allan Board
106
Posted 25/10/2020 at 16:35:43
Bugger, obviously Rich and Coleman are a big miss. The lads in midfield who came in are not good enough, subs at best but there are other options who should be utilised instead.
But hey, top of the league, a further week to prepare for Newcastle, the media have got there way, so they may give it a rest now.
Top 6-8 guaranteed I reckon. Move on, forget it.
Mark Dunford
107
Posted 25/10/2020 at 16:35:57
Unimpressive performance against a well drilled but pedestrian team. Only two shots I can recall - James and Siggy, little threat from wings and really nothing significant to praise in the whole 95 minutes. Squad is very thin once you get beyond 13/14/15 names. Godfrey is not a right back but is really behind three injured players for the role, so we're certainly very unlucky there, Iwobi is a poor deputy for Richarlison and while Bernard and Gordon may offer more, neither is really making an impact yet. No support for DCL so he looked isolated. Only positive was Delph's cameo which provided stability when it could easily have crumbled to damage goal difference - saying this through gritted teeth as his attitude to date has largely been painful. He may yet be useful squad member later during the season.
Dave Williams
108
Posted 25/10/2020 at 16:36:12
Fine until they scored from when we became lethargic, no energy, no drive- very like last season after lockdown was lifted.
I would have brought on Tom to give some energy and bite as we were outnumbered in midfield. Wrong game for Bernard to play in and it's a mistake to play Siggy.
DCL hardly had a kick. I have no argument with the red card and hope we see Nkounkou next week.
Really missed Richi and a natural right back although Godfrey kept going well.
This moment had to come and we are still top but the reality check may do us some good as there was a definite lack of our previous intensity today and I wonder if we expected an easy win?
I quite liked the kit!!
Geoff Williams
109
Posted 25/10/2020 at 16:36:19
Result not unexpected once the team sheet was released. Iwobi is totally useless, Sigurdsson ineffective in most games and together they spell disaster. They are ball watchers, never follow runners and neither ever makes a tackle. Throw in the fact that James was clearly unfit and couldn't offer Godfrey the support he needed.
I hope Ancelloti holds his hands up and admits he got it wrong today.
Barry Jones
110
Posted 25/10/2020 at 16:36:45
If there were any doubts that we cannot have Siggy or Iwobi anywhere near the squad then surely they must have been vanquished today. I've never seen Siggy win a 50/50. He always chokes. In addition, he coughs up the balls that he should win because he is too slow and too timid. This puts pressure on the rest of the lads. Gomes is a way better player, despite a couple of underwhelming performances.
Tony Heron
111
Posted 25/10/2020 at 16:36:47
Well, it was good while it lasted, but let's be honest, did anyone think it would go on? Clearly there is a lack of quality in depth. The team is an easy pick. Who's making it difficult for Carlo to leave them out? Iwobi, Sigurdsson, just don't cut it, they may have their moments, but that's not good enough. I thought we were getting back in the game just before the sending off but once Digne went that was it. I thought one or two gave up at that stage, Gordon did put the effort in though and I would prefer him on the left in future. Final note, 2 sendings off suggest we need to address our discipline.
Barry Jones
112
Posted 25/10/2020 at 16:38:34
James Ward-Prowse has to be the most under-rated player in the league. I would love to sign him.
Kieran Kinsella
113
Posted 25/10/2020 at 16:39:55
Alan/Jack
Digne had already had a niggle at him and then came charging back at high speed into his back. Yes, the actual connection was accidental and unfortunate but, if you've already collided and come rushing into the back of him like that, then it's inevitable something bad is going to happen. You could tell a collision and red was on the way as soon as Digne closed in on him.
Si Cooper
114
Posted 25/10/2020 at 16:40:16
We were poor and didn't really deserve anything from the game.
Godfrey and Anthony Gordon both looked young and inexperienced, which they are but needed to play a level up. We saw how missed Richarlison will be. Was Doucoure injured at some stage? I was surprised he was subbed.
Legitimate gripes for me are Bernard getting a yellow for a replica of the Redmond foul on Godfrey, and the automatic demonising of Lucas Digne's coming together with Walker-Peters (including by Brian Wilkinson).
First off, he is just a close second place in the original challenge not simply trying to bring the man down, then he had a good ten yards to hack him down if that was his intent, and lastly you've actually got to believe he wanted to do the lad's Achilles if you decide that deserved a red. Hate to go back to it but Son obviously hacked Gomes leg to bring him down and got his red overturned.
I didn't see it all but I think Jamie Redknapp called it a ridiculous red card in the after match discussion, and that is with the Sky commentator (some nobody) unbelievably characterising the challenge as a 'lunge' after the final whistle.
Mike Price
115
Posted 25/10/2020 at 16:40:25
We should have done everything to ditch Iwobi and get Zaha in, and whoever sanctioned his purchase, as a replacement for Zaha, needs firing.
Very strange performance, the very worst of Everton and that lethargy worries me. The manager cannot allow that type of performance, it's happened too many times under Ancelotti.
The midfield disconnect with the front and backline was shambolic and the number of times our players tackled from the 'wrong side' was beyond amateurish.
Tony Abrahams
116
Posted 25/10/2020 at 16:40:25
It's something for Ancelotti to work on Kieran, but the games changed so much, and industry, is vital in this area of the pitch nowadays. (Out wide)
It used to be central midfield, that was all about industry, it still is, but with most teams now playing with three in there, maybe this is the position that we can allow ourselves a little bit of luxury, but the work rate wasn't quite there today, because we had to many luxury players on the pitch?
It showed us how important Richarlison is, and I said I'd have sooner gone with Davies today, because the kid works very hard for his team mates.
Barry Jones
117
Posted 25/10/2020 at 16:40:37
James Ward-Prowse, a better ball striker than Sigurdsson with ten times the movement and better vison. He also wants the ball, is comfortable on it too.
Will Mabon
118
Posted 25/10/2020 at 16:40:39
John, it's not the end of the world, but it was bad. Not unexpectedly for me as it highlights the small number of suitable players that we have in reserve; almost none. Without further improvement in the squad there will indeed be more frustrations.
Steve Ferns
119
Posted 25/10/2020 at 16:40:51
Kieran, Gomes is a great option. Digne was isolated today and looked poor. That's because he can usually play with Gomes. Gomes is our only midfielder who can use both feet. Look at the stats for how many left foot passes he makes. He can use his left and that really helps Digne. Unlike Delph, who has a better left foot, he can also do his primary task, of switching the play to James.
Watch how Gomes receives the ball and draws players to him, but still finds room to play the switch. Saints smothered us today, but Gomes would have been able to have them chasing shadows as there was lots of space on the other side of the pitch and playing switches really nullifies tactics of the likes of Saints and Leeds.
A lot of the criticisms of Gomes are myths, born out of a few examples. He is one of the least dribbled past midfielders. He's our leading player for pressing in the mid section of the pitch. He slows the opposition down and allows others to recover. He has more discipline and doesn't go too far forwards.
In essence, he's perfect foil for Allan and Doucoure and the three of them compliment each other and bring balance. His lack of pace is not an issue at all, no one can run as fast as he can pass the ball.
Kieran Kinsella
120
Posted 25/10/2020 at 16:43:03
John MacFarlane 105
It wasn't that bad if you think of the "standards" set over the last 30 years. Southampton played very well, our full back threat was gone with Coleman out and Digne and Iwobi having no understanding down the left.
I would suggest that under Silva, Koeman this would have ended up being 4 or 5 nil. Nothing positive about losing but unlike the RS at Villa we didn't allow a poor game to become an embarrassing capitulation.
Paul Hewitt
121
Posted 25/10/2020 at 16:43:36
Sometimes in life, you're beaten by the better team. Simple.
Ed Prytherch
122
Posted 25/10/2020 at 16:43:37
Robbie Mustoe said that Kevin Friend got the red card wrong. He pointed out that Digne had his arms in the air trying to slow down when Walker-Peters trailed his foot looking for a foul.
Both Iwobi and Sigurdsson were guilty of not picking up Ward-Prowse's run from the throw for the first goal. For the second, Yerry Mina went into the right corner to help Godfrey deal with Ings but between them they could not prevent the cross and the goal was inevitable with Sigurdsson trying to play centre-back.
Anthony Gordon was bright and enthusiastic when he came on and he looked to be from a different team. I also think that Delph steadied the ship in midfield. I hope that they both start next week.
John Pierce
123
Posted 25/10/2020 at 16:43:49
I thought Sigurdsson deserved his start, and Iwobi too if I'm honest. Sadly it was a mistake. Every time they received the ball, they contract the play rather than stretching it. Being so close together, it blocked Digne off.
Ferns said to me, poignantly, Gomes was a miss. Despite his so-so performances, I have to agree. Ancelotti set us up poorly today. No complaints as long as the same pattern isn't repeated next week.
Alex Gray
124
Posted 25/10/2020 at 16:45:45
It was painfully obvious today that, with a few injuries, the squad still needs a lot of work. Digne is a huge loss and, as much as I rate Nkounkou, having him start the next three games is a big ask for the lad.
Richarlison makes the front three tick. Iwobi, Bernard and Gordon aren't near his standard and Iwobi or Bernard never will be. Both aren't wingers and flourish when played in the middle and Gordon is still too young to be relied upon as a starter.
James didn't look fit and was put in as we simply have no other viable option. I felt for Godfrey as he had little help and, to Southampton's credit, they knew this from the off and punished us.
When we play well, we look excellent; however, with a few injuries, we lose the balance and formula that works for us. Iwobi cant do Richarlison's job and Godfrey isn't Coleman and is a centre-back.
We're going in the right direction but will need some time to make a competitive squad – not just starting eleven.
Moving forwards we'll have better days and worse no doubt. Still top of the league.
Will Mabon
125
Posted 25/10/2020 at 16:47:36
Barry, do I remember rightly, was there speculation that we were after Ward-Prowse in Koeman's time?
Derek Moore
126
Posted 25/10/2020 at 16:48:09
Well, that's a bubble well and truly burst.
You've got to credit Southampton who had done their homework – they cut us open on Godfrey's side almost at will it seemed. Most of us wanted right -back cover in the window but the money didn't quite stretch that far. Today we're able to see the unfortunate result.
The absence of Richarlison was keenly felt. Iwobi was quite frankly lucky to make it to half-time. Sigurdsson played with a visible lack of urgency.
The lack of concentration to allow their first really told the story for the whole game.
Every team is entitled to lay an egg, and the lack of depth was cruelly exposed. But the gap between our best and performances like this is just far too wide for us to be in the contender conversation.
Southampton mugged us over Beattie, they mugged us over Koeman and they mugged us again today. There'll need to be a bounce back of sorts following this stinker of a performance.

John Raftery
127
Posted 25/10/2020 at 16:48:09
The first goal in Premier League matches usually proves pivotal. Today's game was a case in point. Had Sigurdsson's effort hit the net instead of the woodwork this probably would have been a different match. Once we fell behind we never looked likely to get anything from the match.
The absence of Richarlison was sorely felt, as damaging as it was predictable. He has been our key player in the past two years and put simply we have nobody anything like comparable in terms of pace, carrying the ball, dribbling, work rate and goals. The gap he left in the team was perfectly illustrated near the end when Calvert-Lewin raced wide to a pass. He hit a decent centre but unfortunately even he is not blessed with the gift of getting on the end of his own crosses.
As I suspected before the game our midfield today contained too many playmakers and not enough front running. Iwobi, Bernard, Sigurdsson and James all want to be playmakers but are bereft if nobody is making the runs in front of them. That runner is usually Richarlison.
Kieran Kinsella
128
Posted 25/10/2020 at 16:48:21
John Pierce,
Based on the presser, I thought Iwobi would start. There were a couple of times he could have played a quick one-two but instead decided to stop play and go on a dribble. Also, he stayed so tight to the wing that Digne had no space to overlap.
I assume Carlo feels Iwobi brings more energy to the team but uncontrolled energy and carelessness doesn't do much for us. If Bernard or Gordon started, we've have been more exposed down the left with Digne overlapping but, on the plus side they would have likely used the ball better in the final third.
In hindsight Carlo should've been bolder and thrown caution to the wind rather than relying on Iwobi to "put in a shift."
Si Cooper
129
Posted 25/10/2020 at 16:49:51
Can anyone who doesn't have a problem with the red card explain why? Do they think Digne deliberately stamped the back of Walker-Peters ankle? Why would he do that instead of just tripping him?
Jerome Shields
130
Posted 25/10/2020 at 16:50:19
Rodriguez wasn't fit enough to play. Sigurdsson and Iowbi not effective enough, and never have been when needed. Both are too easy played out of games. Calvert Lewin is never going to scrape a goal. The Everton midfield was outplayed and had to resort to wing play, with little final third play and almost nothing through the centre.
Defensively the two goal where the result of poor play. Bernard and Delph added something, but faded, especially after Digne was sent off.
Kieran Kinsella
131
Posted 25/10/2020 at 16:53:09
Si 129
He was reckless trying to make contact from behind at speed after already catching him a moment before. Some kind of contact was inevitable be it a stamp, push, etc. He didn't seem to have a plan as to get the ball he seemed just to be running towards the back of the player as fast as he could. Had he run to the side of him and looked to poke the ball away then fine, but he didn't he just clumsily ran really fast towards his back and that recklessness led to the unfortunate contact
Steve Ferns
132
Posted 25/10/2020 at 16:53:51
Kieran, I just think the team has had a great balance this season. So you look at who's the closest to Richarlison and, for me, it's Gordon. Gordon has the pace, directness and desire to get in the box of Richarlison. Iwobi is probably a better player, at this moment in Gordon's career, but he's a different player to Richarlison and so disrupts the balance. We also swap out the very different Gomes for Sigurdsson and that's a left side that plays in a very different way. The balance was gone. Carlo needs to get it back. I'd play Nkounkou, Gomes and Gordon on the left next week, but I'm sure it'll be Delph, Gomes and Bernard.
John Atkinson
133
Posted 25/10/2020 at 16:54:12
Not been on the web for a long time but I need to vent my spleen as I have been going to do for the last few months. I have supported the team for 56 years so have been through the rough and smooth. But can anyone tell me what the fuck does Iwobi bring to the team?
No pace, close control, ability to tackle or pass to a fellow player. Not just today, ever since he joined the club. Arsenal must have pissed themselves for the millions we paid.
I predicted today's result. Richarlison is a massive miss and we have no-one to replace him. Carlo needs to have a word about his attitude when things aren't going his way.
Also, today we were second best and didn't lack any fight which is worrying. Just like the end of last season. Hope this is just a one-off.
Tony Hill
134
Posted 25/10/2020 at 16:55:39
Si @129, like others I could see the foul coming and it did indeed look to me as though he raked the Achilles. But I haven't seen it back enough to be certain and I'm willing to change my mind.
I think he was frustrated with himself, he had a poor game. I am a great admirer of his, as we all are.
Steve Ferns
135
Posted 25/10/2020 at 16:57:25
Tony, but he already has his hands up before contact is made. He can see contact coming as he is going too fast. It's a foul, or a foul and a yellow at worst. Reckless or accidental. Never deliberate.
Paul Birmingham
136
Posted 25/10/2020 at 16:59:24
I knew today would be the toughest test but, in my view, it was a mirror performance of the team that played the last 9 games after therestart of last season. Lacklustre, and almost looking like there was no spark, but Richarlison, when he plays, adds a new dimension, and today our build-up was pedestrian bar one it two decent moves in the first half.
We are still top of the league on goal difference, but today's proved that we haven't got the strength in depth, that is needed to last the rigours of a long season. January is not always easy to get the players needed.
Stupid recklessness, by Lucas and he can't complain, about the Red card.
Massive issues in that we didn't work their goalkeeper, and in the first half when in decent positions the final pass wasn't there, and the second half, we didn't get a shot off on goal.
The seasons a marathon, and let's see Everton, bounce back at The Toon.
I've every confidence in Niels stepping up, and Id start Gordon in place of Iwobi, but we must make the Toon defence work, as today, Soton, could stroll out and play.
Let's stay positive and let's see the character of this squad and bounce back with a win next week.
John Pierce
137
Posted 25/10/2020 at 17:02:26
Looking at Digne's red. Once he makes contact, the boot gets caught Walker-Peters kinda takes him for a ride. At no point did he ever apply any pressure, the landing caused the problem.
The referee's lack of 'feel' for the game came through he, he used a textbook to send him off rather than using his years of experience. I wonder if he thought it was endangering a player. You'd hope that could be overturned.
Tony Hill
138
Posted 25/10/2020 at 17:02:57
I've just watched it back about 10 times, Steve, and I'm afraid I still think it was a bad foul. Throwing his hands up was an odd thing to do and his foot seems to me to be planted rather than making accidental contact.
I accept, of course, that these things are seen differently.
John McFarlane Snr
139
Posted 25/10/2020 at 17:03:29
Hi Will [118] & Kieran @ [120] the reason I asked the question was because it didn't sound as though it was dross, more in keeping with a disappointing display against competent opponents. The word 'Dross' has been used more than once to describe defeats, and although my days of travelling to away games have long since gone, I can't say I have witnessed any such games at Goodison, but then it's possible that my standards are not as high as those of others.
Ajay Gopal
140
Posted 25/10/2020 at 17:03:37
The fallout from the derby continues:
Richarlison is a big, big miss.
The ref seemed to have it in for Everton, and Southampton must have practised their play-acting all week in training.
Kyle Walker-Peters – he just comes across as a scumbag. An accidental step on the foot is never a red; I am surprised so many TWers agreeing with that red card decision. If Son's leg break red card can get overturned, then surely Digne's should be.
Godfrey, Allan, Sigurdsson were poor. Every time I see Iwobi play, I think – "Surely that is the last time he plays for Everton" – but he keeps getting picked! I don't understand that – he must be fucking Cristiano Ronaldo in training!
I think the next 2 games must be regrouping and damage control. If Digne's red card is not overturned, I would like Carlo to err on the side of caution and go all Moyes and make us hard to beat. If Branthwaite is ready, I would play him instead of Mina.
3-5-2 for me, pack the midfield and give James a free role behind Calvert-Lewin:
Pickford
Godfrey Keane Branthwaite
Davies Doucouré Allan Gomes Delph
James
Calvert-Lewin
Eke out a couple of 1-0s and when Coleman, Richarlison and Digne come back, maybe we will rediscover our swagger.
Brent Stephens
141
Posted 25/10/2020 at 17:03:51
Si #129
"Can anyone who doesn't have a problem with the red card explain why? Do they think Digne deliberately stamped the back of Walker-Peters ankle?"
I don't think "deliberate" is required for a red to be awarded.
Darren Hind
142
Posted 25/10/2020 at 17:04:05
Very few came off that pitch having done themselves credit.
The players have performed badly and the manager has had a complete Weston.
Bad day all round, but there will be more good ones.
We go again.
Will Mabon
143
Posted 25/10/2020 at 17:04:09
Digne's foul unlikely deliberate in the actual contact but have to agree with Keiran. His whole approach to the situation following the first bite was just asking for trouble.
A case could be made either way as to whether it warranted red or not but he put himself right in the firing line. Be lucky to get that rescinded.
Tommy Carter
144
Posted 25/10/2020 at 17:05:06
Digne deserves red. Reckless. A product of a diabolical performance. This player had the better of him once again and he wasn't going to allow him to get away with it.
He won't be missed at all during his ban based on that performance.
Martin Mason
145
Posted 25/10/2020 at 17:05:36
Bad day at the office. We aren't the same side without Richarlison and today we played a badly half fit James and started reserve players in Iwobi, Sigurdsson and Godfrey out of position and badly covered by James.
We also have to hold up our hands and admit that Southampton were exceptional especially MotM Redmond. We have a very shallow squad unfortunately and can't yet manage a spate of injuries or loss of form.
Steve Ferns
146
Posted 25/10/2020 at 17:06:14
Tommy, you use the word 'reckless' wrongly there, it negates your argument.
Ciarán McGlone
147
Posted 25/10/2020 at 17:06:48
Whether it was accidental or deliberate is irrelevant. Whether he had his hand up is neither here no there.
It's dangerous and a red. Could easily have resulted in a Gomes-type injury.
Watch it. Clear as day.
Kunal Desai
148
Posted 25/10/2020 at 17:08:55
I think we all need to step back here, it was inevitable the unbeaten run was going to come to a halt sooner rather than later. Before the season kicked off most would have agreed that challenging for a Europa League spot would have been the aim, no doubt that still is the case.
This is Carlos first full season he's plugged the gaping hole which had been shit for a while which was the midfield. Most likely next summer we'll bring in a few more for the next phase of the project.
We'll see a more players leave, for me Iwobi and Sigurdsson contribute nothing and hope the club can move them on.
We need to sort the defence out, conceding far too many goals ay present, happy to revert back to grinding out 1-0 wins. Let's get Holgate back into the side as soon as possible.
There were always going to be bumps along the way this season and still will be, as long as we are in the mix for Europa League end of the season then the objective for this season is complete.
Brent Stephens
149
Posted 25/10/2020 at 17:09:39
Steve, so if Tommy is saying it was deliberate, that strengthens his argument for a red card!
Steve Ferns
150
Posted 25/10/2020 at 17:15:22
Brent, I was thinking the word 'dangerous' for what he's saying.
If Digne deliberately did what he did, then it's a red. If he was charging to get back and made contact then it's reckless or accidental.
What grounds is the ref sending him off for? Serious foul play? For that to be serious foul play, he has to mean it. It cannot be reckless.
Eddie Dunn
151
Posted 25/10/2020 at 17:15:35
Kevin Molloy,
My thought on Allan are the same as yours. He is surely still crocked, no mobility. I couldn't understand Doucouré being subbed either.
Digne had a poor game, so often he gets caught out and there were acres of space between him and Keane. He got himself on the wrong side to the attackers (schoolboy errors) then his dumb double foul got him a deserved Red because whether he meant it or not, he was plain stupid. I thought he was going to cry when he went off.
James should not have started, he hung Godfrey out to dry and the whole side watched like lemons without sliding across to cover. Lots of mistakes this week and the ref was ready to put right the perceived wrongs from last week. Newcastle is now very important.
Will Mabon
152
Posted 25/10/2020 at 17:16:23
Steve, the full definition of "Reckless" covers both accidental and deliberate senses. Whether this is modified in the football rules, I don't know.
Clive Rogers
153
Posted 25/10/2020 at 17:16:56
Allan has been very poor in the last two games and was shattered from mid second half when he was running around like a headless chicken but not getting near enough to tackle. If he's carrying an injury, Delph should be used in his place.
Tommy Carter
154
Posted 25/10/2020 at 17:17:00
@146 Steve. I don't. He gave little regard to winning the ball. He wanted to stop the player who'd just picked his pocket once again. A player who'd bettered him once again.
He chose to bring him down with no realistic chance of winning the ball. Ergo: reckless.
My opinion, of course.
Steve Ferns
155
Posted 25/10/2020 at 17:19:02
Tommy, what you describe is not recklessness.
Wanted to stop a player = deliberate.
Chose to bring him down = deliberate.

Jerome Shields
156
Posted 25/10/2020 at 17:20:22
Digne should have never received a red card.
Steve #132
I agree with your analysis and who to play. As long as Gomes doesn't get drawn too deep. He is not good deep. Sigurdsson only as a sub to slow down a game when in the lead.
I do think Ancelotti with foresight got his starting selection wrong and especially the way Southampton played. Everton's pregame analysis wasn't good enough.
Rob Dolby
157
Posted 25/10/2020 at 17:20:29
We have a decent first choice 11 and maybe only the young left-back who can improve us from the rest of the squad.
It was all too predictable today. Iwobi and Sigurdsson like ghosts. Godfrey exposed.
We should appeal the red card it looked accidental even if it did look nasty in slow motion.
I didn't agree with the Doucouré sub it just puts too much pressure on Allan.
John Raftery
158
Posted 25/10/2020 at 17:21:31
I agree the unbeaten run was destined to end sooner rather than later, especially as we have regularly been conceding two goals per game. We need to return to the basics of being tough to score against and hence tough to beat.
David Connor
159
Posted 25/10/2020 at 17:23:19
Well it was gonna happen sooner or later. But the manner of the defeat is a bit of a worry.
One thing is obvious. Sigurdsson and Iwobi should be moved on in January – if anyone will have them that is. They are not the type of player that wants to get stuck in when the team is struggling. They are a luxury player to bring on when you are cruising 3-0 or 4-0 with 30 mins to go and that type of player we could do without.
The overall performance was the typical display we were seeing at the back end of last season and needs sorting asap. No defence for that kind of performance. They were shite from start to finish. Roll your sleeves up in the next couple of games, boys, or more of the same is coming your way.
Tony Hill
160
Posted 25/10/2020 at 17:25:30
Kunal @148, there's a lot of truth in that.
Kevin Prytherch
161
Posted 25/10/2020 at 17:26:06
I expected Iwobi to start, but I was hoping for Gordon as he is the player most similar to Richarlison.
As for Sigurdsson, I've said it plenty of times that he's only good when afforded space and time. If we'd have scored first, he would have looked good. We didn't, he was crap.
As for Gomes, he is a very intelligent player. He's helped create two goals this season off the ball. The little nudge he gave to Adrian last week that put him on the back foot for Keane's goal, and one earlier in the season when he blocked a run from a defender, leaving us open to score. (Can't remember who against.)
Digne's red was less that Robertson's challenge last week. At the time of contact, there was no intent. If he'd have caught him higher up the pitch when he first tried to get him then I'd have no arguments.
I think part of Doucouré's role is to cover for Rodriguez, however, he usually can because of the excellent defensive work Richarlison does on the other wing. Without Richarlison, the whole midfield gets dragged more to the left and Godfrey was exposed.
If Digne's card isn't rescinded, I hope he plumps for Nkounkou and Gordon next week. They'll both have a point to prove and will work twice as hard as Delph or Iwobi / Bernard to prove their point.
Derek Knox
162
Posted 25/10/2020 at 17:27:23
John @ 158,
How are you mate? Totally agree with your comments but how do we do that? I'm hoping Digne's Red may get turned over, so that may help a bit.
Why is it that, if one player is not up to scratch, it affects everyone? It's only to be expected that someone may have an off-day, but not all of them. The incentive was there and a position to build on.
Although Southampton played well, they weren't great, and on another day we should and probably would have got something out of the game even if it was only a draw. As it stands all momentum is virtually lost and they have to start afresh away at Newcastle.
Jim Bennings
163
Posted 25/10/2020 at 17:29:38
Bad day at the office and all you can do is learn from games like today and move on the make sure the following week is better.
In hindsight Ancelotti may have been better off going five at the back today bringing Nkoukou in because we had Godfrey making a full debut at right back, he's never a right back, and when you have James in front of you (who we know doesn't track back it's not his game plus today he didn't look fit) then it was asking for trouble.
Some games you have to sometimes learn from the previous meeting with that team, in July Southampton played us off the park at Goodison and it felt like déjà vu today because we allowed them too much time and were basically outnumbered.
Allan doesn't look fully fit either, has he come back too soon after the injury picked up in the Cup against West Ham, I don't know but he's looked off it the last few games.
Doucoure is the one that you want breaking the lines supporting Calvert-Lewin but he's not done it today and well Sigurdsson is just Sigurdsson isn't he and Iwobi, I can't believe is that much better than Yannick Bolasie if even as good??
Bernard was a strange sub, he's not the type of player that can change a game when you are two goals down, if he wasn't starting today then why bother at all.
I'm still gutted that we don't possess enough attacking options, we've seen today if Calvert-Lewin doesn't score, if James is not fit and firing or Richarlison likewise then we have little else.
It pisses me off Southampton have a nifty ever busy player like Redmond yet we are still persisting with some of last season's failures out in wide area's.
Bad day at the office but let's not take it into next week, too many displays like today that's when the rot starts setting in.
John Raftery
164
Posted 25/10/2020 at 17:30:02
I don't think Allan was that bad in the first hour. First and foremost he is a central midfielder. He was pushed forward for the last half hour after Delph came on. That role does not suit him at all and of course with Doucouré off the field the defence was left short of cover. Then once Delph was required to drop back in place of Digne there was absolutely nobody in front of our back line. If Southampton had been so inclined they might have added a couple more goals.
Shane Corcoran
165
Posted 25/10/2020 at 17:31:28
Look on the bright side lads; for the first time in a good while Pickford didn't make a mistake, although I did fall asleep for the last fifteen minutes.
Chris Williams
166
Posted 25/10/2020 at 17:32:26
I may well be wrong, but I think the sending off was reviewed by VAR. If so, it may well stand.
But Ancelotti has said it will be appealed. He also believes the ongoing fallout from the derby in the press had its desired effect.
Steve Carse
167
Posted 25/10/2020 at 17:32:43
Am I the only one who thought Rodriguez lived up to his usual standards? His close control and dribbling were as good in any of his other performances and I can only recall two occasions where he gave the ball away.
As ever, his right-to-left distribution was impeccable. If his teammates had been anything like on form and so got us into important areas of the pitch we'd have got something from the game and he would have been acclaimed by many as MotM.
Kieran Kinsella
168
Posted 25/10/2020 at 17:32:43
John Pierce,
I disagree on the ref not reading the game. I think he was reading it as he'd seen Digne clip the player who stayed on his feet then immediately collides with him again. I think Friend felt Digne had it in his head to bring him down and, having failed at first, went back for a second go.
Will Mabon
169
Posted 25/10/2020 at 17:33:38
Shane, he tried to make one just for you by dallying on the ball in front of Ings but probably after you nodded off.
Jerome Shields
170
Posted 25/10/2020 at 17:34:39
Also think that Digne was making sure he tracted back on the same player that Sigurdsson didn't in the first half, that resulted in a goal.
Brian Williams
171
Posted 25/10/2020 at 17:38:13
I've avoided posting until my anger had subsided and a very small amount of my disappointment.
I'm angry, not at the defeat, but at the manner of the defeat. That lacklustre display, lacking in real effort, in guile, and in ideas, took me straight back to many of our performances of last season.
Southampton's midfield were quick, incisive and aggressive (in a good way) and passed around ours like the shite did last week. Their passing was so much better than ours, and it seemed to me they'd studied exactly how to outplay us, which they did.
The substitutes and stand-ins proved that we have a good first eleven but that's it. Iwobi was given a chance to show what he can do and that's exactly what he did. He showed that he can't do a lot.
Bernard and Gordon were ineffective, Bernard in particular. I feel for young Anthony being brought on when we were already beaten because body language and attitude said to me the players knew they were beaten, and tellingly, accepted the fact.
Taking off Doucouré instead of Allan was a mystery as we needed energy, a little pace, and a willingness to get forward as we were already two-nil down.
Digne looked totally out of sorts from the start and his day just got worse and worse. A stupid, even if unintended act, saw us without another first eleven player for three games.
All-in-all, a day to forget in some ways, but in others the players need to watch that game over and over and realize just how poor they were.
Pissed off, gutted, and off to drink a bottle of wine.
Martin Mason
172
Posted 25/10/2020 at 17:39:02
Regarding Digne's foul, before stamping on his ankle, he'd raked his boot down the back of his calf and Achilles after chasing him 25m to do it. If that is not completely reckless and deliberate and a definite red card, then I will never see a foul that is.
It was VAR reviewed and will, for me, correctly stand. Digne needs a rest and we have a good replacement whom I'm sure everybody would like to see get a game.
The RS managed to inflict a lot of damage to us after last week's game with their constant whining via ever possible media outlet, it has undone all of the hard work done this season.
Will Mabon
173
Posted 25/10/2020 at 17:40:15
Brian – use a glass though. Things aren't so bad yet.
Brian Murray
174
Posted 25/10/2020 at 17:41:49
Carlo apparently said the fall-out from the derby had an effect. Well strong-minded pros would thrive with criticism. Hope he finally realises that. The likes of Gomes and Sigurdsson wilt at first signs of adversity.
David Pearl
175
Posted 25/10/2020 at 17:43:42
I think unfortunately we seem to be carrying a few knocks. Don't know why it was Sigurdsson doing the chasing back, if that was Doucouré l'm sure he would have blocked it. So let's rest in the week and go again.
Bill Gall
176
Posted 25/10/2020 at 17:43:46
I believe that Kunal (#138) has the right perspective on what this game means.
Prior to the season starting and with the new signings, plus our first 8 games, we suddenly believed that we were in a chance of winning the Premier League. The aim for this season according to Ancelotti was gaining a place in Europe.
What this game has shown is our weakness in coverage for injured or suspended players. Prior to Coleman being injured, we had Kenny injured, and that was unexpected. We are all on about loaning Kean out, but he showed nothing when he played against Premier League teams except enthusiasm.
We have the makings of a team that could finish in a position to qualify for Europe or qualify by winning a cup. Ancelotti himself has said we are not as strong as Liverpool but we will continue to play to win. Yes, poor game today, but the bright side is we are still top of the league.
David Hallwood
177
Posted 25/10/2020 at 17:45:51
If Son's red card was rescinded after a review, then the club should appeal Digne's card. The Son - Gomes incident is almost identical to the Digne red card, with a worse outcome.
Terrible today, looked like they'd all been on the ale last night.
Steve Ferns
178
Posted 25/10/2020 at 17:51:38
Martin, something cannot be both reckless and deliberate. It's one or the other. You have a scale with deliberate at the top, accidental at the bottom and reckless in the middle. To use Brian's words, recklessness is a stupid but unintended act. In football, if such a stupid and unintended act is dangerous, then it can be a red card, regardless of the level of intent.
To make this point Absolutely clear, we're talking about the intent to make contact, not the intent to cause injury. I don't believe Digne intended the contact, but he could see it coming. So he raised his hands to signal this.
Stephen Brown
179
Posted 25/10/2020 at 17:54:07
I'm pleased Carlo is blaming the press reaction to Pickford and Richarlison for getting Digne sent off! This is the kind of reaction we need! Start questioning everything so we might now get treated fairly in the next game?!
Surely Simms is worth a bench spot until Tosun is fit? We need some sort of striker on the bench when 2-0 down.
Christy Ring
180
Posted 25/10/2020 at 18:00:06
Looking at the Digne incident again, no way was it a red card. A yellow for the foul, but there's no way he meant to rake down on his Achilles. He had his hands up, to try and slow down, it definitely wasn't deliberate.
His reaction going down the tunnel said it all. If a player did that deliberately, he doesn't deserve to be on the field.
Gordon has to start next week. Iwobi and Sigurdsson bring no workrate to the team whatsoever.
Steve Ferns
181
Posted 25/10/2020 at 18:01:28
Stephen, it's also good to see Carlo says that "we will appeal it". He's making it clear in no uncertain terms that this is his decision.
I doubt he has the authority, but Everton cannot fail to follow through on his words now! I doubt any of the others would have been so decisive, even all the way back to Moyes.
John Raftery
182
Posted 25/10/2020 at 18:03:03
Derek (162) I am well thanks and all the better for not being sat on Coach One on a five hour journey home from the south coast. I'll be getting soft in my old age if this situation drags on for much longer! I trust you are well.
How do we tighten up in defence? A good question. The answer possibly lies in a more cautious approach. With the current personnel, playing a high defensive line seems out of the question. Godfrey may ultimately be a central defender who can bring pace to the back line and allow us to push up but I doubt anyone would want to put that responsibility on him at this stage.
So assuming we are stuck with a deep back line I would bring back Gomes, who despite his poor form, offers a more defensive mindset than Sigurdsson. Doucouré and Allan would hold their central midfield positions more than they did today. I am hoping Kenny will be fit to return at right back and I would give Nkounkou a chance at left back.
Playing a low defensive line requires the team to have some pace to mount counterattacks. For that reason I would have selected Gordon for the Richarlison role today and would do so next week.
Finally there is the matter of attitude. Our players need to go out next week with a 'we shall not be beaten' attitude which arguably is as important as tactics, team selection and formation.
Ray Roche
183
Posted 25/10/2020 at 18:03:06
If, before the season started, you were offered seven wins, one draw and one defeat in the first nine games and played, mainly, lovely football I bet we'd all have taken it. Just think for a minute how far we've come in one transfer window. Positives boys, positives!
Brian Williams
184
Posted 25/10/2020 at 18:03:29
Terrible today, looked like they'd all been on the ale last night
.
David that's exactly how they looked!
Nicolas Piñon
185
Posted 25/10/2020 at 18:04:44
As Gordon said guys, a bit of perspective needed here. Although not for too long, still top of the league we are. At some point, we were going to get a defeat and it happened today.
But why being so negative? Without Richarlison, it was always going to be a risk to see how the team performed and what players to choose to prepare the team. Risks always include loosing. It's far too easy to judge after a game.
Ancelotti is an intelligent man and he'll probably noticed Gordon is before Iwobi now. As well as Sigurdsson is doesn't help at defense at all. He probably made some mistake in the team selection, but he also took as here, hasn't he?
In my opinion, I would never put three at the back given Mina and Keane are not fast at all, and that being generous with 'em. Keane played well I believe.
Whilst we don't have Richie, maybe swapping James to 10 and Doucouré as a right mid would probably help out our balance and right back position (be it Kenny or Godfrey, who I believe was left totally isolated and exposed in his first full start debut with James not totally fit). Credit to Soton, the played well and are playing well.
I'm confident Digne, although he was Poor, will get less than three matches cause he didn't mean that, he had mainly bad luck there.
As well, Coleman, Kenny, Branthwaite and Holgate (maybe not him) should be back soon, so that's good. They'll help for sure. Bar forgetting Gbamin and Tosun.
We're far better in the table than we would have expected by this time, so I believe we shouldn't loose perspective. Did really someone expect we were straight going to win the league because of 4 wins?
Obviously defeat hurts, but we've got Carlo to be optimistic!!
Tony Abrahams
186
Posted 25/10/2020 at 18:09:02
When Digne first caught his opponent, I heard him scream like a pig, and I had the sound on my telly right down.
How can a player squeal like this and then sprint forward like the Southampton player did?
This side of the game is becoming unbearable, players always looking to cheat is deplorable, and so is the inquest after everyone of these contentious decisions. I can't wait to get back inside the ground to watch the game live, because I can't stand the circus for much longer, of what the beautiful game has become.
I'm not sure if Digne meant to foul, but moan like fuck, Evertonians – you only have to look over the park to see how much this moaning works. And if Ancellotti has mentioned that this sending off is just carrying on from the way the media have reacted all week, I'd have to agree. Football is no longer a sport, it's a bloody circus!
Martin Mason
187
Posted 25/10/2020 at 18:10:26
Steve @178, I disagree, something can be both reckless and deliberate. Surely you can't chase somebody to exact retribution for a mistake, rake your studs down the back of his leg and then stamp on his ankle by accident?
Derek Knox
188
Posted 25/10/2020 at 18:12:12
Brian @ 171, I share your sentiments entirely there mate. Didn't know Desperado did wine. 😜
Trevor Peers
189
Posted 25/10/2020 at 18:15:57
It's been a great start to the season, but today came the reality check, when we're not at it we can easily be beaten. The midfield didn't press as normal and the defence was exposed.
James didn't look fit and we needed to sign an extra striker when we loaned out Kean, very hard to understand why we didn't. We are short of goalscorers, Calvert-Lewin can't do it all on his own obviously.
That green kit is horrible, worst I've seen.
.
Mike Doyle
190
Posted 25/10/2020 at 18:21:39
Agree with Nicholas (#185), No Richarlison, No specialist right-back available, and neither James or Allan 100% fit.
Too many weaknesses to overcome a decent Southampton side.
Hopefully another week will help James and Allen with Kenny available next weekend.
Need to inject some pace into the forward line – and Gordon seems to be the only option. Whatever Iwobi is, he isn't a left-winger.

John Keating
191
Posted 25/10/2020 at 18:25:34
Second best all over the park and beaten by the better team. Simple as that.
Onwards to Newcastle.
Steven Astley
192
Posted 25/10/2020 at 18:26:31
We were poor today, but I've said it before I'll say it again, we'll never win anything or even qualify for Europe again with Pickford in goal.
Si Cooper
193
Posted 25/10/2020 at 18:31:33
Brent (141),
I think whether it is deliberate or not makes all the difference. People seem to want things to be judged on consequences which is exactly what objective decisions shouldn't be based on.
Look at the Godfrey / Bertrand penalty shout. There is very obvious contact (otherwise Bertrand is diving and should be booked) so the only way it wasn't a penalty is if the defender wasn't judged to be responsible for the contact. Someone needs to explain the real difference between that and the Digne incident apart from the actual level of contact.
I don't see it at all like Martin Mason; I think Digne tries to avoid contact and I didn't see the earlier attempts to make contact from behind that he describes. To deliberately stamp the lad's Achilles would be inexcusable as that carries the real threat of a career threatening injury, and that intention seems well beyond what Digne has displayed before.
Son's challenge was deliberate but I'm sure he didn't expect / wish for the injury it caused. For Digne's to stand you are basically labelling it as a deliberate attempt to seriously injure the player. As Steve Ferns has said reckless can't be applied because a reckless challenge has to at least include the possibility that the ball would be won.
Martin Mason
194
Posted 25/10/2020 at 18:34:24
Steven and you'd be wrong again. Pickford is the least of things that will stop us qualifying from Europe. We are top of the league with him so how could he stop us doing that? He had a great game today or do you ignore things like that? Do Southgate and Carlo know less about football than you?
Geoff Williams
195
Posted 25/10/2020 at 18:35:43
I have been disappointed with Ancelloti over the past 8 days.
Last week, Richarlison was clearly unfit and should have been substituted but he wasn't. Richardson was aware that he was struggling and wasn't performing to his normal standards. His frustration resulted in an awful tackle and a red card.
Today, his team selection was poor. Surely he has learned by now that Iwobi and Sigurdsson shouldn't ge on the field at the same time. His substitutions were suspect too. Out muscled in midfield and he sends on Bernard. He didn't take James off and he was struggling all afternoon.
The legacy of the last week is no Richarlison and Digne because of suspension and probably no James because of injury. Team selection meant that Godfrey was continually exposed, goodness knows what that's done to his confidence.
Colin Glassar
196
Posted 25/10/2020 at 18:37:01
I didn't watch the game so I can't opine. But the result doesn't surprise me. I've said since day 1 that our first choice 11 can match anyone but, with a few injuries and/or suspensions our squad, quality-wise, is paper-thin.
Carlo needs a couple of transfer windows to get rid of the squad fillers eg Bolasie, Besic etc... or the rubbish players, ie, Iwobi, and replace them with quality.
John Davies
197
Posted 25/10/2020 at 18:38:20
So many posts taking up space on this thread needlessly debating what is deemed deliberate and what is deemed reckless. How many more do we have to read? Pack it in guys! You're just being deliberately reckless! LOL!
Dave Abrahams
198
Posted 25/10/2020 at 18:38:41
John (105),
Well you couldn't dress the game up and call it anything but a poor performance, very poor. Allan didn't look properly fit and he looked a good organiser in his first few games but had a poor game today, James is good on the ball but offers nothing for the full-back behind him.
As you always say John, we all see the game differently but I doubt very much if you would have enjoyed watching that one, it was very like the games we played after the lockdown began, I could go on and mention individual players but they have all been mentioned.
By the way, I thought that although Digne, like the rest had a poor game, he had no intention of deliberately hurting their player and thought the red card was harsh.
Si Cooper
199
Posted 25/10/2020 at 18:40:28
Martin (187), a deliberate act goes significantly beyond a reckless one. With a reckless challenge, you have to include the notion that the ball could be won without fouling the player. Reckless, deliberate and reckless and deliberate can all be separated out.
You could argue that many deliberate fouls are also reckless as you can never be sure of the consequences, but reckless isn't automatically a deliberate foul.
Brent Stephens
200
Posted 25/10/2020 at 18:45:48
Si, I'm saying that I think (but I stand to be corrected) that, strictly in terms of the laws of the game, it doesn't matter whether or not the foul was deliberate (regardless of the consequences of the foul) for there to be a red card.
"For Digne's to stand, you are basically labelling it as a deliberate attempt to seriously injure the player."
No, I'm not claiming that there was that intention. Haven't players been sent off, correctly, for challenges where no contact has even been made?? I can't recall an instance but I think (again, I stand to be corrected) there have been instances?

Martin Mason
201
Posted 25/10/2020 at 18:48:05
Si @193,
The earlier contact was that Digne lost the ball to him, almost fouled him with a late tackle and then raced after him to reverse that. If he were just racing back to defend, he could have passed either side of the lad but he couldn't manage that, he first raked his studs down the back of his leg and then stamped on his ankle.
The raking was plainly deliberate and could have been nothing else (he could have just stood aside and not done it), the stamping was an accident but was the result of the raking so was the result of a deliberate action and hence deliberate.
He lost the ball, tried to get his own back and was correctly sent off as decided by the ref and VAR. He had a dreadful game today and this dreadful foul was a mark of frustration. We can't complain about refs decisions and VAR and say that they are wrong when we commit injury-threatening fouls like this.
James Head
202
Posted 25/10/2020 at 18:52:57
Roll on the next transfer window so we can get some better quality players in several areas. I'm afraid time is up for Sigurdsson, Iwobi, Bernard and I think Mina is an absolute liability at the back.
The lack of pace throughout the team is obvious and with James definitely not 100% and Allan also looking to be carrying an injury we are struggling to make any positive changes, the loss of Richarlison's endeavour was palpable.
Don't be too disheartened as I'm afraid we are once again "a work in progress" and hopefully Ancelotti can, over the next few transfer windows, reshape this lacklustre squad.
I've just watched some of the Newcastle - Wolves game and I'm envious of the players Wolves have: young, fast, positive and hardworking and showing great control with the ball, passing forward and moving into space everything we lack.
Felt sorry for Calvert-Lewin today had absolutely nothing to feed off.
John Davies
203
Posted 25/10/2020 at 18:54:03
John K. #191. Hit the nail on the head mate.
Simon Dalzell
204
Posted 25/10/2020 at 18:58:01
Ciaran #51,
"Like Son"? You are joking, right? Carlo says it's a joke, but I bet he's wrong.
Lineker "slammed' the decision, and Redknapp said the decision must be reversed or the game is gone. As far from Son as you can get.
John Boon
205
Posted 25/10/2020 at 18:59:09
Wow!!! John M (105). I know you and your ability to make accurate and honest assessments of any football game. I also know that you only heard the audible because you are reluctant to watch games. I do appreciate your stance. I don't know who was giving the report on Radio. But visibly we were DREADFUL. We did not play well on any part of the field at any time during a wasted 95 minutes.
Still having said that, I reluctantly admit disappointment as opposed to anger. We just played a bad game after a very promising seven-game streak. We now have a good manager who is still finding out about his tactics and each individual player.
I did not really agree with his substitutions other than Iwiobi who could have been replaced by a traffic pylon, However it was visible by half time that we could have made eleven subs if allowed. We can play better and I still think we can demonstrate it next game at Newcastle. I hope so... COYB

Terry Farrell
206
Posted 25/10/2020 at 19:00:36
Ajay, spot-on. Richarlison is already one of my favourite players at Everton and I am old!
Iwobi reminds me of a really pissed person coming home. He knows what he wants to do but it doesn't happen! If he is on the left, then he needs to cross the ball with his left. Calvert-Lewin will be making the run anticipating the cross and it doesn't materialise.
Godfrey is not a right-back but he gave it a go.
Please don't wear that kit again.
Si Cooper
207
Posted 25/10/2020 at 19:03:01
'Haven't players been sent off, correctly, for challenges where no contact has even been made?' – that is exactly the point I'm making Brent.
For a decision to be objectively fair, then intent should matter, not simply consequences. Sending a player off for attempting a deliberate foul and missing should be the norm if they would have been sent off if they had managed to make contact. That doesn't make the reverse true, where you must always punish a player for an accidental contact that fouls a player.
Martin, I didn't see it that way on first viewing or the replays but I am willing to take another look. Care to explain the Godfrey - Bertrand no penalty, no booking for diving decision for me?
Bill Gienapp
208
Posted 25/10/2020 at 19:03:22
Really poor day at the office. It happens. But there were definitely some alarm bells sounding loudly at that performance.
1.) To be honest, we don't really have the necessary squad depth at the moment. By and large, I've been pleased with the way certain bench players have been stepping up, but there's a big difference between making a positive impact as a sub and slotting into the starting XI. It cannot be overstated how badly we missed Richarlison today. So much of our attack flowed through the left and Iwobi simply wasn't up to it. Bernard was only marginally better. Gordon at least looked lively, and should really be getting more opportunities.
2.) Defensively, this simply isn't good enough. Forget clean sheets - we've allowed two goals in four of six league matches. That's not going to get it done. Also alarming - this is the second week in a row Allan and Doucouré haven't looked up to it in midfield. Liverpool is one thing, but getting bossed by Southampton? I'm wondering if Allan's groin is still bothering him. If they played like this out of the gate, people on here would be seriously questioning the wisdom of the purchases.
Digne's red card should absolutely be rescinded, or downgraded to a one-match suspension at the bare minimum.
Brian Harrison
209
Posted 25/10/2020 at 19:07:17
We were poor individually and collectively, nobody came out of today's game with any credit, but let's remember for most of the players involved they have been very good in the previous games.
We really missed Richarlison who gives us so much, and Iwobi again stunk the place out. This isn't the first time that Ancelotti has replaced him at half time, and I think he has now run out of chances to impress the manager. Likewise Bernard – another who has under-performed on many occasions, and he too is on borrowed time.
I thought Anthony Gordon did enough to convince Ancelotti that he is a better replacement for Richarlison. I felt a bit sorry for Godfrey having to play out of position and it showed in his defence he got very little help from Doucouré or James.
While James has an abundance of talent, that still is no excuse for not tracking back and helping a teammate who was struggling. I know he had very little service but Calvert-Lewin was very quiet today, very unlike him.
So let's hope today was a blip and we will be back to our best next week at Newcastle, but I think there will be changes to today's starting 11 for that to happen.
Tony Everan
210
Posted 25/10/2020 at 19:08:57
Southampton 2, Mushy Peas 0.
That green kit may have made them look like mushy peas but it was the limitations of our squad that contributed to this showing. When I say 'contributed', I mean that's all it was; many regulars were poor too.
We needed someone to step in for Richarlison, to claim his position and let Carlo know he deserves to start. I think Gordon comes closest to fulfilling that role and will probably get the nod over Iwobi next week. Bernard, Iwobi and Sigurdsson are accessories, they are decent players but cannot be used in our team set-up without weakening the team to the point of relinquishing control of matches and getting overrun.
Brent Stephens
211
Posted 25/10/2020 at 19:13:48
Si, I might not be be explaining myself very well (sorry) and / or maybe misunderstanding what you're saying.
My point is simply that as far as I'm aware (and I do stand to be corrected) the laws of the game don't require intention to commit a foul for a red card to be produced (so it could be a genuine attempt at a fair tackle but still a red).
But I might be wrong on what the laws say re intention.
John McFarlane Snr
212
Posted 25/10/2020 at 19:14:58
Hi Dave [198] I respect your opinions, and my feelings are that although we have strengthened the team, and have played well in the first five games, I fear that we are still some way from challenging the stronger sides for honours. I truly hope I'm wrong, but I think that our patience will be tested for a while longer. I sympathise with the younger fans because unlike you and I, who have seen League Championships, and FA Cup triumphs, lads of Josh's age have never seen a victory in a 'Derby Game'.
Jay Harris
213
Posted 25/10/2020 at 19:16:54
Team selection and tactics were all wrong today which Carlo acknowledges by making the changes after the break.
Most of this squad are a real problem in that if the position or tactics don't suit them they cant adapt.
I said before the game I would put Nkoukou on the left side with his pace and defensive qualities this was a game for him.
I didn't think James was going to last the 90 minutes so I thought Carlo was saving Gordon to replace him.
Most posters thought it was inevitable that Iwobi would fill the void left by Richarlison on the basis of one good game. Oh my, how the truth hurts. The lad was hopeless.
Ben Godfrey with very little support had a 'mare and the absense of Seamus has never been felt more.
For some reason which I thought we had got over this squad is lethargic.
Robert Tressell
214
Posted 25/10/2020 at 19:21:22
Basically, without Richarlison we lose bite, pace, workrate and goal threat.
Sigurdsson, Iwobi and Bernard offer something with Richarlison in the side with the Brazilian creating the space, stretching the play, giving the opposition something to worry about.
But, without Richarlison, we're ordinary. And Calvert-Lewin is completely isolated.
Carlo is going to have to figure this one out.
Billy Dawber
215
Posted 25/10/2020 at 19:21:32
Rubbish again today – just like we were last week. Passing in midfield is terrible. Can someone tell me why we can't get the ball to our own players? Frustrating that Dom never even got a ball passed to him throughout.
Going to be a long season, I'm afraid. Seen it all before, the squad simply ain't good enough. Goalkeeper still a clown, defence all over the place, midfield can't string a pass together, only one striker who can score. We are fucked.
Mid-table mediocrity at best. Maybe a cup thrown in but even that's a big ask as we've played no decent teams as yet. Very frustrating to watch and what makes it even worse is now we are getting people sent off through our own mistakes. God help us.
Tony Everan
216
Posted 25/10/2020 at 19:23:18
John 212,
Unfortunately, you are not wrong, there is some way for us to go before we are serious challengers.
A source of optimism is that Carlo has improved us a lot with one window and will do so again maybe tweaked in January and then with a couple of important signings next summer. It's more realistic that we can then take another step up.
Derek Taylor
217
Posted 25/10/2020 at 19:26:56
At least we've had the luxury of a few weeks at the top and unbeaten. Now we return to reality although the signs were there in the derby. Good 'first pick' but absolutely nothing to back it up apart from last season's dross. Not fair to blame Carlo but he's got a job on to keep us top half!
Peter Roberts
218
Posted 25/10/2020 at 19:29:41
The ref was a disgrace all game, even leading up to the Digne red. The Calvert-Lewin yellow tells you all you need to know about his so-called performance, the media witch hunt did its job perfectly.
Robert Tressell
219
Posted 25/10/2020 at 19:33:49
Realistically we're not title contenders and only with a lot of luck will we make top 4. Injuries mean the luck is running out. But we are aiming for top 6 (which was the realistic aim all along). This first setback does not make us shit, it just exposes a few truths we already knew. The main thing now is how we respond.
Brent Stephens
220
Posted 25/10/2020 at 19:38:20
Robert #219 - agree with every word of that. We haven't got a great squad of players. We were always going to lose a few. Top 4 a really big ask. Top 6 realistic. Getting off to such a start to the season might have not been good for our sense of realism and expectations.

Brent Stephens
221
Posted 25/10/2020 at 19:42:50
And as a follow-up to #220, imagine we'd started the season against Southampton with that loss, and with the same player absences, and then we'd got the other results we've so far achieved. We'd be absolutely bouncing.
Boy do we miss Richie. His contribution can be outstanding, offensively and defensively. And Coleman. And Holgate.
Anthony Murphy
222
Posted 25/10/2020 at 19:45:20
We're still top and if we win next week, we should stay top into November – we need to have some belief and remember there is always added pressure being where we are.
I don't know what to make of the Digne incident. I feel the media and our loveable neighbours will see it a certain way, and will think our bubble has burst, but let's dig deep and get back on track.

Tony Twist
223
Posted 25/10/2020 at 19:51:27
Very unprofessional performance but typical by Everton. You can take a loss but not in that fashion.
What is going on with these players? They had a week to prepare and give a performance like that. Let's hope it is a one-off.
Ian Edwards
224
Posted 25/10/2020 at 19:54:50
The return of Iwobi, Sigurdsson and Bernard takes us back to the terrible midfield post lockdown. No decent chances created. Calvert-Lewin isolated. Worrying.
Bill Gienapp
225
Posted 25/10/2020 at 19:56:23
Robert (219) - spot on my man. People writing off the season after one bad performance is a bit dramatic. To be honest, we shouldn't really have been talking Champions League after four wins either, but hey – we deserved a bit of exuberance.
Let's see what happens against Newcastle and just take it week-by-week, match-by-match.
Jay Wood
[BRZ]
226
Posted 25/10/2020 at 20:01:10
Deary Lord.
I hope the manager and the players have a bit more resilience and belief in themselves than some in this thread.
One defeat in 9 games and still top of the table, but already nailed on for mid-table mediocrity according to some.
Bizarre.
Phil Greenough
227
Posted 25/10/2020 at 20:04:52
Did you expect anything else, Jay?
Jay Wood
[BRZ]
228
Posted 25/10/2020 at 20:11:06
Sadly, no Phil.
Still makes it no less bizarre to me.
Steven Astley
229
Posted 25/10/2020 at 20:15:55
Martin #194 - I couldn't give a shit what Gareth Southgate thinks. Shit coach.
As for Pickford having a great game today... eh? Another 2 conceded, the first was definitely saveable. Short arms or just his technique, should have saved it. Could have been 3 but for a close offside. Stats say 2, but we all know it was 3 conceded against the shite... if that one hadn't been ruled out we would have been looking at 2 defeats on the bounce and another Pickford clanger. That's 9 in 6 games conceded now with just one clean sheet.
Don't be fooled by him changing his shirt to short sleeve and his gloves and boots to Red. He will always cost us and it's a fact that he isn't good enough if we want to push on to the next level.
Si Cooper
230
Posted 25/10/2020 at 20:25:12
Brent, I don't understand how a referee could judge a challenge to be 'genuine' and 'fair' and send a player off, since that would eliminate recklessness (can't be 'fair') and deliberate (can't be 'genuine').
I wouldn't expect a red to be given for anything 'fair and genuine', not even in the murky interpretation of denying a goal scoring opportunity (which this wasn't either).
So I guess I am challenging your understanding of the rules / laws. I need to hear what Friend and Hooper based their decision on to know whether I am challenging them on a similar misinterpretation. I suspect Friend has seen the challenge as deliberate and Hooper hasn't got the balls to call him on it.
Paul Birmingham
231
Posted 25/10/2020 at 20:26:19
No excuses but does anyone reckon that the first-half challenge on James was a penalty?
In my view, those similar type incidents are getting given in most games, especially when our neighbours play.

Ray Robinson
232
Posted 25/10/2020 at 20:28:43
I can't blame the referee for an all-round poor performance – although how he didn't see the push on James is remarkable. And where was the VAR review? In general and to a man, Southampton were sharper and better than us today.
Nkounkou must play surely against Newcastle? If he doesn't, then the supply line to Calvert-Lewin from the left will have been completely severed.
On the Digne red card, the referee had to decide (and the Appeals Committee presumably also) whether Digne took all reasonable caution to prevent the incident from occurring. "Reckless" does not necessarily imply a deliberate action. I don't believe he did mean the tackle to be the way it turned out – unlike Son's whose foul was premeditated, but he hardly did himself any favours after chasing after the lad after already having had a nibble at him.
Anthony Dove
233
Posted 25/10/2020 at 20:30:49
Unfortunately Digne, who could be a really top class
player has too many brainstorms. Today was ludicrous,
and I have never really forgiven him for his two
moments of lunacy in the Millwall cup game.Leighton
Baines may not have been the greatest ever defender
but he never lost his head.

Si Cooper
234
Posted 25/10/2020 at 20:41:19
Paul,I thought it was a deliberate shove just as James was attempting to shoot, but I did think that the Godfrey coming together with Bertrand is often given as a penalty so I haven't made a point of it.
Ray, VAR checked it.
Craig Walker
235
Posted 25/10/2020 at 20:44:49
I hope that was a blip because we were poor today. We just seemed slow and lethargic and it was back to performing like we were during the restart. Unfortunately, our 4 new signings weren't good today and we still have quite a few players who aren't good enough. The interesting thing will be how we react but Richarlison's red card looks costly. I expected a reaction to going a goal down but it never came. Not a great day. We've done well this season - I've refused to get into the talk of top 4 etc. because I still think we're lacking in quality in a number of areas. We need to be better at Newcastle, that's for sure.
John McFarlane Snr
236
Posted 25/10/2020 at 20:49:49
HI John [205],
The Radio Merseyside commentator described Everton's performance as poor which happens to the best of teams at times. I just feel that the word 'Dross' might be a little strong, which led me to look up its definition which reads "Worthless, Rubbish".
Because I haven't seen the game, I can't really pass judgment on the quality or [lack of] but, as bad as it may have been, I think that frustration may have played a part in the use of the word, or maybe it was exactly the correct description, and listening is slightly better than watching.
Paul Birmingham
237
Posted 25/10/2020 at 20:54:07
Si, Ray, and I'm sure all of us would agree, it was a premeditated obstruction of the player in the box. But today the referee may as well have been on Bournemouth Pier.
Kinda makes you think, a professional game managed by a cult of generally crap ex referrees and the vile sewage pipe media.
Carlo rightfully looks narked, and I hope this week the cleanse and rebuild of the basics begins, and Everton play with a proper forward line at The a Toon, and run their defence ragged.
Stick one up the BBC and Sky Sports, Ex RS, brigade of sewage pipes, and prove this result is a dip, and only a dip.
I hear the doubters, but let's take strength in adversity and the spirit of Evertonians to get the win we need at Newcastle.
John Skelly
239
Posted 25/10/2020 at 20:56:28
Well, that's the blip all the RS media were waiting for. I personally was not surprised... upset, yes, but now hopefully we can move on and prove to ourselves they can't grind us down. 😉
John Reynolds
240
Posted 25/10/2020 at 21:06:03
Bad day at the office for all concerned, starting with Carlo and extending to everyone on the pitch. The bubble has burst and our limitations exposed. Missing a couple of key players and another couple looking less than fully fit show the lack of squad depth. Calvert-Lewin was exposed, alone and ineffective. Iwobi is no Richarlison, he looked like a pub league player at times. I can't understand how Gordon doesn't start ahead of him.
Our response in the next two games without Digne and Richarlison will tell a lot. Let's hope Carlo finds a formula or not only will the bubble have burst but the wheels might have come off too.
The most worrying aspect of today is that despite the forced changes, we were right in the game and doing okay(ish) until they scored. But just like Silva's side of old, the moment that happened we never looked like getting back into it. There was no real belief, commitment or team spirit on display.
Lots of work to do before Newcastle.
Kieran Kinsella
241
Posted 25/10/2020 at 21:09:41
The point many doom mongers seem to miss is that our best 11 is good but we lack depth. That means we are no different that Spurs, Arsenal, United and Leicester. It also means we are better than most including Southampton.
If, like those teams I mentioned, we have our best 11, more often than not, we should compete with those sides which means we should at worst be at the tail end of the Euro place battle.
Stan Schofield
242
Posted 25/10/2020 at 21:13:12
All this stuff about 'without Richarliosn, we're just ordinary' is nonsense. We played relatively poorly last week with Richarlison, and failed to reinvigorate this week without him.
It seems to me that the ridiculous international break broke our momentum, which is not unusual. It broke in the derby match, and the fallout shite from that won't have helped things.
We're still top, and we need to regain momentum. It won't be easy with injuries and now unnecessary suspensions. There's a blip in form, but we'll recover, especially when these absences are behind us. Perspective.
Jamie Crowley
243
Posted 25/10/2020 at 21:18:05
Admittedly I've "jumped to last" as there's already 240 comments and time is precious today. I'll get back and read through them, but I simply had to comment on something. Please forgive me if this has been addressed.
I loved Carlo's post-game press conference. You could tell he was frankly disgusted with the performance. This man's bar is high. He simply will not stand for these weekends taken off from work by our players.
I also loved the way he's pulled zero punches with the Digne red card. He called it "a joke" and also intimated that all the nonsense this week with Picks and Rich may have affected the decision. He stated emphatically Everton would appeal the red card decision.
Finally a manager who is class, but will fight for us and his team's cause when justified.
A pretty shit day at the office. But I'd not want to be working for any other man other than Carlo. This guy is just gold.
Barry Rathbone
244
Posted 25/10/2020 at 21:28:30
Far too early to be eulogising about our "best 11" the new players are coming to the end of their honeymoon period which historically produces a reality far beyond initial fanfare. See Schneiderlin, Bolasie. Walcott, Siggy, Delph etc the list is endless and the omens not good.
In addition, a "best 11" is of no import no club goes through a season without injuries and suspensions
Jamie Crowley
245
Posted 25/10/2020 at 21:30:15
Robert @ 219 -
I feel compelled to "race to post" again after reading your comments.
You're by far one of the most reasoned, intelligent contributors on TW. But I could not disagree more.
There has been nothing, absolutely nothing, I've seen from any other team in the entire league to make me think we don't have a shot at the Top 4 this season. Nothing.
Spurs - Already beat 'em. Not all that. Shite manager who's past it.
El poo - more injuries than we can count. Have lost their best player and leader.
Man City - on a downward slide.
Chelsea - Trying to fit a bunch of new jigsaw pieces into place. Not firing on all cylinders.
Leicester City - Just not sure about them.
Wolves - Not all that.
Man Utd - Really overrated. Not that good.
Not a single team scares me. And at our best there's not a single team in the league that we can't beat.
If not Top 4, why the heck not?? This window of opportunity is now. Which is why today is so disappointing.
Looking at the entire season, and our entire season, to date, we're every bit as good as any other team in this league. We've had a poor day. So has everyone else in the league at one point or another. Based upon our peers, we are a Top 4 team this season. The only thing holding us back from that is some weird mojo bullshit and lack of belief.
Brent Stephens
247
Posted 25/10/2020 at 21:41:06
Jamie, what at?
Jamie Crowley
248
Posted 25/10/2020 at 22:01:12
Brent -
Draw a picture for the dummy. What at - what? Not sure what you're asking, need clarification.
Rob Halligan
249
Posted 25/10/2020 at 22:06:54
Jamie, "Jesus peers" to us means Jesus looks, so he's looking at something, so Brent asks "What at"?
Barry Rathbone
250
Posted 25/10/2020 at 22:09:19
Jesus is looking at the squad saying "7th at best, dad"
Geoff Lambert
251
Posted 25/10/2020 at 22:18:53
Keeper shit, defense awful, midfield non existent, attack what attack? Still ahead of all the rest playing shite. What will it be like when we kick on and start playing well again? And now your going to believe us were going to finish mid table. Top 6 is still on.

Mike Oates
252
Posted 25/10/2020 at 22:19:52
Thought Ancelotti had a bad game today, from wrong initial team selection to wrong use of substitutes.
Richarlison is irreplaceable with the players we have, neither Iwobi, or Bernard have the pace, have the ability to beat players and neither have got that playing relationship with Digne. And as a consequence, Calvert-Lewin was starved of chances that side has brought and of course neither Bernard or Iwobi score goals.
Gordon is the closest we have to Richarlison and clearly Ancelotti doesn't see that yet, when he came on he provided a few moments of panic and linked up well.
Again why play Rodriquez in front of a rookie right back. Godfrey hopefully will be a great centre half and maybe a good right back in time, but he's not there yet. Rodriquez won't support back, he won't give him cover.
We need Allan, Doucouré and Gomes together as the firm base for Rodriquez to go out and exploit his ability, using Sigurdsson in that midfield three doesn't work as again he can't defend well enough.
So we go into Newcastle and Utd without best left-sided pair and possibly still without our best right-sided full-back in Coleman. We desperately need Kenny back ASAP and I suspect we'll see Delph at left-back with Gordon in front of him, as Knoukou is still too raw defensively.
I don't want to see Sigurdsson, Iwobi, Bernard, a Godfrey right-back ever again. What was demonstrated today was that we are woefully weak with good back up players.
And finally, Mr Ancelotti, please realise that James Rodriquez needs to be a free spirit with no defensive duties and that means we need a midfield which can dominate, win tackles, keep the ball, shield the back and get up to support Calvert-Lewin and this means Allan, Doucouré and Gomes.
Will Mabon
255
Posted 25/10/2020 at 22:42:19
*Gomes misspell detected.
Brent...
A-ha... Edit to the rescue.
Brent Stephens
256
Posted 25/10/2020 at 22:46:39
Will - well spotted! How many "s"s and "l"s in "misspell"? I've no idea!!!
Mike Price
257
Posted 25/10/2020 at 22:49:11
What I really didn't like was the amount of exasperated expressions from a number of our players if something didn't go well. I hate that look to the sky, why didn't you run there or pass to me expression, it shows lack of respect, lack of discipline and passes the blame for your own mistakes. The manager need to eradicate that because it erodes any team unity and just encourages your opponents.
Peter Jansson
258
Posted 25/10/2020 at 23:01:10
I don't know why we looked tired today. Digne look totally shot after only 15 minutes. He looked like Gaetje did after one round against Nurmagomedov. It was easy to see early he was going to have a bad day. How can he be that tired after 15 minutes?
Also, do we play players half-injured? That just cannot be good strategy. The only midfield player that was not playing in slow motion today was Gordon. What is that all about?
Ernie Baywood
259
Posted 25/10/2020 at 23:26:19
I'm in a strange camp on the Digne red. I think it deserved a red card. The red mist descended and he chased him down, putting himself in a position where he may have avoided him, but also may have 'accidentally' wiped him out.
I think you know what you're doing when you run at that pace directly behind someone at close proximity. You're hoping for accident or distraction. I don't think he intended it to be as bad a challenge as it was but he was pretty reckless about it. That could have been very serious.
I also think that, if consulted, VAR wouldn't have overturned it as 'a clear and obvious error' but that the panel may well rescind it on appeal. We'll be citing the Son example for sure. He didn't intend to create that outcome.
Basically it's a close-run decision. I can see why it's producing multiple points of view above.
If he does get off, I'd like to see Nkounkou start at right-back. Full-back is a specialist position – I'd rather see a left-back there than a centre-back or midfielder.
Don Alexander
260
Posted 25/10/2020 at 23:42:11
Mike (#257) you make a very good point in my opinion. Body language and facial expression speaks volumes in a very multi-lingual "industry" such as football (and, oh, how I hate that word). In this season, there's not even the excuse of playing to the crowd.
Finch Farm coaching staff need to focus on this somewhat intellectual quality but, given the intellectual make-up of some of our ex-players there, I'm not overly optimistic.
That said, we're now way beyond accepting as "legendary" anyone getting sent off, again, for throttling comparatively puny non-Scottish opponents for a few weeks off on maximum pay, aren't we?
Gerry Ring
261
Posted 25/10/2020 at 23:54:24
I thought we played great football in the first 15 minutes but then we capitulated. Coleman was a huge loss and the relentless pressure on Godfrey, which Seamus has endured, due to the lack of cover on the right midfield, totally killed us.
I don't understand the acceptance that a centre-half can't be expected to play right-back! Maybe if you reverse the roles, I could understand that... but Godfrey looked so out of his depth.
Today also proved how much we need Richarlison in the team for his work rate and threat. Sigurdsson has improved but will never win a 50/50 challenge while Iwobi won't even contest a 70/30.
We have a few tough weeks ahead with injuries & suspensions given the lack of depth in our squad. Here's hoping!
Derek Thomas
262
Posted 26/10/2020 at 00:49:27
It was a bad day at the office, in which the blues certain!y did put the clocks back.
But guess what? we're still top, because in the grand scheme of things none of the other teams are, 6 games in, any better.
All the problems we conveniently forgot are still there, but Carlos been managing them and managing them quite well too... so far.
I think Ancelotti tried to win it yesterday, when, with the miracle of hindsight, maybe he should've put out a formation not to lose it.
Some sort of Christmas Tree formation with Calvert-Lewin at the top, keen young legs wide left and right in Nkounkou and Gordon. Because yesterday showed that when defending its not the full-backs, it's the man in the space In front of the full-backs that counts and we mostly had none.
Only he knows how fit James and Allen really were. The truth is we only have a 9-man outfield... and that's when everybody's fit and not suspended. The keeper is prone to mistakes, Iwobi is an other of those 'built like Tarzan, plays like Jane' players. Bernard has lost what ever mojo he had, Sigurdsson & Gomes are peripheral at best.
Over to you, Carlo, wave the magic wand.
Son's red card – a deliberate dive in with intent – got recinded. If Digne's red doesn't get the same treatment, well as Carlo said... all the whinging worked.
Our face doesn't fit, so no chance of getting it recinded.
Derek Knox
263
Posted 26/10/2020 at 01:25:43
Derek T, Spot on there mate, just when we thought we had turned the corner and had arrived, there was a road blockage of our own making, accompanied by a diversion sign. What the hell happened there?
There were hardly any players coming out with any modicum of credit, we have had false dawns before, but there appears to be little or no excuse for this one. We had ONE player suspended through stupidity, another who was touch and go till yesterday, so basically one player down, yet we played like they had never played together before.
I am deliberately avoiding saying Southampton were unplayable or any other superlatives, because they weren't frankly anything special, but we made them look that way. They played as a team, which we should have done, they played well, but nothing more than that.
I was one of those advocating Gomes be dropped because he has been crap, but his crap would have been better, hypothetically that is, than the shit we were subjected to yesterday. The only saving grace if you can call it that, is that nearly all other results, went right for us, and we are by a thread still top.
Can we stay there? If we play like we started the campaign, yes. If we play like yesterday we will go down like like a lead balloon again to mid-table mediocrity.
Mark Wilson
264
Posted 26/10/2020 at 01:44:52
Everton's capacity to shit all over your weekend remains intact after a slight break with routine and the giddy heights we achieved. Yep, we are still on top but that was a grim performance worthy of some of the worst over the last few years.
I admit I know one cannot speak ill of the Don, and he is amazing, but why setup in a way that magnified our weaknesses? Godfrey had no chance with James in front of him... but, in a solid 4-4-2 with James close to Calvert-Lewin, and suddenly we'd look compact.
Allan looked shattered from early on. Doucouré started well but faded badly, Godfrey not a right-back so we can forget that idea right now. This was so poor it actually shocked me and, like most here, I'm used to bitter disappointments.
It's not that I can't see it's "just" one game. It's that suddenly you can see the weak squad. The lack of cover for Richarlison and frankly given how well he was playing, Coleman was badly missed in an attacking sense as much as for his defending.
Digne was poor before the sending off. I don't get the protests afterwards though I can see some disagree with the red. I thought he was slow, chasing, clumsy but raked his studs over the guy's calf.
Iwobi did start okay actually but he just cannot play the simple cross. He keeps trying tricks and a few step-over moves. He ends up going backwards. What a mistake he's been and an expensive one at that. Gordon needs his chance but more and more. I worry it's hard to see his best position with a lot of chopping and changing he goes through.
I honestly worry we have just seen how thin the squad really is and it makes the decision not to go for Josh King even stranger.
Graham Lloyd
265
Posted 26/10/2020 at 01:46:21
I just don't get why he brought both Sigurdsson and Iwobi in. I would have left Gomes in as we were away, and picked one of them to fill in for Richarliosn but to put Sigurdsson in midfield and expect him to track back is madness IMO.
Phil Smith
266
Posted 26/10/2020 at 02:26:46
Jack (82): I was thinking the exact same thing! Only difference is that the ref thought he meant to hurt him, which I don't think he did at all, and Shawn just hacked him enough to stop him. That was as blatant a foul as you'll ever see though. Right from the '50s or '60s! Lol
Jack Convery
267
Posted 26/10/2020 at 03:16:56
I've watched the game back and Digne seemed to be in a snit right from the off – maybe having Iwobi in front of him didn't help and the 1st goal won't have improved his mood either. I did notice in the 2nd half Keane played a ball to him, which left him nowhere to go and though he tried to punt it upfield it went straight out of play. He then did a gallic shrug towards Keane and said something, who in return gave him a look of "What else could I do!"
Maybe it was also the fact that he couldn't get up the pitch to cross to Calvert-Lewin, throughout the game. He became really more and more frustrated at what was going on and then the incident with their right-back happened. I do think it was an accident but given the screams of "Murder! Murder!" of the past week, there's no way it will be overturned.
Allan is playing with an injury and if he isn't... but he must be. His influence has fallen off a cliff since the international break. Carlo should leave him out against the barcodes if he's injured so he can get fit for Man Utd. Kenny must play right-back in the next game, or possibly right-wingback, with Nkounkou as a left-wingback, and Keane, Mina and Godfrey as a 3 at the back.
We have to stop conceding goals. Sigurdsson and Iwobi should be nowhere near the team next week. I did put a starting XI up for next week on another thread but having watched the match back, we need to tighten up and a get a clean sheet asap and one or two goals next week:
Pickford, Mina, Keane, Godfrey, Kenny, Nkounkou, Doucouré, Delph, Gordon, James (if fit), Calvert-Lewin. If James is not fit, Gomes.
I see the Saints centre-back dedicated the clean sheet and win to Van Dijk, who is forever in their hearts and minds. You couldn't make it up.
Sam Hoare
268
Posted 26/10/2020 at 07:23:31
Yesterday was bad. Really bad. I think so much of the way we've started this season has depended on the dynamism of Richarlison. Iwobi is a deeply insufficient replacement. So are Bernard and Gordon though I suspect.
Godfrey is not a right back and seldom overlapped which meant Rodriguez lacked space.
Turgid stuff.
The test of where we are now will be what reaction we see. Newcastle away and United at home. Two difficult games to call and Carlo may have to work out a different way to play for us because it looks clear that the previous system may not work without Richarlison to run in behind or create space for Digne.
Robert Tressell
269
Posted 26/10/2020 at 07:52:03
Saints did a tactical job on us. Target Godfrey because he gets no cover from James. This draws our midfield over to support. Then overrun our midfield.
Coleman has been digging us out of this problem with some superb displays.
Don't write off Godfrey as a stand in just yet. Write off the tactics and team set up. Saints played 442 and we had no answer for it.
James and Gomes are both good when we're on the front foot, but we might be better reverting to more rudimentary approach away at a well drilled side where we can't get any control of the ball.
Perhaps start with runners and pressers to match the opposition before introducing some class later on in the game.
The only trouble is that we ideally need to play Gordon LW, RW and as a number 10 to make this work. Everyone else is just too pedestrian.
Phil Wood
270
Posted 26/10/2020 at 08:25:22
A day later still shocked.
Outfought, Outthought, Out passed, Out skilled, Beaten for passion, Beaten to every second ball.
Godfrey left wide open whole game, no support ahead of him.
James didn't look fit.
Midfield looked as pedestrian as last season. The fighters had forgotten their fight.
The artists didn't turn up.
Forwards had no service.
We pussyfooted from the start. Looked terrified playing around at the back. They smelled the fear and gave us a good hiding.
The score line flatters us.
I am reading that this is fallout from the Derby.
Well the Management and Players should have expected this backlash and gone into the game with a siege mentality.
Southampton looked superb. Had sussed us out tactically and gave it to us in spades.
Lets show more grit and determination on the Park and not lose our heads and get stupid suspensions.
Carlo, sort this lot out please and get your tactics and selection right.
Kim Vivian
271
Posted 26/10/2020 at 08:30:55
Paul (231).This comes back to a post I made a long while back. "When is a foul not a foul?". I thought exactly the same as you - it was a clear shove and if James had made the most of it and crashed to the ground I am sure that would have been given as a pen by VAR or by the ref.
The fact that he managed to get a foot to the ball and poke it across the goal (albeit with no real impetus) shows that the ball was still very much in play (therefore qualifying for an offence), but the fact that he did, kind of detracted from the foul itself. It seems that if an offence is comitted but the fouled player manages to carry on it is not given, but if a player hits the deck because he's been breathed on it's seen as a foul. Such is the modern game.
I'm surprised that VAR did not have a look at that yesterday.
I remember something similar with Coleman a couple of years back when - because he is the player he is - he didn't go down under a pretty aggressive challenge/trip in the penalty area, and the play continued. I can guarantee a years salary that Salah, Firmino, Mane plus a few others not necessarily of a rs ilk (but it's nice to cite them) would have hit the deck like they had been sniped on that occasion and, indeed, yesterday.
Credit to James yesterday but that was a definite shove. Clear as the day is long.
Denis Richardson
272
Posted 26/10/2020 at 08:44:30
Rome wasn't built in a day. We have a very good first 11 but not much beyond that. Richardson is a big big miss when not available and I couldn't believe it when James was in the starting line up, he could not have been 100%. Was expecting to see Delph start with Doucoure pushed up a bit. Hope that's the case next game.
Two more games before Richarlison's back and Coleman will likely miss those two as well. Will probably be a struggle until after the next international break.
Still - we're top and I'd have taken 13 points from the first 6 all day long. At least neither, Richardson nor Digne are injured, so they'll be well rested when they get back.
Derek Taylor
273
Posted 26/10/2020 at 09:35:10
Great summary, Phil @ 270. Have long felt TWers -whilst to be commended for their loyalty to the cause - should be prepared to add reality to their 'considered 'comments on games. Nothing wrong in telling it as it is - I've suffered little but repeated disappointment over the last 70 years so just see the truth of our situation.
Christy Ring
274
Posted 26/10/2020 at 10:33:18
Denis #272 Richarlison and Digne if suspended, will be back on International duty, before they play for us again, so no rest unfortunately.
Craig Walker
275
Posted 26/10/2020 at 10:36:12
Agree with everything that Mark said @264.
I've been swept up with the optimism of late but I've had this nagging feeling that we still have a lot of players which we have said for years aren't good enough. It's worrying that if our new signings don't perform well, Richarlison is injured or suspended and DCL gets no service, like yesterday then we don't look much better than we were during the tail-end of last season. Pickford, Davies, Sigurdsson, Iwobi, Delph and Bernard aren't good enough for where we want to be. Gomes can be good but has invariably been rubbish this season. He doesn't look the same player since his injury. I know that Carlo has only had one transfer window but yesterday was a grim reality-check. I too, think it was a mistake to let Kean go without finding a decent replacement. It was always asking a lot to rely on Richarlison and DCL for every game.
The thing that I notice from watching Everton is how slow and unfit we seem in some games. The RS looked far fitter than us last week and it does make me think there is something in the rumours to their fitness levels. Southampton were far more energetic and quicker than us from the first minute yesterday. I thought Doucoure would be a player who would drive us forward but he an Allan looked absolutely shattered yesterday and we were back to sideways and backwards passing in our own half.
I really hope yesterday was a blip - I accept that we're going to lose matches but there are suddenly a lot of areas of concern. As my dad used to say, Everton are only ever two bad results away from a crisis.
Paul Ward
276
Posted 26/10/2020 at 12:37:40
A bad day all round, with maybe the wrong team selection plus the absence of Richarlison.
We rely on Richie so much, we are a different team with out him. I can't remember us winning a game when he has not played.His presence is so important even when he doesn't score he is a constant pest to the opposition like Tim Cahill used to be.
The problem with an under strength team is it can be weakened further if you pick the wrong replacements. On Sunday we did just that.
In the last couple of seasons, we have ended up with squad players that should not be picked however dire our situation is. Our latest one is Iwobi, who has been given so many chances and failed.
Hugh Jenkins
277
Posted 26/10/2020 at 13:59:33
When you take a step back from the immediacy of the Southampton game and the furore that surrounded the derby, out stats for the season read
P9 W7 D1 L1
If we replicate that throughout the rest of the season - I shall be quite happy.
The key, of course is that if we do lose or draw - it should be in the league not the cups.
Bobby Mallon
278
Posted 26/10/2020 at 14:03:24
At This moment in time we don't have a proper wing back for either side. So we can't expect central defenders to do that job. We should go 4.4.2 and not play Rodriguez at all he can't defend, just until we get our full squad back fit. It's easy to criticise Godfrey but he's not a wingback and James didn't help him at all. Time to look at Gordon from the off and realising that Gomez may give fouls away but at least he's making tackles
Jay Harris
279
Posted 26/10/2020 at 15:00:25
Paul Ward,
Totally agree.
Once we made the changes we were back in the game and drew the second half 0-0.
Iwobi and Siggy were the wrong pairing and Godfrey is never a RB.
Southampton play a 4--2-2 system which means we could have done them with the width if we would have had Coleman and Richy available and a fully fit James.
On the other hand in their absense we could have played 4-4-2 which we kind of reverted to as we chased the game in last 15 minutes with James up with DCL.
Bad day at the office all round but at lease it wasnt 2-7 which would have given the media a field day.
Brian Wilkinson
280
Posted 26/10/2020 at 15:21:04
Now the dust has settled, we had a bad Day at the office all round, our neighbours, City, Utd, Chelsea, Utd, others have all had bad results this season.
We have won 7 out of 9 games in all competitions, we are still top, we are frustrated with the team performance and selections, overall though I think we have done a lot better than we expected with Carlos first dip in the transfer market.
Once this season is over, Carlo will be able to offload players who,s contracts end in the Summer.
It may take another couple of seasons, before Carlo will be able to do a complete overall.
For now though we are going great guns and heading in the right direction.
Write this game off and move on to our next game.
Karen Mason
281
Posted 26/10/2020 at 15:54:58
Michael,
I couldn't disagree more about the kit. It's great. I'm lovin' the seafoam green. Clearly a matter of taste. I, of course, like you, prefer our Royal Blue, but if we have to wear another colour, the seafoam does it for me !
Can't argue with most of your write up. It was a poor performance against Southampton, but at least that has been acknowledged by our Manager, who I'm sure will be on the case from today. It did seem that for a large part of the game, we reverted back to the passing sideways and backwards options, when for most of the games so far, the passing has been forward, slick, with pace and purpose. While DCL has had almost all of the plaudits this season, for his goal scoring and all round play, for me, our MOTM every week, has been Richarlison.
His work rate, speed, and skill were all missed hugely today. He has covered every blade of grass in the games so far, helping with defensive duties, and then sprinting to make things happen at the attacking end. It was his absence which altered our momentum. Carlo has got some work to do to find the right solution to Richi not being available.
We all knew that we would have a defeat somewhere along the way. Southampton are a decent team, with a steady defence, a little bit of talent in the midfield, with Ward Prose, pace with Redmond and a fox in the box with Ings. No disgrace to lose to them. There will be many a team who come unstuck against them.
Most important thing is that we get back to the good habits and way of playing we have displayed in the first few games.
COYB
Derek Knox
282
Posted 26/10/2020 at 16:02:07
Don't Sky just love us? Turned on Sky Sport News, at 3 different times today, (don't ask why) each time I have seen Digne's Red Card getting scrutinised. Hardly a mention of the blatant penalty Chelsea should have had against Manure's Maguire.
Last week it was JP and the VVD incident, what agenda have they got against us? Maybe I just happened to turn on when this was happening, but 3 times? Sorry but it boils my urine, not a pleasant feeling!
Jeff Spiers
283
Posted 26/10/2020 at 16:25:04
Why did we not wear our blue strip, where was the colour clash? This has happened nearly every time we play Southampton.
Derek Knox
284
Posted 26/10/2020 at 16:50:52
Jeff @ 283, I brought a similar point up on the Live Forum, in that my understanding was that the Blue kit was the Home Kit, the Yellow Kit was the Away Kit, and should the yellow clash with the opposition, the horrible green would be adopted.
So why the hell they opted for that mushy pea/poo strip is beyond me. Like you say neither Blue or Yellow would have clashed with theirs.
Tony Waring
285
Posted 26/10/2020 at 16:51:47
Yes Jeff (283). This business of different kits is nothing but a joke. The worst offenders are Arsenal. Whenever I've watched them in an away fixture they ALWAYS wear their second strip, a horrible darkblue when there is no clash with the home team whatsoever. I imagine it's all to do with the club making money by selling as many different shirts as possible. Quite pathetic really.
John Boon
286
Posted 26/10/2020 at 17:02:08
Those insipid forest Elf uniforms could only result in lifeless displays. Who on earth came up with such wimpy colours? The opposition must have been sneering at them before the game even started. Poor excuse,but when we play like Trolls I need anything to explain how the ROYAL BLUE magicians gamboled, pranced and frolicked in Fairyland.
Robert Williams
287
Posted 26/10/2020 at 17:10:15
Do we know whether the club has challenged that Red Card? I was of the opinion that had to be in by 1 pm today and outcome by 1 pm tomorrow?

Rob Halligan
288
Posted 26/10/2020 at 17:10:44
I remember us beating Southampton away 3-0 in a green kit, when Lukaku got two, I think, and Kone scored.
Thinking back, I think Barkley scored as well. So Lukaku, Kone and Barkley.
Michael Kenrick
289
Posted 26/10/2020 at 17:18:08
Robert @ 287,
I was wondering the same, and foolishly expecting that piece of journalistic trash, the Red Echo, would at least follow up on the snippet they let drop early this morning.
But no. Not a dickiebird. Nothing on NewsNow either. Sorry, I don't have the patience required to check Twatter.
Kim Vivian
290
Posted 26/10/2020 at 17:22:29
We'd have won wearing blue. I like the green kit but not for matches – maybe training okay. Has to be blue if no colour clash.
Southampton's first kit is shite as well. All looked a right mess aesthetically as well as technically on Sunday.
Mark Taylor
291
Posted 26/10/2020 at 18:17:34
When we get beat comfortably as here, there is usually at least one, maybe more, who you can say had a decent game nonetheless. Here? I'd probably say Delph was our MotM so that is how low the bar was.
I agree with others that Doucouré and especially James and Allan looked either injured or leggy or both. They played straight through us, Ward-Prowse was made to look like a world beater. It was a great game to miss. Gomes has disappointed me recently but he looks like a potential saviour now. Maybe even Davies? Okay, it's not that bad...
Since our best players are either injured, suspended or fatigued, what to do? Not play Godfrey as right-back, that was sadistic. If Kenny is not back, Davies at a push. Nkounkou at left-back is obvious. If Allan is not 100%, then Delph. Gordon is worth persevering with, young though he is; the other options there will never be good enough and we need some pace beyond just Calvert-Lewin. Maybe listen to Steve Ferns and bring back Gomes to bring 'perfect balance' to the midfield. Not convinced that changes all that much but, if it allows Doucouré to forage further forward, then it would help.
Right now, I think we made a big mistake not getting hold of Josh King. We could really use a player like that, even when the others are back and he was a much more realistic option than Zaha. In fact very nearly a bargain...
Brian Wilkinson
292
Posted 26/10/2020 at 18:18:06
Did we not beat Southampton away 3-0, wearing that khaki green looking kit, a season or so back?
I do not like the green top but very much doubt it was the green kit was our downfall.
I agree with others though, no reason we could not have worn blue or yellow, unless we play Plymouth, or other teams in green.
Justin Doone
293
Posted 26/10/2020 at 18:57:10
Without betting critical, we tried to play a similar style and formation by replacing our better players with players that have underperformed in the Premier League for the last few seasons.
I wanted King (or better) to be that replacement / competition but sadly we have none.
Against a compact and energetic team we got done. Like Leicester, Bournemouth, West Brom (1st half), we failed to control midfield only playing 3. That led to poor passing and getting dispossessed and our midfield getting overrun.
I think Carlo needs to take some blame for this. Calvert-Lewin totally isolated and there was no supply, a lack of crosses and runners in and around their penalty area.
We offered little as an attacking side and yet we were poor as a defensive unit. Godfrey did okay but our right-hand side is exposed due to James and what he brings with the ball.
If we struggle attacking we should at least remain hard to play through. Mina and Keane too similar, ie, slow. Couldn't cope with movement. That balance is still a work in progress.
I couldn't understand why Doucouré was subbed off and not Allan or why not go 3 at the back or push Bernard up to create and support Dom?
We all know Carlo is the best manager we could get and we all have differing opinions on players, formations etc. I'm just adding suggestions and a few questions whilst not trying to be too critical. We dominated Spurs but have been patchy since.
I think what's most important is we bounce back quickly with a win. Carlo continues to assess squad players and add reinforcements in January.
David Hallwood
294
Posted 26/10/2020 at 19:01:50
My main concern is the lack of clean sheets and we seem to be shipping 2 goals a game. The 'you score 2 we'll score 3' approach has never had a happy ending.
All great teams have great defence and we are some way off.
Stephen Brown
295
Posted 26/10/2020 at 19:09:21
David 294
Spot on!!! We might need to focus on getting more clean sheets as the next clear focus.
Jason Li
296
Posted 26/10/2020 at 19:40:46
Iwobi and Sigurdsson disappointed again – sad to see talent may look back one day with big football regrets.
Gordon may well push on this season, hopefully, and step us another level.
Looks like they went to a mid-week party and still recovering. Just a blip I think. No team goes that many games unbeaten and is bad overnight.
League is definitely still wide open, eg, Leicester is one Vardy injury away from mid-table.
Klopp daren't bring on Minamino and Origi when it's stalemate – pretty much firing blanks for a year. Firminho is winding down as a Number 9.
Frank Lampard keeps dropping Mount, who is their best player, because he shelled out 䀆 mill on Pulisic Mk 2.
Man City have 4-touch dribblers everywhere like Foden and Sterling, no-one is one-touch passing. Seems like each has to stand a man-up and beat them before they knock it forwards.
When Richarlison is back in 2 games or so, we'll be back up and running. Coleman hopefully too. We just hang in there until then. Maybe midfield of Allan, Delph and Doucouré further forward so we're solid vs Newcastle.
For me, after the season-ending Bournemouth game, we are in a dream position this week – this season – and feel Carlo is just feeling out who are the best subs in the team, as the first team is pretty special for the first time in years.
At Christmas, if Carlo and Brands do a bit of good business, then we go up another notch.
Robert Tressell
297
Posted 26/10/2020 at 19:45:16
Totally right, Jason. There's a lot of league games left to play and plenty of other up-and-down sides.
By the way, I can't seem to find any info on when we might see Holgate, Coleman, Kenny or Branthwaite (Gbamin too!). Anyone any idea?
Rob Halligan
298
Posted 26/10/2020 at 19:55:38
Robert, the best place to find such information on players returning, is on the official Everton website. Click on Teams in the blue band, then click on Injuries & Suspensions. All scheduled returns, or month of return, are listed there.
Mike Gaynes
299
Posted 26/10/2020 at 19:59:45
No, Robert, this club is always pretty quiet when it comes to long-term injuries, and I've been scanning the media regularly for recent statements and rumors -- no luck.
Slightly off-topic: Godfrey says a conversation with Tom Davies was key to his opting for Everton's offer:
Everton new boy Ben Godfrey wants to go all the way to the top
Derek Taylor
300
Posted 26/10/2020 at 19:59:49
Forget experimenting for now, the concentration needs to be on our leaky defence.
Godfrey hadn't a clue playing at full-back and if Kenny isn't fit, then Davies will do a job. On the left side, Delph should reprise his time in the full-back role at Man City.
Robert Tressell
301
Posted 26/10/2020 at 20:15:25
Thanks Rob and Mike. 👍
Mike Gaynes
302
Posted 26/10/2020 at 20:25:33
Dang it, there goes that coffee snort through my nose again.
Happens every time somebody suggests that Davies should play right back. In a Premier League game. Having never spent a minute on the backline in his entire life.
DT, you just said "Forget experimenting for now" -- and you just touted the wildest experiment possible.
No, thanks.
Derek Taylor
303
Posted 26/10/2020 at 20:50:09
I bow to your superior knowledge, Mike!
Justin Doone
304
Posted 26/10/2020 at 22:36:18
I totally agree that we should stop playing players out of position.
Godfrey is a defender and has more pace than Davies to rightfully be 3rd choice cover for right-back. Kenny takes over if fit, he's a natural right-back.
On the left, young Nkounkou should play ahead of Delph as he's a natural left-back. For me, our left side is stronger both as an attacking and defending force. More pace, energy, work rate and final ball delivery.
Just to point out, Davies has actually played right-back a couple of times having moved positions due to injuries. I like Davies but I don't want to see him play there.
Mike Gaynes
305
Posted 27/10/2020 at 00:30:08
Derek, looks like my knowledge ain't superior after all. Justin says Davies has actually played the position. Thanks for the correction, Justin.
And I agree with you about Nkounkou, but if James isn't fit next week I'd like to see Delph start in midfield ahead of Sigurdsson and Iwobi. He did really well off the bench.
Mike Gaynes
306
Posted 27/10/2020 at 00:39:10
BTW, good point also about Godfrey's pace. Unfortunately we got to see too much of it because he was often racing back into position, but he's really fast.
Derek Thomas
307
Posted 27/10/2020 at 00:56:24
If we haven't got a Richarlison replacement, don't play a system that needs Richarlison as a key part... especially with any of the usual suspects.
If we haven't got decent attacking midfielders and wide full-backs, don't play a system... etc etc.
If the alternative to Sunday's shite is grinding out 1 point 0-0s for a game or two, so be it.
John Pierce
308
Posted 27/10/2020 at 03:53:28
Derek, I'm hoping and have posted exactly what you muse. Solid, horrible and cut your cloth accordingly.
👍🏼
Annika Herbert
309
Posted 27/10/2020 at 04:32:23
Very, very disappointing performance to say the least! Iwobi has surely used up all his chances after another abysmal showing? I sincerely hope those calling for Sigurdsson to be played in central midfield have finally realised he simply cannot play that position? He too was awful.
Obviously Richarlison was a huge loss but there can be no excuses for that performance. Let's hope it was a one-off and we put on a far better showing against the barcodes.
Not sure how people are blaming Pickford for either of the goals, personally I didn't think he could do much about them.
It has to be Gordon for Iwobi next game and Gomes back in place of Sigurdsson. If not Gomes, then Delph, or Davies but, please, no more Sigurdsson!
I hope this was just a one-off blip and we, at least, show up next game. I can take a defeat if we give everything to the cause, but another meek surrender will definitely set alarm bells ringing.
Derek Taylor
310
Posted 27/10/2020 at 07:27:25
Mike, I do agree that the likes of Davies and Delph are mere makeweights wherever they play. Truth is we have a ' first team' and that ' s all. And even two of those, Pickford and Mina have big question marks hanging over them !
I fail to see where Ancelotti has proved to be an ' in play' genius as so many attest, and fear a pre Chstmas meltdown will see us mid-table !
Phil Wood
311
Posted 27/10/2020 at 07:54:55
I think the Newcastle game will tell us all we need to know about how good the squad is. Another capitulation will prove we need more strength in depth if we are to finish even top 6-8.
Top 4 would require another 4 quality players.
Phil Wood
312
Posted 27/10/2020 at 08:01:47
On another note.
If Bayern Munich played in pastel green with pink spots, they would still be the best team in Europe.
Paul Smith
313
Posted 27/10/2020 at 08:06:23
I was shocked at how poor it was on Sunday. As bad as anything at the arse end of last season.
Carlo needs to take some blame for how he filled the gaps left by Richarlison and Coleman. Godfrey was all at sea... and why he picks Iwobi is beyond me. i still thought Allan battled well and we need him in there, Keane and Mina did okay and looked terrified of what was happening to Godfrey. Digne was petulant and irresponsible and was shite from the off – it didn't help having the ungainly Iwobi ahead of him.
Saints twatted us to be honest. Pressed without exposing themselves to our counter which was impotent anyway with nothing on the wings and the midfield struggling. Up until now, James has made space and had options; that was gone yesterday, he was frustrated (not fit). Gordon in next week and maybe Delph. Gomes gives so many fouls away he's a liability if he can cut that out then he takes Delph's place.
Michael Kenrick
314
Posted 27/10/2020 at 08:47:03
Good info, Rob @298.
If you've been monitoring that page, can you give me any idea when Kenny was no longer mentioned? Seems I've missed him being declared fit again and resuming training.
Strange that Transfermarkt list nothing by way of injuries for Kenny this season, even though Carlo said he had suffered a twist on his knee that was "quite serious" after coming off early in the cup tie against West Ham.
Seems the
Physioroom
may be more accurate than the club website, showing this quote from Friday: "Jonjoe Kenny is not ready yet. He has to train more."
James Newcombe
315
Posted 27/10/2020 at 09:40:58
Rob 288. I remember that game as well, Roberto did a great tactical job on their manager. And then for some reason, we decided Koeman would be a brilliant choice to replace him with.
Martin Berry
316
Posted 27/10/2020 at 12:30:36
We need two outlets not one and the one, Richarlison was injured so DCL got no supply.
Perhaps its time to bring in Saha if we can afford him, sometimes just one player makes all the difference.
Southampton deserved their win although the second was fortunate.
Maybe our green kit camouflage our players to finding a man !
Karen Mason
317
Posted 27/10/2020 at 12:58:46
Just reading through the posts & people's suggestions for line ups & who should & shouldn't be selected. Hard to believe we all watch our team intently every match, yet have such huge differences of opinion. I used to go to the match with my Dad. We would walk through the cemetery, back to the car, and speak about the game. In 30 odd years, I don't think we agreed once on any player. It's as if we had watched different games!!
Can't agree that Delf should be on the pitch in place of anyone, & include myself in that!! Gomes gives away too many fouls, so shouldn't play? but Delf should play in midfield. Errr not on that analysis. Love the idea of giving our young Anthony a good run while Richi is out. His pace would be an asset, where sadly Iwobi is limited. Dacoure & Allan ( if fit), should absolutely start, they have both been outstanding & bring energy & a bit of bite to our midfield. Together I feel they release Gomez from some defensive work & will allow him to get back to form with his passing game.
Life is full of variety & healthy debate about players & what they do & do not bring is a welcome diversion from all the hardship & crap that currently surrounds us all. Thanks to you ToffeeWebbers for the welcome distraction.
Brian Harrison
318
Posted 27/10/2020 at 13:02:34
Martin 316
I absolutely agree Zaha should be top of our shopping list come Jan, if there still interested in Tosun maybe it would reduce his price. I cant for the life understand why Man Utd are willing to spend over £100 million on Jadon Sancho who isn't a patch on Zaha. Also liverpool paid big money for Jota yet Zaha would fit perfectly into their team just move Mane in place of Firmino and slot Zaha on the left.
I think Zaha would be sensational for us, we could play him down one side and Richarlison on the other side, DCL in the middle with Rodriguez just behind the 3 of them.
Phil Greenough
319
Posted 27/10/2020 at 13:43:03
19 goals in his last 78 games over three seasons, doesn't add up to much, Brian.
Derek Knox
320
Posted 27/10/2020 at 14:37:41
Phil @ 319, I agree it doesn't look a great statistic in terms of goals per games played, but he isn't classed as an out and out striker. Plus when you examine those goals many have been match winners.
I would have no qualms about signing Zaha, but for decent, not silly money, or like you said there Tosun as part of any deal. I also like Hirving Lozano, (Napoli) who has also been linked with us as he knows Brands and Carlo well.
The only thing there is, when he was strongly linked to us he was not getting played, didn't get on with Gattuso, but that seems to have changed. He is playing and scoring fairly regularly for them now.
Either way, Sunday showed, although we have a large squad, with a couple out or off, we are very deficient in the replacement category. It's the old conundrum again, we need to offload before we can realistically bring anyone else in.
Frank Crewe
321
Posted 27/10/2020 at 17:14:22
I watched Spurs struggle to beat Burnley last night. Arsenal lost to Leicester City. Manu drew with Chelski, City drew with West Ham. Just because we lost it doesn't suddenly make us the worst team ever. Just like the rest of the big clubs we have our problems. We set out this season with the aim of getting into a European place. So far we are on course to achieve that aim. If we do better it's just icing on the cake.
As for squad depth. We have Tosun, GBamin, Holgate, Kenny and Coleman on their way back from injury. Olsen, Davies, Gordon, Delph, Nkounkou and Gomes ready to start.
Our next game is the Barcodes. Not the toughest opposition even if we are away. I'm sure Carlo will have given them an earful after this performance and we will be far more motivated. Just don't pick Iwobi anymore. He had a golden opportunity to show Carlo what he could do and he failed miserably. His time at Everton is over.
Mal van Schaick
322
Posted 28/10/2020 at 11:47:33
Players out injured suspended is always going to be a problem for us when we are rebuilding. Take the quality out of the team and we don't have the quality on the bench to replace it, that's why January will be important for us in the transfer market. We still need to move some on and get quality in. I wouldn't play Sigurdsson anyway he should be moved on. No consistency.
---
Add Your Comments
In order to post a comment, you need to be logged in as a registered user of the site.
Or Sign up as a ToffeeWeb Member — it's free, takes just a few minutes and will allow you to post your comments on articles and Talking Points submissions across the site.
---
© ToffeeWeb