Report
Strikerless masterclass as The Don schools Nuno Espirito Santo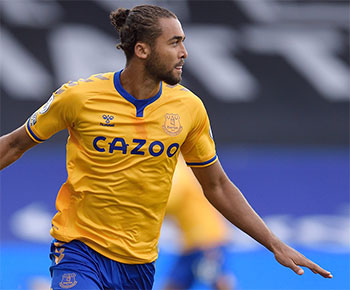 Dominic Calvert-Lewin's absence was taken in stride as Ancelotti used a strikerless formation to secure all the points at Molineux
Everton returned to Premier League action this evening with a very important win for a weakened team at Molineux over one of their rivals for European qualification in the form of Wolves.
Dominic Calvert-Lewin was ruled out after sustaining a hamstring injury Richarlison was a doubt, leaving Cenk Tosun as the only fit striker. But Ancelotti has gone with no recognized strikers in a 5-5-0 formation, with both Richarlison and Tosun on the bench.
Everton got things going and tried to attack down the left. But it was cagey stuff from both sides until Godfrey overplayed a pass down the wing. But some fluid passing saw Iwobi benefit from a lovely James cross-field pass and Digne lay-back, he buried it, perhaps with the benefit of a slight deflection.
The perfect start for strikerless Everton, would this now mean parking the bus for the rest of the game? Everton's poor use of a midfield free-kick suggested that conservatism would be the watchword for the night, although Lucas Digne was happy to run at Wolves and put in crosses for them to repel.
Wolves won a corner when the ball came off Davies and, in the second phase, Ait-Nouri scampered past Digne and deliver a tremendous cross for Neves to rattle in. Game on! Wolves had established a path to goal and Fabio Silva was next to try it on, forcing a late save from Pickford.
A good one-two saw James set up Iwobi again but he telegraphed a poor shot that was easily saved. James got well forward and crossed for Calvert-Lewin... who wasn't there!
Pickford gave away a needless corner that allowed some decent pressure from the home side. Some better passing saw another Everton corner that James drove in to no avail. After a long spell of midfield cat and mouse, the Blues looked to make some decent passes count but it broke down in the Wolves area.
Digne swung over a great cross for the absent DCL that was wellied behind for a corner that Mina tried to glance in but ended up heading well over, just before half-time.
Iwobi fouled Ait-Nouri early in the second half and that led to a Wolves corner that was powered away by Keane. Doucouré then caught Neto to collect a 5th yellow card of the season that rules him out of Everton's next game, with Neto needing a lot of treatment.
The free-kick when it came saw Keane prevent a clean header and danger was averted. With little of note happening, Ancelotti decided to switch out Davies for Gomes after the hour. Holgate made a desperate lunge that earned him a yellow. After the free-kick, Neves launched a tasty volley just wide of the angle to wake Pickford up.
James got forward and could have had a shot but tried to set up Iwobi, but it was blocked for a corner. Off the second phase, a fine Keane header came at the end of a lopping Gomes cross to surely win the game for Everton.
Iwobi ran half the pitch with the ball and put in a nice cross for the absent Calvert-Lewin... Doucouré got called for one of those handballs at point-blank range, Neves, flashing his set-piece off the outside of the angle.
Hoever came close in the last 5 minutes of added time before Martin Atkinson blew time on a very fine win by The Don over Nuno Espirito Santo.
Scorers: Neves (14'); Iwobi (6'), Keane (77')
Wolverhampton Wanderers: Patricio; Semedo [Y:89'], Coady, Saiss, Ait-Nouri; Dendoncker, Neves, Moutinho (86' Vitinha); Gibbs-White (64' Hoever [Y:90+5']), Silva (78' Cutrone), Neto.
Subs not Used: Ruddy, Shabani, Richards, Kilman, Lonwijk, Corbeanu.
Everton: Pickford, Holgate [Y:68'], Keane, Mina, Godfrey, Digne, Davies (64'Gomes), Doucouré [Y:49'], Sigurdsson (76' Richarlison), Iwobi, James (86' Coleman).
Subs not Used: Olsen, Kenny, Nkounkou, Bernard, Gordon, Tosun.
Referee: Martin Atkinson
VAR: Jonathan Moss
---
Reader Comments (321)
Note: the following content is not moderated or vetted by the site owners at the time of submission. Comments are the responsibility of the poster. Disclaimer
Jeff Armstrong
1
Posted 12/01/2021 at 19:17:29
Going for the 0-0 then !
Alex Gray
2
Posted 12/01/2021 at 19:20:21
What the hell is that formation. Is he playing siggy upfront and five at the back?
Gerry Ring
3
Posted 12/01/2021 at 19:20:25
I'm not sure how we're going to set up but it doesn't look like a team going for three points to me! Surely we have a striker lying around somewhere!!!!!!
Kevin Prytherch
4
Posted 12/01/2021 at 19:20:32
So, we hit on a formation that works against the better teams, we get a decent run of results against better teams with it.
We stutter against West Ham (always going to happen, we should know by now that it doesn't work against more defensive teams), then play a decent team away from home and totally discard the system that has served us well.
What must Tosun make of this? He's our only striker and can't get in the team.
I hope Carlo knows what he's doing, because I don't have a clue what he's doing.
John Dingle
5
Posted 12/01/2021 at 19:22:18
WOW what a wacky selection, no one guessed that set up. Let's hope at 0-0 with 30 mins to go Carlo brings on some fire power.
Michael Kenrick
6
Posted 12/01/2021 at 19:23:11
Is it 5-5-0 or 5-2-3-0?
Doesn't make much difference; scoring goals? Nah, gotta keep em out instead.
Frank Sheppard
7
Posted 12/01/2021 at 19:24:11
Feel very sorry for Tosun. He scored with first chance, and scored a 2nd, but a m.m. Offside
Andy Walker
8
Posted 12/01/2021 at 19:24:13
Maybe Tosun is lined up for a move.
Thomas Richards
9
Posted 12/01/2021 at 19:26:00
Three centre backs, pack midfield, Iwobi centre forward?
Stephen Brown
10
Posted 12/01/2021 at 19:26:45
What is that ?
The Carlo bashing if we lose this will be intense!
John Raftery
11
Posted 12/01/2021 at 19:27:37
Maybe Tosun is suffering after 120 minutes on Saturday. It was his first full game of the season.
Lyndon Lloyd
12
Posted 12/01/2021 at 19:27:43
I very much doubt it'll be 5-5-0! Someone will get a false 9 brief, possibly Sigurdsson or James. Going to be interesting, that's for sure!
Carlo clearly doesn't feel that Tosun is good enough and I think most of us would agree.
Dennis Stevens
13
Posted 12/01/2021 at 19:28:32
BBC have it as 343
Joe McMahon
14
Posted 12/01/2021 at 19:29:04
Reminds me of when Moyes played West Ham with no recognised striker, and we got a draw. However expectations are higher now surely?!
Rob Dolby
15
Posted 12/01/2021 at 19:29:23
Tosun must be carrying a knock or is on the verge of a move.
Maybe he is going to try Godfrey up top!
Simms not even on the bench.
No strikers served Man City well in their last 2 games!
This could be spectacular or backfire big time.
Utft.
Gary Willock
16
Posted 12/01/2021 at 19:30:14
Wtf??
Assuming Digne is playing left attack, or one of Holgate or Godfrey is going to have a crack in center mid?
The lack of goals in this team is borderline criminal! Over the course of a season that team would stuggle for one every two games.
He's either has a cunning plan, is sending a message to board or he's had enough of lockdown in Crosby and wants out.
Baffling. Hope I'm proven wrong.
Neil Lawson
17
Posted 12/01/2021 at 19:30:57
Carlo trying to be a smartarse. The good old Clouseau ploy of the false number 9.
Problem is, we also have other false numbers . quite a few of them.
Oh well. "Interesting" is the most positive comment possible.

Alan McGuffog
18
Posted 12/01/2021 at 19:31:28
Well it looks good to me. Provided we don't plan on venturing out of our half of course !
Peter Mills
19
Posted 12/01/2021 at 19:31:57
I hadn't really been too enthused about the match tonight, but now I'm intrigued.
Johan Elmgren
20
Posted 12/01/2021 at 19:32:00
Hasn't CA learned that our players can't handle tinkering with the lineup yet? I thought that barren spell after the derby would be proof enough... Don't want to be doom-monger, but this doesn't bide well...
And on top of that:
Referee: Martin Atkinson
VAR: Jonathan Moss
Can't see us getting anything from this one :-/
Stephen Brown
21
Posted 12/01/2021 at 19:34:12
Maybe Digne and Godfrey has brief of doubling up on Traore !!!
Who's now not playing as he's injured
John Hammond
22
Posted 12/01/2021 at 19:35:09
343 Digne and Holgate wingbacks? Siggy a false 9? Unless it's 433 and Holgate playing defensive mid.
Digne must be grateful Traore hasn't even made the squad.
Brian Harrison
23
Posted 12/01/2021 at 19:35:55
Well that seems a very strange selection with both strikers on the bench, especially as Aston Villa have asked the Premier League to postpone our game on Sunday. With the front 3 looking like Sigurdsson as a false number 9 and flanked by Iwobi and James, and given that neither Sigurdsson or James have any pace, then I cant see how that front 3 will cause Wolves any problem. I think Carlo will look silly if we concede first and then brings Tosun and Richarlison on, as most will say if they are fit enough for the bench they are fit enough to start.
Bill Gienapp
24
Posted 12/01/2021 at 19:36:14
I'm glad to see I'm not the only one who can't make heads nor tails of what the formation is going to be. I've been staring at the lineup for a good five minutes and still don't have a clue. And that's not me being negative, just honest!
Jay Wood
[BRZ]
25
Posted 12/01/2021 at 19:37:41
Carlo is such a teaser. The Wolves manager certainly wouldn't have guessed that line up.
I'm guessing injuries, returning from injury, rotating fatigued players has influenced the selection as much as anything else with Coleman, Gomes, Gordon and Tosun from Saturday's starting XI benched. Surprised at the back 5 and Digne starting. Looked off the pace to me on his return. Richy returning but only from the bench.
Carlo certainly does things his way. Gonna be an interesting watch.
Ray Roche
26
Posted 12/01/2021 at 19:40:04
Joe@14
I remember that Joe, West Ham we're bottom three and we were going well but Moyes showed his cowardly side by not playing any forwards.
Gary Carter
27
Posted 12/01/2021 at 19:41:23
Might also be sending a message to the board that we need some more attacking options. In fairly sure Carlo didn't want to go into the season with just DCL and Tosun to choose from up front
Simon Dalzell
28
Posted 12/01/2021 at 19:42:52
I just don't get it. Regardless whether he's moving, tired, or both. Surely Tosun must start. He can always be taken off. Letting Kean and Walcott leave and not replacing at least one was diabolical.
Christy Ring
29
Posted 12/01/2021 at 19:44:30
Mystified to say the least, all his talk about Tosun replacing Calvert-Lewin, and then starting with no striker. If Richarlison isn't fit, why is he on the bench? and If I'm not mistaken, every time we start with wing backs, Carlo has to change to a back four, because we're totally lost.
Kieran Kinsella
30
Posted 12/01/2021 at 19:44:31
Mina upfront as the target man. Can be a modern day Ian Marshall
Tony Hill
31
Posted 12/01/2021 at 19:45:19
I can't get interested I'm afraid. The Villa game looks like being postponed again and I fear the season will collapse soon. Games can't keep being put off. It's already close to being a farce.
Ciarán McGlone
32
Posted 12/01/2021 at 19:46:03
Back to a back 5... thought we'd learnt our lesson there.
Not very optimistic about the rest of the selection either.... but it cant be any worse of a display than Saturday... can it?
Chris Robinson
33
Posted 12/01/2021 at 19:46:37
Hmmm... It's a Fake News.. sorry Fake 9 scenario... 😁... Interesting to see if our guys understand how to make it work. Defenders always hate not knowing who they're supposed to mark. Let's just hope the Wolves defenders are given a fair few reasons to regret having to try to work it out..
Michael Lynch
34
Posted 12/01/2021 at 19:50:18
He's out-Moyesing Moyes tonight. Makes Big Sam look like Bielsa with that line up.
Chris Williams
35
Posted 12/01/2021 at 19:51:00
Isn't it some sort of 4 4 2?
Holgate At Rb
Iwobi and Digne providing width with Davies and Doucoure central and the other 2 providing some sort of attack.
James role might be interesting
But goals?
Brian Wilkinson
36
Posted 12/01/2021 at 19:55:09
Looks like a smash and grab going on that lineup, keep it tight, then throw Tosun and Richarlison on towards the end, to try and nick it.
If Carlo pulls this off, the man is a genius.
Darren Hind
37
Posted 12/01/2021 at 19:56:04
Wonder if there is still some sort of investigation into Tosun's gesture?
Eddie Dunn
38
Posted 12/01/2021 at 19:56:37
He is Italian after all. Keep it tight for 75 minutes and hope to nick a goal from a set piece or if things backfire drag Richarlison and Tosun on to try and fix it. Everything crossed!
Tony Everan
39
Posted 12/01/2021 at 20:01:07
Someone earlier suggested playing two goalies so Pickford could climb on Olsen's back at corners and free kicks. Maybe that one's for next week !
Seriously though , this is a keep it very, very tight and Mina or Keane score from a well taken free kick or corner. They will be told to try and win free kicks whenever they can , Iwobi will be told to get to the by line and win corners. Mina 30/1 , Keane 33/1 is tempting .
Have they agreed a deal for Tosun from Palace or West Brom?
Tony Twist
40
Posted 12/01/2021 at 20:02:50
Weakened us before we have even started. Bemusing team selection from Ancelotti.
Ray Roche
41
Posted 12/01/2021 at 20:06:54
Darren, I imagine Tosun May be struggling after extra time and not having played a full match for weeks. That's all I can think of.
Jim Jennings
42
Posted 12/01/2021 at 20:08:25
Incredibly negative line up. Hard to see where the goals will come from. I hope Carlo is using this to make a statement to Moshiri to back him in the January market to bring in a striker
Tony Twist
43
Posted 12/01/2021 at 20:08:43
I was joking yesterday when I wrote on ToffeeWeb to play Keane as a striker. Maybe Carlo reads the comments and thought I was being serious!
Roger Helm
44
Posted 12/01/2021 at 20:11:27
I remember Barcelona fielding a team with nine midfielders. But they had better players than us.
Dave Abrahams
45
Posted 12/01/2021 at 20:13:55
Not playing Tosun doesn't bother me but I think John (11) gets it right by pointing out he played 120 minutes last Saturday after hardly playing at all from the start of the season, most likely he'll come on for the last part of the game, maybe score the winner, but that is wishful thinking on my part.
Up and at them, Blues... or defend as though your lives depended on it.
Thomas Richards
46
Posted 12/01/2021 at 20:14:08
We haven't won at Wolves for 10 years, commentator just said.
A win long overdue.
Bill Fairfield
47
Posted 12/01/2021 at 20:15:19
Just hope this plan works...?
Phil Smith
48
Posted 12/01/2021 at 20:17:33
What is that line up???!!! Carlo prove me wrong. But ffs...
Darren Hind
49
Posted 12/01/2021 at 20:17:52
Looked at the Wolves team and took the 9/4 on offer for a blues win.
I think we win this. I'll be surprised if it's one for the purists. But Wolves don't worry me.
Kevin Prytherch
50
Posted 12/01/2021 at 20:22:38
That Carlo Ancelotti is a genius – I've always said so!!!!
Phil Smith
51
Posted 12/01/2021 at 20:23:53
Great start!
Jim Jennings
52
Posted 12/01/2021 at 20:25:14
How stupid does post #42 look now! 😀
Phil Smith
54
Posted 12/01/2021 at 20:34:32
Great start!? I take that back. Done twice on either side in a minute. Poor defending again from Digne. Doucouré equally bad on the right but where was Holgate? That's his side.
Simon Dalzell
55
Posted 12/01/2021 at 20:36:19
3 Wolves men totally unmarked, 2 of which more or less on line with the goal.
Alex Gray
56
Posted 12/01/2021 at 20:50:59
Funnily enough, if Richarlison has any fitness, I'd take Sigurdsson off at half-time and put him up top and we could win this. The team's done well (bar Sigurdsson) so far!
Michael Lynch
57
Posted 12/01/2021 at 21:02:29
If we had a striker on the pitch, Digne would have had another assist at least.
Hook Siggi
Ciarán McGlone
58
Posted 12/01/2021 at 21:02:36
I'm actually entertained... bravo.
Not the back five I was dreading. And Rodriguez in the central No 10/False 9 role he was made for... even dropping back to pick up the ball and put a shift in as well. Iwobi continuing his purple patch and Davies and Doucouré linking back to front well..
Sigurdsson doesn't appear to be getting much joy despite his hard work. I'd replace him with Richarlison.
Game is there to be won. Enjoyable.
Thomas Richards
59
Posted 12/01/2021 at 21:04:04
Neat and tidy without the cutting edge of a forward.
Made up with Tom Davies. Best half of football from him this season.
Alex Gray
60
Posted 12/01/2021 at 21:06:25
Tom Davies has had a great half. Iwobi has been brilliant too.
I rate that Pedro Neto for Wolves.
Jay Wood
[BRZ]
61
Posted 12/01/2021 at 21:09:47
Good half from both teams. Most entertaining.
Didn't Alex Iwobi do well on the goal? Receiving it wide left hugging the touchline. Played inside to James. Great switch by the Colombian to Digne. Lovely first time cushioned pass by the Frenchman, finding the Nigerian who covered so much ground to take up the central position to finish with a clean one-touch volley. Very nice.
A glimpse of what we saw early season and have been missing since their injuries. The switching of play between James and Digne. Michael Keane and Tom Davies have likewise played long diagonals to Digne and Iwobi. An evident game tactic. Without Calvert-Lewin in the middle, difficult for us to make more of the good positions they are taking up.
James very difficult for Wolves to pick up. Moutinho and Neto carrying the threat for Wolves. Could go either way this.
Enjoying it.
Ernie Baywood
62
Posted 12/01/2021 at 21:16:54
I don't see any great individual weaknesses in that half. Just a general lack of cutting edge from not having a striker.
I'm still not convinced by Richarlison as a striker so I'd reluctantly go for Tosun. Richarlison for Digne on the hour.
Simon Dalzell
63
Posted 12/01/2021 at 21:23:47
I can't believe we haven't changed things. Sigurdsson especially is totally lost in this formation. Some people seem to be watching a different game to me.
Kevin Dyer
64
Posted 12/01/2021 at 21:43:16
Do not like Gomes for Davies, at all. Digne is knackered.
Dean Cooper
65
Posted 12/01/2021 at 21:53:54
If we can somehow get a final ball out of Iwobi, we'll have one hell of a player on our hands.
Michael Lynch
67
Posted 12/01/2021 at 22:09:41
Well that was nice.
Keane MotM for me. God he's improved
Alex Gray
68
Posted 12/01/2021 at 22:10:20
Professional. Good win but seriously need some attackers this window!
Kieran Kinsella
69
Posted 12/01/2021 at 22:10:25
Busted flush, Moyesian, fat Sam, dreary loser of a boss, what a disgrace.
Another win.
Gary Willock
70
Posted 12/01/2021 at 22:10:37
Public apology: Carlo, I'm sorry I doubted. You baffled us with the selection but the 4-4-2 was fantastic. Love it. Caaaarlo fantastico, Carlo magnifico ole, ole!
Paul Birmingham
71
Posted 12/01/2021 at 22:10:53
Great result and good mentality, character and game management with starting with no natural striker.
Well ground out result and Everton can get better.. Now to regroup for Villa.
Jerome Shields
72
Posted 12/01/2021 at 22:11:18
Ancelotti managed that games well.
Not a bad Xmas and New Year.
Michael Kenrick
73
Posted 12/01/2021 at 22:12:05
That was a great result, two fine goals, some really nice crosses that Calvert-Lewin would have enjoyed, and a little bit more watchable than the recent Zombie Football.
Gary Willock
74
Posted 12/01/2021 at 22:12:14
Kevin @64 – Gomes won it for us.
Chris Leyland
75
Posted 12/01/2021 at 22:12:56
A lot of people at the start of this thread need to put their humble pies in the oven. Maybe it's possible that Carlo Ancelloti's knows about football management after all...
Thomas Richards
76
Posted 12/01/2021 at 22:13:13
Grazie Don Carlo.
Tony Twist
77
Posted 12/01/2021 at 22:13:23
I knew Keane was a striker. I sit corrected, well done, Mr Ancelotti, you proved me wrong. Well done all concerned.
Chris Williams
78
Posted 12/01/2021 at 22:14:30
Very satisfying with no forwards!
Managing the game and managing the squad too.
Up to 4th!
We're really shite us! As for Carlo!
Fran Mitchell
79
Posted 12/01/2021 at 22:16:25
Absolute quality, deserved win. Iwobi is developing into a very good player. A fit James is just brilliant, Doucouré is a great engine room player, wins the ball, moves it forwards.
10 points above Wolves now.
Tom Harvey
80
Posted 12/01/2021 at 22:18:06
Good win, we just need the midfield to carry the ball away from our defence and slow the game down to relieve pressure.
If we can do that, we will maintain our league position.
Fran Mitchell
82
Posted 12/01/2021 at 22:18:37
4th after 17 games. A point behind the "worlds best team ltd" (copyright BBC).
If only we had Sam Allardyce, hey?
Stephen Brown
84
Posted 12/01/2021 at 22:19:54
Michael Keane is turning into a modern-day Derek Mountfield!!
Delighted for the guy!!!
Tony Hill
85
Posted 12/01/2021 at 22:20:52
That was a truly great centre-half performance from Keane. Iwobi was also outstanding.
A really good performance and massive credit to Ancelotti.
Kevin Dyer
86
Posted 12/01/2021 at 22:21:12
Well, I called that sub wrong, great assist by Gomes!
Excellent, disciplined performance. I'd give a 6 to Sigurdsson, who tried hard but was clearly not any kind of striker. Iwobi was excellent, should finish his second chance but his control was impressive, carried the ball well and his passing was good too.
James probably should have an assist there but he controlled the play at times, looking close to his best again. Doucouré was energetic and covered well, but a little sloppy in possession and done by their left-back for the goal. Not quite his usual standard but solid.
Davies was excellent, as good as against Sheffield Utd. Digne was dangerous and produced a great assist; I thought he was flagging after about 65 minutes but he found his second wind.
The centre-halves were a wall, Mina's head was a magnet to any aerial ball, dominant performance. Godfrey drawn in a little tight for their goal but what an athlete he is and what potential. Every time they tried to knock it past or run at him he just ate up the yards. Poor Silva looked a beaten man near the end. Pickford was just okay, makes me nervous whenever he faces a shot from range.
Overall, impressive stuff against a team lacking form and their main striker but full of quality players. Really enjoyed the game, lots of ability and endeavour on display from both sides.
Ian Bennett
87
Posted 12/01/2021 at 22:21:20
Fair to play to Michael Keane, he's turned it around. I didn't see that coming at all.
Defensively sound with Mina, and Godfrey gives not much away at left-back. I can see Digne getting a run on left midfield – why change an assist monster and someone who nails the left-back slot?
Danny Baily
88
Posted 12/01/2021 at 22:21:29
Gomes looked great after coming on, Tom was giving the ball away far too much.
Tonight shows how much we've missed James and Digne when it comes to making chances.
Can't wait to see Dom back and getting on the end of some of those crosses.
Si Cooper
89
Posted 12/01/2021 at 22:22:10
Nothing to moan about from that game, apart from Doucouré picking up his 5th yellow and a suspension.
There are a few 'left-field' options and some time for some training sessions. Wonder if we will see the usual suspects or get a radical approach for Sunday?
Thomas Richards
90
Posted 12/01/2021 at 22:22:21
Hopefully the Evertonians who don't post when we win will have enjoyed that enough to give a bit of credit due. It would be lovely if they came on.
Let's all enjoy it tonight lads. Regardless of your take on the manager.
Up the Blues
Kevin Prytherch
91
Posted 12/01/2021 at 22:23:33
Calvert-Lewin must be licking his lips tonight. He'd have had a hat-trick if he was on the pitch. We've not put that many crosses into the box since the first few matches of the season.
Darren Hind
92
Posted 12/01/2021 at 22:26:45
Said before the game Wolves don't worry me. I was more worried about us not being adventurous enough, but we were and we won.
We attacked at every opportunity (despite having no attackers). Won the game. That's all anyone can ask.
Congratulations to Michael Keane great performance and brilliant header.
Congratuations to Carlo Ancelotti too. Difficult circumstances, but he overcame them and we were terrific value for our win.
Only downer is, I've got to go to work now. Have a bevy for me.
Bill Gienapp
93
Posted 12/01/2021 at 22:27:04
For those keeping score at home, we're now 7-0 in matches streamed on Peacock here in the States.
Paul McCoy
97
Posted 12/01/2021 at 22:28:03
So so good to see James and Digne back to linking up again. Once again Carlo proving that he knows more about this Everton squad (and football in general) than I do, as I didn't think that lineup would get much done.
Special mention to Iwobi for continuing his improvement. Normally I'd put money on him messing up a finish like that but he nailed it. I still don't even know how he managed to get in to that position from where he was when he started the move!
Brent Stephens
98
Posted 12/01/2021 at 22:28:29
Delicious!!
Ciarán McGlone
100
Posted 12/01/2021 at 22:30:03
Loved that.
Retreated into ourselves a bit in the second half but still had enough to beat a very good Wolves side.
Delightful.
Joe McMahon
101
Posted 12/01/2021 at 22:30:48
Brilliant, a proven striker in January may see us top 4 at the end of season yet. A few players improving with Carlo, Iwobi and Keane tonight were brilliant.
Kase Chow
102
Posted 12/01/2021 at 22:31:10
What a fantastic fantastic win!!!
Per Stumo
103
Posted 12/01/2021 at 22:31:27
Well, that was unexpected, but in the best possible way. For a game of footie mind.
Difficult to single out anyone as being head and shoulders above the rest, but also difficult singling out anyone who was particularily poor. Sigurdsson didn't excel in his role as a striker but worked hard as always. Might have a had a goal too if Iwobi hadn't gotten in the way. Solid effort from them all.
Richarlison will be back on the left with Digne behind him as soon as Calvert-Lewin is fit again. With luck, the two will find their way back to their earlier form.

Neil Copeland
104
Posted 12/01/2021 at 22:32:34
Fabulous result and 4 wins from 5 on the road.
The Villa game will be another big test and the line up for that is going to be interesting too.
Bobby Mallon
105
Posted 12/01/2021 at 22:32:59
That was professional by all, good night.
Henrik Lyngsie
106
Posted 12/01/2021 at 22:33:52
Nice win. However, imagine if they had scored the first goal. In that case, we would have had a very difficult time.
I really enjoyed the win. But something is fundamentally wrong with the squad if the absence of four players (Calvert-Lewin, Richarlison, Allan and Coleman) is resulting in such a line-up. We played two full-backs who can't pass forward, a defensive midfielder who can't pass forward, and no striker.
It was not that we had 8 players out. We had four and the consequences in the line-up was so dramatic. Well done, Carlo, but something is wrong with the squad, Mr Brands.
Tommy Carter
107
Posted 12/01/2021 at 22:34:06
Carlo has managed to get so many of these players performing to a level that they never have before in an Everton shirt. On top of this, he knows how to win football matches. Even when not dominating the play or relying on counter-attack.
So much so that I think that, by adding 2 or 3 top quality players to a fully fit squad, then we are not far off Champions League standard.
Danny O'Neill
108
Posted 12/01/2021 at 22:34:43
Well, I'll be honest, due to work commitments, only got to sneak in the last 15 minutes of the first half and first 15 of the second.
When I saw the line up the prospect of a 3-4-3 frightened me; I don't like that formation regardless of who we have available. But seems we played a 4-4-2; again not my preference in the modern game.
From what I saw, an even match but I didn't feel too threatened.
Anyway, the league position looks very healthy. As I have been saying since the hysteria of the Burnley game, we are on target.
Good result. Well done to the manager and the team.
Chris Hockenhull
109
Posted 12/01/2021 at 22:34:53
Comments 1 - 6 Priceless. Go read them and whose mentality needing changing? Well done, Blues!
Bill Fairfield
110
Posted 12/01/2021 at 22:35:07
Good 3 points, now onto the Villa. COYB
Dale Self
111
Posted 12/01/2021 at 22:35:39
Nicely done Gary 70. Look at the pic of Holgate, Keane and Mina in the Guardian even if you don't read the Grauniad. That pic tells me we have some players that enjoy one another and a team spirit that is absolutely growing in a fundamental way. We have a chance for something serious here.
Fran Mitchell
112
Posted 12/01/2021 at 22:35:56
The Iwobi goal was beautiful stuff. He's probably the most improved player in the league right now. If he can get more goals in his game then he's could be a real player – he is still only 24.
Brent Stephens
113
Posted 12/01/2021 at 22:36:16
Godfrey playing so well in defence I can't see him being dropped. So Digne to stay in that more advanced role? And how bloody effective he was! Allied to being in the right position time and again for James's raking cross-field passes. Masterful.
A quiet game again from Holgate but he didn't disappoint. What great defensive performances from a set of not very strong defenders. Now why is that?
Gary Willock
114
Posted 12/01/2021 at 22:36:35
Some tough decisions at the weekend, because that "4-4-2 fluid" system (with James given the license, and that very solid back 4) was EXCEPTIONAL.
With Dom or Richie in for Siggy it's potentially even better (unfair to mention Allan for Davies yet because Tom is much better next to legs lIke Doucoure). Tbh I'm not sure both should actually get straight back in, so maybe Richie from the bench again in the second half.
Still think we are 2-3 short of staying where we are. but what an exciting time to be a blue. Off to bed happy.
Joe McMahon
115
Posted 12/01/2021 at 22:39:14
Fran, naughty comment that, remember some wanted David Unsworth as manager. The real issue was Koeman. Imagine Carlo with the money him and Walsh spent.
Peter Mills
116
Posted 12/01/2021 at 22:39:54
Michael K #73, you're on form tonight with a jubilant headline, a mention of Doucouré and several references to the absent DCL. Great stuff.
It proved to be a very interesting game, not altogether entertaining in the 2nd half, but the Blues put in a totally committed performance and just about deserved their win.
I suspect our manager does think about the game occasionally, and it was a fascinating team selection. Fair play to Carlo, he would have been hammered on here had it backfired. His win rate in away games in 12/13 months is impressive.
We are making progress. It takes time.
John Davies
117
Posted 12/01/2021 at 22:39:56
Love it. All the early posters who took a pop at the manager, wrongly assessed the team formation and generally moaned - as they always do – that we would lose again.
Numpties, all of them. It's why none of them have a job in football. Enjoy the big slices of humble pie guys.
Great 3 points. COYB!
Fran Mitchell
118
Posted 12/01/2021 at 22:40:21
Henrik Lyngs? Seriously, have a break. That was an excellent performance, and Davies did well and made some nice passes. Of course we need players, but the fact that despite it all, Carlo gets a tune out of this team is exciting.
It kind of makes a joke out of 'Carlo only had success because he was with world class players' assumption too.
Karl Masters
119
Posted 12/01/2021 at 22:40:38
Agree Chris Hockenhull. We started 7th so why all the negativity beforehand? ToffeeWeb is a Mecca for whiners and whingers!
Derek Knox
120
Posted 12/01/2021 at 22:40:43
Great win.
We had Sky Arena dedicated to our game, and all they have talked about since the final whistle is Man United's game and they were on Main Event, what the fuck?
Dave Abrahams
121
Posted 12/01/2021 at 22:41:15
Doucouré will be a big miss on Sunday vs Villa. He played his part in a well-deserved win along with Digne, Iwobi, Godfrey and Keane who will surely get MotM and not just for his goal.
The whole team worked hard for the team and the manager who justified his surprise selection and tactics with another away win. Nice to go to bed with a smile on our faces and wake up with one. A good night all round.
Danny O'Neill
122
Posted 12/01/2021 at 22:43:40
From the 30 minutes I did see, some comments on individual players.
James; can anyone spread a switch cross field pass as good as he can?
Still liking Godfrey the more I watch him.
Digne getting back to his best. If Calvert-Lewin had played, the crosses I witnessed would have resulted in at least one more goal.
Tom Davies. Looked tidy. Dare I say, training and playing alongside the likes of James is rubbing off. He played forward a lot more and at one point I saw him do a fantastic switch play sweeping pass from right into the left channel.
But I caveat, I only saw 15 minutes either side of half time.
League table looks healthy.
Christy Ring
123
Posted 12/01/2021 at 22:43:51
Superb win back four immense, Godfrey some athlete. Would love Calvert-Lewin back for next game instead of Sigurdsson.
Shane Corcoran
124
Posted 12/01/2021 at 22:44:24
Great result but masterclass? I think not. Solid at the back but we're all very excited compared to the Rotherham game a few days ago.
Stuart Sharp
125
Posted 12/01/2021 at 22:45:24
Keane was MotM in my view. I agree with others about Iwobi's improvement, too. He still frustrates at times, but I didn't think he had these sorts of performances in him.
I've watched lots of Wolves this season and think Neto is one of the best players outside the top teams, but we did a good job on him for most of the game.
Brent Stephens
126
Posted 12/01/2021 at 22:45:54
Carlo "we adapt well to the characteristic of our players".
There's so much in that statement.
Oliver Molloy
127
Posted 12/01/2021 at 22:46:43
Good win against one of our rivals for top six. The league this year is all over the place and who knows what might happen if we really start to click!
Fran Mitchell
128
Posted 12/01/2021 at 22:47:20
Doucouré will be a big miss against Villa. His engine is vital, especially with Allan still out. We don't really have anyone else who can break up play or has the athleticism to close down like he does. Will be interesting to see how Carlo approaches it – if the game goes ahead, of course.
John Skelly
129
Posted 12/01/2021 at 22:48:32
I will say it again: Zaha is a must sign. If we get Champions League, it's nailed on he will sign him plus everything seems to be gelling all over the pitch and we haven't played our best team against anyone yet. Here's hoping I am right. 😂
Mark Boullé
130
Posted 12/01/2021 at 22:49:23
Unexpectedly impressive win!
We need a new right back though I think. Seamus is fine defensively for the most part but his forward forays are far from what they were. Holgate tonight didn't have a great deal to do at the back, but he looks really, really poor and frightened in possession.
Rich Pembo
131
Posted 12/01/2021 at 22:50:04
I don't know if anyone has the facts but I think we have had the most incredible second half defensive performances. Is it 5, 6 or 7 games that we've conceded no shots on target in a second half? Can't find the data online. It may be 6 of the last 9 or something.
Gavin Johnson
132
Posted 12/01/2021 at 22:51:54
Great result and we now a team who has broken their away hoodoo. I wonder when the last season was when we'd won this many at this point into the season?! We hadn't even done this many in a whole season for a number of years.
What's going on with Doucouré?? Has he picked up too many yellows?
Danny O'Neill
133
Posted 12/01/2021 at 22:52:49
He will Dave. As will Allan still. But then so will hopefully most of Aston Villa's team? I don't know what the status is there to be honest.
John Raftery
134
Posted 12/01/2021 at 22:53:06
For once I like the headline. Our team was well drilled, the formation was excellent and the players did their jobs. There were strong defensive performances, Wolves were restricted to very few opportunities near goal while the passing in midfield was always progressive. It was a game in which the players made sure we did not fall behind in the second half and had enough quality to create and score the winner.
I agree Ben Godfrey looks to be a permanent fixture in the team. The industry of Davies and Doucouré allowed James to float around, find space to make his passes and set up numerous attacks on the flanks. I made Iwobi man of the match. Apart from scoring he used the ball well and offered a threat with his runs at the opposition.
With six wins our away form is the best in many years. It is frustrating not to be there to see these victories after years of really poor showings on the road.
Henrik Lyngsie
135
Posted 12/01/2021 at 22:53:27
Keane MotM by distance. Very strong defensively, but more importantly his passing is excellent. He plays with a lot of confidence now. My sons call him Beckenbauer which might be to take it too far.
A word on Godfrey as well. He is doing an excellent job as left-back. But his passing and crossing from there is not that great. But he is so fast and tenacious and hopefully he will turn into a fantastic central defender. The new Kompany.
Thomas Richards
136
Posted 12/01/2021 at 22:53:55
Tom Davies, outstanding in the first half. Best player on the pitch. He faded after an hour, understandable given the graft he has put in over the last 2 weeks.
Keep it up Tom. Prove me wrong. Please.
Paul A Smith
137
Posted 12/01/2021 at 22:54:33
Brent 126, I got that too mate, and I am glad it was you that posted the quote as a reminder. 👍
That was quality tactics tonight. And only for a little Davies lapse we had control and no danger for the majority of the game.
I like Darren Hind's comment too. 92. Shows the man in the poster. Hope your shift isn't too bad but at least it's a bit more enjoyable knowing we won.
Rob Hooton
138
Posted 12/01/2021 at 22:55:08
Very happy with the 3 points and the performance, thought Iwobi shone again. Couldn't fault anyone, Keane is becoming a firm favourite in our household too.
Danny O'Neill
139
Posted 12/01/2021 at 22:58:07
I like the headline Michael. Very good!
Mike Gaynes
140
Posted 12/01/2021 at 22:59:38
That was splendid. Splendid. Superb effort from start to finish.
Rich #131, great point.
Just hearing again that Villa are pushing for Sunday's game to be postponed.

David Pearl
141
Posted 12/01/2021 at 23:00:17
Nice title to the article Michael. Might see Richy start for Siggy on Sunday if Digne needa a rest. Suprised he lasted the game. Excellent 3 points and keeps us up there in what looks like the most competitive league l can ever remember.
David Cooper
142
Posted 12/01/2021 at 23:00:57
Gavin #132,
Now that he has picked up 5 yellows I think he is suspended for the next match. We have to wait until 19 games have been played to have all the yellows scrapped and then we start again.
Geoff Cadman
143
Posted 12/01/2021 at 23:02:59
Master Class just about sums it up Michael.
Drew O'Neall
144
Posted 12/01/2021 at 23:03:37
Yeah let's not go overboard, MK.
That game was dull as dishwater and about as far from a 'masterclass' as you could get but it's an important result from a patched up team, in spite of the performance.
With Godfrey and Holgate alongside two (more) centre-halves we have four players at the back who think about defence first and foremost and I'm personally pleased to get back to a more resilient and stoic foundation akin to the one we had under Moyes because you can't build anything further up the pitch when your defence undermines it each week.
By the way, no one's talking about Jordan Pickford anymore either.
Henrik Lyngsie
145
Posted 12/01/2021 at 23:05:12
Fran 118. Agree that the performance was excellent and well done by all players as well as Carlo. However, the point I tried to make was that with only four players out we have an emergency line up with two central defenders as full backs and no striker. That is a bit scary being a top 4 team.
Bob Parrington
146
Posted 12/01/2021 at 23:05:19
Excellent win. Surprisingly sound performance. Good team effort all round. Well done Carlo also.
Keane MotM agreed by me, also
Rob Halligan
147
Posted 12/01/2021 at 23:07:36
Just how brilliant is James Rodriguez!! When he gets fully fit he will be laying goals on a plate for DCL, Richarlison, plus whoever we sign this month. The man is just a magician.
Jay Harris
148
Posted 12/01/2021 at 23:07:46
Very interesting to see the pre and post game comments although I have to admit to being fearful before the game with no obvious fire power.
Great performance from all the team. Thought Tom Davies played his heart out in MF and news of James demise is very premature.
Pickford had a couple of heart in mouth moments and continues to be the "weakest link" but we really cant criticize this result nor performance.
John Keating
149
Posted 12/01/2021 at 23:09:42
Extremely professional from all the players and management.
Defence was immense Mina and Keane especially. Godfrey great at the back but has trouble in attack being naturally right footed, however, Digne covered. Wish we could get that Iwobi every game.
Ancelotti has made mistakes this season but tonight was not one of them. Hopefully the anti-Ancelotti brigade will have a day off tomorrow.
Rich Pembo
150
Posted 12/01/2021 at 23:10:48
Henrick 135 spot-on, Keane clearly MOM and Godfrey a growing beast!
Nicholas Ryan
151
Posted 12/01/2021 at 23:11:25
I'm confused! We have a weak squad, yet after almost half the season, we're in a Champions League spot.
We play with no strikers, yet score 2 goals away from home.
We have players [like Iwobi] who were being written off a few weeks ago, but now seem to show promise.
We have played some absolute dross and yet are in our best league position for several seasons.
We have a manager, who seems to make some alarming selections and tactical decisions, yet keeps winning.
As I say, I'm confused!
Danny O'Neill
152
Posted 12/01/2021 at 23:12:04
So let me get this right. We are currently 4th. We are playing games professionally with the limited squad we have and coping with the limitations that expected injuries and suspensions impose on us.
As do other teams in the league with their own respective squads. But we are 4th. Surely we can be happy with that right now?
I for one will praise the manager, players and squad for being where there are at this stage of the season.
Jay Wood
[BRZ]
153
Posted 12/01/2021 at 23:13:05
Totally merited.
Wolves played their part in a good game. We were better.
Three consecutive wins on the road now. Six in total for the season, bettered only by United and Leicester with seven. Ten away wins in 18 in the PL since Carlo joined us. Six wins in the last seven games in the more manic than usual Christmas/New Year fixtures in totally unprecedented times.
We're doing all right, aren't we?
Don Alexander
154
Posted 12/01/2021 at 23:17:23
Missed the match unfortunately but it must have been beyond brilliant for the boss to receive actual credit from our Dazza!
PS: he's gone to work now? With zombies presumably!
Paul Birmingham
155
Posted 12/01/2021 at 23:19:08
Win like this, keeping it tight and we have a chance of success. If Everton can get the home form improved then, that would be a massive help. When we put about 30 passes together just before the corner, and the goal, I felt Everton, were taking the game to try and get the decisive move and goal.
Doucouré is a big miss by his presence alone but Tom Davies done well and looked like he had more belief in himself tonight.
I reckon same team starting at Villa bar Richarlison coming in and a Siggurdsson dropping back..
But Everton can beat Villa, this Sunday lunch time, and can kick on.
Let's see if we have any injuries, but a good squad spirit showed tonight.
Now for Villa.
Derek Knox
156
Posted 12/01/2021 at 23:20:29
Drew @ 144, You are right it wasn't exactly a masterclass, but so, so wrong in saying it was as dull as ditchwater. My good friend John McFarlane Snr always declares that we often see things differently, or have a different perspective of a game, having watched the same game.
I couldn't really fault any of our players today, and considering we didn't have a fully fit squad to choose from, especially with no striker, although I would say that Siggy was largely anonymous for the most part, but in fairness was playing in a different role.
Michael Keane was imperious in defence and orchestrating procedures from the back, plus being on the spot to net the winner from the excellent cross for Gomes, probably deservedly gets Man of the Match. Having said that it was a collective effort and all played their parts.
I did say in the preview, when all sorts of permutations were being thrust forward, and many hinting that Godfrey should make way for Digne's return, that it would be a travesty to drop him, after his sterling performances previously. I was glad that Carlo managed to accommodate both Godfrey and Digne. I will be surprised if the game at Villa goes ahead, due to their Covid isolation, but we'll see.
Tony Hill
157
Posted 12/01/2021 at 23:20:33
Yes, Rob @147, he's great to watch although, funnily enough, I thought he had one of his poorer games tonight. Still hugely important.
Steve Carse
158
Posted 12/01/2021 at 23:23:31
Danny (122) "James; can anyone spread a switch cross field pass as good as he can?"
Picking up from Henrick (135), how about Michael Keane?
Jamie Crowley
159
Posted 12/01/2021 at 23:24:03
I will read all the comments later, but I just popped on for a quick second.
The title of this article / thread literally made me LOL.
Methinks Senor Kenrick has a hidden gem with his sense of humor.
Rob Halligan
160
Posted 12/01/2021 at 23:26:22
Tony, the pass out to Digne to lay on the first goal, the through ball to Iwobi who should have done better, the tackling back on Neto to win a foul, the piece of skill on the touchline on the far side of the pitch in the second half, always making himself available for a pass, he sprayed a few passes out to Digne, so yeah, was one of his quieter, or poorer games. Just wait till he's really on fire!!
Tony Hill
161
Posted 12/01/2021 at 23:28:53
I'd forgotten about that stuff on the far side, Rob. Glorious. I thought he misplaced quite a few passes too but who cares? He's what Everton players should be like.
Mike Connolly
162
Posted 12/01/2021 at 23:30:02
As much as people are saying how well Davies played. Gomes came on and showed how to play in MF with class. Rarely gave the ball away. He was strong in holding off challenges, and his passing was mostly forward. The cross for the goal was something Tom could only dream about. Hope Gomes can keep this up, because today he changed the game
Rob Halligan
163
Posted 12/01/2021 at 23:30:29
Nobody's perfect, Tony!!
Tony Abrahams
164
Posted 12/01/2021 at 23:39:59
I never find the team out before the game because if I do we lose, but I saw Richarlison was on the bench and never gave us a chance.
Turns the telly on and to my delight saw that we were playing without a centre forward, and honestly then felt like we had a good chance of winning the game because I think Tosun is very limited and can't play up front by himself.
Probably saw Iwobi have his best game in a blue shirt, definitely thought it was the ever improving Michael Keane's best display, and amidst all the arguing about cowardly football, It looks like we are developing a spirit that hasn't been seen from an Everton team in years!
Also a word for Luca Digne, he was treading water at times during the second half on Saturday, but what a performance he put in tonight, in a position that requires loads of running, there is definitely a spirit developing amongst this squad🙏
John Keating
165
Posted 12/01/2021 at 23:42:19
I know we can't use those tactics and set up every game throughout the season, however, it will do everyone, the players and us, good to see we can utilise formations and tactics and get results.
Many teams set up one way and that's it. Ancelotti is playing horses for courses
Graham Hammond
166
Posted 12/01/2021 at 23:47:13
Made up with that win! Michael Keane and Alex Iwobi have politely and respectfully stuck two fingers up to all the doubters and knockers on ToffeeWeb tonight with that performance, long may it continue, well-done lads, top drawer stuff. The knives were out too for Ben Godfrey after his performance (out of position) at Southampton, the lad is a diamond, he gives us the pace, tenacity, strength and will to win that we have been previously sorely lacking, just hope he can stay fit, like Michael and Alex, he is a big player for us now.
Kevin Molloy
167
Posted 12/01/2021 at 23:47:29
right, six wins in seven games. We've already put together seven straight wins earlier in the same season. Something is happening at Everton, something that happens when a top manager takes the reins, it's beautiful to watch, even when it's not.
Will Mabon
168
Posted 12/01/2021 at 23:47:43
Odd to say it now, but starting the game
without a centre or recognized forward!
... and winning.
That game was nailed-on for Mike Lyons.
Kase Chow
169
Posted 12/01/2021 at 23:49:47
Given what Carlo inherited he really HAS played a blinder:
We used to struggle to win away - that's changed
Keane, Iwobi, Mina were inconsistent misfits - that's changed
We would struggle any time adversity struck (eg DCL being our injured would have meant a certain loss) - that's changed
And he's actually (for now) keeping us near the top end of the table!!!
Please Moshiri, please back Carlo this January to get 2-3 players including 2 goal scorers to keep us fighting for this dream
We're only 1 point behind Liverpool!!!
Jason Li
170
Posted 12/01/2021 at 23:50:14
Carlo: Real thing!
At the final whistle, felt like we are fearless. Been ages since we beat a good team away and felt we had it under control.
Will Mabon
171
Posted 12/01/2021 at 23:52:38
Graham, twice that I remember, Godfrey came from well behind attackers running the down the right wing area to the ball, overtaking them so quickly that they literally stopped running and just gave up. His speed is incredible.
Harry Williams
172
Posted 12/01/2021 at 23:56:41
#154 - Don, up to fourth in the league. One of those ex Everton players you continue to slaughter are not doing so bad, don't you think...
Brian Wilkinson
173
Posted 12/01/2021 at 23:57:06
Rich@131, you intrigued me so I looked it up in regards to shots on target against us in the second half.
Wolves away 0
Sheffield Utd away 0
West Ham home 5
Arsenal home 0
Leicester home 0
Burnley away 1
Leeds home 3
Fulham away 4
Man Utd home 2
Newcastle away 3
Dave White
174
Posted 13/01/2021 at 00:02:07
Two words: Michael Keane. Take a bow son, best I've ever seen you lad
Will Mabon
175
Posted 12/01/2021 at 00:02:19
Not the only factor, but sort of explains the West Ham game then...
Tony Hill
177
Posted 13/01/2021 at 00:05:39
Someone above mentioned Iwobi getting in a position to score after his initial pass to James. When you watch it back you see how very intelligent his running was.
Always been a player to spot the angles but he needed, and still sometimes needs, to concentrate and believe in himself.
He's a massive bonus for us.
John McFarlane Snr
178
Posted 12/01/2021 at 00:07:28
Hi Derek [156] thanks for the mention, I also quite often say that "Anything can happen in a game of football," That's why I don't get involved in team section, formations, etc. and I've learned to take the good with the bad. I don't go overboard when we win and I don't despair when we lose, but I'll sleep easy tonight, and hopefully it may be time to dream again.
Kieran Kinsella
179
Posted 13/01/2021 at 00:11:54
I think we've a tendency to get tunnel vision after 20 years of relying on one or two key men. The positive now is that when the season started Rich was they key man, plus Digne, then Allan settled, then DCL hit form and so on. But at this point we no longer have to adopt the mantra of "we are screwed be so and so is out" as we do have several players who do have quality and more so importantly do have bottle eg Keane. That is a huge change. Some of the credit for that has to go to Carlo as many of these players were viewed as "bottlers" under the last three regimes.
Danny O'Neill
180
Posted 13/01/2021 at 00:14:13
The manager is managing you could say Kieran. Which is what is he is paid to do.
Graham Hammond
182
Posted 13/01/2021 at 00:24:10
Kase #169, Credit where credit is due, I wasn't convinced by Yerry Mina but the lad has turned around his Everton career and now finally looks worthy of a starting berth, he is much improved and much more consistent, keep it up lad, looking good.
Will #171, What I like about Godfrey is his relative pace across the running spectrum, he is generally very alert and has very good instantaneous speed and a desire to tackle and be first to every ball, he reminds me a little of Martin Keown in that regard, but he is also speedy in his mid-range and distance sprints too. I would like to see Ben use his arms (and strength) a little bit more than he does as I do worry slightly when he goes on those runs of his that he might get caught, always a risk. Could see Ben working well in a 4-1-4-1 formation as our defensive holding midfielder. Time will tell but we seem to have landed a great, versatile talent.
Don Alexander
183
Posted 13/01/2021 at 00:38:14
Harry (#172), you post to me "One of those ex Everton players you continue to slaughter are not doing so bad, don't you think..." without identifying who you're on about. Tell me who you have in mind please.
Unsworth, Ferguson, Ebbrell, Jeffers? Which of them played any part in tonight's match?
I have no idea what goes on at USMFF but if you do please state who last night made the difference in your opinion.
Or are you one of the clique who invest such faith in Kenwright appointing unqualified, impecunious, unambitious, yes-men former players to the coaching staff?
Happy NY btw.
Jimmy Husband
184
Posted 13/01/2021 at 00:41:28
Loved it. Our best performances have been with a back four of true proper defenders. I agree with the above poster who said they all seem to want to play for each other and the manager.

The togetherness seems strong. Tom Davies is an excellent footballer. The new buys have been sensational. Love that our most expensive signing has never been played in the role that he was bought for but does a job wherever he is asked. A true captain and gentleman.
Derek Thomas
185
Posted 13/01/2021 at 00:50:28
The 4 amigos across the back strike again and one of them did it at the other end too.
They showed a picture at half time of where on the field our players mostly were, aka, 'Our Shape and it was the classic Zulu crescent formation, or more prosaically, it was the old Moyes 4:6 formation, with Siggurdsen as the false...or, as one wag put it, an 'Invisible' No. 9.
If Michael or Lyndon have a hits per minute meter on these things, I bet the total on the live forum dropped right off after the 2nd goal went in.
One game at a time, ride out this dogs breakfast of a compressed season...which may yet take another enforced break...avoid losing ugly, try and turn ugly draws into ugly wins...how many of these games would we have lost under previous incumbents??...while trying to turn ugly wins into to a real pleasure to watch wins.
When in reality, No win is that bad to watch.
The Referee was awful, the comentators all slyly denigrate us, but...
We're.
Doing.
OK.
Edit; and to cap it all, somebody mentioned Keane...if a little far fetchingly...in the same sentence as Labone...but not totally without foundation just at the moment.
Strange days Indeed.
Steve Brown
186
Posted 13/01/2021 at 00:54:38
Kase @169, you are right. Our away home has changed dramatically.
Win percentages away from home in the PL:
Ancelotti - 53%
Silva - 22%
Allardyce - 25%
Koeman - 17%
Martinez - 32%.
Joe Duffin
187
Posted 13/01/2021 at 01:14:45
Some people need to have a look at themselves. If you read the comments from the first one through. So much negativity which is par for the course these days.
We have an unbelievable manager, who has the ability to get the best out of people (Iwobi, Mina, Sigi etc - all players many had written off). He has attracted great players, Allan, Doucoure, james.
He has a very positive outlook on the game (you can hear him shouting, pass forward when centre halfs have an opportunity and don't take it).
We beat, Chelsea, Arsenal, Leicester in a tough spell - all games we would normally roll over for.
We have a strong squad, high position in the league, a new ground soon to be underway, an owner who is investing Please be positive.
this is the best Everton has been in a long time, the future is bright.
Mike Corcoran
188
Posted 13/01/2021 at 01:21:12
Well done blues. Enjoyed the match, was a good contest. Carlo seems to be able to carve out results with his back to the wall. Seems like we couldn't buy points for as long as I can remember away from home. Must be the best average away points since the 80s. Yes, we are deeply flawed as a squad but still getting results. He can only work with what he has.
Roman Sidey
189
Posted 13/01/2021 at 01:54:40
Mike Connolly, 162, I'm glad you said it. Davies didn't play poorly but Gomes was a clear level above him when he came on.
I read the comments on here pre-game and had to have some self-control not to chirp some posters. When I saw the line-up, my only thought was "With what's available it's probably the best XI to select."
Richarlison would usually be automatic but he's been useless lately, and Tosun probably would have stagnated our forward line, as would Calvert-Lewin probably. This isn't a dig at either striker, but the way they play, we probably wouldn't have scored that first goal cause we rarely have that much space in the box.
Looking at the average positions of the players, it was more of a 4-2-4 than any other formation, and a 4-4-2 defensively with James and Sigurdsson both doing pretty well holding that shape.
The back four has to stay the same for as long as they're playing well together. Play Digne on the wing and keep Coleman as far away from the field as possible to accommodate.
Ernie Baywood
190
Posted 13/01/2021 at 02:13:32
People commenting that it was good to see Davies playing the ball forward more, might want to remember that was what he was known for when he broke into the team. He never went backwards. Everton soon knocked that out of him! I'm glad to see him being used to his strengths and I thought he had a very good game.
In fact, it's a strange game in that we didn't create too much, yet I was pretty happy with every individual performance. We just lacked a bit of cutting edge instead of Gylfi in the 'just try hard' striker role. I don't think we need to see that experiment again. It wasn't really a 'false 9' either.
I think James has to stay in a more central role. His best today was exceptional.
I don't know what to say about Michael Keane. He's been good all season but this just seemed like a masterclass. He won everything, was raking balls to the wing with both his right and left feet and that was a superb finish. He might be more improved than Iwobi, who I also thought was exceptional.
Presumably our midfield against Villa will be Davies plus one of Gylfi/Gomes with James ahead of them. That's weakened, but it doesn't scare me as much as it would have done before today.
A comment on Doucoure. He's a perfect fit for us. Does so much work and is now influencing further up the pitch... but am I the only one seeing the blind backwards passes he plays? There are a couple every game and it's going to cost us eventually. I'd still rather have him on the pitch, but that needs sorting out.
Si Cooper
191
Posted 13/01/2021 at 02:17:41
Roman, you beat me to it. I thought Tom did a good steady job when he kept things simple but didn't do much to expand the game or alter the tempo. To be fair he might just have been sticking to instructions.
It is funny how people watch the same game and come away with massively different impressions. Dull as ditchwater? Seemed like a decent competitive game to me. Wolves haven't had the best season so far but I think they've demonstrated their squad contains quality and that they are no pushovers for long enough now that you have to approach games against them with caution.
The game ebbed and flowed at times but there was a sea change at some stage in the second half when I thought we locked them down completely and I was sure we weren't going to lose the game from then on.
Alan J Thompson
192
Posted 13/01/2021 at 02:27:31
Just finished watching the recording without knowing the result and while it was not as dour as it has been probably due to James return I can't fathom the team selection.
Sigurdsson is not a centre forward and I just don't believe this "False No9" rubbish but I suppose he plays where the Manager picks him. Holgate looked a little lost at right back but it seemed we preferred playing out through the left side and again, he can't be blamed. Digne and Godfrey both have the same problem, one can only use his left foot and the other his right. Doucoure seemed to turn up at the oddest times standing in our back four and compare his positioning against the wide player which led to their goal to that of Wolves on Digne and Godfrey.
Overall, I thought Wolves were the more impressive side but need a big striker to act as a focal point but I liked their speed of movement, the number of players they get forward and their willingness to run with the ball and take men on.
For Everton, I thought MoM was between James, Iwobi and Michael Keane, not much to pick between them.
Robert Tressell
193
Posted 13/01/2021 at 03:02:08
Winning away with a patched up team, a novel tactical formation, players learning & improving - that's what really good teams do isn't it?
Very pleased for the scorers who have both really kicked on this season, despite their critics.
As I tend to think now, we're never as good or bad as our last result. But certainly if we get some decent reinforcements in then we could be really good.
Kieran Kinsella
194
Posted 13/01/2021 at 03:33:06
Peacock in the US bizarrely omitted the Wolves goal from the extended highlights WTF?
Darren Hind
195
Posted 13/01/2021 at 05:20:19
Tom Davies was excellent. He hit three top-notch passes in the closing stages in the first half which showed his qualities to great effect.
Somebody pointed out over the weekend that results would suggest that we don't miss Allan anywhere near as much as people say we do. That we had only failed to win one game out of those he had missed. Last night was another one. Tom Davies has filled in admirably.
Tom is not a natural defensive midfield player, but such is his versatility and his willingness to do any job asked of him, a steady stream of managers have trusted him to the job they haven't dared trusted more senior players to do – that's why Gomes was on the bench last night.
While indiscipline has cost us points at Southampton, Burnley, Newcastle and at home to Leeds, Davies has stepped in at difficult venues like Leicester and Wolves and shown a maturity way beyond his years.
He has had to serve his apprenticeship playing for poor teams in the most difficult league in the world... and let's be fair here. He didn't get selected because he is the blue-eyed boy of a particular manager. He has now had half a dozen managers and despite his tender years, they have all trusted him.
By the time he is 23, Tom Davies will have played (baring injury) over 150 top-flight games. Few 23-year-olds in world football can boast that.
Davies is no Grealish going forward. He is no Ndidi going backwards either, but he is one of the most versatile young players around. A listener. A soldier, a brave servant whoever hides and he is developing a very nice habit of playing for the winning team.
We were good last night. I don't mean School-of-Science good, I mean playing-with-a-purpose good. We didn't attack relentlessly, but we did look to get forward every time we turned the ball over. Players were shrugging off the straight-jackets of Zombie football and breaking ranks. We were playing the game the way it is meant to be played and we were looking to win it.
Last night's performance was in spite of the fact that our most attacking players were absent. It made a mockery of the claim that we had to play from behind the couch in other fixtures because we had injuries.
Carlo Ancelotti does not have to win the Champions League to get his critics on board. Most of us are far easier pleased than that. He just has to try to win every game... That's all.
We didn't win last night's game because we went not to lose and got lucky. We won because we had the desire to win... right from the off.
Steve Brown
196
Posted 13/01/2021 at 05:39:28
Looking at the table after 17 games makes for satisfying reading.
4 points off top spot, 1 point behind the shite, 6 points ahead of Chelsea and 9 points ahead of Arsenal. It is also frustrating that we mismanaged the games against Newcastle, Leeds and West Ham. Carlo's team selections and tactics contributed to those dire performances, as did the complacency of the team. If management and team can be 100% on it for those types of games going forward, we have a good chance of Europe.
And as Darren says, a big shout out to young Tom. He is always willing to take responsibility, looks for the progressive pass, never hides and will play any role he is asked to with commitment and courage. He is a really good pro for such a young man.
Lester Yip
197
Posted 13/01/2021 at 05:40:13
I watched an interview with Calvert-Lewin and he commented that Godfrey is the 2nd-fastest in the team (behind him) with Branthwaite 3rd and Richarlison 4th. So we have two very fast young centre-backs in the team. Good sign.
I am happy for Tom. He's been playing the defensive role well enough. He had some errors in him, playing stray passes in key areas. But he's also very good at turning when receiving the ball, ready to attack. Hope he continues to develop.
How beautiful is the 1st goal? Those one-touch passes are just perfect! Hopefully we can see more of this stuff.
As someone has already pointed out, I'd rather have a solid defensive setup that makes us hard to beat than some very fluid attacking football. The former provides better consistency throughout the season. Until we can acquire a couple more attacking pacey wingers or right-wingbacks, I'm happy to stick with this setup.
With the current defensive line, it takes something special for the opponent to score from a corner or free-kick.
Paul A Smith
198
Posted 13/01/2021 at 06:27:07
The difference we are showing in game management this season has been a dramatic rise.
Time after time, we have all seen Everton throw games away through fear or lack of concentration. That has hardly been a problem for a side that had massive problems seeing games out and continuing to stay solid after scoring early.
We kept shape again really well last night and those that can play a bit got forward and tried to force the play.
Small percentages are now becoming a thing in our favour and it is changing our fortunes for the good.
Andy Walker
199
Posted 13/01/2021 at 06:28:18
A good enjoyable performance!
Player ratings from BBC below. I pretty much agree with all of them.
There's a lot of understandable positive sentiment towards Davies on TW but, for me, he's not nearly dynamic enough and lacks top-class quality. He hardly scores, rarely provides an assist, isn't fast, not a great tackler and is far too passive on the ball.
He wasn't as poor as he has been of late last night and showed the occasional decent pass, but he was culpable for the corner that led to Wolves goal by a simple miss control of the ball when under no real pressure.
Carlo clearly thought he was a weakness when he subbed him after an hour and the upgrade of class was clear when Gomes came on, setting up our winner and looking far more dynamic than Tom.
Sadly, I don't think the lad's going to be playing at a top Premier League club for much longer.
Keane 8.48

Iwobi 7.95

Godfrey 7.90

Digne 7.69

Rodríguez 7.67

Mina 7.55

Gomes 7.27

Doucouré 7.25
Pickford 6.93
Holgate 6.90

Richarlison 6.68

Coleman 6.63

Sigurdsson 6.40

Davies 6.33
Steve Shave
200
Posted 13/01/2021 at 06:41:41
Agree with Derek - sorry Drew 144 that was not a dull game of footie. We absorbed pressure, looked comfortable when we had the ball and pushed it around looking for openings. If we had a striker on the pitch, we would have created more opportunities with better runs.
I thought Keane, Iwobi, James and Godfrey were excellent. Davies and Digne deserve a mention for their performances also and ol' short arms made an excellent save.
Someone above mentioned what it would be like playing with this impetus and a full squad to chose from, maybe a new right-back also, exciting prospect. Who knows what could happen if this all came together and we really clicked into gear? COYB.
Paul A Smith
201
Posted 13/01/2021 at 06:43:57
God knows how anyone saw good passing in Davies last night? He may have got a couple right and, as usual, he never hid at all... but a lot of his passing is suicide.
Steve Shave
202
Posted 13/01/2021 at 06:44:38
Oh and I forgot to mention my man-crush André Gomes. He looked sharp and hungry again coming on as a sub; 3rd game in a row he has done so when not starting. He must not fluff his lines against Villa deputising for Doucouré and then he will oust Davies.
He made one of his blundering fouls from behind early on and I could almost hear the groans coming from the Live Forum but, credit where it's due, guys, he was up for the fight.
Paul A Smith
203
Posted 13/01/2021 at 07:04:46
Gomes is far better coming on with a little bit more freedom against tired players.
It's about using the right tools at the right time and, up to now, I can't think of a manager this season that has handled a squad so well?
It's not us crying for games to be called off. We didn't cry over missing 5 first teamers before Christmas, we have just got on with it and played systems to suit availability.
No knives to gunfights here. We have looked up for all the big opponents and kept going in most games.
Some of these players that have struggled for 3 and 4 years are looking like our most reliable. I can't remember having so little to moan about in a long long time?
If our 11 can improve, we will be a worry for all the big spenders that don't want us threatening them.
Dan Nulty
204
Posted 13/01/2021 at 07:17:07
Paul, he hit one glorious pass to Digne. He did make several normal passes but unfortunately he just gives possession away too frequently. Sadly, a few of the people who defend him on here are blind to it. I'll challenge them to rewatch the game with a pen and paper and count his total passes, how many times he gives the ball away. I said on the forum, one of my friends who is a Wolves fan said he'd stand out less in the first half if he was wearing a gold shirt.
James for me was a cut above yesterday, if he was passing to players with pace, we'd have torn Wolves apart. Iwobi really impressed me but there were times when James gave him the ball and you just wished he could burst past people a bit more than he does.
Sigurdsson was pretty anonymous, I thought he should have made the switch earlier. Richarlison looks rusty.
Mark Murphy
205
Posted 13/01/2021 at 07:20:31
Alan J Thomson,
Did you write that after watching the whole game or during it?
Not one positive point about Everton in there??
Danny O'Neill
206
Posted 13/01/2021 at 07:22:09
Win every game. That's all?
Come on Darren, that's an unrealistic tall order for any manager!
Pleased for Tom Davies, he seems to be doing much better of late. You make a fair point about his apprenticeship being under several managers and I would add, the turbulence that has surrounded their coming and going. That could be said for most of the players mind.
As I said earlier, unfortunately I didn't get to see most of the match outside of 30 minutes either side of the interval and highlights later.
The superstitious idiot in me now dictates that I can't watch the next one in full!!
Danny O'Neill
207
Posted 13/01/2021 at 07:25:02
Great shout on game management, Paul. How very different this team is from seasons previous. The Bournemouth away calamity is in direct contrast to how we now manage game situations.
Dan Nulty
208
Posted 13/01/2021 at 07:29:54
Anyway, with the squad we've got and the injuries, 4th in mid January is an unbelievable achievement and with those rubbish performances against Leeds and Burnley aside we'd be 3 points clear at the top. Which is bonkers. Yes, a bad run in 3 games and we'd be down to 10th but I'm enjoying actually being up there fighting and what I do like is how happy the squad look currently.
Long may this run continue.
Ian Jones
209
Posted 13/01/2021 at 07:40:17
I guess Tom Davies will always split opinion. A few misplaced passes happen and can be frustrating but at least he's trying to make something happen.
He also made some good positive passes, on the whole kept it simple and I think had one of his better games. Perhaps nothing outstanding but steady, made a nuisance of himself, buzzing around the Wolves midfield and usually available as an outlet.
Gomes came on for him and he of course offered something different which is one of the uses of a substitute. Great cross for the goal but I am sure Tom is quite capable of making those types of crosses given the opportunity.
Darren's take on his performance and of Tom, @ 195, I think is a fair assessment of Tom.
He was picked in 2015 to train with the England senior team when he was with the England U17s, has captained both club and country, so it appears a lot of people in senior management have faith in him. He's still young and has plenty to offer.
Kunal Desai
210
Posted 13/01/2021 at 07:41:45
Wins away at Spurs, Leicester and Wolves. We've come a long way in a short space of time. It's work in progress. This would be the perfect opportunity to freshen things up a little and bring in one or two players even if they are loan deals to keep the momentum going.
I still think we'll see a few bumps and bruises along the way, some unexpected defeats, some unexpected wins but overall we have to be pleased for attaining 32 points after 17 games.
Ian Jones
211
Posted 13/01/2021 at 07:56:09
Sorry to pick you out, Alan @ 192
You indicate that Digne and Godfrey both have the same problem, one can only use his left foot and the other his right.
Any thoughts on the right foot of James?
Admittedly, his left foot can be used to fantastic effect as we saw last night with the first goal, but as some have already pointed out, he always wants to turn to use his left foot and many teams have already worked that out and set up accordingly.
Think how much better he could be if he could use his right as well. If he could, I guess he wouldn't be at Everton. To be fair, I've also criticised Messi in the past for not being able to use his right foot. :)
Also, Andy at 199, bit harsh on Tom. He might have given away the corner that led to the goal. I'd have to watch it again, but I thougut he was a bit unlucky, more clumsy etc.
However, what I don't have to watch again is the attempt by Doucoure to defend the cross coming in and the lack of marking at the back post which left Wolves players free.
Martin Berry
212
Posted 13/01/2021 at 08:26:02
A good team performance tonight epitomized by Keane's display at the back and superb winner, plus Iwobi's cool finish and threat upfront.
Yes, we have lots of improvement and squad development to do, also the passing is not accurate enough compared with the best.
However, considering injuries to key players, who would have guessed at our lofty league position at this time of the season?
Drew O'Neall
213
Posted 13/01/2021 at 08:26:22
Derek 156 and Steve 200
I agree with most of what you say and maybe I'm guilty of the behaviour I'm criticising by being extreme ("dull as dishwater") to make the point, which was; everything's not terrible when we lose and it's not a 'masterclass' just because we win.
What frustrates me is when performances are overlooked because of the result. MK is a past master of throwing out four or five blue babies with the bath water if we don't get the right score line and it seems from this headline that he is equally capable of the opposite. I suppose what frustrates me most about that approach is it's what we see from Sky and MOTD who show little more interest in Everton than our results against their darlings and I hope for and expect more from our own, blue-biased media.
A focus on the performance rather than the outcome, which can be as the result of a moment of bad fortune or a single individual mistake in an otherwise perfect team effort, has been one of the huge positives I've seen from Ancelotti since he joined.
Like (and sometimes as a direct result of) the aforementioned leaky defence, failure to acknowledge performance when you get a bad result undermines incremental improvement in performance, confidence and momentum and we as fans should always, always try to look beyond the ostensible outcome of games in search of the positives if there are some.

Robert Tressell
214
Posted 13/01/2021 at 08:27:05
The construction and execution of the Iwobi goal was outstanding. A Barcelona type goal. Iwobi is getting better all the time – if he can add more goals to his game, then we'll have a very good player on our hands.
The table is still very bunched up. Arsenal in 11th are 3 wins behind us. Chelsea in 9th are 2 wins behind us. A long way to go yet. But lots of grounds for optimism.
Graham Mockford
215
Posted 13/01/2021 at 08:27:47
Tom Davies wasn't excellent last night; he did alright. Nothing more, nothing less. He put in a shift, made a few passes but also had a brain freeze where he managed to double-kick an interception out for the corner that preceded the equaliser.
He's not a young kid anymore. As pointed out, he's played 150+ games. I guess the question is, does he have a place in the long run as a squad player in a team with Champions League aspirations? I'm suspecting not.
Harry Williams
216
Posted 13/01/2021 at 08:33:08
#183 - Don, Kenwright and ex-Everton-player basher – maybe you could start watching some Everton games? Just an idea...
You never mention Leighton Baines – is he another Kenwright yes-man?
And, as it happens, the legend Tim Cahill is regularly up at Finch Farm, looks like he's getting involved in some capacity – which, in my opinion, would be fantastic... but, of course, another yes-man.
Tommy Carter
217
Posted 13/01/2021 at 08:36:00
Having a player like James Rodriguez enables you to win games like that last night. Yes, defensively he may be a passenger at times but the free role really benefited us last night. Having an Ashley Barnes in there instead may ensure you don't lose a game like last night, but you'll not likely win many of them either.
James has the ability to create 2-3 golden opportunities every single game. His ball last night was played in such a way that Digne had no option but to touch it first time inside. He had had the ability to pull it off and James knows he does. It's really intricate but by inviting that single touch inside from Digne wipes out two defenders. You then need an intelligent and opportunist attacker to read this and this is what Iwobi did. Fantastic. There are very few people in the modern game with the kind of creativity James has in his locker and even fewer with the technique to consistently make it happen.
The rest of the team has to be almost perfect defensively. And for the most part we have been. Leeds got us with a bit of a wonder strike, West Ham with an opportunistic rebound. Wolves with a well worked goal and an incisive touch by Ait Nouri that destroyed Doucoure and a very well executed cross. Little more we could do as Godfrey was very close to getting his head on it.
Better teams will test us in different ways defensively but that back line appears to be confident and well organised at present.
Playing a flat back four suits us. The position really suits Godfrey at left back but inevitably he will transition to centre back at some point. It is up to whoever gets a shirt back there to make it their own. Mina is producing a level of play I genuinely didn't think he was capable of and I'm delighted for him.
The cross from Andre Gomes was of undoubted quality. Again, it's a single piece of skill that wins us the game. Brilliant. He obviously has this in his locker but his ability to produce any kind of consistent performance just isn't there. It's a shame as he is an incredibly gifted player in terms of technique. One thing he can't be faulted on is the frequency with which he is in possession of the ball. It's similar to Davies I suppose, the more they are on the ball and show for it, the more chance to make an error.
I'm delighted overall.
Dan Nulty
218
Posted 13/01/2021 at 08:49:09
Just watching their goal back, I'd be deeply concerned about the marking for the corner. Neves appears to be stood completely on his own next to Pickford, sprints forward then out slightly from the goal. My initial thoughts were that Godfrey should pick him up but really Godfrey has to stay covering the back post for the cross back in. Probably Iwobi or the other Everton player at the back who should be working to get on Neves. Disappointing.
David Cash
219
Posted 13/01/2021 at 09:13:30
I thought we kept composure throughout the entire game. Even when they scored, I still felt confident we were always going to win.
I don't think I remember a player who is discussed as much as Tom Davies. He is an academy squad player who gets too much abuse and praise. Is he really that important?
Yes, he did make some very good passes – particularly in the first half – but he also misplaced a few. Those blaming him for that goal need to give their heads a serious wobble. He cut out a dangerous cross and an unfortunate ricochet sent the ball over for a corner. We then had 11 men to defend the corner. They didn't even score direct from it. It's a bit like giving Sigurdsson an assist because, if he didn't kick off, we wouldn't have scored!
Tom did okay. He is improving and may become a valuable squad member yet. But I'd rather get people's take on James.
I'm delighted to see Carlo getting almost universal approval and credit for this one. A few more performances like this and we may even see peace break out on TW.
Danny O'Neill
220
Posted 13/01/2021 at 09:17:05
Big shout that last sentence David Cash!!
Paul McCoy
221
Posted 13/01/2021 at 09:23:26
Tommy (217) - It's not the first time Digne has volleyed a cross field pass like that either. He's done it a couple of times when playing for France to great effect as well. He's certainly not the best left-back defensively in the Premier League but, when it comes to attacking, I don't think there's anyone else I'd rather have.
Tony Abrahams
222
Posted 13/01/2021 at 09:27:16
I know you've backed Iwobi, Robert T, and I can understand why, because the kid's got ability and he just needs to grow up and realise how good he can be. He should have the same belief in himself that Rodriguez seems to have in him, and this will change the desire of a very talented young footballer, imo, mate.
Davies is like Marmite, and there are definitely two sides to the debate about whether he's going to be good enough for Everton long-term. My own view is that, because of his honesty and his willingness to play and not hide, then this has worked against him and he's been asked to do that many different things, by that many different managers, that he hasn't had time to develop.
Football is only easy when it's easy (not often); most of the time, it's about doing the dirty work, and Tom Davies has probably had to do more dirty work than anyone, since he first broke into Everton's team.
He's doing okay, he's just doing enough, but it's just "another role" that Tom is being asked to play, and I saw signs last night that it's a role he could grow into given time.
Martin Mason
223
Posted 13/01/2021 at 09:44:26
I watched Davies carefully last night for the first half. He gave the ball away twice in the 45 minutes and both of those were reasonable losses for a central midfield player. Substituting him was tactically excellent and was no reflection on how he was playing. His tackling was excellent and his overall game very good. I remember that the boo boys were on the back of Michael Keane and DCL for a long time, they were wrong then and they are wrong now and unfairly so given how young he is and the technical difficulty of that central midfield role.
Mike Oates
224
Posted 13/01/2021 at 09:50:13
Totally professional performance last night, defence tight, midfield very tidy, kept the ball well, didn't lose it after every 3 passes as they did vs West Ham and Rotherham. Playing away suits us far better than playing at home, where we have to up the pace and movement and this is too much of a challenge for some of the lads playing at the moment.
Carlo's got some difficult decisions ahead, particularly keeping Holgate and Godfrey happy. Both playing out of position and doing well, Godfrey particularly well, but what does the boss do when he's got a fully fit Coleman and Digne. He's not going to disrupt Mina and Keane. I think in time Godfrey will become our right back, his searing pace is a must have across the back line, and as he's right footed he may develop into a good attacking full back as well. Holgate I suspect will become a back up player for the right back and centre halves position.
Losing Doucoure for Sunday is a major major blow, he's the sole break the lines player we have and Davies and Gomes haven't got the legs to pull AV apart. Villas midfield is their strength and I suspect Carlo can only go for a solid back 9, with Rodriquez and Richardson left up to forage. So midfield Iwobi, Siggy, Davies/Gomes, Digne . So who's going to stop Grealish
John Keating
225
Posted 13/01/2021 at 10:01:57
I think most of us accept that Ancelotti can put out a team and tactics to play modern away games to get results.
The question now for Ancelotti is setting out the team and tactics for home games.
We will fall by the way side home and away during this season but it's the manner we slip up that will be picked over, especially by the Anti Ancelotti brigade.
Some teams, such as Man City, will hog the ball even at Goodison so a bit daft going gung ho and trying to play them at their own game.
Last nights tactics were indeed a masterclass but one than cannot be acceptable every away game.
It's going to be interesting to see how Ancelotti gets our home game results as good as our away ones
Brian Porter
226
Posted 13/01/2021 at 10:11:23
Has everyone noticed that a quick look at the league table shows we've so far won one game more than that lot across the park? Only Man Utd have won more games than us (11 to our 10).
If it hadn't been for our mini slump in November we could have been top at present with clear daylight between us and the chasing pack.
I mention that last point purely because I am a little mystified by the criticism of Carlo that has appeared to gain ground in recent weeks.
With the players we've had missing through injuries and suspension, I think the manager has made the best of a difficult situation, using the limited resources at his disposal.
Like everyone else, I hope and expect us to play well and hopefully win every time we step out onto the field but then I take a large dose of realism, and I know that's never going to happen.
Finally, let's remember that Carlo has only had one transfer window so far, and we can't really complain about any of last summer's signings, so please, let's give him the time he needs, to build his own squad, and appreciate the fact that he's doing a pretty good job of getting the best out of the players he's inherited from our last couple of failed managers.
Tommy Carter
227
Posted 13/01/2021 at 10:19:00
@ Paul 221
Agreed. Digne is an excellent player. His attacking play yesterday was terrific. That stat about chances created since 2018 from full backs says it all really. Especially given that the other full backs were from teams competing for titles and scoring lots of goals during that time.

@ 223 Martin. Fair comments and I'm glad that there does exist some support for Tom amongst ourselves fans. I think he's an excellent asset for our squad. Is he a tremendous player? No, but I don't think anybody claims that he is. Do we want him to be? Of course we do.
But the realists amongst us who understand the game can see what he brings to our squad. An important piece of a large jigsaw.

Andrew Keatley
228
Posted 13/01/2021 at 10:23:09
First things first, it was a great win and a really encouraging team performance. The defensive focus and organisation has given us a real platform, and Keane and Mina in particular deserve great credit - but it runs through the whole team. Moving James up the field and killing the space for Wolves to counter-attack is confirmation of Ancelotti's keen insights.
I want to defend Doucouré on the Wolves goal, as a few on here have criticised him. He gets out to Ait-Nouri quickly, hoping to stop the cross, and a clever touch and forward momentum allows Ait-Nouri to get beyond him and to cross from the byeline. If Doucouré had measured his approach then Ait-Nouri would have had time and space to cross first-time - which for me would have been a real mistake. Sometimes an opponent shows a bit of skill and you have to applaud it. After Doucouré is beaten by that skill he manages to adjust and track Ait-Nouri to the byeline. I generally really like what I am seeing from Doucouré, save the odd blind backwards pass that someone further up the thread pointed out, and he's certainly brought some athleticism and muscularity to our midfield.
Laurie Hartley
229
Posted 13/01/2021 at 10:27:08
Jimmy Husband @ #184 - are you Jimmy Husband?
Andrew Keatley
230
Posted 13/01/2021 at 10:28:13
Martin (223) - I have never been a detractor when it comes to DCL or Keane. In fact when Steve Ferns was constantly saying at the beginning of this season that we could never be successful with Michael Keane in our team it was me who was challenging him on that while most on here just bowed to his alleged superior knowledge. On Davies though, I just cannot see it. Sorry. Some of us will pick and choose who we criticise rather than just pile on regardless.
Robert Tressell
231
Posted 13/01/2021 at 10:30:26
Davies should be retained in the squad as a really decent deputy who gets about 25 games a season plus sub appearances. If he kicks on over the couple of years, as well he might, then he might also nail down a first team spot.
The other point I'll make is that Carlo puts great store in a good shape and closing off passing lanes. This isn't something that leaps out when watching as a fan (Steve Ferns used to provide good analysis). But it might be why managers like him.
Thomas Richards
232
Posted 13/01/2021 at 10:39:55
David #219
First.
I took a cheap shot yesterday.
I apologise for that.
On James.
I don't think he is anywhere near fit.
I would build a team around him long term.
Great vision and ability to play the pass he sees.
He will get intelligent runners in.
More goals to come as well from him
Julian Exshaw
233
Posted 13/01/2021 at 10:47:40
They say if you win without playing at your best, this is a sign of a good side. I'm not saying we were not at our best yesterday but we won and we're 4th and there are many reasons to be cheerful.
I'm not Tom Davies' greatest fan but I have never questioned his desire and as a fan, as long as you see one of your team busting a gut you can't criticise. Truth be told I was impressed with him last night.
What Carlo has obviously done, which Martinez and Silva couldn't, is get our defence tight. Mina has improved in leaps and bounds, as has Keane. Credit to all the coaches for that. In Godfrey they have found a real gem. In a couple of years this guy could be the real deal and better than old Virgil across the park.
There is no better time to qualify for the CL. No team is consistent this year. We are up there, we have a chance. In Carlo we trust about 85 % :)
Mark Tanton
234
Posted 13/01/2021 at 10:49:57
I thought they were excellent last night, very well organised following a plan. These are exciting times to be an Evertonian, might it be true that we are starting to Fabreeze the stench of failure from the club? This win and the ground out 3 points in the Bramall Lane war of attrition have really given me hope that there is more fight and more balls then there has been for a long time.
Tony Abrahams
235
Posted 13/01/2021 at 10:52:10
David@219, if peace is to break out on ToffeeWeb, then I think your lunatic mate will have to reign it in a bit, but it's funny when you said you'd sooner hear what people had to say about James Rodriguez, because I thought Darren's description a while ago was absolutely perfect, and illustrated to me, why he's ToffeeWeb's own Tom Davies!
He said Rodriguez isn't a soldier, but he's got soul, and I thought it was a brilliant description, for someone who looks like he doesn't work that hard, but yet he's constantly trying to get on the ball.
"THE BALL" will always be the most Important thing on the pitch, so I love watching footballers who always want the ball, (They are the bravest players imo) especially the ones who know what they're doing once they get it, which is definitely his forte.
I love watching Rodriguez, although he should have known more than anyone, that he was tiring last night, and he should have kept his passing more simple in the last 15 minutes of the game!
Ricky Oak
236
Posted 13/01/2021 at 10:57:20
Does no one else see, that, with siggy playing, anywhere, the opposition just have to mark him,? so in effect, without him last night there's no way we win?
Really think there's some on here that secretly fancy him, Christy Ring,?
Him and Tom do so much more than given credit for, plus, they're our lads,! some on here are just haters, same as on live, if you deride our own team so much, is it any wonder that the establishment get to kick our nuts in week in, week out, unity is where the strength is.
That was one of the best team performances I've seen in years.
Still people slagging our guys off!
Oh Lord its hard to be humble, when I'm perfect in every way!, or what.?
Brian Harrison
237
Posted 13/01/2021 at 11:04:54
Tony 235
The line that Darren used is from a Killers hit and the line is " he's got soul but he's not a soldier". I to love watching James play and I think as the weeks go by he will get fitter and have an even greater impact on this team. I have had a few tussles with Darren but he posted in fulsome praise of Carlo after the final whistle which was nice to see. I said on another thread its a long time since I have seen an Everton side with so much steel and belief.
Most of us know that there will be bumps along the road but at last we have a manager who will win us trophies and I hope he is here longer than his current contract.
Paul Ellam
238
Posted 13/01/2021 at 11:11:06
If Ancelotti can bring in the same quality of players in the summer as he has up to now then we have a very bright future ahead of us.
I'm thinking we need to strengthen at RB CM RW and CF.

Tony Abrahams
239
Posted 13/01/2021 at 11:18:38
I maybe had a go at Andrew K, the other day, when I didn't have to Brian, but it's simple, I've learned a lot about Darren, from his mate David, who does what mates do, and although it's obvious that Darren, winds loads of people up, I also know not to get involved in any major disagreements with the man, because he's great at arguing, and I've seen it loads of times where people have forgotten what they're actually arguing about!
A brilliant line there in Julian's post@233. As a fan, as long as you can see one of your team busting a gut, then you can't criticise, and that's exactly how how I see Ancelotti right now.
He's come for the money, he's only used to managing the top players they say? So he's put his reputation on the line, he's playing a style of football, that he's never really been associated with, and he's busting a gut for Everton!
Sean Callaghan
240
Posted 13/01/2021 at 11:19:25
Not to disagree with any of the positive comments above, and for what it's worth I thought it was a great team performance with one or two stand out moments from a number of individuals. One of these moments, for me, was Pickford's brilliant save low down to his left after being slightly unsighted.
I couldn't believe that neither of the commentators on Sky (who, I presume, were competition winners from Radio West Midlands, seeing as how they only ever focused on what Wolves were doing) didn't pick up on that.
At the risk of overlaying it, I don't think many keepers could have made that save, world class and a match winner for me.
Roger Helm
241
Posted 13/01/2021 at 11:24:43
I thought Keane was excellent last night. As well as his defending, and the goal, all his passes were forward, unlike Mina. I wouldn't swap him for any other CH.
A lot of other players are improving as well. especially Iwobe and Davies. When we get DCL and Allan back, and James gets properly fit, I don't see why top four should be out of reach.
Martin Reppion
242
Posted 13/01/2021 at 11:25:40
I wrote some time ago about managers with 'philosophies' on how to play. Martinez is described as such and we know what a success he was.
I said then that a manager should manage his resources and get the best out of them, not, as a result of his philosophy, try to make staying chasers run like sprinters or tenors sing soprano.
That is what we now have in Carlo. He has taken his time. Assessed his squad. Improved it were possible. Now when there are problems with injuries he has adapted and played a 'strange' formation, but one which got the best out of the players at his disposal.
Don't get me wrong, he has made mistakes. But last night was an example of a top quality manager doing what he is paid to do.
I know we are short of quality in areas of the squad. This is a result of a succession of poor managers making poorer decisions. It will take a couple more transfer windows to correct this, But in the meantime I believe we are better than we have been for many years. And I for one will not be slagging off all and sundry after a couple of defeats, if and when they happen. Instead I will remember last night and know things are getting better.
Mark Murphy
243
Posted 13/01/2021 at 11:25:44
Sean I'm undecided about Pickford - I criticised a couple of moments from him last night when he armed a soft one for a corner and then failed to come for a high ball into his 6 yard box.
But to be fair he probably makes up for those flaws with his shot stopping and there are far more areas in need of attention than the keeper. (Right back, back up striker and attacking mid).
From now on I'll accept Pickford as our keeper and ease off the nit picking. He did well last night overall.
Tony Abrahams
244
Posted 13/01/2021 at 11:31:01
It was a very good save Sean, even if the fella never got a true connection on the ball, possibly because it's the hardest shot to hit imo.
My own view of Pickford was that he was very well protected last night, but he looked like one of those PlayStation goalies, who is always diving after the ball has already gone past him.
I thought he's looked a bit calmer since he last come back from playing for England, but he didn't look as calm last night though, and possibly because he's now got real pressure because Olsen also looks like a decent keeper?
David Hallwood
245
Posted 13/01/2021 at 11:35:21
Brian(#226) you're mystified at the criticism and negative comments? Welcome to ToffeeWeb!! Glass half empty? What glass, my life is so shit I don't even own a glass!
Moving on to the game; I'm pleased with the comments are not exactly pro Tom Davies but not the baffling bile that was on display in the live forum and other blue websites.
IMO he did a job, and Italian job at that. How many times have you seen an Italian team with a holder MF who rarely goes past the halfway line, just keep it simple. Do I think he's the best midfielder we've got? Erm no, but could be the Alan Harper of the 21st century.
But like Mark (#223) I paid attention to Tom's passes that went astray and the OTT abuse he received on the live forum, in relation to other players. Our first corner, Doucouré put a piss poor pass that almost led to a wolves counter. The forum, silent.
Another passage of play Davies misplaced a pass, wolves give it to Doucouré who gave it back to Wolves, who gave it to James who gave it back to wolves. The forum it was Davies! Davies! Davies! Nothing directed towards the other players.
As a poster said, people should give their heads a wobble when it comes to the blame game, and instead applaud the defensive solidity that Davies has played a part in.
4th in the league, 3pts off top spot, yeah life is shit being an Evertonian.
Victor Johnson
246
Posted 13/01/2021 at 11:50:04
Unlock James and we will put most teams to the sword. Easier said than done, but last night gave us a taste of how when James is involved we look a different beast. He is pure class and I thumb my nose at any mention of James and 'doesn't track back' in the same sentence. His ball to Digne for the first goal was celestial.
Brian Murray
247
Posted 13/01/2021 at 11:52:57
With this league all over the place and us with a back line second to non don't you all think Marcel needs to have an inspired window to make us a real contender. Not as Carlo says we are where we want to be although I'm sure that was lost in translation a bit. Now is the time not the summer.
Mark Murphy
248
Posted 13/01/2021 at 11:56:04
David it was Martin actually but I agree with both of you. I thought Tom had a good game and whilst it's true that not all his passes found their man neither did many other players including master passer James. Players are not machines or robots and unless they play the "Paul Scholes" 3 yard one- two the whole game the odd pass won't always come off. In fact, the only player last night who didn't make a bad pass was Michael Keane who was phenomenal! Toms got a lot to offer and given a run in the team will grow into it. On saying that, personally, I'm looking forward to the return of Allan and a fit Richarlison.
Sean Callaghan
249
Posted 13/01/2021 at 11:56:40
Mark, Tony...absolutely, is he the perfect keeper? Far from it and one of the most commonly used phrases out of my mouth over the last couple of seasons has been "For fuck's sake, Pickford". But...like every player he can do somethings very well and is not so great at others.
This is where a great manager, coupled with intelligent players, can come into their own: identify limitations and work around them. I have as much idea as to what goes on in the training and tactics sessions as most on here (none whatsoever) but it might be that Carlo has set the team up to mitigate some of the effects of Pickford's limitations on the basis that he is worth the occasional flap or lapse in concentration.
Well executed zonal marking from set pieces, and midfielders going all in to block or prevent the 30 yard shots that sometimes can embarrass a less than switched on keeper? Clearly Keane and Mina have stepped up with crosses into the box, and I'm always struck by how many blocks and tackles we make within 10 yards of the box.
Edit to previous post, the save in question was low to his right, of course.
Steve Brown
250
Posted 13/01/2021 at 12:05:32
"He's got soul but he's not a soldier" is from the Killers song "All the things that I've Done."
Quite a nice analogy for the magician.
Tony Abrahams
251
Posted 13/01/2021 at 12:21:34
Brian@247, I think that is what's needed mate, and I asked yesterday was Ancelotti trying to push a deal through for Moise Kean, so he can go and get a couple in?
Besic has properly took the piss, I'm surprised Bolasie hasn't already gone and saved us half his wages, Bernard is another massive wage that needs to be cleared, and then hopefully we can bring a couple in.
Looking at the congested fixture list, I reckon loads of teams will start blowing up in another months time, and also those clubs in Europe, are going to need every member of their bigger squads, so hopefully we sign a couple more players to keep us in the mix.
Jay Wood
[BRZ]
252
Posted 13/01/2021 at 12:26:19
At the weekend I expressed puzzlement as to why Tom Davies is always one of the first players to be withdrawn even when he is playing well. I think I understand better now.
Against Rotherham it was Tom taken off, not Gomes, when Tom was the better player. Last night, it was Tom who started the game, with Gomes dropped to the bench. It was Tom again withdrawn when playing well.
I believe this is Carlo managing his resources. He knows Tom is the nearest and best he has to substitute for the absent and injured Allan.
In that scenario, he knows he cannot expect Tom to play every minute, but wants to start him every game. He gets 3/4's of a game out of Tom then gives him a breather to keep him fresh to start the next game.
It's working out well.
Anyone flagging up the corner that Tom conceded which ultimately led to their equalising goal in the second phase of play as evidence of his poor skills are talking nonsense.
He was in position to block a dangerous ball into the penalty area. It was an unfortunate ricochet that saw the ball go out off him for the corner. Doucoure was far more culpable in the actual conceding of the goal, being far too easily mugged off and allowing the cross to come in.
It was similar on Saturday for Rotherham's goal, some making Tom culpable for that. Watch the whole play.
Some 20 yards outside the box, Tom goes in for a high-looping ball with Rotherham player. Gomes is also in proximity and goal side of the Rotherham player, but actually impedes Tom's efforts, as well as ducking out of the challenge.
On the right, the eventual goal scorer's starting position is behind (and well-covered) by both Gordon and Digne. The ball falls to a Rotherham player who runs at the Everton defence. Tom - not Gomes - is the only one reacting to the play and chases the player down. An attempted pass richochets off Keane into the air and Tom has little time to react and he heads the ball backwards into open space in our area.
Even so, there is no immediate danger. The goalscorer by now has run to the penalty spot where Digne has tracked him with Gordon nowhere to be seen. And yet, the goalscorer had time to turn, run 10 yards to retrieve the ball, turn, shoot and score. Again, the only player reacting to him and close to him is Tom.
There were others far, far more culpable in conceding that goal than Tom, but he gets dumped on.
Tom Davies is playing consistently very well at the moment. The quoted BBC player scores someone put up showing Tom as the worst rated Everton player on the night is a woeful source.
Typically, the winning team players get high ratings. The losing team players absurdly low ones. If one of the teams is one of the Sky Six, they always tend to be inflated. The ratings from the Wolves v Everton game is evidence of this.
Michael Keane was highest rated with 8.48. We had 7 other players with 7+. No one lower than 6. Wolves, by contrast, had NO player above 7. Only one player with 6+ (Neves with 6.45), 7 players with 5+, 6 players with only 4+.
Ridiculous evaluations. It was a very closely contested affair and they had many performers equal to ours.
Tom is proving once again what an asset he is to our squad.
Tony Abrahams
253
Posted 13/01/2021 at 12:32:33
Thanks for the link Steve, I enjoyed that little video mate. I'm sure we could get a song on the terraces out of that for Rodriguez, and although he's from Columbia, I could see myself with one of those sombreros on my head at Wembley in may, singing that song about James!
Brent Stephens
254
Posted 13/01/2021 at 12:34:14
Jay, I think that's a very fair analysis of Tom's game. Allan will replace him when fit if it's a choice between the two but he's filling in well. Carlo getting more than a string of random notes from the team.
Brian Wilkinson
255
Posted 13/01/2021 at 12:41:26
A few saying now satisfied for now for with Pickford in goal, you need to have a good look at the stats, he has been very very well protected and hardly faced a shot on target over the past few weeks, those that have come in is a mixed bag, made some decent stops and flapped at a few as well.
Olsen has also not faced a lot of shots, but when called upon has been steady, can only recall one flap, when he controlled the ball, then nearly got it took off him, other than that, not seen the guy flap, or had me having kittens, when a cross or corner has come in.
If you asked me who I would have at number one, for now Olsen hands down.
Tommy Carter
256
Posted 13/01/2021 at 12:44:26
@252 Jay
Maybe it lies within the stats that they have access to at finch farm. Tom despite having a generally good engine is not as quick across the ground as many other elite midfield players.
Perhaps less so when he's covered a lot of ground during a game. Maybe Ancelotti knows when he has run his race and fresher legs are required. Especially when quick sprints to cover a lot of ground a required to either see out a result or to try and chase one
Brian Wilkinson
257
Posted 13/01/2021 at 12:53:32
Continuing from my above post, you could argue Olsen is playing against lesser teams, but he is still making the saves, when called upon but to even it out he is also playing in a rotated team, where we normally rest a few, so playing with players who are not playing week in, week out.
Tony Abrahams
258
Posted 13/01/2021 at 12:59:12
He looks a lot calmer Brian, and not so jumpy on crosses, and after agreeing with Jay W, about how anyone could find it possible to blame Tom Davies, for the Rotherham goal, I never saw anyone write about how awful Olsen's positioning was when they scored?
Jay Wood
[BRZ]
259
Posted 13/01/2021 at 13:10:03
'for the Rotherham goal, I never saw anyone write about how awful Olsen's positioning was when they scored.'
That was also my immediate thought live, Tony. Watching the goal back hasn't changed my opinion. Far too easily beaten on such a soft shot.
Colin Malone
260
Posted 13/01/2021 at 13:19:37
Talking about players coming in, Is Deli Ali worth a risk? OK, the Marine match wasn't the game to judge a premiership player but you could see he was a million miles better than any other on the pitch. He does not fit into Jose Mourinho football philosophy. Neither did Mo Salah and Kevin De Bruyne.
Brian Harrison
261
Posted 13/01/2021 at 13:22:22
I think Jordan Pickford is a great shot stopper, but like another England keeper Joe Hart, I always feel there is a mistake in him. My concern is that Jordan has been beaten from outside the area more than any keeper in the Premiership, and I think he doesnt move his feet quick enough in anticipating were the ball is liable to go. Most top keepers usually read the game well and anticipate were the ball will be. Jordan made an excellent save from the header and again that's his strength another brilliant reaction save. But there was a ball into the box when he punched it out of play when he had ample time to catch it, also again when he gave an unnecessary corner away when it should have been an easy take.
So I think the dilemma being do you stick with a great shot stopper or look to replace at some point with a more all round good keeper.
Brian Wilkinson
262
Posted 13/01/2021 at 13:23:41
I thought Olsen covered the front post where he expected a shot to come from, had the player hit it cleanly he May have handled it better, however he could not have placed it any better in the far corner, so quite possibly put it down to poor reaction, however I still put part of the blame with Davies, he headed the ball right into the attacking players path, head it anywhere, but not where he headed it, so he for me has to take part of the blame.
James Fletcher
263
Posted 13/01/2021 at 13:27:35
I thought the blame for the Rotherham goal lay pretty squarely at the feet of the flat footed defence not reacting at all to Davies' header - primarily Digne
Dan Nulty
264
Posted 13/01/2021 at 13:29:23
I don't think you can blame Davies for the Rotherham goal. Even I will defend him there, he didn't have time to adjust or direct the header anywhere. He simply tried to get in the way.
John McFarlane Snr
265
Posted 13/01/2021 at 13:35:15
Hi Tony [251] I'm addressing this post to you because you're the only one I know on this site who has experienced life at a professional football club. The majority of us are, or were 'Wannabees.' I'm not suggesting that we know nothing about the game, it's just that our knowledge isn't as comprehensive.
My main point is that this group of players has gone from zeros to hero's, having been described as the worst squad the club has had for years, [''crap'' or words to that effect]. The manager has been referred to by some, as a man seeking a final lucrative pay off, but one good performance and result, has put a different complexion on things. There's a spring in the step and a smile on the face, but I suspect we're no different from any supporters of any club. Let's hope that the smile's are of the long lasting type.
Graham Mockford
266
Posted 13/01/2021 at 13:36:59
Tom Davies definitely gets a lot of ridiculous criticism on the live forum but the question is still there for me.
Whilst he can and is doing a job for us currently do you see he him as a member of a squad playing CL football? If you do, fair enough you pays your money...
I'm not convinced. But of course you can say the same about Gomes, Sigurdsson, Delph, Tosun and Bernard.
Thomas Richards
267
Posted 13/01/2021 at 13:38:23
Dan,
He won a big header last night on our penalty spot,against a centre half.
Brave header
Jay Wood
[BRZ]
268
Posted 13/01/2021 at 13:40:05
Brian @ 262:
'Davies headed the ball right into the attacking players path.'
He didn't nothing even closely approximate to that claim. Watch the play again.
Steve Barr
269
Posted 13/01/2021 at 14:13:53
I'm a great fan of young talent/prospects and want to give them all as much leeway as possible to succeed, particularly our young Everton prospects.
Regarding Tom Davies, I believe he is not yet the finished article but most certainly has the potential to make it. I refuse to believe the coaching regime at Goodison can't come up with a regimen that is designed to improve his speed and strength to help his overall game at this level.
Additionally, and this applies to all our young players, they do not appear to be getting anything like the support they should/need from the senior players in the squad during games they participate in.
I'm sure if they were playing in a team that is firing on all cylinders, with the senior professionals cajoling, helping, directing them during the the games in which they play, we'd likely witness a serious improvement in all their performances!
As others have mentioned elsewhere on ToffeeWeb, Michael Ball attended the West Ham game and was stunned that none of the Everton players could be heard on the pitch while just about all the West Ham players were talking throughout the game.
COYBs
Craig Walker
270
Posted 13/01/2021 at 14:20:15
I've been a big critic of Tom Davies but he has done well, of late. I think he's a decent squad player and he at least puts the effort in. I don't think he's good enough to be a starter or a mainstay of our midfield, if we have aspirations to be a really top team. I just don't think he offers enough. He keeps it simple, mostly and plays sideways and backwards. In his defence, there aren't always runners or movement ahead of him, and he has no option. Gomes put in a great cross last night but he is more inconsistent than Tom, in my opinion. I'd have to check but I think that was only his second or third assist for us. Gomes can make some sublime passes but can also find touch with a simple 5-yard pass.
We spend a lot of time debating Tom but the bigger issue for me is Sigurdsson. I can't think of anything he did of note last night. It concerns me that we're thinking of offering him a contract extension. As I keep saying, which other top-level team would be offering Gylfi a contract extension? He'd be a world-beater in the MLS but he's too slow for the Premier League and his reputation as a dead-ball specialist is a complete misnomer.
For the Ancelotti doubters, I still think he has massively improved several of our players (Keane, DCL, Iwobi) and surely even his biggest detractors would agree that he has done excellent business in the transfer window. Godfrey looks the best buy of the lot and I think Allan was a brilliant signing. James and Allan wouldn't be playing for us if it wasn't for the manager we have. I'd like to judge Carlo after another couple of transfer windows.
I don't think we're the finished article. We still have players who aren't good enough and we've put in a few performances this season which were woeful but we are definitely on the right track. 6 away wins by January is pretty impressive.
Graham Mockford
271
Posted 13/01/2021 at 14:25:56
Jay #252
I too think it's harsh to try and 'blame' Davies for the two goals. Like most goals a number of players can look at their contribution and want to have done better. For instance Doucouré was beaten far too easily last night. But what seems obvious to me is that on both occasions Davies lacked some composure at a critical moment that undoubtedly contributed to the final outcome.
Alan J Thompson
272
Posted 13/01/2021 at 14:34:26
Mark(#205); Yes, I watched the whole game and said who I thought my MoM was equally shared by three players. Did you see how I spell my name or couldn't you hold the thought for long enough to type it? I wouldn't normally mention it but you seem bent on nitpicking.
Ian(#211); As above I thought James was one of our best players on the night and played some magnificent passes but didn't notice him going down the wing trying to get the ball in a position to cross with his preferred foot or being prevented by a player blocking him on one side. What exactly are you referring to?
Derek Knox
273
Posted 13/01/2021 at 14:36:22
Craig @ 270, my sentiments entirely regarding Tom, and I couldn't have put it better, but as you say a decent squad player/bench warmer, until someone else either rises from the ranks or comes in. I keep hearing that he's learning or getting better, he has played over a 100 games, how many exactly qualify for ' getting better '? It's my belief you either have it or you don't.
One thing I took from last night's game, and I don't think it's been mentioned yet, so if it has, apologies! I have always maintained that a successful side, and certainly the successful Everton sides of the past, have not just relied on whoever was up front to be the sole provider of goals. Last night we were forced into an alternative plan, and it was very refreshing to see goals come from different departments. It's always a good sign when the goals are being shared around, it keeps the opposition guessing, and confused, on who to mark. Just hope we can carry that on when DCL comes back.
Terry White
274
Posted 13/01/2021 at 14:48:37
"Nice to hear Carlo praising Sigurdsson after the game, he unselfishly worked himself into the ground in an unfamiliar role trying to make space for Iwobi and co. it worked a treat for the first goal."
Craig (#270), these comments were posted on Lyndon's match report by Trevor Pears. I think your comments about Sig based upon yesterday's game are way out of line. He was asked to "do a job" which was to run around up front, stop Wolves playing easily out from the back, and challenge for the ball whenever it came in his direction...and it certainly did not come in his direction often from our own players, he had no supply at all.
He was not asked to be a direct replacement for DC-L so how do you expect him to perform in an unfamiliar role to which he is not suited. He did his best in a game that we won.
Please save your criticism of him for another day.
Andrew Keatley
275
Posted 13/01/2021 at 14:51:01
Graham (271) - While I don't think Davies can be blamed for the Wolves goal, he has to accept some responsibility for conceding the corner. He was in a good position at the near post, and it looked like he was expecting the ball being played in to come at him quicker than it did. He tried to clear the ball with a pass to a team-mate but for some reason he turned his head away - almost like a no-look pass - and it rebounded off his other leg and went out for a corner. More composure and better judgement would have seen him complete the pass and send us on what might have been a decent counter-attack; instead he conceded a corner. Blaming him for the goal is excessive, but I also think criticism of Doucouré - as I've said previously - is unfair.
As a side-note, the booking that Doucouré picked up was the result of a poor sequence of non-existent challenges deep in the Wolves half, firstly on Semedo, then on Neto. By the time the ball reached Neto (from what I remember) Davies had the chance to usher him in-field or make a challenge, but instead he just left a corridor inside for Neto to exploit, leaving Doucouré with no option but to take one for the team rather than let Neto go any further. It's moments like that which make me question whether Davies will ever progress to be more than a squad player.
Thomas Richards
276
Posted 13/01/2021 at 14:57:09
Alan J #192
Just as well Carlo could fathom the formation.
He fathomed it, we got 3 points
Craig Walker
277
Posted 13/01/2021 at 15:03:06
Terry - that excuses him for last night, then. James wasn't in his usual role either but I could see what he contributed. Iwobi hasn't been in his preferred role, nor Godfrey.
I've lost count of the number of times he's been ineffectual and doesn't even look bothered.
If you looked at his highlights reel for us, he'd look a good player but he has been a massive disappointment, given what we paid for him and his earnings. We should be looking to get shut not offer a contract extension.
Clive Rogers
278
Posted 13/01/2021 at 15:08:19
Davies has played pretty well the last two games, especially last night when he covered a lot of ground, made numerous tackles and rarely wasted the ball. He is not a first choice player but has improved and is a reliable stand in.
Alan J Thompson
279
Posted 13/01/2021 at 15:16:43
Thomas(#276); What were your thoughts on that line up when you first saw it? If you had noticed my point on the pre-game piece where I said I don't usually like second guessing Mr Ancelotti. Do you think the performance might have been improved if DCL or Richarlison had started instead of Sigurdsson and before kick off did you have him down as a lone striker or that we were playing without one?
Thomas Richards
280
Posted 13/01/2021 at 15:21:51
Alan J
Of course we are better with a fit and firing DCL in the side. He wasnt fit.
Ancellotti had to come up with a system. He did and it worked.

Tom Bowers
281
Posted 13/01/2021 at 15:29:05
I think many of us (myself included) thought the lineup was for sure geared to getting at least getting a point which is so negative for a team wanting to move up to the next level but I also indicated it may be Carlo's secret plan.
Richarlison has had a quiet season so far and although he may have had a slight knock beforehand, leaving him on the bench and giving him the last 20 minutes may have been uppermost in Carlo's mind.
Tosun has not really made a statement so far and is a goalscorer but not good enough at this level so I can see the point of not starting him.
The performance overall shows that the team does have what it takes but obviously we need to see it most games from here to the end of the season.
It helps that teams can play away and not change their game plan now that crowds are not allowed and the home team doesn't have the advantage they might get.
Alan J Thompson
282
Posted 13/01/2021 at 15:29:07
And the other part of the question, Thomas.
Did you think when the teams were named that Sigurdsson was a lone striker, that we were playing without one, or couldn't you fathom it either?
Brian Murray
283
Posted 13/01/2021 at 15:32:30
Craig 277. If he is offered a new deal it still smacks of good old Everton. Same with Baines but luckily he turned us down but still got a job off us wether he had credentials for it or not.
We have to get out of this mindset. Be ruthless when players are clinging to their past glories – just get the Director of Football to do what he's supposed to do and find talent, known or unknown.
Nothing against Baines or Coleman etc, I just want Everton to think bigger for once.
Jerome Shields
284
Posted 13/01/2021 at 15:34:20
There was better communication in Everton's midfield and it wasn't because, with so many of them in it, they had to avoid bumping into one another. It was good tactics against Wolves who set up shop and counter-attacked.
They were not able to set up shop and found themselves in a battle to control midfield. Everton's final third play was the only game in town for Everton and this continually high pressed the Wolves defence.
Richarlison was a better sub than Tosun for his ability to break up play and get a foul against. Ancelotti's main aim in the end was to close down the game. If a further Everton score materialised, it would have been a bonus.
It was brave tactics for Ancelotti to try, which were well implemented. It makes such a difference to have a manager that knows what he is doing.
Thomas Richards
285
Posted 13/01/2021 at 15:35:09
Alan J.
I looked at the starting eleven and posted I thought it may have been three at the back. Wrong.
I suppose that is typical of why Carlo is the manager of a revitalised Everton and we type posts on a football forum.
Alan J Thompson
286
Posted 13/01/2021 at 15:44:32
I thought the same, Thomas, three at the back even before I saw the team sheet but thought it would be a choice between Mina and Holgate and that we might play Iwobi and Tosun as central strikers. But four at the back and a flooded midfield when I saw the actual team sheet.
As for Mr Ancelotti's position, I did say after naming the side I thought might be put out: "I cud doo dat, gis a job, lah" – which was meant as selecting 11 players is the easiest part.
Tony Abrahams
287
Posted 13/01/2021 at 15:58:09
John Mc, I was very fortunate, and could write a sermon, but my own experience tells me that the more simple you keep things, the easier it is for people to understand, and if a team talk lasts longer than a minute, players already begin to get bored.
It doesn't matter what level we play at, because we always want to win, and I used to love going in the changing rooms as an apprentice after the game, but only when the first team had won.
If they lost, there was no point because I learned nothing, but when they won, players would listen to constructive criticism, because they never felt they were being blamed for anything, which is just human nature really, and exists right across life!
The simpler Everton play, the more it looks like the players are enjoying it, and that's the key in my book, but that's not to say I'm right.
Rob Dolby
288
Posted 13/01/2021 at 16:06:44
I didn't know what to expect last night. Even a minute into the game I didn't know where Godfrey was playing given that from the kick off he was charging from left mid to head the ball.
Lots of square pegs playing in round holes. No recognised striker, 4 centre backs. On the ball we tried to stay patient with Mina and Keane almost acting as playmakers. I don't recall us having 2 better passers of the ball at centre back. Off the ball the formation tightened and made it hard for Wolves to break us down.
This game could have gone either way. 2 teams with injuries trying to play and win a game of football. It just so happened we came out the right side of a close game.
The whole defence played well. Michael Keane's long passing was fantastic. The highlight a 50 yard crossfield pass with his left foot. Godfrey is the new Jagielka, his speed and attitude to defending is making him undroppable.
All of the midfielders contributed. We will miss Doucouré's physicality in the next game. You never know Holdgate could end up playing there.
At the moment team spirit looks good. We are adapting our play to suit the players available and we are winning games. The manager and players deserve credit where it is due for their flexibility.
My slight concern is that results are papering over the cracks in a squad that is short on quality. We won't have Ancelotti he for years. Brands needs to identify the talent and Moshiri needs to bank roll the manager to get more quality into the team.
Steve Shave
289
Posted 13/01/2021 at 16:28:53
Agree with above comments about Michael Keane, he deserves all the praise. He has kicked on a gear and is unstoppable this season. Who knew he had that passing range in his locker? watching him grow in confidence week on week has been a delight ha, and we thought we'd signed another dud. Equal praise has to go out to Iwobi who shall now be names Lazarus, good on ya lad, you've certainly made me eat humble pie, happy to admit when I was wrong about someone.
Peter Dodds
290
Posted 13/01/2021 at 16:44:12
And if that lot across the park can't beat Man U at the weekend and we beat Villa (if the game goes ahead) then we'd be above them at the half-way point. Oh if there is a God, please show yourself.
Danny O'Neill
291
Posted 13/01/2021 at 16:50:40
As I didn't watch most of the match, I would feel a fraud to comment too much on last night, but some really interesting points raised in a broader sense.
On bravery and working hard. James may give the impression that he isn't working hard to some because he doesn't run around pointlessly like a headless chicken or track back as much as some would like. But he works hard to be available to receive the ball and then slows the game down in his own head to look where the ball needs to be next. I say in his own head because he does that slow motion thing invisible to the eyes of you or I that only really good players can do. His hard work is done in his brain as much as it is with his feet. So much of what he does is instinctive and happens without much apparent thought.
Football in my opinion always best when it is kept simple. Particularly in the modern era, we over complicate and over analyse the game. Fifa 2000 and whatever and Sky Sports has done that to us. The first pass a player sees is more often than not the best pass. See it play it. But that's just me from my own experience. I didn't make professional level, but I played a decent standard.
There is more instinct than science in it and that is no slant on our proud school of science tag. When you do the simple things, it can look scientific when in reality it is just good players doing things that come natural to them. Beauty in its simplicity.
Tommy Carter
292
Posted 13/01/2021 at 17:02:28
@ Danny 291
The same 'doesn't work hard enough' label used to be applied along with a chorus of boos to Ross Barkley and Lukaku. Ridiculous and done by people who clearly have no understanding of the game, nor bother to look at any stats in terms of ground covered, sprints made etc.
Barkley and James to an even greater extent find space because they keep moving and they look for the space and they move to put themselves in it.
Jon Walters, Ashley Barnes etc are reactive players, not intelligent footballers. They chase the opposition. And to a large proportion of fans this is perceived as hard work and positive.
Maybe because it's something they recognise and can appreciate as it doesn't take a lot of ability, just the willingness to do it.
This who can appreciate the intricacies of football realise what the more subtle and intelligent players are doing.
Someone on here and I forget who posted that Ashley Barnes was a superior player to Richarlison and we would be better off with Barnes than the Brazilian. Says it all really
Danny O'Neill
293
Posted 13/01/2021 at 17:02:31
I've eaten it before but will eat humble pie again about Michael Keane as I gave enough stick.
Definitely benefiting from being surrounded by a much more composed and solid defence. Coaching appears to be making him realise he needs to read the game better and anticipate (back to my let the brain do half the work vice the feet and lungs).
And Mina to me is also coming along very nicely. As you would expect from a South American, very composed in playing out from the back. Clearly rubbing off on Keane too looking at some of his recent distribution!
Annika Herbert
294
Posted 13/01/2021 at 17:11:54
Craig @ 270, I fully agree with your comments regarding Sigurdsson. Whilst he has undoubtedly performed a little better of late, in no way has he done enough to earn a new contract.
If we ever want to progress, we need to part company with older players showing signs of deterioration and look for better quality.
Annika Herbert
295
Posted 13/01/2021 at 17:20:26
David @ 245, very well said! I am in full agreement regarding your Tom Davies comments, he gets grief from some no matter how well he performs
Danny O'Neill
296
Posted 13/01/2021 at 17:26:19
Tommy, I would add you judge players by position, but the awareness and intelligence applies regardless.
I used to get so frustrated a some of the criticism labelled a Lukaku. Here we had, for the first time in decades, someone scoring 20 goals a season for Everton.
Yet we bemoaned his touch and work rate.
Forgetful that when it mattered most, he more often than not anticipated, found space and got into goal scoring positions to score goals. Personally as a striker I want that rather than his chasing a defender into the corner or tracking back because it is considered working hard.
Tony Abrahams
297
Posted 13/01/2021 at 17:26:20
I'd say their must be a lot of truth in the rumour what Darren Hind said not long ago, that Davide Ancellotti, has been working the defenders hard, and had even gone as far as stripping it right back down to the basics, which again is just simplifying things imo.
Thomas Richards
298
Posted 13/01/2021 at 17:28:46
Annika,
To be fair I think the majority post thier honest opinion.
Of course that doesntvalways make it accurate.
I have been both critical and praising of Tom this season.
I always try to base that in the game I have just watched,not on a preconceived basis.
Tom is improving under Ancelotti and its great to see it.

Danny O'Neill
299
Posted 13/01/2021 at 17:42:37
Well, in line with others, Tom seems to attract a significant amount of praise in parallel to criticism. I try to comment on what I see.
I have been quite pleased with his recent performances, as much as I have been critical of previous ones. I have questioned if he is where we want to be (not where we are now).
Tom is a good player with great ability and even better commitment. He is an Evertonian. I am pleased he is growing in confidence and acknowledge the challenges he has had that have been captured in this thread and others.
For now he has a rightful place in this squad. If we want to push on I hope he can develop to be part of that. I'll leave that there. Like Everton right now, he is work in progress.
Mike Gaynes
300
Posted 13/01/2021 at 17:50:38
Sky reporting that Branthwaite's loan deal is imminent and he will likely turn out for Blackburn on Saturday against Stoke.
Sky also reporting that Caicedo is about to sign for Brighton. I think we missed out on a really good one there.
Rob #288, good post.
Graham Hammond
301
Posted 13/01/2021 at 17:52:11
Lester #197, Interesting to hear your comment on DCL being the fastest player in the Everton team/squad. I find it somewhat perplexing and somewhat infuriating that this player very rarely uses his obvious speed to run directly at defenders, who by and large are not the quickest. I do not quite know why he is so risk-averse in his choices, it may be to do with the fact that his control of the ball when running at full speed is relatively poor for a top-flight footballer. Calvert-Lewin is clearly very good in the air but it would be nice to see him occasionally being a little bit more proactive on the ball in the way that Iwobi was last night. Sigurdsson has no pace but even he runs at defenders once in a while.
Graham Mockford
302
Posted 13/01/2021 at 17:58:00
Graham 301
He must be quick if he's faster than Godfrey because that lad is rapid
Mark Murphy
303
Posted 13/01/2021 at 18:08:25
My apologies Alan J Thompson - I intended no slight in misspelling your name - I just remembered it incorrectly rather than go back to your post to check.
And I apologise for singling you out - I was just worn down with all the negativity on here - even when we win.
UTFT!
Paul A Smith
304
Posted 13/01/2021 at 18:08:58
Michael Keane has seen the benefits of having an Italian manager and its worked great for him.
You can't have a defender with no pace playing a high line and thats where he kept getting caught out.
Almost every Italian manager is strict in defence and Keane sitting deep has made his game a lot easier to manage.
Again it is playing to strengths, (something Silva stopped doing) and Mina has also stopped getting stripped in the first ten mins of every game.
Mina's concentration levels have much improved lately and the partnership has never looked better.
Pickford also I have to give credit to for sharpening his concentration in recent weeks and hes in his best spell since he came here in my own opinion.
I'm glad you lot have had a lot of wins to discuss this season too. Style or no style i'd certainly rather discuss a victory and theres nothing wrong with analysing where we can do better within that.

Ian Bennett
305
Posted 13/01/2021 at 18:11:50
Coaching has taken the risk away for players to go at defenders and take them on.
To often it is passing backwards instead of having a go. Fear of losing the ball, rather than risk of scoring...
How many times have you seen an opposition player get booked in the first half vs Everton, but no one has put the pressure on and run at him to draw in a red card or create a goal as you cant be touched in the second half.
Mike Gaynes
306
Posted 13/01/2021 at 18:16:12
Both Grahams, yep, and Holgate has to be in that conversation too. But if I were to place a bet on the three of them over 100 yards, I'd have to go with Godfrey.
I hope Calvert-Lewin (as quoted by Lester) is right about Branthwaite as well. I've been complaining for years that we're among the slowest clubs in the Premier League, and that pace needs to be at the top of the list of qualities for our new signings. Seems Marcel has come to the same conclusion.
Danny O'Neill
307
Posted 13/01/2021 at 18:22:23
Sorry Tommy, I didn't capture in my earlier response to your post @291. It is also probably because a lot of football observers focus on the ball and the player on the ball or making a tackle. As opposed to the work being done off the ball, covering ground to make space, be available or close space a lot of which goes unnoticed.
Andy Crooks
308
Posted 13/01/2021 at 18:47:34
I didn't get to see the match but it was a fine win. I never bet on Everton to lose and very rarely to win. I had such a strong feeling we would win that I was confident that my Jonah-like support could be overcome. When I saw the team, I doubled my bet.
I guess that team line up shocked Wolves even more than ToffeeWebers. I felt it gave us an edge. In my view, it was fine innovation and downright cunning. It also showed what those players are capable of. There was urgency by all accounts last night. Great result.
Christy Ring
309
Posted 13/01/2021 at 19:00:17
Ricky#236 Thanks! I have to say, I find I hard to believe that Tom Davies is getting slated for his performance last night. Did he not put in a good performance last night? and to blame him for the goal, because he gave away the corner? Regarding him putting in a shift, he always gives 100%. Comments praising Sigurdsson for playing out of position, anonymous again last night, how many times has a captain been subbed as much as Siggy? and don't forget Tom Davies is an attacking midfielder, but he's also being playing out of position, as a defensive midfielder, does he not deserve a bit of praise.
Jason Li
310
Posted 13/01/2021 at 19:02:53
Building on previous posters on simplifying everything...
I think having a low block has in fact helped Keane, Mina & Pickford.
Most goals are scored in the penalty area or about 20 yards from goal, so this door has been locked by Carlo and the coaching team.
So Carlo ensures Keane and Mina are always very close to Pickford when we defend. Reduce going on random runs with the ball too.
Pickford doesn't have to come out often when it's played in behind the centre backs because there's no space and crosses are headed out by the two lads in front, so less decisions for him. Just focus on his biggest strength, reaction shop-stopping. All three playing to core strengths where they are exceptional, masking each others weaknesses.
Tom does a great job ensuring no-one gets to the edge of the penalty area. Tom must not stray more than 20 yards from Mina and Keane. So these four staying in situ provide the insurance policy so that other players can transition high. If we lose the ball, they know Keane, Mina and Tom will retreat to cover access to the central penalty area quickly, and the others fall back into place.
So in summary: Ensure Keane and Mina stay close to Pickford as soon as we are defending, and Davies to stay within 20 yards of the centre backs. The rest are free to play quick transitions, ideally to look for James.
That's what I've seen this season, others may see another variant to this which would be interesting to hear.
Mike Gwyer
311
Posted 13/01/2021 at 20:53:22
Jason Li
I applaud your synopsis of the game. Three players supporting each other with Tom as the anchor man. Excellent summary and you know what we have a serious back line that is ready for all comers.
Ian Riley
312
Posted 13/01/2021 at 21:25:21
A good win. Energy levels were high. Wins bring confidence and performances improve. Yes we need more quality but players are improving. Its progress!
Martin Mason
313
Posted 13/01/2021 at 21:40:38
Come on whingers, admit it, it was a pretty good win :-)
Villa will be a struggle and I can see possible disappointment because we'll miss Doucoure, we just aren't as good at home, they have some very good players now and they seem to be playing well.
I was looking up the definition of what a football supporter is to see if I could use it to comment on the negativity of some of our fans. This was the best.
https://www.urbandictionary.com/define.php?term=football supporters
Jason, Good points on how we have plugged the gaps.

Neil Copeland
314
Posted 13/01/2021 at 21:53:45
Martin, just as well the game is at Villa and not at home. Perhaps we will grind out a result?
Steve Shave
315
Posted 13/01/2021 at 22:09:24
Graham 301 I hear what you are saying about DCL running with the ball at defenders, however I think he has improved this area of his game (as well as virtually all other aspects. Yes I'd like to see him do it more often but to see how he oozes confidence in the air and with the ball on the deck is a joy.
Andrew Grey
316
Posted 13/01/2021 at 22:11:12
Good result for us at Spurs! Strange season.
Martin Mason
317
Posted 13/01/2021 at 22:29:29
Sorry Neil, I assumed that after the away game at Wolves we'd be at home.
Ian Jones
318
Posted 13/01/2021 at 23:01:17
Hi Alan J.
Re James Rodriguez. Agreed, James was one of the better passers of the ball, but he is very left-footed, doesn't do much with the right. I'm not suggesting that he goes down the wing to ping crosses over.
Just a feeling that in some games, perhaps against the so-called lesser teams, his reluctance to turn to the right means he can be a little predictable. Just my thoughts... but I still want him in the team.
Justin Doone
319
Posted 13/01/2021 at 23:31:18
Good win, interesting and entertaining game in many ways. Fantastic 3 points.
I don't like to criticise players or managers too much, they are what they are. I'm happy we are back in good form and with that comes a little luck.
Wolves appear to be in a similar phase to us after Martinez's first season: trying to become a better attacking team but they keep conceeding goals. They haven't found the right balance but have some very talented players.
Good to read Tom Davies and Michael Keane getting some positive reviews. You have to play to players strengths. Playing deeper and more compact helps our slow defensive players.
Godfrey, with great pace and defending, has been instrumental in our recent good form. He's our best defensive left-back and I feel an England call-up very soon.
In response to Calvert-Lewin not dribbling or running at pace with the ball, he can't, it's not his game. He uses his pace to run into space.
Sadly, we lack a real winger who can dribble at pace. Richarlison and Iwobi the best two options.
Richarlison is also out of form. Does a great job defensively for the team but his one opportunity last night highlights his inability and indecisiveness to take a man on and get a shot away.
This is the opposite to Digne, a great attacking defender who can pass and cross but gets done defending. Maybe they are being retrained to swap roles?
Just highlighting a few aspects of their games that I believe are poor form rather than ability.
Our game plan is simple. Give it to James, switch flanks and get forward. If it works, keep going.
Alan J Thompson
320
Posted 14/01/2021 at 03:26:55
Ian (#318); Reminds me of a couple of blokes who played for Real Madrid. One was asked why he didn't use his right foot more often and his answer was that the right foot was for standing on.
His colleague who wore the No 9 shirt was asked why he rarely headed the ball and his response was that the head was for the wearing of the hat.
Puskas and Di Steffano.
Ricky Oak
321
Posted 14/01/2021 at 07:12:22
Begging your pardon, Christy, it was my mistake for naming you. There are definitely some on here that secretly admire Sigurdsson though, the amount of stick he gets, you describe his and Tom Davies's contributions exactly how I see it. As does Terry in 272, wh was just pissy because of all the trolling on the Live Forum to be honest.
This is our team, imagine how well they'd do without their own fans ripping them new ones anytime they dare make a mistake. They're human, that Tom fella is 22 or something... wow, imagine we had thousands tearing into us at that age, it was bad enough from the family!
Ian Jones
322
Posted 14/01/2021 at 08:29:20
Alan J, not my era but I hear they were quite good, but possibly not Everton class though. :)
Laurie Hartley
323
Posted 14/01/2021 at 10:09:31
James Rodrigues - the lad has 360 degree vision. He is like a conductor (not the Sid James type).
And fortunately for us Carlo Ancelotti is clever enough to give him the freedom of the pitch. I reckon we haven't seen the best of him yet. As I have said previously he is a footballer that puts a smile on my face.
Lester Yip
324
Posted 14/01/2021 at 10:40:50
For those who's interested:
Who is the fastest player at Everton? | Fan Q&A with Dominic Calvert-Lewin #AskDCL
https://www.youtube.com/watch?v=G0gk8gRu27g
Really like this young team of DCL, Holgate, Davies, Gordon and seems like Godfrey and Jared slots right in the group seamlessly. Bright future.
Stan Schofield
325
Posted 14/01/2021 at 11:08:04
James Rodriguez is the nearest thing to Colin Harvey I've seen in an Everton shirt.
Brian Harrison
326
Posted 14/01/2021 at 11:16:55
Stan 325
I thought that when he made that tackle in the 2nd half was very reminiscent of what was a signature tackle by Colin in his hey day. I think Colin was a lot more mobile than James but there is definitely a similarity.
Stan Schofield
327
Posted 14/01/2021 at 11:22:55
Brian, yes, agree, Colin was more mobile and a bit harder when necessary. But when it comes to vision, ball control, balance, economy of effort, and general pleasure to watch, the similarity is striking.
Robert Tressell
328
Posted 14/01/2021 at 11:24:53
Lester, it really excites me to see a growing group of fast, aggressive high quality young British players. These guys can form the core of our squad for the next 10 years. Stability helps breed success.
Add to that South American / French (and other) flair and we building something really good.

Paul Traill
329
Posted 14/01/2021 at 14:52:15
Has anyone seen a link anywhere of the full version of Iwobi's goal, from when Pickford had it right through to Iwobi's fine finish? I was watching it with a mate on a Zoom call and he was about a minute behind me, so when I cheered as the ball went in he said "Pickford's got the ball for me" and then went on to describe an exquisite team goal with nearly all players touching the ball at some point in the move. I haven't seen it anywhere since, as every time I catch it the play just starts with Mina playing it out to Iwobi. Can anyone point me in the right direction? Thanks!
Alan J Thompson
330
Posted 14/01/2021 at 15:46:34
Ian(#322); It used to be said that the 1960 European Cup Final between Real Madrid and Eintracht Franfurt at Hampden should be compulsory watching for wannabe coaches if not in the manual itself and may be considered for the all time greatest game, if there could be such a thing, finished 6-3 and will show those two great players. Well worth looking for.
Mick Davies
331
Posted 15/01/2021 at 00:21:10
Stan @ 325;
"James Rodriguez is the nearest thing to Colin Harvey I've seen in an Everton shirt."
I also saw The White Pele in his prime, but if there was a similarity with a former player, I'd prefer to say Sheedy, although we've yet to see James power in a 25-yard free-kick, it's early days.
---
Add Your Comments
In order to post a comment, you need to be logged in as a registered user of the site.
Or Sign up as a ToffeeWeb Member — it's free, takes just a few minutes and will allow you to post your comments on articles and Talking Points submissions across the site.
---
© ToffeeWeb