Everton vs Arsenal
Friday, 18 December, 2020
Match Preview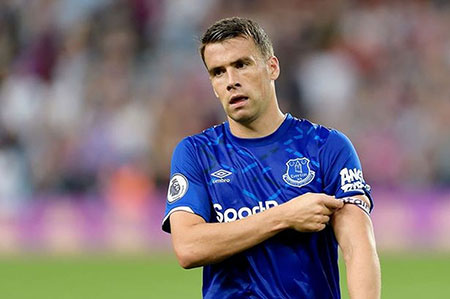 Seamus Coleman could return after 5 games out with a hamstring injury
Improving Everton are back at Goodison Park in front of restricted attendance by fans for the visit of struggling Arsenal this weekend, hoping to press their top-four credentials with what would be their third successive win.
Carlo Ancelotti's side have registered impressive victories over Chelsea and Leicester City in the past week, keeping clean sheets in both matches and ensuring that they come into Saturday's match sitting in fifth place.
Ordinarily, a date with Arsenal would represent a daunting task for the Toffees but this time around Everton will be going up against the Gunners as slight +130 favourites, according to SportsBettingDime, as Mikel Arteta tries to get his arms around the job he took a almost year ago to the day.
Since then, the former Everton midfielder has guided Arsenal to an FA Cup triumph and won the Community Shield but the start to 2020-21 has not gone at all to plan. The North Londoners have won just four matches so far and just one of their last five, a sequence that has left them sitting in 15th place.
Arteta's cause hasn't been helped by red cards in each of Arsenal's last two games and it also means that both Granit Xhaka and Gabriel Magalhaes will be suspended for their trip to Merseyside. Gabriel Martinelli is unlikely to play despite coming through an Under-23s match as he works his way back from a knee complaint while marquee signing Thomas Partey is also set to miss out.
Everton have come through their own bad patch of results in impressive fashion as Ancelotti approaches his own anniversary in charge at Goodison and look to be on a much surer footing defensively despite the loss to injury of Lucas Digne and Seamus Coleman. Ancelotti has bolstered the back four with Mason Holgate and Ben Godfrey in the last two fixtures but could have the option of welcoming the club captain back from a hamstring injury this weekend.
Coleman has missed the last five games but has been back in training and might be passed fit by the club's medical staff. If so and his manager is ready to put him back in the side, Holgate is the man likely to make way despite scoring his first Premier League goal at the King Power Stadium on Wednesday.
Then there is James Rodriguez who is, perhaps, more doubtful for the Arsenal game. The Colombian had been training individually the past week after picking up a calf injury in the 1-1 draw at Burnley and might not be risked with the League Cup quarter-final looming next week.
Depending on where would be deployed, James's inclusion might require a tactical rethink in how the team plays, particularly in terms of their defensive posture and it would not be a surprise to see the former Real Madrid star eased back in if he is fit with a place on the substitutes' bench.
Ancelotti is expected to bring Jordan Pickford back into the team after he was rested against Leicester but the Italian will be forced into at least one other change after Allan injured his hamstring in midweek. The Brazilian's prognosis hasn't been revealed by the club — Ancelotti will, no doubt, face questions on that matter in his pre-match press conference — but he is expected to miss the rest of the 2020 programme. Richarlison should play despite injuring his arm on against the Foxes.
André Gomes was the man charged with replacing Allan against Leicester and the Portuguese could get the nod again this weekend, although Tom Davies is another option for Ancelotti to consider. And there is the possibility that other players could be rested as the manager eyes the busy run of games over the next few weeks, with Dominic Calvert-Lewin promised a breather at some point and the likes of Bernard and Anthony Gordon itching for more game time.
While they may be in poor form, Arsenal still possess plenty of quality in their ranks, not least Willian, Nicholas Pepe, Bukayo Saka and Pierre-Emerick Aubameyang who became the first Gunner to score from open play in almost 800 minutes of Premier League action when he equalised against Southampton on Wednesday. The Gabonese striker has also scored four times in as many seasons against Everton, including a brace at the Emirates last season.
So there will no room for complacency in the Blues' ranks in a game that calls for as much robustness and professionalism as they have shown in their last two games so that they go into the cup game and Christmas programme beyond on a real high.
Kick-off: 5:30pm, Saturday 19 December 2020 on Sky Sports
Referee: Andre Marriner
VAR: Michael Oliver
Last Time: Everton 0 - 0 Arsenal
Predicted Line-up: Pickford, Coleman, Keane, Holgate, Godfrey, Doucouré, Gomes, Sigurdsson, Iwobi, Richarlison, Calvert-Lewin
---
Reader Comments (177)
Note: the following content is not moderated or vetted by the site owners at the time of submission. Comments are the responsibility of the poster. Disclaimer
Tony Everan
1
Posted 18/12/2020 at 07:10:14
Lyndon you are right to flag up the quality that Arsenal still have in their ranks. Aubameyang can win tight matches on his own, Saka is an excellent young player and dangerous, Willian is a top class player and always plays well against us.
Overall though, Chelsea had more quality on show, and so did Leicester. These two teams were brimming with confidence too. I think the key to this game is our attitude, if we approach it with he same uncompromising and physical approach Arsenal are ripe to be picked off. Their defence is now vulnerable especially with their suspensions and we have plenty of threat both from open play and set pieces. There are a couple of goals for us to be had, at least.
For me the team stays the same as started Leicester apart from Allan's replacement. Gomes or Tom Davies? Carlo seems to trust Gomes more but will need to get more out of him if selected.
The manager has got 10% more out of Sigurdsson these last two matches who is a bit quicker, a bit more alert, closing down better, reading the game a bit better, passing better his reactions are a bit better. All this is making him more confident too and like he is enjoying his football again. It's fine tuning so credit to the training staff and Siggy.
If the manager and training team can get a bit more of that out of Gomes it will be like having a new midfielder.
Kunal Desai
2
Posted 18/12/2020 at 07:11:19
Important that we do not take our eye if the ball. Arsenal had a much improved performance against Southampton, albeit they drew and Aubamayang broke his goal drought from open play so we need to be weary.
We really need Andre Gomes to start stepping up here, not sure what he's offering both defensively and offensively, i'd be inclined to go with Davies alongside Dourcoure. Davies can sit deep and keep it simple, whilst giving Dourcoure the license to get further forward.
Leave Coleman and Rodriguez on the bench if both are fit. I think our back four look very solid right now with the inclusion of Godfrey and Holgate playing in the fullback areas. We know will return in goal.
Paul Hewitt
3
Posted 18/12/2020 at 07:21:04
Don't change that defence, under any circumstance.
Christine Foster
4
Posted 18/12/2020 at 07:26:38
Ancelotti will most likely keep the same gameplan but has to shuffle the midfield, the sacrifice he alludes to is that of creativity. Without fullbacks overlapping and James in the side, DCL is woefully short of opportunities and is playing a lone role chasing down things because he is on his own. This is a real problem, get the defence tight and the attack suffers and vice versa if you play overlapping full backs. We are tighter without James and a flat back four, but we have lacked buildup creativity with no James as a result.
His use wide has placed the full-backs under continual pressure so is clear we cannot expect him to defend with any effectiveness. His only option is centre midfield as No10, but I suspect this is going to be done as a mid game tactical switch rather than starting line up..
Arsenal are struggling but the adage of Keep it tight and nick one hold true for the blues at this point, the end justifies the means..
John Pierce
5
Posted 18/12/2020 at 07:35:17
If James of fit he will play. Carlo bought him here to play and the side should be better for it. I'd proffer Coleman plays if fit because he adds a further dimension to our attack and I wouldn't Chuck him in against United.
It might even be possible that if we play with a recognized right back Holgate partners a Keane or even steps into midfield, as frankly Gomes and Davies are not as good in this moment.
I have to agree with Christine, regarding DCL, I dislike the approach that's yielded 6pts, it's noticeable Dom has had to create things himself. He's red hot, and we need him to stay that way. We will have more of the ball in this and the Sheffield game, time to be more attacking a play to a clear strength.
Robert Tressell
6
Posted 18/12/2020 at 07:56:31
The big weakness with our current (successful) set up is the lack of supply from the left flank. That is where I'd put Rodriguez if I were to put him anywhere.
Against Arsenal, I'd be minded to stick with the same team we've been using. We'll miss Allan whatever we do. We just have to hopefully that Gomes (probably) starts to up his game.
If the game opens up or we need a goal then Rodriguez may be needed. But I don't like him + Sigurdsson + Gomes at the same time because we're too easily outrun.
Danny Broderick
7
Posted 18/12/2020 at 08:13:47
Same team apart from Allan. Don't change a winning formula.
Chris Allen
8
Posted 18/12/2020 at 08:23:05
I'd put Coleman in and shift Holgate to defensive CM alongside Dourcoure. 4-2-3-1
Stephen Brown
9
Posted 18/12/2020 at 08:27:04
Who'd have thought one week ago that the majority opinion seems to be that a fit Coleman and James don't get in the side!
You'd even have to debate if Digne was fit tomorrow would it be fair to drop Godfrey?
This is the climate you need - nobody should be guaranteed a place in the side whether you're the stalwart captain or Colombian superstar.
Everyone should have to earn their shirt! On the Allan replacement I'd go for Davies.
Alan McGuffog
10
Posted 18/12/2020 at 08:51:49
This scenario encapsulates the Everton of the last thirty odd years. Some sterling results against decent teams followed by a lack of killer instinct against struggling sides.
Tomorrow's result will tell us a great deal about this Everton side. All good I hope.
Brent Stephens
11
Posted 18/12/2020 at 09:21:46
Arsenal are in a lowly league position despite having some usually very good players - Arteta isn't getting as much of a tune out of them as he might. I think something of the reverse is true for us - a better league position despite some players who often are not very impressive.
Managers can make a big difference, negatively or positively, in such situations. There might only be so long that some of our lot can perform at the current level; conversely only so long that Arsenal can continue to perform so badly.
I wouldn't be surprised to see a draw. A battle of form and a battle of managers.
Tony Shelby
12
Posted 18/12/2020 at 09:23:05
Let's twat these and work our way back to the top of the table!
COYFB!!!!!
Thomas Richards
13
Posted 18/12/2020 at 09:27:02
Wonderful tactics Tony.
How long have you had your coaching badges? :-)
Hugh Jenkins
14
Posted 18/12/2020 at 09:28:24
I think Seamus Coleman has been one of the best ever signings for Everton.
However, the noticeable thing about successful sides is the lack of sentimentality in their team selection.
They evolve and somehow manage to replace loved and admired stalwarts with new player that soon garner the same affection from the fans.
I am not saying, for a moment that Seamus should not play for Everton again, nor that other changes and injuries will not force the manager's hand to swap around players so that it becomes an imperative that Seamus is included.
What I do believe is that, by luck, judgment, or injury, we have discovered a playing system that has tightened our defence and has got us two wins against sides that are being lauded as "Champion's League Contenders".
So, for now, let us please apply the old adage that "if it's not broken, don't fix it" and see where this new formation can take us over the next few weeks - subject once again, of course, to possible changes forced by injuries.
Brent Stephens
15
Posted 18/12/2020 at 09:32:33
Tony #12 - you're over-thinking it! It's a simple game!
Paul Hewitt
16
Posted 18/12/2020 at 09:39:14
I think Carlo should just use tony@ 12 comments for his team talk.
Ray Robinson
17
Posted 18/12/2020 at 09:55:34
I don't think we should be fooled by Arsenal's lowly position. They will come good sooner or later - later hopefully. Ancelotti, having overseen two excellent wins against high-flying opposition, now has to back these up against struggling teams. Wins against Arsenal and Sheffield United will prove to me that Everton can perform at the consistent level required to be successful. Of course, the Carabao Cup Semi in between could complicate team selections. I think the next two League games will tell me as much, if not more, than the Chelsea and Leicester games.
Brian Harrison
18
Posted 18/12/2020 at 09:55:54
We have just beaten 2 sides who could have gone top of the league if they had beaten us.. Now we are due to play a side who cant buy a win and in the last 2 games havent managed to keep 11 players on the park. They are sliding down the league the manager is under pressure, now given all these circumstances who would you choose to play Everton of course. This season we have already beaten Spurs away and drew with the league leaders and beat both high flying Leicester and Chelsea, so please Everton don't do what you always seem to do and reverse the feel good factor around the team.
Derek Knox
19
Posted 18/12/2020 at 09:58:51
There is no denying Allan will be missed, neither Gomes or Davies, who have been mentioned as likely replacements, instil any confidence in me personally, but would go along with Chris@8 and use Holgate as a CDM.
As always of course we want a win, but beware of the wounded tiger, is the watchword, but I don't think Carlo will allow that mindset to prevail and those chosen will be focussed on the job in hand.
We all love Mikel, but as long as any upturn in his fortunes come after this match, I think we will all be happy.
Alan McGuffog
20
Posted 18/12/2020 at 10:01:39
Never mind the team talk...I reckon Tony should write the Queens Xmas speech
Brian Murray
21
Posted 18/12/2020 at 10:11:08
Tony. post 12. With a surname like yours let's have a peaky at the top of the table then stay there. By hook or design we have a way of winning.The sprinkle of gold dust can come later ie James. Coyb.
Stan Schofield
22
Posted 18/12/2020 at 10:13:12
Tony@12: Don't be coming on here with your fancy tactics talk!
Seriously, spot on, let's twat them!
Mike Morgan
23
Posted 18/12/2020 at 10:14:34
We have stumbled across a winning formula, if delph hadn't got injured we would have still been messing around with 5 at the back. The Rodriguez injury had also given a chance to balance both wings with Iwobi and Richarlison providing good cover for their full backs. It's a real shame Allen has been injured. But Gomes or Davies will cover in the short term. If he brings Rodriguez back he should play No 10 but for the moment I would stick with Siggy and bring Rodriguez on as an impact sub. In the long term with Coleman and Digne back I would play Godfrey and Holgate at CB fantastic pace. Also there was a sense of calm with Olsen in goal. Imagine:
Olsen (Pickford)
Coleman
Holgate
Godfery
Digne
Richarlison
Allen
Dacoure
Iwobi ( Gordon)
Siggy (Rodriguez) (Gomez)
DCL
George Cumiskey
24
Posted 18/12/2020 at 10:16:31
I think it's very dangerous to play Siggy and Gomes in the same team as they both can't tackle.
Rob Dolby
25
Posted 18/12/2020 at 10:24:57
The difference tomorrow is that Arsenal will probably come and set up to play on the counter, Arteta will not want to play an open game against us.
I would play Holdgate as DM and put either Coleman if fit or Jjk in at full back.
What has happened to the Rolls Royce that was Andre Gomes pre injury. Mentally that injury must have knocked him. He looks a shadow of the player.
Dave White
26
Posted 18/12/2020 at 10:32:52
Ha ha! Tony @ 12 love it! As satisfying as these narrow wins built on defensive prowess are...I think we'd all love us to give someone a good twatting! 6-1 Blues!
Joe McMahon
27
Posted 18/12/2020 at 10:35:39
George @24, some might say its dangerous to play either of them full stop.
My concern over the many games coming up is just one striker (DCL) playing all games he may burn out. Tosun unfortunately isn't an Option. Does anyone know if Simms could be considered for the bench?

Clive Rogers
28
Posted 18/12/2020 at 11:01:02
Joe, 27, from the small amounts I have seen and comments of others Simms is a decent finisher but is very raw and is far from the finished article.
George Cumiskey
29
Posted 18/12/2020 at 11:08:53
Joe@ 27 Pukki at Norwich would be a great backup striker for me.
Laurie Hartley
30
Posted 18/12/2020 at 11:16:21
Repeat - do not change that back four under any circumstances. The only change I would make is Gomes to replace the injured Allan.
Andrew Keatley
31
Posted 18/12/2020 at 11:32:01
The expensively assembled Arsenal side currently seem to have only one player in any kind of form and that is the 19-year-old academy graduate Bukayo Saka. While players like Aubameyang, Pepe and Willian will always pose a threat if given time and space, it is Saka who is making things happen by regularly taking on the right full-back of opposing teams. Holgate got beaten a few times by progressive runs by Harvey Barnes, and he'll need support to deal with Saka.
Fran Mitchell
32
Posted 18/12/2020 at 11:33:06
Another one of those games where anything is possible. We could win 5-0, equally, so could Arsenal.
Arsenal have been poor, very poor recently. But they got a goal, their main man scored, and a good result considering they played with 10 men against a Southampton that torn us to shreds. They could well use that as a platform. So we'd be stupid to underestimate.
For that reason we should stick with the same back 4 frustrating Aubamayang is key to winning the game. This defence managed to do the same to Werner, then Vardy, so same again. Coleman on the bench would provide good options if we need to up the attacking impetus.
Davies in the middle for Allan, with Doucoure resuming his role as defensive mid.
James on the bench would be good too.
3-2 to Everton. DCL double and Keane.
Bill Gienapp
33
Posted 18/12/2020 at 12:43:35
Gomes and Siggy in the same midfield makes me nervous. It worked out against Leicester, but I feel like we'd be pressing our luck. I like the suggestion several have voiced of re-instating Coleman and shifting Holgate into midfield, but I doubt Carlo will stray too far outside the box tactically.
Brian Murray
34
Posted 18/12/2020 at 13:00:58
Clive post 28. Re Simms. We are not asking for the finished product just someone' as a better option than big sams waste of space tosun who has movement and can finish.
Tony Everan
35
Posted 18/12/2020 at 13:40:32
Carlo confirms Allan won't need surgery but has a lesion on his hamstring. He is saying he is out for the festive and new year fixtures (games in this period). Hopefully this means he is more like 4-6 weeks out rather than 8 weeks+ out.
Joe McMahon
36
Posted 18/12/2020 at 13:45:49
Thanks George and Clive. Yes I also like Pukki, but Norwich pushing for promotion are unlikely to sell in January unfortunately. This should have been addressed before letting Kean move to PSG.
Nicolas Piñon
37
Posted 18/12/2020 at 13:49:09
Just hope Carlo rests some players tomorrow cause beating United could be a biiiiiig one for us on Wednesday.
Gordon Davies and maybe Bernard in.
Difficult to change the defense although I fear for Holgate and Mina fitness. Gutted with Rodriguez.
Si maybe Coleman starts too.
We don't have to lose confidence but worst would be losing more players in my opinion, so it's interesting to see what the line up will be. It's little time for the players to recover I think.
COYB!!
Derek Taylor
38
Posted 18/12/2020 at 13:54:18
Don't be surprised to see a host of changes in order to accommodate Seamus and James and cover for the injured Allan.
My vote would be for a 'soft' return for Carlo's favourite duo on the bench and start with the line-up including Gomes in midfield.
Bobby Mallon
39
Posted 18/12/2020 at 14:00:53
James won't be playing against Arsenal Carlo said he may be back for the UTD game.
Alan Johnson
40
Posted 18/12/2020 at 14:04:45
Tony #12. Those tactics sound great to me. Are you quoting from the Peter Reid coaching guidebook?
Peter Dodds
41
Posted 18/12/2020 at 14:16:26
Carlo says Seamus is available so I'd have him in from the start to give more service to DCL. Otherwise, as you were except Pickford coming in - perhaps Tom in for Gomes but I don't think that'll happen. If the results go for us and we get a win we could be third after the weekend, level on points with 2nd-placed Spurs and snapping on the heels of the RS and perhaps then the media will start to give us the attention our performances will have deserved.
David Pearl
42
Posted 18/12/2020 at 14:17:12
I'm actually not overly confident in Carlo making the right choices if he does decide to make any drastic changes. We fell into the current line up. Godfrey and Holgate doing really well and looking solid. Surely Nkounkou will play one of the games over this ultra busy period (just not yet).
On current form we should win this game. The players are just buzzing and they seem a close bunch, l'm liking the attitude. If we can keep this run going through the new year that should see us very close to the top four and excitedly looking at the second half of the fixtures.
Eugene Ruane
44
Posted 18/12/2020 at 14:35:11
It goes without saying that a convincing win would be wonderful but particularly tomorrow as I'll be at this one. Me and a mate got tickets so got our tests done this morning (negative obvs) and intend to have a couple of pints before the game (wherever they serve substantial scotch eggs), then hit the supper bar for curry and chips. Anyone know if the Winslow is doing 'food'?
Tony Marsh
45
Posted 18/12/2020 at 14:59:12
Arsenal there for the taking but I think Carlo wont be able to resist the urge to tinker. We should keep same back 4 that' have played so well last 2 games. Carlo stumbled on this formula through injuries. Please stay solid and please No Tom Davies.
Colin Battison
46
Posted 18/12/2020 at 15:00:14
Dont change a winning formula, but no Gomes in midfield please, the lad came on at leicester and was absolutely woeful, he has no pace at all and is slow to react to anything, I agree with some on here, if Seamus is fully fit then put him in and play holgate as a DM as I prefer holgate in their rather than gomes or Davies, if seamus is not risked then Davies in DM role.
Pickford,
Coleman, Mina, Keane, Godfrey,
Doucoure, Holgate
Iwobi Sigurdsson Richy
Calvert Lewin


Christy Ring
47
Posted 18/12/2020 at 15:09:54
If Seamus starts tomorrow, I'd play Holgate in midfield with Docoure and one of Siggy/Gomes, together they're too light weight. If Seamus is on the bench then Davies in midfield.
Sam Hoare
48
Posted 18/12/2020 at 15:13:51
Ideally i'd play the exact same team as started against Leicester but obviously Allan is missing and we have no-one who can replace him easily.
Gomes is an especially poor replacement for Allan as he is so slow and poor defensively. He is also a liability in giving away fouls as we almost found out again on Wednesday.
For me I think Davies has to come in. He's not a massive upgrade on Gomes and is less careful with the ball but is better defensively and dribbled past about half as much. I don't think either Holgate or Godfrey should play there but I guess its an option; probably more likely to be Godfrey who is quicker and has at least played a whole season in that position for Shrewsbury whereas I think Holgate has only played 90 minutes there.
It's going to be a tough match but I think we have to maintain the lower block and trying to hit on the counter. Hope the likes of Richarlison, DCL and Iwobi who have done alot of running in the last week have got enough left in the tank.
Christopher Timmins
49
Posted 18/12/2020 at 15:14:10
This will be no walk in the park. Arsenal have shown at Leeds and at Manchester United that they can defend. If Coleman is fit then he should play as we will need his attacking attributes.
I hope Davis or Holgate will replace Allen. Siggy or james to play behind DCL who is being isolated over the past number of games.
Mike Doyle
50
Posted 18/12/2020 at 15:26:14
Agree with Christopher #49 - and other posters. Arsenal may have had a dip in form but they have good players who can damage any side. No room for complacency tomorrow.
Brent Stephens
51
Posted 18/12/2020 at 15:43:57
Eugene #44, I don't know about the Winslow but for the Chelsea game, the burger van opposite the main gates had a grand choice from three sausages, four burgers, a couple of battered rolls and a teaspoonful of fried onions. Eat your heart out!
No food inside GP.
Roger Helm
52
Posted 18/12/2020 at 15:44:31
Carlo as an Italian knows that defence is key, and as we kept two top sides to hardly any shots on goal, I can't seeing him changing the defence. Arsenal are always dangerous in attack and have to be treated with respect. Davies for Allan, as Gomez just seems like an accident waiting to happen, and James on the bench if he should be needed in the second half.
As for Coleman, no-one is guaranteed a start, which is as it should be.
Eugene Ruane
53
Posted 18/12/2020 at 15:52:02
Brent, I'm not actually interested in (actual) food, just looking for a pint somewhere that's not too strict on the food..thing.
(ie: "here's a knife and fork sir, for the pie that'll never arrive")
Keith Hitchen
54
Posted 18/12/2020 at 15:56:24
Maybe Coleman for allen ???
Brent Stephens
55
Posted 18/12/2020 at 15:57:02
I suspected as much, Eugene. Enjoy the game and the atmosphere.
Tony Abrahams
56
Posted 18/12/2020 at 15:57:46
If you can't find a boozer that's open on County Rd, Eugene, I'd be very surprised mate. I know the Tommy Frost's is open, so that's definitely one to start in, and only a five minute walk to the ground.
Anyone know if the Winslow is doing food, is a classic though!
Ajay Gopal
57
Posted 18/12/2020 at 16:01:21
DCL needs to be rested for this game, even at the risk of losing it to keep him fresh for the League Cup. Carlo rates Tosun, and obviously he does not have the physical presence of DCL, but if he is back to full fitness, he can be a nuisance to the Arsenal defenders. Most likely, Coleman at RB with Holgate playing the Allan role.
Pickford
Coleman Mina Keane Godfrey
Doucoure Holgate
Iwobi Siggy Richarlison
Tosun
Subs: Olsen, Kenny, Davies, Gomes, Bernard, Gordon, Nkounkou
James Head
58
Posted 18/12/2020 at 16:24:15
Eugene you'll get no hassle having a pint in The Brick on County Road, it's a Blue house too so just "order" some "food" when you enter, The Chepstow and Bernie Mays ( The Glebe) are also doing "food".
Mike Gaynes
59
Posted 18/12/2020 at 16:38:12
Eugene, sounds like a perfect evening. Enjoy.
So... would anybody here feel bad if our win tomorrow cost our old friend Arteta his job?
Colin Glassar
60
Posted 18/12/2020 at 16:47:16
"Doing Food" in a pub is an abomination!
Whatever happened to a pint of bitter and a packet of smith's salt and vinegar crisps? Some people are fucking heathens!!
Jamie Crowley
61
Posted 18/12/2020 at 16:49:52
Translation:
Eating food in a bar is normal. Having a beer and some fries is not a bad thing.
People who oppose that notion are idiots.
Do I have this right? #'Merica.
Jamie Crowley
62
Posted 18/12/2020 at 16:51:34
Does anyone remember the movie Airplane?
"Excuse me stewardess, I think I can help, I speak Jive."
That's how I feel reading TW sometimes.
Brian Murray
63
Posted 18/12/2020 at 17:00:01
Jamie. Surely you can't be serious! I am serious and don't call me serous ( classic )
Mike Gaynes
64
Posted 18/12/2020 at 17:07:40
Every day, Jamie #62. So many of the jokes, hilarious references to unknown people, cultural asides and terminologies go right over my Colonial head that I sometimes feel like a Munchkin playing basketball.
Winston Williamson
65
Posted 18/12/2020 at 17:14:30
Arsenal play it out from the back a lot. They're not very good at it either. We need DCL to play to press their defenders. Tosun won't cut it.
Get an early goal and I don't see this arsenal team having the fight to get back in it.
Kevin Molloy
66
Posted 18/12/2020 at 17:21:09
I remember reading an article in something like the Financial Times, a very affectionate portrayal of Ancelotti the legendary gourmand, his views on food, and bits and pieces about the footy. Fuck knows what he thought when he saw that burger van. I went he game with a villa mate a few years ago who thought he'd try the local fare. the first bite went in and straignt back out,'phoo!'
Thomas Richards
67
Posted 18/12/2020 at 17:21:34
Fast start, early goal and Arsenal will crumble.
No leaders, no aggression, confidence very low.
Mike Gaynes
68
Posted 18/12/2020 at 17:32:42
Jamie #62, have you read through Chris Williams' creative article
"Reasons to be Cheerful 1-2-3"?
Tell me how many of those references you understand. For me it was probably about 40%.
Brian Williams
69
Posted 18/12/2020 at 17:38:50
Paul A Smith
70
Posted 18/12/2020 at 17:44:28
This is a great game for Gomes to shine, to get some confidence back and get some critics off his back.
I have been a critic and I think its deserved but i'd still give him that chance and hope he'd be up for the challenge.
Brian Murray
71
Posted 18/12/2020 at 17:45:56
Yeah spare a thought for Mikel if we turn the screw tomorrow. A bit like the true story of George best in a hotel room with miss world Mary stavin sprawled on the bed then the Irish butler pipes up ! Where did it all go wrong George ?. Soba resounding no !
Eugene Ruane
72
Posted 18/12/2020 at 17:47:34
Thanks for suggestions James/Tony - noted.
I'm familiar with all the pubs named but good to have a bit of insight re Covid rules/food etc.
Rob Halligan
73
Posted 18/12/2020 at 17:57:20
Tony # 12, Deffo Sunday league tactics. "Lets twat these, these are Fucking shite"!!
Worked for my team anyway!!
Clive Rogers
74
Posted 18/12/2020 at 18:08:48
Brian, 71, you forgot the £10,000 on the bed he won at the casino.
Brian Wilkinson
75
Posted 18/12/2020 at 18:16:14
Brent@51, you should have walked down towards the holy trinity statues and called in the Chinese Goodison supper bar chippy, quick serving and great chips and pies or whatever else you fancy to eat, far better than the burger vans.
Will miss that chippy when we move to Bramley Moore.
Rob Halligan
76
Posted 18/12/2020 at 18:17:04
Eugene, the Winslow normally do food after the match..............a couple of trays of ham or cheese sarnies! The only problem being the bread is as stale as fuck, the ham is so thin you can see through it, and the cheese, to me anyway as I can't stand cheese, looks rock hard, though no doubt Keith Harrison would love it. Enjoy the match tomorrow and let us know how it goes. I'm going to the man city game so really looking forward to it. Thank God it's an 8pm kick off so I can avoid the Winslow delicacies!!
Brent Stephens
77
Posted 18/12/2020 at 18:23:47
Brian #75 👍. That should wok for me.
Dale Self
78
Posted 18/12/2020 at 18:30:33
They don't have Xhaka and we don't have Allan. With those pieces missing from the board, I think we have a chance of bossing this game giving Gomes and Sigurdsson the space to operate at their best. I know they're slow but Arsenal is anything but stable at the back and there will be space for long balls into the final third.
Tom Bowers
79
Posted 18/12/2020 at 18:42:28
I really don't pay too much attention to teams who have players missing as the replacements usually give a good account of themselves. Just look at RS for instance although if they had Mane, Firmino and Salah all missing at once they may have a problem for a few games. We lost Richie for three games and look what happens. Usually if you lose a key player and you have very little in reserve you will suffer.
Arsenal have a good squad of players but are having a poor run and we hope it doesn't come to an end just yet but Arteta' s position is under scrutiny I'm sure.
Brian Murray
80
Posted 18/12/2020 at 18:47:14
Brian post 75, I can vouch for that chippy. The fish is very fresh. Must be because it ate most of the chips when I opened it up ! Il get me duffel.
Jason Li
81
Posted 18/12/2020 at 19:02:38
All this northern food chat is ruining me.
As a young boy in a family network that ran chippies and take aways while I was at school, I do miss the old fish chips and curry with loads of salt and vinegar, a sausage chips and gravy, or a special fried rice. (Not sure if this makes any sense to overseas friends :) )
Living in London, there's no-where in sight to get a good fish and chips unless it's some swanky bar in the centre.
Ah well, living the dream through this thread.
Rob Halligan
82
Posted 18/12/2020 at 19:06:41
Jason, you can't beat a sausage dinner. Three sausages, loads of chips, peas and onion gravy. A meal to die for!! Also love fish, chips and a carton of curry sauce thrown over it!!
Sam Hoare
83
Posted 18/12/2020 at 19:16:27
If Gomes is to get another chance to shine I think it should be against a team where we expect to have more of the ball and they lack pace in attack. Burnley would have been perfect. Sheffield United might work.
Arsenal are still a good team and in the likes of Aubemayang, Pepe, Saka, Nketiah, Tierney etc they have some serious pace. Quick players breaking at speed against Andre Gomes and Gylfi Sigurdsson is a nightmare.
John Pierce
84
Posted 18/12/2020 at 19:24:22
I think a chippy supper after the game is the thing I miss the most. Get it scoffed and it's a great base for a night of the ale.
Jamie Crowley
85
Posted 18/12/2020 at 19:25:57
Mike @ 68 I'll check that out later. TY friend.
Rob Halligan
86
Posted 18/12/2020 at 19:29:21
How has a thread about tomorrow's game gone to a thread about take aways? I suppose this thread will now get "Battered" with how much we all love fish suppers!!
Jason Li
87
Posted 18/12/2020 at 19:39:18
Yeah Rob, sausages goes with mash or proper chippy chips. Fries like they do down south don't cut it. They don't understand down here. Sorry if this offends anyone born down South, but you really have to try a few proper chippie suppers up north to understand the joy after sinking a few pints or a hard day at work and popping into the local fish bar for a chippie dinner on the way home - it can do wonders for your evening as you stand in the kitchen at that moment your unwrapping your take away anticipating guaranteed fulfillment. Works every time.
Billy Dawber
88
Posted 18/12/2020 at 19:39:20
Arteta was a great player for us. But no way should we feel sorry for him in any way. He left for bigger and better things so if this game turns out to be one of his last then so be it. Interesting game this one, another one of the so called big clubs going through a tricky spell. Just hope this isn't the game they choose to play well and get a sneaky win. Hopefully not and we will have a good festive period. Take care fellow blues and have a great chrimbo. NSNO.
Paul Birmingham
89
Posted 18/12/2020 at 19:57:24
A great opportunity for Everton.
Arsenal are wounded and despite their form and suspensions are capable of beating any one on their day, but so are Everton.
For me keep/the same approach as v Leicester and Chelsea, and take every chance. Don't stand off and get into their defence.
I reckon the same team that finished Wednesday will start, but I'd prefer Tom over, Andres Gomes whom has a chance to make a mark, and put in a full shift, if he's picked, but it remains to be seen.
Siggy and Gomes starting, is dangerous as I've said in previous threads it's at times, been line being down to x9 players, when both start.
But Everton, with true grit and spirit can stick one up the Arsenal tomorrow.
Great to do a 6-1, like we done when Don Howe was in charge all them years ago, in 1985.
Seriously a win and a good performance to take Everton, into next Wednesday, and beat Manure.
Richarlison and DCL, and Siggy to score, tomorrow, and let's hope some other players get on the score sheet, and spread the goals around.
Sam Hoare
90
Posted 18/12/2020 at 20:01:55
Curious question. Would you rather win tomorrow or against United?
Win tomorrow and we stand a really good chance of being in the top 4, maybe even the top 2 or 3 by the end of Boxing Day.
Win against United and we are in the semi with a good shot at silverware.
Ideally we win both but if you had to choose?!
Patrick McFarlane
91
Posted 18/12/2020 at 20:12:18
Sam #90
If we can't win both. then win tomorrow and draw against United but go through via penalties.
Talking about prioritising matches, just read Roberto Martinez saying he placed too much emphasis on the Merseyside Derby prior to the semi-final with Manchester United in 2016. That was prioritising was it Roberto? A 4-0 hammering
Brian Wilkinson
92
Posted 18/12/2020 at 20:15:20
Sam, be great if we can win both, but that damn cup has been many a heartbreak over the years, be nice to get to a semi final, be even nicer to win it and shut the 1995 song up.
So me personally, we can make dropped points up, lose weds and that's it for one cup.
I'm one of the older generation so had my share of success, it would be nice to win a trophy for the younger generation of fans.
Paul Birmingham
93
Posted 18/12/2020 at 20:34:25
Sam, next game is the most important, but I'd like to win both.
Both are massive games in context and win tomorrow gives us momentum, like in 1984, and on to good times.
Beat Man Utd and break their aura of away match invincibility, and we are in a semi-final.
No pressure, but Everton are in good form, so why not win both games?
Brian Wilkinson
94
Posted 18/12/2020 at 20:34:35
Jason, you are spot on, proper mushy peas, gravy and proper pies, instead of puka pies.
What is that all about, no gravy south of Watford.
Bobby Mallon
95
Posted 18/12/2020 at 20:37:24
A pie dinner is my favourite when I visit me mum. Pie chips peas gravy loads salt vinegar love it.
Brent Stephens
96
Posted 18/12/2020 at 20:41:07
If there's one takeaway from this thread...
Jay Evans
97
Posted 18/12/2020 at 20:50:41
I'm back at the old lady tomorrow for the first time since god knows, whenever all this covid bollocks started anyway and I can't wait.
I wasn't lucky enough to get drawn out of the ballot for the Chelsea game but tomorrow can't come quick enough for me now.
Just to echo the sentiments of some other posters, why on earth would you even consider changing our defence tomorrow? Captain or not, Seamus is gonna have to wait I'm afraid.
Full support, Blues, and Onward Evertonians, onwards to the Lower Gwladys! 💙💪🏼
Paul A Smith
98
Posted 18/12/2020 at 20:54:25
Sam, I would rather be in the top 4 if we could stay there.
Silverware would be lovely but the Carabao Cup won't earn us the benefits that being a Champions League side would. The attraction would be enhanced in a big way if we could breach that closed shop.
Dan Nulty
100
Posted 18/12/2020 at 20:59:09
I won tickets to hospitality at Goodison in 2012. We got beaten by Arsenal in that game and I've had a severe dislike to Arsenal fans for their arrogance and taunting us when they were beating us comfortably. I also came away with a severe dislike of Johnny Heitinga, watching him walk around midfield pointing at other players for people to pass to instead of making himself available drove me crazy.
I hope we pile the pressure on Arteta. With how inconsistent we are though I can see us losing this.
I hate Arsenal.
Steavey Buckley
101
Posted 18/12/2020 at 21:05:25
Everton team tomorrow:
Olsen
Holgate Mina Keane Godfre
Davies Doucouré Sigurdsson
Iowbi Calvert-Lewin Richarlison
An Everton with Olsen in goal makes the team more secure defensively.
The back four picks itself on the same basis of also making the Everton more secure defensively. Arsenal will be no slouches tomorrow.
Davies (not Gomes) is the one who should replace Allan in midfield because he is less likely to give away foolish free-kicks or the odd penalty here or there.
Upfront picks itself; that's the best Everton have.

Jerome Shields
102
Posted 18/12/2020 at 21:08:07
Arsenal will probably set up shop and try to channel play, looking for one goal on the counter. They did that before and reduced Everton attack to a training ground exercise, where their unchallenged goalkeeper got MotM.
Ancelotti will need a creative player to open them up. Both Sigurdsson and Gomes are not good enough and a gift to the Arsenal defense. Richarlison is easily managed by Arsenal channelling his play.
This will be an interesting game and Arsenal are a barometer of how Everton are progressing.
Mike Gaynes
103
Posted 18/12/2020 at 21:26:40
Sam #90, Man Utd all day for me. I'm still not optimistic about an eventual Top 4 finish in the league because we just don't have the depth, but I would LOVE to bag a trophy this season, and I strongly believe we could.
Beside, I've despised Man Utd for longer than I've been a Blue. Before I was recruited by Sheedy in '85, my favorite English club was whoever Man Utd was playing that day.
Paul A Smith
104
Posted 18/12/2020 at 21:46:03
I get you, Mike, I meant to say above how many trophies needed before we are a big attraction.
The top 4 generally win the silverware anyway and the Champions League helps you keep players.
Long term, I'd take the Champions League status all day.
Paul Hewitt
105
Posted 18/12/2020 at 22:04:34
Winning trophies is what football is all about. I don't understand this "rather finish top 4 than win anything".
I know a Wigan fan, and I asked him when they got relegated if he would have rather stayed in the Premier League or won the FA Cup? Straight away he said, "Win the Cup!"
Paul A Smith
106
Posted 18/12/2020 at 22:21:00
Paul, of course we want to win trophies but football has a pattern. The top four sides generally have the quality squads to sweep up the trophies.
It couldn't be more obvious. We win a cup this season I am delighted but even that is a big ask and it will scare the big clubs and they will want our players.
Of course, that will happen if we get into the top 4 but then you can pay bigger wages and attract quality.
To be successful it is the only way forward as far as I can see.
Theres nothing wrong with your hunger for a trophy either by the way.
Obviously the Wigan fan would have preferred that one trophy in his lifetime. I am not really up for that.
Pekka Harvilahti
107
Posted 18/12/2020 at 22:25:58
Joe, Clive and George, I agree Pukki would be a good alternative for our attack as he is an intelligent player and a good finisher. But he is where he wants to be and should be.
At Everton, he would be as good as Naismith: pretty good but not good enough. Never starting, seldom playing. He's their hero now at Norwich so that's it.
Tony Everan
108
Posted 18/12/2020 at 22:45:06
Sam @90 I'd rather win tomorrow – after we win, can I change my mind?
The ultimate goal for the club has to be that it is a serious challenger for the top 4 every season, so it's the league that matters most. Anything less is not good enough. As Paul above says, all else follows... and yes, why not pick up a cup on the way?
Colin Glassar
109
Posted 18/12/2020 at 22:48:30
Jason & Rob,
We were poor but we never had to suffer a margarine butty with sugar like some of our neighbours who we called scruffs!
I bet our American cousins can't decipher that one.
Pekka Harvilahti
110
Posted 18/12/2020 at 22:57:44
I think the defense should be the same, in the midfield Iwobi (I have already eaten my words and everything when he started charging and being brave), Doucouré, Gomes, Gordon, and on top Richarlison and Calvert-Lewin.
Tony Everan
111
Posted 18/12/2020 at 23:04:09
Colin, I had a privileged upbringing, no Stork SB in our house and plenty of money swilling round to have jam on our butties.
Maybe not too privileged though, I thought scallops were slices of potato deep fried until I was about 16.
Brendan McLaughlin
112
Posted 18/12/2020 at 23:05:56
Sam #90,
Top 4 hope for me. A cup win would be great but I'd much rather Carlo took us to the Top 4 in his first full season rather than won the lottery of a cup competition. So win against Arsenal!
Winston Williamson
113
Posted 18/12/2020 at 23:23:20
Tony 111: scallop bun and scraps! Loved that as a kid!
Would love to beat Arsenal. My least favourite team other than that lot. We've got to get into them, press them and hit on the counter.
Peter Warren
114
Posted 18/12/2020 at 23:27:28
Paul Hewitt #105, I agree completely. Try and win a competition every year. Simple. Finishing 2nd or 17th and winning the fa cup I know what I would choose. I remember every game of 95, whilst some games I remember when we finished 4th not the same as 95.
I understand the Wigan fan but Everton and Wigan light years apart in terms of Wigan were always (like Oldham years ago) destined to drop back down the leagues.
Si Cooper
115
Posted 18/12/2020 at 23:29:19
Jerome (102), that's the core issue, isn't it? How will Arsenal approach this game?
I think we've shown for years now that we perform better against teams that attack us, whilst often stuttering against those whose only ambition is to hit us on the break.
If Seamus is properly recovered then I like the idea of trying Holgate as the more defensive CDM with Doucouré being box to box (now he seems to have got his mojo back) and either Gomes or Sigurdsson in the number 10 role.
Personally I think Gomes has had some better performances lately but chasing back and recovery tackling will never be his strong suit so we shouldn't be reliant on that. I don't see the Arsenal midfield as being particularly mobile or physically dominant so I think Sigurdsson or Gomes shouldn't be overrun and their creativity can be an important factor in this sort of match-up.
I'm hoping Arsenal will come with a swagger and a superior attitude and actually dread them turning up looking like a lame duck and hitting us with a sucker punch (or two)!
If Mikel loses his current job as a consequence of an Everton victory then so be it (may as well hope for an absolute drubbing). It would just give him the opportunity to drop a level, get some experience at managing / coaching a more 'average' team (compared to Man City or Arsenal), and so be better prepared to take over the reins when Carlo decides to retire in 5 years time after winning a few cups and getting us into the top 4 three years in a row.

Brian Wilkinson
116
Posted 18/12/2020 at 23:29:56
If we beat Man Utd the semi-final is only one leg, so a home draw and every chance in a one-off match, rather than two legs.
I still have the high and low of last years quarter-final against Leicester, I still have Hanson's no handball final, and Terry Darrocott watching the ball bounce past him for Villa to score a late extra-time winner at Old Trafford, in the second replay final.
It is time Lady Luck was on our side. I can only recall the Oxford game, where we took advantage for this competition, so I can lay the ghosts to rest.
Peter Mills
117
Posted 18/12/2020 at 23:34:11
Eugene#44, I hope you will give us your take on your match day experience.
Victor Johnson
118
Posted 18/12/2020 at 23:41:42
Three words: intensity, intensity and intensity. Tomorrow should not be a game of pretty patterns and chess-like complexity. Arsenal and Arteta don't deserve it.
We simply have to get stuck in from the off and not give them any space whatsoever. In their faces from the word go and give them a truly torrid time – like they get whenever they visit the red shite. Now it's our turn. COYBB
Steavey Buckley
119
Posted 18/12/2020 at 23:59:54
If Ancelotti had hung on to Moise Keane instead of loaning him out, he would have had an extra striker to give Calvert-Lewin a 'breather.' But Tosun isn't that striker, because he lacks the pace or skill to beat defenders.
I am afraid Dominic Calvert-Lewin will have to continue and wait a while until the transfer window is open in January. But Ancelotti shouldn't wait too long to find those strikers because Everton are lacking strikers now, if Everton are going to make an impact on the league in 2021.
Ian Riley
120
Posted 19/12/2020 at 00:08:25
Very difficult game. Let them play and we are in trouble. Keep working hard and press. Really interesting match.
Jerome Shields
121
Posted 18/12/2020 at 00:17:40
Si #115,
I agree with you regarding Holgate and Colmean. This would keep the desired Gomes more forward in his play. He would be man-marked to keep under pressure though. Sigurdsson is easily pushed to pass sideways, which will suit Arsenal all day long, aiding their channelling tactics.
What I mean by 'channelling' is pushing the player into difficult shooting positions, which can be easily saved, and cutting out final-third passes. Arteta may be the Manager, but there are a few old Arsenal backroom pros who can get this across to defenders. It's an easy sell. So, in a way, I agree with Sam #41 regarding Gomes and Sigurdsson against Arsenal.
The way to break Arsenal down is to turn them by switching play and vary pass delivery from crosses to central interplay. Rodriguez would be ideal if fit, but Holgate has good distribution and, if Keane can get forward a bit, he is not too bad either. I would like to see Gordon play to give them something to think about. . .
Doucoure actually plays better without Allan, which is difficult to work out. He got forward more than Sigurdsson.
There is no way Aretata can risk open play. I expect him to try to play as Liverpool did. The sods set up shop and tried to turn Everton defenders with long balls. They also used dirty tactics with their targeting of players. They were incredibly bare-faced about it, with the media bandwagon's help. Arsenal will not want red cards, which is a good thing.
It will be very interesting how Ancelotti plays this one, Arteta, a good Everton servant, is way over his head at Arsenal, unfortunately, and probably will sink without trace. An up-and-coming manager, imo, who will never darken the door of Everton, as Moshiri has learn't. Arsenal are about to learn the same lesson.
Christine Foster
122
Posted 19/12/2020 at 00:22:43
Arsenal are away from home and their manager is in trouble. He will be happy with a point and hope his team can hit on the break. We will have two sides playing the same way, if James was fit I think Ancelotti would have played him and Gomes... but as it stands I think Gomes will play with Siggy with minimal disruption to a winning team.
Ah, yes, takeaways, nothing ever beat the chicken and sausage dinner from the Chinese at the top of Dacre Hill in Rock Ferry, gone now but never forgotten! No knives or forks, just fingers... lol
Colin Glassar
123
Posted 19/12/2020 at 00:24:08
Tony 111, scallops with rissoles and lashings of tomato sauce between two slices of Mother's Pride – delicious!
Brian Murray
124
Posted 19/12/2020 at 00:39:31
This all reminds of the classic song, They Tried to Tell Us We're Too Young. Or was it, They Tried to Sell us Egg Foo Yung?
Anyway, let's have these tomorrow and watch them loons on Arsenal TV finally have a breakdown. They are really comical. Coyb
Derek Thomas
125
Posted 19/12/2020 at 00:50:18
Same basic formation, one player in to replace Allan (repeat vs Man Utd on Wednesday night)...none of this moving existing player into his place, which leaves you with
two
players out of position as it were. Coleman and Rodriguez... if fit... on the bench, no need to rush them back in too soon.
Arsenal are stuttering but have enough basic class to worry us if they apply themselves... all depends which Arsenal turns up.
And which Everton.
Takeways: coming out of the Beachcomber, Babaloo, Pink Parrot or the Blue Angel at 2 o'clock in the morning the 60s... Chicken Chop Suey and Chips, tasted marvelous, tasted like no chicken I ever tasted before or since. But that might just be me being catty... meow.
So many cats, so few recipes.
Derek Knox
126
Posted 19/12/2020 at 06:00:26
I think that's why I love ToffeeWeb so much. I got up early, like most matchdays, decided to 'look in' and it was like an Egon Ronay Michelin Guide to post-match chippies. Love it, and it triggered a few memories too.
The inquisitions when you got back home after a win, some 12 or so hours after the match had finished. "Well, we had to queue up to get in (it went into extra time), queue up for a pint, then queue up for the chippy, before you know it!" Just as the frying pan was about to be introduced to the back of your head.
Yes, there was nothing quite like a good old matchday 'outing' – especially with a win thrown in. Somehow, I don't feel as confident as I did before the Chelsea or Leicester games, I just hope I am so wrong on that though.
Hopefully not too much tinkering with the team apart from accommodating the enforced change for Allan's berth. Let's hope the lads who are going give a rousing welcome when the team emerges from the tunnel.
I'm sure it must lift the players when they come out to that, even though there will be significantly reduced numbers. According to the weather forecast, it will be 'dry' but we all know how accurate those reports can be.
COYB
Bob Parrington
127
Posted 19/12/2020 at 06:20:50
Derek @125, that was very catty of you and very naughty, too. Miss King at our school would have given you six of the best with a ruler on the back of the knees. Okay, when I got this, I likely deserved it. Shit happens.
I'd like to see Anthony Gordon play in this game! Otherwise – same as, same as!
Jerome Shields
128
Posted 19/12/2020 at 06:34:50
Ancelotti is already thinking of the schedule and probably has decided which is the priority: Arsenal or Man Utd. He knows that Man Utd will be an open game, having recently played them, and the Arsenal game won't be, because of the immediate under-pressure Arteta.
Arterta is under pressure, seeking to claim credit for behind-the-scenes improvements. It will be an Arsenal set up to defend and counter attack. Ancelotti could make changes up front just to mix it up a bit, with the benefit of rotation of the squad, which he has indicated as being necessary.
I doubt it will be the same team selection or formation as the previous two games. I have a feeling that Gordon will play and Richarlison will be rested. Bernard may play instead of Sigurdsson and Coleman will play to free up Holgate. Mina may be also rested. Ideally, Rodriguez would play, but Gomes will probably get the nod.
Ancelotti is more likely to take risks against Arsenal where he knows an under-pressure Arteta is more likely to try to play defensive, rather than the attacking way he would like.
Darren Hind
129
Posted 19/12/2020 at 06:51:51
Ancelotti has finally found a system which his players are actually buying into.
Did he find this formula? Or did injuries mean forced changes and it found him? Who gives a fuck? The important thing now is he sticks with it.
Some will argue that the system we are now using is "not attractive"... Fair shout. But again, Who gives a fuck? The harder we become to beat, the greater the belief the players will have. Confident players will play attractive football. I haven't seen tactics, or a system yet, which couldn't be played with a swagger. We must continue to pay this way.
The bookies have become accustomed to taking Evertonian money down the years. Not recently though. They have been sticking their chins out uncharacteristically far by offering generous odds. And I know many a blue who has landed a couple of hefty blows.
Unsurprisingly, the 7/2 on offer last week has shrunken to a miserly 6/4 this week. It would be easy to run away with the idea that this is an easier task. I don't believe it is.
Like Chelsea, Arsenal have some very talented individuals within their ranks who can hurt you even when things are not going well for them. The shrunken odds is more down to the way we have been playing.
I expect a similar game to last week... and an identical result.
Jonathan Tasker
130
Posted 19/12/2020 at 07:18:14
With a crowd of just 2,000, I wondered how this affects the "Can I mind your car?" business at Goodison?
Paul Birmingham
131
Posted 19/12/2020 at 07:18:33
Well presented, Darren @129, and basically it ain't broke, aside from replacing Allan, so there's no need to make radical changes.
Everton to keep the same focus and team work, and be clinical in front of goal, and get into Arsenal, and no sentiment for the "Best Little Spaniard, we know".
Martin Berry
132
Posted 19/12/2020 at 08:45:09
Allan's tenacity and passing will be missed but, if we can grip the midfield, then we will have success.
Our defence is solid and the forward line of Sigurdsson, Iwobi, Richarlison & Calvert-Lewin will create chances. I think Calvert-Lewin will have a field day against their centre-halves.
Paul Setter
133
Posted 19/12/2020 at 09:08:18
If Everton don't beat these, they need shooting!! Arsenal are pitiful at very best and I've thoroughly enjoyed their demise since Wenger. Their fans are as delusional as they come and it's hilarious seeing them cry and whinge.
I've no sympathy for Arteta either. Lost all respect when he kissed the Arsenal badge. Hope we stuff them and he is getting schooled by Ancelotti.
Kevin Prytherch
134
Posted 19/12/2020 at 09:21:09
Ancelotti has found a system that works against the better teams. Just like Silva did at the end of one of his seasons. Curiously, it's pretty much the same system, compact at the back, with the hard graft from DCL accompanying the direct running of Richarlison to wreak havoc on counter-attacks.
Silva's downfall, was believing that the same system that works against the likes of Chelsea and Leicester, would also work against sides like Burnley and Newcastle.
Ancelotti must be tactically aware going forward and realise that he can't persist with this against teams who park the bus against us.
Andy Meighan
135
Posted 19/12/2020 at 09:32:06
I was confident before the Chelsea and Leicester games and fancied us in both. This one, I'm not so sure... surely they've got to win sometime and normally Everton are the remedy club. I'm just glad Aubameyang scored midweek.
I really believe Allan is gonna be a massive loss for us; that said, Gabriel is missing for them, so hopefully Calvert-Lewin can cash in. If you'd have said to me we would garner 7 points from the next 3 games prior to Chelsea, I'd have snapped your hand off.
Let's hope they've downed tools on the manager and we can turn the screw even more. Massive game if we want to keep within touching distance of top 4. It's just I've got a nasty feeling about this... Hope I'm wrong come 7:30 tonight.
Vijay Nair
136
Posted 19/12/2020 at 09:42:16
Hopefully we stick to basically the same side, with the exception of Allan.
I would have Holgate pushed up into midfield to fill that gap, and Seamus coming back in at right back.
Barry Thompson
137
Posted 19/12/2020 at 09:57:59
"We were poor but we never had to suffer a margarine butty with sugar like some of our neighbours who we called scruffs"
Don't know how lucky they were, all we had was a sprinkling of castor sugar between two pieces of cardboard.
2- 0 to Everton by the way.
Ian Bennett
138
Posted 19/12/2020 at 10:03:18
Keep Holgate at right back up against Aubameyang. He has the physical and technical abilities to cut out their main goal threat. Coleman is a better attacking right back, but he struggles against this type of player in my opinion.
Losing Allan is a big blow, with Holgate being an obvious candidate to step in. And for any other game i'd go with that view, but let's just snuff out their danger man today. 1-0 could be enough today.
For what it's worth I think the boss will go with Tom Davies in the centre as he has a slight edge on workrate. Gomes has struggled, but for me Tom just doesn't show any qualities that demonstrate he is a midfielder capable of playing in a decent Premier league side. No pace, no creativity, hit or miss defensively, and coughs up possession in dangerous positions. But what do I know compared to Anchelotti.
Pickford
Holgate
Godfrey
Keane
Mina
Doucoure
Gomes
Sigurdsson
Iwobi
Calvert Lewin
Richarlison
Chris Williams
139
Posted 19/12/2020 at 10:07:11
Don't know where to put this
10-30 this morning
The Big match Revisited
Everton v Fulham 1975 FA Cup
ITV4
Thomas Richards
140
Posted 19/12/2020 at 10:08:49
Fantastic article in Liverpool Echo with Ancelotti.
We are lucky to get a manager of this calibre at our club.
Jimmy Salt
141
Posted 19/12/2020 at 10:15:47
Understandable pessimism on here that we will shoot ourselves in the foot again.
I've lost count of the times I've thought "we could go on a run here", then we implode.
All I want for Christmas is some consistency please Santa.
Laurie Hartley
142
Posted 19/12/2020 at 10:20:11
Barry # 137 - castor sugar - you've never had a dripping butty then????
Dave Abrahams
143
Posted 19/12/2020 at 10:22:49
Laurie (142), now your talking, dripping butty on a Monday morning, can taste it now, take a bow Laurie, chef of the week.
Jeff Armstrong
144
Posted 19/12/2020 at 10:26:07
Chris 139 sat through the real thing, wouldn't want to be disappointed again 45 years later!
Viv Busby ...... tosser
Jeff Armstrong
145
Posted 19/12/2020 at 10:31:11
Ian, it's got to be Davies before Gomes every time, Gomes is a slow liability, Davies is not quality I know, but he has energy and knows where to make his tackles.
Plus a midfield with both Gomes and Siggy is asking for trouble.
Brian Murray
146
Posted 19/12/2020 at 10:32:05
Chris. Post 139. Very painful day after we had took thousands to Plymouth and the Satan's spawn of got knocked out by Ipswich. It was our year and and getting the equaliser, Lyons scores a perfectly good goal to win the match. Nothing wrong with it. Disallowed by you guessed it Clive Thomas. Hopeless from the beginning to the end of his career. Two second division teams in the final that year. Very Everton really but my first taste of tears welling up being a blue. As for today Carlo really needs to instil his no fear or complacency mantra with us because it just doesn't come naturally to a lot of them. That's being diplomatic!
Barry Thompson
147
Posted 19/12/2020 at 10:36:47
Laurie @ 142
Yes Laurie for Xmas dinner
Happy times indeed
Minik Hansen
148
Posted 19/12/2020 at 10:40:12
Dunno if anyone noted, Arsenal have a cup game on 22nd against Man City, whereas we have an extra day of recuperation, we're playing 23rd. I don't know how much Arsenal will have preparation for the next game after us, but they must need to rest some players today, so they don't get humiliated on Tuesday. Hence if that is the case, it's a different team Arsenal is going to play today, and already with a couple of key players out (Gabriel and Xhaka). And so much for not changing the winning formula, we might have to, as it's getting tight with games and I presume we want to have a good cup game on Wednesday, change it a bit. It's a good time to bring Seamus back, atleast from the bench, less so with James, as the likes of Bernard and Gordon are ready to be deployed. And we can't have all our centrebacks burned out, luckily we have Branthwaite, that might get a game during this run of games in the festive period. It's up to Carlo and co to get this right. That said, I'm confident going into the Arsenal game, even though it will be unpredictable with the starting line-up, the lads will likely be fired up for it, with the crowd that will be at Goodison Park come the kick-off. As Tony #12 said, COYB!!
Ciarán McGlone
149
Posted 19/12/2020 at 10:53:22
"Maybe not too privileged though, I thought scallops were slices of potato deep fried until I was about 16."
My ignorance lasted until I was 9 and was sent on a "help an impoverished Irish war child" trip to New Bedford..
Was delighted to be offered the classic west Belfast treat scallops.. my hosts were less than impressed with my "what the fuck is that".. when presented with these white slimy things..
As for today.. watched Arsenal against Spurs and they were superb, despite the loss. This will be a difficult one but I think Gomes will step up. The rest of the team shouldnt be touched.
Dave Williams
150
Posted 19/12/2020 at 10:57:31
Derek #125 the hot dog stand outside the She on our way back to the Wirral after a night out took some beating after a few beers.
Mick O'Malley
151
Posted 19/12/2020 at 11:00:25
Big match from 1975 on ITV 4, look at the state of the pitch in West Ham game. Loving the ferocious tackling without the ref blowing every minute. Blues on against Fulham next!
Brian Murray
152
Posted 19/12/2020 at 11:05:56
Jeff 144. And in true Everton way we gave Busby a first team coaching job ( Kendall mark 111 era ). If we must persist with Gomez then keep him away from our area. Only danger is from ourselves today we have too much pace and threat so for once let's have a great Xmas.
Rennie Smith
153
Posted 19/12/2020 at 11:08:47
The Arse are taking a kicking at the moment (sound familiar?) and this one could be pivotal for them. Why can't we play teams that are just normal, rather than on a 5 win/loss streak or just got a new manager etc.?
This could backfire but this one was doing the rounds on WhatsApp...
There are some horrible bastards about. Last night I heard a cat screaming outside. I went out to investigate & there were 4 blokes in Arsenal shirts playing football with a cat! I ran back inside to get my phone to call the RSCA but by the time I got back the cat was 2 up.
Rob Halligan
154
Posted 19/12/2020 at 11:24:12
FFS, we were even the last game on The Big Match Revisited. Nothing wrong with either disallowed goal. Clive Thomas certainly loved controversy!!
Chris Williams
155
Posted 19/12/2020 at 11:25:37
Sorry Rob!
Raymond Fox
156
Posted 19/12/2020 at 11:35:53
If the betting means anything its hard to pick the winner.
I've been wrong in forecasting the last two games and this ones no easier!
I suppose I should pick Arsenal to win so as not to upset the sequence.
They are desperate for a win, If we can score first they may curl up with the pressure, here's hoping.
Alan McGuffog
157
Posted 19/12/2020 at 11:54:12
1975 what a year. Should have taken to the pitch to the sound of Daltrey singing " Giving it all away "
I think Carlisle is the only club to have a one hundred percent record against Everton
Brian Murray
158
Posted 19/12/2020 at 12:03:40
Ron 154. Not just controversial just inept refereeing and kids went to school with Emyln Hughes. My dad wrote a letter to him care of Lancaster Gate voicing that and his questionable parentage. Within a fortnight two Bizzys knocked on our door asking my dad to explain himself. He ranted at them as only a scouser can and slammed door on them. As kids we thought this hilarious. Different times eh !
John Hammond
159
Posted 19/12/2020 at 12:10:47
Same lineup. I see no point in bringing Coleman or Rodriguez back in even if they are fit especially with the Erin of game see have coming up.
Arteta's current philosophy is to (weirdly) bang as many crosses in as possible despite not having anyone capable of getting on the end of them so I can see us pushing them out wide at every opportunity which our 4 CBs shouldn't have a problem with.
Arsenal are still dangerous though. This is exactly the type of team we could slip up against after the last 2 weekend results.
Alan McGuffog
160
Posted 19/12/2020 at 12:44:36
The curse ends today. We win three on the run and Mayo beat Dublin. And then, perchance, a small sherry.
Brian Murray
161
Posted 19/12/2020 at 12:48:35
Hold the Mayo let's just beat the goons !
Derek Knox
162
Posted 19/12/2020 at 13:07:41
Alan/Brian, would that be ForTuna Mayo? :-)
Jeff Spiers
163
Posted 19/12/2020 at 13:09:16
Talk Sport saying Deli Alli possible move to us.??
Jeff Armstrong
164
Posted 19/12/2020 at 13:32:03
Alli does score goals from midfield which is something we lack, but there's something a bit off about him for me.
Jamie Crowley
165
Posted 19/12/2020 at 13:36:21
Jay Evans and Eugene Ruane -
On the off-chance you read this, enjoy the game!!
Happy for you both, have a great day and be the voice of 39,000 Blues lifting the team.
Robert Tressell
166
Posted 19/12/2020 at 14:00:50
Jeff @163, the Dele Alli rumour keeps coming back Isco too. Mixed feelings about both players but an upgrade on what we have. Presumably both would be loan deals with option to buy.
Coming back to Paul the Esk's excellent analysis, we do need to be careful with this sort of recruitment. Glamorous as it is, the wage bill is already unsustainable.
Derek Knox
167
Posted 19/12/2020 at 14:18:35
Robert @166, yes have seen the usual rumours, especially before the window is due to open, the one's that have got my attention or interest, Boulaye Dia (24) striker from Stade de Reims, and Max Aarons from Norwich.
Not sure whether Deli Ali would be a good acquisition or not, Isco would be good but wages and the 'could he flourish regularly in the Premiership'? come to mind.
From what I've read and seen, he as immense talent, but is he a team player? If he was to come, and James plays too, there would be two not dropping back to help out, putting a lot of pressure on those who do and in defence.
Tom Bowers
168
Posted 19/12/2020 at 14:57:35
We gotta win today otherwise it's another matchday ruined again.
Shame on Palace and Spurs !!
Joe McMahon
169
Posted 19/12/2020 at 14:58:46
Not sure about Ali, he's complete tosser, but maybe the dives would get us some penalties? That said Everton wouldn't be awarded the volume Spurs get.
Jim Bennings
170
Posted 19/12/2020 at 15:01:35
Tom
I'm not really arsed about the battle for the tite to be honest with you.
We know Liverpool are going to win the league quite comfortably because there's not really a serious challenge to them this season, City's empire has been crumbling for a few seasons now whilst Spurs don't have the sustainability to achieve it, perhaps even the bottle.
My concern today is how we get on against Arsenal.
Dave O\'Connell
171
Posted 19/12/2020 at 15:43:27
Hopefully we play like we have in the last 2 games on a different note watching Southampton city game has Walcott got a twin he never played like this for us
Jay Evans
172
Posted 19/12/2020 at 15:48:55
Jamie 165, thanks mate 👍🏼
I am just parking up now as I have been given an allocated time of arrival of 1615 so not long to wait now.
I feel like a kid on Xmas morning.
Tom Bowers
173
Posted 19/12/2020 at 15:51:46
Little bit of a trivia question.
Are RS the only team to score 7 and concede 7 in separate games in the same season ??
David McMullen
174
Posted 19/12/2020 at 15:56:38
Tom you need to look back at the fixtures from the before the 70's I think teams did that quite often.

Dave Abrahams
175
Posted 19/12/2020 at 15:57:54
Dave (171), I was thinking the same as you watching Walcott today, he not only looks like he belongs at Southampton he looks like he wants to be there, he never looked like that at Everton, and the way he got animated and angry when he was fouled today, never seemed to care the least at Everton.
Chris Williams
176
Posted 19/12/2020 at 16:03:46
Dave,
I'd wait and see how he performs next season if he gets a permanent contract.
Brian Wilkinson
177
Posted 19/12/2020 at 16:08:21
You would not order food when entering shops or a football match, so why the need to order food in a pub, just a thought.
Brian Wilkinson
178
Posted 19/12/2020 at 16:11:31
Minik@148, Man Utd have the 12.30 kick off Boxing Day as well, after the cup game, where we have the late kick off.
Jay Harris
179
Posted 19/12/2020 at 17:17:38
Win 3 in a row and we go second.
That's a massive incentive to the players and encouragement for the supporters.
Let's give the lads a. Rousing welcome and mighty support throughout the game.
While Arsenal are not in good form they are hard to break down so let's hope we have a good game plan.

---
Add Your Comments
In order to post a comment, you need to be logged in as a registered user of the site.
Or Sign up as a ToffeeWeb Member — it's free, takes just a few minutes and will allow you to post your comments on articles and Talking Points submissions across the site.