Everton vs Newcastle United
Friday, 29 January, 2021
Match Preview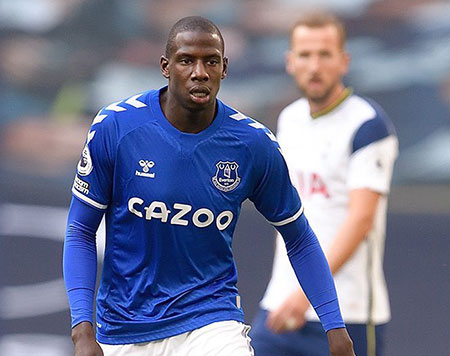 Abdoulaye Doucouré returns to midfield following a one-game suspension
Everton are back at Goodison Park this weekend to face Newcastle United as they look to get back to winning ways by atoning for what was one of the season's most disappointing results in the reverse fixture in early November.
Struggling to deal with injuries and suspensions to two key players in the form of Richarlison and Lucas Digne, the Blues slumped to a 2-1 defeat to the Magpies and Carlo Ancelotti will be hoping for a much improved performance given that his squad is in much better shape this time around.
James Rodriguez was also absent from that loss at at St James's Park but he is expected to play this time having started against Sheffield Wednesday and Leicester in the past week and Alex Iwobi could also be in the starting XI after being named in among the substitutes against the Foxes in midweek.
The Nigerian came off the bench with 10 minutes to go and added a much-needed creative spark but Everton had to settle for a draw that keeps them outside the top four, albeit with games in hand over their rivals for the Champions League places.
Newcastle travel to Merseyside having slumped to 16th place, six places above the relegation zone, following a six-match losing streak in all competitions. In that time, they've scored just two goals and it has ratcheted up the pressure on Steve Bruce who has just added former Everton assistant manager Graeme Jones to his backroom staff.
Whether the urgency of the need to arrest his team's dreadful run prompts Bruce to push Allan Saint-Maximin back into the starting XI rather than continue to ease him back following a heavy bout of COVID-19 remains to be seen but defensively, at least, he is expected to be without Federico Fernandez and Paul Dummett because of injury. DeAndre Yedlin reportedly has a visa issue that could preclude him from playing and might see him end up moving to Galatasaray before the transfer deadline as a result.
Meanwhile, Ancelotti, who may still have nightmares about his team's injury-time collapse in this fixture last season, will be boosted by the eligibility of Abdoulaye Doucouré who served a one-game ban against Leicester. The Frenchman's dynamism and versatility was sorely missed in the 1-1 draw and he will likely replace Tom Davies in midfield.
The rest of the starting line-up could be the same, with the possible exception of Seamus Coleman coming at right back, Lucas Digne dropping back to left-back and Robin Olsen replacing Jordan Pickford if Ancelotti wants to continue his rotation policy in goal.
With West Ham and Liverpool, two teams currently sitting above the Blues in the table, facing off on Sunday, victory for Everton would see them gain ground on at least one of them and keep them in touch with the top of the table that is eight points away at the start of the weekend.
Kick-off: 12:30pm, Saturday 30 January 2021 on BT Sport 1
Referee: Stuart Atwell
VAR: Kevin Friend
Last Time: Everton 2 - 2 Newcastle United
Predicted Line-up: Pickford, Coleman, Keane, Mina, Digne, Doucouré, Gomes, Iwobi, Rodriguez, Richarlison, Calvert-Lewin
---
Reader Comments (116)
Note: the following content is not moderated or vetted by the site owners at the time of submission. Comments are the responsibility of the poster. Disclaimer
John Keating
1
Posted 29/01/2021 at 14:33:56
Really difficult to drop players who have done really well but I think we should give Holgate and Godfrey a break and as per Lyndons team revert to Coleman and Digne
Other differences I would play Sigi in place of Gomes and Olsen in goal
We cannot lose this game
We still have a game in hand and must use it. We have to stick with the pack
Chris Bond
2
Posted 29/01/2021 at 14:34:20
Playing a back 4 has really shored up the defence but at the expense of both Digne and Coleman/Holgate getting forward. We really need Richie to get back to where he was and Iwobi to continue his current form so we can carry a real attacking threat and get balls into the box for Dom. Would keep James in that central mid attacking role with Doucouré and Tom (wasn't impressed with Gomes v Leicester) doing a job in the middle. Alan still a huge miss but surely we have enough to get at the barcodes and cause some real damage??
Martin Reppion
3
Posted 29/01/2021 at 14:34:47
It will be good to have Doucouré back to stiffen up the midfield.
Personally I'd like us to add the creativity of Iwobi from the start. With him out right in a front 3 and James sitting in front of Doucouré and Davies, we have the scope to really boss this one.
I'd like to see Digne back in his Number 3 position, which would be harsh on Godfrey who has done nothing wrong. But, in the current game, squad rotation is inevitable and the lad will know he will be back in the side quickly.
And, just in case, nobody mentions this. I hope we've signed a back-up striker by now.
Francis van Lierop
4
Posted 29/01/2021 at 14:39:28
Like above, it's good to have Doucouré back, we badly missed him against Leicester City.
The key question: Will butter fingers keep his place is goal? Judging by most posts, the majority would like to see Robin Olsen take over.
This is a game we should win. Let's hope for some more James magic.
Richard Mason
5
Posted 29/01/2021 at 15:01:21
I wouldn't mind seeing
Olsen
Coleman Keane Godfrey Digne

Doucouré Gomes
James
Iwobi. DCL. Richarlson
Rob Halligan
6
Posted 29/01/2021 at 15:02:49
Lyndon has his predicted line up wrong, as I've been reliably informed that Pickford has been dropped for tomorrow and Olsen is to play in goal.
Bill Gall
7
Posted 29/01/2021 at 15:04:31
Well this is a different team than Leicester and we should not need to be overly defensive. I believe that Coleman and Digne will be in to provide more support for the attack. It is hard on Godfrey as he has played well, he may have the edge on Digne in the defensive side but Digne has the edge on assisting the attackers. That is the same with Holgate and Coleman.
In goal this is Ancelotti's decision, drop Pickford, and with all the controversy ruin any confidence he had, or simply explain he is continuing his rotation policy.
This game can be classed as a must win to keep up with the top 6 as all though we have games in hand, the opponents in these games will not make it very easy to get a result.
I would like to see more attacking in this game but watching previous games Ancelotti is usually cautious with any team, so I don't see many changes from the Leicester game except Doucoure will be available.
Derek Wadeson
8
Posted 29/01/2021 at 15:06:55
Win this one and it will give us 36 points from 19 games, half way through the season. Same success in the second half of the season would give us a combined 72 points
The average points required for a top four finish in the last six seasons is 71 points
(highest was 76 points, lowest 66 points)
The average points required for a top six finish in the last six seasons is 64 points
(highest was 69 points, lowest 59 points)

Robert Tressell
9
Posted 29/01/2021 at 15:23:57
Lyndon's first 11 looks good to me.
Observations:
1. Pickford probs won't start as others have said
2. I'd like to see Keane and Godfrey together as I suspect that will become our first choice pairing. Not necessarily for this match, although it would allow us to squeeze up a bit higher and apply more pressure.
3. If St Maximin is fit and plays on the left, Coleman probably needs Iwobi ahead of him for a bit of support. Rodriguez moves central or left.
4. I'd really like to see Richarlison much closer to DCL as a support striker. He needs to be in the box, not acting as an auxillary full back.
Jim Bennings
10
Posted 29/01/2021 at 15:32:36
Team for tomorrow.
Olsen (keep him in now)
Godfrey
Keane
Mina
Digne
Iwobi
Doucoure
Sigurdsson
Rodriguez (10)
Richarlison
DCL
Start the game on the front foot, it's a f#ckin' abject Newcastle side, none of this sitting deep and letting them dictate.
That team I've selected there should have enough about it to get at Newcastle and stamp their authority early on.
Alex Gray
11
Posted 29/01/2021 at 15:40:15
Bit off topic but with Tosun Bernard and Gordon linked with moves away doesnt that leave us with no bench practically? Think we'll get a loan in?
Big game tomorrow coyb!
Kieran Kinsella
12
Posted 29/01/2021 at 15:52:34
Rob 6
Does your source indicate if Pickford has been dropped because of the Leicester mishap, or is it again the case that he can't behave himself against Newcastle (even without fans to rile him up)?
Robert Williams
13
Posted 29/01/2021 at 15:58:12
Injuries undoubtedly cost us games, having to make do without our first choices is bad enough but when we then have players missing due to Red/yellow cards that is the killer.
Can't recall all Doucouré's yellows or whether they were avoidable or not but we certainly missed him against Leicester.
The way Richarlison is throwing himself into tackles is another suspension in waiting.
Jay Wood
[BRZ]
14
Posted 29/01/2021 at 16:07:07
Interesting, straight-talking presser from Carlo as always.
When asked a direct question about whether Pickford will play, he neatly side-steps it.
'I never give out full team team in a presser. We have a lot of games coming up. Jordan like other players will be rotated. I haven't decided who plays in goal tomorrow.
'Yes, he made a mistake. He knows that. But he has my confidence and the team's confidence. I think rotating with Olsen has helped improve him.'
On defending: 'We are in a good position in the league because of our defending. We have shown we are good and confident in a low block, defending deep. I don't want or expect my attacking players like James, DCL and Richarlison defending. The next step is playing with the same confidence and defensive solidity 15 metres further up the pitch so we we press the opposition higher and create more attacking opportunities for the team.
'We have fantastic headers of the ball and it is no coincidence that with the delivery of the likes of James and Siggy we score from dead ball situations. We play to our qualities and that is one of our best qualities.'
Kinda indicates he knows what he's doing and knows where he wants us to go.
Since joining us didn't he always so his job at Everton is one of evolution, not revolution?
Rob Halligan
15
Posted 29/01/2021 at 16:14:05
Kieran, he didn't tell me the reason why, but I'm guessing it's because of the other night.
Neil Lawson
16
Posted 29/01/2021 at 16:18:16
As on Wednesday, little point in trying to first guess what Carlo will do. Perhaps the only certainty is that there will be a surprise as per usual. What will not be a surprise will be the inclusion of Olsen. He deserves a decent run with flapper Pickford occasionally "rotating" for him.
Thomas Richards
17
Posted 29/01/2021 at 16:18:42
From the horses mouth Jay.
Most Everton fans understand it already.
You cant go from the state we were in, straight into a side playing free flowing football when you havent got free flowing players.
Hopefully it gives the doubters a bit of insight.
I remain 100% confident in the manager.
Kieran Kinsella
18
Posted 29/01/2021 at 16:19:25
Jay
Carlo's pressers are a breath of fresh air after Marco Silva's. The latter was always on the defensive, "we are not changing how we play, tactics are right, team is right, just need to improve whilst doing everything exactly the same." Earlier this year after our great start, Carlo addressed our defensive frailty and clearly has fixed it. He has more recently been talking about retaining possession better and clearly we have (for the most part done that). The other thing I would point out is that the "park the bus" tag is applied by some as if the intent was just to create a siege situation around our own goal. Klopp accused Man Utd of doing just that recently. But Solskjaer retorted saying, that wasn't the plan, it just looked that way because his team were careless in possession so their attacks didn't come to fruition. I believe it was the same with us against Leicester. Yes we were conservative but when we did have the ball we didn't use it wisely, lost it and put ourselves back under pressure.
Joe McMahon
19
Posted 29/01/2021 at 16:22:24
Pickford cannot play, he has a history of calamity against Newcastle on 2 other occasions (like Liverpool). Ideally the 30 million pound relegation keeper wouldn't play for us again, he costs us too many points every season and and is an embarrassment.
Hoping we somehow obtain a goalscorer before the deadline (but not looking good). Teams around us with way better Goal differences, and as the saying goes - goals win games.
Jamielia Crowley
20
Posted 29/01/2021 at 16:28:18
As Carlo knows what he's doing, I expect much more attacking intent.
This is a game we need to take it to the opposition, and I suspect Carlo knows that.
I don't doubt our defending for a second. We've looked so solid in the main.
Does anyone think this is our best "defensive team" in the last 15 years?
I think it is.
Ergo, we need to go at teams like New Castle and make them defend.
This will be an entirely different game compared to the Leicester game.
Kieran Kinsella
21
Posted 29/01/2021 at 16:40:28
Jamie 20
I don't know. As recently as RM's first season in 2014 we only conceded 39 goals with the old guard of Jags, Coleman, Baines, Distin, Howard. I'd say that group had a better balance between being attacking/defensive too
Ian Horan
22
Posted 29/01/2021 at 16:46:01
Tomorrow game Carlo maybe tempted to go with changed given the high intensity we face mid week against Leeds then Man U. I wouldn't be surprised if we went 3 5 2.
Olsen
Holgate, Mina, Keane
Coleman. Duke, Davies, James, Digne
DCL Ritchie.
With Siggi for James after the hour and Gomes for Davies.
Obviously once the games put to bed. I hope for a 3-1 COYBB
Bobby Mallon
23
Posted 29/01/2021 at 16:46:28
Jay 14 that link don't work for presser
Robert Tressell
24
Posted 29/01/2021 at 16:52:44
I'd forgotten that Pickford has previous with the Ncl fans. Probs best to go Olsen
John Dingle
25
Posted 29/01/2021 at 16:53:56
My team is:
Olsen
Coleman
Mina
Keane
Godfrey
Doucouré
Davies or Holgate
Iwobi
James
Digne
Calvert-Lewin
I've selected the players in form and shoehorned them into a system.
Just watched the Brighton game where Pickford dropped the simplest of catches and conceded a goal.
I never wish to see the sight of him thumping the ground in frustration again, just make the save. His ground thumping reminds me of Ashley Williams pulling his shirt over his head, never want to be seen.
For some reason, Richarlison can't seem to beat his man and is benched.
Gomes too slow.
Seamus and Digne to provide the crosses for Calvert-Lewin and James and Iwobi the creative chances.

Derek Wadeson
26
Posted 29/01/2021 at 16:57:44
Kieran 21 to me Martinez acheived that record with David Moyes defence, he then messed it up by making them play out from the back rather than do what they were best at.
Carlo has got us defending again without conceding, earlier in the season we needed to score two goals a game or more to win it.
One can only presume the next part is to be more active upfront without giving anything away at the back. Our best eleven is a match for anybody at the moment but we need a better back up when more than a couple are out injured or suspended.
John Boon
27
Posted 29/01/2021 at 17:00:52
Jim Benning (10) That is exactly the team I would like to see. But you must realise that you will have hundreds of posters telling you that the line up was wrong, if we don't win. Not only that but Ancelotti should be fired for choosing such a line up.HOWEVER he will be a genius IF we win.
Oh the fickleness of most supporters of any team.Being a follower of Everton means that your favourite ride at the Fairground is the Roller Coaster. OR if you are still living on past glories, The Ghost Train.
Rob Halligan
28
Posted 29/01/2021 at 17:01:37
Robert # 24, just that there will be no Newcastle fans there to give Pickford any grief. Unless the Longstaffe brothers both play and decide to give Pickford down the banks!! 😁😁😁
Jay Wood
[BRZ]
29
Posted 29/01/2021 at 17:03:45
Bobby @ 23.
The link is working fine. They always show a still photo before going live.
Just advance the video to around the 8 mins 30 secs mark and you will see and hear Carlo.
Barry Williams
30
Posted 29/01/2021 at 17:16:33
"Of course when we have the defensive line deep, James, Calvert-Lewin, Richarlison has difficulty showing their quality, they are not defenders. We have to give them more opportunity to have the ball and use their quality."
Ancelotti
Mike Oates
31
Posted 29/01/2021 at 17:20:10
If Maxim plays we need Godfrey at right back as I think he could give Coleman a roasting. Godfrey has the strength and pace to take care of Maxim.
Team
Olsen
Godfrey Mina Keane Digne
Iwobi Doucoure Gomes
Rodrquiez
DCL Richarlison
Kieran Kinsella
32
Posted 29/01/2021 at 17:21:01
Derek 26
I agree. Much like when Arsene inherited Graham's defence at Arsenal. As time went on he molded his own backline and they went downhill
Jack Convery
33
Posted 29/01/2021 at 17:31:01
The team for tomorrow has to be set up to get the most out of DCL and get him firing again in the EPL.
Olsen
Coleman
Digne
Mina
Keane
Iwobi
Davies
Doucoure
Richarlson
DCL
James
in a 4 2 3 1 formation.
A lot depends on how well Digne has recovered from the Leicester game and how fit Iwobi actually is. Godfrey is very unlucky to lose his place but we must go out to win from the off and score as many as possible before shutting up shop. This is a must win game to prevent that gap at the top opening up anymore. Having lost 2 points in the week its time to take 3.
Before the window closes a couple of surprise incomings would be welcome. A striker and midfielder hopefully.
Jon Harding
34
Posted 29/01/2021 at 17:34:04
I really hope we see Olsen in nets.
Any combination of 10 outfield players should see off Newcastle. I still can't believe we lost to them before Christmas.
Some attack-minded play would be nice too.
Tony Twist
35
Posted 29/01/2021 at 17:46:41
In true Everton style I think we will mess this up. I hope they prove me wrong and Olsen plays, keeps a clean sheet and we score goals for fun but I am not convinced that this team has forgotten bad habits of old.
My team would be:
Olsen,
Holgate, Keane, Mina, Digne,
Iwobi, Godfrey, Doucoure,
James, Calvert-Lewin, Richarlison.
Best of luck blues, especially Richarlison in front of goal.
Jerome Shields
36
Posted 29/01/2021 at 17:56:55
Picford is not a Top four goaljeeper
Jerome Shields
37
Posted 29/01/2021 at 17:56:57
Picford is not a Top four goaljeeper
Martin Mason
38
Posted 29/01/2021 at 18:04:25
We'll still be short of a DM as Doucoure is b2b where he'll match well with Gomes. My thoughts would be that we will keep TD as a deep midfield where he has actually played very well in Allan's absence. James and DCL up front in a 4-1-3-2. Terrible luck for Godfrey who has been a revelation and Siggy too who's played well in that forward pressing role. Bad luck for Mason too but Keane and Mina are our best CB pairing. Mason isn't a RB though and he certainly will never be a DM player.
Tony Everan
39
Posted 29/01/2021 at 18:05:08
I prefer Holgate at right back to Coleman, Keane and Mina have done well as a pairing, Godfrey can't be left out. Olsen deserves his chance to be no1. Get our best , fit 11 players on the pitch .
Olsen
Holgate Keane Mina Godfrey
Iwobi Doucoure Digne
James DCL Richarlison
Attack !
In the style of Tony S , COYB let's beat these Barcoded Bastards to a fucking pulp !
Geoff Lambert
40
Posted 29/01/2021 at 18:08:56
If Tosun is leaving and Keane and Wallcott already out we must be signing another striker we must be!!
Henrik Lyngsie
41
Posted 29/01/2021 at 18:23:01
According to rumours in Denmark is Loessl on his way back to danish champions FC Midtjylland on a free.
Jay Wood
[BRZ]
42
Posted 29/01/2021 at 18:23:02
I see the United game has been confirmed for Saturday with a 5pm KO. Gives us plenty of time before playing Spurs in the cup on the Wednesday.
Tom Bowers
43
Posted 29/01/2021 at 18:24:54
Well here's a good chance to get some goals and three points.
How many times have we thought that but seriously though it is against a struggling team and a good chance to avenge the result at Tyneside.
We have our own problems but if we are to show the rest of the Prem. that we will be a top four team if not this season then for sure the next then we have to impress against teams like the Barcodes.
C.O.Y.B.
Stephen Brown
44
Posted 29/01/2021 at 18:33:43
Carlo's press conference was superb and he clearly can see our strengths and areas to improve on. He's also changing tack a little on expectations! We can compete with any side in the league was a favourite quote!
I'd go for it tomorrow! High intensity from the start and wouldn't it be nice to have a comfortable win without having head in hands for last 10 minutes!
Olsen
Godfrey Mina Keane Digne
Davies Doucoure
Iwobi James Richarlson
DCL
Rob Halligan
45
Posted 29/01/2021 at 18:35:22
Jay # 42, according to the official club website, it's an 8pm kick off against United. The home game against Fulham is the following Sunday with a 7pm kick off.
Derek Wadeson
46
Posted 29/01/2021 at 18:38:39
Jay (42) The movement of the the United game to the Saturday gives us a good spread of fixtures throughout February, Wednesday then Saurday or Sunday for all.
Can't help thinking the United game only got changed because they are still in the FA Cup otherwise I think we would of been playing Monday and Wednesday that week.
Kieran (32) We think alike on that one.
Mike Gaynes
47
Posted 29/01/2021 at 18:41:07
#20, Jamielia???
Rob #6, your insider info is always appreciated. You're TW's Deep Throat (and I say that in a good way!).
Doucouré has become an irreplaceable cog and I'm happy he'll be back, but it's Allan I miss the most.
Meanwhile, of the nominated lineups I've seen here so far, I like Tony Everan's the best.
And I will, like all of you, take a special pleasure in our 3-0 victory becoming the final straw that sends Flatnose Brucie spiraling into a beach vacation. The Monday morning announcement of Rafa or Howe as the new Boss Barcode should give us appropriate credit for de-Brucing the Premier League once and for all.
David Pearl
48
Posted 29/01/2021 at 18:46:21
Lyndon is spot on with the outfield players... it remains to be seen if Olsen comes in or if Carlo supports Pickford.
If Gomes has recovered l guess he will play ahead of Davies. However l personally would have Tom in the hole so Doucoure can stretch his legs and get forward more.
The back 4 lends itself to us playing more on the front foot. Surely Carlo has to release our attack for this game.
3 points really needed for this one to keep up with our aspirations. Oh, and if we let a 5th attacking player go without bringing in a capable replacement l will be pretty pissed. Kean, Simms, Bolasie, Walcott... Tosun...?
Jay Wood
[BRZ]
49
Posted 29/01/2021 at 18:52:20
Thanks for the correction Rob @ 45.
I got it from the club's own website and I can see they can see me!
The KO times get automatically re-adjusted to my location - currently 3 hours difference for me here in Brazil.
Tomorrow's game v the Barcodes for example is listed for me as 9.30am, for obviously the 12.30pm KO.
Rob Halligan
50
Posted 29/01/2021 at 19:11:54
Well I never knew that, Jay, so I guess you were right in the first place.
Derek Knox
51
Posted 29/01/2021 at 19:23:07
I never like to get in to predicting the starting eleven, but I believe Godfrey's name should, if fit, be an automatic choice, he hasn't put a foot wrong and that is basically playing out of his natural position, he gives strength and speed to an already decent defence. Also think with Digne in front of him it gives us a great left attacking option with Lucas providing those crosses for DCL to feed off.
I'm not suggesting the Barcodes will be a serious threat like Leicester, but shouldn't be taken for granted either. They are going through a poor spell but have also pulled off some surprising results too. Without sounding over optimistic we need to be getting that GD a lot better than it is plus increase the points tally.
I felt without another fumbling mistake by Pickford on Wednesday night we could well have hung on for all three points, so Olsen has to come back in, not only to teach him a lesson but to add stability to an already strong defence.
John Skelly
52
Posted 29/01/2021 at 19:35:04
Tongue in cheek again crystal palace will not Finnish above 10th so Zaha represents good value if his wages are attainable, he will be as has said before the missing link to our faultering attack force.
David Pearl
53
Posted 29/01/2021 at 19:38:02
I agree Derek, Godfrey has been very good. However with him playing LB and Digne ahead it takes one of Iwobi or Richarlison out of the team. And l too want us to improve our goal difference... with a 5-0 win, please.
Darren Hind
54
Posted 29/01/2021 at 19:40:20
Jamelia @20
I didnt see you up there. So ya went through with it ?
Eddie Dunn
55
Posted 29/01/2021 at 19:44:20
Hillarious that Jerome tells us that Pickford is not a top four goalkeeper. Jerome, take a look at the table...at the moment he is a top seven goalie but earlier in the season we were top so he was a top one goalkeeper. So by this logic the whole team is a top seven team.
Personally I can't see why Newcastle should fill him with any unease because there are no Newcastle fans standing there goading him.
Just wait till Olsen makes a mistake and half of the Pickford-haters will vent their spleens on the Swede.
Carlo is quite rightly trying not to show all of his cards for tomorrow but I would expect an attempt to make us more attack-minded.
In a meritocracy the dreadful Richarlison would be warming his arse on the bench but we all know there is one rule for some and another if you used to be good.
Derek Knox
56
Posted 29/01/2021 at 19:45:34
David @ 53, I appreciate that the left sided combination I proposed does come at a cost, but it can also be argued that for a few games now Richie has just not been the Richie we have all come to love and trust. In fact he has been the opposite, for fear of an oversize Brazilian Dummy being ejected from the pram, a spell on the bench might just focus him a little more and reflect on how valuable a player he used to be to us.
John Skelly
57
Posted 29/01/2021 at 19:57:18
Benching Richie would in my opinion would only dent his confidence, so give him a more central attacking option to see how he copes, if doesn't produce then rest him.
Paul Birmingham
58
Posted 29/01/2021 at 20:02:23
It's a must win, and I like Jim@10, team selection.
Hopefully stick a few goals in and build some confidence for the next game.
Clive Rogers
59
Posted 29/01/2021 at 20:51:33
Godfrey will play as he is in form and improving every game. Holgate is the first to go from the back four on current form. Digne to play wide left and Iwobi right, Richie on the bench.
Nicolas Piñon
60
Posted 29/01/2021 at 20:53:26
If Iwobi doesnt start this one cause Carlo insists on putting a left back in midfield instead of him, I believe he could begin to analyZe his way out because lately he was getting in his best form. So that would be a huge mistake in my opinion from Carlo. Anyway I don't think he'll leave him out.
Olsen; Holgate, Keane, Mina, Digne; Iwobi, Doucoure, Davies, Richarlison; James; DCL.
That's our best team for tomorrow I believe.
Don't think Pickford made a mistake on Leicester's goal. Other mistakes yes probably.
Bill Gall
61
Posted 29/01/2021 at 20:55:41
I understand supporters saying Godfrey has not put a foot wrong in covering for Digne. The problem is Digne was considered as 1 of the best left backs in Europe before he was injured and seems out of place as a wing back, plus Richarleson was more effective with Digne behind him, and Digne is a better crosser of the ball than Godfrey plus has come up with the odd goal.
I think Digne will be back as left back. As Ancelotti says he likes players who can play in different positions he may try Godfrey in Alan's position until he is fully fit
Kieran Kinsella
62
Posted 29/01/2021 at 21:06:37
The toughest thing is deciding which weak link to play of Davies, Gomez, and Sig. And how do we compensate for the various weaknesses of whoever is chosen.
Derek Knox
63
Posted 29/01/2021 at 21:13:30
Off topic a bit, but watching the Reading V Bournemouth game, how that Josh King reckons he's worth £100K/week is beyond me he has hardly been involved at all. I did say a while back he may be a decent emergency addition, to bolster the attack, but not on those sort of wages, and certainly not on this type of performance.
Like Popeye used to say " Who does that guy think he is "?
Tony Abrahams
64
Posted 29/01/2021 at 21:16:41
He probably can't be arsed Derek, thinking about the money that nobody will offer him
Jamie Crowley
65
Posted 29/01/2021 at 21:18:06
Firstly to Mike Gaynes, Darren, and Brendan McLaughlin where ever you may be, I switched back. The change didn't fit me.
Barry @ 30 -
This is why Ancelotti is brilliant. He recognizes we need to be more attacking, but he understands his players and the strengths of his current team. Change will come to our playing style. Game by game and season by season.
I've said forever and a day - give me a manager who analyzes his team and implements a system around it's strengths. Managers who "have a system" and try to implement that system no matter how well it fits into their present player pool, are fools. Carlo is no fool.
Kieran @21, you may be right. But where I'd give the upper hand to our current defensive players is that I truly believe this group will be much more reliable for a much longer period of time. That was a single season, and didn't pass the test-of-time mustard test. This group, man-for-man, is better defensively. And I think we're going to see the fruits of that for many years to come.
David Pearl
66
Posted 29/01/2021 at 21:20:30
I'd like us to play the same 11 as the first 4 games, with only Allan missing. I'd try lwobi in the middle as l much prefer James on the right as he has more passing optioms ahead if him. Looking forward to the game!!
Derek Knox
67
Posted 29/01/2021 at 21:30:51
Jamie, I almost didn't recognise you there, these Gender Adjustment Operations must be not only confusing, but costing a 'Queen's Ransom'! :-)
Peter Mills
68
Posted 29/01/2021 at 21:59:59
I realise I will have to spend some time in purgatory for revelling in the misfortune of another, but the roar that went up at Wembley 1995 when Steve Bruce pulled his hammy was one of my favourite ever moments watching Everton.
Brian Wilkinson
69
Posted 29/01/2021 at 22:22:37
I do not think Carlo is looking to rotate goalkeepers in regards to a midweek game next week, I think it is more to do with the opponents being Newcastle, and we all know how Pickford was easily distracted when we let a 2 nil lead slip.
I Know there will be no fans there, but I still believe if it was any other team, then Pickford would start, so yes, I think it is down to the team we are playing, that Carlo might take him out of the firing line and give Olsen a run out.
Mike Gaynes
70
Posted 29/01/2021 at 23:49:37
Gender Bender #65, please post the medical details on that one if they're not too graphic. I think the New England Journal of Medicine might be interested. Or at least the Enquirer.
Steve Shave
72
Posted 30/01/2021 at 00:09:27
Nicholas 60, I respect your opinion and would probably pick the same team. However, I fail to see how that goal wasn't Pickfords fault?
Fran Mitchell
73
Posted 30/01/2021 at 00:17:54
Tomorrow hope to see Digne back at left back, Iwobi on the right, and Doucoure in the middle. Will be interesting to see if Pickford keeps his place or if he is 'rotated'.
Pickford
Digne Holgate Mina Godfrey * dropping keane may seem absurd, but who to drop?
Doucoure Davies
Rodrigues Richarlison Iwobi
DCL
This is the type of game we need to win. Too often we fuck up in this type.

Graham Hammond
74
Posted 30/01/2021 at 00:40:00
Whilst I would agree that both Richarlison and DCL were poor on the night against Leicester I would argue that Richy put in a better shift than DCL (on the night) and so talk of him being dropped after his stellar defensive contribution and his improvement after being switched to his preferred position on the left dictate that he should make the starting eleven. It wasn't Richy's fault that Carlo got some things wrong. Maybe DCL was protecting his hamstring, maybe he now feels he is on easy street and now undroppable, I do not know, but I certainly want and expect him to up his work rate and movement against Newcastle. I will be very disappointed if Pickford starts this one.
Kieran Kinsella
75
Posted 30/01/2021 at 01:08:17
Graham
Based on Carlo's comments I don't think DCL dropped his work rate, I think Carlo wants him up top as the fox in the box and not the workhouse running the channels as he was under Koeman. Obviously if we never get the ball near the box he looks like a lazy spectator but that's a consequence of the tactics and inept team mates
Nicolas Piñon
76
Posted 30/01/2021 at 04:22:56
Steve72, As I see it, it's a shot from the border of the area (short distance) where Four players were covering Pickford from seeing the player shooting (thus the direction the ball would probably take) and On top of that the pitch was wet. Meaning: circumstances were completely against him in that one. Unfair to get on the kids back I believe.
David Hayes
77
Posted 30/01/2021 at 06:47:52
Nicolas#76. Thanks exactly what I saw. If you watched the highlights from other prem games, it happens on many occasions that even though the various keepers get a strong hand to a shot,the power of the shot takes it in. The Richy goal against Leicester away this season just one of many examples from many prem keepers. Is Schmiceal therefore a disaster and a liability along with all the others?. No it's just frustration, expressed with an easy target for the aganst To claim it solely cost us the win and ingnore everything else in the game including Pickford's saves and strikers misses of chances and all players mistakes in that game is ludicrous. But it's human nature to need a target for frustration when expectation is dashed sense and actual events evaporate and anger needs a focal point. It's all part of the emitional rollercoaster. Just some take it too far, for me. COYB.
David Greenwood
78
Posted 30/01/2021 at 07:30:56
Today's game.
Anything less than a win by three clear goals will have the Ancelloti haters out in full force. It's not good enough, Newcastle are shite, the football was terrible and so on.
Winning by more than three will still be used as a stick to beat him with, why can't he do that more often, that was despite him not because of him etc etc.
Me, I think we will win 4-0 today, we have a few players with some demons to exorcise from the game up there, as well as being better individually and collectively and having a better manager.
I couldn't care less though what the football is like as long as we win. Anyone who thinks performance matters more than the result needs to give their head a wobble and take their trolling shite elsewhere.
COYB
Eddie Dunn
79
Posted 30/01/2021 at 07:39:31
Nicolas and David, I totally agree that it is far too easy to blame Pickford for a slight error. How many misplaced passes were there on the night, scuffed shots or wayward clearances. It's a wet ball, a greasy surface, a sea of legs etc, etc. Those of us who have played in goal at any level will testify that your teammates can do numerous cock-ups but one from the poor keeper, and everone piles-in.
While I like Olsen, and am quite happy to see him play, I have noticed a witch-hunt from the RS media since Saint Virgil was crippled. Please let's not fan the flames.
The Red-Loving radio and TV pundits are very keen for Nick Pope to oust Jordan from the England set-up and Pickford's every clearance that goes straight out is mentioned on the commentry. Schmichel can do the same without a whisper.
Pickford made a fair amount of reflex saves on the night and who knows whether Olsen would have done the same?
More important is the question of how we are going to stop such shots today?
Doucoure will be a welcome returnee but can we dominate the middle of the park?

David Hayes
80
Posted 30/01/2021 at 07:57:25
David# 78, you said it much better than I could, but unfortunately it's ingrained in many, who only want to see the negatives and revel in it, no matter what the results. Boring and poor reading for others but it won't change and posts like yours above and some of mine will be ignored, so scroll past.them and ignore them is your only choice. It's going to be a tighter game than expected given current form, but we definitely have too much for them all round, if our level is right, a win is more likely.
Neil Lawson
81
Posted 30/01/2021 at 08:00:33
You can find a variety of reasons/excuses for Pickford's failure to save the shot, but none of them overcome the simple fact that as a top class goalkeeper, he should have saved it and with ease. He should have punched well clear, again with ease, immediately prior to avoid the chance even occurring.
Yes, we all make mistakes and in life it is often crucial to give support and encouragement to those who do. However, at £100,000 per week ( or whatever) when those mistakes recur you can not help but think, time for a change and better consistency and value for money.
Jonathan Tasker
82
Posted 30/01/2021 at 08:05:07
If Carlo is serious about finishing in the top four he needs to drop Pickford
Arthur Westhead
83
Posted 30/01/2021 at 08:12:12
Digne is superb at getting up the left and creating chances. He just has to start, but is best at left back. Further up the field doesn't suit him as he will always be closed down quickly. Coming from deeper he has space to run in to. I remember in Seamus early days he played further up on the right, and was poor. Once he settled at right back and used the space ahead to attack he blossomed.
But Godfrey has been brilliant (out of natural position) and could play at rightback. Although in this game Seamus may give more going forward. Holgate has been poor in recent games at right back, given nothing going forward and must be on the bench. He is definitely 3rd choice.
Keane has been a revelation (to my amazement!) and with Mina alongside are at last playing like a decent combination. But it's only a matter of time until Godfrey is in there. In the middle obviously Doucoure is back, leaving a pick from Tom, Andre and Gylfi. You could play any one of them in this game but I would like to see if Godfrey could play there.
The front four pick themselves as despite Richarlison's poor form there is just no realistic challenge for a place from anyonelse. DCL, James, Iwobi, Richi.
That only leaves the goalkeeper. Easisest decision of the lot, but it has been for two years. Change is essential.

Kevin Prytherch
84
Posted 30/01/2021 at 08:24:59
I'm hoping it will be London's team, but with Davies instead of Gomes. I thought that Davies was outstanding in the first half against Leicester and looks like he could blossom into Allans natural heir.
It's harsh on Godfrey and Holgate, but in games like this we have to destroy the opposition from the off - and that means attacking full backs and wide players.
I think that playing this way needs a midfielder sitting to protect against the counter and, in Allans absence, that isn't Gomes.
Mike Corcoran
85
Posted 30/01/2021 at 08:43:31
Presuming fit and ready, I'd like to see Olsen - Godfrey, Keane, Mina, Digne - Davies, Doucoure, - Iwobi, James, Richarlison - DCL.
Digne and Rich need to get that left side duo back and Godfrey needed for pace at RB if StMax starts. We are the 3 at the back when Digne bombs on with Rich pushing slightly inside and further up when attacking. The barcodes are tosh, COYB let's cat the twunts!
Fran Mitchell
86
Posted 30/01/2021 at 09:03:46
The Press Conference with Carlo is well worth the watch. I truly do not understand those who see Carlo as some sort of charlatan.
He is honest, doesn't bullshit. He says how we are doing well, but could be better. How we are defending well, but need to attack better. He identifies where we need to improve, and how but explains also why we have set up as we have.
He is not like an Allardyce who would set the team up as 4-5-1 with 10 men behind the ball and would say he is happy with that and scoff at those who suggest we need to improve. Nothing of the sort.
Carlo talks with clarity that he targets Champions League, he challenges his players to improve and achieve Champions League - but he admits it is difficult. He admits we are reliant on specific players for goals, or set pieces, that our qualities are limited and need to improve.
This is a manager who knows what a World Class team is, he knows what a Champions League team is. When he's on the training field, he'll see more than anyone what we need to improve - that we need this, that, and the other.
Carlo has not been perfect, and the Everton performances have not been perfect - far from it, but for the first time in a long time I am 100% confident that Everton's future development does not depend on a change in manager.
Andy Crooks
87
Posted 30/01/2021 at 09:15:36
David, it was a howler from Pickford, one of far too many. " The power of the shot"?? The shot wasn't struck by Roy Race. In fact my late nan struck the ball with more power.
I don't rate Pickford at all but plenty who know better do, but absolving him from blame for that goal isn't defending him, it is ludicrous.
Richard Mason
88
Posted 30/01/2021 at 09:20:09
In Carlos presser, he said they are defending deep, he is instilling the confidence and tactics deeper and when they are comfortable he will start the defending 50yards higher up the pitch.
Bobby Mallon
89
Posted 30/01/2021 at 09:22:24
Could this be a game for 3/5/2
Godfrey
Keane
Mina
Iwobi
Doucourér
Davies
Rodriguez
Digne
DCL
Richy
Eddie Dunn
90
Posted 30/01/2021 at 09:43:55
Jonathan@82, he may well "drop" Pickford for this game, but if he does it wiil only be for this one match.
Liam Mogan
91
Posted 30/01/2021 at 09:47:55
Lovely item on bbc news about Everton contacting fans in pandemic. Carlo comes across as a truly genuine human being. For all the things we rightly have go about, the club does do some things well.
Darren Hind
92
Posted 30/01/2021 at 09:48:09
For those who understand the difference between A great value bet and being entertained (Not Jay Wood). The bookies have been offering incredibly good odds for Everton wins this season. Even mug punters like me have been making hay.
When I saw the Wolves team I had a quick check and again we were terrific value, so I took some more off them.
Whether they have wised up, or have taken a severe enough kicking from opportunistic blues, or simply don't like the look of this Newcastle team. They are back to given nothing away. No value around for this one -Ten will get you five.
I'm hoping the trade off is that we open up and blitz these Geordie fuckers today. They are looking to stop the rot, so they will be a tough nut to crack, but if we can get an early one, we may just be able to expose a brittle confidence.
Fran Mitchell
Yep. You make a very fair point.
When accusations that Anceotti was only here to "top up his pension" were flying. I was front and center, but I have watched how he has warmed to the City, The fans and the club. He loves the place...I have been watching his interviews closely and think he believes he can do something special. You cant fake that..Not if your audience is largely made up of battle hardened cynical scouser's.
"Strike that accusation from the charge sheet, Your honor. There is no evidence to substantiate it" I was wrong.
Thomas Richards
93
Posted 30/01/2021 at 09:54:44
Alan J Thompson
94
Posted 30/01/2021 at 10:08:02
Wouldn't surprise me to see Davies retained in midfield with Doucoure returning and Iwobe wide, Digne rested and Olsen in goal not because of the Leicester game but more last year's Toon game.
The interesting part may be who plays full back or if we go with a back three and one other in midfield.
Alan McGuffog
95
Posted 30/01/2021 at 10:20:33
Just to get us all in the mood, The Big Match Revisited is featuring Carlisle v Everton from 1975.
If I'm correct they are the only side to have a one hundred percent record against us. Took four off us that season.
Think I'll give it a swerve
John Keating
96
Posted 30/01/2021 at 10:22:13
Interesting article on the BBC about Sergio Ramos
There's a multi multi millionaire 35 won everything and still does the business every week
Wish we had a few like him
Mind you the BBC couldn't help themselves and had to put a picture of him challenging Salah in the 2018 final
Great tackle
Brian Murray
97
Posted 30/01/2021 at 10:22:24
A lot on here seem to be saying if at the start of the season we would be grateful for this position. YES BUT WHEN iN POSiITION of strength act on it. Everton seem content not to strengthen even with the likes of Bernard and tosun off the wage books. Don't give me that cack about January a bad month. That's why we employed Brands to find these gems known or unknown. Sell Pickford back to Sunderland that's about his level and donnauma is apparently a free agent.
Christy Ring
98
Posted 30/01/2021 at 10:26:04
I'd play Coleman and Digne at full back, Holgate is not a full back, I like Godfrey but Digne offers more going forward, and works better with Richarlison and Calvert-Lewin, and Davies deserves to start after his performance in midweek.
Frank Fearns
99
Posted 30/01/2021 at 10:26:55
I don't care who plays as long as we don't go into that stupid defensive mindset. COYB
Steve Carse
100
Posted 30/01/2021 at 10:34:42
For those putting a case in defence of Pickford for the goal conceded it seems to be getting forgotten that letting the shot in was actually Pickford's third error of judgement in 30 seconds, with each error worse than the previous one. A criminal spell of goalkeeping. Just how bad was reflected in the players' reactions, with several of them holding their heads in their hands and all the others immediately turning away in frustration.
Peter Mills
101
Posted 30/01/2021 at 10:37:11
Post#92. 30/01/21, Darren's Damascene Day.
Mike Corcoran
102
Posted 30/01/2021 at 10:45:04
Newcastle will make make it uglier than even we are used to as they look to pinch a point. We need an early goal to open things up.
Jay Wood
[BRZ]
103
Posted 30/01/2021 at 10:45:25
So Darren.
You're happy to profit from Everton, but not to praise them.
How very Shakesperian. And mercernary.
Darren Hind
104
Posted 30/01/2021 at 10:54:05
Shakesperian ?. . . Me ???
That said; The robbed that smiles, steals something from the thief.
Laurie Hartley
105
Posted 30/01/2021 at 10:54:55
I do think Carlo will mix it up a bit for this one:
Olsen
Coleman, Keane, Mina, Digne
Doucoure, Gomes
Iwobi, Rodrigues, Richarlison
DCL
Richy back on the right hand side of the pitch where he belongs and is at his most dangerous. If I was a gambler I would have a few bob on him scoring two in this game.
I really rate Godfrey for his attitude, tackling, and pace - we have signed a proper footballer in that lad.
I am sure though, that Carlo will rest him for this game and Fulham because we will need those qualities in the other four February fixtures.
Up the Blues!!!
Dick Fearon
106
Posted 30/01/2021 at 10:58:49
I hope we don't see another 1- 9- 1 line up. Not in this or any other game ever again.
John Raftery
107
Posted 30/01/2021 at 11:14:34
I am not sure Gomes is physically capable of delivering two effective performances in less than four days. I will be surprised if he starts and would expect Davies, or more likely Sigurdsson, to partner Doucouré.
We lost against all of our next three opponents before Christmas so anything we pick up from these games will be progress.
Thomas Richards
108
Posted 30/01/2021 at 11:15:05
Now is the winter of our disconsent
Brian Harrison
109
Posted 30/01/2021 at 11:16:33
I just hope that Richarlison and DCL are better today than they have been for the last few weeks were both have been off the pace. I see Newcastle have gone 11 games since their last win, when we play a side with them sort of stats it worries the hell out of me. Our season stumbled slightly when earlier in the season when we played Newcastle and Leeds who we play in midweek, lets hope we put them loses behind us and win both of these next 2 games.
Steve Shave
110
Posted 30/01/2021 at 11:20:04
Nothing but a solid 3 points will be acceptable today. They have players who can hurt you (ala Saint-Maximillion) but we must push for the killer goals.
Brent Stephens
111
Posted 30/01/2021 at 11:20:44
Thomas, and how about:
"Progress is impossible without change; and those who cannot change their minds cannot change anything". George Bernard Shaw.
"Whether you choose to move on from your struggles and enjoy life or waddle in your misery, life will continue." Germany Kent.
Clive Rogers
112
Posted 30/01/2021 at 11:23:10
Dick, 106, I hope we do see a 1-9-1 line up because with the goalkeeper we'll have 12 on the pitch. Coyb
Oliver Molloy
113
Posted 30/01/2021 at 11:29:34
I hope i'm wrong, but I i have a bad feeling about this match.
Jay Wood
[BRZ]
114
Posted 30/01/2021 at 11:35:00
Pickford retained. Full-backs restored. Doucoure, Siggy and Iwobi return.
Pickford
Coleman
Mina
Keane
Digne
Doucoure
Siggy
Iwobi
James
DCL
Richy

Andrew Clare
115
Posted 30/01/2021 at 11:36:47
In these sort of games it's important to get the early goal/goals as then they other team has no alternative but to change their tactics.
I think with James providing the vital pass and Iwobi dribbling into the box we can break them down.
COYB's!
Jay Wood
[BRZ]
116
Posted 30/01/2021 at 11:38:02
Subs:
Virginia and Olsen (Losl reported to be on his way out)
Kenny
Holgate
Godfrey
Gomes
Davies
Gordon
No Bernard or Tosun, also both reportedly on their way out.
Rob Dolby
117
Posted 30/01/2021 at 11:47:20
I really don't care if we play 1-9-1 the only thing that matters is the result.
The old adage of winning the individual battles for the right to play.
Newcastle will come for the draw and hope to grab something on the break.
Put yourself in their position. They would love to see Godfrey rested and Pickford in goal.
Just seen the team, harsh on Godfrey and Davies.
---
Add Your Comments
In order to post a comment, you need to be logged in as a registered user of the site.
Or Sign up as a ToffeeWeb Member — it's free, takes just a few minutes and will allow you to post your comments on articles and Talking Points submissions across the site.