Godfrey grateful to have Ancelotti's trust
Monday, 29 March, 2021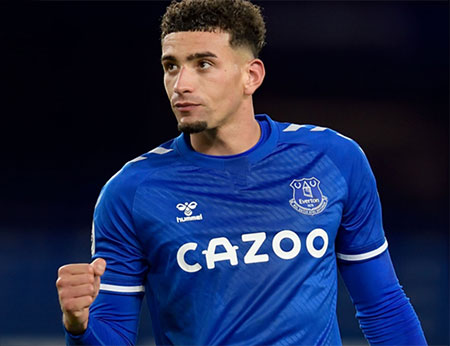 Ben Godfrey, already a first-team regular in his debut season at Goodison Park, has expressed his hopes that Everton's internationals return healthy from the current break for World Cup qualifiers as the Blues prepare for the final 10 games of the Premier League season.
Carlo Ancelotti and his players will be looking to put three successive defeats in all competitions behind them when their League campaign resumes on 5th April with the visit of Crystal Palace, with a place in Europe the potential prize if they can go on a good run between now and mid-May.
Godfrey, one of the signings of the summer 2020 transfer window when Everton snapped him up from Norwich City for around £20m, has been on international duty himself and he played 90 minutes of England U21s' 2-0 defeat to Portugal alongside his club-mate Tom Davies who featured for 70 minutes.
"It's always a nervy time for clubs and managers when players disappear for a couple of weeks over the international break," Godfrey said on evertonfc.com, "but it gives players time to come back from injury and, touch wood, everyone comes back from the internationals in good shape and ready to go.
"We've got some massive games when we come back which we're all looking forward to."
Godfrey has been one of the surprise packages of the season, making 25 starts in positions across the back four and providing valuable versatility to a squad that has suffered more than its fair share of injuries this term.
Ancelotti was said to have had high hopes for the 23-year-old's future at Goodison but has intimated on more than one occasion how surprised he has been with the Yorkshireman's rapid ascent to first-team starter in the Everton team.
"It's nice when a manager backs you and trusts you to play in consistent games," said Godfrey, whose fearlessness, commitment and passion have been warmly received by the Toffees' faithful. "That's what you want as a player.
"I think tactically there has been an improvement in my game [since joining]. "I've still got a lot to improve on and to work on. I'll keep working hard every day to do that — to take my game onto that next level.
"I just want to keep working hard and keep churning out consistent performances. As long as I can help the boys get victories, then I'll be happy with that.
"I'm really enjoying my time here."
---
Reader Comments (44)
Note: the following content is not moderated or vetted by the site owners at the time of submission. Comments are the responsibility of the poster. Disclaimer
Gaute Lie
1
Posted 29/03/2021 at 20:42:52
A great player, very usefull.
He can run forward with the ball, wish he did that more often. Crossing can be better, also his defensive awareness. But then, he's only a young man and you can see he has improved this season already.
Also don't seem to have injuries, no glass legs there.
I believe he can play in midfield if needed. Would be interesting to see him paired with Allan, and Doucouré in front of them.

Derek Knox
2
Posted 29/03/2021 at 20:45:03
What a good and sensible lad he appears to be, and rightly earning the plaudits of many pundits. Hate to bring it up, well I don't really, but if memory serves correctly, there were some on here saying what a waste of £22M or whatever the fee was, and that was his first couple of games, and playing out of position too. Tut tut.
I think he is probably one of the true 'bargains' that is with these crazy prices that seem to be the norm now in the Premier League. I just hope again, and I think I'm right in saying, he shouldn't/wouldn't be tempted away should the offers come in, and they will!
Dale Self
3
Posted 29/03/2021 at 20:50:26
Really looking forward to seeing this lad grow into an Everton legend. He seems to understand the opportunity and we've all seen the potential. Make it happen, we're behind you man.
Mike Gaynes
4
Posted 29/03/2021 at 21:12:01
In Godfrey we trust.
Kevin Prytherch
5
Posted 29/03/2021 at 21:16:47
Some of our best performers in recent times have come from less fashionable clubs. Calvert-Lewin, Holgate (last season) and Godfrey all came from lower leagues; Richarlison, Doucouré and Keane all came from smaller Premier League clubs.
I hope that Brands cottons on to this and spends more time looking for players who are hungry to prove themselves instead of big money, big wage cast-offs from larger clubs who come purely for the money and show little heart or desire when things get tough.
Tony Abrahams
6
Posted 29/03/2021 at 21:17:49
Godfrey really reminds me of Des Walker, but might actually be more aggressive than Des. Pace gives confidence to any defender, and you can see this with Godfrey, who I just hope can keep up what he's produced so far, especially because he seems to relish a fight, and you can't have enough of this type in your team.
Tony Everan
7
Posted 29/03/2021 at 21:29:00
What a great signing Ben Godfrey has been. He is an absolute breath of fresh air for the club and supporters. Enthusiasm, commitment and desire come as standard. He doesn't have to motivate himself to produce it, you can see it's in his genetic makeup. Plus he's got the athleticism to back it up and his overall game is gradually improving as the season goes on.
Jonny Montford
8
Posted 29/03/2021 at 21:37:14
Great player with such potential. Power, pace and heart. Let's build success so a player like him won't ever harbour ambition to leave
Mike Gaynes
9
Posted 29/03/2021 at 21:39:34
Kevin #5, he already is. Branthwaite came from Blackburn, Nkounkou from Marseille B. And our "cast-offs", Allan and James, have certainly shown heart and desire (notwithstanding their bad injury luck).
Brands has pulled some clangers for sure, but I definitely like his recent approach to recruitment.
Neil Lawson
10
Posted 29/03/2021 at 21:49:18
Kevin (5). I thoroughly agree. We are constantly linked with foreign players many of whom I (and others) have never heard of, and who have no Premier League experience. Whilst that isn't always an essential ingredient, hindsight is a wonderful thing, and many of our most successful and effective signings have had that qualification.
I believe too, that there must be a core of quality players playing in the Championship (and perhaps lower) who are talented and hungry for success, not just for stupidly inflated salaries. What better example is there than Ben Godfrey? Such great value for money.
If anyone disagrees, just whisper Tim Cahill, Phil Jagielka, Leighton Baines etc in their ears.
I do wish that we would concentrate our search for replacements closer to home and cherry-pick the odd Lucas Digne or Mikel Arteta when they are identified.

Martin Berry
11
Posted 29/03/2021 at 22:03:39
"Our Man Godfrey" and soon everyone will want to sign him – of that I have no doubt. Incredible potential as he has all the attributes and pace.
Paul Birmingham
12
Posted 29/03/2021 at 23:02:27
The lad's been an asset to the squad and his passion and commitment have been significant to the Everton cause.Great first season to date, Ben, well done.
Brent Stephens
13
Posted 29/03/2021 at 23:11:32
I like the way he recognises where his game needs to improve. He's already my player of the season. If he improves beyond this, wow!
Danny O'Neill
14
Posted 29/03/2021 at 23:18:16
Top lad with a fantastic attitude. Early days yet, but if he keeps this level of performance, attitude and willingness to learn, he has a great future in the game. I hope that is with Everton and I hope he is that good that our challenge is holding onto him.
Cahill, Jagielka and Baines were great finds and outstanding servants to the club. But I'm hoping Godfrey is a level above Premier League glass ceiling personally.
I don't care what nationality a player is or what league they come from. I just want Everton to aim high. Godfrey has potential and I'm massively excited about him, but then I was about Stones.
Colin Glassar
15
Posted 29/03/2021 at 23:23:08
Future Everton captain.
Danny O'Neill
16
Posted 29/03/2021 at 23:31:37
I concur, Colin. His comments and quotes about Coleman a few days ago suggest that. Providing we progress and keep hold of him.
Ian Pilkington
17
Posted 30/03/2021 at 00:20:04
Mike,
Branthwaite is on loan to Blackburn. He was signed from Carlisle and was born there.
Mike Gaynes
18
Posted 30/03/2021 at 02:20:11
Cheers, Ian. Momentary brain lock there.
Don Alexander
19
Posted 30/03/2021 at 02:34:23
I too have been impressed by Ben and huge credit should be afforded him and whoever identified him as a signing. That said, it's not before time as far as I'm concerned.
Our scouting and recruiting department has been moderate at best for too long to remember. The key with Ben is what he has between his ears, an attitude far too absent from other so-called "stars".
Danny Broderick
20
Posted 30/03/2021 at 07:04:28
He's been a brilliant signing. The jury is still out on the Director of Football position for me – I think having Walsh and Brands has been an unmitigated disaster at Everton these last 5 years – but this is clearly an example of a player brought in that the manager did not identify, that fits the club's plans going forward.
The lad has been given an opportunity and he has grabbed it with both hands. He deserves a lot of credit.
It's also good that he acknowledges the improvement in his game under Ancelotti. No doubt the resident Ancelotti basher will take umbrage at this.
We need more Ben Godfreys. A player who did really well at U21 and Championship level, the right age with room to improve.
Jerome Shields
21
Posted 30/03/2021 at 09:22:30
Ben Godfrey is capable and would be good playing in any team. Everton are lucky to have him and Ancelotti must be equally grateful for his ability. He consistently improves under Ancelotti 's coaching; others have been individually coached, but are not consistently applying what they are coached.
Michael Kenrick
22
Posted 30/03/2021 at 09:35:14
Jerome,
You say "others have been individually coached, but are not consistently applying what they are coached."
How do you know this?
Dave Williams
23
Posted 30/03/2021 at 09:51:17
Kevin #5 I agree.
Tony A- for me he is a mix of Walker and Keown- the latter had plenty of pace in his days with us but not the electric burst of acceleration that Walker had and Ben has got. This lad is vital to our future and captaincy material- way more so than Siggy or Digne.
If only Holgate could rediscover last seasons form- he hasn't been the same since the mysterious injury that kept him out at the start of the season.
Robert Tressell
24
Posted 30/03/2021 at 09:59:50
The good thing about Godfrey is that he fills a spot in our first 11 for the next 10 years or more. We need a few more of those to give us the stability (and class) we got from Jagielka and Baines. Brilliant signing
Brian Harrison
25
Posted 30/03/2021 at 10:12:03
Having a young Central defender who is equally as comfortable at full back is a huge bonus. I know Ancelotti has said many times he wants players to be able to play in different positions, and Godfrey fills that remit. I also think he could play in midfield if needed, as he reads the game well and is comfortable in possession. He will only get better and we as a club must improve or just like every other good player we have had over the last 20 years, otherwise he will be snapped up by a more successful club.
Danny O'Neill
26
Posted 30/03/2021 at 10:51:06
I do hope there is something in the Koulibaly rumours. I'm repeating, but the prospect of him and Godfrey together excites me.
Colin Glassar
27
Posted 30/03/2021 at 12:05:08
Godfrey and Koulibaly together would be the foundation stone on which to build a title challenging team.
Alex Gray
28
Posted 30/03/2021 at 12:39:48
Whilst id bite your hand off for Koulibaly I feel cb is our least worrying position in the squad. Lb cover, rb cover, another doucoure type and a fast right winger surely needs addressing before It?
Danny O'Neill
29
Posted 30/03/2021 at 12:52:57
I agree Alex, not a priority but if the opportunity presented itself, that is a big upgrade on what we have so you do it. I was surprised to see the rumours, but they haven't been isolated.
But, they are just rumours and as always with these things, you never know if there's anything in them or it's just lazy journalism because of the Napoli link.
Here's hoping.
Ajay Gopal
30
Posted 30/03/2021 at 13:26:03
Danny, Alex (29,28), today's rumours suggest that EFC may be getting ready to move out Yerry Mina to make way for Koulibaly. Now, that may not be a bad thing. But where does that leave Holgate and Branthwaite? I thought Keane has upped his game this season, but both Gareth Southgate (England qualifiers) and Ancellotti (for the FA Cup against Man City) have left him out recently. So, I wonder what is going on there?
Dave Abrahams
31
Posted 30/03/2021 at 13:37:23
I think Everton paid less for Ben Godfrey because, if I'm not mistaken, he was in the last year of his contract with Norwich. AC Milan and Bayer Leverkusen were also interested in him at the time.
Check his history, his toughness might come from his dad who was a professional Rugby league player. Ben has captained teams since he was a very young boy. He captained Norwich a few times in the Premier League; easy to see why, he plays like he wants to win and wants his teammates to play like that. A few more signings with his mentality will do Everton the world of good.
Colin Glassar
32
Posted 30/03/2021 at 14:36:01
Ajay, I really like Mina. It's a shame his Everton career has been injury-ridden.
If the rumours re Koulibaly are true then I can see Mina, and possibly Keane or Mason, being sacrificed to pay for this.
Moshiri has just received a £100m bonus from Uncle Allisher so that, plus the sale of Iwobi, Bernard, Gomes, Iwobi, Mina, Delph, etc... should leave us plenty of dosh to buy Koulibaly, Aarons, Vasquez and Sarr.
Danny O'Neill
33
Posted 30/03/2021 at 14:47:35
Ajay,
If we get a player of that calibre and have Godfrey, they we've upped the bar and those players become backup and part of the inevitable rotation game.
One I would say makes way. Personally I prefer Mina and even though he's been out of sorts, I like Holgate. So for me Keane is surplus.
That doesn't distract from how well he's done this season, but I want us higher up the pitch, and the moment we do that, Keane is more prone to being exposed.
Jerome Shields
34
Posted 30/03/2021 at 14:57:20
Micheal #22
IMO, since the start of his tenure, Ancelotti has played different formations, even altering formation during games. He also has played players in different positions, though often forced, to increase the depth of the squad. But the biggest basic difference is the individual coaching of players to improve their performance in their position, trying to extend their level of tactical and technical ability.
Some players have responded well, such as Godfrey, Coleman, Sigurdsson, and Gomes. Others have initially responded like Bernard when Ancelotti was appointed but seem to fall back alarmingly, but still the irritating pull back is not as big a part of his game. Richarlison has improved, but is burdened by the special opposition attention he gets, but Ancelotti has got his spirits up. Calvert-Lewin did improve with Ancelotti's one-touch policy, making sure he was getting in position; lately, he has fallen back on this, particularly position- and run-wise, particularly in attacking the near post.
Others have probably had the same attention, but they only needed fine tuning, so it's not as noticable.
Often a mistake, IMO, made on ToffeeWeb is to think that Ancelotti can wave a magic wand. In truth, Ancelotti is proficient in the basics of football and developing the players he has. Thats the reason for his success. Poor performance of players on the pitch is the result of players not having the ability to hit the technical and tactical levels that Ancelotti sets, due to not taking on board what they are coached. Ancelotti has to keep pushing this level to get the overall performance of the team up. He does not have enough players who can consistently achieve this at the moment.
Andrew Ellams
35
Posted 30/03/2021 at 14:59:19
I suspect Mina will leave before Keane and Holgate because of the suggested post-Brexit rule changes which mean clubs will be required to have a larger portion of homegrown players in the Premier League squads. So it makes sense to bring Koulibaly in and ship Mina out.
Michael Kenrick
36
Posted 30/03/2021 at 16:03:01
Jerome

"... the biggest basic difference is the individual coaching of players..."
How do you know this? Unless you have first-hand knowledge of the individual coaching the players are receiving, how can you know this?
It could be anything – formation, position, tactics, diet, physical training, sports psychology, waking up on the right side of the bed, pre-match prayer... How do you know it's all down to individual training from Carlo?
"Some players have responded well..."
So you list the players who are doing a bit better at the moment and you say they have responded well to the individual training. Again, how do you know?
How do you know it's not down to one or a combination of many other factors that contribute to a player's performance?
"In truth, Ancelotti is proficient in the basics of football and developing the players he has."
Really? There is precious little evidence of that on the field, with limited development at best and only sporadically from game to game.
"That's the reason for his success."
What success??? We've seen no success yet. Out of both cup competitions, as per normal. And manifestly failing to take advantage of other equally erratic sides in the Premier League. He is yet to show any 'success' at Everton.
"Poor performance of players on the pitch is the result of players not having the ability to hit the technical and tactical levels that Ancelotti sets."
But not poor individual coaching from Ancelotti? Again, how do you know this?
Jerome Shields
37
Posted 30/03/2021 at 16:17:35
Michael #36,
These are my observations and explanation of good performance and underperformance of various players, they may differ from yours and others, but to me, it explains the progress under Ancelotti and where it has fallen short and the reasons why.
The Ancelotti success referred to is in the context of his achievement prior to Everton by applying the same methods, with players who were able to achieve the necessary levels of performance, due to higher technical and tactical ability than is available at Everton.
This is the difference between Ancelotti and recent previous Everton managers. I know it sounds basic, but combined with good tactics and physically well-prepared players, it will result in success.
I know this from playing football myself and the basics being taught to me by my father and uncles who were all outstanding footballers, a lot better than me.
I was once fortunate to play with the Arsenal Junior team. The Arsenal coach asked me where I had learnt football basics. He told me I had been taught well. I therefore can see where players are falling down on the basics and its affect on team play. I have always had a healthly respect for Arsenal ever since, because they knew the importance and what the basics were. I recognise the same tracts in Ancelotti.
Bobby Mallon
38
Posted 30/03/2021 at 19:38:51
Alex 28. We don't need a left-back. A right-back yes.
Peter Mills
39
Posted 30/03/2021 at 20:59:55
I really enjoy watching this lad play. He's got attitude, and his tackles are a throwback to the 80s - the one he made in the derby at Anfield saw him move five yards in the time Shaqiri moved one.
I suspect he'll get one of those tackles wrong one day, and the media will be all over him for being "reckless". He may also experience a drop in form, just because that often happens. Those will be the times he needs support, from the staff at the club and from us.
Laurie Hartley
40
Posted 30/03/2021 at 21:59:14
Kevin # 5 - To me it is no coincidence that Godfrey, Holgate, & Calvert Lewin have one thing in common - they are all Yorkshiremen. They are made of stern stuff they are.
The other things they have in common is that they are scared of no one and are all in their early twenties - It augers well for our future.
Godfrey will be our captain one day.
Danny O'Neill
41
Posted 30/03/2021 at 22:05:00
He is great to watch Peter. But he's 23. As a centre back, a position that does not truly peak until 28 - 30 (even in the modern game), there is a lot of developing to do. That is on one hand massively exciting. This lad can only and will get better.
But on the other, we need to be cautious we don't overdo it on the expectation side. To do so risks either ruining him or ruining his relationship with Everton with over expectation or lack of tolerance when he does have an inevitable dip in form during his developing years (John Stones).
Hence my preference for blending future potential with ready made, off-the-shelf proven talent. Please sign Koulibaly!
Give Ben time and patience and he will be awesome. But most importantly, awesome for Everton.
Peter Mills
42
Posted 30/03/2021 at 22:35:59
Danny #41, that is what I was trying to say, but you have done so more eloquently.
I hope we are both right.
Danny O'Neill
43
Posted 30/03/2021 at 22:50:14
We said the same things Peter. You are more to the point. I am a notorious rambler!!
Matthew Williams
44
Posted 02/04/2021 at 12:45:55
A fine player, a real grafter, possibly the best signing we've made in a good while.
We need to go back to Norwich and try to sign the lad Cantwell to give our lifeless midfield a real boost too.
---
Add Your Comments
In order to post a comment, you need to be logged in as a registered user of the site.
Or Sign up as a ToffeeWeb Member — it's free, takes just a few minutes and will allow you to post your comments on articles and Talking Points submissions across the site.