Another clean sheet for Pickford in bore draw with Scotland
Friday, 18 June, 2021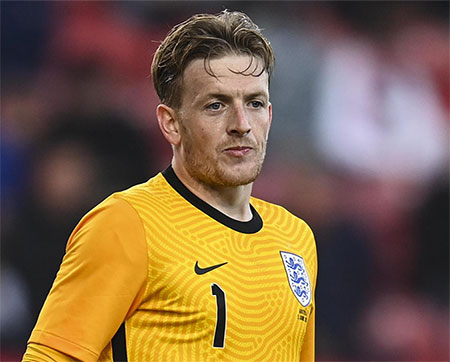 As expected, Jordan Pickford started England's second Group D game at the European Championships this evening and he made one key save in a goalless draw against the Scots.
While former Blue, John Stones, planted a header off the post at one end, the Everton No. 1 had to be alert at the other to get a strong hand to O'Donnell's first-half volley and turn the ball to safety in impressive fashion.
The Scots caused their hosts some problems in the first 45 minutes but the two teams went into the break level at 0-0.
The second half was a similar war of attrition but Reece James had to head Lyndon Dykes's effort away from his own goal shortly after half-time as Scotland went close again.
When the time came for an attacking change, it was to Marcus Rashford that Gareth Southgate turned rather than Dominic Calvert-Lewin when he withdrew Harry Kane with 17 minutes to go.
Che Adams had a chance from the angle but lashed it over Pickford's goal while Raheem Sterling went down in the visitors' box but claims for a penalty were waved away by the referee.
A late scramble in the Scots' box almost led to a late winner for England but honours even was probably the fair result from a largely uninspiring encounter, the first goalless draw on English soil between the two nations in the match's 150-year history.
---
Reader Comments (83)
Note: the following content is not moderated or vetted by the site owners at the time of submission. Comments are the responsibility of the poster. Disclaimer
Jamie Crowley
1
Posted 18/06/2021 at 19:42:52
The Live Forum should be open for England v Scotland ;0)
Danny O'Neill
2
Posted 18/06/2021 at 19:55:42
I'll be back later. It's as bad as I thought in the pub, but I'll just keep my mouth shut.
The QPR and Chelsea fans are at it already.
Thomas Richards
3
Posted 18/06/2021 at 19:55:48
Not much value about in the odds
Ive had a go on red card shown in match.
Brian Murray
4
Posted 18/06/2021 at 19:57:45
Every shot of the jocks they are emotional misty eyed or bevvied. Defo the latter ha ha good on em !
Brian Williams
5
Posted 18/06/2021 at 20:07:13
I'm sorry but those complaining of the "silence," IMO have fallen into the world of everything out there in the open on social media, information now, from all angles from all sources. Must know all I want to know and must know it now.
Spurs have been without a manager for a couple of months. They weren't caught unawares they sacked their manager.
Are they a laughing stock? No they're not. They've made a similar statement to Everton in that their looking for a new manager. When there's something to say it'll be said.
People's problem is that they believe almost everything they see online.
Stop being so needy, and that's what it amounts to, this need to know everything NOW.
99.99% of what you read online is a crock of shit.
Good example is Sky stating that Benitez to be announced "today."
That was yesterday. Last week it was "Nuno to be announced."
The club isn't going to come out and tell us who's in the running, THAT would be amateurish. They're not going to deny stories about Allen and James.
Get a grip people.

Michael Kenrick
6
Posted 18/06/2021 at 20:13:22
Stonesy lad... must do better!
Leapt like a bloody salmon!
Jamie Crowley
7
Posted 18/06/2021 at 20:14:05
Stones has to finish there. England two big chances (Mount miss). If they don't take their chances and the Scots nick one, this will get spicy.
Dennis Stevens
8
Posted 18/06/2021 at 20:14:39
why can't players head the ball anymore?

Jamie Crowley
9
Posted 18/06/2021 at 20:15:12
After the game they need a lightweight bout between McGinn and Phillips.
Jamie Crowley
10
Posted 18/06/2021 at 20:17:12
Fucking love this McGinn. Liked him when he played us with Villa. Kid's got moxie.
Mike Gaynes
11
Posted 18/06/2021 at 20:26:28
Maybe, Jamie, but I've got ten bucks that says he'll be sent off in this game.
Jamie Crowley
12
Posted 18/06/2021 at 20:30:49
On a yellow already for mouthing off, he might be Mike!
Jamie Crowley
13
Posted 18/06/2021 at 20:31:10
Picks! Great save!
David Pearl
14
Posted 18/06/2021 at 20:31:41
Everton No 1
Michael Kenrick
15
Posted 18/06/2021 at 20:31:42
Great save by that keeper in green.
Mike Gaynes
16
Posted 18/06/2021 at 20:32:43
We oughta sign that guy. Our keeper stinks.
Daniel A Johnson
17
Posted 18/06/2021 at 20:34:05
Back handed compliments for pickers from the commentators ffs it was a great save
Jamie Crowley
18
Posted 18/06/2021 at 20:35:25
Sterling will be shit all game, then score.
Swear that's the way he rolls.
David Pearl
19
Posted 18/06/2021 at 20:36:35
Mike, 66
That made me laugh. Fucking tourists hey.
Jamie Crowley
20
Posted 18/06/2021 at 20:37:03
Daniel - our announcers here in the USA (Sir Ian Darke and some dude) had nothing but good things to say.
The English commentators really are shite.
Tony McNulty
21
Posted 18/06/2021 at 20:39:43
3-0 to England here. And everyone knows my forecasting record.
David Pearl
22
Posted 18/06/2021 at 20:39:44
England cant get a hold of this game, perfect for the Scots.
Anthony A Hughes
23
Posted 18/06/2021 at 20:40:30
Stirling has such a poor touch for a top footballer, without the pace he would struggle
Andrew Ellams
24
Posted 18/06/2021 at 20:41:18
England look desperate for ideas
Anthony A Hughes
25
Posted 18/06/2021 at 20:42:38
So do Scotland Andrew
Bill Gall
26
Posted 18/06/2021 at 20:43:53
Is Ancelotti coaching England with all the back passing
David Pearl
27
Posted 18/06/2021 at 20:45:12
Piss poor from England
Jamie Crowley
28
Posted 18/06/2021 at 20:46:43
Great half by Scotland IMO. They look very good against a superior side in an honest moment.
Tony McNulty
29
Posted 18/06/2021 at 20:46:57
Kane still dangerous but not the player he was. Those ankle injuries seem to have taken their toll. He's left it a season too late for the big move I feel
Andrew Ellams
30
Posted 18/06/2021 at 20:47:17
I think Southgate's race is run and it's time for a new face
Bill Gall
31
Posted 18/06/2021 at 20:47:32
They should bring DCL on, Kane is not running anywhere
Michael Kenrick
32
Posted 18/06/2021 at 20:48:07
Seems everyone plays the same way now. Lotsa cat & mouse sideways & backwards shite... very little forward running with the ball, very few chances created.
Jamie Crowley
33
Posted 18/06/2021 at 20:48:22
Bill Gall - right?!
England took the game to the Scots the first what, 15 minutes?
Then it was like back pass, back pass, back pass.

David Pearl
34
Posted 18/06/2021 at 20:48:33
This is what you get when you pick a team thats never played together before. Again. He'd rather play Lingard and others not even in the squad.
Southgate out!
Robert Tressell
35
Posted 18/06/2021 at 20:48:41
The problem is how limited Rice and Phillips are on the ball. Just don't move it quick enough at all. Look good chasing the ball. Don't look good having to make the play.
Anthony A Hughes
36
Posted 18/06/2021 at 20:49:16
Tony, Kane was the Premier League top scorer and most assists last season, finished ?behave mate.
Paul Swan
37
Posted 18/06/2021 at 20:50:04
Foden, Stirling, Mount and James like rabbits caught in the headlights. Turned up thinking it would be a walkover. Need someone like Grealish to dictate the pace and get Kane into the game
Tom Bowers
38
Posted 18/06/2021 at 20:50:57
Southgate is useless plain and simple.
Not starting Grealish is a poor decision as Mount and Phillips are creating nothing. He may need to bring him on as he will get you free kicks and then England can use the big men especially if DCL comes on as well but as it stands at the moment I see Scotland scoring first.
Kevin Molloy
39
Posted 18/06/2021 at 20:51:23
the way England are playing if Horsey plays his cards right he could be on the friendly side of a twenty million pound contract from our idiot owner come the summer.
Dennis Stevens
40
Posted 18/06/2021 at 20:51:27
He wouldn't be if he played for Everton, Anthony #104
Jamie Crowley
41
Posted 18/06/2021 at 20:52:04
Paul -
I thought Foden played really well first half. Sterling anonymous. James the same. Mount had a chance and missed.
But Foden looked really good in my opinion. He's the real deal. Great footballer.
Tony McNulty
42
Posted 18/06/2021 at 20:53:33
Anthony - didn't say finished and not by any means. But I think the ankles may hamper him a little now. I also wondered whether his dropping back was really Mourinho's idea or whether he found it harder to be the main attacking outlet.
Mike Gaynes
43
Posted 18/06/2021 at 20:54:12
Startling statistic on ESPN... tournament-wide, chances inside the 6-yard box are being converted at a 16% rate. In previous tournaments the rate was around 40%. Either keepers have become supermen or most of these high-priced players just don't know how to finish anymore.
Anthony A Hughes
44
Posted 18/06/2021 at 20:54:20
But Dennis he doesn't and he achieved those stats last season in a poor Spurs team.
Harry Kane is a world class striker and is allowed a quiet 45 mins
Paul Swan
45
Posted 18/06/2021 at 20:56:38
How that prick Dixon can criticise Pickford for that save beggars belief. The only option he had was to get a strong hand to it. If he tries to turn it round the post from the position he was in, it ends up in the top corner. Just hope he doesn't make a mistake in this tournament because these bastards are waiting to hang him out to dry
Mike Gaynes
46
Posted 18/06/2021 at 20:57:20
Amen Anthony.
3rd best pure striker in the world IMO.
Anthony A Hughes
47
Posted 18/06/2021 at 21:00:12
Agreed Paul,Dixon's critic Is garbage regards to Jordan
Iain Johnston
48
Posted 18/06/2021 at 21:01:28
England don't want to win the game. They don't want to win the group and face either France, Germany or Portugal in the last 16.
Dennis Stevens
49
Posted 18/06/2021 at 21:02:05
Doesn't he Anthony? Thanks for letting me know he plays for Spurs rather than Everton.
Jamie Crowley
50
Posted 18/06/2021 at 21:03:03
Luke Shaw will be so fat when he's 50 / 60 years old
Jamie Crowley
51
Posted 18/06/2021 at 21:04:12
Mount with a ROCKET
Anthony A Hughes
52
Posted 18/06/2021 at 21:04:26
You've intrigued me Mike, Lewandowski, Kane and?
Jamie Crowley
53
Posted 18/06/2021 at 21:04:58
If I caused someone work to remove a post, apologies.
Jamie Crowley
54
Posted 18/06/2021 at 21:07:05
Assuming Lyndon wants in-game comments here now?
Mike Gaynes
55
Posted 18/06/2021 at 21:07:53
A halftime substitution on TW. Different web page.
Lyndon Lloyd
Editorial Team
56
Posted 18/06/2021 at 21:08:44
Sorry folks. I was behind on the feed and didn't want spoilers ;)
New page, Live Forum open
Jamie Crowley
57
Posted 18/06/2021 at 21:09:29
Lovely! Live Forum up!
TY Lyndon!
Michael Lynch
58
Posted 18/06/2021 at 21:59:44
Brainless football from Southgate and the players. Even less intensity than Everton, allowed Scotland to get ten behind the ball and snuff them out.
Kane looks done. And if Rashford is answer, I'd love to know what the fucking question is.
Kunal Desai
59
Posted 18/06/2021 at 22:05:10
Very Everton-esq that performance, for all the talent they couldn't break down a stubborn and resolute Scotland side.
1 shot on target. Was Allardyce or Ancelotti managing them. Dire.
Barry Hesketh
60
Posted 18/06/2021 at 22:09:04
I'd have hooked Sterling after half an hour, you can always tell whether he's in the mood or not, and tonight he wasn't. I also agree with Ian Wright, why on earth would you take Foden off, at least he was looking as if he was interested in making something happen.
Kane is either injured or is scared of getting injured in case it scuppers his big payday. Scotland was the better side, organised, willing to go forward when the opportunity arose, and willing to tackle anything that moved. Unfortunately for them, I think that Croatia will galvanise themselves for Hampden, however, the Scots crowd will be well up for it, so they might just do it.
Mike Allison
61
Posted 18/06/2021 at 22:17:14
So England were dull and it was frustrating to watch. They should have been more positive and moved the ball quicker. If he'd really wanted to push for the win he should have taken off Phillips and replaced him with another attacking player.
However, it was absolutely NOT brainless. In fact, objectively England were plenty clever in not over attacking. The following factors need to be taken into account:
1. The draw virtually guarantees qualification from the group. If England lose to the Czechs then they'll still probably go through, but they should be able to at least draw.
2. A draw is a much better result for England than Scotland. England have their win already, Scotland don't.
3. Scotland raised themselves to maximum. This was their final. For England it was just another group game that they didn't even need to win.
4. Like in Russia 2018, coming 2nd in the group could be better for England. Winning it gives us France, Portugal or Germany in round 2. 2nd place is probably Sweden or Slovakia.
5. England are set up to play better teams than Scotland. Our tactics, decisions and set up are not aimed at Scotland, they're aimed at the latter stages of the competition.
So yeah, I'd have brought on Grealish through the middle, not wide. I'd have asked James to cross the ball with Calvert-Lewin waiting in the middle. I'd have taken Phillips off and attacked more. I'd have done a few things differently and made more effort to force a win, but Gareth chose not to, and he's left England in a perfectly good position.
The TV pundits are over reacting massively, I imagine lots of fans are too.
John Raftery
62
Posted 18/06/2021 at 23:34:33
Mike (61) A great summary.
Kieran Kinsella
63
Posted 19/06/2021 at 01:07:39
Pile of shit really. Yes OK maybe we go the easier route by not winning the group as we did in the WC. But you need momentum in tournaments. You can't lethargically limp along and expect to raise your game when it matters. We learnt that lesson in 2010. We didn't need two defensive mids, and Kane is either injured or just worn out but he's not his usual self.
Also there's lots of patronizing crap about brave battling Scotland. Truth is that while they may have been both, more importantly they looked pretty comfortable, good selection, tactics, very nice professional job. Nothing plucky about it just a good performance that easily deserved a point
Pete Clarke
64
Posted 19/06/2021 at 01:21:51
I have zero affinity with English football other than our players representing them but this is another example of piss poor coaching and ruining decent footballers international careers.
I will only support them if the football is nice on the eye but apart from brief spells under Bobby Robson England have done fuck all but bore me stiff.
There are some really good players in that squad and I feel for them. Kane being an example of how bad tactics can portray a player.
Kieran Kinsella
65
Posted 19/06/2021 at 01:23:36
Barry and Jamie
I have to disagree on Sterling. About 30 minutes after we'd been passing about at the back he was held up on the halfway line sheltering the ball from two Scots. He looked about for help. Shaw positioned himself on the sideline behind one Scot, Rice, Phillips and Mings all fucked off back towards Pickford. You could see the annoyance on his face as he was thinking "fuck this you fucking Schneiderlin acting, Gomez paced Iwobi like bunch of sons of bitches I'll do it myself" Then he did a delightful turn and dribbled past several haggis men all the way into the box. It was one moment ultimately in vain but he was the one player (aside from Foden who seemed over excited and careless) to show any driving desire until Grealish came on.
Jamie Crowley
66
Posted 19/06/2021 at 02:32:55
Kieran -
I concede to your Sterling point. He did try to go forward. You're correct in that everyone else, sans Foden and Grealish, who actually attacked.
It's really a cardinal sin that England just stopped taking the game to them, clearly happy with a point.
I suppose a diehard England fan would argue a point is just fine, it gets them into the knock out, professional approach. But man, they should be getting 3 points.
And as an aside, I'm in the minority (shocker!), but I though Mings looked a damn good CB.
Kieran Kinsella
67
Posted 19/06/2021 at 02:55:33
Jamie
I thought Mings did a decent job too. Him and Stones are an odd pairing stylistically but as individuals I don't have issue with either one.
Danny O'Neill
68
Posted 19/06/2021 at 07:39:23
Well, the only good thing about that was that it knocked the life out of the England supporters in my Irish local, although they did resort to shouting club chants at each other, interspersed with the odd "come on England" and "f@$k off" when a pass went astray.
I think I was only one of several who were actually watching the football.
A dull match with a slightly better second half as it went a bit more end-to-end. Scotland showed good spirit, but Southgate's tactics were akin to what many complained about with Everton last season. Maybe his aim was to do enough to get through? Tournament football and group-stage management?
Stones unlucky with that majestic header, but then Scotland unlucky when denied by that fantastic save from Pickford.
On Jordan, not just these 2 England games, he really seems to have calmed down and matured in a short space of time. Credit to him and whoever has been coaching him, because managing that tendency to have a rush of blood should see his unquestioned talent develop accordingly.
On Mings Kieran. I've watched him a bit given the family Villa connections and thought he done well last night in the context of a very average game. But, does anyone more observant than me know if he has an issue with pace?? I noticed a few times where he was reluctant to stay higher and tight on the player. There was one instance in the first half in particular where he dropped very deep as Scotland gained possession. The Scottish midfielder or forward received the ball, turned and couldn't believe his luck at the pocket of space in front of him and drove forward at the invite.
All in all an almost inevitable damp squib as they say given the hype during the build up.
Bobby Mallon
69
Posted 19/06/2021 at 07:52:38
Jamey 41 spot in. I thought Foden was our best player by miles and Philips was very poor. He is a bit of a loose cannon and once he was booked looked like he was scared to tackle
Mike Connolly
70
Posted 19/06/2021 at 08:07:00
After a crap season watching Everton I was happy to see the end of. Turned on the big match and thought I was watching Everton V Scotland. The style England played is the same we have been churning out for most of the season. Lets just hope Southgate doesn't appear as another manager in the frame of a long list for us
Tony Abrahams
71
Posted 19/06/2021 at 08:25:11
I think Mike@61 might be related to the old football manager Malcolm, after giving a perfect illustration of tournament football, but also think England, might let themselves down, because Southgate, is maybe not concentrating on their main strength, although it's possibly still to early to predict!
I'd play Grealish and Mount, either side of one holding midfield player, and play Foden, who could at times interchange positions with either of the two midfielders, and Rashford, out wider, and then hope that Harry Kane bursts into life, but I'm not sure Gareth Southgate, will be this brave.
Allan Board
72
Posted 19/06/2021 at 08:31:57
Scotland looked a better unit and would have won but for Pickford, a brilliant save and supplied the best pass of the entire game which Sterling buggered up. Southgate picks his mates, Kane is not fit, Rice, Mount, Phillips just get in the way and we still can't pass quick enough. We are miles behind 6 or 7 other teams in movement of a football, because we are too static off the ball. Watch Portugal v Germany later and it will be as plain as day.
Lastly, what's the point of Rashford?
Rubbish, no risk football and won't waste my time in future! Italy, France, Belgium, Portugal, Spain, Germany will destroy England. And knobs like Dixon will try to blame Pickford, as he tried to last night.
Steve Shave
73
Posted 19/06/2021 at 08:55:49
Pickford was one of our best players second half of the season, he has sorted his head out and last night he was excellent.
Richard O'Shea
74
Posted 19/06/2021 at 09:03:04
If England come second, they are still due to meet the winners of the France, Germany, Portugal group in the quarter-finals so can't avoid them. They will meet a good team in the last 16 or the quarter-finals.
David Pearl
75
Posted 19/06/2021 at 09:11:55
Yes Steve, Pickford has been in great form for months now.
That actually was like watching Everton as in if you have good players but the set up and balance is wrong you rely on the odd flash of brilliance.
Foden wasted hugging the touchline. Forward players too stretched. Southgate should be braver. Not playing the starters in the 2 warm up games such a bad call. Why do England always go into a major tournament not knowing the best 11. He thinks he can make it up the day before like he did at the World Cup.
2nd in the group would get an easier draw... doomed l tell ya
Christy Ring
76
Posted 19/06/2021 at 09:46:13
Southgate way too cautious, play Phillips or Rice but not together, and Calvert-Lewin should have been a straight swap for Kane, Rashford doesn't even play that role foe Utd. I said awhile ago, we should buy Gilmour, outstanding tonight, and a fringe player by Tuchel.
Mark Andrews
77
Posted 19/06/2021 at 10:29:01
. and I thought our midfield was pedestrian and slow!
Dave Lynch
78
Posted 19/06/2021 at 10:33:50
I remember someone once saying to me.
" If you have a manager who's scared to lose, you'll never win anything."
That was when Moyes was our manager, a very apt and truthful statement.
Dave Abrahams
79
Posted 19/06/2021 at 10:46:01
Mike (61), Mike, so you think England should aim for a draw in the last qualifying game to finish second? I understand your reasoning, might have a go at that.
Bobby Mallon
80
Posted 19/06/2021 at 10:56:46
Scotland's set up of 3/5/2 nullified England's line up last night and Southgate didn't know how to or didn't want to change his formation and Scotland stopped our fullbacks from getting forwards.
Brian Harrison
81
Posted 19/06/2021 at 11:03:14
There is no doubt whether it is Alan Kelly our goalkeeping coach, or him employing a mind coach, or the calming influence of Carlo Ancelotti, Pickford is a much more controlled and far better keeper than he was 12 months ago. I don't think there is a keeper who has got better distribution than Pickford, his long passing is a massive plus for any team.
I tend to agree with Roy Keanes comments about not needing 2 sitting midfielders in Rice and Phillips. I said before the tournament that we don't have a replacement for Kane, Rashford is better out wide and DCL is just not international class. Southgate should have asked Vardy to come back just for this tournament, as besides Kane he is the best English striker out there.
I have been really impressed the way Mancini has got Italy playing fast attacking football, and they don't pass needlessly between their back 4 before they start to move forward, a real joy to watch. France another well coached side with some excellent individuals, Mbappe is a real talent soon to take over from Messi and Ronaldo, and although he hasnt had a great season with Barca Greizman is still a top player who has a great first touch and excellent vision and passing skills.
Danny O'Neill
82
Posted 19/06/2021 at 12:22:58
If you're talking Premier League Brian, that's not a bad shout on Pickford's distribution. He went through a phase of seeming to smash it into touch as if he was playing a Rugby Union gain territory tactic, but yes, when he gets it right, his distribution is very good. On the world stage, I think Neuer is up there on that count.
They are a very different Italy, but I'd wager that when they need to, they will easily be able to "go Italian". Up there, but still France for me.
Ian Bennett
83
Posted 19/06/2021 at 13:06:40
Yet again pundits have a downer on him or Calvert Lewin is a joke. Pickford played well, Dixon critical.
Danny Murphy and Roy Keane having a pop over Calvert Lewin with Henderson (supposedly senior player) taking the penalty off him and missing. If Calvert Kewin wrestled the ball off him, can you imagine the shit storm?
Club bias reigns supreme as normal.
---
Add Your Comments
In order to post a comment, you need to be logged in as a registered user of the site.
Or Sign up as a ToffeeWeb Member — it's free, takes just a few minutes and will allow you to post your comments on articles and Talking Points submissions across the site.