Everton Books - Everton: A Complete Record
ToffeeWeb's Complete Record History Section provides updates
covering each season since 1993 through 2004-05

EVERTON — A Complete Record
Third Edition

Ian Ross & Gordon Smailes, 1993
Breedon Books (416 pp) – ISBN 1 873626 43 6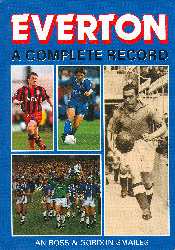 The third edition of this excellent reference work is for all those curious questions that crop up when discussing Everton Football Club. Ian Ross, one of the co-authors, was for a long time a journalist with The Guardian before he joined Everton as their Head of Communications.

Contents include:
The Everton Story – An illustrated history of the club
The Goodison Park Story – for a long time, the best football ground in England
Everton Managers – Theo Kelly to Kendall and Harvey
Everton Stars A-Z – Biopics and playing records of selected stars
Matches to Remember – 19 milestone matches from the past
Everton's Football League Record – P W D L F A Pts for every season through 1993
Everton Season by Season – Details for every match from 1880 to 1993
Everton Against Other League Clubs – The head-to-head records
Everton in Europe – 10 seasons; one trophy!
Everton in Other Competitions – The odd-ball stuff, including the Charity Shield
International Blues – Appearances made as Everton players
Career Records – An entry on everyone who ever played for Everton, through 1993
Although getting a little dated now, this book may still be available from the Everton MegaStore for around £16.95. Fully updated sections following the format of the book have been provided to us by Steve Flanagan and are featured in ToffeeWeb's unique Complete Record section.
---
EVERTON — A Complete Record
Second Edition

Ian Ross & Gordon Smailes, 1988
Breedon Books; (432 pages) ISBN: 0907969437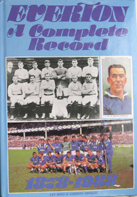 Test.

More Text

Price: £?.99 Published: September 1988
---
EVERTON — A Complete Record
First Edition

Ian Ross & Gordon Smailes, 1985
Breedon Books; (400 pages) ISBN: 0907969100
The first edition of Everton: A Complete Record was highly acclaimed when it was published in 1985. There are the usual features — complete record of each competitive game since Everton joined the League in 1888, together with an illustrated biographical gallery of Everton stars, biographies of every manager, Matches to Remember, a concise history, a feature on Goodison Park, and many more statistical sections..

Price: £?.99 Published: Month 1985
---