The Key to Salvation - Tomasz Radzinski
Player Feature - February 24, 2002


There could be little doubt that no matter where you stood on the Walter Smith debate, Everton's 2000/01 season was wrecked by a horrendous injury crisis that decimated practically every area of the squad. The expectation was that the team's progress under Smith could be better judged in 2001/02 when, free of his injury headaches and with a couple of new faces, he could finally put together a challenge in the right half of the table.
Tomasz Radzinski, a hitherto little-known striker plying his trade with Anderlecht, was to be one of those faces. Signed for £4.5m in the summer of 2001 after a bitter and protracted transfer wrangle with the chairman of the Belgian club, the Polish-born forward exercised his own slice of player power, demanding that his then employers grant him his dream move to the Premiership.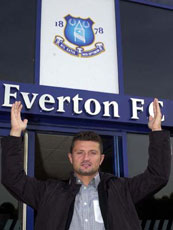 What little English fans knew of Radzinski was enough to convince them that he had the pedigree to replace Francis Jeffers, who had recently departed for Arsenal after rejecting a new contract at Goodison Park. Everton needed to re-acquire the pace, finishing and off-the-ball running that Jeffers provided in a devastating partnership with Kevin Campbell.
Based on word from Belgium, where Radz had finished top scorer in 2000/01 and helped Anderlecht to the league championship, was that he was lightening quick and a natural goalscorer. Voices from his adopted country of Canada offered caution that he could be selfish and difficult, based on a club vs country row which didn't ingratiate Radzinski with his international coach.
More relevant to Blues fans was the fact that Tomasz had scored twice for Anderlecht against Manchester United in a Champions League game, proving that he could live with the best team in the Premier League.
If Smith and the Goodison faithful were hoping never to repeat the injury catastrophe of last season, they were in for a nasty shock come December 2001. Typically, Radzinski had to wait to make his Everton debut because of an injury sustained in pre-season training. However, when he did arrive on the first team scene, it took him just two games to notch his first goal, that a well-taken effort in the Blues' 5-0 hammering of West Ham at Goodison Park — his home debut.
Having flirted briefly with the top of the table before going down to three straight defeats, the Blues were comfortably mid-table by this point and still hoping to gel into a consistent outfit. By December, however, Tomasz was the only first choice striker available to Walter Smith and soon even he joined the growing ranks on the injured list which, once again, affected all positions in the squad apart from goalkeeper. Duncan Ferguson and then Kevin Campbell were rushed back to fitness in his absence but Everton lost five successive games and went into a tailspin down the Premiership table.
The hurrying of both Ferguson and Campbell's recovery was nothing new and probably as a consequence neither player has been able to recapture the form that made them Goodison favourites in their time. Ferguson is once again sidelined with injury — this time a complicated double hamstring complaint, the cause of which is thought to be his back — and Campbell looks a shadow of his former self. Gone is the club captain's off-the-ball mobility and creation of space, and in its place — whether by manager's order or because of his lack of fitness — is a static target man reduced to merely holding the ball up to little offensive effect.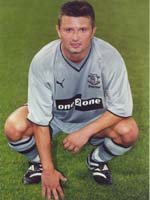 All of which arguably makes Radzinski's return to fitness — and his ability to stay fit until the end of the season — the key to Everton's survival this season. Making his first appearance of the 2002 as a substitute at Anfield yesterday and scoring within 6 minutes of his introduction, the 28 year-old offered a glimpse at salavation from another last day relegation panic.
He offers pace, mobility and an eye for goal that will relieve some pressure from the shoulders of Kevin Campbell and perhaps provide some of the attributes that Francis Jeffers displayed alongside Super Kev in another push away from the drop zone three years ago. In 1999, the Campbell-Jeffers partnership yielded 13 goals and was decisive in the preservation of Everton's top flight status.
With the ingenuity of Jesper Blomqvist and David Ginola — and perhaps some fleeting appearances by Paul Gascoigne — combined with Radzinski's explosive potential, the Blues just might have what it takes to start winning matches again and picking up the points to pull clear of the bottom three. If Smith is unable to draft in another striker before next month's transfer deadline, that weight of expectation will probably continue to fall on Tomasz's shoulders. Let's hope the team can provide him the service to halt the slide towards oblivion.
Lyndon Lloyd - February, 2002