EVERTON PAST PLAYER PROFILE
Jermaine Beckford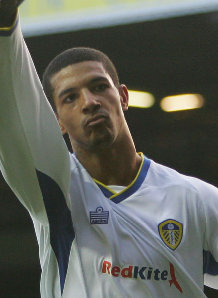 Squad number
16
Position
Striker
Joined on
31 May 2010
Joined from
Leeds United
Transfer fee
Free (End of contract)
Full debut
v Blackburn (A)
14 August 2010
Contract duration
4 years
Contract expires
2014
Finalé
v Aston Villa (H)
29 August 2011
Left Everton

31 August 2011

Destination
Leicester City
Transfer Fee

~£1.5M (Undisclosed)

Born
Ealing, London
Date of birth
9 December 1983
Height
6 ft 2 in
Nickname(s)
Becks
Honours
STRENGTHS
Pace & athleticism
Good eye for goal
Nice ball skills
WEAKNESSES
Untried in the top flight
Petulant attitude
No link-up play?
Soccerbase Datafile
Most Evertonians had never heard of Jermaine Beckford until he got a lucky touch on a ball hoofed forward from deep in the Leeds half and deftly rolled the ball wide of Tomasz Kuszczak in the Man Utd goal to give the League One promotion chasers an unlikely if massive FA Cup 3rd Round upset victory at Old Trafford in January 2010...
The very next day, the moody striker, who had scored 20 goals in the season up to that point, would be looking to capitalize on his new-found stardom, putting in a transfer request to cement his desire for a move to the Premier League... with Everton apparently the would-be recipients of his debatable talents.
At that point, the Leeds fans, who had been lauding him, turned on him 180°. But that didn't stop him doubling up in the next round of the FA Cup, at White Hart Lane, where he scored two to win the Lilywhites a replay against Spurs. His goalscoring stats as a result are nothing short of prolific. He may have benefited from Leeds playing two up front for a lot of games — certainly not the way things are done under David Moyes.
And that's the puzzling thing: who would have said Beckford is a typical "Moyes-type" player? He doesn't work hard, he has a petulant attitude – he may be coming in as a replacement for Vaughan, someone to come on late in games and get a goal. Beckford isn't injury prone and has played a lot of football over recent years, so he potentially has more to offer Everton then James Vaughan.
Beckford, who began his career as a youngster at Chelsea, joined Leeds from non-League Wealdstone, where he was also working part-time as a windscreen fitter, in March 2006 but initially struggled for first-team football and was loaned out to Carlisle and Scunthorpe during the 2006-07 campaign.
However, when the Yorkshire club were relegated from the Championship to League One, Beckford became a first-choice up front, notching 20 goals. The Londoner followed that up with a huge 34-goal haul in 2008-09 before he bounced back from the disappointment of losing a play-off semi-final to Millwall with a near repeat goal tally this year.
There are clear pluses and minuses over this move: yes, he's a goalscorer, his finishing looks excellent but it's only been in the Third tier of English football. Can he really handle playing the harder defenders of the Premier League. He's a free signing and can supposedly be sold on if he turns out to be awful.
Perhaps a certain amount of arrogance in attitude is what you want of a good striker, the kind of swagger that says, get the ball to my feet and I'll put it into the net — he finished the season with 31 goals for Leeds, who won promotion to the Championship. Yes, definitely something Everton could do with. They don't really score enough goals... never have under the ultra-defensive David Moyes. Perhaps he's broken his own mould here and gone with a player that he clearly believes is worth a gamble at the highest level.
Competition for Saha and Yakubu? God knows they desperately need it! Beckford's deteriorating relationship with Leeds following the transfer request — and free advice from Chairman Ken Bates about not joining a "two-bob" club like Everton — finally saw them cancel his contract one month early, at the end of May 2010, clearing the way for his move to Everton on a free transfer.
In his first few games, though, he looked just like what he is: a League One goalscorer with pace being asked to perform as a lone striker for a Premier League team going forward that attacks ponderously, has been coached to be overly cautious, and must forever track back to cover all possible dangers.
Beckford looks like he could be a danger in a two-man attack. He is however not good enough to play the lone striker role. As Everton play one up front, it is essential that the forward can hold the ball up and bring the midfield into play. Beckford's first touch is woeful and as such he cannot fulfill this role.
A lone striker must be able to play with his back to goal, Beckford prefers to play facing the goal. He could possibly be useful as a pairing but Moyes only ever plays two strikers when Everton are chasing a game, in which case, Beckford should probably be on the bench, certainly for the time being.
He did finally get a league goal as a super-sub, and what a stunner it was against Bolton, clipping a beaut over the keeper, dipping in just under the far angle... brilliant! And he was all over Cech to score a vital equlaizer at Chelsea. That should have earned him a starting place in the next game versus Wigan but didn't, much to the amazement of Evertonians the world over.
Whilst still being the only attacker showing any signs of movement and commitment, he just cannot link up play, hold up the ball, or lay it off intelligently. He just sees a "blue" mist and wants to shoot from ludicrous positions, which may be why Moyes prefers the more discplined but still ineffective Saha as his lone striker.
As the season progressed, a pattern seemed to emerge in terms of what Beckford was doing wrong:
Not really acting as a footballer; a poacher, yes, but his overall ability is poor.
Not showing real spirit to hide his weak spots.
Failure to actually show on time for a game (Reading)
Poor body language
Very lacking in confiidence
First touch often lets him down
Does not defend well
Episodes of dissent
Will dive if he gets the chance; falls over like a leaf in the wind.
On the other hand, there's things he's done right:
Gets himself into potential scoring positions
Contributed a fair few goals
Came free so should be judged accordingly
Really tries hard... perhaps too hard?
The team don't really try to play to his strengths
All-in-all, Beckford is too poor a player to really make a difference as a first team Everton player, yet seems too lacking in confidence to be able to contribute as an impact sub. He is a result of our hopeless financial situation and is not really to blame, but watching the lad play is really depressing most of the time.
The surprising stat is he has a goals-per-minute record second to none in the Premier League. Since scoring against Wolves when in the first half his movement was top draw, however, because he was a little lazy in the second half Moyes, has had it in for him and dropped him when, if he would have started every game, the rewards could perhaps have been very different.
Or not. For, at the basic level, it was abundantly clear to anyone watching that, despite his nose for goals, Jermaine Beckford was a long way from being a Premier League footballer. With that thought upermost and a dream bid of £4.5M from Leiecster City on transfer window deadline day in Augsut 2011, Everton decided to cash in and Beckford stepped back down a division to the more suited environment of the Championship.
By Michael Kenrick
Last updated August 2011
Everton Career
Season
Squad
Number
League
Apps (sub)
League
Goals
Cup
Apps (sub)
Cup
Goals
Total
Apps (sub)
Total
Goals
2010-11

16

14 (18)

8

3 (3)

2

17 (21)

10

2011-12

16

1 (1)

0

0 (0)

0

1 (1)

0

Totals

15 (19)

8

3 (3)

2

18 (22)

10
Previous Career
Season
Team
Appearances (sub)
Goals
2005-2010
Leeds United
111 (15) & 22 (5)
72 & 13
Oct-Nov 2006
Carlisle United (Loan)
4 (0)
1
Jan-May 2007
Scunthorpe United (Loan)
17 (1)
8