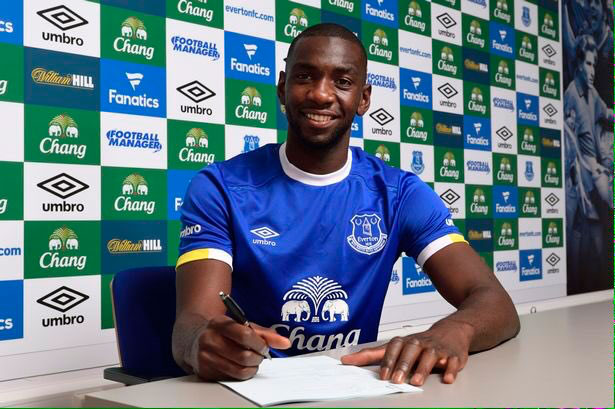 Though Evertonians had to wait for the player-acquisition phase of Ronald Koeman's introduction to Everton to really get going, they were finally rewarded for what patience they had left in August when the first of the new signings selected by the Dutchman and new Director of Football Steve Walsh began to arrive.
Following Idrissa Gueye and Ashley Williams through the door two days after the season-opener against Tottenham Hotspur was Yannick Bolasie in a deal with Crystal Palace that was officially undisclosed but various reports suggested that once appearance-related clauses are taken into account, it could eventually equal Everton's most expensive ever signing, matching the £28M paid to Chelsea for Romelu Lukaku.
The 27-year-old's move from Selhurst Park brought to an end a four-year spell with Palace, during which time he had emerged as one of the most feared wingers in the Premier League on his day, albeit one noted for his inconsistency and comparative lack of goals.
Though born in Lyon, France, Bolasie's career prior to Everton had, with the exception of a year in Malta with Floriana, been spent in England after he joined Rushden & Diamonds' youth setup at the age of 16.
He returned from his Maltese adventure when he was offered a trial by Plymouth Argyle where he spent three seasons before joining Barnet on loan for the 2009-10 season. He returned to Plymouth after scoring five goals in 42 games for the London side before Bristol City snapped him up on a two-year deal in 2011.
While he would be named that club's Young Player of the Year, Bolasie handed in a transfer request at the end of his first season because he wanted to return to London and he got his wish when Palace picked him up for an undisclosed fee.
His performances there were enough to earn him an international call-up to the Congolese national side, although he initially turned down the chance to represent them in the 2013 Africa Cup of Nations because he wanted to concentrate on his club form.
Despite his tendency towards erraticism, he also came to be regarded as one of the Premier League's most technically gifted players, attributes that when combined with his pace and power make him a feared opponent.
A reported target of Tottenham Hotspur the year before, it seemed unlikely that Bolasie would move outside of the southeast given his love for London but a fresh opportunity at Everton beckoned where Koeman would look to harness his abilities so that he could deliver on a consistent basis in his new team. However, the large fee paid continued to be a source of puzzlement, with a CEIS study suggesting that Everton overpaid Crystal Palace for Yannick Bolasie by around £19M.
He started well with a nice cross that Lukaku buried in their first game together, and that would be the beginning of a burgeoning relationship the Big Man benefitted plenty from –– even though Bolasie did steal the ball off his toe to hammer home a fine goal at Burnley.
Some mixed play followed, with Boalsie's form firstly suffering together with the rest of the team as the 2016-17 season developed... before disaster struck for the Congolese star when he fell awkwardly under a challenge in the Man Utd game and ruptured a knee ligament that would bring his embryonic season to a catastrophic end after only 13 Premier League games.
It would be over a year before he was deemed to be fit enough to return, on Boxing Day 2017 against West Brom. But as he played in more games, it soon became clear that he needed a lot more game-time to develop anything approaching sufficient match-day sharpness, if he ever would. The truth of the situation only came out nearly a year later when the player admitted that he returned to playing in Sam Allardyce's team far too early and with inadequate preparation.
But the kind of knee injury he suffered had impacted his primary assets of pace, acceleration and agility. At 29, despite plenty of energy, it became all too clear that his best days in a Blue shirt (precious few to speak of) were behind him.
That was confirmed under new manager, Marco Silva, with Bolasie out injured for the whole of pre-season, and persuaded to look elsewhere, initially wanted at Middlesborough where a deal was agreed but they could only pay a third of his £70k-a-week salary. Everton negotiated a better deal with Aston Villa, where they would pay his full wages for the season
By mid-November, however, Bolasie had still not made his first start for the Villains, although he had managed two goals and an assist from his 10 substitute appearances.
"Looking back, I came back too early," he said at the time. "I rushed back because I wanted to play a lot more minutes. I played more minutes at Everton when I came back than I have at Villa so far. But now I've done it the right way and I'm starting to see the rewards. I'm confident in my body now and able to deal with the training sessions."
Although Bolasie was a part of almost every Aston Villa first-team squad through the first half of the 2018-19 season, he abruptly returned to Everton in mid-January, having activated a clause in his loan agreement that allowed him to do so. Only two goals and five assists in 21 appearances were perhaps less than Villa were looking for in return on what they were paying ut it seems it was a unilateral decision by the player to return and play again for Everton.
However, Marco Silva seemed lukewarm at best with his return, and downplayed the prospects of him being considered for the Everton first team, suggesting that another loan deal would be the best option for him. That deal would be struck within 10 days by Marcel Brands, a relatively successful loan to Anderlecht for the rest of the season, with Bolasie getting 16 starts and scoring 7 goals but no permanent deal came from that spell in Belgium.
Bolasie returned to Finch Farm in late July 2019, following the Africa Cup of Nations, but was informed that nothing had changed regarding firs-team opportunities: he would be training with David Unsworth and the Under-23s while a new club was found. Bolasie was focused and fully professional during his stint with the youngsters, earning praise for his attitude in a far from ideal situation.
The decision that he would train with the Under-23s and not – like Oumar Niasse and Kevin Mirallas, for example – play some part in first-team sessions, was based purely on numbers. Silva, at this stage, had enough wingers at his disposal and Bolasie's inclusion would leave him the odd one out in sessions. The player was better served training with the club's second string and the decision, it is believed, was not done as a further act of punishment; even though it may have felt like it, it was simply logistical, as was the new squad number, a demotion to No 31.
Bolasie's situation had not improved and the task of finding him a new club, a permanent one if possible, was down to Marcel Brands. But CSKA Moscow would not be the only side Bolasie turned down – citing the threat of racist abuse in Russian football; he was not keen on a return to the Championship either and wanted to play at a higher level.
As Everton tried to offload him, Bolasie held out for a club that suited him and, as time ran out, the cracks would appear on social media, with the winger saying people were "playing with my career like LEGO". The tweet would be deleted but it reflected the underlying tension his situation had created.
On Deadline Day, he would seal a loan move to Sporting Lisbon and would make a point of thanking Everton, but it couldn't mask the frustrations he had been feeling for some time. There had been a £10M release clause in his contract, but there weren't any takers or clubs that suited him.
Everton's valuation of the player has dropped to £4.5M – which will be less than his annually depreciated book value (based on the club's original outlay) if he finds a suitable club next summer that will at least pay the same as the final year of his lucrative Everton contract.