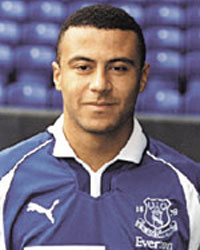 Squad No.
21
Joined
1994 (as a trainee)
Transfer Fee
—
Signed by
Mike Walker?
Debut
(Sub)
v Chelsea (h),
11 May 1997
Debut
(Full)
v Barnsley (h),
20 Sep 1997
Born
Bradford
Date of birth
12 October 1979
Height
5' 8" (173 cm)
Nicknames
Squid, Caddy, Cadders
Honours
England U-18
Left Everton
Feb 2002 for Bradford City
Finalé
v Aston Villa (a),
30 Jan 2002
STRENGTHS
Great speed
Self-belief
Okay ball control
Enthusiasm
WEAKNESSES
Petulant attitude
Poor awareness of offside
Can be greedy
Lacks vision at times
First touch let him down
Everton Junior/Reserves Career
Seasons
Club
Appearances
Goals
1996-1997
Everton Reserves
4 (1)
4
1997-1998
Everton Reserves
3 (1)
1
1998-1999
Everton Reserves
8 (1)
7
1999-2000
Fulham (on loan)
3 (2)
1


When Danny Cadamarteri burst onto the scene in October 1997 with the goal of his career that sealed a 2-0 win over neighbours Liverpool, everyone believed Everton had uncovered a genuine star for the future. Capitalising on a defensive error, the then 17 year-old took the goalkeeper on one-on-one, coolly faked a shot to send him the wrong way before burying the ball into the empty net.

Howard Kendall rewarded the him with a run in the first team that yielded five goals from 17 starts in all competitions and the world seemingly lay at the feet of the Bradford-born forward whose family tree means he qualifies to play for any one of England, Italy, Nigeria, Jamaica or Ireland!

However, the hype surrounding Cadamarteri proved too much. The decline in Everton's fortunes, the arrival of Walter Smith, over-exuberance and perhaps a touch of complacency lead to a loss of form over the next two seasons and Danny looked to be going the way of Michael Branch and Stuart Barlow, players who had been tipped for Goodison Glory but eventually found their level in the lower divisions.

Brief revivals — first when Duncan Ferguson was sold to Newcastle in November 1998 and the team was forced to play football on the floor, and second when Smith employed him effectively as a winger — didn't translate into a full-time return to the first team set-up and Cadamarteri's star continued to fade. Hampered by a lack of flair, natural goalscoring ability and imagination, he was eclipsed by the arrival of Kevin Campbell and the rise to prominence of Francis Jeffers in 1999.

Appearances after that were few and far between and he was loaned out to Fulham the following season in a bid to revive his career. Instead he was to reach his nadir in 2000 as the result of an incident off the field when he went on trial and was found guilty of physically assaulting a woman outside a Liverpool nightcub.

Everton decided not to renew his contract at the end of the 2001-02 season and although he began the search for a new club, few were forthcoming. A proposed move to his home county of Yorkshire collapsed after an aborted trial at Barnsley, but he was called upon to ease the first team injury crisis at Goodison that winter when both Kevin Campbell and Duncan Ferguson succumbed to long-term injuries. He was injured himself just 35 minutes into his comeback game and played just one more game in Everton Blue before moving to Bradford City

He spent a couple of months at Leeds in the summer of 2004 then, t the end of September 2004, a fortnight shy of his 25th birthday, he joined another Yorkshire outfit, Sheffield United, for a fee of £50k, but then returned to Bradford less than a year latter having scored just one goal.

He left Bradford under acrimonious circumstances after getting banned for six months due to ephedrine in the Night Nurse he was taking to fight a bout of the flu. Bradford chose to terminate his contract, and even advised him not to turn up with his family as a spectator!