Anthony Gordon
24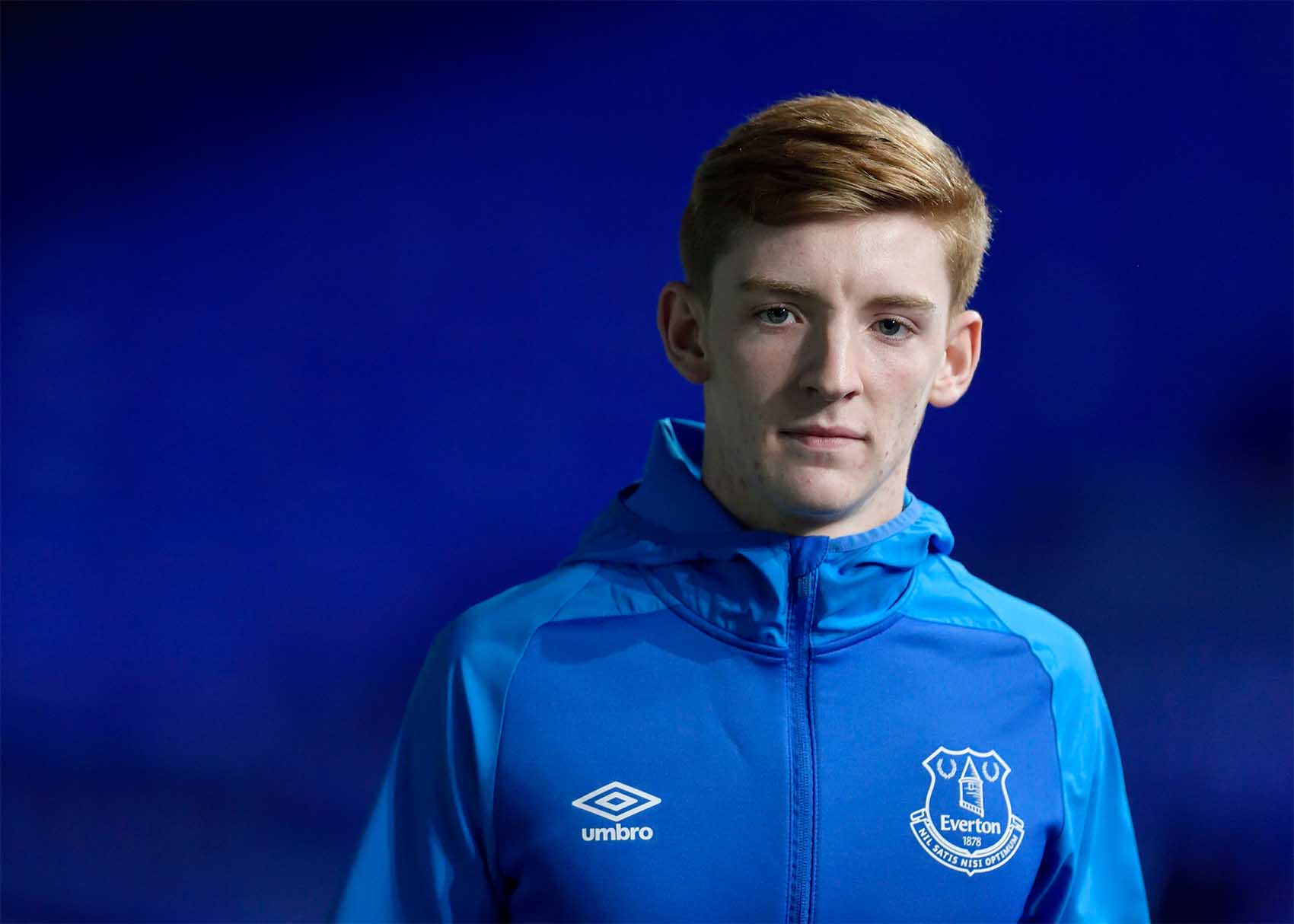 An attacking midfielder who includes dribbling and finishing among his strengths, Anthony Gordon joined Everton Academy Under-12s as an 11-year-old after being spotted playing for his local team, Frameline Juniors FC.
He went on an impressive goalscoring run for Everton's Under-18s in the opening few months of the 2017-18 season that brought him to the attention of the senior team management and he became the first player to be born in the 21st Century to play for Everton's first team when, aged 16 years, 286 days, Gordon came on as a substitute in the Europa League group stage dead rubber against Apollon Limassol in Cyprus in December 2017.
It made him the sixth youngest player to ever play for Everton's first team and he continued his goalscoring at U18 level but, as the season progressed, a niggling knee problem required surgery in March 2018 that ended his season early and his recovery from this would affect his availability the following season.
Gordon had to reacclimatize in both the U18s and U23s after that, being named more times as as substitute for the latter team as he made the transition. With rumours of interest from Arsenal and the Bundesliga, Everton made sure of the youngster's future at the club with a four-year professional contract, signed in March 2019.
He continued to dazzle for the second string, scoring some impressive goals and providing assists for team-mates, helping the U23s win Premier League 2 and the Premier League Cup in 2018-19. The following season was another good one for the Scouser who was now getting onto the bench for a handful of senior Premier League games before coming on as sub against West Ham and Chelsea under new boss Carlo Ancelotti before the 2019-20 campaign was halted by the Coronavirus pandemic.
At the restart in June 2020, Gordon was handed his first Premier League start in the delayed Goodison derby and he would be used intermittently by Ancelotti who provided the youngster with opportunties to gain valuable experience as the season petered out to an uninspring 12th-place finish.
As with any promising youngster, it was widley expeted that Anthony Gordon would be given plenty of game time in the coming season... but that was not to be. In response to a question about Gordon Carlo Ancelotti recently replied enigmatically:
"To develop a player, he needs to play but I am not here to develop players. I am here to try to keep this club at the top so sometimes I need Anthony Gordon... because I consider Anthony Gordon a player of Everton Football Club, not a player who has to develop.
"He is a player of Everton Football Club. At this moment there are players who are a big part of this squad." And that was his rationale for giving the youngster skant opportunity to shiw what he could do for the team.
FactFile
| | |
| --- | --- |
| Squad numbers | 24, 42, 59, 70 |
| Position | Attacking Midfield |
| Nationality | England |
| Born | Liverpool |
| Date of birth | 24 February 2001 |
| Height | 5'-8" (1.73 m) |
Joined
1 July 2017
Joined from
Everton Academy
Signed under
Ronald Koeman
Transfer fee
No Fee
Contract duration
2 + 4 Years
Contract expires
June 2023
Debut (sub)
v Apollon Limassol (A)
7 December 2017
Debut (full)
v Liverpool (H)
21 June 2020
Everton Career
| Season | Squad No. | League Apps (sub) | League Goals | Cup Apps (sub) | Cup Goals | Total Apps (sub) | Total Goals |
| --- | --- | --- | --- | --- | --- | --- | --- |
| 2017-18 | 70 | 0 (0) | 0 | 0 (1) | 0 | 0 (1) | 0 |
| 2018-19 | 59 | 0 (0) | 0 | 0 (0) | 0 | 0 (0) | 0 |
| 2019-20 | 42 | 4 (7) | 0 | 0 (1) | 0 | 4 (8) | 0 |
| 2020-21 | 24 | 1 (2) | 0 | 2 (1) | 0 | 3 (3) | 0 |
| | Totals | 5 (9) | 0 | 2 (2) | 0 | 7 (11) | 0 |
Everton U23s Career
| Season | Team | League Apps | Cup Apps | League Goals | Cup Goals |
| --- | --- | --- | --- | --- | --- |
| 2017-18 | Under-23s | 0 (0) | 0 (1) | 0 | 0 |
| 2018-19 | Under-23s | 5 (8) | 6 (3) | 1 | 1 |
| 2019-20 | Under-23s | 9 (0) | 5 (0) | 6 | 1 |
| 2020-21 | Under-23s | 1 (0) | 0 (0) | 0 | 0 |
Everton U18s Career
| Season | Team | League Apps | Cup Apps | League Goals | Cup Goals |
| --- | --- | --- | --- | --- | --- |
| 2016-17 | Under-18s | 3 (6) | 0 (0) | 0 | 0 |
| 2017-18 | Under-18s | 15 (0) | 4 (1) | 14 | 1 |
| 2018-19 | Under-18s | 2 (0) | 4 (0) | 0 | 3 |