Richard Gough
4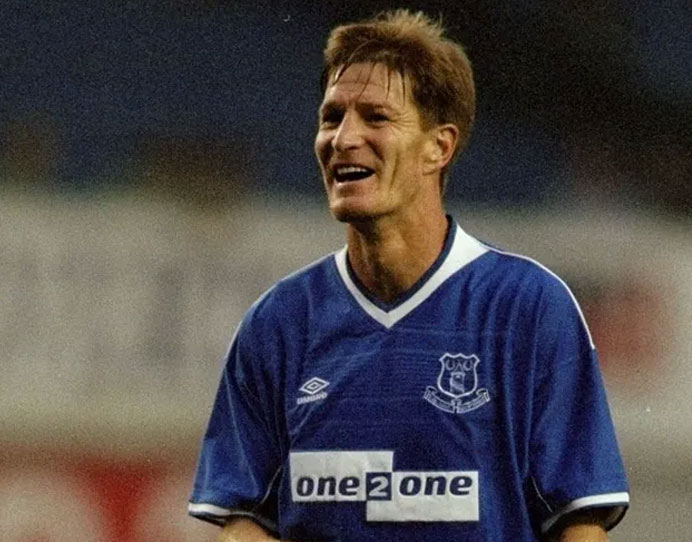 Richard Gough was the kind of defender that Evertonians wish the club had been able to sign a lot earlier in his career than they ultimately did. The rugged Scottish veteran was 37 when he arrived at Goodison Park to bolster Walter Smith's defence but for a season he played like a man a decade younger, such was his physical condition.
One of most popular and best-loved players in Scottish history, he earned 61 caps for his country and played in World Cup campaigns in 1986 and 1990 as well as the European Championships of 1992, scoring six goals. Captain of Rangers from 1990 to 1996, he was a member of 18 Scottish Championship teams, including nine consecutive Scottish Premier Division champions, three Scottish Cup wins and six League Cup wins, many of them under Walter Smith at Ibrox Park.
Gough was the only Rangers player to win a medal in each of those record nine successive Championships.  The distinction marks him out as unique, but he was that sort of leader.  An accomplished player, he was an excellent timer of a tackle.  He also had a fine touch, which made him a careful distributor of the ball once possession was won, and he was commanding in the air.
However, it was his calm authority under pressure, a refusal to panic, that transmitted confidence to those around him that made him not only Rangers' most successful captain but also one of the greatest.  Everyone respected Gough, an articulate man who understood the fans' passion and conducted himself with great dignity.
Richard made his professional debut with Dundee United at age 18 in 1980, and scored eight goals while leading Dundee United to their first Premier Division championship in 1983.  He moved to Tottenham Hotspur for two years, but went back to Scotland in 1988, joining Rangers.  Named Scottish Footballer of Year in 1989, after leading Rangers to their first championship in 11 years, he has played more than 525 Scottish League games.
An illustration of his unquestionable footballing prowess came on his competitive debut for Everton against Manchester United when he proved yet again that he is a cut above the rest in more ways than one.  At an age when most players are drawing their pension, he stepped out alongside fellow 37-year-old Dave Watson and subdued the menace of Andy Cole and Dwight Yorke with a masterly display that belied his veteran status.  It was accomplished at a price, needless to say, as he was left hobbling with a dead leg and wincing from the pain of a head wound.
The player known as Captain Blood during his reign as a fearless defensive protector for Rangers spilled yet more of it in the cause of trying to keep his goal intact.  It needed three stitches – modest by his standards – to patch him up as treble-winning Manchester United's feared strike partnership met their match in the shape of Everton's inspirational old-timer.
Gough, who admitted to being astonished by the financial package on offer when he signed a one-year contract at Goodison, shrugged aside the discomfort of the first-aid brigade's latest handiwork and smiled:
'It's nothing worth worrying about.  I can cope with a smack in the face, or at least I should be able to after the number I have had.  This one was just run-of-the-mill for me. I feel fine and hope to keep my place at Aston Villa on Wednesday.'
Even though familiar with Gough's catalogue of injuries from a battle-scarred career with Rangers, Everton's medical staff were surprised at the way he rolled back the years and bounced back. Gough himself remained unmoved and put it down to a fitness regime that has been paramount to his daily routine since he started out with Dundee United nearly 20 years ago.
"That is the key to it," he said. "I have always maintained a high level of fitness and that is why I am still able to handle the demands of playing in the Premiership. It's not just a matter of working hard on the training pitch, either.  It's also about your lifestyle and making sure you eat the right food.  I'm reaping the rewards now and enjoying every minute of it – even when I'm on the floor waiting to be carted off for more stitches.  I wouldn't swap it for anything, and, whether this proves to be my last season at this level or not, I'm determined to make the most of it."
Gough shelved plans to retire in order to renew a 20-year association with Smith at Everton.  He was due to take up a job offer with America's Major League Soccer on 1 June 1999 after finishing a short-term contract with Nottingham Forest.  The veteran, who moved to the City Ground in March 1999 from San Jose Clash, had a great season with Kansas City Wizards in 1997, leading them to 1st place in the MLS Western Conference, strengthening their leaky defence and inspiring a winning record of 16 matches in 20.
"The plan was that I was going to retire and take a job with the American Federation, but Nottingham Forest offered me a contract and there was interest from West Ham and another Premiership club," said ex-Glasgow Rangers star Gough, who won 61 caps for his country.
"I phoned Walter Smith for a bit of advice on where I should go and it was then he asked if I would be interested in joining Everton.  I have kept in touch with him during his first season at the club and he is a man who I have tremendous respect for.  He is an honest man.
"I was a bit worried coming back to the Premiership from America," he said.  "But I have been pleased with my form and the interest I have received has been good for my ego.  "I have no worries about my fitness and I am really looking forward to the season starting now.
Gough's ability on the field was vital in Everton's sometimes shaky defence. All this was rewarded in March 2000 by Everton's beguiling offer of a further two years at the top, when Goughy accepted a generous extension to his contract.  
But an injury sustained at Leicester City in April 2000 put paid to the rest of the season for Goughy, who returned to his family in California for some rest and recuperation prior to the start of pre-season training in July 2000.  On his return, he was rewarded with the team captaincy for the new season.
However, the injury woes for Gough were merely just beginning.  In the third match of the 2000-01 season, against Derby, he limped off with suspected knee ligament damage, and with him went Everton's bright start to the season; without him, they struggled to win matches and lost shape and confidence at the back.  
He returned fitfully in February and March, but it was clear he really was never going to get back to his fine form of last season.  After Everton had finally secured Premiership safety for another season, he decided to return to California and take up his player/coach position with the San Jose Clash.
FactFile
| | |
| --- | --- |
| Squad number | 4 |
| Position | Central defence |
| Nationality | Scottish |
| Born | Stockholm (Swe) |
| Date of birth | 5 April, 1962 |
| Height | 6' 0" |
| | |
| --- | --- |
| Joined | May 1999 |
| Joined from | Nottingham Forest |
| Signed under | Walter Smith |
| Transfer fee | Free transfer |
| Debut | v Manchester United (h), 8 August 1999 |
| Left Everton | May 2001 for San Jose Clash (coach) |
Previous Clubs
Dundee United
Tottenham Hotspur
Rangers
Kansas City Wizards (USA)
San Jose Clash (USA)
Nottingham Forest
---
Everton Career

| Season | Squad Number | League Apps (sub) | League Goals | Cup Apps (sub) | Cup Goals | Total Apps (sub) | Total Goals |
| --- | --- | --- | --- | --- | --- | --- | --- |
| 1999-2k | 4 | 29 (0) | 1 | 3 (0) | 0 | 32 (0) | 1 |
| 2000-01 | 4 | 9 (0) | 0 | 0 (1) | 0 | 9 (1) | 0 |
| | Totals | 38 (0) | 1 | 3 (1) | 0 | 41 (1) | 1 |
Previous Career
| | | | |
| --- | --- | --- | --- |
| Seasons | Club | Appearances | Goals |
| 1980-1986 | Dundee United | 165 | 23 |
| 1986-1987 | Tottenham Hotspur | 30 | - |
| 1987-1996 | Glasgow Rangers | 318 | 25 + 3 |
| 1996-1997 | Kansas City Wizz (USA) | 17 + 2 | 0 + 0 |
| 1998-1999 | San Jose Clash (USA) | 19 | 2 |
| 1999-1999 | Nottingham Forest (loan) | 7 | 0 |