Magaye Gueye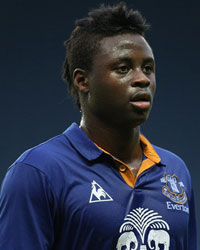 Squad number
19
Position
Striker
Joined on
30 June 2010
Joined from
Strasbourg
Signed by
David Moyes
Transfer fee
~£900k
Full debut
v Huddersfield (H)
25 August 2010
Contract duration
5 years
Contract expires
2015
Born
Nogent-sur-Marne, France
Date of birth
6 July 1990
Height
5 ft 10 in (1.79 m)
Nickname(s)
v
Honours
France U21 international
STRENGTHS
Pace & Size
WEAKNESSES
Inexperience
•
Soccerbase Datafile
•
Wikipedia Entry
With the minimum of fuss, David Moyes brought Magaye Gueye to Everton in the summer of 2010 to further augment his young striking options for an undisclosed fee, believed to be around £900k. The 19-year-old was picked up from the relatively inauspicious environs of Strasbourg following their demotion to the third tier of French football.
Magaye Gueye (commentators in England pronounce it 'Ma-Guy Gay'; scouse Evertonians understandably re-christened him Marvin Gueye...) started his career with Strasbourg at age 12 and progressed through the ranks before signing his first professional contract in October 2008, making his debut as a substitute a few days later against Lens. His first start did not come until April 2009.
He managed 11 goals in 27 appearances during 2009-10, which underlines no doubt the kind of qualities David Moyes and his scouting staff were looking for as they seek to bolster Everton's frontline over the long term.
Fairly pacey, Gueye had his share of injury problems in the season before he joined Everton, which restricted his playing time but, like João Silva, who arrived at Goodison a few weeks earlier, he was regarded as a good prospect for the future. Both were on the bench for Everton's first pre-season game in Sydney, Australia, Gueye getting on for the second half and looking pretty useful.
Magaye looked pretty good overall in pre-season and it was widely expected that he would play some part in the opening game agaisnt Blackburn, but he was not even on the bench. He did get his senior debut in the League Cup against Huddersfield, and played in the next round ousting by Brentford, but was substituted after 65 mins of each game.
As the Frenchman settled into life at Goodison, Moyes proclaimed that Gueye was his "secret weapon" in October 2010 but while he did get on the bench for a significant number of Premier League games — 14 out of 19, by Christmas — did not play a single minute of any of them. Secret weapon? Very...
He did, however, get a very promising run-out in the FA Cup victory at Scunthorpe United that bade well for future appearances but competition for places and apparent injury kept him out of the reckoning until he finally made his Premier League debut as a second-half sub against Aston Villa in April.
Though primarily a forward, Gueye was deployed mostly as a wide player by Moyes in his early appearances and the arrival of Royston Drenthe on loan from Real Madrid in August 2011 seemed to have put one more player between Magaye and the first team early in the 2011-12 season. Though he was not called upon to fill the Dutch winger's shoes when Drenthe was first suspended and then injured in November and December — that honour went to Leon Osman and Diniyar Bilyaletdinov — Gueye did make a handful of substitute appearances in the first half of the campaign.
Part of the Frenchman's problem was his inexperience and, presumably, the need to prove to Moyes that he was up to the rigorous, physical demands of the Premier League. But the manager's rigid adherence to a familiar formation and preferred starting players also played a large part in forcing Gueye to be patient in waiting for his opportunities.
They become fewer and farther between as Magaye Gueye slipped further back in the pecking order, while the more resilient and productive cadre of favourites continued to produce the goods for David Moyes throughout 2012.
Marginalized for most of the 2012-13 season, with just two sub appearances in the Premier League (despite warming the bench for 15 more) and two starts in the League Cup, Marvin would make his last appearance for Everton as a substitute in the FA Cup at Bolton, where in a rare moment of inspiration he smacked a great shot onto the bar. That could well be the one lasting memory of the distinctly unmemorable Everton career of Magaye Gueye. Less than a week later, on Deadline Day at the ned of January 2013, he would be shipped out on loan to Brest.
It was fully expected Gueye would leave Everton in the summer of 2013 but he remained with the club but found opportunities few and far between under new manager Roberto Martinez. He played just nine minutes against lowly Stevenage in the FA Cup, when he scored what would be his third and final Everton goal before, in June 2014, he was released from his contract with a year still to run, saving Everton around £800k in wages.

Everton Career
Season
Squad
Number
League
Apps (sub)
League
Goals
Cup
Apps (sub)
Cup
Goals
Total
Apps (sub)
Total
Goals
2010-11

19

2 (3)

0

2 (1)

0

4 (4)

0

2011-12

19

3 (14)

1

5 (2)

0

8 (16)

1

2012-13

19

0 (2)

0

2 (2)

1

2 (4)

1

2013-14

19

0 (0)

0

0 (1)

1

0 (1)

1

Totals

5 (19)

1

9 (6)

2

2 (4)

3
Loan Spells
Seasons
Team
Appearances (sub)
Goals
Feb-May 2013
Brest
_ (-)
_
Previous Career
Seasons
Team
Appearances (sub)
Goals
2008-2010
Strasbourg
27 (-)
9