Andrei Kanchelskis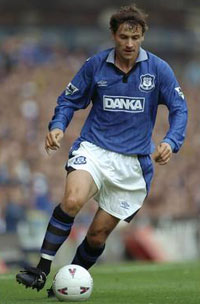 Squad number
17
Position
Attacking midfield
Joined on
July 1995
Joined from
Manchester United
Transfer fee
£5m
Full debut
v Man United (H)
10 September 1995
Left Everton
January 1997 for Fiorentina (Ita.)
Transfer fee
£8m (then club record)
Born
Kirovograd, Ukr.
Date of birth
23 January 1969
Height
5' 10"
Nickname(s)
KK
Honours

USSR Cup: 1990
Premier League: 1993, 1994
FA Cup: 1995
League Cup: 1992
Scottish Premier League: 1999, 2000
Scottish Cup: 1999, 2000, 2002
Scottish League Cup: 1999, 2002

If you were to conduct a poll on Everton's best player of the 1990s, there is perhaps only a handful of names who would even be contenders for that title, but the name Andrei Kanchelskis would figure heavily in any such debate.
Perhaps only Peter Beardsley for goals scored or Duncan Ferguson for impact and longevity would be considered greater than the flying Ukrianian winger, but during the David Moyes era it's likely that a Kanchelskis-type is the one player fans wish the club had in its ranks.
When Kanchelskis joined Everton for the start of the 1995-96 season, his arrival was greeted with much anticipation. Here was a world-class player of flair, skill and, above all, speed who had fallen out of favour with Alex Ferguson as the Old Trafford double winners were edged out of the Premiership title race on the final day by Blackburn Rovers and then beaten at Wembley by the Blues in the FA Cup Final.
Everton's joy soon turned to frustration, however, as a row flared up about who was to pay a £1.5m sell-on payment to the winger's first club, Shaktar Donetsk. United initially reneged on the clause, presumably as a final slap in the face of a player whose mysterious injuries they could never quite pin down, and after five tense weeks that kept Kanchelskis out of the Everton side, the sordid business was finally resolved.
United had another, inadvertent arrow of revenge in their quiver, though. No sooner was Kanchelskis storming down the right wing in his new Royal Blue shirt, than he was cruelly upended by Lee Sharpe and sent hurtling to the turf. A dislocated shoulder and another six weeks out of action deprived Joe Royle further of his midfield ace.
With the season half over, Kanchelskis finally started to deliver on that exciting promise, and the faith shown by thousands who had purchased replica shirts bearing his name and the number 17 from the new Everton Megastore.
Two goals against Liverpool, the first a lovely header in off the post, the second a more characteristic drill and blast, right in front of the Anfield Kop etched his name into Goodison folklore and the Russian international went from strength to strength, becoming Everton's leading scorer in his first season with 16 goals. That included a memorable hat-trick in the end-of-season demolition of Sheffield Wednesday at Hillsborough.
Many of the goals bore the same characteristic hallmark: he picked up the ball on the right, cut inside, jinked past a defender or two, and then lashed an unstoppable shot past a bemused goalkeeper who would have sworn he had that near post covered.
For all his efforts, though, Everton had missed perhaps the greatest arena for Kanchelskis to display his talents: Everton failed to progress beyond the second hurdle in the 1995-96 Cup Winners' Cup and did not qualify for Europe in 1996 either, though they came mighty close.
The Blues once again suffered for the misdemeanours of others, as England were stripped of an additional place in the Uefa Cup because Tottenham, Wimbledon, and Sheffield Wednesday had fielded weakened teams in the Intertoto Cup.
Euro96 offered Andrei the opportunity to dazzle at international level on the pitches down which he marauded at domestic level for Everton, but the Russian coaches decided to ignore Andrei's lightening goalscoring form.
Instead, he was played in a deep midfield role and, on one bizarre occasion, as a right back. Russia — despite being Ukrainian born, Kanchelskis continued to represent the nation that FIFA regarded as the USSR's official successor after the short-lived Commonwealth of Independent States team that competed at Euro92 — limped out of the competition in the first round, and Kanchelskis left the national squad bitterly disappointed.
He looked to the new season to regain his confidence, and everything seemed to auger well when he drilled four goals past Wrexham in a pre-season friendly. But although Royle's side would flirt briefly with the top six in December 1996, Everton's form nose-dived in tandem with that of Kanchelskis during a winter of injury and discontent.
With murmurings of interest from Italy and an increasingly disinterested and distracted demeanour, Kanchelskis looked a shadow of the player who had destroyed virtually all before him the previous season.
Matters came to a head in the most unfortunate way during against Bradford City in a Fourth Round FA Cup tie at Goodison Park, when Kanchelskis was mysteriously the last line of defence, forced under pressure to play the ball back into space. His pass was seized upon by an alert Chris Waddle, who ran 20 yards across the field to chip a beautiful shot over the stranded Neville Southall and into the net, putting Everton 2-1 down and on their way out of the Cup to lowly opposition yet again.
The end, when it came, bore an uncomfortable air of inevitability. Royle explained that Andrei had not been right in the head and after then chairman Peter Johnson held out for a full £8m— then a club record fee — to more than recoup the loss of his star player, Kanchelskis was on the plane to Florence.
Many felt that, towards the end, he had become uncommonly selfish, and was no longer playing with pride in the Blue shirt of Everton. There were the usual rumours of strife on the team, and it would show on the field, with Kanchelskis sometimes getting no support whatever from his teammates.
Time, though, has offered up more nefarious explanations for Kanchelskis' remarkable loss of form at Goodison. Rumours emerged of Russian mafia debts fuelling his transfers to Fiorentina and, later, to Glasgow Rangers, and Alex Ferguson's biography would make reference to a £40,000 bribe being offered for the winger's sale to Everton.
Whatever transpired, it was a sad end to the brief Everton career of one of the most scintillating players to have represented the Club in the Premier League era.
Andrei would go on to win trophies at Ibrox Park, earn his 59th cap for Russia and, after loan spells at Manchester City and Southampton and a season in Saudi Arabia with Al-Hilal, he would finish his player career in Russia before moving into management.
Everton Career
Season
Squad
Number
League
Apps (sub)
League
Goals
Cup
Apps (sub)
Cup
Goals
Total
Apps (sub)
Total
Goals
1995-96
17

32(-)

16

4(-)

-

36(-)

16

1996-97
17

20(-)

4

4(-)

2

24(-)

6

Totals

52(-)

20

8(-)

2

60(-)

22