Joshua King
11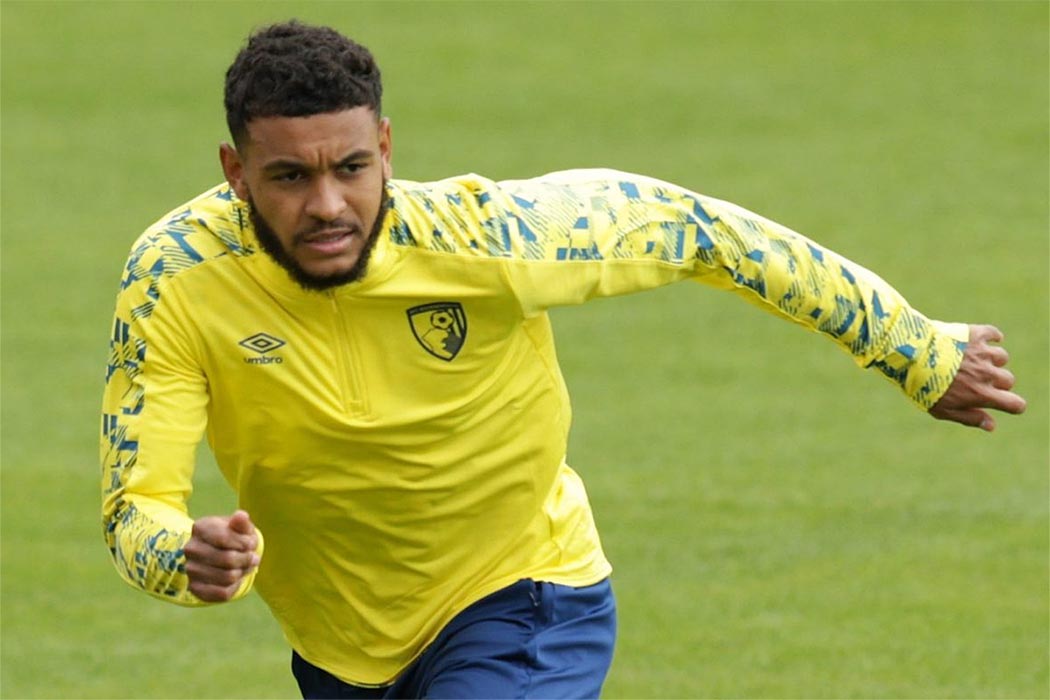 With the January 2021 transfer window winding down and Everton down to just two recognised strikers in the form of Dominic Calvert-Lewin and Richarlison following Cenk Tosun's loan move back to Besiktas, the Toffees launched an eleventh-hour bid to sign Josh King from Bournemouth.
In the end, the 29-year-old Norway international faced a straight choice between a permanent move to Fulham or a short-term, 6-month contract at Goodison Park but he settled for the opportunity to work under Carlo Ancelotti, aim for European qualification, and the chance to extend his stay at Everton if all was successful.
Were he to stay on Merseyside over the longer term, the deal struck with Bournemouth could reportedly be worth up to £5m but, in the meantime, Ancelotti secured another forward option for the second half of the 2020-21 season.
Born in Oslo to a Gambian father and Norwegian mother, King began his professional career in 2008 with Manchester United, signing from Vålerenga as a 16-year-old prospect. A regular fixture in United's development teams, he would make just two senior appearances for the Red Devils while undertaking loan spells at Preston, Borussia Mönchengladbach, Hull City and Blackburn before making that last switch permanent in 2013.
In total, he scored five times in 63 league appearances for Rovers, enough to persuade Eddie Howe to pick him up and add him to Bournemouth's squad for their first season in the Premier League. King would finish his debut season in the top flight as the Cherries' top scorer with seven goals in all competitions.
In all, he made 184 appearances for Bournemouth and scored 53 goals, five of them coming against Everton alone, while he had a record of a goal every three matches for Norway at the time he signed for Everton. However, he arrived on Merseyside having failed to find the net all season in the Championship with Bournemouth in 2020-21.
His introduction to the Everton team was tentative at best, with no place for him in the starting line-up, despite the absence of Dominic Calvert-Lewin due to injury. That was indeed perplexing to fans who had assumed his arrival was as direct back-up to the Sheffield man in the role of key striker. But Carlo Ancelotti had other ideas, and would play a number of games without a centre-forward, in that Richarlison is more of a winger, cutting in to score when he can.
The rationale appeared to be that King was insurance and would be considered to start only if both Calvert-Lewin and Richarlison were injured. As a result, King got just 67 minutes on the field, spread over 4 of 5 games played during his first month with the Blues, sitting out the 5th game, the Anfield derby, where he remained on the bench. Needless to say, he failed to score or do anything of note in that limited time on the pitch.
This seemed to reinforce the Rumour Mill scuttlebutt that claimed as early as March 2021 Ancelotti had rejected the idea of retaining his registration, which would have seen a further £3M going to Bournemouth.
Meanwhile, his strange sojourn with Everton continued; he was used less and less as the season drifted to a poor end with goals for Richarlison and Calvert-Lewin largely drying up. But, despite the crippling lack of goals that saw Ancelotti's campaign for European football end in complete failure, King would not start a single Everton game before his short stay with the club ended in May... shortly before Ancelotti himself jumped ship for the opportunity to return to Real Madrid.
"I do not regret that I went to Everton," King later told Norwegian news outlet Dagbladet.
"I did not get the chance, not a single start. Had I got a start and not performed, I would have understood it.
"I had another offer that gave much more security, but was told that I would get to play and that I would get the chance at Everton. But it was not delivered, so then I feel that was not the intention.
"Do not trust coaches who promise you things and say you will get the chance, that you will start. I went and talked to Ancelotti, but what we talked about in that room, stays in that room. He lied to me, but again there are not many honest people who work in football. I had no relationship with Ancelotti."
FactFile
| | |
| --- | --- |
| Squad number | 11 |
| Position | Forward |
| Nationality | Norwegian |
| Born | Oslo |
| Date of birth | 15 January 1992 |
| Height | 6'-1" (1.85 m) |
Joined
1 February 2021
Joined from
Bournemouth
Signed under
Carlo Ancelotti
Transfer fee
£2M
Contract duration
6 months
Contract expired
June 2021
Debut (Sub)
v Leeds Utd (A)
3 February 2021
Full debut
Did not happen
Released
4 June 2021
Previous Clubs
Manchester United
Preston NE (loan)
Borussia Mönchengladbach (loan)
Hull City (loan)
Blackburn Rovers
Bournemouth

Everton Career
| Season | Squad Number | League Apps (sub) | League Goals | Cup Apps (sub) | Cup Goals | Total Apps (sub) | Total Goals |
| --- | --- | --- | --- | --- | --- | --- | --- |
| 2020-21 | 11 | 0 (11) | 0 | 0 (0) | 0 | 0 (11) | 0 |
| | Totals | 0 (11) | 0 | 0 (0) | 0 | 0 (11) | 0 |
Previous Career
Season
Team
League Apps
Cup Apps
League Goals
Cup Goals
2015-21
Bournemouth
145 (28)
5 (6)
48
5
2013-15
Blackburn Rvrs
30 (26)
7 (3)
3
3
2012-13
Blackburn Rvrs [L]
6 (2)
0 (0)
2
0
2011-12
Hull City [L]
8 (10)
1 (0)
1
0
2011-12

Borussia Mönch

. [L]
0 (2)
0 (0)
0
0
2010-11
Preston NE [L]
6 (2)
1 (1)
0
1
2009-13
Man Utd
0 (0)
0 (2)
0
0