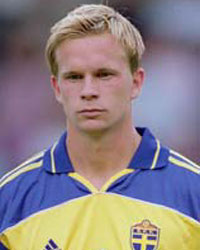 Squad No.
22
Joined
Jan 2002
Transfer Fee
£2.5M
£3M dep. on apps
Signed by
Walter Smith
Debut
(Sub)
v Ipswich Town (h),
2 February, 2002
Debut
(Full)
v Arsenal (h),
10 February 2003
Contract; Expires
3 years:
June 2005
Last
Game
v Manchester City (a)
15 May 2004
Left
Everton
Copenhagen (£1M)
30 July 2004
Born
Marseille, France
Date of birth
21 April 1979
Height
5' 10" (178 cm)
Nicknames
Tobbe, Toby
Honours
Swedish International (28 caps)
STRENGTHS
Technically gifted
Quietly influential
WEAKNESSES
Injury prone?
Can be anonymous

Despite his signing being somewhat of an emergency action to ease a crippling midfield injury crisis, Tobias Linderoth's arrival at Goodison Park might have been quite a coup for Everton if his plaudits were to be believed, but he failed to really fit into the team.

A Swedish international who left his home country for Stabaek in the Norwegian league at the age of 19, Linderoth is regarded as one of Sweden's most promising young players. Joining the Blues just short of his 23 birthday, he had been capped 17 times already and figured heavily in the 2002 World Cup.

In a deal completed with very un-Everton-like efficiency (Linderoth apparently knew nothing of the move until the day before he flew to Merseyside for talks), the Blues reportedly beat Panathanaikos, Bologna, Newcastle United and Coventry City to Linderoth's signature and paid £2.5M for him up front, with a further £500k dependent on appearances.

His time in Norway added some steel to his natural creativity and tenacity, qualities that should have been a welcome addition to Everton's midfield. Primarily a defensive midfielder, he can also be useful going forward.

Stabaek were not happy to lose Linderoth but recognised that he was always likely to spread his wings and play in a higher-profile league.

At Everton, it took time and debilitating injuries for Linderoth's value to be appreciated by a skeptical fanbase. His absence for most of the 2002-03 season only enhanced his reputation as a possible solution to the moribund midfield that no amount of coaching from David Moyes could energize.

But his playing style did not mark him out as a player who would take the game by the scruff and turn things around. Far from it. His qualities are much more sublime: his quiet effectiveness comes in breaking down the opposition play simply by good positioning, an easy-looking interception, and a short unadventurous pass that keeps possession. Small wonder the biggest complaint is that he is "anonymous" or uninvolved.

Season 2003-04 was much better for Linderoth, as he secured some longer runs in the side and become a first choice for David Moyes, despite the odd injury layoff. But he too became unsettled at the end of that dismal season, and Moyes had few qualms about allowing him to leave for FC Copenhagen.

Although, according to a Norwegian newspaper, Everton would have had to come up with £200k for Stabaek if Toby had played any more games for us. And if we were to qualify for the Uefa Cup, that would have cost us £300k. Probably sounded like a safe bet at the time...


Updated by Michael Kenrick, July 2004