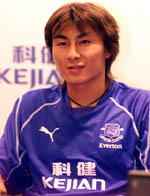 Squad No.
21
Joined
July 2002
Loan Fee
£200k (1 yr)
Signed by
David Moyes
Debut
v Southampton (h)
11 Sep 2002
Born
Shenzhen? (China)
Date of birth
26 January 1978
Height
182 cm
Nicknames
Honours
64 Caps for China
STRENGTHS
Reading the game
Breaking up attacks
WEAKNESSES
Not quite good enough?
Previous Career
Seasons
Club
Apps
Goals
Shenzhen Pingan

Li Wei Feng played for Shenzhen Pingan - Pingan being the club name and Shenzhen being the city in China where they play. The City of Shenzhen is right on the border with Hong Kong.

BEIJING, July 17 (Xinhua) — China's central defender Li Wei Feng woke up this morning to find that his long-time dream comes true — in the upcoming season he will play with Premiership club Everton, something he has been longing for.

"I was in Shanghai with Shenzhen Pingan in preparation for tomorrow's division A match against Shanghai SVA," Li told press, "last night I had a good sleep making no dream. And this morning when I got up, I was told that I have been loaned to Everton."

"Even now I cannot calm myself down," the 23-year-old defender said, "you know when I was a child I dreamed that one day I could go to play in the Premiership. And now it suddenly comes true. I need some time to let it sink in."

Li's windfall move benefited from a sponsorship contract between Everton and China Kejian Company, a mobile phone manufacturer. According to the contract, Kejian should send a player to play with Everton in the upcoming season. They picked Li.

However, according to the gossip, David Moyes was eying a different player with a similar name, Li Tie, and had no intention of taking on Wei Feng. But the decision was forced through (the price of sponsorship?), forcing Moyes to demand that Li Tie join as well.

Li Wei Feng is a pacey and disciplined centre-half. His strengths are reading the game and breaking up opponents attack, especially after breakdown situations. He's decent in the air, but was beaten flat by Paolo Wanchope at the World Cup.

He's at his best when the ball is on the ground, and is especially good in the 1-on-1 situation where his pace lets him run with the opponent and then nick the ball. He's very drilled in "the system" and has got a good positional sense. His best position for Everton would probably be as the left sided centre-half in a back three as he can be vulnerable if the defense is under pressure in a back four.

Li Wei Feng has sound positional sense and is a good reader of the game. He formed a great understanding with Fan Zhiyi in the centre of China's defence and is strong in the air. Quick across the ground, he is also a good organiser of his fellow defenders. Even if he is not a player Moyes particularly wanted, he has some great potential.

But that potential would not be realized at Everton, as Wei Feng first returned home with a bad nose injury, and then decided to stay in China, rejoining his Shenzhen club (now no longer Shenzhen Kejian but Shenzhen Jian Lia Bao, the new sponsor who is in to soft drinks).