It's Worked Out Well
The Scotsman — Nov 16, 2003
IN DECANTING his family to Merseyside on leaving his homeland 10 weeks ago, James McFadden has not been left pining for creature comforts. The cretinous comments are what he has missed by moving to Everton from Motherwell.
When donning the colours of the Lanarkshire club, opposition supporters were merciless with this mercurial performer. Maybe they took exception to McFadden being the "next big thing" by repute or simply his indie rock-star look; maybe they couldn't cope with the verve of his off-the-cuff play wedded to volatility associated with going off the head.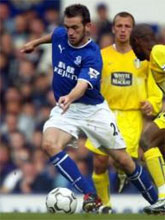 McFadden: Has been involved in 8 of 10 Everton games since arriving from Motherwell
Whatever, being singled out for treatment has not gone on in his games for the Goodison Park club. "I quite liked the abuse," the 20-year-old player says. "Away fans now probably look at me and say: 'Who is that playing?' That doesn't bother me, but when I was in Scotland the banter was good. I could ram it down their throats with a couple of goals."
Anyone who cultivates an odd little ponytail and has been known to colour his barnet with a red tramline does not crave anonymity. It is only a month since he was headline news here because of a contretemps with a steward who would not allow him to pass his Scotland shirt to a Hampden supporter in a wheelchair after victory over Lithuania had secured a play-off spot.
And McFadden will never be allowed to forget his face being splattered across tabloid front pages for oversleeping and missing the flight home from Scotland's trip to Hong Kong in the summer of 2002. Indeed, so major has become McFadden's celebrity in Scotland that he continues to be mentioned in dispatches merely for no longer being at Motherwell. The club's fortunes were considered to be inextricably entwined with those of their, supposedly, one stellar performer. But in occupying fourth place in the Premierleague in the postMcFadden era, Terry Butcher's young side are purring without the player thought to make them tick.
In all, McFadden contributed to three away league wins in his entire time in Lanarkshire. Over the past eight weeks, Motherwell have racked up four, and this form is considered a triumph of positive thinking, drawn out of the players in sessions with sports psychologist Tom Lucas. And a measure of the contribution made by Stephen Pearson.
Celtic and a host of English Premiership clubs are chasing the midfielder's signature, but McFadden, who maintains that Pearson would do well in England, believes talent was destined to bubble up and be creamed off at Fir Park, irrespective of his departure.
Stephen Pearson: Motherwell's next diamond in the rough has been linked with a move to Everton as well as Celtic
"Stephen's not just getting the limelight because I'm away and there is no-one else there. He's getting it because he's playing well. He deserves everything he's getting because he was putting in the performances last year. At the same time, there are other players there who are doing well and not getting the praise. But I'm sure once Stephen goes someone else will get it. I believe there are a few at Motherwell that can go on.
"Stevie Hammell is definitely one of these. He started the season well when I was there. He's not getting much praise but, just reading reports and speaking to some players, every week he is playing well."
Hammell is far from exceptional: Stephen Craigan, David Clarkson, Steven Craig and Keith Lasley are reported to be benefiting from having energies focused by the expertise of Lucas. McFadden is not surprised that playing to their strengths has made the year-older-and-wiser Fir Parkers an altogether different proposition. "Last year we played games where we were brilliant, but lost them through silly mistakes or bad discipline. This year it looks like they've cut out the mistakes. They've barely lost a goal in recent games. Maybe it has just gelled, and they've worked harder for each other."
In the light of McFadden's past, it might seem odd that the player is quietly finding his feet in the English top flight. The presence of Wayne Rooney at Goodison has been reported as putting McFadden in the shade, but the Scot considers that too simplistic. "It's not always Wayne that gets the attention. It is shared equally, based more on a team. It was unfair on Motherwell, but last season there was a lot written about me. I don't think it affected me, but I can just get on with it now, and not have to worry about what people are writing. The media down here is different - if I had a press conference, there wouldn't be as many people as in Scotland, only two or three local guys." Life at Everton has certainly been good to McFadden, despite their languishing third last in the Premiership as they attempt to build on the seventh place claimed in Davie Moyes's fine first full season as manager. Punters and fellow players have warmed to the recruit, who has not been dragged down by the recent run of poor results.
"It's not really affected me," he admits. "The players that were there last season did brilliant. Maybe they'll see a difference, but I don't. There is a good mood. It doesn't feel as if we are going to be in a relegation fight. We may be down at the bottom, but are only seven points off eighth place."
Moyes's careful nurturing of his fellow countryman has not precluded the nimble attacker featuring in all but two of the 10 games the club have played since his £1.25m move. In midweek, he was lively as a second-half substitute in the 2-1 defeat away to Blackburn Rovers. A trademark jink and artful cross paved the way for a goal that hauled Everton back into an encounter in which they were 2-0 down.
"I've played more football than I expected, and after not being sure how I would settle, things have gone really well. You can't play well every week, but I wasn't playing well up in Scotland every week. I'm going to learn quicker because the players are better. There isn't a massive gap, but they are stronger and fitter."
Yet there remains a feeling McFadden has still to perform without inhibitions for his new club. This may have less to do with being asked to work within Moyes's individual game plans, and more to do with the fact that he has not fallen foul of referees since moving south. On the longest run without a card in any season of his senior career, he cannot decide if this is a product of officiating being more sensible than in Scotland, or his being more sensible.
"I don't know if the referees are different: I've changed my attitude a wee bit. Because of the position Motherwell were in, I tended to feel hard done by before. I haven't had any problems, and I hope I don't get any."
McFadden as AN Other doesn't seeem right, though, and the mischievous streak remains. Asked what stadium had most impressed him in his new environment, he replied: "Parkheid". He won't fall into line with the perception that everything down south is bigger and better. Even if he may have to become so, in order to succeed there.