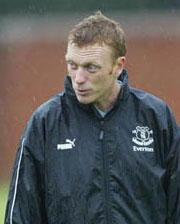 David Moyes: "As a manager, I'm embarrassed."

While we thought we were having the last laugh at the critics with our qualification for the Champions League against all the odds, Everton were given a sharp reality check about the gulf in class between the top three and the rest of the Premiership — not to mention a stark warning of how ill-prepared we are for the challenge posed by Europe's elite — with a footballing masterclass at Highbury. Just when we were gloating at our team's achievements this season, the critics will be rubbing their hands with glee at the ammunition provided by a shocking display.
The Blues' record defeat prior to today was a 10-4 drubbing at the hands of Tottenham Hotspur in 1958. The seven-goal margin of tonight's result is worse by my reckoning but it certainly represents our worst ever result in the Premier League and it is scant consolation that it came in a meaningless end-of-season match. At stake was "professional pride," as manager David Moyes referred to it; instead the Blues' traveling fans were humiliated from start to finish as the Gunners' slick passing machine laid waste to the Everton defence.
Moyes doesn't have many options when it comes to resting players given the paucity of resources at his disposal but he was able to move Marcus Bent, Nigel Marytn and Duncan Ferguson to the bench and deploy Richard Wright, James McFadden and James Beattie in their places. Tim Cahill was missing because of a back injury, so Steve Watson shifted to the midfield from left back and Alessandro Pistone returned to the starting line-up.
Everton could have scored what would have been a consolation almost straight away when Mikel Arteta found himself one-on-one with the goalkeeper, but with a defender breathing down his neck, he fired tamely straight at Jens Lehmann. Four minutes later, James Beattie was handed a half chance by Senderos's error but his slow reaction enabled Sol Campbell to get back and snuff out the chance.
Two minutes after that, the floogates opened. Dennis Bergkamp, playing either his final home game for Arsenal or the match that seals him one more year, split the Blues defence with a perfectly weighted ball and Robert van Persie did the rest, slotting easily past Richard Wright to make it 1-0.
Everton had barely recovered their composure than they found themselves 2-0 in arrears. Again, Bergkamp was the architect of the move and when the ball fell to Robert Pires, his powerful shot was parried by Wright, only for the Frenchman to loop a header into the net off the underside of the bar.
Moyes's shell-shocked side had little by of an answer to the Londoners' irresistible one-touch passing and incisive through-balls and after Arteta had had another sight of goal with a shot from the outside of the area that deflected wide for a corner, Patrick Vieira arrowed a shot that curved just wide of Wright's left-hand post.
The Frenchman only had to wait another five minutes before finding the net, however. Bergkamp, clearly revelling in the acres of space he was being afforded by a negligent Everton midfield, laid another inch-perfect pass into Vieira's feet and he clipped the ball over the on-rushing Wright to make it 3-0 nine minutes before the half-time break. It might have been four but Wright did well to make a diving stop of Jose Antonio Reyes's stinging drive late in the half.
Beattie's minimal exertions during the half somehow resulted in another injury to his knee so he was withdrawn during the interval, with Marcus Bent coming on try and rescue some pride for the Blues.
Unfortunately, things only went from bad to worse. While Arsenal's first three goals were all attributable to their undoubted superiority in all departments, their next three were all down to the sort of luck you make by playing positive, enterprising football.
First, a lucky deflection off the leg of Lee Carsley meant the ball broke through the Blues' defence straight into the path of Robert Pires and he made no mistake to slot goal number four past the hapless Wright. Then, Carsley was very harshly adjudged to have handled in the area and although Wright got a firm hand to Edu's low spot-kick, he couldn't prevent the ball sneaking into the corner for the Gunners' fifth. And Arsenal's sixth also resulted in a lucky rebound of a Blue leg allowing Bergkamp to reward himself for a terrific evening's work by cutting a shot past Wright and into the net for number six.
With the game well beyond a joke, Moyes removed Mikel Arteta and threw on Duncan Ferguson and he had one shot on goal saved and saw another clumsy attempt to chip Lehmann drift harmlessly high and wide. Back down the other end, half-time substitute, Thierry Henry, embarrassed Tony Hibbert down the Arsenal left before crossing to the far post where Reyes cut the ball back and Matthieu Flamini completed the rout by tapping home with ease.
End-of-season exhibition game or not, there was no way that David Moyes would have expected his team to roll over and die in quite the manner they did this evening. And while what his players have achieved this season probably makes them immune from criticism, losing 7-0 to anyone should not be tolerated, no matter the circumstances. It's a shame that Moyes's name and those of the players who have done us so proud this campaign will go down next to the club's record Premiership defeat.
If there is a silver lining, however, it will hopefully be that neither Moyes nor the Board will be under any illusions this summer about the scale of the rebuilding task that lies ahead if we are to wage a war on two fronts come August. Arsenal's performance should provide a bitter taste of the quality of teams that lie in wait in the Champions League and if the Club is serious about making a decent fist of its first foray into Europe for a decade, then Moyes's cautious rhetoric when it comes to potential player purchases may have to change.
The 7-0 scoreline will, unfortunately, be etched into the record of this otherwise superb season but it's probably best to consign this performance and result to history and look forward.
Lyndon Lloyd
---
So, mission accomplished. In the euphoria of the weekend's events — the wonderful 2-0 win over Newcastle and the confirmation of our qualification for the Champions League with Liverpool's failure to win at Anfield — it was easy to forget that we have another fixture to contend with this week, part of a top-four double-header in the Premiership (Manchester United take on Champions Chelsea on Tuesday evening).
The trip to Arsenal, postponed from 16th April because of the Gunners' involvement in the FA Cup semi-finals, had been looming as a daunting mission to grab as many points as we could in the expectration that Rafael Benitez's side and Bolton Wanderers would push us to the wire in our quest to secure 4th place.
Now, with the European dream realised, the Blues can relax and focus on little more than laying to rest their Highbury hoodoo and getting some sweet revenge for the 4-1 hammering meted out by Arsenal on the opening day of the campaign. Everton haven't won at Highbury since Andrei Kanchelskis fired a brilliant winner there in the 1995-96 season and since then we've been out-scored 24-6. So, plenty to play for in this televised midweek encounter, not to mention how nice it would be to rack up as many points as possible and finish this fantastic season in style.
David Moyes feels the same way, calling on his players to play for professional pride: "We can relax and enjoy it more, but we have professional pride and we want to do as well as we can in both games. We are in a good position and if we could finish with a few more points it would be great."
Moyes has two injury concerns ahead of this one. Tim Cahill is carrying a back injury and Tony Hibbert picked up a knock against Newcastle on Saturday. Apart from that, he will take a full squad to North London but it will be interesting to see if he tries out someone like Guillaume Plessis as a substitute now that the pressure is off.
The Gunners, who need only a point to absolutely guarantee automatic qualification for the group stages of the Champions League by virtue of finishing second, welcome Thierry Henry back to the starting line-up as ArsÚne Wenger prepares for the FA Cup Final against Manchester United later this month.
Lyndon Lloyd
* Unfortunately, we cannot control other sites' content policies and therefore cannot guarantee that links to external reports will remain active.