Match Summary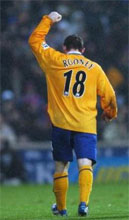 Wayne Rooney: drawing plenty of flak from the Goodison faithful

With Everton severely depleted due to suspension (Beattie & Cahill) and injuries (Ferguson), it was good news to see both Osman and McFadden declared fit and in the starting line-up against Manchester United, for whom a certain Wayne Rooney started this highly charged Fifth Round FA Cup Tie.
Perhaps the strangest team selection decision was to leave Naysmith at Left-back and drop Pistone to the bench, especially in view of his superb performance against Chelsea last week. But In Moyes We Trust... apparently the Italian had a knock, which is why he was rested.
Also on the Everton bench for the first time: James Vaughan, 16-year-old from the Youth Academy, alongside Frenchman Guillaume Plessis, but a strong feeling they were just there to make up the numbers which no doubt required that five players are listed, even if the manager has no intention of playing them.
So this was the start of the season's most over-hyped clash, the return of Wayne Rooney to Goodison Park, a chance for Everton to banish the 10-year hoodoo of persistent failure to beat the Mancs since the 1995 cup final... and the bizarre non-incentive to win that comes from a deal with Devil (Red) that will see Everton benefit to the tune of £150k if United win the FA Cup!!!
Everton made a good fist of it from the off, carrying the game to United well in the first 20 mins or so, with every Rooney touch being comprehensively booed by the agitated Goodison crowd.
But a typical Ronaldo run down the right undid them on 23 mins when he danced past Kilbane and crossed superbly as Naysmith backed too far away. Fortune powered in over Hibbert at the far post to head past Martyn with ease.
Everton tried to respond in kind, but the cohesion going forward was poor and the real opportunities to test Carroll never came. As the half wore on, United started to control the game completely, with the Everton players sadly showing no ideas whatsoever on the rare occasions that they regained possession.
Everton fears grew when Rooney lined up to take a free-kick given away when Ronaldo tricked his way past Arteta, but Bent rose superbly in the wall to head Rooney's shot behind for a corner.
Arteta, on his full debut, was showing some wonderful touches, and one brilliant interception just before the break led to a great through-ball that tore United's defence apart and just needed Bent to hammer it home. But the big lad decided not to hit it first time, pausing long enough to let Carroll advance, and in a flash the glorious chance was gone.
In the second half, there were few real chances until another free-kick opportunity was created by Ronaldo trying to evade Arteta. Form the dead-ball, Scholes's powerful shot was deflected through the wall, causing Martyn to parry rather than save, and Ronaldo finished it off with ease.
McFadden then seemed to damage a hamstring and went off, with Weir (why not an attacker???) coming on in his place. Yobo, who had done a good job keeping tabs on the lively Wayne Rooney, moved forward into midfield.
Then something thrown by an idiotic scally moron in the Gwladys Street end hit Carroll on the head, no doubt setting Everton up nicely for some punishment from the FA. Call yourself an Evertonian indeed!
Everton tried to plug away with aerial balls probing the United defence but not one single high ball into the United area had been won by an Everton player all night, cruelly exposing Everton's woeful lack of impact going forward. Where were you when we needed you, Mr Beattie?
And so the game, so grossly over-hyped, petered out as a contest, with both sides accepting the scoreline as David Moyes chose only to use his experienced defenders rather than risk any untested attacking talent. Even the fans had mostly given up booing Rooney in the gathering Goodison gloom. In injury time, Rooney went for his own personal glory with a good run down the left, but Martyn was again majestic in goal.
At the end of the day, the Everton players available on the night played as well as they were able when in possession, but failed miserbaly to challenge the Mancs, with few real tackles going in. It simply wasn't good enough to hold a candle to a United team who are vastly improved compared to the one held 0-0 by Everton at Old Trafford last September.
So the curse of being unable to beat the Mancs looks like extending to an incredible 11ith year. Some punishment for tarnishing Sir Alex's glittering record on that lovely day in May 1995.
---
Match Preview
No matter how hard you try, you just can't escape this tie being about anything other than the return to Goodison Park of Wayne Rooney.
At stake is a place in the FA Cup Quarter Finals and an opportunity for Everton to beat Manchester United for the first time in 10 years. But all the headlines will be about a certain 19-year-old scouser — especially if, God forbid, he scores against his boyhood Blues.
Indeed, all the pre-match talk has been less about the impact Rooney might have on the pitch than the ructions his return could cause off it, with fears that the number of United fans who have been able to purchase tickets in the Glwadys Street and Park End stands poses a threat of things kicking off on the terraces.
Far more worrying, however, is the possibility that fans will invade the pitch; either Evertonians wishing to show their anger to Rooney for his departure last summer or United fans looking to push Everton closer to disciplinary action from the FA for failing to prevent supporters from encroaching on the playing field. Our club has suffered badly from action by the football authorities in the past — how typical it would be for our European dream to be ripped away from us by docked points... assuming of course clubs can be penalised in the league for events in the cup.
The very least Rooney can expect is an evening of intense abuse from the crowd. No matter how much comes to light surrounding his move to Old Trafford, there are many who are still convinced that he wholeheartedly wanted to leave Everton and could well be determined to vent their spleen at him on Saturday.
It's sad really because I genuinely believe there is far more to his departure than meets the eye and I can't see the merit in taunting him from the stands and embittering him towards his the club he grew up supporting. I would also like to think that, as Evertonians, we are above the sort of vitriol and hatred we and the watching television audience are likely to see, but that might also be wishful thinking.
On the pitch, Everton have a slew of selection problems, the scale of which makes you wish that a transfer window was about to open up so David Moyes could strengthen his threadbare squad. Oh... ooops!
Duncan Ferguson is a major doubt with a back injury and Leon Osman is rated at only 50/50 despite a lengthy and arguably damaging absence through injury since early in the year. James McFadden is struggling to be passed fit, while Steve Watson and Li Tie are definitely out.
On the disciplinary front, James Beattie starts his three-match ban for violent conduct against Chelsea last weekend and Tim Cahill is also ineligible after finally picking up his fifth booking of the campaign. Tony Hibbert is available after serving his one-match suspension last week.
With Nick Chadwick gone to Plymouth, that leaves Moyes with just one fully fit striker in the form of Marcus Bent, hardly an inspiring way to prepare for the visit of one of the top three. It shouldn't affect his starting formation as he is likely to again employ a five-man midfield with Mikel Arteta in the frame for his first start.
What is worrying is that the chief threat in the opposition area from midfield in the form of Cahill will be missing. Apart from Bent, Lee Carsley is the only player likely to play with more than one goal to his name this season.
All of that makes it very hard to see how the Blues can come away with a win from this one if all of those doubtful players do indeed miss out. It will take a supreme string-pulling performance by Arteta, some killer instinct in front of goal and, probably, United to have an off-day if we're to reverse the poor pattern of form we have displayed against Premiership opposition since Christmas.
We've done well so far in the FA Cup and it may just take the old competition's unique atmosphere for the Blues to raise their game against the team currently lying second in the table. But don't forget that the last time we beat Manchester United was the last time we met them in this competition... a decade ago in the sun at Wembley. And we were massive underdogs then, too.
Lyndon Lloyd

---
No contest for superior United
Everton's FA Cup adventure is over after they exited the competition with barely a whimper against the holders, Manchester United, who must have been wondering why their progress to the quarter finals was made so easy by the team lying fourth in the Premiership. Rather than go for broke in an effort to salvage the tie, at 2-0 the home side simply seemed to give up, treating the occasion more like a league game and trying to keep the score down. At one stage, the travelling United fans jeered, "Champions League? You're having a laugh!" It was bitterly disappointing to have to agree with the sentiment. Not for the first time since Christmas, the Blues looked anything but contenders for Europe's elite tournament.
Injuries and suspensions were a mitigating factor, but David Moyes was able to call on more of his first-choice players than he might have thought in the build-up to this one. Leon Osman made his first start in what seems like months and James McFadden also started the game after recovering from an injury of his own — both players were rated as 50-50 midweek. James Beattie and Tim Cahill missed out through suspension and Duncan Ferguson was sidelined with a back injury. After making his home debut late in the game against Chelsea last weekend, Mikel Arteta started his first match for Everton since joining on loan from Real Sociedad.
Of course, Wayne Rooney's return to Goodison Park for the first time since his departure to United last August dominated the lead-up to this televised affair. An ex-SAS bodyguard, increased police presence in the stands and a wall of stewards on hand to prevent fans invading the pitch were all in place as Everton prayed for an orderly occasion. In the end, the obsession with Rooney was almost redundant; the 19 year-old had two good chances to score foiled by Nigel Martyn in one-on-one situations, but didn't get closer to scoring than that. Perhaps one blessing from an otherwise miserable evening.
In the end, it was Roy Carroll who fell victim to actions of one idiot when he collapsed to the ground having been hit by a coin thrown from the Gwladys Street. The repurcussions from that incident, together with another when a mobile phone was tossed onto the playing field and running battles in the streets after the game, remain to be seen. Having earned no credit from the game on the pitch, it was even more disappointing that we discredited ourselves off it.
In truth, Everton started the game brightly, with Osman displaying some nice touches in the middle and McFadden whipping some testing balls into Roy Carroll's area. But it was United who had the first sight of goal, Christiano Ronaldo firing well, well wide in the 5th minute and Rooney getting to byline to cross for Paul Scholes but Martyn blocked his shot and Tony Hibbert shepherded the ball to safety.
At the other end, a terrific cross by McFadden had Gary Neville scrambling to head over his own bar to deny Kevin Kilbane before a quick break by the Scot ended with Osman's cross for Bent being knocked behind by Rio Ferdinand. From the resulting corner, Bent rose but his header was going wide when it was blocked and hooked clear by a defender.
After that, United took convincing control of the game. Despite the efforts of Osman and the impressive Arteta in midfield, there were never enough blue shirts ahead of them in the final third of the pitch. With everyone else in the team opting for high balls to pick out Bent and Kilbane, the Blues' early rhythm just seemed to peter out.
And midway through the first half, the inevitable happpened. Ronaldo blinded Gary Naysmith with some of his trademark trickery before centering perfectly for Quinton Fortune who easily rose above Hibbert to head past Martyn and break the deadlock.
When Ronaldo was chopped down by Carsley outside the area five minutes before the interval, it gave Rooney his first chance to set the cat among the pigeons but, thankfully, his curling free kick deflected off Bent in the wall.
Everton's first and only real chance to score arrived two minutes later. Bent was put in by a brilliant defence-splitting ball by Arteta but the striker hesitated with just Carroll to beat and the goalkeeper blocked his shot.
While that should have offered hope for the second half, Everton didn't muster another effort on goal for the rest of the game. Instead, United continued to press and probe. Ronaldo brought the best out of Martyn when his shot took a wicked deflection off Hibbert and the 'keeper tipped the ball around the post. A couple of minutes later, Rooney was put in the clear by Fortune but, again, Martyn was equal to the task, blocking his shot.
It merely delayed the next United goal which arrived 10 minutes after half time. Scholes fired a direct free kick goalwards and while it started out looking fairly tame, a deflection off Osman's outstretched leg meant Martyn could only parry the ball into the path of Ronaldo and he had the simple task of tucking it past the 'keeper to make it 2-0.
Apart from Rooney being denied by Martyn for the second time late on, that was pretty much it from a footballing perspective. Moyes's response to McFadden having to leave the fray with what looked like a hamstring strain was the put David Weir into the defence and move Joseph Yobo into midfield. He later withdrew Arteta as well in favour of another defender in the form of Alessandro Pistone. You could understand his reluctance to throw 16 year-old James Vaughan into a losing game but the decision not to use Guillaume Plessis was a little less understandable.
Moyes's side looked like they had no appetite for this one after the visitors had gone ahead in the first half. Or maybe they realised the futility of it all given their own attacking deficiencies, but they're going to have to find some inspiration and drive from somewhere if they have any intention of holding onto the fourth and final Champions League place. In truth, they haven't looked worthy of it at any point since the turn of the year, but with the FA Cup no longer a distraction, it's time to rediscover the siege mentality that propelled us into the top four in the first place or this season is going to be one big "what might have been."
Lyndon Lloyd
---
After a quick blitz down the M62 we were at Goodison at about 15:00pm so had plenty of time to sit back in the pub. The atmosphere in there was pretty good natured, marred by a small section of Munich í58 chants but lets face it your always gonna get some idiots at the game who reduce themselves to that and I donít think Everton fans are any worse than most.
At 16:45pm we all had to leave the pub probably on police orders and we were about to head out when a massive heard of Man Utd fans were getting a police escort to the ground. It was pretty intense. Anyways we got to our seats in the Lower Gwladys just in time for kick off and had a decent view quite low down to the right of the goal thanks to Ste who queued for three hours for the tickets.
Well I was expecting it to be horribly intense with Man Utd fans spilling into all sections of the ground as the tickets had been on general sale. Well if they did then they must have kept quiet because I canít really recall seeing any trouble in the terraces all game and the vast majority of the fans were well behaved.
The teams came out and Rooney was greeted to a chorus of boos and several renditions of ďYou Fat BastardĒ. It was always going to be the case but I was expecting things to get much worse than they did. While most supporters wanted to make their feeling known and give him some stick, I donít think too many people wanted to see him get his legs broken or anything like that so I felt things past by pretty well. To be fair to Rooney he got on with it and took it all pretty well without rubbing the Evertonians noses in it.
Both teams started quite well without creating much. Early on Ronaldo went down and, horror of horrors, didnít get a free kick. This meant a few Man Utd players having a go at the ref Ė the result: every time Ronaldo went down after that resulted in an instant free kick. Again the pitch didnít help things much but our most prominent players were Osman, McFadden and Bent. Bent gave Ferdinand a tough game and while McFadden faded in the second half he worked well in the first with just his final ball letting him down on a few occasions.
Man Utd scored when we were in the ascendancy. Naysmith again showed his inability to defend crosses and Ronaldo, a bit like last season, played in his only good ball all day but what a ball. A great run and a great leap by Fortune resulted in him burying the ball into the back of the net. A good goal you have to say.
Eveton continued to try and really should have scored just before half time. Artetaís one and only decent contribution all game really was a great through ball to Bent. He seemed to be waiting for the offside flag as he hesitated and in the end his tame shot was easily smothered by Roy Caroll. It was a great chance and I reckon Bent would have buried it when he was in the first half of the season. A bit like his goal against Villa when he dinked it over the keeper. If only weíd have gone in level at half timeÖ.weíll never know. We came out fighting in the second half for about five minutes but it didnít take Man Utd too long to exert control on our threadbare and ultimately very tired team. Kilbane in particular looks very tired and could do with a break. If only we had the players.
Man Utdís second came when Ronaldo went on another mazy run before hitting the deck once again. He spoils the game with his diving and would be a much better player if he stayed on his feat, although I guess it worked this time. Scholes struck the free kick. It took a wicked deflection and Martyn could only parry. Evertonís defence reacted slowly, Ronaldo reacted quickly and slotted home very neatly to extend Man Utdís lead and pretty much put them out of site. You never really felt Everton looked capable of scoring after that. Man Utd were class and controlled the game quite easily.
Everton did keep trying though to their credit. Although Moyes substitutions were somewhat baffling. McFadden came off injured and was replaced by Weir. I was wanting Plessis to come on then and push Osman out wide to at least give him a go. We had nothing to lose, goal difference didnít matter did it. Then with about 10 minutes to go he brings Arteta off. I thought he was really gonna go for it and stick that kid James Vaughen on but he opted for Pistone this time and pushed Naysmith up into midfield. I could see why maybe he didnít want to put a player in who was out of his depth but with it being the FA Cup and a one off I canít see how it would have done any harm. To be fair though, I donít think anything we did could have changed the game much. Weíd still have lost to what was a far superior team. Maybe Moyes knew that.
The only other things of note were some idiot throwing a coin at Carroll and Rooney being denied by a great save by Martyn when through on goal. Thank God for that. It would have been difficult to stomach. Iím sure heíll have another chance in April.
Overall IĎm not too down. Thereís only three teams above us in the league and weíve just lost to the top two of them. We were truly outplayed today and we did well against Chelsea with 10 men. You couldnít fault the Everton players for effort today. Their heads did go in the last 15 minutes or so but they did keep trying and you canít ask for much more than that. When we get a few players back for the next few games (Ferguson, Cahill, Watson) we can play a lot better and the next two games against Villa away and Blackburn at home are both real opportunities to get our season back on track and we really have to take them with the most important derby for years looming.
Player Ratings:
Martyn: Did his usual job. Was unlucky with the deflection for the second goal but might have done better. Some good saves from Rooney though. 7
Naysmith: Again tried but I am concerned about his inability to defend crosses. 6
Stubbs: Not quite at his best tonight. 6
Yobo: Probably a bit worse than Stubbs. 5
Hibbert: Stuck at it. 6
Kilbane: Looks well and truly shattered and needs a break. I think he got booked so may have one next week. 6
Carsley: Huffed and puffed but couldnít stop them. 6
Arteta: Far too laid back on the ball and will need to adapt sooner rather than later. Has ability though. 5
Osman: Are most dangerous player and never gave up. I do hope he signs that contract. My man of the match. 8
McFadden: Started brightly but then faded before coming off injured. 6
Bent: Did well but needed support which was lacking from Evertonís midfield. Should have scored before the break. 7
Weir: Did quite well. 7
Pistone: Not on long and couldnít really get into the game. Donít know why he didnít start. 6
Paul Trail
* Unfortunately, we cannot control other sites' content policies and therefore cannot guarantee that links to external reports will remain active.