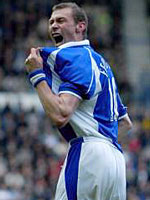 Duncan: Enjoyed battling with United over the years and tonight was no different!

There are times when words fail you and nothing, absolutely nothing, can be said to compliment enough the supreme team effort put in by those who played for Everton FC tonight. They were awesome. Superlatives are often thrown about like confetti but tonight was a very proud night for anyone with Everton in their hearts. Heady nights at Goodison Park are indeed a spectacle to behold. Stand up and take a collective bow, Mr. Moyes and your mighty team...
A highly entertaining first half ended level as both teams went hammer and tongues at each other. Both teams opened brightly, though clear cut chances were at a premium.
It took all of two minutes and fourteen seconds for Portugese international Ronaldo to perform his dying swan act on the edge of the Everton penalty area. Referee Dowd waved away United protests. After three minutes play, great movement between Ferguson and Arteta afforded Kilbane a half chance on the left edge of the United area but Kilbane was too slow to react and the chance passed by. A snap shot from Wayne Rooney was parried to safety by Nigel Martyn and moments later we had our first clash between Keane and Cahill with the Irish international going in dangerously late and high on a clearly unappreciative Cahill. Keane, as ever, fortunate to escape caution.
Everton's bright start continued with Marcus Bent firing high and wide after 12 minutes. United countered with a fine move on their right flank, Ronaldo firing in a dangerous cross which Yobo did well to clear.
Midway through the half, Mikel Arteta earned the wrath of Mr. Dowd and picked up the game's first yellow card — for persistent fouling. He was soon followed into the book by Paul Scholes for similar offences. The best chance of the half fell to Tim Cahill after a Joseph Yobo header was half cleared and the Australian midfielder attempted a spectacular overhead which was cleared off the line by Wes Brown.
Minutes later, Steve Watson fired in a superb cross just beyond the reach of Marcus Bent. In the home side's next attack, Bent made space for himself but snapped at a half chance, signs of a striker in need of a goal. Up at the other end, it was Rooney who looked likeliest to cause damage as he turned Lee Carsley inside out, firing high and wide.
The second half started as the first half finished, frantic tense action. Duncan Ferguson and Kevin Kilbane combined superbly to create an early opening but Howard remained untroubled. Three minutes into the second half, Wayne Rooney fed Paul Scholes, who created space from nothing, to open up the Everton defence, caught napping. His shot was saved superbly by Nigel Martyn with a stretched right leg. The first real opening of the game had fallen United's way and you sensed United would move up a gear, creating spaces and stretching the patched Everton defence. However, that was not to be. Moments later, Duncan Ferguson's name was added to the list in referee Dowd's book. He'd just welcomed goalkeeper Howard to Goodison and a challenge from behind on Darren Fletcher was enough one too many for the referee.
As he has done all season long, Marcus Bent chased down one of many lost causes, this time his effort in attempting to pressurise the United attack resulted in a United throw in. It looked fairly innocuous but if ever you were looking for an example of effort to epitomise this season's team and the manager this was it. The appreciative Goodison crowd acknowledged Bent and within seconds the home side had won the ball back. Seizing the moment, Everton pushed forward but in a controlled fashion. No route one football aimed at the head of Duncan Ferguson, though he was relishing every ball coming his way. Everton passed the ball about, from both flanks and the extra ten percent required was duly given. A needless foul on Steve Watson by Ronaldo brought about a disputed Everton free kick on the Main Stand side and with Mikel Arteta supplying quality free kicks Everton knew a chance would arise sooner or later. Arteta has an ability to whip in tremendously accurate free kicks, at pace not seen really since the days of Hinchcliffe. Ironically, we'd not defeated United in a League fixture since that day back in 1995 when Andy Hinchcliffe whipped in a corner kick in front of the Gwladys Street and Duncan Ferguson rose highest to head a winner past Peter Schmeichel. Ten years on, Duncan Ferguson chose to roll back the years as he made a mug out of Rio Ferdinand, leaving him for dead, and placed Arteta's beautiful delivery past the hapless Tim Howard. Goodison Park erupted. First strike to the Blues. The scene was now set for one of those magical Goodison nights.
Rooney made a burst down the left flank, chased by a pack of Everton players (a recurring theme) and it was no-nonsense defender Tony Hibbert who stopped him in his tracks though picking up a yellow card for his effort. If anything was to happen for United it would come through Rooney - he was central to what little creativity they offered. Just past the hour mark, he created space in front of goal but his sliced effort went the wrong side of the post. United threatened for the next few minutes and a pacey five man attack saw Ronaldo, with acres of space, waste a glorious opportunity with a feeble cross that floated aimlessly over the bar. With the clock ticking, you could sense it wasn't to be United's night. Rooney, composed throughout, then allowed his mantle to slip with a late challenge on Tim Cahill which was caught by the referee's assistant. With the home fans baying for blood Mr. Dowd chose to diffuse the situation but comically ended up bollocking Gary Neville for his continuing moans: a sign of what was to come.
With twenty minutes left, Ronaldo once again threatened on the right flank. This time, via Rooney, Paul Scholes advancing centrally was found with acres of space. He shot, in typical Scholes fashion but his shot whizzed, thankfully, over Martyn's head and into the Park End.
Silvestre replaced Wes Brown at the heart of United's defence but their shuffling of the pack was in disarray second later when Gary Neville was given a straight red after kicking the ball into the crowd. Will he ever learn? Last season he was spitting at kids in the Paddock. Nasty piece of work receiving a deserved early bath.
A great surging run through the centre with fifteen minutes remaining by Kevin Kilbane resulted in a free kick as the Irishman was hauled to the ground. Breathing space for the home side. Leon Osman replaced the tiring Marcus Bent who received a rapturous and deserved ovation on his departure. John O'Shea replaced the ineffective Darren Fletcher and within a minute he found his name the latest entry into Dowd's book for a half nelson challenge on Kilbane. Thirteen minutes from time, Kilbane whipped in a cross which caused a mild panic in United's defence. Osman tried, Duncan tried but neither could reach the ball as it spilled out to the feet of Arteta who fired wide.
Ten minutes remaining and Duncan Ferguson departed the stage to a standing ovation. Almost like old times and whether you like it or not he's giving plenty of food for thought for those who want him gone in the summer. If he can perform to this level consistently then there's a place for him next season at Goodison.
With five minutes remaining, the industrious Tim Cahill finally conceded defeat and made way for James McFadden. Cahill had been a late arrival for the second half after throwing up during the interval, a possible result of concussion. Three minutes from time, our diving friend of Portugese extraction finally found his name amongst those listed by the highly impressive Mr. Dowd. In a vain attempt to 'earn' United a last gasp penalty he stumbled in the box. Dowd was having none of it and duly whipped out another card. Two minutes from the end, Tony Hibbert was in the right place at the right time to clear off the line as United threw everything forward. Though time was almost up we hadn't seen the last card of the game. Frustration getting the better of him, Paul Scholes struck out and connected with Kevin Kilbane. Moyes and Ferguson argued on the touchline as Scholes joined Neville for the early bath. United's discipline long gone and now looking anything but the team they can be.
The full time whistle blew and Everton rejoiced, celebrating one of those nights that make you proud to be Blue. Download this 9MB movie clip of the fans celebrating at the end, from Ian Macdonald. Five games to go, three points clear and still with a game in hand. We are in dreamland and it just might now take something special to deprive us of what we now feel are our just desserts.
A great night to be an Evertonian.
Colm Kavanagh
---
Match Preview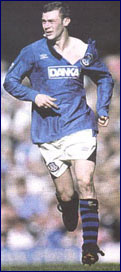 Duncan: Enjoyed battling with United over the years
Midweek home fixtures under the bright lights at Goodison Park are invariably special. The stakes will be high on Wednesday night with Manchester United making the short journey down the East Lancs road. United find themselves chasing fellow FA Cup finalists Arsenal by three points for that now coveted second place in the Premiership and Alex Ferguson will not want to see that margin increase with games rapidly running out. Expect United to come out with all guns blazing.
It goes without saying that this is a massive game for Everton manager David Moyes and the team. A poor run of results ended last Sunday week with the four-goal demolition of hapless Crystal Palace. With Liverpool managing to gain a solitary point from their last two games, we have managed to eek a further bit of breathing space between ourselves and our Merseyside rivals.
However, coming up sharply on the outside rails are Bolton Wanderers who have put together a well-timed run. Wanderers nicked a precious three points on Saturday at The Valley, when beating Charlton Athletic 2-1 — the winning goal being scored, ironically, by a Liverpool player on loan at Bolton this season. Their win at Charlton leapfrogged them over the Reds and they are now hot on our heels and could actually take that fourth spot on Tuesday night when they entertain strugglers, Southampton, at the Reebok.
Manager Moyes would never admit it but the side he chose to face Manchester United in the recent FA Cup tie was more designed to contain United than challenge them. Moyes has suggested changes may be made; the rigid 4-5-1 formation used successfully this season to get the Blues into the current position hasn't worked as well since the January departure of Thomas Gravesen. Lee Carsley may yet again find himself the victim of unfortunate circumstances and omitted from the starting line up as Moyes will be expected to continue with Mikel Arteta and Tim Cahill as the central pairing.
Duncan Ferguson, rumoured to be offered a new deal in the summer, should start up front alongside Marcus Bent. Over the years, Ferguson has enjoyed some success against United. We can but hope that this Wednesday is one of those magical nights for the Blues at Goodison.
Even if it does "only" secure a priceless three points!
Colm Kavanagh
---
This will be the 172nd meeting between Everton and Manchester United in all competitions, and the 83rd at Goodison Park.
Everton's full record against United is:
| | | | | | | |
| --- | --- | --- | --- | --- | --- | --- |
| | P | W | D | L | F | A |
| Premier League | 25 | 2 | 3 | 20 | 20 | 54 |
| Division One | 126 | 49 | 33 | 45 | 204 | 178 |
| FA Cup | 10 | 5 | 0 | 5 | 8 | 8 |
| League Cup | 3 | 2 | 0 | 1 | 5 | 3 |
| Fairs Cup | 2 | 0 | 1 | 1 | 2 | 3 |
| FA Charity Shield | 2 | 2 | 0 | 0 | 6 | 0 |
| Screen Sport SC | 2 | 2 | 0 | 0 | 5 | 2 |
| Mercantile Centenary | 1 | 0 | 0 | 1 | 0 | 1 |
| TOTALS: | 171 | 62 | 37 | 73 | 250 | 249 |
Our record at home to United is:
| | | | | | | |
| --- | --- | --- | --- | --- | --- | --- |
| | P | W | D | L | F | A |
| Premier League | 12 | 1 | 1 | 10 | 10 | 26 |
| Division One | 63 | 35 | 16 | 12 | 140 | 71 |
| FA Cup | 3 | 2 | 0 | 1 | 5 | 4 |
| League Cup | 1 | 0 | 0 | 1 | 0 | 2 |
| Fairs Cup | 1 | 0 | 0 | 1 | 1 | 2 |
| FA Charity Shield | 1 | 1 | 0 | 0 | 4 | 0 |
| Screen Sport SC | 1 | 1 | 0 | 0 | 1 | 0 |
| TOTALS: | 82 | 40 | 17 | 25 | 161 | 105 |
The last match between the sides was earlier this year on 19 February when United won 2-0 in the FA Cup 5th round. The last Premier League meeting between the sides at Goodison Park was on 7 February 2004 when Everton fought back from a 3-0 half time deficit with goals from David Unsworth, Kevin Kilbane and a United own goal, only to lose to a last minute goal and end up as 4-3 losers.
There have been 4 Everton hat-tricks against Manchester United over the years. The last was on 8 October 1927, when Billy Dean scored 3 at Goodison Park in a 5-2 victory.
The most common victory for Everton is 1-0 which has happened 11 times in Everton's 62 victories. United's most common victory over Everton is 2-1, which has happened 16 times in their 73 victories. The most common draw between the sides is 0-0, which has happened 16 times in the 37 draws between the sides.
Everton's record for 20 April is:
| | | | | | | |
| --- | --- | --- | --- | --- | --- | --- |
| | P | W | D | L | F | A |
| Premier League | 1 | 1 | 0 | 0 | 1 | 0 |
| Division One | 19 | 9 | 3 | 7 | 30 | 31 |
| FA Cup | 1 | 0 | 0 | 1 | 1 | 2 |
| TOTALS: | 21 | 10 | 3 | 8 | 32 | 33 |
This is the first time the clubs have met on this day. Everton's last match on 20 April was in 2002, when a Steve Watson goal secured a 1-0 victory at Southampton.
Neil Robinson was born on this day in 1957 in Liverpool. Singing on as an apprentice in June 1972, Neil signed professional forms for the club in May 1974 and made 21 appearances whilst also scoring a goal before being sold to Swansea Town in October 1979 for Ł70,000.
Anders Limpar won his first Swedish cap as an Everton player on this day in 1994 with a 2-0 friendly victory over Wales, with Neville Southall being the unfortunate Welsh goalkeeper that night.
Edgar Chadwick made his first appearance for the Football League on this day in 1891, scoring the League's only goal in a 1-1 draw with the Football Alliance.
Steve Flanagan
---
Big Dunc Rolls Back the Years

It was a victory which nobody dared predict or dared think about. After watching Man Utd simply destroy an admittedly under-strength Newcastle Utd side, I harboured little hope of beating Man Utd — particularly as we were missing a left back.

After initial debate over what time to set off, we finally decided on 2.30pm. Yes, this sounds ridiculous for a simple trip down the M62 but basically we wanted to avoid rush hour so it was either about 2pm or 6pm. 6pm would be cutting it fine...

Ste and Ross were late so we had little else to do but stay in the pub until they duly arrived, at 4pm. Neverthless, we generally avoided rush hour at least until we hit Liverpool and were sorted out and met the rest in the pub at about 6:45pm. Plenty of time.

The team news came on in the pub and Watson was the one chosen to play at left back. This was met by a few groans but everyone realised that Moyes really had little option. This was probably the safest bet as it allows Kilbane to drive forward, hopefully to the same affect as against Crystal Palace. Osman, who has been quite ineffective in the last six games or so, was dropped to add a bit of meat to the midfield in the shape of Super Lee Carsley, with Ferguson and Bent up front. Looks like it's 4-4-2 all the way now.

We sunk quite a few in the pub and got in just in time for kick off but just after Z-cars. It was hard to tell who was supposed to be playing right midfield for us but it seemed that Cahill pushed out there more often than not. Man Utd were at full strength with van Nistelroy and Rooney up front, Scholes and Keane in the middle, Ronaldo on the right and Fletcher on the left. It was only Giggs who was missing for Man Utd.

We won the toss and attacked towards the Park End in a first half of which there was not a lot of incident. I was sat right behind a six-year-old lad who was well fitted in his full Everton kit; it can be a nightmare sitting behind kids given their necessity to stand on the seat to see what is going on, hence somewhat obstructing your vision. However, this lad was very well trained and sat down when he had to accordingly. Even covering his ears when he heard the inevitable f'n and blindin' from the crowd. He'll have learnt some new words for school today!

Early on, Cahill and Keane had an aerial challenge for the ball which seemed to aggravate Cahill a bit who pushed Keane; it was nothing really. Rooney got treated to a good ten minutes of stick from the Gwladys and I thought from his body language it looked as though he was getting wound up. "You're just a fat little knobhead" was quite funny to which he raised both arms to after a while, although the "you're fat and you hit your bird" was somewhat distasteful given that this came from The Sun. We really should know better...

Anyways he was getting a little wound up and lunged in late on Hibbert although somehow avoided a booking for his troubles. He did have Man Utd's best (only?) chance of the half with a 25-yard effort which was at a good height for Martyn and was fairly comfortably saved. Everton were doing well and attacking purposefully from both sides and through the middle. Man Utd were clearly playing second ball with Ferguson though – let him win it and gobble up the rebound.

With their pressure, Everton did create two decent chances. From the Gwladys I couldn't see who sent it goalbound but it looked to be going in until it was hacked clear, and another chance seemed to be heading towards goal from a Ferguson header but was also cleared not far from goal. Man Utd did look extremely dangerous on the counter attack. Watson was standing up to the threat of Ronaldo admirably while Scholes and Rooney were always a threat charging towards goal.

Overall, Everton handled it well. The midfield were stifling Utd well and playing when they could, while the two up front — Ferguson in particular — were proving a handful. The back four were great: Watson stood up to the task immeasurably, as did Hibbert, while Weir and Yobo were both very controlled, calm and collected. Excellent stuff from Everton up until the break.

At half-time, Joe Royle came out to a rousing reception which was great and some old fella tried to hit the bar contest but just couldn't do it. He'd actually asked to take them a bit closer given his age but Everton weren't having it. The tight bastards!

I received a text message from a mate of mine up in Huddersfield who happens to be a Man Utd fan saying "It's only a matter of time". Indeed…

There were no changes at half-time but Moyes must have said some magic words, particularly to Dunc, who simply rolled back the years. He was doing well in the first half anyway but in the second he was fighting for every ball, giving Ferdinand a few kicks, chasing and harrying, just being an overall menace. He really was outstanding. Not to take anything away from the rest of the team as every one of them dug in and stood up to be counted. It was a very controlled performance by Everton who simply did everything right.

Despite this, Man Utd are Man Utd and hence a quality side who will create chances. I think the only time they breached our rearguard was when Scholes was somehow picked out. You've seen it so many times before from Scholes – one touch and bang: Goal! That would have been the case but for a simply outstanding stop from Martyn to keep it out. That was the only time we were breached.

The goal came typically from Dunc in typical Dunc fashion. Everton got a free kick on our left wing which might have gone either way. Having said that, Gary Neville, typically, was the only one complaining. Arteta was excellent here. He got himself ready, and the second the ref had pegged the wall back the 10 yards and blown his whistle, he whipped it in and there was Dunc to head home in typical Dunc fashion – eye on the ball, a little push on his marker, peal away and bang. Cue delirium. It was absolutely fantastic! It was great to see him celebrate like that and it simply rolled back the years to the 90's under Royle and Kendall. I guess the lad in front of me was to young to remember that.

A look at the clock told us we still had about half an hour to go however. Hold on to your hats…
Man Utd typically pressed but Everton were equal to it. Everyone dug in and everyone did their job. Rooney was by a country mile their main threat but Everton did what they had to do and stopped them. Ronaldo was also a constant menace. Despite all this, they just couldn't create anything. There was always someone for Everton putting their boot in and stopping them from playing. I'd like to pinpoint somebody but just can't. It really was a fantastic team effort.

It was always going to be tough but Gary Neville made it a little bit easier for us with an absolutely stupid sending off. I missed it to be fair as I must have been looking at something else, but the ball was dead and Neville apparently just controlled it and kicked it at somebody in the crowd. Madness! The ref was right next to him when I looked round and sent him straight off. I'm sure the guy in the crowd was probably commenting on the inbred nature of his family or something like that but he should know better and now faces a three-match ban probably. Good.

That helped but you just can't write off Man Utd: they continued to press. Everton made a few changes to stretch the game out a bit. Osman came on for Bent. Rooney skipped past a few players before cutting his shot across goal and just wide. Very close.

I had a mate in the Man Utd end who sent me a text: "The referee's a fucking joke". Oh please! Don't make me laugh... Wasn't the case when Van Nistelroy dived the season before last, when Rooney dived against Arsenal and when Silvestre handled at Old Trafford this season was it?

The ball was played up to Dunc. He managed to nod it back to Arteta who produced a speculative half-volley which flew about a yard wide. He's a cracking player. Ferguson had done all he could and was shattered. Willingness would have got him through but a fresh pair of legs made sense. Enter James Beattie. I was glad to see him get a good reception as I feared worse. He did well – hustle, harry, chase.

About three minutes to go in what had been just about the longest, yet most enjoyable, half-hour of my life, and Ronaldo goes on a run. He cuts across Yobo and hits the deck feebly. We all expected a penalty but the ref had wind of it and booked him for diving. That's twice in two games for him now. Are referees finally wary of Ronaldo? But Ferguson doesn't tell his players to go down easily does he. There was still time for more drama.

From an Everton corner Cahill attacked and headed it well over and wide. I thought he'd hurt his head when heading it but Ste saw him take a nasty blow off Yobo who was ready to head it goalbound. He collapsed in a heap afterwards and Ferdinand sportingly played it out. He had to come off, presumably with concussion, so McFadden took his place.

Into injury time and I think an offside had been given against Beattie. He ended up by the goalline. By the time he'd turned round Man Utd had already taken the free kick and were pushing forward. Beattie sprinted back at full tilt and ambushed Keane on half way with a clumsy, but fair, tackle. The ball broke to Kilbane. He skipped past Scholes who was frustrated as he'd just had a decision given against him. As Kilbane skipped past, Scholes kicked out in anger. He knew straight away and walked, thus throwing away any chance Man Utd may have had. Everton played it into the corner and somehow managed to get themselves offside. Man Utd took the free kick and there was the full-time whistle. Cue delirium! That was absolutely fantastic!!! I think I enjoyed it more than the derby. Well done Everton. That made you proud.

Two points I feel I have to mention: That was truly the best refereeing performance I've ever seen. He handled everything superbly and was fair. I'm going to write to the FA and tell them this. Man Utd are not half the team without the ref on their side.

Sour grapes from Alex Ferguson at the end. Says that Everton knew the ref was week and picked up on that. Well I don't think that was the case but we've never seen Man Utd crowd round the ref and intimidate him have we? And to say there was loads of challenges like the one Scholes did by Everton players is just plain pathetic. Hibbert, Arteta and Ferguson all got fairly booked for bad tackles – nothing more. The referee was fantastic.

Everton 1-0 Man Utd

Player Ratings:
Martyn: Excellent and crucial stop from Scholes. Also held on to a swerving Ronaldo effort late on. Distribution was a little poor. 7

Watson: Absolutely outstanding — especially as he played out of position. Should get a new contract just for his versatility. 9

Weir: Controlled, calm and collective. An excellent defensive showing. 9

Yobo: Superb aerial ability and dealt with everything brilliantly. 9

Hibbert: Has now amassed a worrying amount of bookings. Two more and he could miss a crucial game against Arsenal or Bolton. Has faced more difficult opponents than Fletcher before but also had to deal with the wing switching of Ronaldo. Did the job. 7

Kilbane: I think when the team play well, him and Lee Carsley really stand out. A brilliant dogged and determined display. Got back and provided cover for Watson on many occasions. Excellent. 9

Carsley: Made umpteen excellent tackles and showed some tidy passing. Won the battle over Roy Keane. Not a lot of players can say that. 9

Arteta: Very, very good use of the ball and certainly not afraid to stick his foot in. Has been and will prove to be a valuable acquisition for this season, and hopefully beyond. 9

Cahill: Was everywhere. Simply Cahill. 9

Bent: Started well but confidence dropped late in the first half after a wild half-volley that almost cleared the Park End. Desperately needs a goal and seems afraid to shoot. You can't fault his effort though and he always wants the ball. 7

Ferguson: Rolled back the years. That was everything we all used to love about Dunc. A vintage display. 10

Subs:

Osman: Didn't see a lot of the ball to be honest. 6

Beattie: Chased well. Was instrumental in getting the ball back which lead to Scholes getting sent off. Will probably start next game as Dunc will surely be too knackered. 7

McFadden: Not on long at all. 6
Paul Traill
* Unfortunately, we cannot control other sites' content policies and therefore cannot guarantee that links to external reports will remain active.