Match Summary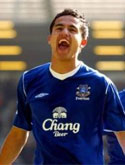 Tim Cahill: banned for three matches with immediate effect

A fantastic landmark for Everton: the first club to reach the total of 4,000 top-flight games.
No Tim Cahill for this and the next two fixtures following the Australian's flare-up with Celestine Babayaro last weekend against Newcastle; Osman gets to start in his place. No Nuno Valente either, so Everton are unchanged at the back.
A bright start for Blackburn who went straight into attack mode and won a corner but it was wasted. But Pederson followed up a dangerous move by Thompson after a Reid step-over with a frightening miss from 8 yds... warning signs!!!.
Everton responded with a good move and a great Van der Meyde cross... in to nobody. But Blackburn were running strongly at Everton and Bellamy won a free kick off Hibbert but Everton handled things somewhat nervously. On the next Blackburn attack, Pederson hit the post! And they continued to flood forward, dominating the game. It's going to be a long afternoon...
But Everton started to look a little brighter on the quarter hour, Beattie making a lovely flick on the near post although no-one was following it up. However, Blackburn were playing some excellent football, crisp passing, lots of people showing for the ball. Everton, however, were showing poor characteristics in these critical areas as David Moyes switched the system to 4-5-1, with McFadden on the right and Arteta coming inside. Blocking the midfield had the desired effect of cutting off the supply routes through Everton's midfield, taking a lot of the pace and incision out of Blackburn's game.
But all of a sudden, the game was turned on its head. Van der Meyde got the ball over Beattie to Jamie McFadden who dashed onto the ball and headed it in bravely over Freidel's challenge... GOAL! It was followed with an interesting situation in which Andy Todd handled the ball as the last man to dispossess Beattie... and Todd was OFF! Red Card!!!
From the free-kick, a superb delivery by Arteta .. just wide, with Freidel rooted! How a game can turn totally in the space of minutes... and can it all be down to the tactical genius of David Moyes, switching from 4-4-2 to 4-5-1!!! The massive Everton contingent were in raptures as the Blackburn fans could not believe what has happening
Another terrific free-kick from Arteta saw Weir struggling to do much with it from a narrow angle as Everton started to take a stranglehold on the game. Beattie won the ball and then combined with Osman who set it up beautifully for Mikel Arteta to fire in a superb curling shot past Brad Freidel.
A change for each side at the break, with Richard Wright coming in for his first appearance of the season to replace Nigel Martyn, who was suffering from a groin strain. And there was an early let-off for Wright when Pedersen headed wide. Wright showed his rustiness by dropping an easy ball and pushed the ball away for a corner. Talk about warning signs: Blackburn could have been level inside just 5 mins of the second half!
Bellamy cut through to fire a good shot at Wright, who saved well, as Blackburn flooded forward in full disregard of their one-man disadvantage. Everton were sitting back for too deep and not playing the ball with any composure, Arteta getting booked more for dissent over his own frustrations. Everton finally got a decent move in but McFadden was back to usual tricks of trying to beat the same man three times...
Ferguson then came on for Van der Meyde, who had faded badly... interesting that it was not Kilbane who replaced him, suggesting that it was back to 4-4-2 despite the promise being shown by Blackburn. Tugay volleyed over from a corner, their fourth good chance since the break.
Kilbane came on for Arteta, possibly on the risk of him getting a second yellow, as Everton looked to shut up shop and kill the game, after having done all the hard work. Everton failed to dominate the ten men of Blackburn, and failed to really capitalize on their advantage.
A dangerous Blackburn free-kick with 10 mins to go but Wright saved comfortably from Pederson. Near the end, Davies made a lovely run, danced into the area, but could not convert.
Not a dazzling second-half display from Everton by any means but the fact that they withstood a determined challenge from Blackburn after the break will give them another welcome dose of confidence as they continue to recover from their dreadful start to the season. Four wins out of five is pretty impressive form by any standards, and this puts Everton up into the mid-table group rather than in among the relegation dog-fighters, even though they did not actually climb the table.
Michael Kenrick
---
Match Preview
The Blues are upwardly mobile again! Having put the memory of the Hawthorns humiliation behind them with a narrow but surprisingly convincing victory over Newcastle last Sunday, Everton now face a tricky away game at Blackburn Rovers. Which Everton will we see this time around in this their 4,000th top-flight fixture?
David Moyes would, no doubt, have preferred to name an unchanged line-up, but thanks to the FA he will be robbed of Tim Cahill for this and the next two fixtures following the Australian's flare-up with Celestine Babayaro last weekend. That may open up the way for Phil Neville to return to central midfield and allow Nuno Valente to return at left back.
Up front, James McFadden's lively display alongside James Beattie will likely earn him a second-successive start. Per Krøldrup, meanwhile, is probably waiting for the team to build a two-goal cushion so that he might make a substitute's appearance. Don't hold your breath, Per. As we all know, Everton haven't scored more than once in any of the games they have played so far this season!
Should the Blues win, it will be their fourth win in five games which is pretty impressive for a team that was rock bottom of the table not too long ago.
Updated team news to follow.
BET ON THE BLUES

Our online betting partner, Blue Square are carrying their enticing £25 free bet offer for new registrants when they play place their first £10 bet through to the end of the year. Sample prices from 5pm on 2nd December:

Everton to win: 13/8
Everton to win 1-0: 7/1
Everton to win 2-1: 12/1
Everton losing at HT, win at FT: 25/1
James Beattie to score first: 7/1
Yobo to score first, Everton win 1-0: 140/1
Lyndon Lloyd
---
Having endured all sorts of hassle in getting to the game in the first place, getting inside Ewood Park in time for kick off was simply a delight. Just the one enforced change from the team that comprehensively spanked Newcastle Utd – Osman in for Cahill.

The team had a good shape to it and looked well balanced, yet we started the match with what can only be described as a death wish. Passes were going astray, clearances were never any good and tackles weren't going in like they had to.

Credit to Blackburn, who knocked it around very well in the opening exchanges. They really should have been ahead after what was probably about five minutes when a lovely ball down our left by Bellamy found Pederson with a free shot in goal from about 7 yards. It looked easier to score but he contrived to bury it wide of goal. A big let off.

Blackburn continued to press for the first half-hour or so, while Everton slowly settled but without creating anything. Actually I think the goal was our first effort. It came somewhat out of nothing. A ball forward was nodded on by Beattie. Van der Meyde, who did well to get up in support, did brilliantly to get another flick onto it. The flick fell well for McFadden who still had a lot to do. Friedel came rushing out a bit rashly and McFadden planted his header just past him. It then agonisingly bobbled towards the corner of the goal and finally nestled, just as Friedel was chasing back to try and stop it. Get in! We can't claim to have deserved it but that was 1-0.

Isn't it funny how goals change games? Straight away, Everton now had a spring about them and were knocking it about well. Such was the quality that it lead to what was the turning point of the game on about 35 minutes. A ball found Beattie chasing towards goal with only Andy Todd between him and Brad Friedel. He tried to flick it past Todd. As he did so the ball stopped and the linesman flagged. From where we were sat there was simply no way of telling if it was handball or not. The referee hadn't given it but the linesman seemed pretty sure. The ref consulted with his linesman. He must have told him it was a deliberate handball as the ref amidst a sea of Blackburn shirts marched back towards Todd. The linesman too a barrage of abuse from a load of Blackburn fans who had somehow been allowed to get that close to him. Some things were thrown at him as well. Somehow I doubt there will be a public flogging of Blackburn Rovers for allowing this offence to occur. Not the way it did for Everton when somebody threw a coin at Roy Carroll. The referee produced a red card and that was an early bath for Andy Todd. A great advantage now for Everton.

I thought we'd scored from the resulting free kick as well. A beautiful bending effort from Arteta looked to have clipped the corner of the goal but was just wide.

Everton knocked it about even better – clearly with an extension of confidence. Beattie nodded on and was probably fouled in doing so but the ref let play go on. Osman had gambled well this time and had popped up on the right hand side. He wriggled into the box and cut it back for Arteta who buried it beautifully into the top right corner of Brad Friedel's net: 2-0. I couldn't believe it! Meanwhile, I came within a centimetre of scratching Ste's eye out in the celebrations. That was more or less on half-time. Surely even Everton couldn't cock this up now? Richard Wright did some warming up down the line. The half-time whistle blew.

We went down to the concourse at half-time and came back up in good spirits. The second half had already started. Our collective joy soon turned to abject horror when we saw our keeper pick the ball up and launch it downfield left-footed. Could only mean one thing – Wright was on!!!

Things could have changed for Blackburn had they not missed another sitter. Somebody heading wide with a good chance. After that somebody crossed, Wright did what he does best – flapped and somebody half-volleyed it towards goal. Wright made amends with a superb reflex stop. After that he was fine. Distribution good and he did actually catch some good crosses.

Everton were now clearly intent on containing Blackburn and it was quite effortless if truth be told. A fantastic volley by Tugay from 20 yards direct from a corner went frustratingly wide for Blackburn and that was about it from them.

The atmosphere in the away end was fantastic. You know it's that time of year when we start singing Jingle Bells. Everton had a couple of enforced changes with Van der Meyde (seemingly) and Arteta (definitely) both getting knocks and being cautiously withdrawn for the Old Skool sorts of Ferguson and Kilbane, neither of whom really contributed much.

Really Everton could have made this more convincing with better passing when on the counter-attack, but I think we were all happy to settle on 2-0. The only chances I recall were:
Beattie nearly took my head off in the Upper tier with a left-footed half-volley.
McFadden shooting right-footed but straight at Friedel.
Osman crossing and Ferguson would have scored if not for a tidy interception by someone for Blackburn.
It mattered not. The game was won. Yobo was magnificent in defence and we kept our shape well. When you're 2-0 against 10 men, that is simply all you have to do. The full-time whistle went and it was a job well done.

Next stop – Old Trafford!

Player Ratings:
Martyn – Not a lot to do in the first half. And that was that; hope it's not to serious. 6

Neville – Simply awful distribution all game long. Tries to do to much too often. Got himself in the way countless times, especially in the first half when we were under the cosh. 6

Weir – Poor distribution but was generally solid enough. 6

Yobo – For me he has to be one of the top five defenders in the Premiership at the moment. I hope Per's good enough when the African Nations Cup gets going. My Man of the Match. 9

Hibbert – Distributes better away from home I think. Good as always in defence. 7

Van der Meyde – Did well for the first goal. Drifted in and out of the game otherwise before he was subbed. 7

Davies – Had an excellent game. Got stuck in and used the ball well. Seems to be grooming up nicely for a defensive midfield role. Who needs Keano! 8

Arteta – Not in the game much but what a goal. Was obviously there when it mattered. Subbed with a knock. He also got a ridiculous booking and now misses the Man Utd game. 7

Osman – Did well. Good passing and good running. He's always difficult to pick up. Set up the second goal as well. 7

Beattie – Most importantly he worked hard. Won some decent flicks. Didn't really have an opportunity all game though. Was funny when he gave Brad Friedel a chase to get the ball back. 6

McFadden – Had an excellent game. It's good to have a confident flare player in the team. Will start at Old Trafford I think but whether that's on the wing or up front remains to be seen. Did well with the goal. 8

Wright (for Martyn): That one flap aside he coped well. Hope he can sustain if he has to stay in the team. I somewhat doubt it though. 6

Ferguson (for Van Der Meyde): Didn't really contribute. 5

Kilbane (for Arteta): Didn't really contribute. Was funny at the end he was in a good attacking position with the ball. The whistle went and he thought "Oh what the heck, might as well whack it in anyway". He screwed it well wide. 5
Paul Traill
* Unfortunately, we cannot control other sites' content policies and therefore cannot guarantee that links to external reports will remain active.