Venue: St Andrews, Birmingham
Premier League
Saturday 12 April 2008; 3:00pm
Zerate (82')
Half Time: 0-0
Lescott (78')
Attendance: 25,923
Referee: Steve Bennett
With injuries bighting deep once again, and David Moyes reluctant to call any inexperienced if exuberant youth talent just bursting to fly out of the much-vaunted Everton Youth Academy and into the first team, it's backs to the wall as far as team selection is concerned.
Arteta has not trained this week because of muscular pains in his stomach and abdomen
Osman sustained a hip injury in training during the week
Cahill is out for the rest of the season after breaking his metatarsal fro the third time
Vaughan is still sidelined as he recovers from knee surgery
Moyes said he had added Jack Rodwell and Dan Gosling (who had been injured for a month or so) to the squad, but they predictably did not even get listed among the substitutes, where Gravesen makes performs his seemingly useless role of bench-warmer yet again. Yobo is on the bench, but presumably unfit, while Pienaar and Fernandes will be expected to feed the Yak and AJ up front. James McFadden, declared fit, plays against his old club for the first time since leaving in January.
An early Ridgewell clearance hit AJ on the head and flew very close to the Birmingham bar! Five hoof-balls lofted forward by Everton in the first 5 mins were all won by Birmingham. Carsley had has usual off-target poke from 25 yards early on as the game settled into a bland nothingness.
Birmingham attacked well after 12 mins, but the ball played in evaded McFadden and Howard collected comfortably. Everton responded in kind, with Johnson shooting but wide, as the game showed signs of livening up. But it took a while before Lescott got a look-in on goal; however, he was pushed wide and fired into the side netting. In the absence of Arteta, Baines had the chance to show what he could do on set-piece deliveries... but they were generally poor.
Jerome came very close with a header at the far post, heading back across goal and off the other post! Phew... Everton responded, two-on-two but there was a dreadful touch from Yakubu off Johnson's very nice ball in. A horrible miss really again by Yakubu, who should have shot first-time.
Johnson got on the end of a nice move but pulled his shot right across the goal and it flew well wide of the post. So endeth the first half.
Some dangerous moments in the second half, McFadden threatening, and from a corner it was Ridgewell who fired over when it would have been easier for Brum to score. And Brum continued to come at Everton with some dangerous,-looking attacks but the Blues from Liverpool were able to keep the Birmingham Blues at bay. McFadden had a dangerous free-kick over the wall but Howard caught it well.
Pienaar went down injured and needed treatment, before going off for Victor Anichebe. Howard was forced into two tremendous saves, first form Jaidi and then form McFadden. Finally, some real atmosphere as the Blues pushed the Blues hard. A free header for Ridgewell needed a block. McFadden went down easily in the area: no pen.
Anichebe had a chance, went for goal, but pulled the ball back onto his right foot and missed the opportunity as the Evertonians finally found their voices. Neville and Anichebe looked to combine down the wing but it was finished with a typically poor cross. Carsley was booked for a foul on ....
Everton started to threaten more directly, Hibbert and Neville combining to get a good cross. And it was Fernandes who softened up Taylor for the coup de gras, fining in a had shot that won a corner from which Everton would score indirectly. Carsley kept the ball in, then chipped a beautiful ball to the far post, Yakubu wining the header, flicking the ball back across goal, where Joleon Lescott was there to finish with aplomb. Sweet! Everton ahead, away form home; three points beckoning and parity with Liverpool...
Birmingham were really miffed and went for Everton with some urgency. Carsley was punished for handball on the edge of the area (no yellow card? Would have been his second...). Thankfully, McFadden had gone off just before the goal... but his replacement Zerate executed the free-kick to perfection, with Howard rooted to his line; no chance. Hopefully at least Arteta was watching that one...
Both teams looked for the win but Moyes's decision to swap Yakubu for Gravesen with five minutes of football to play seemed odd to say the least. However, it was Gravesen who delivered a superb ball in for Neville to shoot at goal only to see the ball blocked away.
McSheffrey threatened but Baines got the ball away as the minutes ticked off the clock. A late corner from Birmingham was saved easily by Howard and that was it. A draw stolen from the jaws of victory, and two more vital points in the quest for 4th... sorry, 5th place not secured.
On the plus side, Everton now have 61 points, equaling their highest total in the modern era of Sky... sorry, Premier League football. But will they get any more this season?
Match Preview
Everton have a rare 3pm Saturday kick off this weekend as they look to put more pressure on rivals Liverpool with victory at Birmingham City. The Blues haven't kicked off at the traditional time since 9th February when they beat Reading by a single goal to keep their grip on a 4th-place spot they have since, of course, relinquished.
Now, David Moyes's side are doing the chasing for the fourth Champions League qualifying spot and need the Dark Side to slip up this weekend in a potentially tricky match-up with Blackburn Rovers in order to gain ground.
As now seems to be the norm, Moyes has selection problems in midfield, with Mikel Arteta struggling again with recurrent groin and abdominal muscle complaints, Steven Pienaar facing a late fitness test on the leg injury he picked up in the Merseyside derby a fortnight ago, and last weekend's goal-scoring hero Leon Osman now a doubt with a hip injury he sustained in training this week.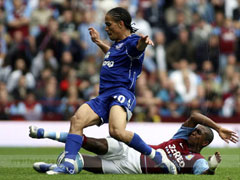 Steven Pienaar:
faces a late fitness test on a bruised leg
With Tony Hibbert also battling a hip complaint, the manager may have to do some shuffling of fit players in order to put out a strong enough starting XI. Moyes will no doubt be hoping that one of Pienaar and Osman is passed fit to play alongside Lee Carsley and Manuel Fernandes so that he only has to worry about pushing one full-back — Phil Neville or Leighton Baines — into midfield. While Phil Jagielka or Joseph Yobo can play on the right at a push, Joleon Lescott is better at left back so Baines wide left would probably be the better bet.
Having failed to win in their three prior Premier League games, Everton did, of course, return to winning ways last weekend against Derby County but they were far from convincing. They will have to play far better at St Andrews if they are to overcome a Birmingham side that in the last couple of months has held Arsenal to a 2-2 draw, thrashed Tottenham 4-1 and beaten Manchester City 3-1. You have to go back to 19th January for their last home defeat, a narrow 1-0 loss to Chelsea.
The fact that they currently lie one place above the drop zone — albeit four points clear — is chiefly due to their away form which was typified by a 2-0 defeat at Wigan last Saturday. Nevertheless, they will provide stern opposition for an Everton side still displaying mental effects of the fallout from their Uefa Cup exit.
James McFadden may or may not be fit to face his old teammates as he recovers from knee surgery but Alex McLeish's side have other dangers in their ranks, not least Olivier Kapo, their scorer at Goodison earlier in the season, and Mikael Forssell.
In Andy Johnson and particularly Yakubu, however, Everton have the weapons to shoot down the Midlanders provided they get the ball down and provide them the service the attack has been lacking so sorely in recent weeks.
Fourth place may be a goal but securing fifth place must be the priority, and with Portsmouth breathing down our necks their isn't much room for error.
Matchday Stats
May appear here later
Match Report
May appear here later
* Unfortunately, we cannot control other sites' content policies and therefore cannot guarantee that links to external reports will remain active.
BIRMINGHAM (4-4-2)
Taylor
Kelly
Jaidi
Ridgewell (c)
Murphy
Larsson (23' Jerome)
Muamba
Nafti :31'
McSheffrey
Forssell (46' O'Connor)
McFadden (76' Zarate)
Subs not used
Doyle
Queudrue
EVERTON (4-4-2)
Howard
Hibbert
Jagielka
Lescott
Baines
Neville
Carsley :72'
Pienaar (63' Anichebe)
Fernandes
Johnson
Yakubu (88' Gravesen)
Subs not used
Wessels
Yobo
Valente
Unavailable
Arteta (injured)
Osman (injured)
Cahill (injured)
Vaughan (injured)
Van der Meyde (injured)
Turner (injured)
Vidarsson (loan)
Boyle (loan)
Jutkiewicz (loan)
Premier League Scores
Saturday 12 April 2008
Bolton
1-0
West Ham
Reading
0-2
Fulham
Birmingham
1-1
Everton
Derby
0-6
Aston Villa
Sunderland
1-2
Man City
Tottenham
1-1
Middlesbro
Portsmouth
0-0
Newcastle
Sunday 13 April 2008
Liverpool
3-1
Blackburn
Man Utd
2-1
Arsenal
Monday 14 April 2008
Chelsea
1-1
Wigan
Premier League Table
Pos
Team
Pts
1
Man Utd
80
2
Chelsea
75
3
Arsenal
71
4
Liverpool
66
5
Everton
61
6
Portsmouth
57
7
Aston Villa
55
8
Man City
52
9
Blackburn
51
10
West Ham
44
11
Tottenham
41
12
Newcastle
39
13
Middlesbro
36
14
Sunderland
36
15
Wigan
35
16
Reading
32
17
Birmingham
31
18
Bolton
29
19
Fulham
27
20
Derby
11
After 14 Apr 2008