David Moyes went 4-4-2 with this one... and it showed! Howard was declared fit and kept a clean sheet, but Yobo was out and, with neither Hibbert nor Valente even on the bench there were places for Jagielka and Baines. Osman made way in midfield and sat this one out. McFadden and Johnson struggled up front.
Some early excitement in a great atmosphere for a packed Goodison as Everton swarmed forward and finally carved a chance for Arteta that was cleared off the line. Cahill should have done better with the follow-up. Johnson showed he was up for the chase, rattling the Zenit defence.
As Zenit came more into the game, McFadden won a free-kick deep by the corner flag but his delivery was poor. Pogrebnyak the got booked for sliding in late on Lescott. Another good free-kick chance, this time from the left, was easily blocked away for a corner but that led to a bizarre sequence that provided a massive and critical flashpoint for the game.
Pienaar pushed forward a great ball that Cahill drove in, but it was blocked well by a defender, a claim for handball... given! Penalty!! Red card!!! Lombaerts Off!!!! Incredible, as the replay showed, he clearly did not handle. Arteta duly powered the spot kick high and wildly over the bar!!! What was he thinking? Unbelievable! Well, well, well... Everton, however, came out of the unusual exchange with a man advantage.
At the other end, Everton lived more dangerously with a shout for a handball block by Jagielka. Shirl was booked for upending Arteta, who later produced a fantastic strike on goal from a long free-kick, and a fantastic save from Malafaeyev, who touched it onto the bar.
Carsley then shot a bobbling grass-cutter that rolled onto the post and along the line. In the resulting follow-up, Johnson raised his boot on the keeper and was booked. Very lively stuff really getting the crowd going, but the quality of Everton's football was earnest and committed but still not really good enough technically.
Dominguez went off injured before half-time, with Gorshkov coming on. Everton had caused plenty of anguish in the Zenit defence but just could not get the ball in the net, McFadden and Johnson perhaps not the best choice of attacking pair against these accomplished Russians.
Into the second half, and a great break from the Russians set Pob on a run and he tested Howard who blocked it away well. At the other end, Lescott got on the end of a couple of corners. Arshavin set up Zurianov beautifully but he powered over with only Howard to beat.
Everton huffed and puffed against the clearly superior Russians, and came close a few times but it was all rather hurried and scrappy, which may well have been the right approach against a team who was one man short. Zenit replaced their star striker Pogrebnyak with Hagen, a centre-back, who set out to stifle the Blues' attack even further.
Moyes finally made a move, bringing off the hapless McFadden for Euro super-sub, Victor Anichebe with barely 20 mins left. With the Goodison crowd in fabulous voice, Baines, though, blotted his copybook with an awful cross. Anichebe was slow to shoot and it was blocked away as Everton came so close but almost inevitably struggled to create a really clear-cut chance on goal against some spirited Russian defending.
As the minutes ticked away... was this to be another episode of the Late Late Show? Such was the defensive wall, Carsley resorted to a long-range pop while Johnson finally went off after a typically fruitless game, to be replaced surprisingly by Vaughan (who played in last night's mini-derby) for the last 10 minutes.
Finally, it was scrambled unceremoniously into the net by Cahill after a great shot in by Lescott after a prolonged and laboured attack was blocked out at short range by the keeper. Tim Cahill was there to steer it away from the keeper and power it over for a vital winning goal.
So Everton win Group A at the death, a very lively game, it's results that matter. Hardly a convincing performance against 10 men (why do the blues so often struggle in that situation?) but the goal and the win, coupled with Nuremburg's comeback win over AZ Alkmaar, renders next week's game in Holland academic.
An excellent outcome that Everton just about deserved on the night, thanks in large part to a very poor refereeing decision that changed the game. Nevertheless it turned into a bright and lively encounter in front of a very noisy crowd at Goodison Park. Ninth successive game unbeaten? That ain't half bad!
Patience Pays Off as Everton Go Through
Everton booked their passage to the next round and made it three wins out of three thanks to a late goal by Tim Cahill that finally shattered Zenit St Petersburg's dogged resistance. It looked for long periods as though a repeat of the first leg against Metalist Kharkiv was on the cards as David Moyes's side blew another penalty and battled against 10 men for an hour after a rip-roaring first half somehow failed to produce a goal.
The Blues set their stall out early and, as if to stuff Dick Advocaat's pre-match jibes at their stye of play back down the Dutchman's throat, moved the ball around neatly and effectively on the deck, almost completely controlled the first quarter of an hour, but without really creating anything really clear cut.
Mikel Arteta came closest to forcing an early goal when he flicked the loose ball over the goalkeeper only to see Kim Dong Jin belt the ball clear from under his crossbar. Then, James McFadden and Andy Johnson found themselves in a two-on-one situation but when the Scot tried to lay it across for his strike partner, the ball was intercepted and hacked clear.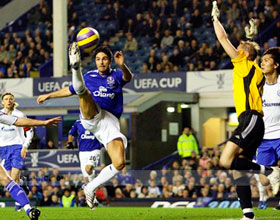 Arteta goes close with the first chance of the game
The game ignited in the 29th minute, however after Arteta's free kick was despatched straight into the wall, forcing a corner on the Everton left. The Spaniard's corner kick came back to him out wide and he cracked a shot in on goal that Vyacheslav Malafeev punched clear with both fists but only as far as Steven Pienaar. He hooked the ball back over his shoulder and into the mixer where Cahill nodded it smartly past his marker before showing tremendous technique to scissor-kick goalwards from a tight angle.
The ball seemed destined for the net when Nicolas Lombaerts slid across and guided it safey behind for a corner with his thigh... or so he thought. Instead, referee Christian Jacobsen pointed to the penalty spot and then, to the Belgian defenders incredulity, flashed a red card for deliberate handball. Zenit were stunned, Advocaat was livid, and Everton had been handed a real gift in their hopes of securing top spot in Group A.
Unfortunately, Arteta, normally so rock-solid reliable from the spot, skied his kick over the bar before burying his face in his hands. The Russians had received some measure of justice for an awful refereeing decision but now faced the last 61 minutes of the game a man down.
Worse was to come for Advocaat's men, too. Just five minutes later, Arshavin finished a lightning Zenit break by unleashing a powerful shot that appeared to be blocked by the arm of Phil Jagielka who was deputising for Joseph Yobo in the heart of defence. The referee waved away appeals for a genuine penalty despite being better placed than the first incident. The Blues certainly were profiting from some rub of the green.
They weren't deterred by Arteta's penalty failure either and proceeded to throw everything bar the kitchen sink at St Petersburg for the remainder of the half. It made for thrilling entertainment as the Russian Champions somehow made it to the break with the score still at 0-0.
First, Johnson's header off a corner looped high and then dropped onto the top of the net. Then, Arteta arced a brilliant free kick aimed at catching the 'keeper out by his left post but Malafeev flew across his line and made a terrific one-handed save to parry the shot.
A couple of minutes after that, Lee Carsley despatched a measured side-foot shot from the edge of the box but his shot bounced off the inside of the post and zipped across the goalline before being cleared by the relieved Zenit defence.
It seemed it would be just a matter of time before the deadlock was broken and Everton were rewarded for their efforts but the half-time interval provided Zenit with their opportunity to regroup and they were a decidedly more purposeful outfit in the second half.
They appeared to hve got the measure of their Merseyside hosts a bit more and would have been level within five minutes of the restart were it not for a good block by Tim Howard. Pogrebniak was released into space behind Jagielka who tried in vain to race back and recover but when the Russian international pulled the trigger, the American 'keeper had narrowed the angle and parried his shot from point-blank range.
Zurianov too was then put in behind the Everton defence but he snatched at the shot and ballooned it into the crowd behind the goal.
At the other end, Everton were racking up the corner count and Joleon Lescott was getting closer and closer to testing the goalkeeper while Pienaar made a mess of Jagielka's lay-up following yet another Arteta set piece. The Spanish midfielder even had a go himself from 20 yards after engineering space for a shot but hooked his effort wide.
With an hour-plus gone, it was clear the Blues were in need of a change and the expected switch duly arrived with 26 minutes left on the clock when McFadden, who'd done well but ended up being frustrated, made way for Victor Anichebe.
Everton's Uefa Cup Super Sub added the extra physical dimension that Moyes no doubt intended and he had a couple of half-chances from distance that deflected out for corners. And when Johnson made way for James Vaughan having run his socks off in his usual manner, the Blues were spearheaded but their promising teenage strikeforce.
But just when Zenit looked to have completed a Champion-style display of determined defending to thrwart the 11 men of Everton, it was an older campaigner who eventually made the telling contribution with six minutes of the regulation 90 left on the clock. Arteta whipped in a corner from the right and Lescott's glancing header bounced off a defender and back into his path, whereupon he lashed a right-footed effort goalwards. Malafeev did well to parry his effort on the line but the ricochet fell to Cahill who took one touch before swinging his left leg and banging the loose ball into the roof of the net from half a yard out.
Lee Carsley and Tim Cahill celebrate the Australian's late winner
From there, Moyes's boys comfortably saw the game out and secured their third straight win in Group A by that solitary goal.
On the balance of play, Everton certainly deserved the victory, but we'll never know how Zenit might have fared over the 90 minutes had they kept their full complement of players on the field throughout. Certainly they looked all at sea in the early going and didn't really get a grip on themselves until the second half but once they did it was hard to tell that they were playing with a man fewer.
Both sides played some really nice football and the Blues were to be commended for the patience they exhibited, often choosing the slow build-up across defence and midfield, eschewing the obvious choice of the long ball, and not losing faith in their ever-improving passing game even when some of the more ambitious stuff they tried didn't always come off. That in itself showed how much Moyes's side has matured since the first game against Kharkiv and demonstrates they are learning with every European outing.
While real credit must go to Zenit for the manner in which they played after such an early injustice no one could really begrudge Everton their victory. Onwards and upwards!
Match Preview
It's another European night at Goodison Park and one that could see Everton clinch qualification to the knockout phase of the Uefa Cup. A draw against newly-crowned Russian Champions, Zenit St Petersburg, would be enough to guarantee the Blues passage to the next round and victory would bring them a step closer to finishin top of Group A which they currently lead thanks to a 100% record in their opening two matches.
Unbeaten in eight now in all competitions, morale remains high despite a below-par performance in difficult conditions at Fratton Park at the weekend. David Moyes has a couple more fitness concerns beyond Alan Stubbs, though, who remains sidelined with a calf injury.
Joseph Yobo has an ankle injury that could rule him out while Tim Howard is doubtful after missing training because of a virus. With Stubbs out, Phil Jagielka could start in central defence alongside Joleon Lescott.
So, Moyes's won't be able to go for an unchanged line-up from that which started against Portsmouth but he could still hand another start for Yakubu up front and a persist with a midfield five of Carsley, Arteta, Cahill, Osman and Pienaar.
Mindful of another four fixtures queued up for the next 10 days, the manager might decide to mix things up a little further, either handing Andy Johnson a start up front as the lone striker or giving Leighton Baines his first run-out since returning from injury in place of Nuno Valente at left back.
Zenit St Petersburg, managed by Dutchman Dick Advocaat, showed signs of some post-season fatigue in their 2-2 draw with Nürnberg in Russia six days ago and won't have fancied the long trip West to Merseyside this week either.
Clearly, though, to have won what is a highly competitive European league, Zenit are not to be under-estimated and boast some impressive players. Anatoliy Tymoschuk caught the eye in defensve midfield for Ukraine in the World Cup last year and Fatih Tekke scored a hatful of goals in the Turkish league — and garnered the attention of one David Moyes late in the summer of 2005 — before being snapped up by Advocaat.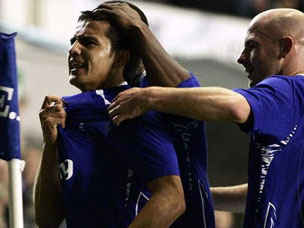 Again, a point for Everton would remove mathematical uncertainty regarding their qualification for the next phase and victory would give them a great chance of finishing top in the group and then being matched with a third-placed team in the next round. Teams finishing second in each Uefa Cup group will play the Champions League drop outs.
We've made it!
Via the joys of modern technology, text message and email, we agreed to set off from mine at 5:30pm, with Gaz as usual picking us up. "Why so early?" enquired Ste, "Are you wanting to get a few beers at the pub?" "Well yes" I replied, "also if you tell Gaz 5:30pm, he'll arrive at 6pm so we'd best play it safe."
Sure enough, at 6pm, Gaz roles up moaning about rush-hour traffic and off we set. Once we arrived and parked, our first port of call was the chippy before a botched attempt to get a pint at The Westminster due to heavy congestion at the bar. For a change we made our way to the ground nice and early and were there well in time for kick-off.
Neville led us out although failed to win the toss so we attacked the Gwladys Street in the first half. Moyes decided to shuffle his pack somewhat for this one, plumbing for 4-4-2 with McFadden and Johnson up front, Pienaar and Arteta playing the flanks, Carsley holding and Cahill joining the attack in midfield. At the back, Yobo didn't make it giving Phil Jagielka a good opportunity to shine. He was partnered with Lescott, with Baines replacing Valente at left back and Neville retaining his position at right back. Despite being unwell with a stomach bug and diarrhoea (as was unnecessarily quoted by David Moyes) Tim Howard stayed in goal. As for Zenit St. Petersburg, the one player I recognised straight away from the teamsheet was Russian captain Andrey Arshavin who is a real special talent and one I was looking forward to seeing.
Everton went for it from the start and in the opening exchanges had some great opportunities with Baines fizzing a good ball across the box that somehow nobody attacked. A little later McFadden got away from his marker and ran into the box with a good chance one-on-one with the keeper. He tried to square it to Johnson but the ball was well cleared by the centre-back. It wasn't exactly the best of balls from McFadden but Johnson was hardly busting a gut to get in front of his marker and make it easier for the Scott.
What we thought was to be the breakthrough at the time came when St Petersburg appeared to have settled into the game quite nicely. Arteta almost scored with a fantastic attempt to head goalwards from an impossible body angle. The ball was only temporarily cleared and Cahill burst in to try and force the ball home but the young Belgian international defender Nicolas Lombaerts cleared brilliantly off the line on the slide and the ball went behind. I though the referee was pointing for a goal kick after this and couldn't believe it, until the young lad next to me reliably informed me that the referee had given a penalty for handball.
The ref (who was Icelandic) then sent off the young Belgian and Everton had a great chance to take the lead against 10 men. After an age of gamesmanship with Lombaerts taking forever to leave the field and the keeper moaning about the position of the ball, up stepped Arteta to bang the ball powerfully well over the crossbar. Unbelievable! As it turns out it was never a handball and hence very harsh on St Petersburg. My mate Noel, who was at home watching it on the TV, texted me tell me so and also branded Cahill a cheat for appealing (he's a red by the way!).
As I thought would be the case, Zenit St Petersburg began wasting time at every opportunity with players staying down injured wherever and whenever possible. Everton still came very close a couple of time though, hitting the woodwork twice. Firstly Arteta smacked a free kick from around 30 yards, which was brilliantly tipped onto the crossbar by the keeper Malafeev. Shortly afterwards, Carsley stroked a long range effort low, beating the keeper but coming back of the inside of the post, across the goal and away.
After all this, St Petersburg settled well and knocked the ball about very nicely at times, with Arshavin and Zyrianov retaining and creating well with the ball. The closest they came in the first half was when the giant striker Pavel Pogrebnyak cut inside of Lescott but shot into the midriff of Jagielka (leading to claims of a handball by one or two St Petersburg players — and my mate Noel, via text). The half petered out from then on and you got the feeling Everton would have to grind this one out against the stubborn Russian champions.
The second half was one of little incident generally with Everton, despite tons of possession, unable to breach Zenit. On the contrary, Zenit broke very well on occasions and should certainly have scored with at least one of two opportunities when Pogrebnyak forced a decent stop from Howard who stood up well, and Arshavin comfortably clearing the cross bar with a half-volley which sailed well over the bar from a good position inside the box.
With about 25 minutes to go, Moyes changed it, replacing the ineffective McFadden with the youthful exuberance of Victor Anichebe. This lifted Everton a bit and we started to get in and around their box more with Arteta generally pulling the strings, albeit with no real end product. With about 10-15 minutes to go, Vaughan replaced Johnson.
It was in the last 10 minutes when Everton really began to apply a bit more pressure and settled the contest with St Petersburg tiring. The goal came from a corner. I think it was cleared but then worked back to Arteta who whipped it in again. Lescott got his head to it and forced a good save from Malafeev, but Tim Cahill (who else?) was there to bang the ball in on the slide with his left foot from about a yard out. He stayed down buried amongst Everton players for a while before getting up and heading for the corner flag for another bit of sparring.
That was in the 84th minute and left Zenit with no real chance of getting back into the game. Their supporters remained defiant however, holding aloft their scarves and singing right up until the final whistle. That's it for them with Uefa Cup group games and they won't progress at all if AZ Alkmaar and 1.FC Nürnberg win their respective games at home to us and AE Larissa... but that's another story.
The night belonged to Everton and we've now topped the group, giving us a better opportunity in the last 32 and also the chance to rest players in Holland on 20 December with an away game at Manchester United on the following Sunday.
Well done you blues!
Player Ratings:
Howard: Made a decent stop in the second half and distributed competently throughout. 7
Baines: Was decent defensively although his crossing wasn't quite at what he's capable of. 6
Lescott: My man of the match. A colossus display at the back and had a big hand in the goal. 9
Jagielka: Oh dear. I thought he was dreadful. I thought his positioning, heading and tackling was all poor whilst he looked slow and cumbersome when on the move. His bright spark was probably his distribution but he really needs to improve on this performance. 3
Neville: Countless hoofballs but he did support Arteta well in attack and was pretty solid defensively. 6
Pienaar: Good in flashes but faded from the game as it went on. 5
Carsley: Held the midfield together well enough. Unlucky with that side-footer against the post. 6
Cahill: The pick of the midfielders. He's now reminding me of what his was like in his first, glorious, Champions League-position season, Maybe that spell on the sidelines has done him good after all as he now seems better than ever. Another goal for the scrapbook also. That's 6 in 9 games since he's been back now! 7
Arteta: An uncharacteristically woeful penalty from Mikel but he didn't let it affect him and continued to stick at it all game to his credit. 6
McFadden: A really poor game from James when it was surely a great opportunity for him to prove his worth. Probably didn't do himself any favours by sulking off when subbed either. 4
Johnson: Did OK. Held the ball well and distributed it well most of the time, although a bit of a headless chicken on other occasions. 6

Anichebe (for McFadden): Added a fresh impetus to Everton's attacking, even if he didn't see much of the ball. 6
Vaughan (for Johnson): Hardly saw the ball at all and looked a little rusty. 5
* Unfortunately, we cannot control other sites' content policies and therefore cannot guarantee that links to external reports will remain active.