Venue: Wembley Stadium, London
FA Cup
Saturday 30 May 2009; 3:00pm
Drogba (21'), Lampard (72')
Half Time: 0-1
Saha (1')
Attendance: 89,391
Referee: Howard Webb
Match Report
When Chelsea shattered Evertonian dreams of an appearance in the League Cup Final last year, it was a painful illustration of the barrier between them, the dominant top-four teams, and us; the stark reaffirmation of the glass ceiling through which it seems Blues fans are now destined to gaze in envy and no small measure of distaste at the vast resources of the clubs dubbed the "Sky Four."
It was the same glass ceiling they couldn't break through in 2005 when, having actually finished in the Premier League's top four, they were denied the holy grail of entry to the Champions League's group phase by a superior Villarreal, and if any emphasis of the gulf between the big four in England and Everton were needed, the 11 point and nine point gaps between fourth and fifth in the last two seasons surely provided it.
No one has needed reminding that Manchester United, Liverpool, Chelsea and Arsenal operate on a different level to the rest of the top flight and the gap in resources is widening, not closing. Slowly but surely, however, David Moyes's Everton have been showing signs that they are getting closer to being able to challenge the hegemony of those clubs, if not on a level financial playing field then in terms of results. It was not by mere charity, therefore, that many commentators prior to today's FA Cup Final believed that the Blues had a real chance of beating Chelsea and land Moyes his first piece of silverware.
And how Moyes wanted it. He and his players wanted it so badly it was palpable and the sense of pent up longing, hope and expectation among Everton supporters was so strong that it erupted with volcanic force when Phil Jagielka tucked away the decisive penalty in the shoot-out against United in the semi-final last month.
How devastating it was then to see the Sky Four dominance continue, for Chelsea with all their money and recent success to lift another trophy, but most heart-breaking of all, for Everton to fail to give Guus Hiddink's side the kind of defiant and spirited display for which they've become synonymous under Moyes. In the final reckoning, the Blues seemed to melt away in the Wembley heat; rather than seize the moment afforded by Louis Saha's stunning opener, the fastest goal ever scored in an FA Cup final, they ceded the initiative to their opponents and succumbed in a manner that merely seemed to reinforce how far apart the two clubs are.
Part of it was to do with that undeniable disparity in quality — after all, few could argue that Hiddink's team is superior on paper in every position.
Part of it was the lack of depth in Moyes's squad which meant that not only was his team noticeably missing the craft of Mikel Arteta, the added threat of Yakubu up front and the defensive rock formed by Jagielka and Joleon Lescott, but the players he did field looked spent from a long, hard season.
Part of it was the combination of that fatigue and the heat — Everton's game relies on working hard for the ball, Chelsea make the ball do the work, so that come the second half a few players in blue looked as though they had little left to give.
And part of it seemed to come down to attitude, a relapse into the kind of inferiority complex that has dogged Moyes's sides against the top four in recent years, one that prompted them to sit back to try and defend their surprise early advantage and only manage two shots on target in 90 minutes. It was a worrying echo of the performance against United in the semi, a match which, in the cold light of the close season, we can now consider we were fortunate to win.
Where Chelsea's big-name and big-game players looked at home on the Wembley stage, Everton again looked a little over-awed, hesitant or unable to play the kind of football that has lit up their charge into fifth place in the latter half of the campaign. The quick passing and the movement with which they so easily dismantled Fulham last weekend was almost non-existent, replaced by a frustrating reliance on long balls, many of which were so aimless as to be embarrassing. Even the Blues' tried-and-trusted threat from set-pieces failed to materialise; one corner and a smattering of wasted free kicks meant that one of Chelsea's few Achilles heels went unexploited.
Quite a contrast to the electrifying opening. Both encounters in the League had ended goalless but the Final was just 25 seconds old when the first goal between these two clubs this season arrived. Steven Pienaar collected Leighton Baines' pass down the left flank and his cross was headed up into the air by Obi Mikel. Marouane Fellaini, the one change from the team that started at Craven Cottage on Sunday, rose to head the ball down to Saha who swivelled beautifully as he smashed a half-volley past Petr Cech from 16 yards.
The vast swathes of Everton blue in one half of the stadium erupted in incredulous joy as Saha wheeled away in celebration and was mobbed by his teammates. It was a first-class strike, a moment of quality that became the quickest goal ever in an FA Cup Final, breaking a record that had stood for almost 115 years.
Once the euphoria had subsided, however, the nervous question started to nag at Evertonian hearts. Had we scored too early? Initially, the answer appeared to be no. Chelsea looked a little rattled, particuarly in defence and Everton had their tails up for a few minutes following the goal.
It didn't take the Londoners long, though, to settle into their familiar groove, and Tony Hibbert's afternoon took an early turn for the worse when he accidentally clipped Florent Malouda's heel as he raced down the Chelsea left. Referee Howard Webb took the harsh option and booked the defender even though there was clearly no intent.
The Blues started looking a little vulnerable in general in defence when the opposition probed in and around the box or ran at them. Malouda became a frequent outlet for Hiddink's side after it became clear that Everton's right flank, the combination of Leon Osman and Hibbert, was a particularly weak link and one move ended wth Michael Essien slicing over when he might have done better.
On the next occasion, the Blues weren't so lucky. A chipped ball to the left flank found Malouda in a yawning void left by Hibbert, who had tucked inside, and Osman, who was too far forward, and the Frenchman was given all the room he need to pick out the run of Didier Drogba in the area. The Ivorian was left untracked as he attacked the cross and powered a header into the corner of Tim Howard's net.
Everton's precious advantage had been squandered all to easily and parity was restored. Moyes's side were clearly unsettled by the equaliser and quickly ceded the initiative to their opponents for the remainder of the half. It was all disturbingly reminiscent of the first 90 minutes against United, where the Blues just didn't seem able to put anything resembling a coherent attack together.
At the other end, Frank Lampard fired a dipping shot just over the bar after 25 minutes and Ashley Cole took advantage of an almost pedestrian Hibbert to get around the back and hammer a sliced effort wide from a tight angle.
Quite what had got into Hibbert was anyone's guess; whether it was the 100-plus degree heat, an injury or just plain stage fright, he was having an absolute nightmare of a game as the first half came to a close and it was no surprise when Lars Jacobsen replaced him after the interval.
The second half began with nothing like the drama of the first as the two sides battled against the heat and each other. 15 minutes passed before the first meaningful effort on goal, Nicolas Anelka racing between Joseph Yobo and Jacobsen to latch onto a through ball which he lobbed just over Howard' crossbar with the outside of his boot.
Two minutes later, Tim Cahill benefited from a fortunate bounce off his arm to get away from Alex and unloaded from 30 yards but his shot was saved by Cech. Unfortunately, he appeared to strain a thigh in the process and though he remained on the pitch until full time, he didn't look the same player.
Though they had been largely poor for the hour or so following Saha'a goal, the Blues did noticeably step up a gear midway through the second period and their first real — and, to be honest, only — chance after the break fell to the Frenchman when Pienaar whipped in a cross and Saha powered a header a foot or so over the bar. It was a decent chance and one he might have done better with had Cahill not crossed his field of vision at the last minute.
Five minutes later, Chelsea took the lead. Lampard drove towards the Everton box before turning Phil Neville and although he slipped he recovered quickly and fired left footed towards Howard's goal. The goalkeeper, partially unsighted by Lescott who hadn't taken advantage of Lampard losing his footing to close down the ball, dived to his right but though he got both gloves on the ball, he couldn't prevent it from flying inside his right-hand post.
Moyes responded by first throwing James Vaughan on for Saha and then Dan Gosling for the ineffective Osman but neither youngster would really get the chance to ruffle Chelsea's feathers. The grandsand finish and charge of the Light Brigade by Everton never materialised — in short, they looked a spent force, heavy legged and devoid of inspiration.
That allowed Chelsea to close out the game in the manner you'd expect from a team of seasoned campaigners who have been the last four of the Champions League for the past three seasons. Indeed, the scoreline would have been more emphatic had Malouda's stunning 30-plus yard goal not been overlooked by the officials with 12 minutes left. The ball cannoned off the underside of the crossbar and, TV replays would show, bounced over the line but with the linesman and referee Webb nowhere near a position to make a defnitive decision, play was waved on.
Ultimately, it was all just desperately depressing — Everton's first real shot at silverware under Moyes evaporated in the heat and Chelsea were left to celebrate the lifting of the FA Cup for the fifth time. The Blues, meanwhile, set an unwanted record by becoming the first club to lose eight Finals, and they once again had to play the role of plucky losers.
What was perhaps most sad was that Moyes's boys are better than they showed the nation today, though this match shouldn't be viewed in isolation but in the context of a gruelling season. Without doubt, the fifth-place finish in the Premier League is a far fairer reflection of the quality and ability of this team.
They simply didn't do themselves justice with a poor performance but it may just have been one big match too far for a team stretched to the limit by injury and just plain lack of numbers. There was an element of showing Chelsea and the occasion too much respect as well, and that is something that will hopefully diminish as the squad more occasions like this.
Certainly, Fellaini, Cahill, Hibbert and Pienaar looked drained in the second half and particularly where the South African was concerned, there was very little of the link-up play down the left with Baines that has been so successful for Everton in recent weeks. That left the side largely impotent, reliant on long balls that caused Chelsea few problems. The Blues routinely punch above their weight, but today while they came out swinging and landed a killer early blow, they spent too long with their gloves up and on the defensive and their was a horrible air of inevitability about how things would pan out.
And so the close season begins as does the planning in earnest for next season. Once again, it looks as though the unstoppable force of Moyes's ambition will meet the immovable object of Bill Kenwright's lack of financial resources. The manager has again spoken of the necessity of adding key players to the squad over the summer, while his Chairman has warned that the kitty will be sparse as lenders are likely to draw the curtains and lock the doors when the Club comes looking to borrow more.
What is certain is that if Moyes can keep the players he currently has, can add a couple of real quality names and gets more luck with injury than he had this past season, then the Blues have an excellent chance of being back at Wembley again this time next year. The future is bright despite the disappointment of today, but that glass ceiling is likely to remain in place without significant outside investment.
A boiling hot day in the early summer sunshine and the new Wembley looked fantastic, blue and white nicely obscuring more and more of those red seats as it filled up before the traditional singing of Abide with Me.
David Moyes resisted the temptation to play young Jack Rodwell, who was left on the bench, with Louis Saha named to lead the Everton attack. For Chelsea, Ballak made way for Mikel.
1' The first attack after Everton kicked off andput it down the left, Pienaar crossed, Chelsea touched it once to defend but Fellenai headed it back in to Saha in space, a classic brilliant left-foot finish and 1-0 — 26 seconds, the fastest ever FA Cup Final goal!!!
8' Hibbert tripped Malouda, yellow card. This would turn out to be the moment that Everton effectively lost the game. From this point on, Hibbert was rendered useless...
21' Hibbert, fearful of the tackle, left Malouda with far too much space out wide, plenty of time for a deep cross and an easy header for Drogba. 1-1
25' Disgusting challenge by Essien on Fellaini. No booking.
Hibbert, who was suffering a horrble nightmare after getting suc h an early card, was sensibly withdrawn by David Moes at half-time in favour of Jacobsen. Cahill perhaps playing more forward with Fellaini dropping back after being over-used as a target man in the first half, encouraging too many hoofed balls.
48' Neville booked for a nothing incident on the floor with Mikel. Not good.
61' Cahill, ball whacked into his thigh, shot at Cech
71' Too easy, too obvious for Lampard. Game over!
73' Malouda (offside) in on Howard, just over... phew!
77' Vaughan on for Saha
77' Fantastic strike by Maluda, underside of the bar, bounces down just over the line than spins back out..... No goal given! Phew x 2!!!
83' Gosling on for Osman
84' Lampard dive, Yellow card for simulation after tripping over Pienaar's leg... phew!!!
No teeth in the last 10 mins. 90' Cahill shot from distance, well wide. Poor.
4 mins of added time... all Chelsea.
Baines, yellow card in the 94th minute, trying to stop Bosignwa. Chelsea take all day over the free-kick.
And that was it. No FA Cup Final victory for Everton and still no trophy for David Moyes. Everton's 13th Cup Final... 8th defeat — more than any other club. A depressing capitulation to the moneybags after such a glorious start. Moyes and his typical bus-parking tactics ruin what could have been a great day for Everton.
Match Preview
It's been 14 years — too long for a club for which Wembley was like a second home in the 1980s — but Everton are back in the national stadium to contest a showpiece final, indeed the world's most famous final.
And just as they did in 1995 when Paul Rideout's goal and a heroic rearguard action secured the famous old trophy at Manchester United's expense, the Blues will be going in the FA Cup Final as the underdogs, though perhaps with the support of those neutrals who are tired of the Sky Four's stranglehold on the domestic scene's major honours.
To win their sixth FA Cup, though, Everton will have to do what they haven't done since the year 2000 and that's beat Chelsea. Since acquiring their new-found wealth and enjoying a rapid rise to big-four status, the West Londoners have avoided defeat to the Blues and, of course, eliminated David Moyes's side from the Carling Cup semi-final last year before losing the final to Tottenham Hotspur.
In Everton's favour, though, is the fact that their record against Chelsea has been improving of late — both matches this season finished goalless and, realistically, Guus Hiddink's team could count themselves very fortunate not to have lost at Stamford Bridge last month when a tired by spirited Everton created the better chances but couldn't make their hosts pay.
Now, Moyes will be hoping that his charges can carry their Premier League form into the Final and land his first trophy as Everton manager. Heaven knows he deserves it; three times now the League Managers Association's Manager of the Year and it would be a fitting culmination of seven years' evolution under his management if he were to watch Phil Neville lift the cup on Saturday.
Moyes will, of course, be plotting Chelsea's downfall without his best player in each of the attacking, central midfield and central defensive areas of the pitch. Yakubu, Mikel Arteta and Phil Jagielka will all be watching from the stands in their suits as they recover from their respective ligament injuries that brought their seasons to a premature end. Indeed, the Yak didn't get to participate in the cup run at all, while Jagielka, of course, played a crucial role in getting the team back to Wembley with the decisive penalty against Manchester United in the semi.
With James Vaughan also missing a large chunk of the season with a long-term injury of his own, Victor Anichebe being sidelined in February and Louis Saha in and out of fitness throughout, the manager has all too often had to struggle through without a recognised striker this season.
This weekend, however, he may voluntarily elect to field a team with a midfielder leading the line, despite Vaughan and Saha both raring to go. Tim Cahill has proven so effective as the lone striker, supported by Marouane Fellaini "in the hole" that Moyes may opt for that more cautious approach, at least for the first half.
Hardly the decision favoured by the purists who have reveled in Everton's open style in the last few matches, albeit against lesser opposition, but the manager is ever the pragmatist and he may well be looking at this Final in two stages — keep it tight and rely on his team's threat from set-pieces in the first half while keeping Saha fresh in case of extra time before taking a more adventurous approach in the second, depending on how things go.
If he does go that route, it would mean a starting place for Jack Rodwell who put on a display that defied his tender years at Fulham last Sunday in the link-up role in central midfield. It was a performance worthy of the Wembley stage and his manager is clearly confident he can reproduce it against Chelsea.
Elsewhere, with fears over the respective hamstrings of Phil Neville and Steven Pienaar receding, Everton should be unchanged.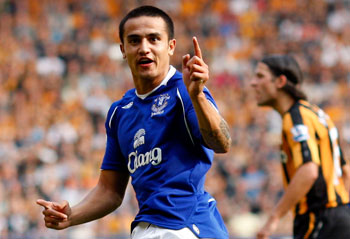 Tim Cahill:
will he be asked to lead the line at Wembley?
Just as there was in '95, there has been a strange feeling of destiny about the cup run that brought the Blues to Wembley, having negotiated the near-frozen banana skin of Macclesfield Town in early January and then dumped top-flight opposition in the form of Aston Villa, Liverpool, Middlesbrough and Manchester United out of the competition, the feeling has increased that the Blues' name is on the Cup.
The players, who drew first blood when Everton won the toss to decide who would wear home colours, will be taking nothing for granted — nor should they as this will be a stern test, particularly if they play as poorly as they did against United in normal play in the semi-final — but that sense of optimism will be invaluable as they look to put themselves on the footballing map by conquering Chelsea Time for Moyes's boys to prove that hard work, dedication, and team spirit can triumph over the Sky Four millions.
Come on, you Blues!
* Unfortunately, we cannot control other sites' content policies and therefore cannot guarantee that links to external reports will remain active.
CHELSEA (4-4-2)
Cech
Bosingwa
Alex
Terry (c)
Cole
Malouda
Lampard :84'
Mikel
Essien (61' Ballack)
Anelka
Drogba
Subs not used
Mancienne
Ivanovic
Hilario Belletti
Kalou
Di Santo
EVERTON (4-5-1)
Howard
Hibbert :8' (45' Jacobsen)
Yobo
Lescott
Baines :90+4'
Neville :48'
Osman (83' Gosling)
Cahill
Pienaar
Fellaini
Saha (77' Vaughan)
Subs not used
Nash
Castillo
Rodwell
Baxter
Unavailable
Anichebe (injured)
Arteta (injured)
Jagielka (injured)
Yakubu (injured)
Jô (cup-tied)