The team pretty much picked itself from the threadbare ranks available, Moyes sticking with Jagielka at right-back, Osman in midfield, Cahill and Fellaini upfront.
Middlesbrough started strongly and took the game to Everton in front of the Park End, in the bright sunshine, the Blues hardly getting a look-in during a hectic first 15 mins. Aliadiare probably had the best chance on 10 mins, The turning point came with a free-kick luckily awarded by the left corner that Fellaini headed. Yobo then got up well to head a corner straight at Jones after two shots from Osman were blocked.
Another free-kick awarded for Pogatetz draping his arm around Fellaini's neck gave Osman a chance to pump the ball in as Everton started finally to respond, albeit with little quality and even less end product. Osman won a corner on the half-hour with a snapshot that careened behind off a defender... as did Pienaar's excellent corner that Bates deflected away from all the Everton attackers.
Fellaini was getting into a lot of very physical tussles, and one battle with Huth before the break lost them the advantage when Halsey blew... how long before the inevitable yellow card? But it was at the other end that Everton finally succumbed to the greater desire shown by Boro all half when Wheater rose to head a cross in through Howard and give them a sadly deserved lead on the stroke of half-time.
'The goal was enough to wake Moyes up and have him make a very uncharacteristic half-time switch, bringing Louis Saha on for Rodwell. But Boro found it very easy to slice through the Everton defence for Adiadiere to strike, fortunately Howard was there to keep it out.
But an equally simple move and a great cross from Baines produced the desired result at the other end, Fellaini heading into an empty net, Jones having come off his line with no chance of getting the ball off the Big Fella's barnet. SWEET!
A great free-kick caused havoc when Jones punched back into the melee under pressure from Fellaini and Saha fired a shot into the ground and into Bates's face, knocking him out. On the next attack, with the bit now firmly between their teeth, Osman for once did superbly to win the ball and cross for Saha but it evaded his acrobatic kick but Pienaar rescued it, crossed from the left and Saha rose majestically to head Everton into the lead in a great turnaround.
Baines hit the bar with a dangerous free-kick as a reinvigorated Everton looked to seal the win in the second half, a totally different game from the abysmal first. But if anything they sat back a little, not really pushing forward enough when in possession, and allowing plenty of worrying periods when they came dangerously within shooting distance.
Gosling came on in the last minute and a dangerous Boro kick driven hard at Howard that he could not hold, and it needed Lescott's alertness to clear the mistake. Four minutes of added time came as a shock and a fillip for Boro, who saw to it that it was a very nervous finish to the game for the Blues. But we're on our way to Wembley... albeit only for semi-finals at this point.
Match Report
14 years after their last visit to the national stadium, Everton are Wembley-bound after coming from behind to beat off Middlesbrough's challenge and set up an FA Cup semi-final date with Manchester United. The Blues recovered from an awful first-half performance which culminated in them falling behind to David Wheater's goal by turning the tie on its head inside 12 minutes of the restart to book their place in the last four.
With David Moyes wisely electing not to risk playing Louis Saha from the start, the team more or less picked itself in the absence of the likes of Mikel Arteta, Victor Anichebe and Tony Hibbert. The manager left Lars Jacobsen on the bench again and deployed Phil Neville in midfield and Phil Jagielka at right back, while Marouane Fellaini returned to the starting line-up in an advanced role alongside Tim Cahill.
Going by form and league positon, Middlesbrough were the clear underdogs and they started like they needed to get their noses in front early on. Stewart Downing signalled the threat he might pose to Jagielka playing out of position and he was one of the prime causes of Everton's nervy start, exemplified when Tim Howard went walkabout way out of his safety zone and was almost punished when he failed to slap the ball behind for a corner.
The first quarter hour was all Boro and Jeremie Aliadiere had the first real chance when he received an inviting cut-back but he drove the ball over the bar from 15 yards out.
The Blues, meanwhile, seemed to have picked up where they left off at Blackburn, hoofing the ball aimlessly forward trying to hit Fellaini and mis-placing passes with depressing regularity. They again had precious little in the way of ideas and virtually no width.
As seems to be the case without Arteta, they were at their most threatening at set-pieces and Joseph Yobo had the home side's first effort on goal, a header from Leon Osman's corner after the latter's shot had been deflected wide.
Fellaini spent most of the half being pushed, pulled, hung-on and strangled by the Tuetonic duo of Pogatetz and Robert Huth but got short shrift from referee Mark Halsey. An 18th-minute free kick that came to nothing was a rare concession by the officials but when Osman swung in another corner that flashed across Brad Jones' goal, Huth had his arms around the Belgian's neck but nothing was given.
Everton had weathered Boro's early storm but were creating little themselves until five minutes before the break when Fellaini met Jagielka's cross at the far post and Jones clawed his downward header around the post.
Half-time was beckoning when another clumsy foul in a dangerous area, this time by Osman on Julio Arca, was punished in the 44th minute. The initial free kick was cleared to the Boro right but Matthew Bates was allowed too much space to tee up a cross and David Wheater rose above Yobo to power a header that Howard got a hand to but couldn't prevent from crossing the line.
Moyes responded at the interval by withdrawing Jack Rodwell who was no doubt deemed the most expendable in midfield and Louis Saha was thrown on charged with changing the game.
Whether it was directly down to him or the fact that Cahill dropped back into midfield and instantly transformed it, the Blues had reversed the tide before the hour mark was up. They had to survive an early scare, though, when Aliaidiere found himself with a chance from close range three minutes after the restart but his shot was, thankfully, deflected wide.
Had that gone in, things might have been very different but two minutes later, Everton equalised and it was all down to Cahill. The Australian measured a cross from the right and picked out Fellaini who looped a header over Jones who had advanced into no-man's land and into the empty net.
Then, after Bates had taken a Saha volley in the face and been laid out on the turf as a result, the Frenchman punished more slack defending to give the Blues the lead. Again, it was the result of a superb cross from open play, this time by Pienaar who curled a beauty to the six-yard box and Saha seized on poor marking to head home.
The Blues almost put the game beyond Boro's reach six minute later when Baines finally got an opportunity to demonstrate his dead-ball prowess in striking distance of goal. Eschewing the post-Arteta tendency to try and pile-drive it through the wall, he stroked a curling effort up and over the defensive line but his shot struck the bar.
Though that was more or less the end of the home side's purple patch, they weren't really troubled by Boro and Saha should have killed the off two minutes from time when Jagielka served up a chance on a plate but the Frenchman scooped his shot over the bar.
That left Boro with one last chance when Cahill committed an inexpicable foul 25 yards from goal, Howard spilled O'Neill's swerving effort and Joleon Lescott had to be at his most alert to sweep it to safety.
Four minutes of injury time weren't enough for Gareth Southgate's side to worry Everton any further and the Goodison faithful greeted the final whistle with joy at the prospect of a Wembley date with the team they beat in 1995 to win the trophy for the last time to date.
Again, fans were left with a familiar refrain: the Blues will need to play an awful lot better than they did today to progress to get past the Champions-elect who are chasing four trophies this season.
The importance of Saha remaining fit was underlined today, not only because he scored another crucial goal but his presence also allowed Cahill to drop back and help dictate matters more than the likes of Osman and Neville were able to.
And, of course, there's the power of that legendary team spirit and defensive resilience, the likes of which was key to that triumph under Joe Royle 14 years ago. United will feel as though they got the easier draw but Moyes's Everton won't go down without a fight.
Player Ratings
Howard [6] — Didn't have much to do, to be honest and couldn't really be faulted for the goal
Jagielka [6] — Defensively he was fine and Downing didn't really trouble him as much as feared but with a couple of notable exceptions, his distribution was abysmal
Yobo [6] — Not his usual reliable self at the moment but nothing a run of games won't fix
Lescott [7] — Made a couple of important interventions and was pretty solid overall
Baines [7] — Another good performance and he's clearly enjoying having finally vindicated Moyes's decision to spend £6m on him.
Neville [6] — A bit clumsy in the tackle and with the ball at times but otherwise OK
Rodwell [6] — Fine before he was sacrificed to enable Saha to enter the fray at half time
Osman [6] — Was poor in the first half but improved in the second and made some decent contrbutions
Pienaar [7] — Probably the pick of Everton's players again, haring around defending one minute and and starting attacks the next. Great cross for the second goal.
Fellaini [7] — Struggled with the treatment meted out to him by Boro's defence in the first half and a bit hit and miss with the ball but was vindicated with the equalising goal. GET A HAIRCUT, PLEASE!
Saha (for Rodwell) [7] — He really makes a difference; a class act and is a natural goalscorer. What could be more important than that right now? How delicious would it be for him to score the winner in the semi?
Gosling (for Pienaar) —Only on the last few minutes
Match Preview
It's seven years almost to the day since Everton last played in the FA Cup Quarter Finals and it's quite the coincidence that their opponents that day were Middlesbrough, the same team they meet at Goodison Park this weekend as the Blues aim for their first appearance in the semi-finals of the world's oldest and most famous knockout competition for 14 years.
Of course, the circumstances are very different this time around than to 10th March 2002 when Everton slumped to a 3-0 defeat at The Riverside Stadium, a capitulation that was to be the last straw for Chairman Bill Kenwright and he summarily dismissed manager Walter Smith.
David Moyes was ushered in as his replacement and the rest is, as they say, history. Instead of looking over thilir shoulders and being nagged by fears of relegation, the Blues have spent the majority of the Moyes era looking up the Premier League table. Indeed, so complete has the turn-around of their league fortunes been that it's a wonder that it has taken Everton so long to get to the last eight under his tenure.
Last season's Carling Cup semi-final appearance went a long way to making up for the manager's poor record in domestic cup competition and by drawing struggling 'Boro, at home, his team have the perfect opportunity to progress to the last four of a cup for the second season running. That they will meet one of the so-called Sky Four — barring an upset by Burnley or Hull City, Manchester United, Chelsea and Arsenal will round out the semi-finalists — is a dampener of optimism eclipsed only by the injury crisis which has gripped the Everton squad this season.
Mikel Arteta, Yakubu, James Vaughan and Victor Anichebe are, of course, all ruled out with long-term injuries and only Vaughan has any hope of seeing action before the end of the season, perhaps in the Final at Wembley if Evertonn make it that far, seeing as it will be played at the latest date ever for an FA Cup Final on 30th May.
Tony Hibbert is out until mid-April now with a thigh strain, Louis Saha is restricted to the amount he can play by a smiliar complaint, and loan striker Jô is cup-tied, leaving Moyes with few options in terms of his starting line-up this Sunday.
Assuming Saha can't start, Tim Cahill again becomes the only "striker" available for selection and will spearhead a 4-5-1 formation.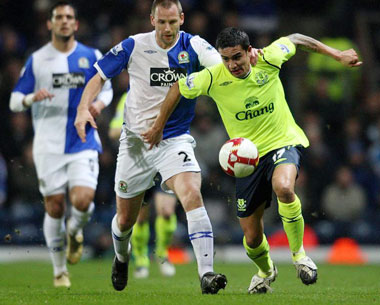 Tim Cahill:
likely to the torch-bearer up front again
With Moyes thus far reluctant to hand the unknown quanity of Lars Jacobsen his debut, he again has the choice of playing Phil Jagielka out of position at right back or pushing Phil Neville into the role, one which most fans would say is the one to which he is most suited, particularl;y as Stewart Downing poses a significant threat down that flank for Middlesbrough. Moyes sees Neville as a central midfielder, however, and may feel he needs him more in the holding role.
Much may depend on the fitness of Marouane Fellaini, who has been in and out of the side in recent matches after suffering a hairline verterbra fracture. If he is deemed fit enough to start, a midfield five consisting of him, Leon Osman, Jack Rodwell, Dan Gosling and Steven Pienaar is conceivable. Remove the Belgian from the equation and the need for Neville in the middle is more pressing, especially if Segundo Castillo is overlooked.
Boro may have comfortably won their last two home games, against Liverpool in the League and West Ham in the FA Cup 5th Round replay, but their away form has been awful and goes a long way to accounting for the fact that they currently reside in the bottom three.
In the cup, though, they beat Wolves at Molyneux and earned a draw at Upton Park in the previous two rounds; in any case you can never truly trust form when it comes to a knockout competition.
Everton will feel confident of progressing to a Wembley date in the semis but they will have to play an awful lot better than they did at Blackburn in midweek if they want to make sure of it and avoid a replay.
* Unfortunately, we cannot control other sites' content policies and therefore cannot guarantee that links to external reports will remain active.