Johnny Heitinga was given his long-awaited and much-anticipated debut at right back. Diniyar Bilyaletdinov did not recover from his groin strain. Hibbert, Yakubu, Jô and Gosling were among the subs. Osman played in front of Heitinga on he right side.
Heitinga started well and was involved a lot... perhaps too much when he slid in with a horrible studs-up tackle on ___. Yellow card. A good Blackburn followed from the free-kick, with Samba firing it in hard and Samba heading on to the Gwladys Street crossbar with Howard stranded.
Pienaar was playing well too on the left, with some good runs forward. And a foul on Pienaar led to a simple Baines free-kick from which Louis Saha opened the scoring. He was the first to react, stepping ahead of the line of players at the near post to prod the ball past Robinson with ease.
Dunn was the second name in the book when he slid in on Rodwell. There were more chances for both sides in a feisty lively first half, Everton rightfully ahead.
Everton looked bright in the second half, playing some good attacking movements and even something approaching a break and a lovely forward pass from Pienaar for But Blackburn were up for it to, Diouff bursting past Baines and firing in on Howard to cause havoc in the Everton defence, Howard having to stop it again at point blank range before Yobo hacked it away
Out of nothing, Fellaini on the right wing clips in a fantastic cross high and deep with his left foot for Saha to rise and power a perfect header into the Gwladys Street net. Everton kept attacking and Osman fired in a fantastic shot that was bound for the top corner from a sharp angle but Robinson produced a superb save to deny him.
From the corner, though, Saha clipped the ball in for Yobo under pressure to power the ball across the line and cap an excellent spell of Everton pressure with a determined goal for a commanding 3-0 lead.
Pienaar tried to get on the the score sheet with a good shot that Robinson tipped over, Blackburn clearing off the line from the corner. Saha, on a hat-trick, was pulled off for Jo to get 20 mins or so as the pace went out of the game.
More subs followed and Everton played out a great win, with the ball being played much more consistently on the ground — the sort of football they should have been playing from Day One of the season.
Match Preview
European competition is often regarded as a detriment to a club's league form, particularly for those clubs who don't have the strength in depth that the likes of the Sky Four do, but after making a stuttering start to their Premier League campaign, Everton could well find success in the Europa League can provide as a much-needed shot in the arm for morale.
Thursday's comprehensive 4-0 drubbing of AEK Athens has sparked optimism among the beleaguered Goodison faithful, not least because the style with which they despatched the Greeks was in such stark contrast to the dead-end, kick-and-hope football that lay at the root of their second-half captulation against Fulham last weekend.
Much has been made, of course, of just how poor AEK were on the night but the fact remains that the opposition was there to be beaten and David Moyes's boys did so with some aplomb and no shortage of panache. Even accounting for the paucity of Athens' resistance, a bar has nonetheless been set by the Blues in terms of the kind of effective passing game they can produce when they set their minds to it.
How much of that performance was down to a revamped midfield that was wthout the much-maligned Leon Osman and Phil Neville, included Diniyar Bilyaletdinov and benefited from inspired displays by Marouane Fellaini, Steven Pienaar and Jack Rodwell is perhaps open to debate, but Blues fans may not get a second look at that quartet quite so soon. The Russian's excellent debut was cut short by a groin strain and he is the only fresh injury worry with which Moyes has to contend for the visit of Blackburn Rovers this Sunday.
Mikel Arteta and Victor Anichebe both remain sidelined after suffering set-backs in their respective recoveries that required further knee surgery and Phil Jagielka remains some way away from a November return from a knee ligement injury of his own.
Should Bilyaletdinov not make it, Pienaar will switch back to the left flank and John Heitinga could come into right midfield at Osman's expense with Tony Hibbert returning to right back. New signing Lucas Neill is in the squad but is not match fit and is unlikely to be called upon.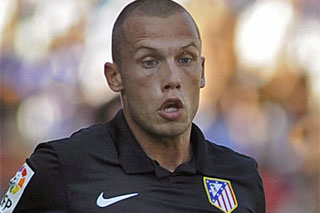 Johnny Heitinga:
could make his first start in Neville's absence
Up front, Yakubu got another 40 minutes' playing time on Thursday and Louis Saha showed no effects from the hamstring tweak that prevented him from traveling to Craven Cottage last weekend. That means that Moyes will have his three first-choie strikers available — a nice selection headache to have!
LIke Everton, Blackburn have won just once in the league so far this season, their 3-1 win over Wolves at Ewood Park last Saturday following defeats to Manchester City and Sunderland and a goalless draw with West Ham. They have yet to record back-to-back wins under Sam Allardyce but they have an annoying habit of winning at Goodison, something Moyes would no doubt love to put an end to as he plots his side's path up the table towards the European places.
Rovers have no injury worries and will be at full strength after Steven Nzonzi and Benni McCarthy recovered from injury. That means that Lars Jacobsen will probably play at Goodison for the first time since being released by the Blues at the end of last season.
Match Report
* Unfortunately, we cannot control other sites' content policies and therefore cannot guarantee that links to external reports will remain active.