Blues win with two fortuitous goals
By Michael Kenrick
13/09/2014

Comments (99)
jump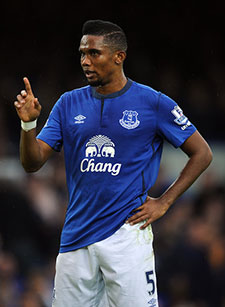 Samuel Eto'o failed a late fitness test on a groin complaint
Centre-back John Stones came in for Sylvain Distin (who was injured in training on Friday) to partner Phil Jagielka at the back, with the rest of the team unchanged. Romelu Lukaku was declared fit but Samuel Eto'o and Steven Pienaar did not make the squad. Osman was on the bench alongside Muhamed Besic and Christian Atsu.
Everton kicked off and played keepball at the back until the second minute when Naismith surged forward but the move looked lost until Olsson played a terrible clearance straight to Lukaku who, with a lot to do, curled a beautiful shot from the edge of the area beyond Foster and just inside the post. Great Start!
Everton continued to develop their passing game but did not take control effectively, with too many aerial balls, allowing the home side to finally see more of the ball, with Berahino getting a chance that needed a deflection to take it over Howard's bar. From the corner, it almost went in off Baines after 12 mins.
Despite the brilliant (if highly fortuitous) start, Everton looked less than impressive as the game developed and looking more and more vulnerable in defence, allowing West Brom more and more possession, while failing to build the kind of moves that offered real penetration.
Barry went in a little strong on Gardner, giving away a distant free-kick, Gardner firing over. An unneeded late challenge by Jagielka on Berahino then gave away a more dangerous free-kick in the Dee, Gardner picking up a yellow when questioning the 10 yards for the wall, which successfully blocked Gardner's rocket as Everton had to defend the corner.
Everton's much criticized defence was made to look very amateurish when Jagielka's header caused chaos and Brunt's fierce shot was deflected into the side-netting. A series of WBA corners ensued, with some silliness from Stones, who could have been called for a penalty if the ref had been watching him. It was as if the home side sensed all the defensive weaknesses Everton fans have discussed at length in the last two weeks since conceding six to Chelsea.
Everton finally relieved the pressure but McGeady's poor cross was chicken-feed for Foster, and the Blues were under pressure again. But more solid passing play finally allowed Mirallas to have a good strike at goal, his shot flying a foot over the WBA bar.
One brilliant forward pass by Barry should have led to more as he picked out Lukaku perfectly but again, the big man's first touch showed too much of the ball too the defender and any chance evaporated. Other than this, both sides were playing some dreadful alehouse football with too many horrible aimless hoofs forward, and head-tennis sessions. Naismith tangled with Olsson but the referee took a lenient view.
Lukaku did better with a ball he chested down, controlled, advanced and shot but the curl was not there this time as a rather disappointing first half of poor football came to a close, summed up by dreadful mis-handling of a corner by Howard.
After a poor start to the second half, Lukaku did really well to advance and shoot, forcing Foster to parry with Naismith following up for a tap-in that he amazingly blazed high over the bar! McCarthy was booked for a nothing sliding tackle... bizarre. But it did precede a good spell of Everton possession, if not really yielding even a half-chance
A couple more WBA corners saw a veritable wrestling match in the 6-yard box, with players dragging each other down, but Anthony Taylor was unconcerned. Mirallas went on a great run and passed the ball straight to a defender, summing up the astounding paucity of the game. Howard had to be alert to stop Ideye getting a sniff on a superb cross from Wisdom that beat the close attention of Baines.
There was a little more adventurism after the hour mark as Naismith surged forward but was tackled, then West Brom countered and Dorrans lashed a shot over after Barry gifted him the ball, and sure enough, it presaged the second goal for Everton, Mirallas firing in low and hard, the bounce presumably deceiving Ben Foster, who allowed the ball under his body and into the net for a rather soft and somewhat undeserved goal.
Lukaku was withdrawn, replaced by Osman with 20-odd minutes left. McGeady had a nice run and shot... wide or slightly deflected as the Blues finally started to look more comfortable on the ball. Could they retain concentration and focus for the required 15 minutes? McGeady kept trying his hand at shooting but it wouldn't go in for him. Mirallas jinked inside and went for glory but shot over again.
At the other end, it looked like Berahino would have an easy shot on goal but for an absolutely brilliant intervention by Stones. Then an Osman shot won Everton's first corner when it was deflected, then parried away from the top corner by Foster. Howard then had to save a low clip from Gardner.
Into the final 10 minutes and all the attention was on Everton's back line, with Jagielka (who apparently cannot head the ball) heading away a good looking cross, and Coleman giving the ball away dangerously, then a clearance ricocheting back off Barry for WBA's ninth corner. A real mixed bag.
Muhamed Besic was given a couple more minutes at the end in his painfully drawn-out bedding in process, McGeady making way. The best move of the game ensued down the left and deserved a goal from Osman, who's powerful shot was batted away by Foster after a great backheel flick from the unselfish Mirallas. Howard earned his win-bonus with a trademark point-blank stop to deny Berahino in stoppage time.
The game ended in a great away win for Everton, two goals from their strikers, three points, a clean sheet, no embarrassing defensive lapses punished... but a poor performance overall. Still... play bad and win. You can't ask for more.
Scorers: Lukaku (3'), Mirallas (66').
West Bromwich Albion: Foster, Wisdom [Y:90'], Olsson, Dawson, Pocognoli, Morrison, Gardner [Y:25'], Brunt (70' Blanco), Dorrans, Berahino, Ideye (70' Samaras).
Subs: Daniels, Baird, Yacob, Gamboa, McAuley.
Everton: Howard; Coleman, Jagielka, Stones, Baines; Barry, McCarthy [Y:53']; Mirallas, Naismith [Y:81'], McGeady (88' Besic [Y:91']); Lukaku (67' Osman).
Subs: Robles, Garbutt, Alcaraz, Gibson, Atsu.
Referee: Anthony Taylor
Attendance: 23,567
---
Reader Comments (99)
Note: the following content is not moderated or vetted by the site owners at the time of submission. Comments are the responsibility of the poster. Disclaimer
Ray Roche
1
Posted 13/09/2014 at 14:11:36
Eto'o isn't in the squad and neither is Distin. Stones and Jags at the back.
Kelvin Thomas
2
Posted 13/09/2014 at 14:27:08
Eto'o and Pienaar will be missed.
Still, we are strong enough to win today.
90 minutes of high energy play today please. No fitness excuses from now on!
Raymond Fox
3
Posted 13/09/2014 at 14:41:37
Stones in for Distin doesn't do anything for my confidence.
Tony Doran
4
Posted 13/09/2014 at 15:02:29
Any links
Peter Bradshaw
5
Posted 13/09/2014 at 15:03:24
Great start, Blues.

Jim Bennings
6
Posted 13/09/2014 at 15:15:21
Very good start, good to have Rom back amongst the goals.
Mirallas have one of his "typical away days" not looking alive at all so far.
Been a strange game, began well but have started letting them get in the game due to sloppy play.
The wide players haven't been in it yet.
At least we have Atsu on the bench if we need him.
Can't help feel we will only not win this If we make it hard for ourselves, West Brom are there for the taking its just whether we can take them.
Jim Bennings
7
Posted 13/09/2014 at 15:24:40
We have started getting really sloppy again after such as a good start, we need to reassert ourselves otherwise I expect the usual stupid equaliser.
Why aren't we dominating possession like we used to?
Mirallas needs to pull his finger out a bit here, a lot is expected if him in these games.

Kelvin Thomas
8
Posted 13/09/2014 at 15:45:54
Lucky to be 1-0 up at half time!
Very edgy at the back. Jagielka can't buy an aerial challenge, causing havoc!
Lets start the second half with impetous for a change!
We have to score a second!
Jay Harris
9
Posted 13/09/2014 at 15:55:48
Nerves all round and we still look lethargic. Very worrying with some important games coming up.
At least Naismith is winning the majority of the headers and battling for the ball back in MF but him apart I wouldn't give anyone else more than a 5 out 10 for the first half.
I wish we would go for more against a defensively frail West Brom instead of sitting back on a narrow lead.

Peter Cummings
10
Posted 13/09/2014 at 15:55:39
Said yesterday it wouldn't be easy and, as usual, we are giving the ball away and letting them come at us. The 'defence' at the moment is shambolic, we need to get some of our runs along the wings going, and why is Lukaku defending??
Jim Bennings
11
Posted 13/09/2014 at 16:04:59
A second goal should win this but I'm still not convinced by us to be honest.
We are better than West Brom but at the minute we are keeping their hopes in this game alive through some sloppy play and concentration lapses.
If we don't win this game, like last season, then it will feel just as galling because it's obvious to see we have several gears to go up but your asking yourself why aren't we reaching them??
I'm disappointed with the wide players today and Baines and Coleman look nervy of attacking today.
Jim Bennings
12
Posted 13/09/2014 at 16:18:01
Mirallas is really pissing me off today.
He is making Andre Wisdom look like bloody Cafu.
Why does Kev just totally go missing some weeks and look worse than shite?
Don't get me wrong — he's a matchwinner on his day but he doesn't have enough "days".
Jim Bennings
13
Posted 13/09/2014 at 16:23:06
Yessss...
What a howler!!!!
That will do.
See what happens when you just actually SHOOT rather than pass sideways?
Andy Meighan
14
Posted 13/09/2014 at 16:26:27
Let's hope that is that... though I'm not getting my hopes up!
Andy Meighan
15
Posted 13/09/2014 at 16:52:10
We are pp and running, apparently; not the greatest of performances but who cares? The points are what matter.
Denis Richardson
16
Posted 13/09/2014 at 16:52:34
3 points and a clean sheet and no fresh injuries – job done, couldn't ask for more.
Very happy with that.
Tony Hill
17
Posted 13/09/2014 at 16:53:27
Don't give a stuff about the performance. Gets us going and at one of our less lucky grounds. Excellent.
Ajay Gopal
18
Posted 13/09/2014 at 16:58:46
Good enough for me, now our season gets kick-started....
Linda Morrison
19
Posted 13/09/2014 at 16:59:26
This is a great result for us today. I was very edgy until the second goal went in.
Kept a clean sheet but I think we would have today whoever was in the defence. For once the international break came at the right time for us.
A very good confidence builder with all the games coming up.
Any idea what is wrong with Distin?
Any idea at all what is the Barkley situation? It seems to have gone very quiet on that front!
Drew Shortis
20
Posted 13/09/2014 at 16:52:43
Pleased with that. Not a vintage display but our first 3 points (away from home), our first clean sheet and Lukaku's first goal as a permanent Everton player. The defence still looked a bit wobbly, especially on high balls, but Howard had a good game.
We do need a centre-back who will fight for and win those high balls but also has the passing skills to fit into Martinez's system. If Stones can grow physically and learn to dominate in the air, then we are on the right track.
Kunal Desai
21
Posted 13/09/2014 at 17:01:31
Nothing fortuitous about the first goal. A much needed 3 points needed, let's hope we can build on this and pick up another 3 points next Sunday against Palace. Wolsfburg before that though should provide a much sterner test.
Anto Byrne
22
Posted 13/09/2014 at 16:56:15
Stones was very good today and Howard wanted a clean sheet. It could easily have been 5-0 today so job done and 3 points in the bag. Some nice stuff at the end keeping possession and creating some great opportunities that Foster did well to keep out. Very happy. I will sleep well tonight.
Jeff Armstrong
23
Posted 13/09/2014 at 17:09:14
Linda,
Distin got injured in the last training session yesterday. Barkley is approx halfway through his rehab, 6 weeks from a runout maybe,
We were pretty average today, loads of players off their game... luckily there where more Baggies off theirs!
Michael Kenrick
24
Posted 13/09/2014 at 17:12:26
Hmmm... defender rolls clearance nicely into feet of attacker who is renowned for having a lethal shot on him...
Yet, apparently, there was "Nothing fortuitous about the first goal." What would you have said if Jagielka had played that ball to the opposition's star striker, Kunal?
ps: Where wuz Lescott and Anichebe? I kinda missed them...
Raymond Fox
25
Posted 13/09/2014 at 17:01:33
They weren't convincing today, but the form after some of todays results doesn't look that bad does it!
Chelsea 4-2 Swansea/ Arsenal 2-2 City/ Stoke 0-1 Leicester.
It turns out, which was always on the cards, that we've played 3 pretty decent teams!
Ray Roche
26
Posted 13/09/2014 at 17:18:17
Michael, maybe a bit fortuitous, but not as bad as our defending against Chelsea!
Jay Harris
27
Posted 13/09/2014 at 17:16:36
Much better second half aided by West Brom falling away dramatically but I thought Stones had an excellent second half with some crucial challenges.
I still think we give the ball away too often up front and Rom is the worst culprit.
Nevertheless a crucial win at one of our less "lucky" grounds so onward and upwards (hopefully).
Linda Morrison
28
Posted 13/09/2014 at 17:18:29
Thanks Jeff, so we are probably looking at late October/early November for Barkley.
The team were bound to be edgy today after the last 3 outings but a win will give them a boost.
Onwards and upwards.
Now, if the lots of red rubbish can slip up today and tomorrow, I will be a happy camper!
Jon Cox
29
Posted 13/09/2014 at 17:17:38
Michael, the ball to Lakaku was fortuitous but the execution thereafter was top drawer I think.
Jeff Armstrong
30
Posted 13/09/2014 at 17:20:40
Jay, no way is "Rom our worst culprit" — flavour of the month, Naismith, is far and away the worst offender for breaking up our own attacks. He is great in the air and a real grafter, but his link up play is average.
Paul Dempsey
31
Posted 13/09/2014 at 17:17:09
A great result today!
I can't help feeling that at the moment many fans are feeling a little bit glass half-empty? Which is totally understandable given our start.... Got to agree that at least I can sleep peacefully and even buy a paper tomorrow!
Michael Kenrick
32
Posted 13/09/2014 at 17:23:49
Agreed, Jon; as I said above, he still had an awful lot to do.
But that was almost the only sight of goal he got all game, and it was thanks entirely to a horrendous error by the defender. In my book, that constitutes an equally massive slice of luck for us. Aka, "fortuitous".
Kunal Desai
33
Posted 13/09/2014 at 17:25:39
Yes, Michael, he may have got a lucky break when the ball came to him. (How many times have Everton done that to the opposition — in which case we would have given many fortuitous goals away as opposed to poor defending?)
Once Lukaku received the ball he was some distance from goal and executed his strike inch perfect from around 20 yards out. It wasn't a tap in?
Michael Kenrick
34
Posted 13/09/2014 at 17:33:17
No-one is suggesting it was a tap-in, Kunal. Why even say that?
The goal would not have happened without the gift ball played to feet from Olsson. Yes, Rom had to make the brilliant strike, which was absolutely top drawer, but that does not negate the highly fortuitous "assist" from the West Brom player.
Amit Vithlani
35
Posted 13/09/2014 at 17:28:59
Pleased with the win. Our key players got confidence boosting goals, defence a clean sheet, Tim made some saves and we won away at a ground where we have dropped a few points.
Defensive issues still need to be sorted out if we are to become more solid, namely that when a big target man is on, we do not appear to know how to defend long balls.
Looking forward to the Europa League and hopefully seeing the rest of squad in action i.e. Atsu, Eto'o, Besic and returning players such as Kone, Oviedo and Gibson. Not sure that sentiment applies to Robles mind...
Peter Bell
36
Posted 13/09/2014 at 17:36:03
The fact that Lukaku is naturally left footed makes that an exceptional finish.
Ian McDowell
37
Posted 13/09/2014 at 17:36:52
An away win and clean sheet got to be happy. Yes, we were not at our free flowing best but I guarantee a lot of good teams go away to West Brom, Leicester (Arsenal 1-1) and struggle to control the game and create clear-cut chances. Onwards and upwards COYB!
Alex Jones
38
Posted 13/09/2014 at 17:35:56
Definitely not a vintage performance but we got the 3 points and our defence finally looked fit again which is good!
Was disappointed in McCarthy again, no incisive passing and lost the ball in key areas. I think Besic made more forward passes in his 10 mins than McCarthy managed all game. Lukaku, Mirallas and McGeady all had patches of good play but were a little inconsistent. I can't quite understand why we didn't see Atsu for 20 mins at the end. With all the games coming up he needs to be bedded in.
Geoff Evans
39
Posted 13/09/2014 at 17:42:16
Clean sheet, three points, rubbing Lescott's nose in shit, that'll do for me.
Alex Jones
40
Posted 13/09/2014 at 17:47:42
It wasn't a fortuitous goal at all and to describe it as such does a disservice to Lukaku who finished with aplomb!
Dennis Ng
41
Posted 13/09/2014 at 17:51:28
Good result for sure. I missed the first half but the play in the second looked sloppy sometimes. And defensive issues seem to be still there. We need to clean that up because West Brom doesn't look like any challenge to us for the most part and we still gave them a few openings.
Steve Guy
42
Posted 13/09/2014 at 17:52:07
Fortuitous? Not the way I have heard it from reports on the radio. "at a canter" was how the Beeb described it. We've been the victims in recent games of opposition forwards clinically taking opportunities from our defensive lapses, so let's just see this as the scales starting to re-balance and applaud our own clinicians! Bring on Wolfsburg!
Jim Bennings
44
Posted 13/09/2014 at 18:04:34
We kind of grew into the game and took charge later on.
I still sometimes wonder how much better we'd be with a midfielder in front of Barry and McCarthy who was in the Arteta mould, somebody who can find a killer pass and be that creative technical maestro.
The trouble is our most destructive midfielders are our wide players, and when they don't play that well, as they didn't in the first half or so then we don't see enough of the ball or look like creating through the middle.
That said it's a very satisfactory day, good away win, clean sheet and let's hope we are now up and running.
Bill Gall
45
Posted 13/09/2014 at 18:08:38
Sorry, I do not agree with Mr Martinez's statement that Everton were outstanding as the defence did not provide a lot of confidence in their play. There was no central defender getting strong headers to clear the ball from crosses against no really tall central forwards until Samaras came on.
Starting Stones at the beginning was okay but I think Jags is loosing confidence and is not as dominant as last season. The team did not seem balanced to me until late on in the 2nd half.

Jeff Armstrong
46
Posted 13/09/2014 at 18:14:47
Michael,
please change the "fortuitous" headline, it gets more embarrassing as the thread continues.
Kevin Tully
47
Posted 13/09/2014 at 18:19:41
Agree Jeff - surely this is a headline taken off a West Brom forum?
Peter Jones
48
Posted 13/09/2014 at 18:20:21
We only looked like a joined-up football team after Osman came on.
Lee Courtliff
49
Posted 13/09/2014 at 18:18:20
If our opener was 'fortuitous' then nearly every goal we have conceded this season has been 'fortuitous'.
It's nice to know our defending hasn't been poor but we've just been hard done by through fortuitous goals.
Anyway, not a great performance but we got what we needed. A win and a clean sheet.
Good confidence booster.
Tamhas Woods
50
Posted 13/09/2014 at 18:23:42
I realise that a repeat of today won't touch the RS at Anfield but after the second goal it could have been anything.
This sort of outcome is what we've been crying out for in just about every away game played over the past ten years, wear them out and batter them, use our strength and possession play to stifle them and when the time comes..... BAM!
Overall I think we looked more like the home side, which is key to success.
Had Ossie put THAT chance away for 3-0 would it have been "two fortuitous goals and one genius goal" and the performance description uplifted from "poor" to "OK"?
Remember Blackburn away in 2011? Now THAT is still seen as a byword for fortuitous and today's performance was like Brazil 1970 compared to said game!
How many times have we been "un-fortunate" away from home over X number of years? More times than I care to remember... it's just football isn't it?
Keith Glazzard
51
Posted 13/09/2014 at 18:21:35
There was no doubt about the game plan. Clean sheet first of all, anything else a bonus. Am I right in thinking that Baines and Coleman hardly went forward, not nearly as much as usual at least.
It has to be done – we'll win nothing by giving goals away, and we do have some goal scorers to help out at the front. More ugly wins please.
Jamie Barlow
52
Posted 13/09/2014 at 18:25:40
Peter, you could physically see our players relax a little bit when we went two up. I think that had a big factor in us being able to pass the ball a lot calmer. Ossie coming on helped though, he looked good for 20 minutes.
Paul Columb
53
Posted 13/09/2014 at 18:27:52
Peter.....I was groaning a little with Osman as the first sub but I agree, he joined stuff up nicely and was the most creative player for us during his spell. Hopefully he'll continue to be utilized as a sub as he's not got 90 mins in him.
Trevor Lynes
55
Posted 13/09/2014 at 18:31:55
Actually nowadays Mr Arteta never makes an incisive pass and slows the Arsenal attacks IMO. He is now firmly dropping down the pecking order in the 'Gunners midfield. Personally I no longer rate him and would not have him back! His passing is accurate but short and either sideways or backwards.
Osman at the moment is our best passer and perhaps Besic is best of the others. I have been saying all season that McCarthy is very average so far and he and Barry are not performing well in front of the back four. I would like to see Besic tried in a full game with Barry on the bench in the same way as Stones given a run alongside Jagielka. Distin at his age should be rotating with Jagielka and Stones.
Oviedo is another who could do a good job in defensive midfield. Plus young Garbutt is not far away from playing left back if Baines is unfit. I cannot wait to see Kone on the bench and Pienaar available along with Gibson and of course Barkley.COYB
Jon Withey
56
Posted 13/09/2014 at 18:44:05
If teams never made mistakes then they'd never lose the ball.
Still, if we can win without being at our best and whilst missing various decent players then I'll take that.
If we are lucky enough not to pick up further major injuries then we have a good squad for a few competitions.
Michael Kenrick
57
Posted 13/09/2014 at 18:44:08
For fear of flogging a dead horse here, I saw a huge slice of luck in both goals:
1) A poor cross in by Baines should have been routine for Olsson but he played it straight to Lukaku. Little credit can be given to Everton players for creating the ensuing opportunity, which was down to a horrendous error by the defender. I would argue that, without this component, the goal would not have happened. In my view, that aspect of the goal was highly fortuitous. After that, it was executed with brilliant skill by Lukaku.
2) A nice ball in to Mirallas was fired hard and low, on target. Foster saw it all the way and looked to have it covered, but it squirmed under his body. Most would say that is a goalkeeping error. I would argue that, without this component, the goal would not have happened. For Everton, the outcome was therefore highly fortuitous as the ball ended up in the back of the net.
So... we profit from two defensive errors, but we need to shoot on target to score. Both goals required tremendous skill, but also massive slices of luck — just compare with the best move of the match, that did not lead to a goal for Ossie. He was "unlucky" not to score... but it required an excellent save from Foster to stop him. No defensive errors, but no goal either.
It's called football.
Darren Hind
58
Posted 13/09/2014 at 18:45:35
Family commitment kept me away from me first game in ages.
If we were "fortuitous" then I want MK to tell me so. That's his job. I don't want a deoderised report.
I cant wait to see Football First tonght, a win is a win and if we've had the rub of the green then even better, about time.
Matt Traynor
59
Posted 13/09/2014 at 18:58:20
Mike #57, as a fellow pedant, why not describe the first goal as one where the opportunity was fortuitous? The finish was certainly not, and Foster could do nothing about it.
The second, not so much.
Jon Withey
60
Posted 13/09/2014 at 18:59:38
In other good news, Liverpool are losing to a fortuitous / defendable goal and Balotelli has been subbed.
Darren Hind
61
Posted 13/09/2014 at 19:03:21
I need to stay away from those bubbly wedding breakfasts. I didn't think me spelling could get any worse!
Give me "lucky generals" or gilt-edged chances on a plate — Napoleon (I think).
Kevin Tully
62
Posted 13/09/2014 at 19:05:41
The second goal was certainly "stuffy" MK but I don't see why the headline in the match report should shout about it, thus insinuating we didn't deserve the win. We did.
Phil Walling
63
Posted 13/09/2014 at 19:12:33
Workmanlike rather than 'outstanding' but Martinez risks his credibility with these silly exaggerations at every opportunity.
If he just told it how it was, even I would be happy, but I've learned to distrust those who see all their geese as swans!
But well done the lads!
Michael Kenrick
64
Posted 13/09/2014 at 19:15:50
Kevin, the headline says the goals were fortuitous. I've justified that and no-one has countered the element of luck I have explained. You're welcome to do that if you can.
Nowhere in my report do I say, suggest or insinuate that we did not 'deserve' the win — that's entirely in your head. WBA were not that great; we were marginally better than them... but not by much.
We did not play particularly well. And we got lucky with the two goals that won us the game. That's all.
ps: Nice defeat for the Redshite!!! Well done, Villa.
Jon Withey
65
Posted 13/09/2014 at 19:21:48
I'd prefer if our players had a manager whose psychology had them dragging their carcasses around the pitch, wallowing in their inadequacies... but Martinez's over-enthusiasm will have to do.
Mike Corcoran
66
Posted 13/09/2014 at 19:23:15
Pretty good football day. My lad got a brace for the U10s, Everton won, reds lost, only bummer was a broken arm for my eldest lad playing footy in the park.
Colin Metcalfe
67
Posted 13/09/2014 at 19:22:15
Yes it's was a scrappy win but a clean sheet was important today and hopefully we can kick on from here.
A busy schedule coming up and we will need all the squad firing on all cylinders!!
A good day all round with the Redshite going down to Villa. :-)
Mike Corcoran
68
Posted 13/09/2014 at 19:26:51
I'll take that next week, still got one arm and two legs.
Phil Walling
69
Posted 13/09/2014 at 19:28:10
I'd prefer a manager who was honest enough to say 'well done but we still have work to do'!
Bullshit doesn't baffle ALL our brains!
Jon Withey
70
Posted 13/09/2014 at 19:37:24
I rely on forums for the yan to Martinez' yin.
Tom Flower
72
Posted 13/09/2014 at 20:24:50
Talk about glasses half empty!!!! You know who you are (# 69) We won comfortably away from home with a clean sheet to boot. And this was after two results which could easily have knocked the stuffing out of us. We have players coming back to both form and fitness and a manager who clearly gets the best out of his team. We are a step above what most people think, Imo

Peter Z Jones
73
Posted 13/09/2014 at 20:22:16
Michael, I think what people are trying to say is that a blatant error isn't fortuitous. For instance, Sunderland weren't lucky to beat us last season after the Osman/Howard mishap in front of goal cost us a red card and a penalty we couldn't recover from. They merely capitalized on an egregious error that we made. There wasn't a fortunate deflection after quality defending or poor decision from a referee to change the game.
Players are rated and written off for their consistency or lack thereof. Jonas Olsson isn't exactly a tower of strength in defense. He makes errors a lot more than a top notch defender on a great team. That's why he plays for West Brom. Their fans were jeering him with every wayward pass because they are sick of him being crap.
Same logic applies to Foster. If he was a better goalkeeper, he'd have made the save. But he isn't. That's why they'll be in another relegation battle this year. Their players make errors like that more frequently than teams in the top half of the table. Nothing lucky about it.
Jon Withey
74
Posted 13/09/2014 at 20:58:52
When was the last time we scored at least 2 against 4 teams in a row? Eto'o and Atsu and Barkley have barely featured and we have another striker to come back!
Peter Mills
75
Posted 13/09/2014 at 20:40:44
I've been out of touch with the match today, apart from the score. This has given me an idea of what went on, but I'll wait to see what Ken has to say!
Wayne Smyth
76
Posted 13/09/2014 at 20:52:20
Michael, I think it fair to say the assist for the opener was fortuitous; but Lukaku's goal itself was entirely intended. Being where he was when he got the ball, there was still tons for him to do and the attempt was very deliberate and well executed.
In Mirallas's case, he took a genuine, if slightly weak, shot on goal, so while it was a bit of a shit attempt at a save, I wouldn't (personally) describe that as fortuitous either.
Phil (#69), I also find Martinez's style of talking to the press not always to my liking, but I keep more than 99% of my attention for what happens on the pitch. For all I care, he can make goat noises provided we pick up 3 points. I suspect he is more critical of the players behind closed doors, if they have not played well.
In any case, having endured OFM for so long, making confidence-inducing public remarks like 'Coleman sometimes looks like a 㿨k player', or 'Mirallas isn't good enough to play for us', I think I can just about cope with Martinez's positive outlook. If I was a player, I know which manager I'd try harder for; the one that didn't publicly humiliate me.

Dick Brady
77
Posted 13/09/2014 at 21:25:44
Distin was injured in training on Friday? That's convenient as it saved Martinez from having to decide whether to drop Distin or Jagielka to make room from Stones.
You think Distin really did get injured? Or was the 'injury' just an excuse to help Distin save face because he was dropped in favour of a teenager.
Tim O'Connell
78
Posted 13/09/2014 at 21:25:36
Relatively easy against poor Baggies but you still have to win. Stones is a must! Barry looked more like his normal self, Kevin looked quality second half though not great first. Geads improved but even when playing poorly put the effort in and looked fit! Nais continues to impress me. We played quality football second half and hopefully this is the stepping stone.
James Hill
79
Posted 13/09/2014 at 22:16:40
It doesn't matter what Everton do. For some ToffeeWebers, the glass is always half-empty. You make your luck, as the cliche says. I thought we won this easily against a team that make it hard to play.
Jason Heng
80
Posted 14/09/2014 at 01:08:28
No coincidence — we looked the better side after Osman was on. He did the part of stringing midfield and attack that McGeady and Naismith couldn't.
Andy Crooks
81
Posted 14/09/2014 at 01:18:27
I can't believe it. MotD. Alan Green? On TV?
Derek Thomas
82
Posted 14/09/2014 at 01:31:25
Fortuitous, lucky, play poorly and win, whatever... 29 more of these please in the league and another 29 in the various cups.
James Marshall
83
Posted 14/09/2014 at 05:56:54
The way some of you pick the games apart must make them excruciating to watch. I know this thread is about remarking on the game/performance/result but the way you nitpick and tear every minute detail apart is very negative. There's really no need to torture yourselves quite so much, especially given that we won yesterday!
It amazes me how the players get so much stick for being human beings, people that make mistakes and don't do every little thing perfectly for you in every second of every game. How dare a player not be in the right position all the time, how dare they make stray passes, or the wrong decision – have you ever played the game? Do you ever make mistakes in your job? Maybe sometimes you drop a piece of toast and it lands butter side down. Annoying eh?
Jamie Crowley
84
Posted 14/09/2014 at 09:30:16
Don't understand all the hullabaloo about "fortuitous".
The goal by Lukaku, a fantastic stike, was definably "fortuitous".
If an opposing defender rolls a lame duck to you, unmarked, 19 to 20 yards out, that's fortuitous.
Michael got that spot on.
My glass is half full. Clean sheet, 3 points, TYVM.
Phil Walling
85
Posted 14/09/2014 at 09:59:41
Every goal is fortuitous when the strike hits the net. Usually there is someone in the way or it rebounds off a post. Some strikers are just more fortuitous than others and I suspect Lukaku is one of them. 'Fortune favours the brave', they say. I suspect it also favours the most talented.
Bobby thought Albion were 'fantastic'. Really ? Most of us – and many of their own – thought they were crap. But they still had to be beaten and beaten they were.
Well done, Blues!
Tony J Williams
86
Posted 14/09/2014 at 10:12:46
That Costa isn't half a fortuitous striker.
Harold Matthews
87
Posted 14/09/2014 at 06:55:26
After the Chelski debacle we were due a slice of good luck, although our first goal was not exactly giftwrapped. The alertness and technique of Lukaku made me gasp.
I guess you could say we were lucky to come away with a clean sheet after they failed to capitalise on at least four decent chances but who cares. Overall, we were much the better team and anything less than three points would have been daylight robbery.
Brent Stephens
88
Posted 14/09/2014 at 15:28:05
Gary Player might have something to say about "fortuitous" goals.
Fortunate the ball falls to Lukaku, brilliant the way he strikes it.
I was at the game but in with WBA fans. All around me drooled over our confidence and possession game. And went ape poo with some of our challenges – interesting in the context of demands for greater hardness from us.
Just looking at the Man Utd line-up – wow! And then the bench! Won't be long before they are up there. Man Utd fans shouting for Van Gaal to up his game – and Newcastle fans shouting "up yours" to Pardew.
Gareth Scott
89
Posted 14/09/2014 at 17:49:32
Report absolutely spot on. Well done Michael Kenrick.
My first away game for eons. I usually read these reports and wonder at how less positive than the general press, Echo and EFC website they often are. Now I will read them and believe them first up.
We were poor. No two ways. No zip; no short sharp effective interpassing; passes that slowed us down not speeded us up; little penetration; loads of small mistakes; a couple of howler passes in defence. Good job we were playing West Brom. I'm not at all sure we've sorted collective defence "issues". Almost looked like we'd stopped trying to play properly.
Hope we pull our finger out and try on Thursday. We're an absolute shedload better that the 90 mins I grimaced through yesterday. At their best we've got a cracking side.
But I have to say Lukaku's goal looks better and better the more I see it!!
Steve Pugh
90
Posted 14/09/2014 at 18:00:42
Can't wait for Eto'o to get fit; an hour into the game and we bring on Osman and Eto'o. Opposition are tiring rapidly, Osman does what he did yesterday, and Eto'o snaps up the chances.
Frank Crewe
91
Posted 14/09/2014 at 18:32:33
I just watched Manure v QPR. Two of their goals were fortuitous also. Di Marias goal was meant to be an angled cross and it sailed straight into the net. Mata's goal was a misplaced Di Maria shot that went straight to him. All he had to do was dink it over the goalie. I'll bet you won't see their fans moaning about that tomorrow.
Lots of goals are lucky. Deflected shots, in off the post, sloppy goalkeeping, unseen offsides, scrambles in the box, own goals. You take what you can get away with and be glad you won. Maybe next time the opposition will be luckier than us.
Paul Hewitt
92
Posted 14/09/2014 at 18:58:58
A win is a win.
3 points and a clean sheet; the season has now started.
COYB.
Michael Kenrick
Editorial Team
93
Posted 14/09/2014 at 18:56:45
Appreciated, Gareth (#89). As individuals, we often see the game differently through different eyes, but the DVR of the game shows it as it was... and I think that reflects what I'm trying to do with these 'instant' match summaries on ToffeeWeb. Their main purpose is as a basic record of what happened on the day — not in-depth analysis — to be up on the site asap so there is (a) something for Evertonians who missed the game to read; and (b) a focal point for the match reaction from TW readers who want to comment.
Some fans tend to react to the words I choose as part of that description, and that's fine (it's all about opinions) but I try to be honest by what I see in terms of match action as the games develop.
Lots of goals have an element of luck, Frank, agreed. I don't see many people 'moaning' about ours, though. In this case, it was just a factual aspect linking them on the day — as is the point Lyndon chose to emphasize: they were both Made in Belgium.
Of course I was jazzed that we won (do I really need to say that?), but I was disappointed with the way we played at times; everything Gareth says about our play was spot-on and that's what I was conveying. If that disappointment came through in my report, so be it.
For me, the game as it happens is much, much more than just the result at the end, which it seems some wanted to focus on once we were done. I can understand that – but, if that is your perspective, then you may feel less inclined to discuss and chew over stuff that happened in the match.
Sam Barrett
94
Posted 14/09/2014 at 20:01:07
Been reading TW for a couple of years now, this is my first post so go easy on me please :-D. Am I the only Evertonian who thought Lukaku's goal was world class? Okay, the clearance was poor but he was outside the area surrounded by defenders when the ball came to him. The first touch and finish in, more or less, one movement were absolutely sublime.
To describe a world class finish like that as ''fortuitous'' is ridiculous. If Suarez would have scored that goal the media would be hailing him as better than Messi.
Jon Withey
95
Posted 14/09/2014 at 21:20:24
Nothing wrong with wanting to see the perfect performance. I'm just glad we are managing to put the goals away.
Mick Quirke
96
Posted 14/09/2014 at 21:25:05
Michael, you are stunningly negative at every opportunity. Please take Martinez's and Lyndon's positive mindset approach as an example to follow and don't go banning me again!
Jamie Crowley
97
Posted 15/09/2014 at 23:08:26
How is it "negative" to note that we were very fortunate to have an opposing defender roll a ball to our 28 million pound striker at the edge of the 18, totally unmarked?
How is it negative to point out that for extended periods we had no zip, no short, sharp effective interpassing, little penetration, and loads of small mistakes?
It's not negative, it's true! Doesn't mean people are ready to slit their wrists because we got 3 points.
How does pointing out the obvious and being truthful about a performance and not sugar coating or glossing over areas in need of improvement, despite the 3 points gained, equate to negativity?
Perplexed...
Steve Carse
99
Posted 18/09/2014 at 00:57:14
See the Liverpool game last night, Michael? Now that's what you call fortuitous.
---
Add Your Comments
In order to post a comment, you need to be logged in as a registered user of the site.
Or Sign up as a ToffeeWeb Member — it's free, takes just a few minutes and will allow you to post your comments on articles and Talking Points submissions across the site.
© ToffeeWeb