Brilliant tactics yield the perfect result
By Michael Kenrick
27/11/2014

Comments (146)
jump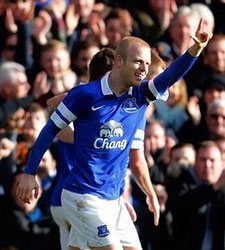 Steven Naismith missed the trip to Germany with a hamstring injury
Wolfsburg 0 - 2 Everton
Everton won their Europa League group after a brilliant victory in what was, on paper, their most difficult assignment yet against Wolfsburg. Roberto Martinez made changes to the team that started against West Ham, with Samuel Eto'o replacing Steven Naismith, Muhamed Besic coming in for Leon Osman, Luke Garbutt starting at left back and Tony Hibbert switching to right back. Aiden McGeady plays instead of Ross Barkley.
Wolsburg kicked off and showed their intent with a lively attack down the Everton right, and a viscous cross played right through the danger area. Their next attack, Perisic got beyond Hibbert but badly mistimed his header. The Blues, playing in their white second strip, were having trouble retaining possession once they got the ball and ventured forward into the home side's half of the pitch.
After a poor 10 minutes, Everton strung together their first attack, McGeady playing in Lukaku but a dreadful first touch let him down. The ball did come to Eto'o on the left but Lukaku had already strayed offside when Eto'o picked out a perfect pass fro him that bounced through harmlessly. Peresic had a good ball to chase but Howard covered him. Great work from McGeady won Everton's first corner that Garbutt delivered in brilliantly to the far post where Distin misjudged the curl and heads it onto the bar off the ground.
The play was immediately up the other end where De Bruyne won a corner from which a tremendous shot was palmed away by Howard, a great reaction save. McCarthy went down with a knee problem but was back on quickly as Wolfsburg attacked with pace and verve.
Everton were very lucky to have a clearly legal goal against them disallowed when Peresic, who was onside, clipped the ball past Howard after a corner won off a slight deflection from another De Bruyne shot. Everton were looking very ragged at the back although Garbutt was looking pretty mature and sensible in his play. A massive warning to the away team, as if one was needed...
McGeady clipped Bendtner's toe, giving away a free kick some way out that Naldo wellied hard over the bar. Everton had been unable to settle into much a rhythm, with possession play breaking down under stern pressing and tight marking from Wolfsburg. Some good Everton play down the left, starting from Distin, again came to nothing as the ball was surrendered cheaply, allowing Wolfsburg to attack again. McCarthy went down again, only to hobble off clutching his hamstring, Osman replacing him.
Mirallas cut inside and fired off an excellent shot that forced a save from Benaglio. But the corner would not fall to a white shirt and the pressure on Everton's defense resumed, Peresic again causing concern with another cross whipped in. Vieirinha was next to run in and fire at Howard before Bendtner from the other side tried to curl one around Howard.
Jagielka had to make a tremendous block to stop an excellent goalbound shot from De Bruyne and from the corner, a quick clearance by Osman found Mirallas who flicked it on for Lukaku to rampage forward. After another woeful first touch, the Big Man galloped away and fired superbly past Benaglio to give Everton a somewhat undeserved but very welcome half-time lead. Gustavo was booked for tripping Mirallas after Eto'o got sandwiched.
After the break, Besic fouled with his studs showing and was lucky not to be carded, De Bruyne again firing hard but high from the layback. De Bruyne then had another shot blocked by Jagielka. Going forward, Eto'o seemed off his game, sadly, with too many passes going to opposition players, while Hunt was next to warm Howard's gloves. Then a beaautiful intelligent flick by Eto'o did come off and it looked like him and Lukaku could break but the Big Man again struggled to make progress.
Bendter did score from a corner flicked on but the flick on found him offside as he powered the ball behind Howard from close range. Peresic was carded for insisting it was also wrongly disallowed. Finally a better spell from Everton saw them move forward, great work from Besic, and Eto'o winning a corner but the ref allowing a scrum to go unpunished, The ball came to Lukaku who did well to cut along the byeline and shoot, the ball falling nicely for McGeady with an open goal and the thoroughly disappointing Irishman somehow contrive to miss the goal altogether with his chip. /p>
Mirallas got forward on a good ball from McGeady but was called offside as he shot straight at Benaglio, while Howard again had to be alert to push another shot from Peresic away for a corner, Naldo firing over from the follow-up. Everton were having to soak up a lot of pressure at times, but it was a good test for the patched-up defence, with Garbutt putting in a god solid competent display at left back.
Ross Barkley came on fro Samuel Eto'o to play out the last 20 mins. Besic finally saw yellow for a foul on De Bruyne. A tremendous shot from Schaeffer was watched all the way by Howard who wanted to keep a clean sheet, putting Everton back on the attack, Lukaku holding the ball well and turning superbly around the half-way line before picking out a brilliant pass to Mirallas, who was faultless in his execution, carrying the ball forward and firing low into the corner of the net, another superb European goal and a very welcome sight for Kevin Mirallas.
Atsu replaced Mirallas for the final 10 mins, while the largely one-way traffic on Everton's goal continued for most of the time, but with nothing to show for it as Everton's defence repelled all comers. At times, it looked nervy and panicky with last-ditch blocks, diving defensive headers, wild hacks, fractional deflections onto the post, as Howard's goal lived something of a charmed life at time.
Everton did get forward, Barkley trying to beat everyone and then getting in a beautiful strike but it was ruled offside. The last minutes saw some of the best Everton action in the Wolfsburg area, McGeady almost getting in a shot.
An absolutely superb result from a very professional performance by a hanged side with a slew of injuries, Roberto Martinez pulling off something akin to a small miracle in Wolfsburg.
VfL Wolfsburg: Benaglio, Schafer, Knoche, Naldo, Vieirinha, Malanda (64' Caliguri), Luiz Gustavo, Perisic, Hunt, De Bruyne, Bendtner.
Everton: Howard; Hibbert, Jagielka, Distin, Garbutt; Besic, McCarthy (31' Osman); McGeady, Mirallas (73' Barkley), Eto'o (82' Atsu); Lukaku.
Subs: Robles, Coleman, Browning, Barkley, Kone, Atsu.
[Unavailable: Naismith, Baines, Alcaraz, Stones, Oviedo, Gibson, Barry, Pienaar.]
---
Reader Comments (146)
Note: the following content is not moderated or vetted by the site owners at the time of submission. Comments are the responsibility of the poster. Disclaimer
Kevin Rowlands
1
Posted 27/11/2014 at 17:07:41
Decent team that, looking forward to the game. I would love Kone to come on and contribute just to stick it to the haters.
Nick Entwistle
2
Posted 27/11/2014 at 17:10:58
Haters? Leave the valley talk to the Yanks. But yes, good looking team. Would love Kone to come on and remind me what he looks like.
Geoff Evans
3
Posted 27/11/2014 at 17:13:00
Good to see RM having faith with young Garbutt.
Harold Matthews
4
Posted 27/11/2014 at 17:13:23
Hope Mirallis is feeling fitter. Garbutt will need him to track the full back a bit better than he tracked Jenkinsin the other day.
Christopher Wallace
5
Posted 27/11/2014 at 17:20:55
Should be a good game.
Put a cheeky fiver on 3-3, but I'll take a scrappy 1-0.
COYB
Paul Andrews
6
Posted 27/11/2014 at 17:33:10
Once again, the positive attitude of Roberto shines through. The previous chappie would have played two full backs in midfield for a game like this...
Kevin Rowlands
7
Posted 27/11/2014 at 17:39:48
Yes haters Nick, the lad has had a terrible injury and has been accused of ripping the club off, being shite without hardly kicking a ball, Wigan shite, lazy bastard who rides a camel, taking the piss out of Everton amongst other things on here, I hope he proves the doubters wrong.
Paul Andrews
8
Posted 27/11/2014 at 17:48:23
We'll said Kevin.
Some of the comments re Kone are well out of order.

Joseph Terrence
9
Posted 27/11/2014 at 17:49:31
Good to see Garbutt in the starting XI. It shows that Bobby only started Hibbo last match because he knew we needed stability at the back, this game is fine to take risks.
Pat Finegan
10
Posted 27/11/2014 at 18:17:57
I'm away from home visiting family today. I climbed 20 feet up my aunt and uncles snowy roof to clear the snow off the satellite dish. After doing so I found out that they didn't have the channel that the game is on. Drove 20 minutes over to my Mom's place. Begged my step dad to give up the TV so I wouldn't have to watch American Football. Finally got the Everton match on, only to find out that we suck.
Happy Thanksgiving to my fellow Yanks. Let's take today to be grateful that we support the blue half of Merseyside.
Stephen Brown
11
Posted 27/11/2014 at 18:43:45
Come to admit it!! Who was saying "shit touch, Lukaku" before he ran half the pitch to score with aplomb! Guilty as charged! Get in, Rom.
Paul Andrews
12
Posted 27/11/2014 at 18:48:53
What a twat of a first touch from Romelu before he scored.
Hahahahaha!!!
Dave Abrahams
13
Posted 27/11/2014 at 18:49:06
Kevin Rowlands, well said. Kone has more than enough stick off people who should know better.
Stick to your guns, Kevin.
Michael Kenrick
14
Posted 27/11/2014 at 18:54:09
Amazing resistance by Everton — a second look suggests that 'goal' they are calling for Peresic was in fact offside. I think they are freezing the play a moment too soon. Anyway, he's at best dead level with Jagielka, but showing serious intent of taking advantage from an offside position!
Great finish from Lukaku after an absolutely comic first touch. What is it with this guy?
Kevin Rowlands
15
Posted 27/11/2014 at 18:56:37
Haha, was screaming at the TV after his first touch then seconds later it's in the back of the net, funny old game, eh.
Jim Bennings
16
Posted 27/11/2014 at 19:02:46
Sadly though McCarthy look's fucked, he won't be playing on Sunday that's for sure. I'm very surprised he even started tonight really.
Gavin Johnson
17
Posted 27/11/2014 at 19:28:35
Aiden McGeady ..WTF!?!
Len Hawkins
18
Posted 27/11/2014 at 19:36:38
Well in Kevin Mirallas, I've cancelled the taxi for McGeady
Peter Z Jones
19
Posted 27/11/2014 at 19:50:13
Super proud of us today. That is a fucking result! And Garbutt got a chance! Excellent.
Gavin Johnson
20
Posted 27/11/2014 at 19:53:31
Super away result against the 2nd-placed team in the Bundesliga. Can't be bad! COYB
Kevin Rowlands
21
Posted 27/11/2014 at 19:54:52
Superb result, these haven't been beaten in their last 17 at home and are 2nd in the Bundesliga, to outscore them 6-1 over 2 games is outstanding. Huge plusses were Besic and Garbutt.
And for me, Peresic is the best player I've seen play against us all season, bar none – get him signed in January please.
Brian Hill
22
Posted 27/11/2014 at 19:57:28
Gavin Johnson, I agree wholeheartedly - McGeady's "performance" was one of the worst individual showings I have ever seen from any player at any level. A disgrace.
Paul Andrews
23
Posted 27/11/2014 at 19:56:43
BRILIANT TACTICS YIELD THE PERFECT RESULT.
Says it all really
Paul Andrews
24
Posted 27/11/2014 at 19:59:35
Two minutes after final whistle, Brian, and the negative comments?
Paul Mackie
25
Posted 27/11/2014 at 19:56:42
A very different outcome to what some of the naysayers were posting in the preview thread.
We got a bit lucky with their 'offside' goal but, all-in-all I thought it was very similar to the home game. For all of their bluster, their forwards couldn't hit a cow's arse with a banjo. Hibbert and Garbutt both had outstanding games and I think we deserved the win in the end.
That first goal was just classic Lukaku. Give him the ball when he's running at the goal and more often than not he'll score. Particularly if his first touch is good (and sometimes when it's appalling!).
Patrick Murphy
26
Posted 27/11/2014 at 19:58:02
It was tough going at times but a typical smash and grab result for the Toffees. Wolfsburg remind me of Everton sides from the past who repeatedly knocked at the door but couldn't get the breaks their play probably deserved. The first offside goal wasn't the second one was, but they say you earn your luck. Only McGeady for me didn't put in an acceptable performance but we top our group so no complaints from me.

Linda Morrison
27
Posted 27/11/2014 at 19:59:10
I am very happy. We will now win the group so all is well.
I am very proud of all our players.The Spurs manager is saying in the Independent that his team should play on Monday after Europe... so sad as we will beat them on Sunday.
Happy Days!
Ian Bennett
28
Posted 27/11/2014 at 20:01:34
Great result, but McCarthy going off is a worry.
Anto Byrne
29
Posted 27/11/2014 at 19:56:05
Lukaku... what a waste of money. Other than scoring and creating a goal for Mirallas and doing some hold-up play and leading the line, what exactly does Lukaku do for us? Now look at a proper footballer: Hibbo was magnificent. I think we can win this group.

Geoff Evans
30
Posted 27/11/2014 at 19:58:58
Shite, that Lukaku!
Ernie Baywood
31
Posted 27/11/2014 at 20:00:42
Really Brian? I thought he put in a hell of a shift today. Pacy going forward, tenacious tracking back.
Stephen Brown
32
Posted 27/11/2014 at 20:00:18
Excellent performance from the team. Garbutt and Besic were very good but the return of Mirallas is a massive boost as pace and a goal threat from midfield is huge. Credit to Distin as I thought he'd never play again for us but he has been great over the last few weeks! Well done, Sylvan.
Jim Knightley
33
Posted 27/11/2014 at 19:58:03
Fantastic result and display. It is very pleasing to see us improving as we get to the most intense part of the season. We can be very hopeful about the future, both this season and long term. Having Mirallas back is massive too: he is so crucial to our attacking player, and to Lukaku. We should concentrate our transfer plans on getting in another wide player as good as Mirallas.
It is also very good to see three of the most criticised players Howard, Jags (at least early in the season) and Lukaku play so well. Jagielka is a great defender, and was clearly suffering from the post-world Cup fall out. Lukaku can control a ball, and can learn to do it better (Despite the idiocy of some on here, who believe player touch cannot be improved for no particular reason and exaggerate Lukaku's failings in that respect). As I've said before, and will say again: When Lukaku gets more confidence, his touch and control will improve. He showed today at points how good he is, and can be.
A match away to Wolfsburg, given their form, is about as tough a game as we can get in the Europa League at the moment. Some equally good/slightly better teams might come into the competition from the CL, but we can take this result with us whoever we play in the later stages. They did us proud today, and hopefully the team can do it again on Sunday against an out-of-form and out-of-sorts Spurs.
Carl Taylor
34
Posted 27/11/2014 at 20:02:45
Best performance of the season. Mirallas makes such a difference going forward and Garbutt & Besic looked as if they have played European football all their lives. Winning the group is so important. Got to carry this momentum forward now.
Colin Glassar
35
Posted 27/11/2014 at 20:03:25
Roberto makes us look like not only do we belong in Europe but we expect to win very game. Vamos Everton!!!
Ernie Baywood
36
Posted 27/11/2014 at 20:04:41
That's the thing Geoff, 90% of what Lukaku did tonight was shite. But his 10% makes a real difference and 5% of the time he's an absolute game changer.
Note that there is a 24% chance that my stats are bollocks.
Ray Said
37
Posted 27/11/2014 at 20:03:33
Aiden McGeady played as if he had never been told what to do with a football before. Sure he ran a lot but stick my dog in the team and he would also chase the ball about.
Colin Glassar
39
Posted 27/11/2014 at 20:08:10
By winning the group we avoid the 3rd placed CL losers. Not that they worry me but we should get an easyish pick for the next round.
Paul Andrews
40
Posted 27/11/2014 at 20:06:49
The last few times I watched Garbutt I thought he lacked a little positional sense.
The difference tonight was unbelievable,very aware and a sold performance.
Good distribution as well
Peter Bell
41
Posted 27/11/2014 at 20:04:59
The draw was not kind to us with tough away games on the Sunday after Europa matches. Anyone notice how the rest of the competition now pans out.
Both legs are played one week after the other, and sandwiched in between we have all homes games against Leicester, Newcastle, Burnley, Sunderland. We're going to Poland, guys, come May.
Graham Mockford
42
Posted 27/11/2014 at 19:56:28
Great defensive performance allied to pace and purpose on the break. Weathered the storm in the first half, limited them to shots from distance in the second. A classic European away performance. Just to put in perspective, the first clean sheet there by any team in 25 games.
I have to admit, player loyalist as I am, I did question awarding Tony Hibbert a new contract – especially as he hadn't played in about 12 months. Wrong wrong wrong, he's just done in the last few weeks what he has always done – no-nonsense defending. An absolute credit of a footballer.
Lukaku maybe starting to prove some of the early naysayers wrong. Yes, there's parts of his game that need to improve but he's still a kid, he scores goals and he has a great attitude.
Finally it's quite interesting to see Everton's shape without both Barry and McCarthy. It changes from 4-2-3-1 to more of a diamond formation which seems to give us more attacking options.
Finally and I have to say it and I would've got abuse a month ago: based on current form, it has to be Osman ahead of Barkley at the moment.
Kieran Fitzgerald
43
Posted 27/11/2014 at 20:07:31
Caught bits of the second half on the internet. Eto'o showed himself to be an absolute steal. His involvement just oozes class. Lukaku now has six goals and for a fella not in great form he could easily be in double figures come the New Year.
McGeady I feel sorry for. You could see what he was trying to do with the goal he missed. Play it first time before the keeper and defender got back to cover. I think he is a player who does more work on the pitch than he is given credit for. As a winger, if he doesn't produce flair every game, he gets slated.
Christopher Kelly
44
Posted 27/11/2014 at 20:10:18
That's right, Colin. Huge for us to miss the 3rd place gate-crashers...
Well played counter football in the 2nd half. Gorgeous play by Lukaku to control and thread the needle. What a great Thanksgiving it will be.
Geoff Evans
45
Posted 27/11/2014 at 20:10:16
Ernie. The boys got rough edges and sometimes looks awkward but he'll do for me!
John Audsley
46
Posted 27/11/2014 at 20:09:31
Anyone who slags of RM and the team after that result needs a good slap.
Besic and Garbutt played superbly considering they have hardly played this season. McGeady's miss was poor but he put a shift in and glad Kone got on the bench, I really hope he can get fit/stay fit and score a few goals.
To a man the team was superb and Lukaku lead the line brilliantly, the best I've seen him play in months.
The injuries are mounting up but Garbutt looked excellent and took a mean corner.
We can win at Spurs on Sunday and hopefully the league will start to take shape.
0-2 at Wolfsburg is a top class result!
Dave Abrahams
47
Posted 27/11/2014 at 20:06:49
Aiden McGeady, yes he does frustrate you but I thought he had a decent game, never gave up, chased back and played his part in a very good win against a good team.
It seems if you miss a sitter you've had a stinker if you score a goal you're a hero, it's not always the case.
Paul Andrews
48
Posted 27/11/2014 at 20:13:35
The centre forward who is not worth his place scores one makes one....
The team that the manager can't organise defensively keeps another clean sheet ( against a side who have scored in their last 24 home games)
And the miserably negative posters are all quiet.
"It's a beautiful day"
Dave Lynch
49
Posted 27/11/2014 at 20:14:17
Top performance against a top team.
Garbutt, Hibbo and Jags where awsome. Hibbo is playing 10 years younger than his age whereas McGeady and Barks where woeful.
Let's hope we are fresh for Sunday as we need a win against the spuds.
Colin Glassar
50
Posted 27/11/2014 at 20:15:48
A word of thanks to our senior players; Howard, Hibbo, Distin, Jags, Barry Eto'o and Ossie. Thanks guys, the youngsters will learn so much from you. You're a credit to the club.
Bill Gall
51
Posted 27/11/2014 at 20:17:00
Sorry Paul to rain on your parade on what was a first class exibition by Everton but a lot of the pressure put on the defense was caused by McGeady who had his poorest game for Everton since he joined.
Kieran Fitzgerald
52
Posted 27/11/2014 at 20:17:28
Kone on the bench was definitely a plus. Competition for places can only be a good thing. Baines now knows that Garbutt is pushing for a spot. Hibbert is pushing Coleman and Browning is pushing them both.
Both Garbutt and Besic showed that they were ready today. The dead rubber game against Krasnador (wrong spelling I know) will hopefully give Browning and Kone a chance to shine. I'm unsure if it will come too early for Oviedo but hopefully he will be there.
Geoff Evans
53
Posted 27/11/2014 at 20:22:06
Can't understand anybody getting stick tonight. Super team performance. Great result. Great night.
Paul Holden
54
Posted 27/11/2014 at 20:25:03
How good is our support!! coybs
Denis Richardson
55
Posted 27/11/2014 at 20:18:51
That has to be the most clinical smash and grab I've seen for a long while. Got a slice of luck with the first disallowed goal but after that it was good to see the back line stay pretty solid.
Cannot pick out any player who had a bad game (including McGeady's miss!). Was just a great counter attacking performance away from home. Solid debut for Garbutt and Besic put in a good shift.
A great evening to be an Evertonianand we now have a dead rubber where we can rest players and give the fringe a run out. Job done.
McCarthy likely out for Sunday so looks like Besic and Ossie in the middle for Spurs....
Eugene Ruane
56
Posted 27/11/2014 at 20:27:58
Very impressed with our commitment/work tonight.
To get an away win against a team 2nd in the Bundesliga and not concede requires a lot of sweat and tonight everyone worked their nuts off.
Yes we rode our luck at times and they could have had a couple, but we could have easily had a couple more.
The knock-out is going to be exciting.
Hope we play our under 21s against the Russians.
Up the Toffees!
(ps: and if Baines is still goosed, I hope Garbutt is on the left on Sunday)
Colin Glassar
57
Posted 27/11/2014 at 20:27:21
Despite picking up another injury surely the likes of Pienaar, Kone, Oviedo and Bainsey must be close to coming back? We really do have a squad nowadays.
Graham Mockford
59
Posted 27/11/2014 at 20:26:58
Geoff
Some just like to vent, it must be a fucking miserable existence but it beats kicking the cat. We had a cat when I was a kid and I'm sure it used to watch the scores on Grandstand and if we got beat it would hide before my old feller got home.
Christopher Timmins
60
Posted 27/11/2014 at 20:30:41
In the last 32 with a game to spare, there is more than one route into the Champions League heading into Christmas and the new year!
Kieran Fitzgerald
61
Posted 27/11/2014 at 20:33:41
Graham, the wife jokes that even cat is ahead of me in the pecking order at home. There's times when I think she's only half joking. She'll still let me out on Sunday to watch the Spurs game though.
Dean Adams
63
Posted 27/11/2014 at 20:28:22
Excellent result. We are beginning to look like the team to beat in this competition. Lets hope we go all the way. I told Hibbo on Saturday after the game that he would score the winner in the final. He smiled ruefully!! You score we riot Tony!!!
Geoff Evans
64
Posted 27/11/2014 at 20:37:46
Graham. could understand if the cat hid when we lost but not after winning away to the second club in the Bundesliga. Even the cat would have been confused.
Talk about hard to please!
Mike Powell
65
Posted 27/11/2014 at 20:27:29
Superb. Every player put in a shift today. Well in, Blues.
I don't understand the stick McGeady is getting – besides that miss he had a good game. In fact, how can anyone moan about that performance? Every single player ran themselves into the ground. I'm proud of them today.
Peter Cummings
66
Posted 27/11/2014 at 20:36:57
Thought a point there would have been a bonus but to get all three was brilliant, and what about those fantastic (as usual) away Blues who literally sang the roof off they fully deserve 'the best in the game' label
Michael Upton
67
Posted 27/11/2014 at 20:40:18
Wow, what a result and a pretty damn fine performance.
Practically the perfect away performance - ride your luck, defend well, keep possession when you can - and take your chance (oops, sorry Aidan).delete
Hard to pick out anyone below "good" standard tonight.
Very impressed with Garbutt, Osman and Besic looked pretty composed at DM, Mirallas was fabulous again - oh, how we've missed him, Howard made a good save when one was needed, the CBs were cool and calm, McGeady worked the defenders and was maybe a little unlucky with his miss, Hibbert was solid as ever defensively and showed more signs of growing confidence in attack, Eto'o's close control was great as ever and Lukaku showed strength and substance in making one and scoring one.
Have I missed anyone?
Oh yes, Roberto, whose team and tactics made it happen, with no McCarthy, Stones, Barkley (til late on) Coleman or Barry.
How great is it to have an attack which looks capable of making things happen in Europe - can you imagine how it would've gone under OFM.
Three wins and two draws - brilliant return.
Michael Upton
68
Posted 27/11/2014 at 20:48:12
...and no Nessie, too!
Mike Berry
69
Posted 27/11/2014 at 20:47:48
Besic man of the match all day. Now we can concentrate on the league in the new year. Not forgetting the FA Cup
Tony Abrahams
71
Posted 27/11/2014 at 20:42:07
Colin 57: that is the beauty of what this manager is instilling at Everton. In the space of 16 months, we have gone from a team with a decent first eleven, and now he's turning it into a squad.
We rode our luck at times, but how many people said after the second half at Goodison that Wolfsburg would be too good for us at their place?
It might be boring at times, all this 'conserving energy', "because, let's face it, it's what we tried to do once Baines scored the penalty" but if it keeps us fresher after Xmas then we could be in for a very good season. It's also good news that we can now give a few of the kids a game in our final group match as well.
Tony Doran
72
Posted 27/11/2014 at 20:59:13
Pleased with Besic, I think he could do a bit of a job at CB. Reminds me a bit of Hietinga at times though and tries to win the ball through the opponents' legs.
Only time Mirallis got a decent ball he scores. I still think Wolfsburg got too much space and time in and around our box. The defending was effective but last-ditch blocking. Very patient and counter-attacking footie though, well done.
Chris Hockenhull
73
Posted 27/11/2014 at 21:29:05
Ernie... are you Big Vern's buddy????? Well he can then go and join Royle, Gray, Sharp & Lineker on that assumption!!!

Paul Gladwell
75
Posted 27/11/2014 at 21:38:00
So many blues are quick to cream over McCarthy and slaughter Osman, but I tell you what, we were all over the show until Osman came on and he helped settle us.
I think after such a quality performance against a top team who will probably be Champions League next year from a top league, lads should lay off McGeady, yes he's infuriating but if that's the first thing off your lips after watching that then what's the point?
Graham Mockford
76
Posted 27/11/2014 at 21:48:07
Welcome back Eugene,
Either you got a three month stretch or you've been in dispute with TalkTalk.
Phil Roberts
77
Posted 27/11/2014 at 21:38:20
Just checked with Bert Kassies website. This guy is a total nut, a brilliant nut but has everything you want to know about European Qualification (http://kassiesa.home.xs4all.nl/bert/uefa/seedel2014.html)
Anyway, we will play either a Europa League Runner Up or one of the 4 worst Champions League rejects
So our list at the moment of runners up are
Villareal (E)
Sevilla (E)
Torino (I)
Celtic
PSV (NL)
Sparta Prague (CZ)
Aalborg (DK)
Guingamp (F)
Besiktas (T)
Trabzonspor (T)
Qarabag (Azerbijan)
Wolfsburg (D) - I assume we can even as it does not say it can't be teams from the same group, only not same country
and from the Champions League
Athletico Bilbao (E)
(can't play Liverpool - same country)
Ajax (NL)
Shalke (D)
I can see a few we would like here. And a few we really would fancy our chances against

Brent Stephens
78
Posted 27/11/2014 at 21:49:48
On a specific note, interesting that there were comments before tonight's game about McGeady needing to track back to support the (weak) Hibbert.
Solid Hibbert (well done again, "lad"), supported by a lot of tracking back from McGeady that most posters probably recognise but some aren't seeing.
Tommy Coleman
79
Posted 27/11/2014 at 21:58:15
Martinez really has taken us to another level.
We can win this trophy.
COYBS.
Phil Guyers
80
Posted 27/11/2014 at 21:59:07
Phil
I had a go at predicting the 4 worst Champions League dropouts and got the same as you except for Anderlecht instead of Bilbao. I think Bilbao are at home to the bottom team whereas Anderlecht have Dortmund away.
Great shout from Paul (75) about Ossie there. For both goals it was his controlled pass out of defence instead of just hoofing it that started the moves.
I am a Lukaku doubter up to now but tonight there were definite signs of a true Everton No 9. Hope he continues the improvement at The Lane on Sunday!
Karl Masters
81
Posted 27/11/2014 at 22:14:16
While everybody is entitled to an opinion, some of the bollox spouted about McGeady on this thread is pathetic. Obviously the new whipping boy for some of our grumpy old men on this site.
Bad miss yes, but some great work, 100% effort and the way he closed their defender down with that sliding tackle in the first half was exemplary.
Tom Bowers
82
Posted 27/11/2014 at 22:52:48
Any win is a good win and I for one didn't expect this today given the changes that had to be made.
I knew Wolfsburg were a better team than the score at Goodsison reflected and expected them to come right at Everton which they did.

However, after a mix of some early Howard heroics and a bad linesman's call, Everton were able to compose and show some good moves on the break with McGeady and Mirallas who took some time to settle. The passing got better and Besic also settled down to really impact the game especially when Macca went off.

As Wolfsburg got more desperate Everton could have scored more in a wide open game. Now the RM can afford to blood some more youngsters in the last game against Krasnodar especially the excellent Garbutt who was so cool under pressure.

It's getting harder to accept the injury list that is building up especially with the Spurs game coming up but Spurs were very poor today and hopefully the Everton stand-ins will stand out on Sunday.
Raymond Fox
83
Posted 27/11/2014 at 22:58:43
Great backs-to-the-wall performance by everyone. There also seems to be a excellent team spirit among the players nowadays.
Good to see so much positivity on here too. The blues are on the up no doubt thanks to the manager and our much maligned chairman.
Steve Guy
84
Posted 27/11/2014 at 23:33:53
Hope we get Villarreal – and a ref not on the take – and we twat the bar-stewards into next week!!!
Mike Corcoran
85
Posted 27/11/2014 at 23:33:55
Defence was great tonight, practically restricting them to speculative efforts.
So to Sunday.... Ossie and Bez were ace in the middle but will Bainesy get his nod there soon?
Sue Brown
86
Posted 27/11/2014 at 23:06:08
Well said, Karl (#81),
I was beginning to think I'd watched a different game with some of the comments on here.
Brian Furey
87
Posted 27/11/2014 at 23:51:38
Well said, Karl. Great result again and was very impressed how hard Lukaku worked tonight.
Also glad to see Mirallas get a goal to help his confidence.

McGeady worked his ass off too, even if he does give it away a lot when no need to.
Anyone know is Bainesy out for Sunday or longer?
Paul Kelly
88
Posted 28/11/2014 at 00:45:13
Brilliant performance. Quality finishes for both goals. Hope we don't get a "European hangover" Sunday.
COYB
Jamie Crowley
89
Posted 28/11/2014 at 00:59:08
The stick directed at McGeady I understand a bit as he gave the ball away a few times and gave up some silly fouls in bad positions. But...
That slide tackle he made and popping up after the tackle in the first half was SUBLIME.
He ran his socks off tracking back. When he lost possession I remember at least two times it was down to him attempting to use his heavenly technical skill to baffle a defender, and it didn't come off. If our players give up the ball while taking someone on? OK, I'm fine with that.
Why people are having a go at him is baffling to me. I have to wonder out loud if it might be down to the fact that he's worn green hoops in the past and some frankly just don't appreciate players of that background.
An absolutely fantastic result and solid performance. Bitching after that makes me question a person's state of mind and objectivity.
Well done Everton, Bobby, the boys... and well done Aiden McGeady. You weren't our best player on the day, but your effort and determination are a credit to Everton Football Club.
Jamie Crowley
90
Posted 28/11/2014 at 01:09:32
Oh... and I was very vocal we shouldn't sign Aiden. I'm glad we did. I was wrong. He's an asset.
Patrick Murphy
91
Posted 28/11/2014 at 01:36:08
I don't believe that McGeady is a poor player and similar to his game at Celtic for the Republic against Scotland he was unable to control the ball or pass the ball in the way that many know he can, tracking back is all very well and chasing down the ball is laudable but that is not what he is on the pitch to do – he is there to be a spring-board for our attacking play and to keep the ball for others to join in.
Hopefully it is just a crisis of confidence and he will get back to what he does best sooner rather than later. If he doesn't, based on tonight's performance, he doesn't deserve to be in the side. But his performance was the only blot on a very good team display where everybody gave their all, including McGeady.
Perhaps he will get the opportunity to show us all what he can do if we happen to draw Celtic in the next round – I just have a funny feeling that is who we will get in the last 32.
Darren Hind
92
Posted 28/11/2014 at 02:51:20
Fast counter-attacking football vs Tiiiiccckkkiieee Taaacccckkkkiiieee... Tough call.
The key difference was here for all to see tonight. Ossie and Besic are better players with the ball, but will risk possession trying to be creative. Barry and McCarthy are fantastic when we don't have the ball but would rather keep possession with more conservative sideways passing, they hardly ever venture into enemy territory.
When McCarthy was on we were pedestrian and although our football improved when Ossie came on we were a bit more open at the back. There is a role for all of them in our squad. We have a great and varied group of players which IMO is easily good enough to win this thing and qualify for the Champions League.
I'm still a little unsure about the manager though; he still doesn't seem to know what to do with them, most of the improvements seem to me to come about through enforced changes.
Yeah, we rode our luck, but that's cup football... it's also entertainment.
Andy Osborne
93
Posted 28/11/2014 at 03:50:13
First of all, a great win. Away from home,top of the table, through to the next round with a game to spare. We don't look out of depth in Europe, in fact, the opposite, we look astute, confident and tactically aware.
I won't mention everyone, but Besic, for me, did okay. Not as good as some of the comments, but not bad either. He's still learning how to play for us.
I will mention Lukaku. With his back to goal, receiving a pass, all of his well commented about weaknesses are shown up. His strengths are power and speed, and of course, a sweet left foot. All his strengths show when he receives a pass as he is running towards goal. As he showed tonight. If we can play that killer pass to him while he is at full speed, I think he will score every time! Play to his strengths, Roberto.
Paul Andrews
94
Posted 28/11/2014 at 05:53:20
Darren, morning, mate,
Are you suggesting Martinez didn't know what to do with them tonight? That, in my opinion, is way off the mark.
I know you don't like Martinez but you have to give him credit for his tactics last night. The headline on another thread on TW tells you all you need to know.
Paul Andrews
95
Posted 28/11/2014 at 05:58:06
Apologies, it's on this thread. :-)
Darren Hind
96
Posted 28/11/2014 at 06:57:29
The team Martinez sent out were getting mullered employing the tactics he sent them out with.
Now, if you want to believe that Robbie whispered to Ossie as he was getting ready, "Listen, Leon lad, get out there and abandon all my philosophies. Stop all this mindless fucking about at the back and tell the others to play their natural game; tell the boys to get it foward earlier." — I'm cool with that.
You credit the manager and I credit the players; we're all happy.
Daniel A Johnson
97
Posted 28/11/2014 at 07:48:05
Let's face it – had McGeady scored, he wouldn't be in for all this stick.... fickle, us fans.
Steven Jones
98
Posted 28/11/2014 at 08:00:01
Darren – you are out of your depth posting in public – stop it.
RM is fantastic for EFC. Full stop!
Sandra Bowen
99
Posted 28/11/2014 at 07:56:14
McGeady was crap – no two ways about it. He's in the team to be an attacking threat but, unfortunately for us, he tends to start the opposition's attacks more often than ours through lazy ball retention, stupid decision-making and sloppy passing. Yes, he did run a lot and did some good stuff defensively but attacking-wise, very poor.
I like him and want to do well but he's never done anything consistently to warrant a place in the team, reflected by the manager's decision to switch him in and out of the side.
Other than that, a very enjoyable performance and so good to have Kevin back in the side. He brings Lukaku to life.
Ray Roche
100
Posted 28/11/2014 at 08:14:16
Sandra,
"He tends to start the oppositions attacks more often than ours through lazy ball retention, stupid decision making and sloppy passing... but attacking-wise, very poor."
And then you say "I like him"!
Christ on a bike, how bad does he have to be before you turn against him? ;-)
Colin Glassar
101
Posted 28/11/2014 at 08:37:29
Oh, Darren, when will you and your group ever give Martinez the credit he deserves? Do you all enjoy coming on here criticising him and the team before, during and after every game, whatever the result?
You, and the rest of the detractors, must be a joy to watch an Everton game with... eg, "How the fuck are we beating this lot 3-0? We are fucking shite and we are still winning!!"
Sandra Bowen
102
Posted 28/11/2014 at 08:51:12
Yes, Ray, well said, and I take your point.
I guess what I'm trying to say is that I want all Everton players to do well. He is infuriating but I do like that he wants to try things and every now again, his skills when they come off are good to watch. Just far too few times when they do come, that's all.
Ray Roche
103
Posted 28/11/2014 at 09:02:27
Sandra, I know what you mean. I'd like him to do well, too, but the sooner he drops the Headless Chicken routine the better. He clearly has talent but doesn't appear to have the cool head that's required at the top level.
Andrew Ellams
104
Posted 28/11/2014 at 09:06:32
Am I mistaken, or McGeady getting a lot of praise today for his erm... tracking back?
Sue Brown
105
Posted 28/11/2014 at 09:16:54
Interesting that the usual suspects are getting stick again on here and yet Eto'o gave the ball away several times and was easily dispossessed yet no one mentions it!
He's a great player but that wasn't his best performance.
Nick Entwistle
106
Posted 28/11/2014 at 09:46:02
I don't agree with the heading. It was a great match, but a great performance? I don't think it was a case of Man Utd at Goodison last season, let them have the ball and we counter. It was closer to Arsenal ripping up Man Utd at the weekend and we got away with it.
Lukaku is going to be immense. Why did Jose let him go? Imagine having Drogba advising Lukaku at this stage passing on all that experience. We'll just Big Dunkify him instead.
John Voigt
108
Posted 28/11/2014 at 10:43:44
I'm a big Lukaku fan. He's young, has a physical presence and scores goals. Scoring goals is what trumps everything else. Lukaku is on pace to have another 15+ goal Premier League season. He's only going to get better in my opinion. Let's keep remembering that Rom doesn't turn 22 until May.
Everton did pay a large fee for his signature. Paying a large fee for a 21-year-old player who already has a track record of scoring 15+ goals a season is a no-brainer to me. Here's a list of the current top 10 Premier League scorers and their age. All I can say is: How many goals will Lukaku be scoring when he's 24-29 years old — like most players on this list? (The only other young player in the top ten is Berahino):
Aguero 26
Costa 26
Sanchez 25
Berahino 21
Sakho 24
Chadli 25
Pelle 29
Austin 25
Ulloa 28
Bony 25
Lukaku 21
Jamie Barlow
109
Posted 28/11/2014 at 11:22:06
Totally agree, Sue. Eto'o gave the ball away countless times last night but nothing gets mentioned. McGeady does the same and he gets slaughtered.
Tricky players like McGeady and Eto'o are always going to give the ball away. It's all about how hard they fight to win the ball back and McGeady never stopped last night. Fair play to him for not going missing when things weren't working out. It would be nice to see the same sort of commitment to winning the ball back from Ross every now and again.
I also think Hibbo deserves a mention. A lot of people were up in arms about his new contract but I think he's still got a big part to play in this squad. Top class since he's come back into the team.
Geoff Evans
110
Posted 28/11/2014 at 11:35:24
Colin @101. You can't win, mate. One of our best results and performances since the mid '80s and some still won't take a day off.
Andrew Ellams
111
Posted 28/11/2014 at 11:57:49
That was a to- class European away performance. If Jose or Wenger had engineered it, they would be getting all of the plaudits. Defended well, keeper was solid, midfield did their job, and our centre forward was excellent. 100% team effort.
Kev Thomas
112
Posted 28/11/2014 at 12:12:59
I don't understand the bile and vitriol for McGeady, he worked hard all night, tracked back and tried things on the attack.
Fair enough, most things he tried didn't pay off and his miss was woeful but that happens and the point is he tried!
I thought Everton fans, perhaps more than any others, recognised effort and hard work. To miss chances or to score them, has one thing in common, you've got to be in the right place and he was.
Tony J Williams
115
Posted 28/11/2014 at 12:26:42
To be fair to McGeady, his terrible miss actually looked good.... bear with me.
The way he angled his body to open up his foot to place it in the top corner was quick thinking and good, pity it turned into a howler and not a peach of a goal.
Great result against a team that will normally be in the Champions League. I thought we would struggle but like always, when the chips are down with injuries, we come together and play as a unit.
Geoff Evans
116
Posted 28/11/2014 at 12:25:26
Kev. Got there in the end mate. Agree 100 per cent about McGeady, never stopped working all night.
Making mistakes in any sport is inevitable – it's how you respond. Working hard when you haven't got the ball is key to any successful team.

Sandra Bowen
117
Posted 28/11/2014 at 12:47:03
There was absolutely nothing wrong with McGeady's workrate last night, he did work his nuts off and set a good tempo at times with his closing down.
However, if you watched the game again, you'd notice that, on at least three occasions, he did something stupid with the ball and sent them on the attack when we were in fantastic positions. It wasn't that he was even trying hard skills or trying to retain the ball when under pressure, they were just brain-dead decisions or utterly pathetic attempts at finding a team-mate.
Kev Thomas
118
Posted 28/11/2014 at 12:54:42
Thanks for your support, Geoff, it was hard work fighting against tech!
I just can't understand the criticism he gets though, if it were Mirallas (who I love) he'd get of scot-free (really hope that phrase isn't racist).
I genuinely think McGeady has bought in to the Everton spirit – no other manager has got him to track back.
Kieran Fitzgerald
119
Posted 28/11/2014 at 12:58:21
Tony J, it was quick thinking. If McGeady had taken the time to trap the ball and the goalie and defender had gotten back in time, he would have been slated for not hitting the ball first time. Because he didn't hit the target, the attempt looked worse than it was.
Kev Thomas
120
Posted 28/11/2014 at 13:15:46
Fair enough, Sandra,
I'd agree but I think that "brain-dead" decisions are often a sign of the pressure (and yes, they're paid to take it) a footballer who knows that fans aren't on his side is struggling against.
LD is still worshiped here and I don't remember him doing x10 better
Paul Dark
121
Posted 28/11/2014 at 14:11:52
Sandra, Post 99: Spot on. I don't personally think McGeady had a particularly bad game by his standards (key phrase the last three words). He is, by some distance, the worst player (both in terms of ability and performance) in our squad.
He slightly marred an otherwise excellent performance. Rom is coming good (of course), Kev is a threat (and in many ways the player some on here describe McGeady to be), the defence were excellent (Jags coming back to his very best and Distin even getting much stronger again).
Garbutt was very confident, accomplished indeed. Ross needs to play a bit in his correct position – he really is out of sorts, but he'll be back. Sam didn't have a great game and Osman was less effective than against WHU – but just about OK.
I really like Besic, but he needs to cut out the petulance – too many yellows and gratuitous ones at that. But he is a very good player, possibly a very very good, even world-class player in the making. We shall see.
Three points against Spurs would end an incredible week.
COYB!
Harold Matthews
122
Posted 28/11/2014 at 14:10:39
A terrific result but a very disappointing TW response. The boring obsession with McGeady has dominated every thread.
Paul Dark
123
Posted 28/11/2014 at 14:18:46
P.S.
Rom will be immense, really immense for us, I predict.
Dave Pritchard
124
Posted 28/11/2014 at 14:44:16
Agree Harold. There has to be a whipping boy for some. He didn't have a great game but he did work hard for the team. Eto'o was only OK last night but he does not get hammered for it (and rightly so).
Kevin Gillen
125
Posted 28/11/2014 at 14:34:57
What a great team performance. Proud to be a blue today. Two great goals coming from initial passes by Leon Osman. That lad came on and McCarthy, one of the best midfielders in Europe, was hardly missed. The number of times that lad has done a job for the team is incredible, here's to another two hundred appearances. He was Man of the Match on Saturday, scored a great goal and celebrated like it really meant something to be a blue.
Poor McGeady, I can't wait for things to go right for him, he is obviously quite a talent but had a bit of a 'mare. Credit to him, he worked incredibly hard for the team on the defensive side of the game. Think we should also mention Distin who has obviously come back into form, Jagielka, who is really playing well, and the newcomers Besic, outstanding, and Garbutt, who silenced any doubts about his ability. That result represents a huge step forward in the progress of the team and I hope we draw the confidence we deserve from it and stuff Spurs on Sunday.
Paul Andrews
126
Posted 28/11/2014 at 14:47:31
Fuck me it's an easy game being a manager in the Premier League.
㿨k a week and all you have to do is pick eleven names and tell them to sort it out themselves how to play.
Ian Tunstead
127
Posted 28/11/2014 at 15:13:51
You've got 11 players who have been playing football their whole lives. Lukaku knows how to put the ball in the back of the net and has probably been doing so since he first learnt to run and was given his first ball, and Distin knows how to run and head a ball. They don't need a manager to tell them how and when to do these things.
The job of a manager is to build a team. The team was already built before Martinez arrived. All's we really needed was a top striker. Fortunately for Martinez the money was there to buy a top striker.
Andy Osborne
128
Posted 28/11/2014 at 14:32:44
Paul, I predict that too, but we need to play to his strengths right now. He will develop over time, but right now, give him the ball, when he is running at defenders, and he will score.

Paul Dark
129
Posted 28/11/2014 at 15:50:50
Andy: do we then play deeper with less possession, on the counter? Would that work for RM?
Paul Tran
130
Posted 28/11/2014 at 15:51:59
Wonderful last night, wasn't it? They ran and ran and ran ran. And boy, they were really fast and direct, too.
Oh sorry, that was the other team. We defended well, counter-attacked well and picked them off.
It's a lot easier to play fast, direct football when the other team charges forward like headless chickens and gives us space.
I'm not getting too carried away. A good performance, but Wolfsburg didn't look anything special to me; plenty of effort and energy suggesting a hive of activity, but a lack of cutting edge up front.
Once again, the team that can't defend kept a clean sheet, the team that doesn't create anything scored twice.
Still, my first trip to The Old Lady for a few years beckons on Wednesday. No doubt Hull will put 10 big meat-heads behind the ball and we'll struggle. At least it'll give Darren the chance to go on about tickeeeeee-tackiiiiiii. Or fix his keyboard.
Andy Osborne
131
Posted 28/11/2014 at 16:43:28
Paul, I don't think we need to change the way we play, it's pretty exciting. But we do need to use Rom slightly differently. Instead of playing it to him with his back to goal, we need to play the through pass, so he is running at defenders. I do think he is almost unstoppable in that scenario.
What it means for the midfield is that, instead of playing it to him straight away, they need to hold the ball, look for the pass, give him a chance to start his run, then give. We're just playing it too soon to him at the moment. It's a small tweak, but it will be a really effective one.
Andy Osborne
132
Posted 28/11/2014 at 16:55:21
At the moment, he can't receive with his back to goal, and then touch and beat the man; he needs to be at full speed. It's not his fault, and he will improve, but the midfield can make him look great right now, by just delaying their pass. We have some sweet passers of the ball, and Osman has the vision, even though he is getting on a bit. 2 seconds, that's all it is.
Jim Lloyd
133
Posted 28/11/2014 at 17:02:08
What a performance! Excellent teamwork and everyone sweated blood for each other – and this was against a top class side at their place.
I was pleased as punch for Rom, as I think his confidence has been low since joining us permanently. Possibly the injury he had but there's no doubt now that he's becoming a fine centre forward again. Considering he's only 21, I think we'll see him just get better and better. Especially if we play to his strengths and give him the ball when he can run at the opposition goal.
I was really impressed with Garbutt. To come in when we're playing a top class, passing team and look so mature, really bodes well for the future. Besic was the same, he looked unflappable and brought the ball out of defence in excellent fashion.
What did I make of McGeady? I didn't really want to pick him out but a lot's been said about him.
First of all, Jamie, I don't see any reason to think that because he played for Celtic, he has come in for critcism for any reason other than footballing ones. When I was watching the game last night, I ended up screaming at him at times for giving the ball away so easily and also missing that sitter but I also applauded him for the fine work he did. But that is the frustration that goes on during the match.
My view of the lad, is that he also sweated blood for the team, never gave up, did some great work and some awful work. My view is that he will improve, as he hasn't had a lot of time yet to get over his experience in Russia. He can be a real asset to our team. I think he is just lacking in confidence at the moment. Certainly, getting on his back won't help him.
So everyone put in a fantastic shift last night. including the twelfth man – the fantastic Blues Supporters, they were brilliant.
Steven Jones
134
Posted 28/11/2014 at 17:25:06
Some people believing their own clichéd observations ... on here.
Rom for the second goal received the ball with back to goal and held off a very strong pair of challenges, from two defenders, turned both defenders and played a technically very good reverse ball at pace so well timed for Kevin to run onto...
Rom plays very well with his back to goal and has had several chances, set-ups and assists in the last three to five games. I particularly loved the one to release Baines and then on for Coleman... remember when he held off the player, put his foot on top of the ball and swivelled, paused to draw the defence and slipped the ball through... great link-up and target play with his back to goal...
Watching him last night was wonderful, his concentration and awareness, his power, holding off several defenders whilst playing on his own up front was a key part of the win. He was ruthless with his goal – even after defenders were throwing themselves at him.
A joy to watch and behold: a monster centre-forward growing up in-front of our eyes... great time to be a blue!
Paul Andrews
135
Posted 28/11/2014 at 18:07:47
Steven,
In my opinion Romelu will develop into a top class centre forward. He is a one-in-two striker now so, when he learns to use his strength more and gets more experience, what his goal return could be is massive.
Unfortunately he is not, at the moment a back-to-goal striker. His attributes are his pace and his strength. Ideally he would benefit more from balls delivered earlier into the channels, and balls delivered on counter attacks from wide areas.
Colin Glassar
136
Posted 28/11/2014 at 18:34:53
Rom will be one of the top strikers in Europe in a year or two. Then those who enjoy ripping him to shreds on here will be moaning that "we can't keep our best players".
I once watched a very awkward looking lad play for Marseilles a few years ago in the CL and thought to myself, he's got potential to be great (even though the commentators were almost laughing at him for his poor first touch and bad decision-making). Yes, you guessed it, it was Didier Droghba.
Mike Oates
137
Posted 28/11/2014 at 19:48:36
Great performance by all players; each and everyone of them did a great job.
My only wish now is for Barkley to kick-start his season, and get back to where he was mid-season last year, terrorising opposition defences and forging a great partnership with Lukaku. If he can reach that level again, I reckon we'll be the only team to beat Chelsea!!!
Colin Glassar
138
Posted 28/11/2014 at 20:19:15
Mike, Ross does look like he's lost a bit of confidence since his last injury. He seems hesitant and unsure what to do with the ball. That will come back with a few games under his belt.
If we can stay in contention until January, I think we've got a great shot at the 3-4th places as we will have almost everyone back from injury.
Darren Hind
139
Posted 28/11/2014 at 19:34:02
Colin @101,
If I belong to a particular group it is one that only exists in your own head. You don't see me criticising the players before, during, or after the match, I often complain about the tactics they are being asked to endure but am constantly bigging them up, saying that I believe they are good enough to break into top four. It's the manager I am not convinced about.
Your post is up there with your others where you repeatedly complain about the imaginary "haters" you think are lurking in the background on TW. I doubt there are many Evertonians who actually hate any of the players or the manager. I have praised the manager after virtually every game in this competition but, for the reasons I clearly stated, I am reserving all my praise for the players.
The manager clearly set up as usual to play two defensive midfield players and his plans where scuppered when McCarthy was forced to withdraw. That Ossie and Besic didn't play the endless sideways passing – and provided a far greater attacking threat than Macca and Barry ever do – was a lucky break rather than the "plan".
I could have posted something really profound like "RM is fantastic for EFC, full stop" and although it would have suited you it would have embarrassed me.
I did not criticise Martinez about last night's game – I just chose to give credit where I thought it belonged, with the players who changed the game after the manager's plan was showing very definite signs of unraveling.
Anyone who didn't see a more positive approach once Osman replaced McCarthy was watching a different game from me but, as I said earlier, I'm cool with that... I just don't like people trying to browbeat me into denying what I saw or the way I saw it.
Darren Hind
140
Posted 28/11/2014 at 20:27:22
Paul @130,
You may be in luck. We may well start that game with Ossie and Besic in front of the back four – they can't / won't do the endless sideways stuff. If this talented group of players actually attacks with real purpose, you may be in for a treat.
Enjoy your return.
Paul Tran
141
Posted 28/11/2014 at 20:55:51
Thanks Darren. I've got accustomed to enjoying it regardless of result or performance.
I don't think anyone sets out to pass it aimlessly; we do need some players to use pace and drive, like Oviedo at Old Trafford and Besic & Mirallas last night.
The main thing is that we're getting that consistency and solidity back; hopefully the pace and fun will now increase......
Paul Andrews
142
Posted 29/11/2014 at 06:23:32
Morning Darren,
Is there the slightest possibility that Roberto took into account the very high pressing game that Wolfsburg played and adapted his tactics when Ossie came on? By playing the pass straighter, earlier and a little longer?
That way you eliminate 3 or sometimes 4 of the oppositions players. It's a basic tactic to anyone who understands football.
Tony Abrahams
143
Posted 29/11/2014 at 07:14:41
Darren @139, I don't always agree with you, but the way you have backed up your understanding of how the game went is very impressive in this post.
Darren Hind
144
Posted 29/11/2014 at 18:51:20
Ha Ha, Tony, you NEVER agree with me, but we always want the same thing.
Paul, of course its possible – eye of the beholder and all that.
Senior players have been calling it as they see it since time began. A good manager will trust them to do it.
Where you lavish your praise isn't important; we won.
Paul Andrews
145
Posted 29/11/2014 at 19:14:37
That's the main thing Darren.
Let's agree it was a joint venture between manager and team.
Colin Glassar
146
Posted 29/11/2014 at 19:45:33
Totally agree, Paul. Sometimes we tend to over analyse. Let's just enjoy the moment and hope we perform even better tomorrow.
---
Add Your Comments
In order to post a comment, you need to be logged in as a registered user of the site.
Or Sign up as a ToffeeWeb Member — it's free, takes just a few minutes and will allow you to post your comments on articles and Talking Points submissions across the site.
© ToffeeWeb