Massive disappointment after brilliant Mirallas strike
By Michael Kenrick
30/11/2014

Comments (180)
jump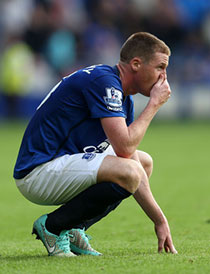 James McCarthy: His hamstring injury keeps him out of the side facing Spurs
Fresh from another excellent outing in the Europa League, Everton are on the road again on the domestic front this weekend with a trip to Tottenham Hotspur, who also played in the competition last week. Darron Gibson and Bryan Oviedo are ruled out but Leighton Baines and Gareth Barry are declared fit to start. Steven Naismith, Steven Pienaar and James McCarthy, miss out but Eto'o Barkley, Mirallas and Lukaku offer up some serious attacking potential.
Everton showed some early intent with a foray down the right, and settled early into playing their possession game. Mirallas got off the first shot but scooped it way over the bar. Some brilliant ball-play by Barkley got him within shooting distance but the ball bobbled through to Lukaku off a Spurs defender and Loris saved his snap-shot.
Spurs came into the game a little more, but rarely threatened with their crosses. Mirallas won a clever free-kick on the corner of the Spurs area, that Baines fired in, it came back to Mirallas and he jinked to make space before firing in a brilliant top-class strike way beyond Lloris to put the Blues ahead.
Lukaku almost got onto a back-pass but Lloris was out quickly to punt the ball away as the Blues, playing in all-black, looked to rattle the home side, who have already lost four at the Lane. Would Everton continue to take the game to Spurs? The answer came all too soon as Distin's forwaard ball went straight to Vertongen and Spurs advanced with pace, Kane's parried shot driven into the net by Eriksen, a rather poor goal to give away.
It rather spoilt the gameplan for Everton, who tried to continue with their attacking play, but crucial balls were not finding their man, a couple of good moves breaking down when Eto'o tried a clever play. It gave Spurs more confidence to press for the ball, and surge forward when they won it as Everton backed off, Eriksen having a shot deflected just wide of Howard's goal.
Coleman cut in and fired in low at Lloris's near post, and on the clearance, Besic played in Soldado with a poor header to Howard, who was well positioned to stop the Spurs striker's flick on goal. At this point, Everton had surrendered the early initiative, the game looking a lot more evenly balanced as half-time approached.
After Besic had committed a couple of dubious fouls, Mirallas was harshly booked for accidentally catching Lennon's foot as Spurs threatened. Everton had some telling possession in front of the Spurs area that yielded nothing and Barry, trying to play the possession game, was easily dispossessed, Spurs rampaging forward in numbers at pace again and Soladao finished with ease off a good pass from Lennon, his first Premier League goal in nine months. Unbelievable.
Everton started the second half in much the same vein, trying to play the ball out from the back but just too slowly to make any real impact, with nothing happening in front of the Spurs goal. Coleman was thankfully alert when a soft ball was played over the defence for Soldado to run onto... Kane had a good shot, but Howard was equal to it.
The momentum, however, was all with Spurs, who were moving the ball forward with pace — something Everton were not doing — Fazio had a chance to score but played an airball as Everton struggled... Time for Leon Osman to save the game! But not before Kane was hacked down by Barry in a dangerous part of the pitch but Eriksen could not beat the solid black wall. Mason tried to do a Mirallas but his shot skimmed over the bar as Osman came on for Eto'o and McGeady for Mirallas, while Lamela replaced Lennon for the increasingly confident home side.
Osman did pick out Lukaku with a good ball over the top but the Big Man was slow coming back onside. Barkley was trying to do more clever work but Spurs were defending everything Everton could come up with as Erik Dier, once with Everton on loan, came on to replace Chiriches.
Besic got what looked like a great cross in for Lukaku to head home but it came back out instead, and more clever work by Barkley played in Coleman but he was pushed too wide to finish. A McGeady corner was poor but it kept the pressure on Spurs in a promising spell that came to nothing as the time ticked away. Besic did really well to restrict Lamela by the corner flag without fouling him!
Everton's possession play was increasingly frustrating as they continually played the ball backwards and sideways with a lack of mobility in the area giving them very little to aim at, Lukaku being closely marshalled all game. Besic was most impressive with his sweeping accurate first-time passes but it wasn't enough to inspire any real pace, even from McGeady, who again failed to deliver anything meaningful.
Into the last 10 minutes, and still no indication that Everton would get either of the two goals they needed to turn this game around, with Spurs coming back into it more after Paulinho replaced Soldado. Everton were allowing themselves to be stretched but very little was coming off for them as Spurs defended solidly then surged forward with intent when they inevitably won back the ball.
Everton won a corner with 3 minutes left, Barkley putting it into the mixer well but it was headed clear. Davies floored Lukaku out wide for Baines to cross in brilliantly, screams for handball as it was cleared away, replays showing Lukaku's (or Barkley's?) header hit Fazio's arm at close range... a penalty? Definitely a talking point. Everton were finally showing some real intent. But Spurs responded, taking the ball up the other end, as they players fouled Everton at will and another yellow card, this time for Richardson.
Besic did well to pressure Kane into diving, as Everton could do nothing in the end. A massively disappointing outcome from game that looked to be Everton's hands down after a brilliant goal from Mirallas had set them on their way to a rare victory at White Hart Lane.
Tottenham Hotspur: Lloris (c), Vertonghen, Chiriches [Y:56'] (70' Dier), Fazio, Davies, Bentaleb, Mason, Lennon (61' Lamela), Eriksen, Kane, Soldado (80' Paulinho).
Subs: Vorm, Kaboul, Dembele, Chadli.
Everton: Howard; Baines, Jagielka (c), Distin, Coleman; Barry, Besic; Eto'o (61' Osman), Barkley, Mirallas (61' McGeady); Lukaku.
Subs: Robles, Hibbert, Atsu, Pienaar, Garbutt.
Kick off: 4pm
Referee: Michael Oliver
---
Reader Comments (180)
Note: the following content is not moderated or vetted by the site owners at the time of submission. Comments are the responsibility of the poster. Disclaimer
Anthony Flack
1
Posted 30/11/2014 at 15:23:44
Shit hot team... but I'm surprised Barry is fit.
Game on! Leaves opposition with 4 or 5 attacking players to keep eye on....
Brian Waring
2
Posted 30/11/2014 at 15:29:04
I just hope Barkley isn't playing out wide.
Denis Richardson
3
Posted 30/11/2014 at 15:27:22
On paper that has to be one of the best Everton line ups I've seen in many years.
My only slight concern is whether Barry is 100%? Otherwise, that is certainly a side good enough to take 3 points against an average Spurs team.
Hopefully Besic can avoid getting a red card!
Let's 'av em!!!
Nick Entwistle
4
Posted 30/11/2014 at 15:34:33
About as sexy as it gets for an Everton line-up. May come down to midweek recovery as Spurs are doing okay themselves.
Richard Lyons
5
Posted 30/11/2014 at 15:35:03
Good attacking side, shows positive intent. We should win this, but my worry is that Spurs are a lucky lucky team this year. I think they've scored late goals to rescue points or get wins in several of their matches this season, and the footballing Gods (as well as the referees) see to favour them over us. We're the better team, but will we get the result we deserve?
Peter Bell
6
Posted 30/11/2014 at 15:38:05
Denis, have to agree that is an impressive team; I don't know why but I suddenly thought back to that early ninties team that had Steve Watson as centre forward.
Brian Waring
7
Posted 30/11/2014 at 15:38:38
No Kone on the bench, makes you wonder why he was on the bench against Wolfsburg.
Paul Andrews
8
Posted 30/11/2014 at 15:39:54
If we get the first goal I think it's 3 points.
Nick Entwistle
9
Posted 30/11/2014 at 15:39:18
Deserve? We haven't kicked off yet Richard. Spurs are on a roll at the moment, it could be a cracking open game and easily go to them... or us... or be 0-0... yup, football...
Richard Lyons
10
Posted 30/11/2014 at 15:46:17
Shit hot team but I'm surprised Barry is fit. Game on!
Leaves the opposition with 4 or 5 attacking players to keep eye on....
David Chait
11
Posted 30/11/2014 at 15:47:38
Put Stones for Distin and that is the best Everton team anyone would choose and best I've seen since the '80s.... on paper...
Harold Matthews
12
Posted 30/11/2014 at 15:50:13
Great line-up. Hope they're fit enough to go the pace.
Joe O'Brien
13
Posted 30/11/2014 at 15:43:07
Looks a great line up. Should be far too strong for a Spurs side who I think have been lucky rather than on a roll. They've scored late goals, fair enough, but only after the teams they were playing had a player sent off.
Some difference alright to the teams we were putting out in the early '90s. COYB
Trevor Lynes
14
Posted 30/11/2014 at 15:52:48
It is a good side but only if Barkley ups his game.
Osman and Pienaar on the bench is a good sign just in case Barry gets hurt or Barkley needs taking off.
Henrik Lyngsie
15
Posted 30/11/2014 at 15:53:22
Hope we will play Barkley in the middle and I do have the idea that Eto'o could form a fantastic partnership with Baines. Two good football brains.
Andy Crooks
16
Posted 30/11/2014 at 16:06:26
Well, this thread is spectacularly tempting fate.
James Byrne
17
Posted 30/11/2014 at 16:24:14
Stuck in Senegal FFS, can't even get it live. COYB's
Linda Morrison
18
Posted 30/11/2014 at 16:46:53
Can we please bring back the team from Thursday, now losing!
Jim Knightley
19
Posted 30/11/2014 at 16:47:17
We have gone way too attacking – why? Against a Spurs team who struggle to break teams down, are we playing Mirallas, Barkley, Eto'o and Lukaku? Especially given that Besic is playing instead of McCarthy. I'd bring on Osman or Pienaar for Eto'o to either give us another 'midfielder' or sort out our issue on the left-hand side.
Geoff Evans
20
Posted 30/11/2014 at 16:50:20
Still win this easy.
Paul Andrews
22
Posted 30/11/2014 at 16:56:27
Need to change the shape slightly. Someone wider on the right. Possibly mean a sub... McGeady?
Sam and Ross are killing each other's space.
Jim Bennings
23
Posted 30/11/2014 at 17:01:48
We still struggle to hold the lead in games don't we?
Lose this and it just feels like two steps back again, our away form in the league is poor and will hold us back from making a top 4 challenge.
Our league from is patchy and frankly the likes of Barkley, Coleman, Baines are not living up to the hype at present.
I said yesterday on a thread that I wouldn't drop Garbutt or Hibbert because they performed so well on Thursday.
Martinez needs to start rewarding good displays with a bit of consistency; otherwise, the season will drift into mediocrity.
Jim Bennings
24
Posted 30/11/2014 at 17:35:53
God this is fuckin shite.
Have we actually put in a great performance in any league games this season? We have been so clueless here again, it's Sunderland and Swansea all over again — against a team we ought to be taking something from.
I just don't know how we go forward in the Premier League this season, we just don't build on good results enough. It's about time the big name players start doing it regularly.
I've been really disappointed with Coleman since he's been back in the team, I hope it is just a case of fitness because he just hasn't been quite the same this season.

Man City and Southampton are our next two away games, we could really do with taking a point here but this fucking place is a graveyard for Everton Football Club.
Robert Jones
25
Posted 30/11/2014 at 17:40:44
We are absolutely fucking static. I swear, we should get some kind of Community Service award from the LMA. Every time a manager is under pressure, we relieve it for them by rolling over like a good little dog.
Dave Duggan
26
Posted 30/11/2014 at 17:45:24
Awful. Just fuckin awful!
Tony Hill
27
Posted 30/11/2014 at 17:47:46
You just knew when Mirallas scored that we would go on to lose. We are painfully predictable: a couple of good performances followed by limp disappointment. It was ever thus. I think this will be a draining result for us I am afraid and it shows where we truly are.
Gavin Johnson
28
Posted 30/11/2014 at 17:52:08
I thought it was a good competitive performance bar the result. Hold on, I'm sounding a bit like Bobby there, in a post match analysis. Seriously, I do think that it was a good performance apart from how we switched off for their second goal.
Terry McLavey
29
Posted 30/11/2014 at 17:56:16
Talk about bringing about your own downfall!
Jim Bennings
30
Posted 30/11/2014 at 17:56:38
Oh well... another poor result in the league now, that's one win in the last four again with an away day at Man City next weekend.
The only thing I can say genuinely generates massive interest for me now is the Europa League; domestically we look mediocre but perhaps the Europa League suits our style better.
I certainly think the way we play has basically been sussed by most Premier League sides now, it's pedestrian.
Lee Courtliff
31
Posted 30/11/2014 at 17:58:44
Fucking awful.
I actually looked on Sky Bet to see the odds on Soldado scoring. 7/4 to score anytime. I knew I should have put money on it. Always against us does a player break his drought.
Dave Pritchard
32
Posted 30/11/2014 at 17:57:29
Disappointing display. Even in the second half when Spurs didn't put too much pressure on, we didn't do enough to create any real chances. This is the sort of game where we need to be picking up at least a point.
Some very average displays out there. Difficult to name out MotM
Phil Walling
33
Posted 30/11/2014 at 18:01:34
Is Harry Kane better than Ross Barkley? I would have to say Yes on today's showing.
Mike Allison
35
Posted 30/11/2014 at 17:59:51
We didn't even try to attack for most of that game. The Tottenham goal came from us being in possession.
Martinez sometimes doesn't seem to understand some football basics, taking a risk in attack, then winning the ball back quickly if it breaks down is a perfectly legitimate tactic. He seems to think football is just passing the ball around sideways extremely slowly. It isn't.
We could have hammered them today; we were poor, they were good. They got the run of the ball and they still only just edged it by a goal (that was hit straight at the keeper who moved out of the way). A massive missed opportunity that no-one in the Everton team or management seemed to recognise or care about.
Denis Richardson
36
Posted 30/11/2014 at 17:53:37
Well – I'm glad I didn't make my annual trip to WHL for that!
Very disappointing after the first 20 mins. We should not have started with so many players that were obviously not 100% match fit. They may have recovered from their injuries but the likes of Barry, Baines, Coleman and Mirallas were all just coming back, 3 of them playing for the first time for a while and Mirallas having played an hour on Thursday in just his second game back.
Their first goal was poor, Distin gave them the shooting chance and Howard should have done a lot better with the shot. After that though, the whole belief seemed to disappear and we were like rabbits in headlights for the rest of the half until we went 2-1 down after Barry's cock-up.
Another point: Eto'o and Barkley are both quality players but they cannot play at the same time as their best positions are in the middle. Martinez should have started with one of them on the bench, probably Eto'o. At least he would have had an attacking threat on the bench for the second half.
Should have started Ossie in the middle with Besic and McGeady on the right to give Coleman some cover given he was just coming back after injury.
Poor display and poor result and the manager's got to take the blame as he picked the wrong side. Very disappointing as Spurs really were shite at home – until they played us!
Jim Bennings
37
Posted 30/11/2014 at 18:02:26
We should have expected it.
We always have had a habit of making shit sides look good, even more so with shit Spurs sides.
Cunt of a record against them especially at the Lane.
Who do we play Wednesday??
Oh yes, another manager under pressure and team in bollox form. (Hull)
Phil Walling
38
Posted 30/11/2014 at 18:05:12
Sky saying Everton had 61% possession. If ever a game demonstrated that stat means FA, today was it !
Bill Gall
39
Posted 30/11/2014 at 17:57:59
Watching on tv may give you a differant view of a game but in the second half for all the possession Everton have they never look like scoring and as far as corners go they might as well just pass to the goalkeeper.
I mentioned after the last game Everton played in Europe when some supporters were making exuses foor a poor showing that you cant make exuses for playing in Europe as Spurs played on thursday as well and they looked sharper and were winning the 50-50 balls.
This slow build up from the back does not work when the opposition put a quick winger to track back. Yes we still have a couple of injuries but the Spurs back 4 was an experimental one and we very really pressurized them
Mark Frere
40
Posted 30/11/2014 at 17:59:33
I thought we were well on top in the game until we conceded the equaliser. Howard (in my opinion) should have done better with their first goal; he should be pushing the ball around the post instead of parrying into the path of a Spurs player. Yet again, he costs us precious points... if only we had a keeper of Loris's quality.
The equaliser seemed to galvanise Spurs and from that moment on, there only looked like one winner of this game... Although it was very sloppy from Barry for their second goal.
We really need to get our shit together if we are to challenge top 4!
Michael Polley
41
Posted 30/11/2014 at 18:03:18
Once again, we can't string two good performances together. We had majority possession in the 2nd half with nothing too show for it. No intent. Too slow. Too much diagonal passing. Barkley not playing in the right position.
Watching the game Sky – it's like watching the Spurs Appreciation society. Biased bastards.
Hasan Noor
42
Posted 30/11/2014 at 18:18:30
Distin has had it. So has Howard. No penetration. Looked like we had the Europa League hangover – not Spurs!
Jamie Barlow
43
Posted 30/11/2014 at 18:09:57
The amount of wasted balls when in good positions including shite corners and free kicks are unbelievable. It's absolutely criminal the number of crosses from dead balls that don't beat the first man.
Who do we blame? Martinez for not believing in scoring from dead balls or the players for not being able to kick a fuckin ball a foot higher than they do?
Also, is there a team in world football that gets punished as much as us because of individual fuck ups. Fortuitous is what Martinez called their goals. I'd call them shocking from our goalkeeper and unfit midfielder.
Phil Walling
44
Posted 30/11/2014 at 18:13:37
''I couldn't be happier with the energy we showed in our performance.'' And that is the latest bullshit!
Ray Roche
45
Posted 30/11/2014 at 18:21:43
Whenever the stats are rolled out: A,B,C haven't scored since time began, C,D,E haven't won at home since beating the Disciples XI; F,G,H haven't won away, etc — you just KNOW that the'll break their duck against us.
Shit. Just... shit.
Paul Tran
46
Posted 30/11/2014 at 18:27:04
We can't put teams away.
Martinez brings back injured players too quickly.
We need to buy a reliable keeper in January. Howard's mistakes are turning games and losing us points. I'd sweet talk Cech up north. Or go for Marshall.
Mick Wrende
47
Posted 30/11/2014 at 18:23:27
Well, we are in our correct position now – just in the top 10 and miles away from the top 4.
Why can't Martinez see that you have to pass the ball quicker and forward? Everyone else can. SIdeways and backward passing achieves nothing.
And he seems totally incapable of changing his plan. Our record against top-half sides this season is poor.

Si Mar
48
Posted 30/11/2014 at 18:28:27
I thought we looked slow and lacked any cutting edge against a well organised Spurs.
Heartbreaking that they have lost every game after Europa and that was their first win and Soldado's first goal in 12, typical Everton!
The team had no balance, what the fuck was Barkley doing playing in the middle and leaving Coleman on the right by himself?!!! Eto'o has been a good signing but did we really get him to play in midfield?!!
I know he is capable of glimpses of brilliance but is Barkley as good right now as the hype he gets suggest?!!!
Mo Guindi
49
Posted 30/11/2014 at 18:29:46
Is your team struggling? Have your top players been underachieving? Has your expensive striker been misfiring?
Never mind – all you need is Good Old Dependable Everton to help turn around your season!!!!!
WHY DOES THIS HAPPEN YEAR AFTER YEAR???!!!!! PLEEEZ SOMEONE EXPLAIN!
Phil Rodgers
50
Posted 30/11/2014 at 18:31:41
I hope he proves me wrong, but I am pretty convinced Barkley is overrated.
Mike Childs
52
Posted 30/11/2014 at 18:17:29
When oh when is RM going to get a backbone and play the players who deserve to play based on form not hype?
Andy Meighan
53
Posted 30/11/2014 at 18:17:09
A complete away performance on Thursday in Germany against a side riding high in the Bundesliga. And what does this manager do? He makes wholesale changes – not because he had to but just because he can...
Okay, McCarthy's was enforced but why does the under-performing Baines come back automatically? Garbutt never put a foot wrong in Wolfsburg – nor for that matter did Hibbert – but he brings back two players who have been ordinary all season. I always thought there was a golden rule in football: never change a winning side... unless enforced. Marinez obviously thinks he knows better.
Apart from the goal, what did we actually create? Jack shit – that's what. Our build-up is sterile, predictable and pedestrian. And today, Jags and Distin were overworked because of an under-performing midfield.
It's obvious Martinez has his favourites and that's why the likes of Baines and Barry walk back in the side when it's clear they've been piss poor all season. Also he can't wait to get Osman and the very very ordinary McGeady involved.
And also, are we the only team in world football that hasn't got a member of the squad that can't beat the first man with a cross? It's fucking atrocious the amount of dead balls we waste.
I still can't believe there's posters on here that think we can reach the top 4. I've got news for them: not a prayer. We don't create enough to worry teams and that's been proved by some very average performances all season. I can't really remember one game (Wolfsburg apart) where I've said after the game, "That was brilliant, that's what it should be like."
We made a very average side look good today and that's what hurts. Haven't won in the Premier League after playing on a Thursday? Come and play Everton. Striker hasn't scored for ages? Come and play Everton. The remedy club who keep on giving. Why do we cure everyone's ills... so frustrating, as Jim said earlier.
Hull have been in bad form... see what'll happen. And as for the Man City game, well were catching them at the right time aren't we. I'll be delighted with a 0-0 there but I'm not holding my breath on that one. Sick tonight after that. But hey, only Everton can lift you up only to bring you crashing right down.
Danny Broderick
54
Posted 30/11/2014 at 18:40:21
Strange there was no striker on the bench. Any sub can only be more defensive if you take a striker off, like when we took Etoo off today.
Sam Hoare
56
Posted 30/11/2014 at 18:38:09
It started so well! I really thought the first goal would decide it but I think we should have sat back a bit more and used the counter as Spurs did to us in the second half.
Very depressing and feels indicative of our season to play brilliantly on Thursday and then limply today. I think the Walling 7th-ish is looking spot-on for the league so I just hope we can keep up the Europa effort and get a good FA Cup run.
Mike Green
57
Posted 30/11/2014 at 18:34:31
We missed McCarthy in the middle, didn't have the quality to capitalise on a team who, despite being at home, effectively played us on the break and capitalised on our mistakes.
Disappointing but we will end up higher than Spurs this season, silly game to give away to make that more of a challenge but we will nonetheless.
Time for Barkley to start stepping up too.
Geoff Evans
58
Posted 30/11/2014 at 18:30:44
Pedestrian, slow, at best average, at worse useless, would lose against anyone half decent, second best even in their own neck of the woods, foreign manager who has an endless book full of after match excuses and shite.
Still gave us a start and won!

Ian Bennett
59
Posted 30/11/2014 at 18:44:03
Joe average, and second best all over the park.
Distin and Barry at fault for some of the goals, whilst Howard could have done better. Side unbalanced, roll on Wednesday.
Steve Barr
60
Posted 30/11/2014 at 18:44:22
A disgraceful performance. We do not have a leader on the pitch. You could have put your house on this result once we let them back in.
No positives at all. I give up!
Mo Guindi
61
Posted 30/11/2014 at 18:43:03
Ok - I'm made up. Consolidate 10th position and win Europa. Champions League the easy way!

Jim Bennings
62
Posted 30/11/2014 at 18:37:38
Phil,
You're not alone, mate! Barkley is not producing displays that live up to all this unnecessary hype, the hype has come all too much to soon, I may be sceptical but I remember the Rodwell hype after he scored a Rolls Royce goal against Man Utd...
Barkley always looks hyperactive on the ball and like it's a bit of a hot potato at times. He's got talent but, let's face it, he's not that good yet. If he was at Man City or Chelsea now, he wouldn't be getting a game, so it's best he stays at Everton.
Doesn't help, mind you, when Martinez decides that – because McGeady is not the player he expected when signing him – he feels the need to play Barkley out wide right, toss, if Moyes did that he'd have been crucified.
2014 has simply gone back to the Moyes days, lost twice at Spurs, beaten at Old Trafford by a poor (at the time) Man Utd team; two trips to Anfield, mullered in one and saved from defeat in a shocking display by a once-in-a-lifetime goal from Jagielka.
A 4-1 defeat in the Quarter Final of the FA Cup at Arsenal and two defeats to Chelsea and Crystal Palace (at home).
Jim Knightley
63
Posted 30/11/2014 at 18:37:23
Barkley is over-rated, but he will not get better if he is shunted around so much. We cannot play Eto and Barkley in the same side, it simply does not work. They were both extremely poor today.
The structure was all wrong, again, and Eto and Barkley were at the heart of the issue. We now have three players well suited to AMC/CF - Barkley, Naismith, and Eto. When we try to shove two or three of them into the same team, we do not link up well. Today, we were playing a Spurs team with a centre back playing right back, and we should have concentrated our efforts exposing that. If Pienaar was fit, he should have played some part, because the Baines/Pienaar combo could have exploited Chirches. We needed extra protection in the midfield, and not 2 strikers, and 2 attacking midfielders, away to a team who are effective on the break, but not effective at breaking teams down. Lukaku got next to no service, as we played sidewards too much because of a gap between the DM's and forward players, or if not we hit meaningless long balls to the head of the Spurs centre backs.
Thursday and today were night and day. We did play away against a tough team on Thursday, and we've had horrendous injury luck, but we did not approach the game in the right way. I thought this was one of the most frustrating performances of the year, and I agree with Mark: Only Spurs looked like winning after the equaliser. They were more determined, won more 50/50s, and set up better tactically. All our top four rivals won today, and we did not put in the kind of performance which suggests we have the belief to finish in the top four. We need a win in mid-week, and more importantly we need Martinez to sort out our structural issues. Barkley may be a great prospect, but if he is not playing centrally he would be better off on the bench.
Brian Harrison
64
Posted 30/11/2014 at 18:32:31
The hardest part of playing away is to try and score first, which Mirallas did brilliantly, but did we go for the jugular and get a second which would have killed the game? No, we did what RM has his team do all the time – concentrate on keeping possession which usually means sideways and backwards football. This style may suit Europe but in the Premier League you need to play with an intensity and a desire to want to show how good you are.
Their second goal came because Barry was trying to run the clock down before half-time and was looking just to keep possession; however, he lost possession and they had 5 forwards heading for our box and inevitably scored what turned out to be the winner.
Even Gary Neville was saying how slow Everton's passing was, but those of us who watch regularly know this is our game plan. And for RM to come out after the match and say he was pleased with our intensity... then he must have watched a different game.
The sad thing is, on the odd occasion when get forward quickly, we look a good side. But under RM – unless he changes – this seems to be the way he wants us to play, always take the easy option when on the ball... which usually means sideways and backwards.
Paul Ferry
65
Posted 30/11/2014 at 18:37:57
Comparing posts 1-15 on this thread to what comes after is – sadly – fascinating. It did all look good on paper. But:
(1) Ross out wide;
(2) Bringing Barry back – who was utterly woeful – way too early;
(3) I tend to look at the out-players and forget how much of a liability our keeper can be;
(4) difficult to see Sam and Ross together in the middle and Sam – sadly – was also woeful (note to gaffer, he probably can't play 2 games in 4 days now).
I also, however, was feeling good about this at 9:59 am (Chicago time)...
Anyone who thought that we would have lost that game at 16 mins would have been shot by the footie nous firing squad; anyone who thought that we would win that game at 66 mins would have been shot by the footie nous firing squad.
Look at this over-reacting drivel and do the words 'bollocks' and 'more bollocks' spring to mind?
Mick Wrende - 50: just in the top 10 and miles away from the top 4.
Phil Walling - 35: Is Harry Kane better than Ross Barkley? I would have to say Yes on today's showing.
Jim Bennings - 39: Oh yes, another manager under pressure and team in bollox form. (Hull)
Fair enough, the first could be poor mathematics but the last two are simply unbelievable but not – sadly – unexpected.

Marc Sansum
66
Posted 30/11/2014 at 18:45:25
So who would you have played then Mike "Bassett" Childs?
"When oh when is RM going to get a backbone and play the players who deserve to play based on form not hype?"
Patrick Murphy
67
Posted 30/11/2014 at 18:41:31
Mike, who are these mysterious players who were available today who should have got in the team?
I could agree that perhaps Osman should have been chosen to start as opposed to Eto'o... and perhaps Pienaar could have been brought on instead of the totally inept McGeady... but I'm afraid that the players out there were by and large the best available to us at this moment in time. Let's hope Kone or Oviedo can add some competition to the team.
Obviously the lack of McCarthy was very noticeable but, when all is said and done, we don't have the strength in depth that we need to qualify for the Champions League places and, more worryingly, Distin and Barry looked out of their depth today — that doesn't bode well for the future.
One of the major problems that Roberto has got is that he is stuck with most of the older players on the staff because there is little interest in them from other Premier League clubs who probably couldn't afford their wages and so they are part of the first team squad, when perhaps one or two should have been moved on last summer. But, if Roberto was to move them on, he has to replace them with equal or better players which doesn't come cheap.
This season still has some promise but not as much as we were hoping for and today's performance and result sums up the frustration of being an Evertonian at the moment; glimpses of what might be... only to see it crumble due to silly errors and a lack of creativity at important points in the match.
Michael Kenrick
68
Posted 30/11/2014 at 18:47:59
Okay, I'm going to break the mould here and look at one big positive from an absolutely maddening game that only serves to reinforce exactly what Roberto's detractors have levelled at him...
Please correct me if necessary but Did Mo Besic put a foot wrong? His passing (especially first time) was sublime and his defending was measured when yellow or red cards and penalty calls were just inches away...
But how about this gem: "If we get the first goal I think it's 3 points." — Yea, spot-on Paul... 3 points for Spurs!
Si Mar
69
Posted 30/11/2014 at 18:49:44
Why didn't the manager or captain have the sense to make someone stick more to the right when Barkley and Eto'o were basically playing in the same position in the middle? It wasn't rocket science?!!!
Coleman had nothing in front of him apart from the opportunity to try and beat 5 players and create something!!!!
I like Mirallas but I really miss Baines & Pienaar together down the left!
Such a frustrating day, I'm still fuming and gutted at the same time, time for a few more drinks!!!!!!!!
Andy Meighan
70
Posted 30/11/2014 at 18:43:35
Great point made by Mike (#37) about Martinez. He's right – Martinez doesn't seem to grasp the basics about football. This isn't the 2nd tier of La Liga. This is high intensity Premier League football where the ball is moved from defence to attack in the blink of an eye by quick incisive sharp passing – not pedestrian passing for passing's sake in our half of the field.
Like I said earlier, we proved we can do it by the Wolfsburg performance so why the fuck can't we replicate it in the Premier League? You'd think it was Spurs who won in Germany the other night, not us, given the way the teams played.
I'm so frustrated tonight and if, I'm honest, I've wrote this season off. Out the League Cup, not a prayer in the Premier League... two hard draws in the Europa League and FA Cup and you know what'll happen...
Paul Andrews
71
Posted 30/11/2014 at 18:56:00
Merely my opinion on how the game may go, Michael.
I think you over egg the pudding by calling it a "gem".
Colin Glassar
72
Posted 30/11/2014 at 18:54:47
Just got home so I haven't seen the game. (Is it worth watching?) I haven't read any of the above comments either.
What I will say is, this Europa League lark is killing us in the Premier League. Have we won a game this season playing on a bloody Sunday?
Dave Lynch
73
Posted 30/11/2014 at 18:56:41
All the P's.
Pointless, Pedestrian, Predictable Passing.
Oh and one more: Pissed off.

Brian Harrison
74
Posted 30/11/2014 at 18:53:34
Patrick
I don't think today's result was anything to do with the players he had available; it's his style of slow ponderous passing the team's lack of desire to play the ball forward early. We could have had Shearer in his prime playing for us today and the result would have been exactly the same – our forwards are having to produce goals from scraps.
Martin Mason
75
Posted 30/11/2014 at 18:56:43
We really miss McCarthy and I worry that he'll be gone for good money in the summer transfer window, Gibson is his only back up but he can't stay fit enough for EPL football.
Gerry Quinn
76
Posted 30/11/2014 at 18:55:29
Brilliant tactics yield the perfect result – Spurs could easily nab that headline from us! Everton all huff and puff, very little threat.
Brian Waring
77
Posted 30/11/2014 at 18:59:12
For me, Martinez has to give Besic a starting place, the lad deserves it.
Nick Entwistle
78
Posted 30/11/2014 at 18:52:29
Agree on Barkley. I'm not expecting so much from someone who is 8th or 9th on the team sheet. The Premier League is full of young players like him, it's just that any set of fans love a players who's home grown and it propels him to a level of expectation he can't reach.
Brent Stephens
79
Posted 30/11/2014 at 18:55:15
Michael #71, yes, Besic did put a foot wrong on a couple of occasions. Trouble is I think that blinds some who also don't see the quite high tempo game he plays – covering a hell of a lot of ground; covering runs; good ball control; quick; simple passes trying to keep the game ticking over at pace; the skill to turn past a player in a tight position.
I don't think our two DMs were given much cover by the three in front, until a few substitutions were made.
Geoff Evans
81
Posted 30/11/2014 at 18:53:33
The manager's tactics have been sussed. One-trick pony. Now the element of surprise has gone, we're predictable and quickly becoming a team who other clubs with aspirations of mediocrity are expecting to take three points from.
Don't let a second rate European competition blind us to the woeful shortcomings that are plain to see.
Sideways and backwards are fine if you've got something to go with it. Ordinary players make ordinary teams.
James Joseph
82
Posted 30/11/2014 at 18:59:58
Having just listened to Roberto's rambling post-match interview in which he contradicted himself several times, I almost find myself longing for the succinctness of yesteryear:
"Disappointing." — W Smith.
Chris Leyland
83
Posted 30/11/2014 at 18:58:25
I don't concur on Besic Michael. Spurs over-ran us in midfield and owner of that was down to Besic. We sorely missed McCarthy today who would have broken up far more attacks than Besic managed.
As for 'did Mo Besic put a foot wrong?' How about when his appalling back header nearly gifted Soldado a goal in the first half? Ok, technically not a foot but still very wrong.
Nick Entwistle
84
Posted 30/11/2014 at 19:04:39
I don't think the two sitting midfielders should require covering, Brent. I know people say teams should defend from the front, but for a 4-2-3-1, the two are there to do all the covering they need on their own and let the front 4 attack.
Joe Clitherow
85
Posted 30/11/2014 at 19:04:19
1. Poorly set up with too many attacking players and too many not fully fit.
2. Lack of heart/belief.
3. An obsession with 'never mind the quality feel the width' passing that just defers to the game plan of teams that counter it.
4. Total intransigence in changing #3.
Apart from that, we were great today.
James Martin
86
Posted 30/11/2014 at 19:00:44
Stupid playing players who aren't fit. Barry was awful yet seems to be automatic first choice – even when half-fit. He's not mobile enough to play in those sort of games and is too negative in his passing.
Baines didn't look fit either and just does loads of suicide runs. Hibbert would have performed better – and that's not a joke; a left back has to defend first and foremost and Baines is out of position all the time.
Barkley played again out of position and again was poor whilst Distin and Howard are not good enough for a team with any sort of ambition of the top 4 – mind you that might be said about a lot of the players.
Once again from Everton it's just a display of really poor mentality at an away game that you had the sense throughout they never really thought they could do any better than a draw. We've got players with a mid-table mentality and that is where we are heading for this season.
No penetration, no passion, no aggression, an all too familiar away performance. All we had to do was copy Thursday's tactics yet we allowed Tottenham to play on the counter even though they were at home because of our obsession with pointless possession.
Here's to another narrow win v Hull City rescued by either Osman, Pienaar or Eto'o off the bench, then an uninspiring capitulation to Man City due to Howard or Distin errors. It's becoming as familiar as it was under Moyes.
Tony Hill
87
Posted 30/11/2014 at 18:57:04
Michael is right about Besic; he will be a great asset.
When I said earlier that I knew we would lose after Mirallas's goal, I was pointing to our habitual failure to press on from an early lead, as others have said. We concede space and momentum in these situations, almost as a reflex.
Tim Howard is a serious problem for us and Distin is also a liability now. Great servants both but they are costing us significantly this season.
Brent Stephens
89
Posted 30/11/2014 at 19:08:50
Nick #88, surely there are times when they're coming forward in numbers, as they were (fullbacks etc) requires more cover than just 2 DMs? Pienaar always does it (has to); Osman always does it (has to); McGeady for all the flack he got Thursday did it (had to); Naismith ALWAYS does it.
Simon Harris
91
Posted 30/11/2014 at 19:05:34
Colin 75 - no don't bother mate - it was a frustrating and sadly all too predictable affair.
Give Spurs some credit, for the mid 75 mins they wanted it more, worked their socks off and let us pass ourselves in to submission.
Give me the Everton of the West Ham game back please. I'll take a Hibbo 100% tackle over a McGeady half-hearted flick all day.
Mike Price
93
Posted 30/11/2014 at 19:02:11
We are Slumpbusters FC and have been for years.
Martinez is right about small margins though and yet again Howard made the difference. To get the first goal and be dominating and then for our very poor goalie to gift them the equalizer is a massive momentum shift moment. He sucks the air out of our team time and time again and I'm just hoping the Miami rumours are true and we can get rid of him.
Mike Childs
94
Posted 30/11/2014 at 19:07:24
Garbutt deserved another start as did Osman and Hibbert.
Sean Patton
95
Posted 30/11/2014 at 19:21:03
It has been a long time since I have been so angry after a first half. Quite simply If that bearded buffoon continues to play in goal then Martinez deserves everything thrown at him, you can't blame the manager for individual errors but you have to blame him if he continues to ignore them when picking his team.
Joe Clitherow
96
Posted 30/11/2014 at 19:13:11
Distin getting too much stick in general these days. It's really hard to defend consistently when you start with 4 attacking players none of whom track back AND your game plan has your two fullbacks pushing right up the pitch AND one of your DMs is clearly not fully fit AND THEN you spend most of your time fannying around passing the ball in your own last third.
Not much surprise that you get swamped when you don't have posession then.
Poorly set up and all down to RM today I'm afraid. Not nearly enough attention paid to the 38% of time when we didn't have the ball because they looked far more like scoring than us today after the first 20mins. No-one there to dig in at all except young Besic who covered a lot of ground and I don't understand criticism of him at all.
John Pickles
97
Posted 30/11/2014 at 18:48:04
There was nothing in the first half, but we were poor second half, Spurs had it way too easy. Erikson is class, Kane scares defences like Ross is supposed to. Thursday showed what Rom can do when we play to his strengths; today showed what happens when we don't. McGeady, what sort of winger leaves all the crosses to the right-back? What does he think HE is there for?
Jim Bennings
98
Posted 30/11/2014 at 19:13:27
It's okay saying that we are overreacting but the facts of four wins and four defeats this season is they're a smack in the face as mediocre and it's been pretty much like this throughout the entirety of 2014.
We had that purple patch when we won 7 games on the spin (still included that 4-1 FA Cup hiding at Arsenal though) but we finished last season in patchy to poor form losing at home to Palace, Man City and self destructing with TWO own goals at St Mary's...
It's merely carried on into this season.
We started the year poor with defeats at Anfield, Spurs, Chelsea and hen we won 1-0 at Old Trafford almost a year now exactly, then followed it up with a near perfect performance at the Emirates, I truly thought we'd turned the corner. We'd shed ourselves of the David Moyes years of never winning away to a rival club, top 4 venue.
Sadly, as time has gone on, it's looking all too familiar again now with predictable boring slow pedestrian football, predictable results away to clubs likes Spurs, Man Utd, Liverpool... it just feels like we are going back to the Moyes days.
We have Man City away next week, another loss in all likelihood; we have Southampton away before Christmas, another graveyard ground for Everton; and a tough game at Newcastle before New Year, that won't be easy.
Could be a long winter.
Glen Garrett
99
Posted 30/11/2014 at 18:52:40
Once again, Everton can't hold on and give the game away, sorry to say.
I think that Everton should go all out and try and win the Europa League because that is going to be the only way they will get back into Europe for next season.
Everton in my mind haven't got what it takes this season already to get into the top 5.

Bill Gall
100
Posted 30/11/2014 at 19:25:10
I suppose I will will get yelled at for not being as negative as other people over Howard but, for their first goal, after Howard pushed the ball out, Coleman was ahead of the Spurs player and should have kept running towards the goal to cover if the goalkeeper made a mistake. The people to blame are the defenders in front of him for the mistakes and casual play.
The problem with playing in goal – one mistake and everyone is on your back but the defenders make three or four mistakes and they are just playing badly. The goalkeeper often gets his defenders out of trouble but usually there is no-one to help him.
Feel free to criticize...
Kunal Desai
101
Posted 30/11/2014 at 19:23:14
I find it laughable yet again and it happens season after season those who keep saying we need to win the next game or we need to start putting a run together to get 4th. When the fuck will you wake up, we haven't got a side good enough to get 4th!! We couldn't do it last year when we weren't involved in Europe so what makes people think we're going to try and challenge it whilst we are in the Europa League?
This challenge for 4th really does need to be given a rest. We may have padded the squad out a little in terms of number but it's not great in terms of quality. We need at least one, possibly two creative midfielders; until that changes, the midfield will be crab-like: pass, pass, pass and then back to the defence and goalkeeper.
Why does Martinez also insist on trying to play out from the back in dangerous positions? We don't have players who have the physique to muscle off players in order to pass their way further up the field and just lose the ball. (Osman last season at home to Sunderland and Palace and again this season at home to Palace and now Barry today.) We have players who can't control possession in our own halves and it's happening far too often.
I just wonder if the focus on this season is on the Europa League and other competitions maybe become second fiddle.
Jim Bennings
102
Posted 30/11/2014 at 19:30:38
Mike Childs
Spot on!
What message is it sending to Garbutt when the guy plays so well and puts in the best corners I have seen from an Everton player for 12 months then gets dropped for Mr Consistent Leighton Baines (if you like every corner or low predictable cross hitting the first defender).
Baines, great player he has been, has not had a great season in terms of defending (never has been a great defender) but going forward, he has been average for me, he is too predictable with you just knowing what he's always going to do.
When did he last hit a top quality free-kick??
Tony Marsh
103
Posted 30/11/2014 at 19:27:59
You all need to realise that Everton are not equipped to play two massive games in three days almost every week. Whatever some of you might think, the Europa League statistics don't lie. Any club that plays in the Europa League on Thursdays suffer on Sundays. We haven't got enough bodies, simple as that.
Spurs are shite but a combination of fatigue and unfit players plus a terrible howler from Taliban Tim handed them the game. It's one or the other — Premier League or Europa League; we can't do both...
The stats don't lie. We can only go to the well so many times. In fact, the well is already dry on this performance... Oh and 㿨 million for Barkley? I would take it now. Ross is going backwards. Last thing he did of note was score at Newcastle last year... The new Jack Rodwell?
David Flanagan
104
Posted 30/11/2014 at 19:35:56
No shape. No system... but, more worryingly, no comittment. Out-worked by a poor Spurs side. Not good enough and yet the manager talks it up. We are going nowhere unless he changes his approach, 4 wins in 13 games is bottom 8 — not top 6.
Andy Walker
105
Posted 30/11/2014 at 19:34:22
Very poor. It's the emporer's new clothes syndrome, kid everybody that we are better than we are as we have lots of possession but only because we play it round at the back and don't generally threaten. Classic Martinez tactic.
Barkley was awful, Lukaku was isolated, Baines and Coleman poor, Barry appalling, Besic was our best by a mile, the rest average.
Worst team for a decade, thanks for that Roberto.
Andrew Hawes
106
Posted 30/11/2014 at 19:21:54
Top four is wide open this year.
It doesn't matter about money etc, Man Utd, Liverpool, Spurs and Arsenal have probably their worst sides in years! So It's just so disappointing to see such a total lack of belief.
McCarthy apart, that was probably our strongest team out there today but it's getting to the stage where I don't want us to go 1-0 up as you know we go into this mentality of waiting for the backlash...
Why can't we take these sides apart when were on top? Because we don't pressurise!! We go 1-0 up and we start passing sideways as if we are cruising at 3-0 up, giving sides the chance to re-group.
When was the last time we hit a team for 4 or 5 with the attacking options we have?? It's tactics – and that's down to Martinez!!
Sean Patton
107
Posted 30/11/2014 at 19:38:43
The only people Kane frightens is small children with his gormless expression, he is a bumbling oaf.
As for Howard, well it isn't one mistake – it's a constant stream of mistakes. That first goal was a joke, they were going nowhere, the crowd was on their back, we had them where we wanted them, and he goes and does that.
Patrick Murphy
108
Posted 30/11/2014 at 19:32:11
Jim - are you planning on having a Merry Christmas? It's bad enough feeling bad because our team have lost today and many of the reasons for the defeat have been explored by many - but to start panicking about up-coming games in December and January well that just smacks of being somewhat masochistic.
Every PL game at every venue is a difficult game and if any team is unprepared to battle or takes their foot off the gas they will be punished, if they don't play well as a team they will be punished and despite the poor result today and the performance we are still a decent team but it can all turn sour in a few games. If you think things are bad now wait until your prophesies come true on a more regular basis, then you will be able to fill the whole of the internet with your tales of woe and the end is nigh declarations which at times make Nostradamus seem like the most entertaining stand-up comedian that ever lived.
Hull City next.....COYB

Jimmy Salt
109
Posted 30/11/2014 at 19:39:34
Im actually finding myself in agreement with Phil W .
Im going to lay down.

Paul Olsen
110
Posted 30/11/2014 at 19:35:45
Poor after a good looking first 15. Spurs wanted it more and won almost every 50/50 after that point.
Howard: Think he should have done better on the first goal. 6
Coleman: Alright defensively, some timely challenges. Not good going forward. Didn´t put in a useful cross all afternoon 5
Baines: Overall a poor game, set pieces not working, crosses far between and few. 5
Distin: Struggled, but not our worst player on the day. 5
Jagielka: Best in our back four, perhaps our mom? 7
Barry: Gave away that second goal after losing the ball. Our midfield maestro led a midfield that lost the battle 5
Besic: Horrendous back header almost gave away a goal. Otherwise battled well and usually found an Everton shirt when passing. 7
Barkley: Ran with the ball, to find Tottenham shirts following him everywhere. Movement around him not good, but he tried. I´ll give him that. 6
Mirallas: What a goal! Then went sour and contributed little afterwards. 6
Etoò : Invisible man. Could turn a man a couple of times only to pass backwards or sideways. 5
Lukaku: Never got into the game, no help from his team mates either to do so. 5
Osman: Offered some calm with the ball. 6
Mcgeady: Nah 5
Ian Riley
111
Posted 30/11/2014 at 19:18:30
Did the Spurs keeper make a save?
When did we become so good that when we scored, no effort or desire? The team gave two goals away due to the manager's idea that passing around the back six with no purpose or direction is the way to go!
It appeared to me that when we scored, this was against our game plan. Only when Spurs scored and went ahead did we start to play. Only when the changes were made did the team have any urgency.
Sadly, successful teams go for the second, third or fourth goal and we lacked desire and pace to do that.
I give no credit to Spurs today, they were there for the taking and we gave them three points. Just keeping the ball does not win games!
Very disappointed, but need to move on to Hull...
Brent Stephens
112
Posted 30/11/2014 at 19:52:08
Kunai #105 "We don't have players who have the physique to muscle of players in order to pass there way further up the field (Osman last season at home to Sunderland and Palace and again this season at home to Palace and now Barry today)."
Kunai, we know Osman hasn't got the physique so sometimes loses the ball. But Barry doesn't have the physique? That sounds strange.
Mark Frere
113
Posted 30/11/2014 at 19:46:55
I thought Besic had a good game today and he looks to have all the tools to become a top drawer player. He has a terrific engine, good positional sense and a good passing range, which I would like to see him use a little more often.
But he scares the hell out of me with his hospital passes (at times) and his rash challenges. He needs to cut out the kamikaze stuff and get a run of games... I think we have unearthed a gem with Besic.
John Keating
114
Posted 30/11/2014 at 19:45:11
People who are complaining about the "moaners and groaners" and can somehow take any positives from this season so far, should just take a look at the league table. If we'd played half as good as last season, we'd be well established in the top 4 now. Apart from Chelsea anyone showing any sort of form could be in with them.
Our pre-season was a disgrace. The early part of the season was woeful and has not really improved that much. Our football is so predictable, it's untrue and we are being found out on a regular basis. Teams are either sitting well back in their own half watching us pass it along the back line for minutes on end or pressing us and waiting for us to make a mistake – which we do regularly.
This statistics-based football that Martinez lives by is just shite and, as I said on another thread, I would rather take an injury-time winner after getting battered for 90 minutes than losing after having 70% possession and 600+ passes.
Phil Walling
115
Posted 30/11/2014 at 19:22:35
Paul Ferry, I am all too aware that ''bollox and more bollox'' is your usual repost to anyone with whose view you do not concur but it is hardly comment worthy of such a football connoisseur.
Commenting that on current form, Barkley is hardly likely to become "England's greatest" and that others are shaping up better at present is hardly an outrageous view and is one shared widely amongst Evertonians.
Similarly, the prospect that we may finish no higher than mid-table looks a distinct possibility given league form to date and tonight's table.
You are more than entitled to hope that such views are disproved but it contributes nothing to a discussion board to dismiss others' opinions with such disdain.
To support Everton – as with any club – is to live in eternal hope but to virtually deny any considered opinion that a player and/or the team have performed disappointingly and may not be destined for immediate honours is hardly any more balanced surely?
I do not expect you to give great consideration to my views or those of your other fellow posters but, really, ''bollox'' is the rather pathetic indication of a very closed mind, indeed.
Nick Entwistle
116
Posted 30/11/2014 at 20:14:12
Don't worry Phil, Paul is just upset that he sat through 90 minutes of football and at the final whistle Sociedad won.
Lee Whitehead
117
Posted 30/11/2014 at 19:50:09
What a piss-poor performance!!!
Can I ask some questions?
1) Do we think Howard & Distin are finished? Coz I fuckin' do.
2) Where has Browning gone? Fuckin' brill at Anfield & Old Trafford.
3) How fuckin' shite Is McGeady?
4) Barkley – the most overated fukin' player in the world... 㿞 mill? My arse!
5) Does Rom look about 2 stone overweight?
6) What's happened to Kone, Gibson, Pienaar, Oviedo, etc.
Andy Meighan
118
Posted 30/11/2014 at 20:07:07
I posted earlier about why, after a perfect performance in Germany against a side riding high in the Bundesliga, he feels the need for wholesale changes... absolutely baffles me. This manager doesn't seem to grasp the golden rule of football – never change a winning side unless enforced. But he's done it – not that he needed to but because he can.
Garbutt and Hibbert were outstanding in Wolfsburg yet find themselves dropped for players who have under performed all season but Roberto has his favourites – a point made by the fact his babes walked back into the side today. And please don't let me hear anyone say, "Well, it's a squad game". Injuries apart, winning breeds confidence; changing the side breeds uncertainty. Spurs 2, Everton 1 — need I say any more?
Tony Hill
119
Posted 30/11/2014 at 20:09:30
Ku all (105) is right on present evidence about top 4 ambitions but we were mighty close last season if we hadn't imploded against Palace and Southampton.
It's difficult to define what has changed since April but, aside from injuries, there has crept into our play the type of instinctive fear and caution which RM was supposed to have dispelled.
For so long as we worry about what might go wrong, rather than what might go right if we are bold enough, we will remain where we deserve to be.
Paul Tran
120
Posted 30/11/2014 at 20:23:11
The only people interested in possession statistics seem to be those looking to have a go at Martinez. Does he actually go on about them as much some on here? At the moment, there's plenty of real ammunition.
The simple facts are that we are a half-decent, inconsistent team who lost to another half-decent inconsistent team.
I'm as positive as they come, but why was a winning team changed to accommodate returning players who looked unfit? I'm starting to get serious concerns about Martinez and his staff's ability to assess fitness. By the way, if there are any fitness experts on here who can explain this and our strange pre-season, please enlighten me.
I don't think Martinez tells the players to pass the ball sideways for 90 minutes. It is clear that all too often, we lack a sense of pace and purpose. Surely we can trade a bit of ball retention for taking a chance, particularly with our current keeper. With Howard in goal, I always feel that we need to score at least two, just in case..........
Looking forward to a rare visit to Goodison on Wednesday. I know Hull will park the bus – which Everton will turn up?
Dave Abrahams
121
Posted 30/11/2014 at 20:04:42
I didn't see the game so I can't really give a balanced opinion but I have thought, like Tony Marsh, that being in Europe is too much for us. We just do not have a squad big enough so we will continue to struggle while we are in the Europa League.
Also, I know that there is a not a player on the books who can rally and bully the team when things go wrong.
Roll on, Hull.
Steavey Buckley
122
Posted 30/11/2014 at 20:32:40
The Tottenham game was a match when too many players were not at the top of the game, while the likes of Eto'o, Baines, Osman and McCeady offered little or nothing.
Yet both Spurs goals were down to defensive frailties and a goalkeeper who should have pushed the shot away from the oncoming Spurs player, who followed on and scored; while their other goal was just bad.
Dave Pritchard
123
Posted 30/11/2014 at 20:42:26
Yes, we are still in the hunt for top 4 (realistically 3rd or 4th) because all the other teams are beating each other and generally being as inconsistent as us. I don't think we are likely to get there though as we don't have enough creativity in midfield.
I always think that we need someone to link the back 4 and defensive midfielders to the attack. Osman can do it as can Pienaar but neither is able to do it on a regular basis. Difficult when they don't start of course.
The loss of the fit and in-form Pienaar from a couple of seasons ago is a big miss.
Michael Spear
124
Posted 30/11/2014 at 20:43:06
Match Facts from page 59 of today's Spurs programme:
"Everton have made a league-high six errors leading to goals this season". Well, make that eight now. Even the opposition's programme editors have got us sussed now.
Just back from the game (to not far away Watford), and couldn't agree more with most of the comments here. We were just too slow in everything, moving the ball forward, movement off the ball, so pedestrian compared to a Spurs side that attacked with pace and were winning far too many 50/50s. But who almost certainly wouldn't have won without our help.
Haven't missed a game at Goodison this season, but Hull on Wednesday night is a big ask now after that performance.
Daniel A Johnson
125
Posted 30/11/2014 at 21:04:43
So frustrating.... 4th is up for grabs and yet again we are doing our best to miss the boat.
Too many regulars just not cutting it. The foundations are just not strong enough, Howard, Distin, Jags all average.
Plus Barry was simply not fit.

Colin Glassar
126
Posted 30/11/2014 at 20:40:45
Good post, Paul Tran. I think Hibbert and Garbutt deserved to keep their places and to play Barry I thought (before the game) was suicidal as he's probably not even 60% ready. And I won't go on about Ross and Samuel nullifying each other.
The top, top teams play their best teams every game. Sod rotation, if they're playing well let them play. If they become tired, rest them but don't make wholesale fucking changes just for change's sake.
Roberto has, potentially, the best squad we've had since the '80s but he doesn't use them properly. If he forms a group of undroppable favourites who will play fit, injured or whatever, then we will not progress. The likes of Baines, Coleman, Barkley etc need to know that, if they lose their place due to injury, then they are going to have to fight to get back into the team.
Pienaar and Stones have been a massive loss to us as Baines isn't half the player he is without Pienaar in front of him... and Stones is the only central defender we have who is comfortable on the ball. Get those two back and we'll be okay.
Kevin Rowlands
127
Posted 30/11/2014 at 21:08:46
I agree with a lot of the posts above. We went to Wolfsburg and got a fantastic result; he should have sent out the exact same team and let Baines and Barry rest up more. For the effort showed on Thursday, them lads deserved it.
Steve Barr
128
Posted 30/11/2014 at 21:11:52
Michael,
I've just splashed out a few hundred dollars on 3 tickets for the City game next Saturday, arriving in Manchester from the USA that morning.
I can't turn back now but I wish I could after watching that performance.
Colin Glassar
130
Posted 30/11/2014 at 21:21:52
Steve Barr, don't be surprised if we beat the Mancs, mate. We have an excellent record against them and I still think we threw the game last season at Goodison Park to spite the RS.

Gerry ORiordan
131
Posted 30/11/2014 at 21:27:27
Very disappointing result, no other words necessary.
On a different matter, I hate that black kit – it seems to bring us bad luck. Why couldn't we wear blue today?
Andy Meighan
132
Posted 30/11/2014 at 21:48:22
Colin @ 134 I'll be surprised if we beat Man City. Quite simply, we're not good enough. And me and you know it's going to be the usual away performance loads of the ball but not doing nothing with it. Goodnight, pal.
Jamie Barlow
133
Posted 30/11/2014 at 21:44:32
Why would Peresic, De Bruyne and Clyne come to Everton if we sold Barkley and Coleman? We would stink of a club with no ambition at all.
Paul Andrews
134
Posted 30/11/2014 at 22:02:08
Indicative of small club mentality.
Let's sell two of the best prospects in England. And bank a profit.
Harold Matthews
135
Posted 30/11/2014 at 21:11:18
Disappointing result from a strong looking side which performed like a bunch of total strangers. No movement off the ball and very few options for the man in possession. This leads to pedestrian play and negative passing. The captain actually appears quite put out if he cannot pass back or sideways.
Spurs displayed good movement throughout, were well organized at the back and showed plenty of pace and resolution up front.
Players like Barry, Mirallas, Coleman, Barkley and Baines need game-time. Players like Eto'o and Osman can help win us games but they need to be fresh.
This possession football, building up from the back, is beginning to work against us, as Gordon Strachan pointed out the other day. When teams, including Chelsea, are faced with two banks of four, they will slow to a crawl whether they like it or not.
Let's hope we can up the tempo against Hull. Get men into the box, feed them with early crosses and look like we want to win.
James McPherson
136
Posted 30/11/2014 at 21:54:51
A poor poor poor performance. The brief flashes of enterprise we have seen this season are exactly that - flashes. Sensing that we are well and truly sussed by most opposition. Martinez seems to not have the answer in the PL. I for one have never seen a team whose midfield receive the ball facing their own goal with such frequency - no wonder it goes backwards so often. Today was unreal. Nearly every time, check inside and pass it back.Turgid. When I think of the stick Moyes got (for less). This team is capable of so much more - but sadly seem unlikely to deliver. Martinez's words post match make him sound like a complete buffoon.
Colin Glassar
137
Posted 30/11/2014 at 22:04:41
Paul 138, one genius the other day suggested selling Barkley and using the 㿨m as a down payment on a new stadium. Amazing.
Kevin Rowlands
138
Posted 30/11/2014 at 22:04:48
Jamie and Paul, very simple, all three are better players, did you watch Peresic the other night? best player we have faced all season and the other two would improve us as well, it's all about opinions of course.
Paul Andrews
139
Posted 30/11/2014 at 22:10:34
Kevin,
Best player we have faced all season?
Hazard.....Di Maria?
Colin Glassar
141
Posted 30/11/2014 at 22:15:43
I'd rather not say, Paul (what I really think, that is).
For all those statisticians out there, is it true that today was Roberto's 51st game in charge? I think I read somewhere that his record so far is:
W 25
D 15
L 11
True or false?
Patrick Murphy
142
Posted 30/11/2014 at 22:26:48
Colin #145 - we have played 51 PL games under Roberto and have won 25 drawn 14 and lost 12 scored 84 and conceded 60, that goals against column is a tad worrisome though.
Colin Glassar
143
Posted 30/11/2014 at 22:39:26
Cheers, Patrick. If our defence hadn't been so leaky this season the games drawn and lost, plus the GA, would've been a lot healthier. Still, not a bad record for Roberto.
If it was a school report he'd get a B with: "Doing well but must improve his decision making regarding unfit players and team rotation."
Sam Hoare
144
Posted 30/11/2014 at 23:00:24
This is the stat that concerns and hugely frustrates me:
10 points dropped from winning positions in just 13 matches – Everton dropped 12 from winning positions in the whole of last season.
Mike Childs
145
Posted 30/11/2014 at 23:03:12
Thanks, Sam – as if the day wasn't bad enough already. Hey, we won Thursday.... we're moving on in Europe which is good for the players. Just a shame that the Champions League loosers get a free ride in.
Clive Lewis
146
Posted 01/12/2014 at 01:08:24
It's a transitional period that every team goes through with Roberto. Good then average then relegation fodder. It appears that we are suffering from some kind of passing obsessive compulsion disorder. 61% possession and a few shots on goal.
What worries me is that we have been like this all season. I think really we have been lucky to accumulate the amount of points we have. Also, I feel that the team is starting to feel depressed about its OCD; other teams have noticed this and are waiting for mistakes before pouncing.

Colin Glassar
147
Posted 01/12/2014 at 01:21:31
I really don't want to lose my faith in Martinez as he was my first choice when OFM left. I wasn't interested in Bielsa or Jorge Jesus, or Martin O'Neil or Tony Pulis or any of the other more outlandish candidates named on here, eg, Stubbs or Davie Weir. So I need him to start being ruthless in his team selection and if necessary start dropping his favourite players if they aren't (or can't) perform at the highest level.
This Wednesday, I'd drop Howard, Coleman, Baines, Distin, Barry, Barkley and Eto'o. Fuck 'em, if Brenda can drop Creasehead then we can drop these and give Robles, Hibbert, Garbutt, Browning, Osman, Ledson and Pienaar a chance to show their worth.
Eddie Dunn
148
Posted 01/12/2014 at 08:26:51
In the first 15 minutes we looked like a top 4 side, but normal service was resumed, and we couldn't manage the game.
It was as if the spark didn't fire until injury time, when we suddenly put them under pressure and Lukaku began to get stuck-in. Too little too late.
The obvious mistakes were playing Baines, Coleman and Barry. None were match-fit and Barry was well off the pace. Baines rarely got down the left, constantly checking on halfway and passing back too Distin or Barry. Coleman was afraid of really sprinting, so wasn't as penetrative as usual.
The other problem that Martinez caused was playing Barkley on the wing (he was much better in the centre later on) and playing a striker (Eto'o) in midfield. Eto'o was useless in the role – surely Barkley could have started with Osman in for Barry.
Unlike some of the blinkered comments on here, I thought Besic was a shining light, working hard, closing down and always looking to push forward.
The big problem is midfield: No play-maker. No one looking to get a quick ball away. Barkley losing faith in his team mates and seeking to do it all alone, playing like a greedy schoolboy.
Every time the ball was played into our box, I trembled with worry. I have no confidence in our keeper. He was poor for both the goals, they were not his fault, but he couldn't make up for the other's mistakes like good goalies do.
This slow build-up play is killing us. In reality, we could have lost in Wolfsburg, and could have lost against West Ham, indeed, we were outplayed by Wolfsburg at home in the second half.
Players should not be rushed back and players should not be played out of position unless we have no alternative. Déjà-vu?
Geoff Evans
149
Posted 01/12/2014 at 08:35:53
Colin 134. The whole problem with RM is that he doesn't do ruthless and neither does his team. Any top team would have pushed on and had the game won by half time. Instead of that we sit back, not for the first time, and let a piss poor team look good.
Nice wins nothing.
Dave Abrahams
151
Posted 01/12/2014 at 09:25:15
Good summaries by Harold and Eddie Dunne. I think they put theories that a lot of us can see what is wrong with the teams' performances this season.
The lack of energy and movement off the ball has been evident for most of the season, and players being played out of position is really starting to get on people's nerves now.
I think, like a lot of fans, Martinez has to have a long serious look at the goalkeeping position; too many mistakes, too often.
Mike Berry
152
Posted 01/12/2014 at 09:56:33
We missed James McCarthy, as simple as that. The bloke is a throwback to the days of Gabriel and Kay.
Geoff Evans
153
Posted 01/12/2014 at 11:05:53
Someone said, "Don't be surprised if we beat the Mancs on Saturday". Be less surprised if we lose to Hull on Wednesday.
Bob Parrington
154
Posted 01/12/2014 at 11:11:34
Mike, Wow! Tony Kay and Jimmy G? Now that was a time! I still have a picture in my mind of a Tony Kay tackle in which he slid in, did a 180 and came away cleanly with the ball. Just a magic moment so long ago!
Thanks for reminding me!
Colin Glassar
155
Posted 01/12/2014 at 11:14:19
Geoff, that was probably me. We have a very good record against Man City and I wouldn't be surprised if we went and beat them. The top teams come at us and it suits our style of play. It's when we play the shit teams like Hull, Sunderland and Tottingham who shut up shop that make us suffer.
Phil Walling
156
Posted 01/12/2014 at 11:25:24
Eddie @152: "Barkley losing faith with his teammates"? I rather suggest that the boot is on the other foot. The 'boy wonder' is beginning to look anything but and the myriad excuses for his failing to make an impact are getting a bit thin.
There isn't an Evertonian who doesn't want him to live up to the hype – although his manager's frankly ridiculous expectations have put the kid under unnecessary pressure – but Ross has got to start imposing himself on games just as does McCarthy on a regular basis.
I hear he is 'out of this world' on the training pitch but so tight is the competition between Premier League sides these days, that there is no longer much scope to carry 'luxury players' in the real thing!
Geoff Evans
157
Posted 01/12/2014 at 11:32:51
Colin, you always talk a lot of sense, mate, and I look forward to your threads ever since you called the Rom transfer, and I take your point about our record at Man City (albeit under the last manager).
Just a query with your statement, "The top teams come at us and it suits our style of play". Does that mean we shut up shop and make them suffer?

Phil Walling
158
Posted 01/12/2014 at 11:43:17
Colin @151. You frequently pull me up for failing to be a Martinez worshipper but today you suggest he drops two thirds of his chosen team!
Just like any other manager we've 'suffered' over these many years, our Catalan has his good points and bad. Wrongly, perhaps, I prejudged him on Pie Eater gossip and was made to eat my words by last season's 5th-place finish.
As recently as last Thursday, we were all singing his praises but, after a narrow loss three days later, he's accused of player favouritism at the very least!
Yes, I, too, continue to question his judgement but at least I'm consistent. One of my beefs was the ridiculous signing of 'Butterfingers' Robles who you now advocate should replace Howard in goal...
God spare us from the vagaries of TW team selectors!
Brian Harrison
159
Posted 01/12/2014 at 12:10:32
I just wonder if Martinez is prepared to change his style in Premier League games. So far in Europe his style has produced some good performances and results, but in the league we have become ponderous and predictable.
I don't think he will change, he believes this is the way to play, needless passing leading to a slow build up, yet on the odd occasion we play the ball forward early, we have looked a dangerous team to play against. Both Gary Neville and Lawrenson both said about how slow our tempo and passing was; now surely RM should be seeing the same things. But I believe that he has the team playing this way at Finch Farm – it just doesn't happen by accident.
Apart from our style of play, what also worries me as much, is his ability in the transfer market. He has bought Robles who he seems reluctant to play; Kone... well, hard to judge a player that has rarely been fit since he signed; also Alcaraz who has had 3 good games but by and large was an understudy for Distin till he fell out with Martinez. He gives Barry a 3-year contract and Eto'o a 2-year contract, surely these contracts are far too long given the age of the players. Finally McCarthy who looks like a very good player.
Colin Glassar
160
Posted 01/12/2014 at 12:48:58
Geoff, it will be an open game as Man City will go for the win. They won't try and stifle us and that will allow us to play our own game. I think we will win it 1-2. Hull will be more difficult as they will pack their defence and defend deep. This is where we struggle.
Phil, that was posted out of sheer frustration over yesterday's 'performance'. What I will say however is, if Seamus isn't 100% he can be quite average. Therefore I'd have kept Hibbo at right-back. Bainsey without Pienaar loses 50% of his effectiveness and Barry just isn't fit.
Roberto, like most managers, has a stubborn streak. He has players he trusts and will play them come what may. He won't change his principles so we might just be a seventhish team this season as he seems to be putting all his eggs into one basket, ie, the Europa League.
Tony J Williams
161
Posted 01/12/2014 at 13:01:52
The whole game yesterday was summed up by a camera on Pochettino just before their second.
Telling them to push up to close us down in our half.... That is the only tactic opposing managers really need to know about us.
Phil Walling
162
Posted 01/12/2014 at 13:04:53
Hey, Colin, we may be closer to each other's views after all!
You have more confidence in our getting a result at Man City than me but I do hope you end up being right. There can be few excuses if we cock up against Hull City, though. Agreed?
Colin Glassar
163
Posted 01/12/2014 at 13:12:39
The big difference is I continue to place my faith in Roberto, Phil. Yes, his tactics have been sussed by the opposition and I don't think he will change in the near future. If we are languishing mid-table by January then he might go for a radical change but I think he will prefer to wait until the summer to have a mini clear-out and get in a few players who can make his system work more effectively.

Geoff Evans
164
Posted 01/12/2014 at 15:38:46
The Martinez system is okay for one season but people in the Premier League are quick learners. If you're going to keep persevering with it, you need better players. Even ordinary teams can nullify it.
Besides Chelsea, the rest of the Premier League are no better than ordinary, full of overrated and hyped players who have a couple of good games and suddenly believe what the newspapers and worse still their over-hyped and overpaid managers tell them.
Let's stop the pussy-footing around and say it as it is: we're just another very ordinary team with no Plan B who can make a poor side like Spurs, and even the RS, look good.
No wonder the you can't get a good price on Chelsea to stay unbeaten all season. Unbelievable!
Phil Walling
165
Posted 01/12/2014 at 15:14:13
Colin,whatever you think of Moyes' reign (views soured by his conduct at Manu), he left behind a grand bunch of players who Martinez took to a new level of performance in his first season.
However, only three of the new man's raft of signings have created much of an impression and I imagine few of us would entrust him 'with the bank' with anything like full confidence.
There was enough 'pissing about at the back' yesterday to remind us that this remains his preferred style in spite of the very considerable part it played in getting my family's club relegated. And again his after-match summary seemed to compliment the team on carrying out his instructions and blaming referee Oliver for defeat whilst going to great lengths not to blame referee Oliver.... if you get my drift !
Yes, Colin, he has been well and truly sussed by fellow Premier managers although he will be able 'to get away with it' for some time on the Europa stage where what we see each week is not so readily available.
As BK is fond of telling us, ' Roberto's a lovely fellow' and rightly respected throughout the game. But as an Everton manager on the evidence so far, I am not yet including him in my top handful......but that's another story !
Geoff Evans
166
Posted 01/12/2014 at 17:55:34
Colin,
Your faith is heartening, believe me I hope you prove me right mate.
Steven Jones
167
Posted 01/12/2014 at 17:49:56
Irrespective of the result Sunday and the reasons - eg just off the Wolfsburg trip, referee error, RM style of passing around at the back etc ..
Spurs at home tried to nullify us - they were lucky - we had by far the greater amount of possession and shots on target similar, they had 15 fouls to our 5 and 5 yellow cards. That is a big step forward than putting 10 men behind the ball .. with Moyes .. (who I love by the way)
The reason we have days like Sunday is that the style of open play will take 3-5 years to bed in and through the youth, acquired players, reputation attracting the likes of Eto'o and Rom etc will give us the only realistic chance of getting back to the top table and the glory days. A midfield of Ledson, Besic, Barkley, McCarthy, Mirallas et al in 2-3 years will be very powerful.
Stop being short termist and naïve in how clubs' styles develop over time ... even Chelski with a returning JM failed last year and then get the formula right this year – Man City are not as great as their spend and so forth.
I was so proud of the line up on Sunday when I heard the team news and pragmatic on how the game developed – even when my son was celebrating the first goal I shared my concern of a 2-1 (I actually said 3-1) – however, the future is so so bright...
Still a little concerned how close the Hull game is .. but will watch tonight to see JonJoe and look for elements of development from the first team on Wednesday ...
Paul Andrews
168
Posted 01/12/2014 at 18:08:35
Steven,
Great post.
Absolutely spot on.
Eddie Dunn
169
Posted 01/12/2014 at 17:57:09
Hey Phil, when I mentioned Ross losing faith in his teamates, I was being critical of him.
He needs to get his head up and play early balls instead of looking down and trying to play off the cuff every time. He has got the ability to be a real star, my good mate , who was at the game(Spurs season ticket holder) thought that he would become "some player".
He needs to play behind Lukaku, not on the bloody wing. Remember how various managers have opted to play Rooney on the wing!
Kendal always seemed to play players in their natural positions, left-sided on the left, and right - sided on the right, whenever possible.
The team(late 80s) always looked well-balanced.
If Bobby believes in Barkley, then he should back him, and build the side around him, or he will be gone, and we will see him reach his potential elsewhere.
John Keating
170
Posted 01/12/2014 at 18:04:33
Colin 167
I doubt Messi, Xavi and Iniesta will be available this Summer and even they would get pissed off with our painfully slow build up.
Steven 171
Seems you're a true Martinez fan quoting more possession, shots on target, fouls, yellow cards etc - unfortunately stats do not win games.
Colin Malone
171
Posted 01/12/2014 at 18:31:55
Who would of thought, we,d all get up and arms, for not beating a team around the top four away from home. Under Moyes, it was expected.
Thats how far we have come under Roberto Martinez.
COYB.
Phil Walling
172
Posted 01/12/2014 at 18:28:08
Eddie, sorry I misunderstood you. To a large extent I believe the emergence of Naismith playing behind and in support of Romelu has held Ross back. Like you, I believe that to be the kid's best position but he's had to play second fiddle to the on-form Scot.
Strange beings, these managers because the same thing happened to Fellaini when Moyes signed him for United and then played him everywhere but where he had been most effective here. It's as though they think they know more than the evidence of their own eyes. Weird !
James Martin
173
Posted 01/12/2014 at 19:02:18
Colin they are not a team up and around the top 4. They are a team that most Evertonians expect us to finish ahead of most years. Indeed apart from the Gareth Bale years there has not been much between us and we have finished ahead of them a lot of times.
The issue is - the same as it always is with Everton - is that Spurs spend a lot of money so have the media drooling all over them. Despite finishing ahead of them last season our weak minded players still view them as a bigger team and would be happy to scrape a point there just like they do with Liverpool. That is why a Villa or West Brom can go to Anfield or White Hart Lane and win easily. We go and guarantee them their best home performance of the season and three points.
I'm not having it that a midfield of Bentaleb and Ryan Mason is better than what we could put out. Their defense is shocking yet did we test it at all? No. Fazio is a walking mistake yet we made him look like Puyol in his peak. Three points were there but our players couldn't handle it. If it had been at Goodison we would have won easily because that is the only place these players will perform against the top sides. Any one thinking we will go to City and win is deluded. We should have beaten United and Liverpool way this season but choked on both. This group of players, like the many Moyes had under him cannot handle expectation, cannot handle achievement, and cannot handle pressure. This will be seen in the first meaningful knockout game we have in the Europa League as well. This is a sickness that has dogged Everton for a long time.
We have historically flirted between being a rubbish side that can get up for the big occasion, even cup finals, and a side that shows solid league form but will bottle and choke at every single opportunity presented to them. Only the truly great Everton sides have matched good league form with success.
I would even argue that given the amount of talent in this current team they are even mentally weaker than some of the teams under Moyes. The Sunderland game at home when that record loomed large, the last minute conceded goal in the Goodison derby last season, the capitulation at home to palace when champions league was in our grasp, the conceded goals to Leicester and Arsenal this season, the failure to capitalise every single time the teams around us lose. This is a team boasting the best full backs in the league, two of the top midfield talents in the country, Etoo and Lukaku upfront with Mirallas on the flanks yet they are languishing in exactly the same place as some of the teams of the past that would have a midfield of Gueye Heitinga Neville Osman. Its an absolute disgrace. It is such a spineless side, we have barely got anywhere near the tempo of last season, we are slow all over the pitch, completely risk adverse in our passing, no one can tackle apart from McCarthy, our central defense is woeful and our keeper is horrendous. Week after week we're relying on our bench to win games for us with players like Osman Hibbert, Etoo and Naismith being our top performers. Three of them probably wont even be here in 2 seasons time. This team needs a huge kick up the backside as it is simply not good enough considering the talent on show.
All yo have to ask is what position would we be in if Mourinho managed the team? He wouldn't stand for this ridiculous choking, this aversion to playing away form home, and this crippling fear of any side with a bit of money. We'd be where we should be considering the talent in this squad - third or fourth battling it out with Arsenal and United. Not slumming it with Liverpool and Spurs who have made their worst ever premier league starts. Ever notice that when Liverpool have a good season we also do well but just that bit behind, and the same that when they have horrendous starts under Hodgson or Brendan we still manage to stay behind them? All in the head - players are just too scared to achieve.
Barry Thompson
174
Posted 01/12/2014 at 19:54:36
In a nutshell
Eddie Dunn
175
Posted 02/12/2014 at 08:18:38
Interesting points there James. I have never understood why it is harder to go away from home. It is still 11 v 11, it is all about your mentality.
Our problem is clear. We look fantastic on the break, with Lukaku spinning off the centre-half, or Barkley surging out through the middle, or Mirallas flying on to a flick out of defence. However, when we get hold of the ball, and dominate possession, we look ponderous, and our slow play allows the opposition to get numbers back and we end up putting in a poor cross which is cleared. We have not got the guile to open teams up unless Pienaar is combining with Baines down the left. We are predictable and therefore impotent.
Our best moments are quick attacks down the flanks, before defences are set, we would have done better to sit back at Spurs and wait for the counter, and we even had the perfect start, so they had to come out and play.
So it is down to Bobby and his tactics – we had a lot of possession again, but what's the point? I'd rather we played like Palace.
Raymond Fox
177
Posted 02/12/2014 at 19:32:08
Steven 171 says it all for me.
Of course we want to win every game and look fantastic, but this season we were never going to pull up trees in all competitions, at least I thought so.
A top 4 finish is still the most difficult to achieve for us each season, a Cup win or Europa success is by far our best chance.
Say what you want, our club is in its best shape than for a very long time.
Christopher Kelly
178
Posted 03/12/2014 at 01:36:04
New personal highlight for me is reading the comments pre-game vs during vs post-game. They are about as wildly different as you could expect...
"Sexy team", "We'll win if we score first" , "Hope Barkley doesn't play out wide"
Oh man, it never gets old rooting for this lot. We have a LONG way to go before thinking about top 4. We should start by finding an asshole player who wouldn't let us fold like that. Jags sure as hell isn't it.
Paul Tran
179
Posted 03/12/2014 at 07:32:02
James Martin once again hits nail on head. We need strong players who are winners, ones who can manage a game, bollock their teammates and impose the right standards.
The minute Spurs equalised, the game turned, even with a team chock full with 'experience'.
We can skate round the peripheral issue of tactics or 'no Plan B', whatever that means (can someone come on here and be honest enough to say Plan B = hoofing it aimlessly?).
I'll judge Martinez on his ability to turn this gutless lot into winners, or bring in the type of players we need rather than another lightweight 'winger'.
Colin Glassar
180
Posted 03/12/2014 at 08:08:46
Excellent post, James Martin. So it's all in the head? We should get that Beresford guy in from cycling then, turn them into ruthless winners and not a bunch of wilting daisies.
Add Your Comments
In order to post a comment, you need to be logged in as a registered user of the site.
Or Sign up as a ToffeeWeb Member — it's free, takes just a few minutes and will allow you to post your comments on articles and Talking Points submissions across the site.
© ToffeeWeb