Resolute defence beaten at the death
By Michael Kenrick
11/02/2015

Comments (204)
jump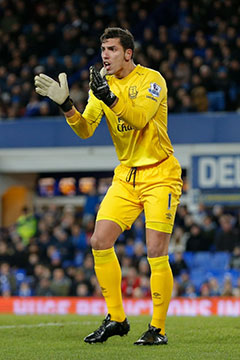 Joel Robles lost his place to Tim Howard despite his impressive recent form
Chelsea 1 - 0 Everton
Tim Howard went straight back into Everton's starting XI for this evening's clash with Chelsea, while Aaron Lennon made his full debut in place of Kevin Mirallas. James McCarthy was not risked and started on the bench, with Ross Barkley coming into the midfield.
Everton kicked off but Matic was first to get forward and drive over Howard's bar. Naismith was perhaps lucky to escape a rather strange possible handling offence as he shouldered a high ball. Hazard bamboozzled Besic into a silly foul and a yellow card inside 5 mins. William was next with a pot shot just inches over the bar.
It was really all Chelsea, but Jagielka got Everton moving, Barkley playing in Lukaku whose low shot almost sent Cech the wrong way. Barry followed up off the corner with a shot off target.
Howard made a tremendous one-handed save of a header by Azpilicueta, who was later booked for a poor foul on Lennon. Hazard again ran at the Everton defence but nothing came from a couple of Chelsea corners. Hazard came very close to clipping the ball in from close range.
Lennon played in Coleman for a decent cross but Chelsea countered at speed and Remy drove wide. Barry was next for the compulsory card, his 10th of the season for clattering Cuadrado. Hazard then conned the ref into a dangerous free-kick for a nothing brush by Barry, but that almost caught Everton out.
After a spell of Chelsea pressure, Lukaku got forward and had a weak shot straight at Cech. At the other end Cuadrado ran into Stones and collapsed but not given and Everton had time and space to run the ball forward, ending with a poor cross from Lennon and immediate pressure on the Everton goal, leading to a corner that Besic headed away but Hazard lashed a serious shot in low that Howard did very well to stop and hold.
Barkley still seemed overly tentative when given inviting possession in the middle third, but not running forward and playing short balls to the likes of Naismith, who promptly gave it away. Another spell of forward possession saw lots of passes around the Chelsea area until Lennon lost the ball.
Barkley was felled and the ball at least came close to Cech's goal before Chelsea broke forward again. Coleman tried to get around Azpilicueta but was stopped. Another Chelsea corner, this one headed well over by Terry.
Everton had defended solidly in the first half and kept the sheet clean without looking too nervous or suspect at the back, perhaps reflecting greater confidence in having Howard between the sticks, and had made a fair attempt to get the ball forward without really threatening the home goal.
Besic, on an early yellow, did not reappear after the break, James McCarthy on in his stead. Barkley played a great ball for Lukaku who had astoundingly stepped offside yet again, and Chelsea were straight on the attack. Forward moves by Everton were ruined in succession by Naismith, Lennon, and then Jagielka. Lennon's cross was then really shocking.
At the other end, Stones brilliantly dispossessed Remy and then blocked well, but Ivanovich got in a weak header. More forward movement by Everton fizzled out with no end-product. Coleman was next in the book after Hazard was getting away from him.
Hazard got down the byeline and put in a brilliant low cross that needed defending. e then danced into the Everton area and lashed it at Howard from a narrow angle. Lennon then fouled Ramirez in a really dangerous area, the new man not really having a very good game. Matic came really close with the free kick but Howard did a brilliant starman save to stop it going in.
Chelsea pressure kept building, Howard having to parry a good Willian attempt that almost fell for Remy. Lukaku almost beat Zouma then from the corner, and a good ball back out to Oviedo from McCarthy, who lashed in a superb low cross right on to Lukaku's foot for the opening goal... only the Big Man somehow failed to score, Cech anticipating his almost languid goalbound clip.
Double changes from both sides followed. Gibson and Mirallas on for Barkley and Lennon. The seemingly relentless pattern of the game resumed, however. as the game entered it's last 15 mins.
Lukaku went on something of a run, and Mirallas followed up with a good shot but over. The game suddenly sped up and became end to end, as both sides showed more intent, Jagielka getting annoyed with hesitation by Howard, who later came out well to punch a cross away.
Chelsea kept pressing but Everton's defending was resolute and unpanicked... until a shot from the edge of the area and a wicked deflection saw the goal... only for the linesman to flag Ivanovich offside.
Barry then with a poor trip challenge saw the handbags come out and a second yellow card for the Everton player.
In the very next attack, on 10 man Everton, Howard punched out to Willian whose shot gets two deflections before beating Howard at the near post in the 90th minute. A cruel but all-too-predictable end to the game that could and should have been an Everton win.
Everton: Howard; Coleman [Y:59'], Stones, Jagielka, Oviedo; Barry [Y:25';YR:88'], Besic [Y:5'] (45' McCarthy [Y:88']); Barkley (74' Gibson), Lennon (74' Mirallas), Naismith, Lukaku.
Subs not Used: Robles, Alcaraz, Garbutt, Kone.
Chelsea: Cech, Ivanovic, Terry, Zouma, Azpilicueta [Y:15'], Matic, Ramires [Y:89'], Willian (92' Cahill), Cuadrado (70' Fabregas [Y:89']), Hazard, Remy (70' Drogba).
Subs not Used: Courtois, Luis, Ake, Loftus-Cheek.
Referee: Jonathan Moss
Attendance: 41,592
---
Reader Comments (204)
Note: the following content is not moderated or vetted by the site owners at the time of submission. Comments are the responsibility of the poster. Disclaimer
Tommy Coleman
1
Posted 11/02/2015 at 18:51:28
See youse at The Bridge. Come on Everton!
Gavin Johnson
2
Posted 11/02/2015 at 18:55:44
So Howard's back in. No real surprise there. I hope he proves me wrong and plays a blinder.
Ross Edwards
3
Posted 11/02/2015 at 18:57:51
Let's hope Howard proves that he isn't a complete liability.
Bob Skelton
4
Posted 11/02/2015 at 18:55:47
Martinez always picks his favourites. Howard has not been convincing and Robles has been keeping clean sheets. Poor management.
Graham Mockford
5
Posted 11/02/2015 at 18:59:20
It's all good guys. This is my 6th trip to Uganda. On three occasions we have been playing and we have won all three.
Colin Glassar
6
Posted 11/02/2015 at 19:00:54
Terrible decision IMO. If it blows up in your face Roberto I, for one, will not defend you tonight.
Dave Abrahams
7
Posted 11/02/2015 at 18:59:44
Howard in goal, patently obvious that this is totally unfair, hope he has a good game but the manager is leaving himself wide open if we lose this game even though a lot of supporters are expecting little from the game.
Paul Olsen
8
Posted 11/02/2015 at 19:02:24
Obviously Roberto and his team knows more about what goes on With the Squad on a daily basis.
But, flinging Howard straight into action again, after Robles has performed well sends some mixed signals.
I Wonder how Robles himself sees the situation and what it is that has Roberto confident in Howard when we have seen his performances earlier this season..
Hope it proves he knows best.
Andy Crooks
9
Posted 11/02/2015 at 19:00:46
I don,t like this starting line up. I don't think Howard or Barry should start and I don't think Barkley and Naismith should be in the same side. However, I usually get these things wrong and I hope that continues.
Dave Lynch
10
Posted 11/02/2015 at 19:01:47
Sorry but the mans a fucking idiot!
Why drop a keeper who has kept 3 clean sheets, I think the only game we've lost since Howard got injured was the WHU game(may be wrong) and Robles had a blinder in that.
If Howard drops a clanger tonight and we lose I will go fucking mental.
Daniel A Johnson
11
Posted 11/02/2015 at 19:04:56
What more could Robles do?
looked solid kept 3 clean sheets. Then its thank you and back on the bench. He must be thinking whats the point.
If he had looked edgy and had a few poor games then fair enough but you cant justify this decision.
Dave Abrahams
12
Posted 11/02/2015 at 19:04:19
Graham no disrespect but why don't you stay there and we'd never lose!!
Jim Bennings
13
Posted 11/02/2015 at 19:05:53
Basically Martinez is saying to Robles "it doesn't matter what you do or how well your going to play, Timmy is my blue eyed boy".
Utter shite decision and just when the defence were getting used to who was behind them, in terms of communication ect.
Clearly Martinez doesn't pick his team on performances anyway, we now know that much.
To make it worse we have to suffer either Naismith or Barkley occupying one of the flanks too..
Another predictable night of a non-event no doubt...yawn.
Andrew Laird
14
Posted 11/02/2015 at 18:58:35
Naismith and Barkley in the same XI again after all the diatribe about balance from the manager, Howard straight back in the team to face the league leaders with the added pressure of Martinez comments. Its just like Moyes all over again but with more positivity in front of the media, will Chelsea score more goals than we have shots on target?
Declan O'Shaughnessy
15
Posted 11/02/2015 at 19:08:52
Let's be honest: Robles is no world-beater. Yes, he's improved in recent weeks, but he still frequently looks dodgy. He's even slower off his line than Howard, and still seems to suffer from losing his locational awareness (he almost repeated his comical error from Krasnodar against Liverpool the other evening, but Sterling scuffed his effort into the side netting).
I think if you asked the defenders, they'd rather Howard behind them because he talks a little bit more than Robles. Don't get me wrong - I think Howard is pants, but there isn't much to choose between him and Robles.
Personally, I wouldn't have made the change tonight, but I can understand it from Martinez's point of view. Let's hope it works for once!
Alan Williams
16
Posted 11/02/2015 at 19:09:09
Wrong side again. Barry is slow and shite, Naismith and Barkley cant play in the same team because they both want that no 10 role and both are a waste out wide.
And as for bringing upside-down-head back in goal, it's complete madness. I feel sorry joel.
Robin Cannon
17
Posted 11/02/2015 at 19:11:39
Not sure I fully agree with the decision, but I do understand it. Goalkeeper is about the worst position possible for there to be doubt or confusion as to who is the #1. Playing Robles with Howard on the bench has the potential to put a bunch of additional pressure on Robles to perform; on the "one mistake and you're out" basis.
I think Robles has definitely shown in the last few games that he's a lot better than we feared, and has the potential for a long term future at the club. But it's not completely unreasonable to decide that that's something to determine fully in the close season, not in February.
Stephen Brown
18
Posted 11/02/2015 at 19:11:49
I think this really is a bad choice from RM. At any level of football the man in possession of the jersey should keep it until disposed through bad form or injury. The only exception to this is a massive 'star' player e.g. Ronaldo or Messi. Great servant though he's been Tim Howard does not come into this category.
Still I hope he has a blinder !
Tony Draper
19
Posted 11/02/2015 at 19:14:09
Andy Crooks @9
Thanks mate, you posted my thoughts and feelings.
Will Firstbrook
20
Posted 11/02/2015 at 19:13:13
Starting with yet another unbalanced side (again). We will be lucky to get the ball out of our half.
As for Howard coming straight back into the starting line-up, no surprise.
Stephen Brown
21
Posted 11/02/2015 at 19:18:13
How often have we played 2 out and out wingers this season ? And what is the win percentage when we have ??
Jim Bennings
22
Posted 11/02/2015 at 19:16:37
Declan
The point is though mate is you don't drop a player from a defensive unit that has just for the first time all season started to get it together.
Howard has also been rank shite this season and where Robles at least goes down for challenges with his hands, the incident blocking from Ibe on Saturday, shithouse Howard would have dived in with his feet and gave a pen away.
Its another decision from a manager that seems incapable of making bold decisions.

Joe Foster
23
Posted 11/02/2015 at 19:12:16
That's a big decision by Martinez. A big riscky decision. Robles is getting some form and looking like one of our better players and winning over a lot of fans. Howard is going to need to be on fire tonight.
Brian Waring
24
Posted 11/02/2015 at 19:23:09
Way to dent the lads confidence Robbie.
Paul Thompson
25
Posted 11/02/2015 at 19:22:49
In other news... glad to see Lennon starting. Let's see if we can hit them on the break.
Declan O'Shaughnessy
26
Posted 11/02/2015 at 19:25:28
Jim, surely, if nothing else, you would agree that it was certainly a bold decision by Martinez! It would have been easier to keep the status quo, but for whatever reason he chose to recall Howard. I wouldn't have had a problem with leaving Robles in the team, but I also don't have a problem with recalling Howard. Like I say, they're much of a muchness. And when I watch the defenders, they seem to lack confidence in Robles. He has a lot of learning to do, and maybe being dropped to the bench will help him. None of us see how he's reacted in training this week to Howard's return.
I think it would be good for Robles to march into Martinez's office and demand to know what he has to do and let Martinez know that he's not happy. But I get the impression he's not that type and in some ways is happy enough sitting on the bench for now. I get the impression that Howard would, on the other hand, bollock Martinez for keeping him on the bench. I know which personality I'd rather have in the team - especially as we have far too few players who get angry for the right reasons.
Kevin Rowlands
27
Posted 11/02/2015 at 19:28:35
If this goes tits up tonight with Taliban Timmy throwing in a couple of his usual 2/3 clangers a game this is going to backfire on Martinez big time, absolutely terrible decision.
Paul Mackie
28
Posted 11/02/2015 at 19:29:34
Terrible decision by Bobby in my opinion. Must be pretty demoralising for Robles and anyone else on the fringes. Luke Garbutt must be looking at this situation and wondering why on earth he'd want to sign up for 5 more years with splinters up his arse.
Harold Matthews
29
Posted 11/02/2015 at 19:05:44
Like Andy, I don't like the line-up but hope to be proved wrong.
Howard is no longer our number 1 keeper. Can't believe he has walked straight back in.
Oviedo has no protection. Will be totally exposed again.
If Lennon manages to get a cross in we'll be lucky to have two in the box.
Looks like we're hoping Nais and Rom can cause a bit of chaos while Ross runs straight at them. He's done it to them before and they don't like it. Let's pray he's on top form.
David Bryant
30
Posted 11/02/2015 at 19:38:26
Ooh Roberto, I'm behind you more than most, but that's a hell of a call on the keeper position. Hope it doesn't blow up in your phenomenal face!
Jim Knightley
31
Posted 11/02/2015 at 19:41:20
I'm really surprised about the team news.. Personally I would have preferred to see Mirallas, McCarthy and Robles starting. Our shape will be off again, but without the benefits of an extra defensive midfielder.
On the plus side, Chelski have made a few changes, and we have Mirallas to bring on later in the game.
Tony Hill
32
Posted 11/02/2015 at 19:40:44
Yes Harold it needs Barkley to fire.
Gavin McGarvey
33
Posted 11/02/2015 at 19:36:08
I can't get too angry about Robles exclusion, it's RM's decision so we'll see if it turns out to be the right one.
Like Andy said, it's the look of the midfield that has me worried. Barkley and Naismith tend to play in each others' space and one of our biggest problems has been the lack of balance.
I would have thought this selection to be due to injuries, but I would have been tempted to put Garbutt in with Oviedo ahead, rather than shoe horn in another attacker in a tough away fixture. Maybe RM thinks he's bought himself enough credit to gamble with with the last couple of results, and he's taking the risk in the hope of a win on the road.
James Byrne
35
Posted 11/02/2015 at 20:13:20
The ref is having a disaster - yellow carded Besic after 4 minutes, what a twat.
Brian Hennessy
36
Posted 11/02/2015 at 20:34:07
Can't see Barry and Besic lasting the second half, both on yellow cards.
Good news is Barry is now banned for 2 games, can we appeal this and ask for it to be increased?
Michael Polley
37
Posted 11/02/2015 at 20:34:36
It's back to the wall, but our defending is solid. Can we hold out for another 45 mins? COYB
Terry McLavey
38
Posted 11/02/2015 at 20:34:15
We seem to fending the prima donnas off so far, but don't know how long it will last.
Clearly lack of belief in final third, really don't understand passing to a player who is heavily marked? They do like falling over don't they!
Paul O'Neill
39
Posted 11/02/2015 at 20:58:18
Interesting sub..
Ernie Baywood
40
Posted 11/02/2015 at 21:31:32
One for you that referee. When does it fucking end?
Rob Baker
41
Posted 11/02/2015 at 21:33:08
Roberto staring down the barrel now. Take Barry with you on you way out!

David Cromwell
42
Posted 11/02/2015 at 21:32:35
Barry - shouldn't be out there.
Naismith - shouldn't be out there.
Howard - shouldn't be out there.
Conclusion? Martinez shouldn't be manager.
David Cromwell
43
Posted 11/02/2015 at 21:35:13
Watching that was like backing the Zulus at Rorkes drift. I can't watch much more of this season, it's the death by a thousand cuts.
Gavin Johnson
45
Posted 11/02/2015 at 21:38:59
A good performance! We were very unlucky not to come away with a point. 'Roberto Out' rhetoric on the back of that performance is ridiculous.
Tony Hill
46
Posted 11/02/2015 at 21:36:51
I don't think there can be criticism tonight. It was a fine defensive display. Obviously, the Lukaku chance was crucial but no blame attaches to him. Could Howard have saved the goal, yes he could but not a major error in my view.
Oviedo my man of the match.
The continuing concern is that we are not scoring, although tonight is no proper measure of that. Leicester is a must win now.
James Byrne
47
Posted 11/02/2015 at 21:39:31
Same old story, the ref couldn't give them wankers decisions quick enough; why wasn't Ivanovic sent off?
The Chelsea "Plan B" just starts to kick in when needed – bunch of diving, cheating southern tossers.
I reckon Howard should be doing better to save the shot and Lukaku should be scoring when he's one-on-one with their goalie.
Tom R Owen
48
Posted 11/02/2015 at 21:44:02
Well done, Gareth Barry.
David Cromwell
49
Posted 11/02/2015 at 21:42:17
I have to respectfully disagree Gavin. It was backs to the wall stuff, and with some – once again – puzzling personnel selection. And – once again – it didn't work.
Fuel on the fire.
Terry McLavey
51
Posted 11/02/2015 at 21:38:15
I suppose the only given for us now is that Besic and Barry get booked! As for Kevin, Champions League material? You're 'avin a laugh! I didn't even notice he was on! He certainly didn't change this game.
I have had to come to terms with we are a poor side, I can't see where the goals are going to come from. I just hope for survival and hope next seasons better. Perhaps we can beat Young Boys, we can't beat grown men!
Christopher Wallace
52
Posted 11/02/2015 at 21:41:59
I thought the tactics were spot on against best team in the league and we created the best 2 chances in the game.
David Cromwell - Howard had a great game and was unlucky to be beaten by a deflection. Yes, I'd like us to bring in a replacement asap, but take nothing away from his performance - he was one of best players on pitch tonight, along with Stones, Cech and Matic.
Andy Meighan
53
Posted 11/02/2015 at 21:37:58
Sickening. We matched them throughout the game and deserved a point but that Lukaku miss proved costly. But, once again, you'll never convince me he's a great footballer – a good striker would have put that away but unfortunately he didn't... and he isn't.
And forgive me for this but Lennon will offer our side nothing. I never rated him for Spurs and don't think he'd bring more to the party than McGeady. Yes, you could argue he's rusty but still he's not the answer.
All-in-all, I'm not too unhappy tonight because we were just as good as them. I'm more sick that, once again, we've lost at The Bridge to a late goal and to a goal we didn't deserve to. The worrying thing is, we don't look like scoring too many...
Christopher Wallace
54
Posted 11/02/2015 at 21:47:09
Add Oviedo to that list also...
Robin Cannon
55
Posted 11/02/2015 at 21:44:39
Roberto out comments after that performance is ridiculous. As is any serious blame to Howard or Lukaku (Michael, your reports are pretty much confirmation bias on your dislike for him at this point, it seems) - both played well.
We defended very solidly, looked intermittently threatening on the counter (when we didn't slow the play), created the best chance of the game, which was stopped by a great save, and lost to a last minute deflected winner, at the home of the league leaders who've only dropped two points at Stamford Bridge all season. Yeah... fucking disgraceful. :rolleyes:
Personally, I feel pretty positive about that performance, as well as pissed about the final outcome. We'd have been well worth a 0-0.
Dominic Tonge
56
Posted 11/02/2015 at 21:45:01
Poor decisions tonight cost us. Even without hindsight, Barry should have been hooked not Besic. Howard beaten by a soft deflected shot. Other than that it was again better, but still not good. Lambert has been fired by Villa, is it time for El Bob to go?
Jim Bennings
57
Posted 11/02/2015 at 21:41:17
7 goals in 12 matches??
Its not tonight where the problems started but all season.
Horrible horrible negative manager far far worse than anything witnessed under Moyes.
That fucking Leicester match will be tepid.
Steve Guy
58
Posted 11/02/2015 at 21:48:44
Sending off gave them impetus and goal came whilst we were still sorting ourselves out.
Gutted, team performed well and for the most part disciplined. Howard gave the performance he needed to after deposing Robles.
Paul Smith
59
Posted 11/02/2015 at 21:47:21
4 shots on target in two games. An improving defence. - fine lines. Still really concerned we give the ball away far too much, we look nervous, jittery, lacking in any kind of self believe. Not convinced we've turned the corner yet.
David Cromwell
60
Posted 11/02/2015 at 21:50:00
I'm in the Bennings camp. Tonight wasn't awful, but bizarre selections, and at the end of the day no points for a very negative style of performance. Tonight was just a continuation of an awful awful season.
Good teams draw games they should lose and win games they should draw. Does that sound like us right now?
Stephen Brown
61
Posted 11/02/2015 at 21:47:29
Beaten by the champions elect by a 90th minute winner! I'm not happy at losing any game but hard to be too critical of that effort. Leicester though is a must win! Howard had a good game in the end- needed that!
Gutted again - what a season !
Brian Hennessy
62
Posted 11/02/2015 at 21:44:11
I have given RM plenty stick on here for a few months but tonight he deserves credit.
That was a very solid, hard working performance that didn't deserve a defeat. Not many teams come to the bridge and defend as well as that and we also offered a bit going forward.
Best chance of the match created by Oviedo for Lukaku who was much better tonight. Howard did well but still scares the life out of me on crosses.
Barry missing three games the best thing that we could have wished for.
Chelsea time-wasting for the 4 minutes of injury time tells they were in a game.
Kevin Rowlands
64
Posted 11/02/2015 at 21:51:26
Barry is supposed to be a seasoned veteran WTF was he thinking about? he was already on a yellow, stupid prick, also Naismith offers nothing going forward all huff and puff, the lad can't make a simple 5 yard pass, he's nowhere near good enough I'm afraid.
David Cromwell
65
Posted 11/02/2015 at 21:52:24
The silver lining is the loss of Barry – his chronic lack of pace means so many late bookable challenges. He is a liability.
Really happy to see a different partnership in the middle of the park, Barry is and has been a massive liability all season.

David Hallwood
66
Posted 11/02/2015 at 21:50:27
Agree with Dominic (#56) Barry gets booked early playing against one of the sky 4. Surely Martinez has some historical perspective given that he's a student of the game and must have realised that Barry was nailed on to get a red.
This slavish loyalty to Barry (who's probably got the negatives of the office party) will be the death of Martinez. Gutted at the result but we need to keep the ball better.
Christopher Wallace
67
Posted 11/02/2015 at 21:51:32
Howard couldn't see the shot though 2 Everton players. It was going straight at him until a late deflection. It was past him before he had time to react.
Disappointing result, encouraging performance. Massive improvement from the 4 points picked up against Palace and the shite.
Few days rest then big game against the wee boys
Bill Gall
68
Posted 11/02/2015 at 21:51:36
Surely Ivanovic has to be punished after grabbing an Everton player around the neck and pushing his head into his face. Apart from that it was a strong defensive performance that sometimes gets a result but I can not understand why RM left Barry on for so long after the yellow in the first half.
Tommy Coleman
69
Posted 11/02/2015 at 21:50:41
With refs and luck like that give the title to Chelsea now.
I never felt they'd score and I don't know how we didn't.
Naismith can't play on the left, it completely unbalances the team. Apart from that it was a good performance.
Andrew Wilson
70
Posted 11/02/2015 at 21:45:22
Very unlucky tonight. Well organised in defence and created some decent chances - no blame on Lukaku for the miss. There's definitely been an improvement over the last few weeks. Mid-table beckons (wow).
That said, barring a miracle in the Europa League, this season is looking like one of the most disappointing I can remember. Started with so much optimism and now just 'mer'. Can't finish quick enough.
David Cromwell
71
Posted 11/02/2015 at 21:56:04
Brian, two yellows equals a one match ban I think. Straight reds attract the three match ban.
Hope I'm wrong!
Ross Edwards
72
Posted 11/02/2015 at 21:58:37
That was Martinez's fault. Instead of taking Barkley off he should have taken Barry off. If he had, we would have had 11 men, that free kick wouldn't have been given and we would have got a point tonight.
Clueless again.
Christopher Wallace
73
Posted 11/02/2015 at 21:56:42
Barry and Besic were both walking the plank. Besic would've added more to team in 2nd half - difficult choice who to hook but RM obviously went for experience.
Also, it was mentioned that Besic was carrying a knock, but I can't shed any light on that.
Michael Kenrick
74
Posted 11/02/2015 at 21:54:49
Sorry, Robin, but that was two goals gone begging for me.
I invite you to watch both again. This time ask yourself why, with the entire goal to aim at in both cases, he plays each shot close enough for Cech to save?
Two brilliant chances squandered.
Two perfect examples of service on a plate to the Big Man's feet, as requested. End result? Nada. Simply far from good enough, sad to say. Confirmation bias? Only it wouldn't be if he had scored, would it? ... Which is the whole point, if you think about it.
Danny Broderick
75
Posted 11/02/2015 at 21:58:15
We played well and deserved a point. Yet again, I'm shaking my head, thinking we are too nice. We are crying out for a captain. Someone who will stand up to Terry and co. And those Chelsea players and the ref should have been leaving the pitch with a flea in their ear, never mind us shaking hands and traipsing off the pitch.
I'm proud of the performance though, we gave a very good Chelsea team a good game on their own patch.
Gavin Johnson
76
Posted 11/02/2015 at 21:53:46
That defensive performance was as good as anything under Moysie (as he's the bench mark Roberto's defensive nous always gets compared to) We lost to the champions elect in the 90th minute, having had a couple of good chances ourselves.
The tactics were spot on. You're not going to beat Chelsea at home playing an expansive game taking risks on the back of our form.
In the case of Howard, I was gutted to see his name on the team sheet, but you've got to give him some credit tonight. Hopefully this time out has given him some time to reflect and seeing Joel as a capable replacement means he'll be playing like tonight for the remainder of the season.
Rob Burns
77
Posted 11/02/2015 at 22:00:29
Barry would still get a game if he had passed away, Roberto would tie his rotting corpse to James McCarthy. A la Weekend at Bernies
Colin Glassar
78
Posted 11/02/2015 at 22:01:12
Like many I predicted an easy Chelsea win (3-0 I think) so I'm really proud of the lads, and manager, tonight.
We were, almost, tactically perfect and could've even won that if it wasn't for Cech and his legs.
ps: I think Besic is playing with a knock hence the substitution.
Jim Bennings
79
Posted 11/02/2015 at 21:54:07
Lukaku couldn't hit a barn door but he's not alone, we haven't got a single player who can hit a ball or finish.
We can't pat ourselves on the back tonight because we lost and yet again it's another game without scoring.
How many games have we failed to score in since the start of December now?
We are horrible to watch under Martinez and he's more negative than Moyes with just the same favourites (is he shagging Barry?)
Horrible negative manager.
Milos Milenkovic
80
Posted 11/02/2015 at 21:56:16
Barkley - one of the worst games by an Everton player in last 20 years. He is not defending, he is not attacking, he is not controlling nor going forward with the ball.
Generally, we are very, very limited going forward, creating one chance per game...
Sean Roberts
81
Posted 11/02/2015 at 22:02:56
Typical of our season!!! But at least we showed we can compete. Some good points to take but no points in league!!!
Bill Gall
82
Posted 11/02/2015 at 21:57:58
Neville on his commentary of the game summed up Everton's performance tonight and for most of the season with his – Chelsea's passing was crisp and decisive and Everton's was slow and ponderous.
We just have no-one between attack and defense. It seems RM has tried to coach the mistakes out of Barkley and now he is just a slow carthorse who is frightened to run at the defence.
Tony Draper
83
Posted 11/02/2015 at 22:03:50
On a game related issue.
FFS can Michael Owen POSSIBLY get any more fucking boring?
He is a fuckin PhD in stating the entirely obvious, repeatedly, repeatedly, repeatedly and repeatedly.
Tony Hill
84
Posted 11/02/2015 at 21:59:22
I am afraid Naismith is offering very little and his selection has to be in doubt. That said, Barkley still looks many miles away from form. It is also clear that Lennon is going to take games to get in any sort of tune.
That's the big ongoing worry; how are the goals going to arrive? Tonight proved, albeit against the champions elect, that if you don't score then you are always vulnerable to an unlucky 1-0.
Gary Mortimer
85
Posted 11/02/2015 at 22:04:31
Absolutely gutted.
The fact that the goal was so late makes it so much harder to take.
The Chelsea players got Barry the 2nd yellow and we lost concentration for a vital minute.
Rom's misses weren't good watching... those saying he needs better service have their answers now.
Clive Rogers
86
Posted 11/02/2015 at 21:56:59
Barry is becoming a complete embarrassment.
Naismith is not even a Championship player. Never got a tackle in all night. Can somebody tell me when he last had a shot that the GK had to save.
Lennon very disappointing.

Ian Riley
87
Posted 11/02/2015 at 22:00:04
Sadly we had the best chances and that is the difference. I am tired of watching the lack of urgency in the team. Our passing is slow and going nowhere. Let's face it, the last two games we were lucky to get 1 point.
The season we are having, 1-0 is a decent result. Taken that at the start. I just knew they would score! I'd rather lose 3-0 than lose like that. Still, that's what a billionaire owner and the best manager in the world gets you!
Paul Smith
88
Posted 11/02/2015 at 22:06:30
Defence better... The rest? Alarming to say the least. We give the ball away far too much, inviting more pressure on our beleaguered defence. Stones & Jags must be blowing out of their arse the amount of graft they're having to do.
Christy Ring
89
Posted 11/02/2015 at 21:50:46
Absolutely gutted but livid. Martinez's decision-making again and again is pathetic.
Besic the scapegoat again instead of Barry.
Okay, Howard made some good saves but it was still his error again.
It's embarrassing that Naismith, Barry and Tim can't be touched... it stinks.
Colin Glassar
90
Posted 11/02/2015 at 22:09:17
Owen should stick to talking to his horses Tony. Jim, will you ever give Martinez any credit? Did you honestly expect anything but a loss today? Like I said, I thought we'd get battered but we didn't do credit where credits due.
Mike Price
91
Posted 11/02/2015 at 22:08:46
Naismith is pointless.
Jamie Barlow
93
Posted 11/02/2015 at 22:07:12
I thought we played alright with 10 men. Why did Martinez take Barkley off in the 3rd minute and bring no one on? Weird decision.
Nais is having a nightmare at the moment. I'm sure we have a big lad with bleached blonde hair on the bench. Might as well give him a go.
A great effort from the lads tonight (except Barkley)
Chelsea are a fuckin disgrace. The reaction to Barry's foul was embarrassing.
David Cromwell
95
Posted 11/02/2015 at 22:14:12
Absolutely, Phil Walling, absolutely.
We set out to not get battered – and we weren't – so credit is due?
Hmmm. Nil Satis Nisi....let's just change it to Not getting battered is enough – in Latin.
Rob Burns
96
Posted 11/02/2015 at 22:13:52
Can anyone tell me they have seen one decent league game this season?
Ray Roche
97
Posted 11/02/2015 at 22:09:08
You're right, Tony, Mogadon Owen could put you to sleep with his boring monotone voice. And he never misses an opportunity to have a sly dig at Everton. "His (Lukaku) foot was just offside" has to be the most ridiculous observation for years. Prick.
Ross Edwards
98
Posted 11/02/2015 at 22:14:21
To those wanting to give Martinez credit for his tactics tonight, if Moyes would have done the same and made similar subs, what would you be saying?
We are so boring to watch now. So much for Sin Miedo. More like Snore Merda.
Ross Edwards
99
Posted 11/02/2015 at 22:17:10
2 wins in 16. Totally unacceptable.
Ernie Baywood
100
Posted 11/02/2015 at 22:08:37
Two yellows is only a one game ban. But Barry's first yellow had already given him a 2 game ban for accumulation of cards hadn't it?. Does he now get a three game ban?
Either way, we'll get a few games to see if, as we suspect, we are better off without him.
Generally, you couldn't really fault the performance. Chelsea have some incredible players and we largelty restricted them to looking incredible in the middle of the park... as soon as they hit dangerous areas we had then shut down.
We looked fairly dangerous on the break too. In fact, as likely as Chelsea to get a goal. Lukaku will always favour playing against teams that push high and send men forward. I thought Lennon was a bit of a disappointment - would have liked to have seen him getting a bit closer to Lukaku when we did get forward. He did put his shift in though, as they all did.
And Ivanovic will no doubt get retrospective action. If there was a league table for players and referees punished/demoted as a result of bad decisions then we would be champions with three months to go.
John Malone
101
Posted 11/02/2015 at 22:03:51
Right tactics, good performance, really unlucky not to score and take some points off the league leaders in their own backyard.
I was going to Naismith MOM before he toe ended past Howard he was everywhere in defence and attack. Jagielka and Stones look the real deal together, also Oviedo deserves a mention the more I watch him the more I think he is a better defender than Baines.
Gavin Johnson
102
Posted 11/02/2015 at 22:11:00
One silver cloud is that we'll get to see Besic play with McCarthy now Barry's out. That's the highlight of the night for me after being robbed of a point.
Jim Bennings
103
Posted 11/02/2015 at 22:14:59
Colin
The man is inept.
If it was Moyes with the same negative non entity football with no goal threat whatsoever he would be getting totally destroyed now by everyone.
There are many problems with Everton begin with Kenwright and Martinez is one of them.
Paul Thompson
104
Posted 11/02/2015 at 22:13:29
Okay, defence sorted. Good shape and discipline. Stones superb. But all the other problems still there. Nothing much in midfield. Slow ponderous build-up play and giving the ball away cheaply.
I did think that Rom had a very good second half. Plenty of movement and strength – unlucky with the chance.
We don't have much option but to play Barkley and just hope that he shows some spark. Lennon did okay, but perhaps give Atsu a run out after his AFC exploits. Still difficult to see where goals are going to come from.
Raymond Fox
105
Posted 11/02/2015 at 22:15:52
One of these days, Phil, you might surprise everyone with a word of ------?
What about Robles who you've been calling the worst goalkeeper on the planet. You were right again!
Tony Draper
106
Posted 11/02/2015 at 22:12:41
We scrapped our arses off tonight.
Barry should have gone. That was the action of a dickhead already carrying a yellow.
They took off Cuadrado, and he cost 㿀 odd million.... not even their most expensive player.
That was a far better all round gutsy, scrapping performance by everyone which will bring decent returns for the rest of the season.
Chelsea fans are saying that the Cech "save" was the difference... and I agree.
Kevin Tully
107
Posted 11/02/2015 at 22:14:58
Now, now, Philip. You're doing it again. No-one is happy with the performance, or the result. The team is producing exactly the kind of performances required at present.
We needed to get back to basics, then build from there. I am happy our defence looks solid once more, but we really need to move the ball more quickly in opposition half – a confidence thing.
We have the players, now Martinez needs to get them playing like last season. The next few games will give him a chance to show what he can do. Some want him gone, that's fair enough. I think there is a chance he can turn it around – so my personal preference is to give him some more time. No problem with those who want him gone.
Jamie Crowley
108
Posted 11/02/2015 at 22:15:20
We just can't catch a break! I thought we played well.
Plenty of positives but the negatives to me:
- Barry should have been off for McCarthy, not Besic
- Naismith played awfully
The game changer was Cech's amazing reaction save against Romelu for me. If that goes in surely we walk with at least a point. Lukaku did nothing wrong there - it was just a brilliant save from point blank range.
UGH! When we will start seeing this season's dark cloud finally break?
Joe Revill
109
Posted 11/02/2015 at 22:20:42
Bad result against a team of cheating world class players, I'm just wondering how many sides actually win at Stamford Bridge. At least we've stopped leaking goals all over the place.
Colin Glassar
110
Posted 11/02/2015 at 22:22:18
Martinez outwitted the magical Jose for 89 minutes. Say what you want but I can't wait until next season when he will have his own players in who can play his game.
Keep the faith as he's obviously learnt his lesson and we will become a lot stronger after this season.
Paul Tran
111
Posted 11/02/2015 at 22:22:02
Jim, I can only speak for myself, but I only started having a go at the last manager when he'd been here for 8 years and started telling us where we were when he joined, rather then where he was going to take us.
We've looked better defensively last few games, I think you can point that out without being accused of getting over-excited. I'll get over-excited when I see the Everton captain lifting a trophy. Nowhere near that right now.
Ernie Baywood
113
Posted 11/02/2015 at 22:23:28
In defeat, I thought we looked like a team who had remembered how to play football. Defend when you have to; attack when you can... probably the simple ingredient missing with Martinez so far - he's tended to be all out attack or flat out defence.
I'm feeling confident that this team gets back to playing some decent stuff after this.
David Cromwell
114
Posted 11/02/2015 at 22:23:09
With all due respect, Tony Draper, Barry doesn't pick himself. (I hope!) Neither does Naismith. They also don't choose to substitute themselves or stay on the pitch – actually, scratch that, Naismith does!
Bizarre selections that don't seem to support the astute tactics Colin Glassar and others have alluded to mean it's DDSS. No goals, no points, and this slow motion car crash of a season rolls on.
Jamie Crowley
115
Posted 11/02/2015 at 22:24:53
Jim Bennings says:
If it was Moyes with the same negative non entity football with no goal threat whatsoever he would be getting totally destroyed now by everyone.
I agree 100%.
I think the difference is some (myself included) are giving Roberto a ton of rope because of last season's playing style and results. David Moyes never, ever had us playing the way Roberto did last year. And I think because of that prospect / hope, he should remain in charge and we'll see if he can right the ship.
Dave Abrahams
116
Posted 11/02/2015 at 22:16:39
A brave defensive performance, but still the very poor passing continues, I can't believehow many times we give the ball and set the opposition on the attack.
I thought we deserved a draw and there were some good solid performances from Jagielka, Stones,Oviedo, Howard and McCarthy in the second half.
Naismith works hard but produces very little; why did the manager bring Gibson on? His best days are long gone.
It was so frustrating to lose at the death. I still think we are not out of trouble and, like a lot of supporters, I worry where the goals are going to come from.
Robert Miller
117
Posted 11/02/2015 at 22:12:04
So the point dropped tonight is a knife to the heart..... but main thoughts are:
- Roberto has got the team defending but we don't look like we're going to nick a game
- We seem to lose our nerve as soon as the ball passes forward across the half way line
- Barkley doesn't know what he's supposed to be doing
- The link up between Coleman and Lennon isn't there yet
- Impressed by the way Lennon chases every lost ball. Need a bit more of that, especially by the forwards.
I think we came into this season liking the smell of own shit.
Let's get a couple of results in the PM and EL and get the 'fuck off' factor back.
Jamie Barlow
118
Posted 11/02/2015 at 22:24:24
I don't agree with that Jamie. If I had to take one of them off, it would have been Besic. Barry is used to playing with a yellow hanging over him. He's done it enough fuckin times. In my opinion Besic would have gone sooner if he'd have stayed on.
Agree about Nais though. Had another shocker. Nothing went right for him. Surely time to try Kone and Lukaku together.
Jamie Crowley
119
Posted 11/02/2015 at 22:30:44
Robert -
The Coleman - Lennon partnership / link up is at its infancy. I think there's warm, fuzzy, loving light at the end of that tunnel.
Coleman got forward a ton in the first half - because Lennon was able to cover for him and give him some support. Coleman hasn't gotten forward almost all year...
I think the two of them will get it right very soon.
Adam Smith
120
Posted 11/02/2015 at 22:25:11
To be honest, I don't think it's fair that people are getting at Naismith. Yes, he was woeful going forward but he's the only one of the attackers who will bloody close down the opposition. He was tireless and made up for his lack of guile with work rate.
However, what really bothers me is that I have always moaned when players get into a side on work rate alone; I thought this was a problem under Moyes. It saddens me that this is still the case with Martinez's Everton.
We are improving but alarmingly slowly. Also, is it just me or does Coleman seem to be on bad terms with the rest of the team? Yet again he made so many overlaps and no-one found him. Any passing move involving him and a team mate seems to break down – it's like he has literally no understanding with any of them. And he always seems to be waving his arms and shouting in frustration, which is usually good to see but he also looks like he blames others when he's made the error!
As bad as it seems I still think a settled defence protected by Besic and McCarthy with Lennon and Mirallas on the wings will reap rewards in our upcoming fixtures. The big thing then would be if Ross can play like we know we can or if we have to still rely on Naismith for at least working hard.
Si Cooper
121
Posted 11/02/2015 at 22:04:02
Incredibly harsh assessment of Lukaku's two opportunities MK. First was a run through and snap shot, second was a split second attempt with the ball further behind than ideal (no blame to either player; Oviedo's ball just had a little too much curve at the end). A bit too close to the keeper for the angle on the shot to carry it beyond keeper's reach.
You can criticise virtually any shot that doesn't hit the back of the net if you assume each is an opportunity to pick your spot. Ultimately it was two decent efforts and at least one outstanding save with the rebound that could have gone anywhere going safe.
To liken that game to Rorke's Drift is ridiculous. How else do you compete with a team like Chelsea at Stamford Bridge? Anything other than trying to soak up the pressure and hit them on the break would have been disastrous. Bar the result we did okay. Ultimately a disappointment but with something to build on, especially compared to how we were playing a matter of weeks ago.
Thought Barry had his best game for a long time tonight barring the two yellows. I remember plenty were ecstatic when we signed him in the summer. I said he would struggle to match last season and wanted another younger defensive midfielder in August, and was told by many that it wasn't necessary.
I do think we could have played two quick wide players instead of having both Naismith and Barkley, to give us more opportunities on the break, but that said I don't think anyone really let us down overall tonight.
David Cromwell
122
Posted 11/02/2015 at 22:29:05
Colin, he didn't "outwit" Jose for 89 minutes, lad. The word you're looking for is "frustrate".
Your comment reads like we led, and gave up two in 60 seconds to lose mate. We didn't. Backs-to-the-wall stuff, and the kicker is how late the goal went in because they always looked more likely. And they were always going to keep coming.

If they'd scored in the 74th minute or something, the score and result would have been exactly the same. Chelsea sitting on a lead and us unable to play from behind.

This doesn't bother you – fine. But that doesn't mean I agree with you.
Jamie Crowley
123
Posted 11/02/2015 at 22:33:39
Jamie -
I see your point, and that clearly was the thinking for Roberto but...
It's frankly about time Besic – by far and away our best player lately – isn't pulled out of a game(!).
In the end hindsight is 20/20. Barry got a really stupid foul and was sent off.
I personally would have kept Besic on. I see the logic in keeping Barry on. I just would have taken the road less travelled.
Paul Tran
124
Posted 11/02/2015 at 22:27:02
Some people wanted Martinez sacked a while ago. I argued against his immediate dismissal and was called an apologist'. I argued against the 'fact' that we will get relegated and was called 'delusional'. I argued back and the poor, sensitive cherubs said I was getting 'personal'. Some people wanted him sacked and replaced with someone who could 'organise a defence'. He's plugged the defensive gaps – now pointing that out means you're 'doing handstands'.
I'm never happy with us losing, will never be happy with us being mid-table. I can recognise a slight improvement and still regard this as a very poor season.
Colin Malone
125
Posted 11/02/2015 at 22:24:12
Ovie. You played well, but never turn your back when your defending shots on goal. I love Ross Barkley but he needs to be sacked for a year and put on benefits, to show him without the gift God gave him, where would he be? ٤.75 an hour if your lucky.
Tony Dove
126
Posted 11/02/2015 at 22:33:16
Good defensive effort apart from Howard with the goal.

Jamie Crowley
127
Posted 11/02/2015 at 22:37:35
BTW on the Besic thing...
Everyone keeps saying that it's Besic who would more likely pick up a second yellow.
The man plays an extremely highly aggressive game and I understand the thinking.
Here it comes... BUT...
How the hell would we know if he's going to pick up a second yellow? Poor kid gets pulled every damn game! Let him finish one out and let's actually see if he gets out of control and picks up another yellow.
We don't know because the kid's never afforded the opportunity to finish a game.
Si Cooper
128
Posted 11/02/2015 at 22:35:06
Adam - I think Seamus's form has been generally quite poor this season and his confidence is accordingly low. He continually gave the ball away in the first half tonight, though things improved in the second half.
Still far and away our best option in that position despite not being at his best, but mixed displays and frustration have been par for the course in too many games for it not to have limited our overall effectiveness.
Robert Miller
129
Posted 11/02/2015 at 22:33:44
Jamie, I think you're right with Coleman and Lennon.
If those two are firing and we have Baines and Pienaar doing their thing... with anyone of Naismith, Lukaku or Mirallas putting them in... But we're huffin' and puffin' right now.
We need the results. Performances will follow.
Si Cooper
130
Posted 11/02/2015 at 22:41:43
Tony - do you mean his punch, because you surely can't have missed Naismith's deflection which made sure it would have beaten any keeper?
David Hallwood
131
Posted 11/02/2015 at 22:25:56
To all those who are saying that we are slow and ponderous and pass too slowly, do you ever ask Why? Because I've seen the same players zip it round with flicks, tricks and invention. so have Everton hired a coach who tells the players to pass it badly.
We're coming out of a horrible hole and its a long road to recovery, but we're getting there; let's hope that a Barry-less midfield will bring energy and even invention. The back four is back to its imperious best, the only way is up.
Adam Smith
132
Posted 11/02/2015 at 22:42:21
I agree Si, in no way would I want Seamus replacing and I would be so gutted if he ever left the club. However I have noticed in recent weeks how much complaining he seems to be doing.
On the one hand that's great, because too many of our players like to quietly shrug their shoulders and accept mediocrity at times. Yet the way Coleman does it isn't like a captain or leader on the pitch but seems more like you or I or any other fan might do from the stands - "this is a fucking joke, why do I bother" kind of vibe, if you know what I mean?!
Tony Hill
133
Posted 11/02/2015 at 22:36:36
Though I don't think there should be harsh words tonight, it would be equally misconceived in my view to assume that we are secure.
Palace are level with us, WBA one behind and we are 5 points off 18th. Hull have brought in Phelan who will make a difference, QPR have perked up without Harry, Villa will almost certainly get a bounce post-Lambert and I would back Poyet at Sunderland. The last relegation place (assuming Burnley and Leicester are likely to go) is going to be horribly tight and I am afraid our limp attack means we're going to be right in it.
We absolutely have to beat Leicester because I don't fancy us away at Arsenal and Stoke and I don't want us below 30 points with 10 games to play.
Sorry if this sounds miserable but we must not assume it's a matter of mid-table obscurity this season. That would be a very welcome outcome indeed.
Kevin Tully
134
Posted 11/02/2015 at 22:44:57
Does anyone remember when Mourinho took his team to Anfield last season? He played EXACTLY the same, if not more defensively than we did tonight.
Shit manager though....
Jamie Crowley
135
Posted 11/02/2015 at 22:47:01
Tony -
We are very fortunate in a definably bad season to have 6 gawd-awful teams below us.
We will not be relegated.
Knock on wood.
Ross Hutchinson
136
Posted 11/02/2015 at 22:31:32
Really unlucky tonight, thought we deserved the point and the performance was excellent all round. In the end though, all the effort was to no avail but a lot of positives can be taken.
For starters our defence was superb, their goal was from outside the box with a huge deflection. Howard's performance was also superb. I know he will be quite fresh after quite a substantial rest but I think he knows he now has a challenge on his hands regarding the "No1" jersey.
I would also like to add Barry's 2nd yellow was harsh but it will now give Besic and McCarthy an opportunity to create a partnership and understanding between them, every cloud and all that? And Cech's save in the 2nd half was unbelievable.
David Cromwell
137
Posted 11/02/2015 at 22:49:34
Kev Tully – Jose's tactics, allied with his personnel, worked.
Ours errrr.... didn't.
Colin Glassar
138
Posted 11/02/2015 at 22:50:13
That was called a defensive master class, Kevin. Tonight, for 89 minutes, we were doing exactly the same.
Paul Smith
139
Posted 11/02/2015 at 22:46:58
The fact that people are pinning their hopes on a Barry 3-game ban, and not the manager's ability to correct what's wrong by choice, is in itself a glaring concern for me.
Charlie Burnett
140
Posted 11/02/2015 at 22:44:22
Same old same old... Howard walks straight in, Barry first name on the list. Besic gets subbed and Kevin, even though he's a twat, he's probably our best chance of a goal sitting on the bench".
Naismith lost it for me. Barkley still don't show me anything. Back 4 looked good today but we've relyed on a young kid to come back to get it good.
I liked Lennon's work rate, he ran he socks off tonight. One time he ran from right mid to cover left back in a counter attack. There's no final 3rd and Lukaku's got no touch. I see a bit of ball over the top and a Lukaku flick-on hoping Lennon runs on to it. Please don't go back to those days.
Terry Hayes
141
Posted 11/02/2015 at 22:49:22
Barry's only concern now is to get booked as many times as possible and remain in the History books as the most booked player to have played in the Premier LeagUe... anyone can see that.
Tim Kells
142
Posted 11/02/2015 at 22:52:54
I know we were very unlucky with the subsequent deflections but am I the only one thinking that Howard should have punched it further in the first place?
Tony Draper
143
Posted 11/02/2015 at 22:40:03
Barry got sent off, and frankly it was no surprise. His second yellow was completely embarassing and unnecessary.
It wasn't the last available option and neither was it a noble "one for the team". I won't even suggest that the disruption which it caused benefitted CFC more than us, thereby costing us the point which we'd earned.
Recently Ross Barkley has made numerous poor decisions, many indecisions and some lack of applications; Ross is 22, Gareth is 34.
I'm accepting Ross's flawed "impulsive decisions", not Gareth's costly fuck-ups... 12 years of top flight experience is a world of difference when it comes to explaining/excusing.
RM kept faith with GB tonight. GB let everyone down with that cretinous, pointless "backheel trip". Not the action of a seasoned, wiser, coolheaded, "awl arse".......!
Would Peter Reid have done that?
John Collins
144
Posted 11/02/2015 at 22:30:52
Can't believe the end comment of the game report - "could and should have been an Everton win". That's just factually wrong. 2 unconverted chances do not add up to a compelling performance, no matter how resilient or defensively motivated we were, except in extremely unusual 'giant-killing' circumstances. We have to face up to facts, we have built up our hopes on the enthusiasm and excitement of last year, a season when we avoided deflections such as tonight's...
The reality is that a combination of overly-purist tactics, the negative motivation that results from extreme caution, and perhaps some complacent and technically (and physically?) weak players has delivered bad, but to be expected, results. Think of it like a business - we don't have the resources, either manager or players, to deliver the vision... So, you don't have to change the vision AND the resources, but you do need to change one of them...
I hope and believe that the European adventure presents a fantastic chance for experimentation - and Barry's suspension should be exploited. Let's see Besic, McCarthy and Barkley given their head, Lennon and Mirallas on the touch line, and Lukaku stop apologising for being big - but, most of all, Phil Jagielka, throw off the chains, AND LEAD! There's nothing to be afraid of – and there's no need to hold back – make us, and yourselves, proud. This is a Real turning point...
Charlie Burnett
145
Posted 11/02/2015 at 22:59:47
And don't get me started on why he bought on the pie-eater. Who was that bald guy that came on? Was he the kit man or the guy In the chippy off Spotty Road? What was all that about?
What I don't understand: they score on 86 mins – why are we still shutting up shop for 10 minutes? Why are we playing a Moyes game? Why aren't we throwing Kone on for the last 10 minutes? Life's a gamble about points not goals.
Tony Draper
146
Posted 11/02/2015 at 23:02:59
Tim @142
Just as a contextual question.
Does your missus sister or friends have bigger or more exciting tits ?
'Cos whatever the answer, unless you get your hands on 'em, it's not gunna change fuckall now is it ?
Mike Childs
147
Posted 11/02/2015 at 22:41:12
Did they get a clean sheet tonight? No! Yes Tim had his moments but yet when we absolutely positively needed him he came up lame.
Barry Stevens
148
Posted 11/02/2015 at 23:11:12
A good performance with lady luck and a world class keeper being the downfall tonight. Criticism of Howard for the goal. Don't be daft. A little unfair on Robles but I feel Tim justified his selection tonight. Criticism of Lukuku. Again unfair. Thought he played well myself
All in all taken in the context of the game. The league leaders and probable champions. Only 4 goals conceded at home, and 1 defeat in 90 games at home under the special one. Yet we pushed them all the way.
Tony Draper
149
Posted 11/02/2015 at 23:14:39
Mike @147
An unsighted deflection ?
Buy yourself a reasonable portion of reality and eat it.
We held out bloody well but it didn't pay off.
Petr Cech's deflection saved Rom's shot.
Naismith's deflection beat TH.
This is called "tough shit", I don't like it, but it happens, now man up, uncurl your lip, wipe your eyes and get ready for the immense challenge ahead !
Jay Harris
150
Posted 11/02/2015 at 23:07:22
What was the difference between Besic and Barry at HT. They both had yellows but Besic was everywhere.
So logically we take Besic off?
I have also gone on about not playing Nais and Ross in the same team.
On recent performances I would leave Lukaku on the bench and play Nais up front with Mirallas and Lennon either side.
Christopher Wallace
151
Posted 11/02/2015 at 23:25:56
Tony Draper talking a lot of sense in this thread. Too much for some to grasp it seems...
Oliver Molloy
152
Posted 11/02/2015 at 23:19:50
Barry getting himself a second yellow card proved to be very costly. He let both his team mates and us fans down. For such an experienced footballer to do what he did when there was no need is beyond belief.
As I have said many times, the game is all about taking your chances when they come and once again we failed. Rom should have had the ball in the net at least once! Mirallas also should have played Coleman in when how was unmarked other than going for glory.

Jose knows his team got out of jail tonight, and we let them which is very disappointing. If the club can fine Barry for "stupidly" it should.
Bill Gall
153
Posted 11/02/2015 at 23:13:59
You can argue how well the defence played tonight or why GB was kept on so long after his first yellow despite a couple more borderline tackles, blame Lukaku for missing the two chances he had, praise RM for the defensive formation that nearly came off, or ridicule him for poor substitutions.
The thing that stands out and is not a lot of difference than a few weeks back when roughly 70% of supporters on here wanted RM out, and that is our LEAGUE position.
No one should forget that the phrase "They are to good to go down" or "there are worse teams below us" were used by teams that are still in the Championship.
This squad are either (a) not as good as we first thought or (b) not being coached or used correctly. The Chelsea game is over and we cannot be in denial, that all remaining games are going to be must win games.
I don't give a fuck who is in charge from today till the end of the season, but they better get their heads out of the sand and get this club back on track upwards.
Colin Glassar
154
Posted 11/02/2015 at 23:43:41
What exactly did Barry do to warrant the second yellow? I still don't understand
Ian Brandes
155
Posted 11/02/2015 at 23:35:51
Heroic stuff for the majority of the match. And Tim was okay for most of it until....
So why drop Joel when he was growing into the role?
Sadly we are now one step nearer to a relegation battle, so RM must go, and sooner, rather than later
Barry did let us down, despite a better performance.
But Howard did not command the penalty area when it was crucial.
Should not have started, I was amazed, and not in a good way.
James Byrne
156
Posted 11/02/2015 at 23:13:35
I've just listened to Roberto's BBC interview and I have to give him credit for describing the Chelsea team as a bunch of cheating twats.
The Chelsea players' responses later on in the game toward the Ref for every decision against the Everton players was despicable. If those are the kind of antics that are needed to win the league then have the fucking title.
The referee was an utter disgrace and he set his benchmark for the entire game after giving Besic a yellow after 4 minutes. What a shithouse and no doubt Jonathan Moss will be one of the PL's so called "Men in Black" who will be lining up at the end of the season to lick Jose's balls when congratulating the prick after they win the league!

Oliver Molloy
157
Posted 11/02/2015 at 23:47:55
Colin - are you serious?
Kevin Rowlands
158
Posted 11/02/2015 at 23:49:14
Look at the replay, Col. You will understand, the bloke's a fucking idiot and probably cost us the game, McCarthy and Besic from now on please!
James Byrne
159
Posted 11/02/2015 at 23:53:37
I've just watched the BBC interview on Green v Jose and the cheeky bastard walks off when he's questioned on his players involvement during the scuffle.
I expect that thug Ivanovic (on McCarthy) to serve a 3 match ban once the league police watch the replays!
Bill Gall
160
Posted 11/02/2015 at 23:55:55
James I hope you realise that a majority of the incidents by the Chelsea players you are talking about was in the second half after they had got their instructions from the manager.
Gavin Johnson
161
Posted 11/02/2015 at 23:54:22
To be fair to Howard, he couldn't have done too much about the goal. His view was obstructed by Gibson. Even though it looks like he could have probably got to the ball.
Our Tim played well, but still I feel more comfortable with Robles in goal now. That would have been a very bold statement not so long back.
Gibson's appearance was a strange one for me... what was that all about?!
Phil Walling
162
Posted 11/02/2015 at 23:53:10
Well at least Doddy Glassar will sleep well tonight. His hero has given Jose 'a masterclass in defending' and almost gained a draw. Apart from the fact that we can't score for pussy, it was a dour creditable performance – but when we start celebrating losses we really are in Villaland!
Ian Brandes
163
Posted 11/02/2015 at 23:55:59
Colin G,
I always agree with your logical, considered, highly intelligent postings.
But I shudder to think what would happen if he is allowed to bring his own players in.
If he is allowed to stay, Championship football will beckon next season, if we are lucky enough to stay up this time.
I loved him last season, till our season tailed off, and we tamely surrendered our drive for the Champions League.
Everton cannot afford to keep him on as our manager.
Bill Gall
164
Posted 12/02/2015 at 00:06:10
Colin, wether you understand or not why Gareth Barry got his second yellow card makes no difference. he got it and there is nothing that can be done about it.
David Hallwood
165
Posted 12/02/2015 at 00:06:28
I agree with Colin (#154). Yes, it was a foul but it was the reaction of the Chelsea players that got him sent off, as yet another shithouse ref bowed to Sky 4 pressure.
If tackles like that are deemed yellow cards, then we'll be reduced to playing 3 and in with the remaining 2 players on the field.
BUT that doesn't get Martinez off the hook, because he's obviously aware of the Sky 4 bias and he should have been subbed instead of Barkley.
Adam Smith
166
Posted 12/02/2015 at 00:07:24
The BBC just can't help themselves can they?
On the write up that accompanies the clip of Jose Mourinho walking out of his interview, it says "Gareth Barry's red card sparked a melee, during which Chelsea's Branislav Ivanovic pushed his head into James McCarthy's back."
Is that really what happened? When I was watching on NBC it looked like his face to me? They are just so disingenuous towards us!!
Colin Glassar
167
Posted 12/02/2015 at 00:17:30
Doddy Glassar? Why thank you Phillip.
Chelsea should be deducted points for their shameless gamesmanship tonight and Ivanovich should face, at least, a three-game ban for attempted murder.

Gavin Johnson
168
Posted 12/02/2015 at 00:14:27
I get the impression that some people on TW would have been made up if we'd have taken the predicted thrashing tonight. At least then they would have rightful ammunition to use against Martinez Instead of looking like people who just have an agenda against someone.
It was a narrow defeat against the most exciting Chelsea side in years, who will run away with the title this year. Just imagine the vitriol from some on here if we had drawn.
Mike Price
169
Posted 12/02/2015 at 00:24:57
Jon Moss has consistently been a complete twat towards us and it was inevitable that Mourinho's mind games would eventually work on such a referee. Poor little Everton are the perfect stooges because we don't engage in mind games and pressuring referees, we're too nice.
Howard made relatively simple saves look better than they were, he was average, but he never bails us out like Cech did for them.
I agree with the posters who think we are still in deep trouble. We are a very unlucky team at the best of times, but this season is ridiculous.
Bad luck and bad form are a dangerous combination. The Leicester game is a must-win for both teams. If they shock us, we'll be on one very slippery slope.
Gavin Johnson
170
Posted 12/02/2015 at 00:55:54
Leicester is a must-win now. Anything less is unacceptable at this stage of the season, against a team marooned at the bottom of the league.
Andy Crooks
171
Posted 12/02/2015 at 00:48:19
I was gutted at their late goal. They are shameless cheats and their coach is laughable knob.
I like Lukaku but he missed a sitter. It wasn't' so much a great save as a lamentable strike. Also, I thought that Howard was poor at the goal and the saves he made were no more than should be expected.
It was a solid backs-to-the-wall defensive effort. I think, though, that we have sacrificed attacking options to achieve it.
Frankly, it is disappointing that this is what we are reduced to. We went to Chelsea like relegation fodder trying to grab a point. That is where the Roberto project has brought us. This man has everything needed to relegate our club.
Robert Miller
172
Posted 12/02/2015 at 00:56:16
We're going to win the Europa League... qualify for Champions League... attract major interest from top players...and be fully at it for next season..
That is the thought I am taking to bed.
Stop worrying.
Ernie Baywood
173
Posted 12/02/2015 at 01:03:26
Adam Smith #166 - just read the report and that, along with the following, stuck out for me.
"Matic had a late goal ruled out because Ivanovic was in an offside position"
Jeez, that sounds unlucky. Except it was Ivanovic who had a goal ruled out because HE was offside.
Has anyone yet figured out why McCarthy was booked in that little melee? The Beeb certainly doesn't want to touch that question.
Presumably Hazard will be out injured for a few weeks. He was apparently crippled in the second half (until Chelsea won the ball back).
Ernie Baywood
174
Posted 12/02/2015 at 01:18:50
Mike Childs #147
"Did they get a clean sheet tonight? No! Yes Tim had his moments but yet when we absolutely positively needed him he came up lame."
Run me through that logic again... if he saves, then it wasn't a goal, so his contribution wasn't needed?
When they score, it's a goal, so his contribution was needed?
That one's going to mess with my head.
Robin Cannon
176
Posted 12/02/2015 at 01:49:29
Ultimately the reaction tonight comes from our inability to think about Everton in anything but extremes. If we lose it's because we're shit, or Martinez is shit, or Lukaku is shit, or Howard is shit. It's apparently nothing to do with the fact that Chelsea are a pretty handy team, who got a big slice of luck and scraped out a 1-0 win.
We've been calling out for most of the season for Martinez to get back to basics and fix the sieve-like defence. We've clearly done the defensive part of that effectively; a minute away from four clean sheets in a row and, really, no glaring misses or chances from Chelsea – it's not like we were making miraculous escapes throughout the course of the game.
Of course, that defensive solidity seems to have come at the further expense of attacking threat. A lot of that is a confidence thing, some of it's tactics (Why not play two wingers rather than one actual winger and an out of position central player?), a little of it is luck.
The question now is whether Martinez has the capacity to start bringing together the defensive solidity of recent weeks with the attacking threat he managed to instill last season (and, to be fair, at the start of this). That's a manager who can potentially learn, evolve, and develop both himself and the team in a positive way. Assuming we don't go belly up in the last ten games or so of the league; and I'm fairly confident we'll be comfortably clear of the relegation places come May, then that's something we won't truly find out until the first half of next season.
Oh, and a couple of final notes.
This is about the first time in recent weeks that I've thought Martinez was overall correct about subbing Besic rather than Barry. Going into the second half away at Chelsea with both defensive midfielders on yellow cards was risky. And, accepting that, better to remove the one who's not already suspended for the next two games, rather than the one that is.
And, while he wasn't massively involved in the play, I actually thought Barkley looked better than in recent appearances. He was quicker to turn and get his head up, gave the ball away less, and looked a little more confident. Not great, by any means, but not terrible.
Joe Kaliszczak
177
Posted 12/02/2015 at 01:51:48
Martinez hasn't got a clue what he's doing; if he did, he'd have taken Barry off at half-time.
Roberto Martinez is only bothered in his interpretation of his CV, and he'll happily progress in the Europa League, whilst getting us relegated, then move on to another club, and destroy that like he has at Everton!
We need to get rid of him now, and just have somebody who can guide us to safety as a priority, not the Europa League! Who? I'd be prepared to put Big Joe in charge, huge risk, but needs to be somebody who's already at the club, then get a new manager very early on, so we can have a proper pre-season next season!
Bill Gall
178
Posted 12/02/2015 at 02:03:38
Robin (#176),
I fully agree with your comment that we have been calling out for most of the season for Martinez to go back to basics and fix the sieve-like defence as I am one of the people that has been saying it.
My question to you is: Why did it take till even he considered that we were in a relegation battle to do something about it?
And if you watch the game again, the back four were starting to play tippy tapping again with Howard.
Robin Cannon
179
Posted 12/02/2015 at 03:05:38
Bill #177
We'll probably never know. Likely took so long because it's difficult to accept that your approach isn't work, and there's got to be a temptation to believe that things will start to click at some point. I think most of us had similar feelings for much of the first third of the season, that things would turn around relatively organically.
Reaching that realization was probably instigated by a couple of outright batterings we took at the hands of Southampton and Hull, an that we were being drawn too close to the relegation zones (I still don't think we're in a relegation "battle"; we're at risk of being drawn into one but haven't been drawn in yet).
What we need is a couple of wins to pull us away seriously, so even that risk is removed and confidence grows. Doesn't matter how those wins come. And then maybe see if we can start getting back to some better attacking performances given the increased confidence in the defence. That will give me optimism that Martinez can evolve, and could see us reaching a good balance next season.
David Ellis
180
Posted 12/02/2015 at 03:17:11
Yes Robin I think you are spot on in your last two posts.
Colin Williams
181
Posted 12/02/2015 at 03:53:33
Just a few pointers about the game... IMO
1) Howard was at fault for their goal. The punch was weak with no distance plus being beaten on his front post AGAIN! (He didn't reach quick enough to shot also didn't move his feet.) Same old...! (Robles should have played.)
2) John Stones is up there with the best young defenders in Europe.
3) I thought our two full-backs struggled at times (especially Oveido baby).
4) Naismith, Lennon and Barry... very poor.
5) I thought we missed Ross in retaining the ball after he was taken of for Gibson! Ross wasn't at his best but we really missed someone being available to receive the ball in last third for us. (That link) Don't get that Gibson sub! Why? What was his role? How did he improve our team shape/ performance? (For feck's sake!) What a shocking substitution! I get Kev for Lennon; IMO, right move.
6) Not being his "greatest fan", I thought Rom did okay (still nowhere near the level he should be.)
Considering the shite performances of recent times (all season), things can only get better? RIGHT! (Don't hold your breath with Robbie at the helm.
Last but not least... All this Plan B business! (load of bollocks). All plan B is... Stones, Besic and Macca playing in the team together. Combined with a couple of better performances from certain players.... But still carrying too many passengers!
Brent Stephens
182
Posted 12/02/2015 at 05:26:41
I don't see any "celebration" of a loss on here. I do see reasonable acknowledgement that it took the top side in the Prem the whole game to break us down. A draw would have been an very good result. A 1-0 loss is no shame at all. I'm taking positives out of that game – another one in a small run of games with some positives.
James Hill
183
Posted 12/02/2015 at 06:36:16
Robin Cannon, you are one of the few who make sense on this site.
Last 10', I was sitting there waiting for the ref to give a penalty or make decision that influenced the game. He did and we are slagging the team off after they deserved to not draw but win.
Matthew Svatos
184
Posted 12/02/2015 at 06:41:42
Everyone complains when Barkley loses the ball a couple times, but when he doesn't they find something to nitpick about him. Barkley, Lukaku, and Mirallas are our main attacking threats and the last couple of games they have all played much better.
We played well. A woeful referee and a lucky deflection cost us a game we were never expected to get anything from anyway. A more attacking line-up for Leicester could be the catalyst for a strong end to the season.
Kunal Desai
185
Posted 12/02/2015 at 07:03:28
Our performance wasn't that bad; unfortunately for the second season in a row we get undone by a last minute goal. The best sides in the world go right until the end, I'm afraid.
Last night I wish we had had a finisher like Saha upfront. He would have finished that chance off from 5 yards out. I think going forward if we are to pick up points at the bigger grounds we are going to need a finisher. Lukaku is for the future but he certainly won't get you the big goals at the bigger grounds just yet. For 㿈 million that ball shouldn't be anywhere near Cech but the back of the net.
Joe Foster
186
Posted 12/02/2015 at 06:22:12
So by some of the logic in the comments, getting beat by the top team is not so bad. Well it's the bottom team for us next so we should win handsomely then.
Ian Jones
187
Posted 12/02/2015 at 07:44:20
Haven't read too many comments on here. I start at the bottom and read upwards which makes it more interesting. Got as far as first comment about criticism of Howard for the goal. A bit harsh as he was probably unsighted and ball took a deflection off Naismith so who knows if Howard had it covered. Of course Robles would have saved it ... :)
Perhaps taking it a step back would taken in Oviedo's attempt to block (at least I think it was him) turning away slightly as Willian was taking aim rather than throwing himself in the general direction like Jags would do.
Then perhaps if Barry hadn't given away a free kick and got himself sent off, Chelsea wouldn't have scored at that precise moment etc. Of course, had Barry not made the foul Chelsea may have gone on to score from their attack anyway. That's the beauty of the game. All ifs and buts. Had Lukaku scored earlier whilst it would have been 1-0, we may have lost 2-1.
Interesting that Barry only seems to get a one match ban as he got sent off rather than 2 matches when he only had the one yellow. That rule can't be a good one as players could wait til the last minute or two of a game then get sent off, reducing the ban. Can't believe players would even think of doing that.
Better go read the other comments now...
Colin Glassar
188
Posted 12/02/2015 at 08:48:29
Ian, Oviedo sauntered out towards Willian then turned his back (criminal act of cowardice) once he shot. Howard wasn't to blame for the goal.
Russell Smith
189
Posted 12/02/2015 at 08:27:46
If we had come out of the game with a 0-0 draw we would all have been delighted, and having lost we are only one point worse off than we would have been, so instead of 6 points above the relegation zone we are 5, which means we are probably no more in or out of a relegation battle than we were before the game started.
Defensively we played well but, in order to relieve the pressure on the defence, the forward players have to hold the ball up better. How many times did Barkley receive the ball with sufficient space to control it, turn and run with it? Quite a few but he almost inevitably played it quickly and in almost every instance backwards. This is a confidence issue, but until he starts holding onto the ball and running at defences, he will look a shadow of the player he can be, and he will not help to relieve pressure on the defence.
Naismith is a great worker and gives his all every game but many of our forward movements peter out when he plays a poor ball into nobody or is dispossessed because he is not quick enough to get away from defenders. Hard work alone will not get us goals which if we are to start winning games we desperately need. Surely it is time to give Kone a run ahead of Naismith.
Now Barry is banned, do not be surprised to see Gibson being played as the deepest lying DM with Besic and McCarthy in front of him. Martinez is in my opinion getting the basics right by getting the defensive part of our game solid but he desperately needs his one attacking midfielder, Barkley or whoever else he picks, to turn and carry the ball forward and draw defenders out of position, thus making space for Lukaku and Mirallas, Lennon or Atsu to move into.
Ross Edwards
190
Posted 12/02/2015 at 09:49:33
The BBC didn't touch the Ivanovic McCarthy incident because Mourinho threatened to walk out on any interview where the subject was mentioned. He has the media wrapped around his little finger like a puppet master with all the awestruck journos all dancing to his tunes.
James Stewart
191
Posted 12/02/2015 at 10:12:12
(154) Persistent fouling, Colin; he could quite easily have walked earlier than he did. Martinez got it wrong; he should have taken him off sooner, it was obvious what would happen.
I agree on Oviedo for the goal though. Pathetic. Gibson too with his legs akimbo.
Ben Jones
192
Posted 12/02/2015 at 12:00:56
I took great encouragement with that performance. The defence was superb and Lukaku looked a lot better than he did against the Redshite.
We can afford to lose away against the league leaders, but we can't against Leicester. That performance will only mean something if we go on and beat Leicester, and comfortably too. We need an aspect of consistency in our play now.
Put Mirallas and Lennon in both wings and see what we can do.
Paul Burns
193
Posted 12/02/2015 at 13:50:23
Another nail in the coffin.
We just don't learn, same things happen at the same places every season and, as usual, we're moaning about players influencing referees as if it's new like the gullible innocents we are.
If we can't beat Leicester then we have to get rid of Martinez because it's far too close for comfort at the bottom and this naive fool seems incapable of doing anything about it.
Joe Foster
195
Posted 12/02/2015 at 14:39:28
I would go as far as saying we can not afford to lose any games now whether they be the top side we play against or not. Our terrible season so far means we must try and win every game.
It's too close for comfort in the bottom half of the table to get complacent about saying which teams we should and should not beat. RM has got us where we are he needs to dig us out.
Jim Hardin
196
Posted 12/02/2015 at 14:53:14
To the posters claiming Howard made routine saves look hard, step into goal. He made two one handed saves that were more than hard plays due to the angles. Especially a ball coming over a wall that you can't see over all the way to the ground where the ball is. More importantly, he didn't spill the ball on the hard low shot that came out of nowhere and covered it to avoid the Chelsea player walking it in for a goal. If you didn't notice the definite cfhange in the back four in confidence in the GK behind them then you are blind. If you wish to blame Howard for the goal for not somehow assuming his defenders wouldn't defend or that Naismith might deflect the shot, or for not punching the ball 80 yards like Robles could presumably do, then okay,I can't argue with you.
Christine Foster
197
Posted 12/02/2015 at 15:27:35
Wow.. you would think we deserved to win that game and were unlucky to lose according to the comments above, the truth is we came to Chelsea with a game plan and it very nearly worked. We had two quality chances that should have been converted but in terms of skill, class, movement off the ball, we were outplayed. The gulf was apparent but many a time we have seen well organised teams win against talent. We were one minute away from taking a creditable point.
It was good to see RM having a go in the media conference about Chelsea and the referee, he must really have been angry at the behaviour of Chelsea players and the intimidation of a poor referee.
There is no doubt Barry committed a stupid foul, but there is also no doubt Chelsea players harangued the referee into booking and sending him off. It was also Chelsea players who decided to aggravate the situation by provoking responses ( how does a head lock and a threatening push of the head into a players face not constitute provocation??) The pictures clearly show the referee looking at the incident from two feet away and doing nothing. Appalling. He should be reported to the FA for negligence and made responsible for the lack of control.
As for the comments of many.. I agree there are too many passengers at the club, Barry for me, is the most ineffective player who is clearly too slow. He has, I think I am right in saying, the most yellow cards in the premiership. He isn't dirty, he is always arriving late. Off the pace and a liability.
Barkley needs someone behind him to clear up when he loses the ball.. too often we are left exposed. By coaching the mistakes out of him we have ended up with a frightened player who no longer has the confidence to run at the opposition. His output is poor at best at the moment, but when he does lift it he can be a joy to watch.
Coleman played poorly again, Oviedo was out of his depth, Lennon looks lost.. Lukaku fought but should have converted at least one of his gilt edge chances. Naismith needs a rest. Surprised to see Howard walk in, but he did ok and was unlucky with the goal.
The tippy tappy football has gone, anybody notice?
Alan Bodell
198
Posted 12/02/2015 at 15:46:26
Jim, #196 has it absolutely spot on. I have been very anti-Tim Howard for some time this season and was pissed off when Joel got to warm the bench but Howard did more than enough last night to suggest he isn't finished, offering us a lot more even if it is to push Robles for the No.1 spot.
Lukaku , 㿈m for the potential? Just the basics would do for a start, like heading, shooting, holding the ball, all of which seem too much for the 21 yr old with the build of Mike Tyson.

Duncan needs to up his game and sort this lad out fast because the training ground is obviously not getting through to the big lad.
Jay Harris
199
Posted 12/02/2015 at 15:51:13
I thought Robles should rightly have continued in goal but having said that I thought Howard made some good saves and generally commanded the area.
I still wonder why Besic was subbed at HT. Having said that I think GB is being singled out for some unfair criticism.
Overall I thought we showed determination and resilience but nobody can be in any doubt who bossed the game.
If only Ross could be a Hazard or Willan.
If only Nais could add technical ability to his energy.
If only Lukaku could show he is worth 28 million by learning how to control and head the ball.
If only Roberto could go back to Wigan.
If only is the difference between a top side and the also rans
Dave Abrahams
200
Posted 12/02/2015 at 15:59:58
Oliver Molloy (152)
Good points in a very good letter.
Peter Norris
201
Posted 12/02/2015 at 17:26:26
Jay. I might be wrong but did he sub Besic as if he'd have been sent off he would have missed the crucial game against Leicester? As Barry had already been booked was he going to miss the next game irrespective of whether he got sent off? If this is the case, then a smart move?
Jay Harris
202
Posted 12/02/2015 at 17:44:53
Good point Peter but I think that gives RM too much credit.
Colin Glassar
203
Posted 12/02/2015 at 18:59:54
You forgot a few hundred million quid also makes a difference Jay. Not a piffling trifle by any means.
Aside from that I heard that Besic has been carrying a knock and isn't 100%.
Frank Crewe
204
Posted 12/02/2015 at 20:31:30
If it hadn't been for the 5 more points Everton have than Villa RM would be standing behind Lambert down at the JobCentre right now.
So this is RM's plan "B" try and 0-0 our way to safety? Well it's original. We appear to have a surfeit of defensive midfielders to chuck on and our only decent young players are a CH and LB. Our homegrown wonder boy is as limp as a wet lettuce and our 㿈 million quid striker can't score from 2 yards out.
So its back to pouring over the fixtures trying to figure out where we can pick up a point or three and praying no hopers "A" can beat no hopers "B".
I thought we had put these kinds of seasons behind us. Looks like I was wrong.
---
Add Your Comments
In order to post a comment, you need to be logged in as a registered user of the site.
Or Sign up as a ToffeeWeb Member — it's free, takes just a few minutes and will allow you to post your comments on articles and Talking Points submissions across the site.
© ToffeeWeb