Everton vs Queens Park Rangers
Match Preview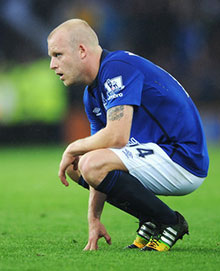 Steven Naismith: Will be assessed along with James McCarthy and Darron Gibson before the match
With 10 days' rest and no Europa League hangover to disrupt preparations, Everton have another chance to restart their sputtering Premier League campaign with a fixture against Queens Park Rangers in the Monday night game at Goodison Park.
Like the Blues' previous visitors, Hull City, Harry Redknapp's Rangers come to Merseyside sitting in the relegation zone and — "Everton's Law" klaxon — as the only team in the top flight yet to record an away point so far this season. The ideal opposition, you would think, for Roberto Martinez's side to get back to winning ways after the frustrations of the 1-1 draw against the Tigers and the narorow defeat at Manchester City, Andre Marriner and all.
Both Everton peforrmances were laden with ponderous build-up play and a worrying lack of tempo and attacking punch. Having given the majority of his first team the evening off for the dead rubber against Krasnodar on Thursday evening, the hope is that Martinez's regular senior players will come into this one refreshed and inspired.
They will need to be, because while the Blues have been dropping important points — 10 from the last 15 available have been spurned — the teams above them have been pulling away in ominous fashion. Having less than half of the League leaders' points tally before Çhristmas is galling enough but the top four is 10 points away; we're eight short of the minimum Europa League slot currently occupied by Southampton on goal difference from Arsenal.
How close to the manager's first-choice XI he will be able to field remains to be seen. Martinez has walked back some of his comments regarding John Stones since suggesting on Friday that he could be in contention for the visit of QPR. He has since revised his prediction for the 20 year-old's return, suggesting that next weekend's trip to Southampton is more likely.
Stones has only just recovered from surgery to repair the ankle ligaments he damaged at the beginning of October so some patience in bringing him back into the side is prudent. Both James McCarthy and Steven Naismith have been subject to just such pragmatism in recent matches as they work through their respective hamstring issues and both will be undergo assessments prior to the game to see if they can play a part.
Both players' energy has been missed over the last three weeks — Naismith's movement and running has been the grease in Everton's attacking machine for much of the past year while McCarthy's tenacity and ceaseless workrate makes him invaluable sitting as protection in front of the back four.
Of the players that started against Krasnodar, only Antolin Alcaraz is likely to be in the team from the start this time. Tim Howard, Seamus Coleman, Phil Jagielka and Leighton Baines are all likely to return to the back line, while Muhamed Besic is set to slot back into central midfield. Due to Gareth Barry's one-game ban, it will either be alongside someone McCarthy, Darron Gibson if he is passed fit, or a deputy like Leon Osman who performed well in a more defensive midfield role when called upon recently.
Further forward, with Romelu Lukaku and Kevin Mirallas almost certain to start and Christian Atsu out with a hamstring injury, it's case of perming two from Samuel Eto'o, Ross Barkley, Aiden McGeady, Arouna Kone, Naismith and Steven Pienaar.
QPR, for their part, will also be missing a key player through suspension with top scorer, Charlie Austing serving a ban. Since Everton tightened up at the back, they now have the joint-worst defensive record in the division with Leicester City as well, so if the Blues have any pretensions about qualifying for Europa via the League this season, there will be no excuses if come Monday evening they haven't booked three points ahead of the trip to Southampton next weekend.
A win would put Everton back into the top half of the table at the expense of Liverpool and back to within three points of the top seven which should be the first target as Martinez looks to put a run of results together over the busy period between now and the end of the year.
Referee: Neil Swarbrick
Kick Off: 8pm
Quotes sourced from ToffeeWeb Match Reports
Reader Comments (83)
Note: the following content is not moderated or vetted by the site owners at the time of submission. Comments are the responsibility of the poster. Disclaimer
Kunal Desai
1
Posted 15/12/2014 at 07:24:00
QPR have scored 2 away goals all season and thats Austin who is suspended. So cue Everton making someone a ranger hero tonight. Zamora anyone? Bobby will still say it was a 'phenominal' performance.
Ajay Gopal
2
Posted 15/12/2014 at 07:13:17
Ideal opponent at the ideal time! But we have been poor against the lower teams this season. No excuses for this one (Europa, injured players, fixture congestion, etc, etc) - Martinez should play his best available XI and go for the jugular.
With Barry not available and assuming Stones, McCarthy, Naismith will get a few extra days to regain fitness, if it was up to me (4-4-2):
Howard
Coleman Jagielka Alcaraz Garbutt
Mirallas Besic Barkley Baines
Lukaku Eto'o
SUBS: Joel, Browning, Hibbert, Oviedo, Pienaar, Osman, Kone
Paul Andrews
3
Posted 15/12/2014 at 08:02:38
Very confident the 3 points will be ours tonight.
Injuries on the way back,we can start to move up the table
Phil Walling
4
Posted 15/12/2014 at 08:34:48
Never thought I'd say it but the return of Naismith will be the key to Everton getting full quota from this game. I think we have lacked energy up front during his absence and he has the ability to ' join things up ' that even the experienced Eto'o lacks.
No experiments with Baines in midfield, please Roberto, just allow him to take 'proper' corners and free-kicks. Oh, and think twice before trying to shoehorn Barkley into the side because he's a 'wonder kid' (man, now ).
COYB !
Craig Walker
5
Posted 15/12/2014 at 08:44:01
When you're up in Row Z and the ball hits your head, that's Zamora.
Watch him get a couple tonight.
Mark Tanton
6
Posted 15/12/2014 at 08:41:32
Can we please see some pace tonight? Also, interesting how the reds have dropped their goalkeeper for too many poor performances. It might not have had instant success but how many of our players play with any genuine fear for their places?
Jim Bennings
7
Posted 15/12/2014 at 08:39:23
With the absence of the suspended Barry and the likely absence of the unfit, and frankly not worth risking James McCarthy, this game tonight is surely the one which demands a 4-4-2 formation...
My team would realistically be..
Howard
Coleman Jagielka Distin Baines
Besic Mirallas McGeady Barkley
Lukaku Eto'o
In the second half depending on how it's going I would introduce Kone and give him at the very least half an hour, most probably in place of Eto'o.
This for me should be the team, but no doubt Roberto will again play it safe and go five across the middle as usual with Osman, Besic and Barkley, to me though that just invites too many passes. It's all possession without any end result.
I heard two things over the last week that have made a lot of sense and given food for thought...
First during the highlights show of Champions League, Arsenal's win in Galatasaray, Gordon Strachan made a very good point that Lukas Podolski takes away three or four passes from every Arsenal move and is more willing to just shoot, resulting sometimes in goals rather than just chances.
Then Stan Collymore on Talksport about Chelsea, and the most successful sides of the day, being able to have "at least four or five ways of playing" not just one gameplan.
To me, both of these hit home to me how predictable in both formations and style of play that we have become. We very rarely vary from 4-5-1 even at home to clearly struggling inferior sides, the last home match against Hull the perfect example.
Tonight with injury and suspensions dictating this should be the perfect girl for 4-4-2 but we know what we are probably going to do and we never learn, it will be another battle of possession in midfield, isolating Lukaku against a brick wall of two banks of four.
Sam Hoare
8
Posted 15/12/2014 at 09:13:12
Jim, you actually think Martinez might vary from the 4-5-1? Not much evidence that he's willing to so I'm assuming we will see more of the same tonight in which case I'd go:
GK – Howard: Robles is not an option at present.
RB – Coleman: we should be attacking more often than defending.
CB – Jagielka: Our best defender this season
CB – Alcaraz: Superior distribution and likelihood of scoring from set piece
LB – Baines: To be hooked for Garbutt if he fails to clear first man more than twice from set pieces
DMC – Besic: Only natural player available in the position
DMC – Osman: In a game in which we have the ball lots, he is a good creative option at the base
MR – Mirallas: Our one player who can make things happen from nothing.
AMC – Eto'o: a better option than Barkley against a packed defense with little room.
ML – Pienaar: A marginally better option than McGeady and returning Oviedo. This is a position we really need to improve on.
ST – Lukaku: Should be rested and raring to go. I'd like to see Kone get 30 mins too.
So:
Howard
Coleman Jagielka Alcaraz Baines
Besic Osman
Mirallas Eto'o Pienaar
Lukaku
That team with the likes of Kone, Barkley, Oviedo and Garbutt off the bench should really have enough to beat a very poor QPR shorn of their best player. But yet I don't feel that confident....

Max Wilson
9
Posted 15/12/2014 at 09:23:37
This is a no win situation. If there's no win for us, there will be a situation for our manager. Home form has been diabolical. Having said that, god knows we should be able to manage the Hoops.
Ray Roche
10
Posted 15/12/2014 at 09:24:21
Phil Walling @4
Phil, "No experiments with Baines in midfield, please Roberto, just allow him to take 'proper' corners and free-kicks."
Firstly, Baines hasn't taken a proper corner now for weeks and his free kicks are almost as bad. Garbutt appears to be able to take a good corner and is just as attack minded as Baines, and as Baines apparently plays centre mid during training matches and Martinez has said he sees that as Baines future, it might be the time to try Garbutt from the start. Giving him game time would surely help him see he might have a future at Goodison and help him make his mind up to sign a new contract.
Tony J Williams
11
Posted 15/12/2014 at 09:32:18
No away wins, their only away scorer not playing.... what could go wrong??????
Jamie Barlow
12
Posted 15/12/2014 at 09:40:37
Yeah, dropping your goalkeeper worked for the other lot didn't it? Big mistake and I bet he won't be dropped for long. Jones was shite. Anyway, enough of the Redshite.
I hope Naismith and McCarthy are fit and raring to go. Looking forward to this tonight. We've had a nice rest so no excuses for looking our usual tired selves.
Goals from Mirallas and Lukaku assisted by Baines and Coleman should storm me to the top of my fantasy Betfred league. Happy days. Easy this management lark.
Mark Frere
13
Posted 15/12/2014 at 09:36:07
The players should be fresh as a daisy after being rested on Thursday; QPR haven't been able to muster a point away from home all season so there's no excuses for not getting all 3 points.
The season has reached a critical stage where we need to start picking up points; we've got a lot of lost ground to make up and if we don't get our shit together pronto, the damage is going to be irreversible and mid-table mediocrity will be where we are heading.
If Martinez is serious about playing Baines in midfield then surely this is the game to put it into practice as Barry is suspended, McCarthy not fit enough to start and Gibson crocked as usual.
I would play:
Howard
Coleman Jagielka Distin Garbutt
Besic Baines
Mirallas Eto'o Pienaar
Lukaku
Hopefully, Kone, Naismith and Barkley can play some part in the game.
Peter Barry
14
Posted 15/12/2014 at 09:52:32
Being an Evertonian for many years, you get to know that Everton never fail to disappoint.
Tony J Williams
15
Posted 15/12/2014 at 10:23:30
Too true, Peter!
James Hughes
16
Posted 15/12/2014 at 10:41:46
I just hope we get the points and play half decent to give us some hope. Also, I hope the ref has a good game, I saw highlights of the Man City game and was shocked neither of those two tackles got a red and the penalty I'd rather forget.
COYB (please)
Jim Bennings
17
Posted 15/12/2014 at 10:46:40
You're probably right, Sam, but I always live in hope, don't we all as Evertonians?
I do agree though, this 4-5-1 has almost become a religious belief amongst the Everton management over the last decade, as though we shall not try no other formations for fear of losing too much possession. But hey, I mean we haven't exactly monopolized the ball that much this season have we?
Seems to me the more we have of the ball the more we self destruct with it in dangerous areas of the pitch (dangerous for us, that is).
Geoff Evans
18
Posted 15/12/2014 at 10:54:31
No excuses.
James Marshall
20
Posted 15/12/2014 at 10:54:04
Dropping the keeper? Playing 4-4-2? It's that kind of desperation that precedes managers losing their jobs. Don't push Martinez down the Brenda route just yet, gents.
4-5-1 suits us and is the modern way. Howard is one of the best keepers in the league. End of story.
We'll win tonight. Zamora will do fuck all.
Ian Glassey
21
Posted 15/12/2014 at 10:53:01
I would like to see Roberto try Baines in midfield for this game, it could work out well.
Let's hope the movement is a bit faster than it has been, lets go for goals give the fans something to shout about.
Jonathan Benn
23
Posted 15/12/2014 at 11:24:26
It shoudn't matter which 11 we put out today. So long as we learn a couple of lessons....
1) Stop fannying about on the edge of our own box. If you are under pressure, get rid.
2) Don't play the ball into Lukaku's feet with his back to goal. He has no first touch so let him run on to the ball instead.
Howard
Coleman, Jagielka, Distin, Baines
Besic, Barkley
McGeady, Mirallas, Pienaar
Lukaku

Daniel Joseph
24
Posted 15/12/2014 at 11:30:09
As a win would take us above our loveable neighbours, I predict, with some confidence, a draw or defeat this evening.
Praying for a win.
Dave Lynch
25
Posted 15/12/2014 at 11:25:03
You just know this is going to go tits up tonight, Isn't it?
It's the Everton way and it's what happens when a team has not won away for yonks and has a misfiring striker who couldn't hit a pigs arse with a banjo.
I've come to expect nothing when it comes to us, years of getting twatted when it matters have taken it's toll on my psyche.
It's the hope that kills you...
Jim Bennings
26
Posted 15/12/2014 at 11:28:13
James
Have you seen Everton play well this season with 4-5-1???
Because I haven't mate, all I have seen is pass pass pass pass, sideways backwards pass pass breaks down, Lukaku isolated, Barkley running down blind alleys, Baines hitting the first man with crosses or having to go backwards because Lukaku is out on the wing with him.
Tonight will be the same...
Three central midfielders all passing the ball about in pretty ten yard circles and two wide players, one who can make things happen when he actually gets given the ball early (Mirallas) and the other? We'll probably McGeady who doesn't make things happen when given the ball early or late.
Partner Lukaku with Eto'o or Kone and it instantly gives QPR more to worry about.
Have loads of possession, slow passing with five midfielders 40 yards from their goal certainly won't have them shitting themselves. Like Hull a few weeks ago, they will be in for a rather comfortable night.
Guy Hastings
27
Posted 15/12/2014 at 11:37:24
No excuses for not getting three points - I bet RM will find some thought
Graham Mockford
28
Posted 15/12/2014 at 11:41:07
This should be a routine three points but our home form has been poor this season dropping expected points against Palace, Swansea and Hull. How much different things would be looking without those three results.
Assuming it's too early for Stones I would go with the usual back five of Howard, Coleman, Baines, Jags and Distin.
Midfield is the key for us and with Barry suspended, I would bring Osman into central midfield to speed up our ball movement. Hopefully McCarthy and Naismith are fit and join him in central midfield with Pienaar and Mirallas out wide.
Lukaku up front and that's not far our full strength team.
Ray Roche
29
Posted 15/12/2014 at 11:49:20
The two points that Jonathan Benn make are the most pertinent. You need only look at the second goal that Swansea conceded yesterday, a defender not wanting to clear his lines ANYWHERE concedes possession and then Spurs score. He had ample time to find his own player, or, if necessary, Row Z. (If Distin had done that in the semi final we may well have gone on to win the Cup.)
The way we piss about at the back with central defenders who are not up to the task infuriates me, because their only outlet is Howard who then hoofs the ball up towards Lukaku from where it comes straight back... an outfield player should be able to find his own player with more accuracy than Howard does.
Martin Farrington
30
Posted 15/12/2014 at 11:55:16
Jim #26 spot on Old Boy. QPR will have pencilled this in as a guaranteed away win.
RM will appear after the humiliating defeat with the same excuses spouting how unlucky we were as we "dominated play" and that Ross should never have been carded for another elaborate dive because Cahill wasn't sent off on Saturday.
Then the bloke who can't read or write will come on saying that he invented the game plan on the bus on the way down and he always knew that 8-1-1 was the new 4-4-2 against a team of crabs.
Gerry Quinn
31
Posted 15/12/2014 at 12:14:11
Young Boys v Everton - bet Rolf Harris will become an Evertonian!
Phil Rodgers
32
Posted 15/12/2014 at 12:08:09
If we lose today we are in trouble. I for one am extremely concerned. This season in the league has been a total fucking failure so far and this is exactly the type of game that we love ballsing up.
I really hope I'm wrong but I have been an Everton fan long enough to have seen this many times before.
Mike Childs
33
Posted 15/12/2014 at 12:09:39
Sad, I too pray Jimmy Mac and Naisy are ready to go we sure have missed them. COYB
Dave Abrahams
34
Posted 15/12/2014 at 12:16:26
Come on lads, half of you have got us beat before the match starts, give us all a break.
James Marshall
36
Posted 15/12/2014 at 12:50:36
Jim, we may not have played well but it worked OK last year. Nobody plays 4-4-2 any more.
Amit Vithlani
37
Posted 15/12/2014 at 12:57:56
Whatever the formation intent and tempo is key. Baines is usually the catalyst in games such as this and needs to drive us forward tonight. Massive game in our season and no stupid selections please. Barks and Eto'o cannot play together. Coleman is not a right Winger and Nais is not a midfielder. Play players in their proper position and gives these lot a going over.
I no longer give a fuck about the "project", it means fuck-all if we can't beat teams at the bottom at home. Start with basics/a foundation (eg a few results) then implement a more ambitious plan. We lack foundation at the minute.
Brian Waring
38
Posted 15/12/2014 at 13:09:51
If Naismith is fit to play, I just hope Martinez doesn't try and squeeze him, Barkley and Eto'o into the starting 11.
Brian Hennessy
39
Posted 15/12/2014 at 13:01:51
With Barry suspended I would play Osman with Baines beside him as the two defensive midfielders (presuming McCarthy is not fit). This would allow Garbutt to play left back as we need his delivery from corners/crosses.
Mirallas on right, Pienear left and I don't really mind if it is Naismith, Barkley or Eto'o behind Lukaku.
Amit Vithlani
40
Posted 15/12/2014 at 13:12:55
I don't understand where this movement to have Baines in DM comes from? He is an attacking left back with 6 assists from wide positions. If he can't play in his best position and perform tonight then he should be dropped and replaced by Garbutt.
Barry's suspension and McCarthy absence might force a formation change which should be okay if players are played in their proper position, and attack with tempo and intent.
Graham Mockford
41
Posted 15/12/2014 at 13:12:15
Brian,
Well as Garbutt has played in the two games, Baines has 9 assists from crosses plus three goals this season which is more than a third of all our goals this year.
He's been below par the last few games but we need him doing what he does best, that is Everton's most potent attacking option from left back. It would be daft to replace him with a young kid with two starts and play him in a position he has never played a competitive match.
Brian Harrison
42
Posted 15/12/2014 at 13:14:53
I can only see QPR sitting deep with 10 men behind the ball, and we have had problems with teams adopting this system. I agree that we must start with a high tempo, and lets get the ball forward early as QPR will be quite happy for our back four to play the ball around at the back. Lets hope that our players are more intent of making forward passes rather than our usual back and across.
This game is a must win a draw or perish the thought a defeat would really set us back and not far off the bottom 3. So please Roberto let them off the leash tell them to attack at every opportunity and lets look to improve our goal difference.
Tony J Williams
43
Posted 15/12/2014 at 13:23:54
Hopefully, as he would have been rested, Baines will be raring to go and be full of energy and runs down the left.
Garbutt will not replace him for a while yet, that's why he might do one in the summer.
Peter Roberts
44
Posted 15/12/2014 at 13:18:58
I don't want to see Pienaar anywhere near the starting line up. I found his perfromance the other night disappointing - it was as though he felt he was above playing with the younger players.
In the same note, Kone deserves match time after his efforts the other night. Lukaku can watch a player go about leading the line using "STRENGTH" "CONTROL" "WORKRATE".... something we don't see from Rom. Kone could be the ideal partner for Rom, he held up the ball really well the other night and I feel it will allow Barkley and Mirallas to commit forward more readily.
I expect to see a greater tempo played and for me we need Besic to run the midfield.
Denis Richardson
45
Posted 15/12/2014 at 13:21:11
Performance really is irrelevant tonight, 3 points a must. We have to get back to winning ways as we're quickly losing ground to the EL places, never mind CL places. Win tonight and we go up to 10th,, still shit but we've got to start somewhere.
Not fussed about team selection, formation or tactics, just get the win!
Kevin Tully
46
Posted 15/12/2014 at 13:33:21
It won't mean much if we manage to swap places with the other mob, thereby relegating them to the bottom half of the table, but us locals will at least have a little smile about it. Apart from Europe, we have had very little to shout about this season.
I really cannot see us being as poor as the last few weeks. Thankfully, Mr. Baines was saying he understood how frustrated the fans were, and the boos that rang out after the Hull game were justified. Let's hope the manager and the players have got the message. No Evertonians will settle for less than 100% effort - we need to tear into these from the off.
We need to do some pressing of our own when we haven't got the ball, something that's been sadly lacking from our play. You watch any decent side, they go after the ball with two or three men sometimes, that's what I want to see from every player in a blue shirt tonight.
We want to see a high tempo passing game, players making runs off the ball, and full commitment to the cause. They owe us a standout performance, it just hasn't been good enough so far.
James Hughes
47
Posted 15/12/2014 at 14:16:34
Denis I have to disagree, performance is secondary to the 3 points but they we have been playing lately we desperately need to see a bit of a show tonight.
No repeat of the dross served up when we played Hull.
Jay Harris
48
Posted 15/12/2014 at 14:23:10
I hope this defeatism isn't evident in he crowd tonight. We have no excuses. We have to beat QPR.
It should not be difficult. They have been stuffed by everyone away from home.
We need the team, manager and crowd all up for it. Let's make it the night our fortunes started to turn.
Eugene Ruane
49
Posted 15/12/2014 at 14:27:22
The one thing I would like the players to have ingrained into them EVERY week (the one major thing I think has been lacking recently) is concentration.
I think the very last word that should be said to them before they step onto the park is 'concentration' (or if you prefer 'concenfuckintration!')
If we could get each player to have this foremost in their minds AND APPLIED, I think (just about) everything else would fall into place.
A sloppy pass (giving the ball way) is not concentrating.
Not tracking back is lack of concentration.
Giving daft fouls away, continually finding yourself offside, not shouting FUCKING MAN ON!!!!!! - all just lack of concentration.
I haven't really been concerned about lack of effort (in that 'YOU LAZY TWAT!!' way) since Walter, but feel we need to be mentally tougher at the moment.
Against Hull (at times) it appeared a hypnotist had said 'when I click my fingers, you will lose all concentration' - CLICK!
Anyway, hopefully we'll apply the right level of concentration tonight and give them a whupping.
Up the Toffees!
Dave Abrahams
50
Posted 15/12/2014 at 14:53:51
Eugene, plus confidence!!!!!!
Max Murphy
51
Posted 15/12/2014 at 14:55:13
Spot on Eugene. According to Opta, Everton have made more errors leading directly to goals than any other team in the Premier League this season.
Jim Bennings
52
Posted 15/12/2014 at 15:06:04
James,
Last year is last year though!
Lots of things might have worked last year but don't this year.
It's okay saying nobody plays 4-4-2 anymore but we haven't got the midfield variety to actually make 5 across the midfield look anything but stifling. We don't posses blistering pace and as a result we look to go sideways and backwards.
Two strikers didn't do Liverpool much harm last season when but for Gerrard's Bambi impression they might have won the League.
Denis Richardson
53
Posted 15/12/2014 at 14:52:10
Ok, I know I said I wasn't fussed about the team but its a bit of a slow day.... my team fwiw:
Howard
Coleman, Jagielka, Distin, Garbutt
Besic, Baines
Mirallas, Barkley, Oviedo
Lukaku
Subs: Robles, Kone, Osman, McGeady, Eto'o, Hibbert, Alcaraz
I would definitely bring Kone on at some point, it may be a bit soon for him to start a Premier League game. If Martinez fancies playing Baines in CM, then QPR at home is as good a game as any to start, especially with three of our four CDMs out. Naismith should sit this one out to make sure he's 100% ready for Southampton next weekend. That team certainly has balance with three left footers playing on the left side.
I think however that Martinez will stick with Baines at LB and play Ossie in CDM next to Besic and have Naismith on the bench with no Garbutt in the squad.
Chris Leyland
54
Posted 15/12/2014 at 15:14:32
The stats below from the BBC preview don't fill me with confidence that tonight is a routine home win:
QPR have won on three of their six Premier League visits to Goodison Park, including a 5-3 victory in April 1993 when Les Ferdinand scored a 13-minute hat-trick.
The Toffees have managed just three wins in their 12 Premier League meetings with QPR.
Everton have won just six points from their last six Premier League matches (W1 D3 L2).
The Toffees have won only two of their last eight Premier League games at Goodison Park (W2 D3 L3).
According to Opta, Everton have made more errors leading directly to goals than any other team in the Premier League this season (eight).
QPR have won two of their last three games.
Andy Walker
55
Posted 15/12/2014 at 15:16:15
This is a pivotal game in our season. If we win, the top 4 is still a slim possibility; lose, then it's a relegation battle.
No excuse against the side with the worst away record in the top league. We simply have to win.
Denis Richardson
57
Posted 15/12/2014 at 15:39:40
Chris 54 - as they say you can use stats to make up any scenario you wish.
You can turn it around and say that QPR this season have lost every one of their 7 away games and only managed 2 goals on the road, both by Austin who's injured. In fact they've conceded more than 1 goal in 6 of those 7 away defeats. Scored 2 and conceded 17 on the road so far.
Going by those stats, you'd think this would be an easy game for us but this is Everton and we gave Soldado his first goal in god knows how long, so we'll see how it pans out.
Personally if we don't win, I will really start questioning whether Martinez is the right manager for us. That may sound a bit dramatic but this league season has been a real let down so far, regardless of the injuries. No EL for 2 monhts so now's the time to grind out results in the league.
The boos at home to Hull will be nothing compared to what will happen if we don't win tonight. Just hope for the players sake that we can get an early goal to take the tension out of the crowd.
Tony J Williams
58
Posted 15/12/2014 at 15:48:35
Fuck me! talk about extremes Andy.
It's one match after a third of the season... relegation....fecks sake!
Ian Jones
59
Posted 15/12/2014 at 15:48:15
I am going with 5-1 to Everton on the basis that we are due to give a team a beating one day. It might as well be tonight. Would have been 5-0 but we won't keep a clean sheet
Mike Hughes
60
Posted 15/12/2014 at 15:53:34
No pissing about.
Strongest team available tonight.
I don't care how they do it.
Pretty passing triangles.
Or hoof-twat-goal.
3 points please.
Ray Roche
61
Posted 15/12/2014 at 15:54:41
Tony, you're right, of course, we're only a third of the way through the season,however, dropped points at home to Hull, Swansea, Palace, and Arsenal, and points away to Sunderland and Leicester and even Spurs are points that we can't get back. And the performances were not those of a team hoping for European football next season but of a team who could well be flirting with a bottom third finish.
And when you think that we threw points away at Leicester (a), Arsenal (h) Palace (h) and Spurs (a), all games where we allowed the opposition to get back at us it doesn't exactly fill ME with confidence. Dropping points tonight will certainly turn the spotlight on Martinez.
In my opinion.
James Marshall
63
Posted 15/12/2014 at 15:13:16
Eto'o, Lukaku and Barkley in the team together just doesn't seem to work. Especially with Macca out. We'd be wide open again. I'm all for 5 in midfield.
Chris Jones [Burton]
64
Posted 15/12/2014 at 16:15:07
Past stats. Context!
If you look up the records for when Carlisle were in the top flight, you'll see they did the double over us!
When QPR were in the Prem in the 90s we were pretty piss poor and, er, they had Les Ferdinand up front. The goalposts have shifted somewhat since then.
Just as I wouldn't be shitting myself if we drew Carlisle in the Cup, I expect us to be favourite for the three points tonight.
COYBB!
Mike Powell
65
Posted 15/12/2014 at 16:14:26
Lets go for it play Lukaku and kone up front no fucking about at the back with all this tippy tappy shit .I agree with Andy it's a must-win game we drop any more points against these relegation teams and we will be dragged into it .If we don't win then questions have got to be asked if the Martinez is up to the job
James Lauwervine
66
Posted 15/12/2014 at 16:22:01
Denis 53, I like the look of that team. When was the last time we had three left-footers in the same team I wonder (if ever!)? Plus you've put Barkley in, everyone else seems to have written the lad off. I'd play him every game.
Anthony Hughes
67
Posted 15/12/2014 at 16:27:03
21 points off the league leaders, 10 points off 4th place and only 8 points ahead of the bottom club. We need to string a run of wins together starting tonight and start climbing the table. 4 wins from 15 league games so far is nothing like we would have expected before the season started.
Mark Frere
68
Posted 15/12/2014 at 16:47:46
"When was the last time we had three left-footers in the same team".

Probably not too long ago, James, because Baines, Distin, Lukaku and Barry are all left-footers.
Dean Barton
69
Posted 15/12/2014 at 16:58:07
If this team has any aspirations at all then a comfortable 3 points is a must. We have to go for the jugular early. High tempo and pressure shouldn't be a problem after a 9 day break.
I would go for 3 up front. Lukaku, Mirallas and 1 other. I would go for Naismith or Kone. Kone impressed me the other night and for me Eto'o isn't doing enough. Midfield 3 of Besic, Osman and Barkley.
Let's go for it for a change and if we get at them early the result will come!
Dave Lynch
70
Posted 15/12/2014 at 17:08:34
Well I'm a happy bunny.
Just heard Roberto on the radio and he stated we will be firing on all cylinders in February? I can't wait that long personally.
Will someone please tell him the season starts in September.
Paul Andrews
71
Posted 15/12/2014 at 17:38:13
Will someone tell Dave Lynch the season starts in August
:-)
Dave Lynch
72
Posted 15/12/2014 at 18:23:08
I'm letting him off with the first couple of games paul.
Bill Gall
73
Posted 15/12/2014 at 17:58:47
Reading the comments on here about who they think are the best line up and the players they pick to me it is amusing .No matter who plays the problem of a slow build up will still be played unless Mr Martinez changes his style of play and I think I have a better chance of winning the lotto than that happening.
Possession football is a great game if it is played with quick passing and moving the ball foreward either down the wings or through the middle but this passing between the back 4 means to me the other team has 10 players marking your other 6.
The players have like other people have said have to take responsability and concentrate on moving into space, pass to unmarked players and test the keeper with shots instead of trying to walk it in.
We are blaming the defence a lot and at times justifiably so but it is about time the attack stepped up and starting scoring more than 1 goal against these lower teams and get some confidence back in the team.
Colin Glassar
74
Posted 15/12/2014 at 18:31:20
If we don't win tonight that's it. C'mon Everton.
Conor McCourt
76
Posted 15/12/2014 at 18:31:45
I hope the vitriol and negativity on here will not be evident at Goodison tonight otherwise we are in for a long night.
Those talking about hoofing the ball clear are wasting their time. Roberto will do it his way and team need to just replicate the performances of last year to get the desired results.
All this rubbish about teams working us out and changing systems is irrelevant. Tonight we need our passing to be crisp, with intensity and better movement up front.
I hope the fans stay with the team as QPR will be coming to frustrate and get the crowd on the players backs.
Denis Richardson
77
Posted 15/12/2014 at 18:43:09
Any sign of team news yet?
KO is only just over an hour away...
Mark Jensen
78
Posted 15/12/2014 at 18:54:27
According to Opta, Everton have made more errors leading directly to goals than any other team in the Premier League this season (eight).
Stop pissing about and get rid (a la John Smiths advert)!
Barry Thompson
79
Posted 15/12/2014 at 18:52:54
What's the relevance of how many Catholics there are in the team?
Paul Ferry
80
Posted 15/12/2014 at 18:47:16
I dived on here - Tony J Williams - 58: 'Fuck me! talk about extremes, Andy. It's one match after a third of the season... relegation....fecks sake!'
I haven't checked but I would bet my mortgage that Tony is referring to one Andy Walker.
Colin Glassar
81
Posted 15/12/2014 at 18:59:26
I hope there's a good atmosphere tonight. Against Hull it was like a seance.
Mark Jensen
82
Posted 15/12/2014 at 19:00:55
Everton (to face QPR): Howard, Baines, Distin, Jagielka (c), Coleman, Besic, Barkley, Mirallas, Naismith, McGeady, Lukaku.
Paul Andrews
83
Posted 15/12/2014 at 19:01:44
Good for you Dave,
Harold Matthews
84
Posted 15/12/2014 at 19:01:07
True Bill. If we mess around at the back and they play high up and win the ball, they are only 25 yards from our goal.
Darren Hind
85
Posted 15/12/2014 at 19:01:46
Not sure how long it is since QPR won away, but Robbie was on Talk Shite before saying this is not a good time to play them. . .even without there main source of goals
Hope the players are a bit more confident than him. I've got the night off tonight and I want to be celebrating after the game.
Paul Tran
86
Posted 15/12/2014 at 19:09:47
Bill, I don't think Martinez has a 'style' of slow play. The players are playing like they have lead boots. The problem is that he's clearly not getting it through to them to speed things up - that's his fault. Was there anything wrong with the 'style' last season?
Darren, it's called getting your excuses in early. Maybe he's exasperated at his own inability to get the players going quicker than snail's pace.
The players have to take responsibility tonight and gamble a bit more. I don't care if anyone thinks it's because/despite of Martinez, I just want them to bloody do it.
Andy Walker
87
Posted 15/12/2014 at 19:10:46
If we loose tonight the media will rightly be highlighting we are potential relegation candidates. Serious questions about the direction of our team will rightly be asked.
All hypothetical of course and I expect we will win, but nothing less will be acceptable bearing in mind the last few weeks' results' i.e. loosing tonight can't be passed off as a one off, instead it will be a trend.
I just hope he puts an attack minded team out with players in their best positions.
Paul Andrews
88
Posted 15/12/2014 at 19:18:43
Paul Tran,
Or, it could be Roberto is trying to avert complacency in the team?
James Marshall
89
Posted 15/12/2014 at 19:32:45
Very attacking lineup, we usually get turned over when we play this attacking.... And I'm usually wrong. No need to thank me.
---
Add Your Comments
In order to post a comment, you need to be logged in as a registered user of the site.
Or Sign up as a ToffeeWeb Member — it's free, takes just a few minutes and will allow you to post your comments on articles and Talking Points submissions across the site.
© ToffeeWeb