Everton vs Manchester City
Match Preview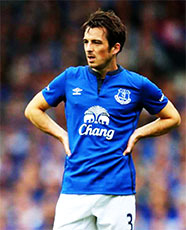 Leighton Baines has recovered from a knock picked up at Hull
Four days after Romelu Lukaku's last-ditch equaliser kept the Wembley dream alive, the Blues are back at Goodison Park for the visit of the reigning Champions, Manchester City, for a fixture that has been a source of inspiration for Everton sides in recent years.
The Toffees have lost just two of their last 10 home matches against City, the last of which coming last season, of course, with a game that the Citizens had to win and one that was — Ross Barkley's stunning goal aside — essentially meaningless for Roberto Martinez's side, given that their own Champions League hopes had largely been extinguished by then.
The stakes are significantly higher for Everton this time around, with Martinez hoping to use the injury-time heroics on Tuesday evening of his record signing as a shot in the arm for his side's faltering Premier League campaign. Initially deemed a potentially useful distraction from the League, the cup tie against West Ham could yet prove to be a pivot point for the Blues that arrests a worrying run of form dating back to their last significant cup action in the Europa League in late November.
Four successive defeats has seen Everton fall out of European contention and into the clutch of teams looking over their shoulder at the struggle against relegation that is forming below them. They will start the weekend just four points above Crystal Palace in 18th place while there is a yawning 13-point gap to the top four, a goal that is now, realistically, beyond Martinez's men this season.
Having avoided a fifth straight loss in all competitions by the skin of their teeth, the Blues have the considerable task of rallying themselves for what is, on paper, their biggest test since the reverse fixture against Manuel Pellegrini's side a little over a month ago. Coming in the wake of a 2-1 defeat at Spurs and a frustrating home draw with Hull, the Blues' performance at the Etihad Stadium against an unusually subdued City was flat and uninspiring, with a belated flurry to salavage a point the only flicker of resemblance to the Everton of last season.
Getting back the confidence and fearlessness that was a hallmark of the Blues' best moments in 2013-14 is going to be key to their chances of staging a recovery from the setback over the last six to seven weeks and there's no better occasion than a game against the likes of title-chasing City to start.
They'll have to do it without midfield linchpin, James McCarthy, who has been sorely missed recently but is again ruled out as he recovers from a hamstring injury. The midfielder hasn't figured in the last two games after being withdrawn at half time at St James' Park but his manager told the press today that the club believes they have resolved his long-standing problems.
Also missing will be Darron Gibson, Steven Pienaar, Tony Hibbert, Leon Osman, Tim Howard and the latest injury casualty, Sylvain Distin. The French defender came off with 20 minutes to go against West Ham on Tuesday night with a groin strain and his place in the squad will be taken by Antolin Alcaraz who returns following a one-match ban.
Distin's place in the starting XI is likely to be filled by John Stones, though, after the 20 year-old made his second comeback from ankle surgery as a substitute against the Hammers. He played the full 90 minutes against Stoke City on Boxing Day but took two knocks to the ankle on which he had surgery in October and was given time to recover again before being risked.
Elsewhere in the side, though, Martinez will probably keep things largely unchanged, with the exception of Leighton Baines coming back in at left back at the expense of Bryan Oviedo. The Costa Rican played a crucial role in the equaliser in the cup but will likely make way for his more experienced teammate... that is unless his manager decides to give Gareth Barry a rest and deploys Baines in central midfield.
Somewhat dauntingly, City come to Goodison on a 13-match unbeaten run that stretches back to the 8th of November when they followed up a 2-1 Champions League loss to CSKA Moscow with a 2-2 draw at QPR. Since then, they have shown further defensive vulnerability against the likes of Sunderland, Burnley and Sheffield Wednesday in the FA Cup but also the resilience to win two of those last three games.
They will have been boosted by the news that both Edin Dzeko and Sergio Aguero are back in training this week but either start the game remains to be seen. Aguero has been out of action since limping off early in the first meeting with Everton last month and the assumption is that he is more likely to make his return against Arsenal next weeked than be risked against the Blues. Dzeko, the scorer of two goals in this fixture in May, is the more probable starter of the two.
Irrespective of who starts for City, it is imperative that Everton tighten up at the back where they have been conceding sloppy goals at an alarming rate of late. They will also need some of the harrying and pressing in midfield that has served Blues teams so well in these kinds of games over the years. And, of course, they will need to find more attacking fluency and potency than has been the case at times this season.
With their eyes on the cup replay at Upton Park and the home clash with West Brom after that, many Evertonians are treating this as a bonus game but this could prove to be a vitally important match for Everton if they can pull off a result. They have the talent to do so; can they find the gumption and the guile?
Kick off: 3pm
Referee: Martin Atkinson
Full coverage: ToffeeWeb Match Reports
Reader Comments (116)
Note: the following content is not moderated or vetted by the site owners at the time of submission. Comments are the responsibility of the poster. Disclaimer
David Hallwood
1
Posted 09/01/2015 at 00:59:34
Citteh? Atkinson? we'll be lucky to get a draw
Darryl Ritchie
2
Posted 09/01/2015 at 06:35:12
For your consideration:
Robles
Coleman, Stones, Jagielka, Baines
Barry
Mirallas, Besic, Oviedo
Naismith, Lukaku
Bench: Eto'o, McGeady, Barkley, Alcaraz, Kone and somebody, anybody, who can play keeper in a pinch.
Barry to cover the back 4 and make that first pass to get us upfield. Mirallas and Naismith interchangeable, same on the other side with Oviedo and Rom.
Jimmy Salt
3
Posted 09/01/2015 at 07:06:56
What is or was the point of Darron Gibson?
Kunal Desai
4
Posted 09/01/2015 at 07:10:31
I'll be amazed if we get anything out of this. A fully fit Sergio would have had a field day mauling at our defence.
Jermaine Jennings
5
Posted 09/01/2015 at 07:17:22
I like the line-up Darryl, Oviedo has to play in front of Baines, but I would opt for Barkley instead of Naismith. even he and Barkley are out of form, Barkley would be better in these big games to showcase his talent.
Colin Glassar
6
Posted 09/01/2015 at 07:56:13
No Yaya; a rusty Aguero. We usually up our game against Man City and the last game was decided by the ref. I'm going for a home win.
Adam Luszniak
7
Posted 09/01/2015 at 08:02:26
We upped our game a notch from Hull to West Ham. If we can up it again for this game, we stand a chance. Still, I'm not very hopeful!
Having stones back should in theory inspire a better defensive display. Personally I'd say Barry has to be dropped, and I'd play Baines in the middle with Oviedo at left back. I know their are mixed views on Baines' capacity to perform as a CM, but he's only as bad as Barry surely? His passing is better I think, and he's definitely more mobile. Play him alongside Besic, With Mirallas left and McGeady right. Naismith to replace McGeady if he proves ineffective.
Jim Bennings
8
Posted 09/01/2015 at 08:34:33
Jimmy Salt
I guess somebody has to keep what physio's we have left in a job, they must be chuffed with Gibson and Pienaar.
I agree though, you can't even get excited anymore about Gibson returning to action because you just know less than 6 games later he's down for another few months with a so-called "minor knock" .
Both him and Pienaar need putting out to grass in the summer, along with a few other's.
Its a scary though tomorrow even a half fit rusty Aguero up against Jagielka.
Anymore farting around in defence and we will get torn to shreds because you can't allow players of City's quality to have the helping hand that we dish out in most games.
Tomorrow has to be a virtually faultless display from EVERYONE.
The question is, are we capable of a performance of such near perfection?
You'd have to say no at the present moment.
I'd say a draw would be a good result but it's another game without a win making it 1 win in 11, we really need to win some matches soon.
Neil Wood
9
Posted 09/01/2015 at 08:43:09
First name on the team sheet... Besic.

Shaun Laycock
10
Posted 09/01/2015 at 08:41:36
Robles
Coleman Stones Jagielka Oviedo
Besic Barry Baines
Barkley
Lukaku Mirallas
GK, Garbutt, Alcaraz, Naismith, McGeady, Eto'o, Kone.
City dominate possession in front of a team so this is the thinking of the 'defensive' midfield with Baines left of center for Zabaleta and Besic the same for Kolarov on the other side. Barkley to tuck back in when they have it and the license to roam when we have it. Mirallas pulling wide and for the threat in behind and Lukaku coming of the front like against WHU.
Dave Lynch
11
Posted 09/01/2015 at 08:40:48
Adam.
That would be Mcgeady substituted in the warm up then, he's fucking hopeless and should be sold as soon as possible.
As for the result? Depends on what philosophy Barcelona Bobby decides on. Tipy tapy and we get a mauling. Direct in their faces and we stand a chance.
I'm not holding my breath!
Adam Luszniak
12
Posted 09/01/2015 at 08:52:37
Dave, I agree he hasn't been the best signing, but would say he did well in his cameo in the cup.
Sean Kelly
13
Posted 09/01/2015 at 08:47:10
Colin I love your positivity. Have you been hanging around Roberto lately? At best I see a draw though hoping for a win.
Against the Hammers we just about papered over some glaring cracks in our team and a team like Man City will expose them further. The only way we can get something from this game is to get at them for 90 minutes and we are clearly not fit enough for that.
James Lauwervine
14
Posted 09/01/2015 at 09:26:02
Shaun 10, I agree and think that's the best team we have available at the minute, with McCarthy then replacing Barry when he's fit.
I have to say that the general negativity on here and at the games recently is fucking pathetic. The latter makes it 10 times harder for the players to perform and some supprt and encouragement would go a long way.
Derek Thomas
15
Posted 09/01/2015 at 09:39:52
Dave Lynch # 11 if we do a mixture of both we might even win it.
I would prefer to have Oviedo as DM rather than Baines or Barry for that matter.
But if the WHU Lukaku+ turns up and gives them a severe beasting the corner could, just could be turned...but this is Everton.
Max Wilson
16
Posted 09/01/2015 at 09:54:25
Shaun, go to the top of the class! Great team selection in our present circumstances. A lot of us identified the intelligent and skilled players in our squad a long while ago. If Ossie was fit I'd have him on the bench.
McCarthy is sorely missed.Funnily enough I've got a optimistic feeling about the next two games, allowing for no injuries that is. I hope to see a full Old Lady tomorrow. When times are challenging is when you prove you are a supporter. We can bellyache on here to relieve out feelings. COYB.
Andrew Ellams
17
Posted 09/01/2015 at 10:20:29
Shaun's selection of Baines and Besic is an interesting one because one of the team's big strengths last season was Barry and McCarthy dropping in behind the fullbacks to cover when they went forwards. That hasn't been happening this season and has maybe hamstrung (probably not the best choice of words right now) Baines and Coleman somewhat.
David Hallwood
18
Posted 09/01/2015 at 10:26:44
To quote the old joke, Darron Gibson was on question of sport and broke down after 15 minutes; get shut,he makes Darren Anderson(remember him?) look like an ever present.
I just can't see us getting anything out of this, I'd dance round the living room if we come away with a 0-0 draw.
Harold Matthews
19
Posted 09/01/2015 at 09:21:19
Wouldn't chance Barry but he'll probably play and get carded for tripping Silva with the wrong leg. Far better he swapped over and let Besic tackle Silva with the right leg.. Someone has to counter-act Navas and Zabaleta so we feed Mirallis plenty with Baines and Jags behind him. If Baines goes midfield we've always got Oviedo or Garbutt.
Naismith or McGeady on the right but I hope we get a chance to see Atsu.
With Distin missing we'll need to avoid corners at all costs or Dzeko, Kompany and their other big lads will have a field day.
Not confident but Martinez beat City with a poor Wigan side and may have a few tricks up his sleeve.
Bob Heyward
20
Posted 09/01/2015 at 10:31:08
Some will claim we up our game for City. That's a rose tinted memory of the post-Lescott Moyes era...and by the way, how hilarious it is to see some people recycling Moyes stats!
Speaking about today's squad, and not cherry picking golden oldie memories to suit a pro-Martinez agenda, if Tuesday's defensive shambles was anything to go by, we're going to struggle and I really fear that we could get a hiding.
If we challenge for second balls ( there's and ours), defend corners, have defensive understanding, play Ross through the middle, have a motivated Rom' that comes short and holds, prepare a plan B, be smart with well timed and canny substitutions, etc etc etc then we might have a chance.
In other words, if our manager actually manages, maybe we can compete. If not...well, come in Martinez cos your time is up.
Al Reddish
21
Posted 09/01/2015 at 10:56:10
http://m.bbc.co.uk/sport/football/30735905
Interesting read.
Mike Hughes
22
Posted 09/01/2015 at 11:04:50
Al #21
Yes, even Robbie Savage can see through our problems - so they must be glaringly obvious.
The concerns could have been lifted from ToffeeWeb posts.
However, I know that quite a few people had a similar opinion to me on RM's appointment: underwhelmed but open-minded.
In the early days, the major concerns were the need to "mix it up" / adapt rather than to adhere to a footballing philosophy. That concern has come home to roost and is the gist of Savage's article.
I still want RM to succeed but I do fear these next 2 games are really the "pivotal" ones to use RM's new word.
I fear that if we don't get 4 points from the next 2 PL games then the game may well be up.
Jeff Beaumont
23
Posted 09/01/2015 at 11:19:26
Harold - if you want to see Atsu hope your passport is up to date - he's at the ACON.
Tony J Williams
24
Posted 09/01/2015 at 12:14:09
To be fair to Booby, it seems that with each game we get a new injury.
I have never seen an injury problem like this in many a year and all in the worst possible positions too.
Get in their faces but no fannying about with it at the back.
Need to just keep concentration for 90+ minutes and we might have a nice surprise, especially as Yaya won't be playing
Roger Helm
26
Posted 09/01/2015 at 12:44:36
We have to treat this away game - trying to play possession football in our own half is a recipe for disaster. Press as much as possible, get the ball into their half as much as possible and play direct, so I would play Kone who is a better target man, Lukaku to play off him, Barkley and Besic in CM who played well together, albeit only against QPR and Oviedo and Mirallas on the wings for attacking pace and willingness to track back. Drop Barry who is too slow and as a result gives away free kicks in our half, and McGeady who is forever coughing up possession.
With enough effort and a fair go from the ref, we can win this.
Robles
Coleman, Stones, Jagielka, Baines
Mirallas, Besic, Barkley, Ovieda
Kone, Lukaku
Brian Waring
27
Posted 09/01/2015 at 12:58:52
So the reason Martinez did so well last season was because of Moyes? Give me a fucking break!
Harold Matthews
28
Posted 09/01/2015 at 13:13:49
Nice one Jeff. Cheers.
Denis Richardson
29
Posted 09/01/2015 at 13:14:47
If we play anything like the last few games and City are not totally off their game, they'll be comfortable winners by a couple of goals.
I've grown increasingly disillusioned with Robertos team selections, specifically the constant lack of width in the side, which in turn dampens the threat of Coleman and Baines. I'll watch the game and hope the blues get something out of it but until he starts picking a balanced side, I just can't get excited anymore.
It took Moyes a good 7 or 8 years to get me to the point where I stopped looking forward to Everton games, Roberto's managed it in a mere 18 months!
FWIW, I'd play Oviedo, Barkley and Mirallas as the 3 AMs, with Besic and McCarthy as the two CDMs. If McCarthy's not fit then Barkley to play next to Besic and Naismith or Eto to play behind Lukaku.
I just hope he doesnt play any of Barkley, Eto or Naismith out wide again.
Barry needs to be on the bench but as usual he'll start.
John Keating
30
Posted 09/01/2015 at 13:51:12
Martinez' usual tippy tappy across the back will result in us gifting City the game.
I think we need to play more defensive 4 - 5 -1 but have enough in midfield to support Lukaku on the break.
As City break quickly Besic should stay covering the back 4
Robles
Hibbert, Stones, Jags, Oviedo
Coleman, Besic, Barkley, Baines
Naismith
Lukaku
Chris Gould
31
Posted 09/01/2015 at 13:49:04
Tony #24 I can't tell if you've called him Booby on purpose or if it's a typo. But it made me chuckle. I need to grow up.
Harold Matthews
33
Posted 09/01/2015 at 16:01:11
Sky Sports News raving about Dzeko, Kompany and Aguero being ready to face Everton. Sorry I tuned in.
Charles McCann
34
Posted 09/01/2015 at 16:10:15
I would like to see Alcaraz and Stones in central defence for a run of games. Jags has been poor lately and when in possession is an accident waiting to happen. I know being captain, Martinez may find it difficult to drop him but I think its on the cards soon. Alcaraz whilst not blessed with pace reads the game well, is dominant in the air and is comfortable on the ball.
Jay Harris
35
Posted 09/01/2015 at 16:25:46
Charles
I don't know what games you have been going to but Alcaraz makes at least on huge error in every game he plays in.
IMO he is one of the worst signings ever made along with Glen Keeley.
He is slow and does not do well with pressure.
Dzeko and Aguerro will have a field day if he plays.
I like the look of Shaun's side with Besic, Barry and Baines in a 3 man defensive MF which is where we have lacked strength all season.
Barry has lacked pace but reads the game really well and with players alongside him looking for the ball will not be subject to the pressure he has had to endure all season under the RM tactical disaster (ER plan).
Harold Matthews
36
Posted 09/01/2015 at 16:34:04
Jay. He's nowhere near as bad as you say. Once a really good defender, he has obviously suffered too many injuries. All our players make at least one glaring error every game. Some make quite a few.
James Joseph
37
Posted 09/01/2015 at 16:45:21
Harold (19) said, "Not confident but Martinez beat City with a poor Wigan side and may have a few tricks up his sleeve."
Yes, like scoring from a corner as Wigan did that day!
Harold Matthews
38
Posted 09/01/2015 at 16:54:24
Cheers James. Yes, I guess that's one trick that will not be repeated.
Charles McCann
39
Posted 09/01/2015 at 16:41:35
Jay
Don't get to many games being across the Irish Sea but rarely miss seeing the matches. The way Jags played the other night he couldn't do any worse. I'm not saying he is the answer to all our problems but with better protection from say a central midfield of Besic and McCarthy when fit and with fast players like Stones and Coleman in defence with him I think he would do well. Time will tell but I still think Stones and him will make a good partnership. Definitely not one of the worst signings ever! If Martinez gets his team selection right and has a well balanced set up I feel we will do well tomorrow. Kompany and Aguero back in the city squad is unfortunate though.

Ant Summers
40
Posted 09/01/2015 at 17:14:57
If Alcaraz and Stones start tommorow, I think that will be the biggest indication of all that our manager and captain have fallen out. If that is the case we cannot afford to have Jags on the pitch.
Ray Roche
41
Posted 09/01/2015 at 17:27:49
Referee is the one and only Martin Atkinson.
Richard Lyons
42
Posted 09/01/2015 at 17:46:02
I fully expect us to get hammered tomorrow and again on Tuesday.
Fortunately my predictions are usually wrong...
James Flynn
43
Posted 09/01/2015 at 14:14:32
ManCity has run hot and cold this season. We catch them in a cold spell, we can win.
Please, Roberto, set us up to hit on the counter.
Ian Burns
44
Posted 09/01/2015 at 18:26:32
I have lost all confidence in RM and I can only see us taking the field in total confusion tomorrow. One thing we can be certain about he will say we were phenomenal no matter the outcome. How I wish for a performance; some sort of result and relief from Saturday misery. A win and my Bombay Sapphire will take a hammering. If we lose it will take hammering but I will be crying into my gin!
Tony Hill
45
Posted 09/01/2015 at 18:32:58
It's the WBA game that matters and tomorrow is a bit of a free hit for us. Objectively, they should win comfortably but they always seem to struggle against us. Even at their place when we had about 3 players on their game, they needed Marriner.
Performance is what counts tomorrow, if we try hard and show some courage then I won't mind if we lose, even if we lose by a few.
Jay Harris
46
Posted 09/01/2015 at 18:41:03
Tony
I think youre right.
If we up the tempo and aggression against them they are not as formidable as they should be but can we maintain a high tempo game.
Charles(and Harold) IMO Alcaraz is a disaster waiting to happen every game but Jags is capable of so much more but is not a confident lad so needs the crowd to get behind him.
Dave Abrahams
47
Posted 09/01/2015 at 18:50:05
Yes we've got to press them from the off, the best we've played this season IMO was against Chelsea, unfortunately we were chasing the game after conceding two early goals, but for the rest of the game we matched Chelsea and got beat by the disasterous start.
Phil Walling
49
Posted 09/01/2015 at 18:56:54
Tony Hill, 'Performance is what counts tomorrow '? You sound like Roberto's Disciple.
What is desperately required is three points - even if it's via a last minute own goal off the goalie's arse !
Ian Burns
50
Posted 09/01/2015 at 19:05:31
Phil - off his arse; his knob or a rebound off Martin Atkinson's nose - who cares as long as it's 3 points - a good performance but losing by 1 or 5 is a bad performance as far as I am concerned. I just cannot imagine, having supported this club for 60 years losing but putting up a good performance brings any sort of satisfaction - even in these dark days of RM and his using this club as part of his apprenticeship!
Tony Hill
52
Posted 09/01/2015 at 19:22:08
Of course I want 3 points but we are playing the champions who are a far better side than us and our form is poor. What I do not want, above all, is a performance which shows no guts. If the players are trying their best then I can live with defeat, though a win would be very nice thank you.
Colin Glassar
53
Posted 09/01/2015 at 19:30:09
I agree with Tony. Three points and a battling display.
Ian Burns
55
Posted 09/01/2015 at 19:32:04
Colin - would prefer a performance which is less than acceptable but we win with 3 points with an arsy goal or a great performance and no points?
Linda Morrison
56
Posted 09/01/2015 at 19:32:32
I would take a well fought draw tomorrow. I think we should not be facing a reply as the goal should have stood, but this is Everton and we always get stuffed!
I don't want us to play like a Moyes team but a Martinez team that can at least get a point.
Mike Hughes
57
Posted 09/01/2015 at 19:29:19
The minimum I'd want is a draw tomorrow (even if we have 10% possession and a last minute own goal later shown to have not crossed the line by TV cameras).
Then 3 points off WBA.
More than ever the performances mean nothing - and they never ever mean more than the result. Glorious defeat? Stick it. There's too much at stake.
4 points is the minimum from these next two games or I suspect it'll be 'Goodnight Vienna'.

Ant Summers
58
Posted 09/01/2015 at 19:31:17
If we have the likes of Jags and Distin having fall outs with Martinez in front of the squad(allegedly), if true no matter what, these players have to be removed from training with the rest of the squad. Bad apples and all that. Because Martinez is going nowhere in the short term, BK will back him to the hilt.
James Power
59
Posted 09/01/2015 at 18:21:06
Alcaraz could be good, he just needs to work on his heading, positional awareness, tackling, communication with the rest of the team, fitness, closing down, passing and opening his eyes for the duration of the game. Aside from that he would definitely get my vote. Unless someone else is available, then I would go for them.
Mike Hughes
60
Posted 09/01/2015 at 19:56:40
Let's hope Lawro's predictions are wrong for tomorrow.
If he's right we'll be 4 points off the bottom side this time tomorrow night.
Be afraid. Be very afraid.

Kieran Riding
61
Posted 09/01/2015 at 20:01:51
Mike. Mark Lawrenson is a massive bell end. End of.
Ant Summers
62
Posted 09/01/2015 at 20:01:03
Mike, WBA look like a stand out, unfortunately for us. How Hull got 4 points off us is a bloody mystery, they are awful.
Mike Hughes
63
Posted 09/01/2015 at 20:04:30
Agreed Kieran.
But it still highlights the precarious situation we are in right now.

Mike Hughes
64
Posted 09/01/2015 at 20:07:06
Ant - again, if Hull take 4 points off us but are awful, what does that make us?
These are scary times.
Thought I'd seen the last of this kind of crap.

Ian Burns
65
Posted 09/01/2015 at 20:01:47
Mike - 60 - be afraid - be very afraid - ayez peur! ayez tres peur! You bet and this should NOT be happening at EFC which is why I constantly post on TW for a change of manager - but I would still take an arsy 3 points tomorrow over a great performance!
Kieran Riding
66
Posted 09/01/2015 at 20:14:44
Ian, fair enough mate, but it should be a rule on TW, that if you ask for a change of manager, you must name your replacement ! Who's yours ?
Tim Greeley
67
Posted 09/01/2015 at 20:06:23
Barry will NOT get dropped against his old chums, he'll be out there YUCKIN IT UP with Boring James and Kompany pre-match. "Ha, how'd I end up at Everton!?!? Early retirement, my boys! Joe Hart - let's race to the six yeard box! Hey Edin, how is my wind-tunnel tested hairdoo looking?". Blecht. he'll be out there, somewhere.
Lukaku was really, really good against WHU. If a few more can raise their games as well we will right the ship.
Once a year, every year, me and my boys get together to literally drink booze and eat ALL DAY LONG and that day is tomorrow. A home win verse City would start such a day off so DANGEROUSLY!!
And yes, we are in our mid-30's and our wives hate us.
Ant Summers
68
Posted 09/01/2015 at 20:08:47
Mike, it does make you think wtf is going on, all I know is watching Hull at our place thinking, boy these are bloody awful. We should have been 3 clear before they had their 1 shot on goal, and the ball go thru Howard lke he was not there. The new WBA manager will have had this team on raw meat for the last few days. Most definitely 3 points to them, next week becomes a 6 pointer when we play them. Shakey Times if we do get a hiding tommorow, but I live in hope.
James Stewart
70
Posted 09/01/2015 at 20:25:51
@9 wish you were right. This is Martinez though and first name on the team sheet will be Barry regardless of fitness or form.
Some delusional folk on here. Will be nothing but misery from this one. I predict a spanking for Martinez with absolutely no pleasure involved
Ian Burns
71
Posted 09/01/2015 at 20:20:13
Kieran - yes you have a point - all mouth and no solution should not be allowed - so I make nomination and wait for the bullets. I would like to see Paul Clement; Frank de Boer just to name my personal top two.
Clive Rogers
72
Posted 09/01/2015 at 20:46:44
Leave Barry and Naismith out.
Barry because he ca'nt run.
Naismith because he has got one goal in the last 4 months and none in the last 3 months.
Clive Rogers
73
Posted 09/01/2015 at 20:55:09
That's PL goals.
Colin Glassar
74
Posted 09/01/2015 at 21:02:41
Mike, I wish Lawro would just ignore us. Every time he mentions us he puts on a face like he's just stepped in something. He obviously hates Everton and enjoys it when we're struggling.
All I want tomorrow is a fighting performance. If we get a result, even better. 2-1 Everton.
Raymond Fox
75
Posted 09/01/2015 at 21:21:57
City 5/6 Everton 7/2 Draw 14/5
Who know, stranger things have happened, we might cause an upset!
My heads telling me its a win for City though, I'd take a draw now if it was possible.
A player like Silva in the middle for us (fat chance) would transform our attacking play, oh and a centre half that could actually get his head to a ball would be use-full also!
Roman Sidey
76
Posted 09/01/2015 at 20:50:26
We'll win this game. Too many teams have broken their duck against us this season, it is time the roles were reversed. We're winless in four, (five in all comps) and City are unbeaten in a shitload. Writing is on the wall. This will not be a turnaround for the team, but we will win it.
On a sour note, I remember about 18 months ago saying I was nonplussed by the signings of Kone and Alcaraz. I didn't get much stick for Kone, and I still believe he was as big a waste of ٣m as Kroldrop, but the outright abuse I copped about not rating Alcaraz bordered on criminal. Smug certainly isn't a great way to self promote, and I wish that every signing Everton made was a corker, but if I could remember all the people who swore at me and told me I was an idiot, I'd certainly be asking for an apology right about now.
Stephen Brown
77
Posted 09/01/2015 at 21:41:58
Sorry to change the thread slightly - taking my daughter to her first game and she wants to see the players arrive. What time generally do they arrive these days? It used to be about 12.30 at the Park End . Is that still the case ? For the record I say 2-1 to the Blues , lukaku double !
Mark Frere
78
Posted 09/01/2015 at 21:25:01
Robles
Coleman Stones Jags Garbutt
Besic Baines
Mirallas Barkley Oviedo
Lukaku
Anthony Flack
80
Posted 09/01/2015 at 22:16:57
Stephen (77) hopefully Barry, Distin, and Alcaraz will arrive at about 1745....
Anthony Flack
82
Posted 09/01/2015 at 22:20:06
In fact if Barry arrived at the Park End at 1230 he would not make it to the halfway line before 3pm....
Stephen Brown
83
Posted 09/01/2015 at 22:20:55
I did hear Kanchelskis is on the pitch at HT. Can he bring his boots ?
Tony Cawson
84
Posted 09/01/2015 at 21:48:13
@Stephen Brown 77.
You should be ok around that time.
A spec by the blue fence and you should get autographs and maybe a quick snap.
Link
John stones was great midweek with my nephew. Made his day.
Also Steve Mcmanaman was chatting to the kids for a while. Also brilliant and referring to Everton as us and we!

Enjoy.
Brian Hennessy
85
Posted 09/01/2015 at 22:15:51
Confidence - The biggest single factor that has us playing the way we are.
Head says a comfortable City win but hey, this is why we all watch sport, anything can happen.
A win tomorrow by any way possible and it could change our whole season.
Here's hoping.
Brian Hennessy
86
Posted 09/01/2015 at 22:32:08
Colin #74 Couldn't agree more re Lawrenson, he can't stand us.
Makes me laugh during International matches when he refers to England as "We" when he is on British TV and when on Irish media he refers to Rep of Ireland as " We", bit of an identity crisis going on there.
Colin Metcalfe
87
Posted 09/01/2015 at 22:38:45
Hate to be Mr pessimistic but just hope we can keep the score down to 2 or less !
I would be quite happy for a Moyes type of game tomorrow , 2 banks of 4 and try and hit them on the break or maybe a set piece however knowing RM that ain't gonna happen ! God help us we are going to need it !!
James Marshall
88
Posted 09/01/2015 at 22:49:38
The first name on the team sheet will be Robles. He's the goalie.
I reckon we'll do alright tomorrow - losing by a goal is doing alright.
Colin Williams
89
Posted 09/01/2015 at 22:48:07
Naismith is brill!! :)....
Nigel Gregson
90
Posted 09/01/2015 at 22:57:14
Brian Waring #27, thats been the chief argument of many a Martinez hater. I have no energy to waste on daftness of this point - but hey. It seems many a TWer have already made up their minds.
Kevin Tully
91
Posted 09/01/2015 at 22:53:11
We keep on hearing how the next game is critical after a run of bad form, but in my opinion, this game really will tell us where we are heading in 2015.
We have 'stopped the rot' against West Ham, but we were only average. As usual, we will start well in front of a full house at Goodison, but the least we want to see is 90 min's of busting a gut. I can take a defeat, but if we look clueless in our passing, and we don't get into dangerous positions to test Hart, then that just isn't acceptable - not after a run of four defeats.
If we meekly surrender, then nothing has changed and Martinez hasn't got the nous or motivational ability to get us out of this tailspin towards a relegation dogfight.
The players have a duty towards the shirt, if they want to sulk then they all need fucking off - along with the manager.
Mike Childs
92
Posted 09/01/2015 at 23:22:50
New year new attitude which for me must include patiences.
Keith Meakin
93
Posted 09/01/2015 at 23:32:37
I feel as though the team may have finally turned the corner after the West Ham game, and hopefully Bobby will play a bit more direct. only problem is turning the corner at this moment in time will see us walking straight into a Brick Wall. We need some of the lucky refereeing decisions that Citeh have been getting against us at the Jihad Stadium over the last few seasons.
Keith Meakin
94
Posted 09/01/2015 at 23:41:09
Martin Atkinson Top of the Cards Chart.
67 Yellow 3 Red
Lets make it four / A Man City Red.
Mark Andersson
95
Posted 09/01/2015 at 23:18:10
I agree with the 'no nonsense' Mr Tully. Playing for Everton with no heart or passion is criminal. Likewise not getting behind the team as supports is as bad.
I'm not overly optimistic on this one as far as results; however, the attitude of the performance is as important as this will give us a indication of if the players have the stomach for a relegation fight. The longer Martinez stays, the harder it will be.
My replacement manager would be Martin O'Niell.
Steve Carse
98
Posted 10/01/2015 at 00:14:42
If our midfield organisation and resistance is as poor as it has been of late then City will literally walk right through us and it could be embarrassing. One absolute certainty is Atkinson booking Besic, and probably in the first half. Would bookies offer odds for this?
Jamie Crowley
99
Posted 10/01/2015 at 00:53:57
I'll tell ya one thing -
If I see any of those fuckers yuckin it up, smiling, giggling, getting all friendly with the opposition while in the tunnel...
I'm gonna punch a fucking hole in the TV.
Especially Jags. Fucking Captain - try to at least act like one for the love of all that is holy!
Colin Glassar
100
Posted 10/01/2015 at 01:17:40
Oh Jamie, you're going to love his interview in the daily mirror. Check it out.
Jamie Crowley
102
Posted 10/01/2015 at 01:35:22
I haven't seen it or the post-game interview.
You just gave me something to do on a Friday evening Colin, Thank you.
Laurie Hartley
103
Posted 10/01/2015 at 01:32:20
Kevin @ 91 - I think you are right about the importance of this game and unfortunately were up against the champions. I'm just glad Toure won't be playing for them.
My view of the situation is that we have to take a minimum of 5 points from the next 3 games. I would prefer 7.
Anyway time to put our differences aside for now. I am sure everyone at Goodison will get behind the team for this one.
We need a big shift from all the players for this one.
Jamie Crowley
104
Posted 10/01/2015 at 01:55:06
Colin I just read it.
Does he not have the intelligence to just say, "None of that is remotely true."
We have a laugh at it all. Bainsey is a lover, not a fighter.
Har-har hardy fucking har.
Jeezuz.
Harold Matthews
105
Posted 10/01/2015 at 02:15:42
We're a pretty good side when we all pull together and up the tempo.
Roman Sidey
106
Posted 10/01/2015 at 03:22:44
Tony, that's real good to hear about Macca meeting with fans and outright being an Evertonian. Despite his history playing for the Shite, on the tele he always speaks as an Everton fan.
Michael Polley
107
Posted 10/01/2015 at 08:16:32
We need to play fast direct football. Get the ball up to Lukaku quickly. If RM reverts back to his tactic of building the play up from our back four we'll get hammered. This tactic dosn't work now.It was good to see a change in the FA Cup game.Please please Martinez bin this philosophy. It's cost us so many games so far. Listen to your players and give the fans wha5t they want - Everton winning with attacking football. COYB
Brian Foley
108
Posted 10/01/2015 at 08:26:04
Lads and Lasses, for what it's worth:
Robles
Coleman Jagielka Stones Baines
Naismith Besic Barkley Barry Mirallas
Lukaku.
I am not too keen on one up front but needs must. The reason for including Naismith on the right is to negate any left back runs and candidly Naisy can be a fucking nuisance and will hopefully annoy City. He doesn't get the credit he deserves and although everyone loves Mirallas he needs to do a bit of Naisy work esp re Zabaletta (he can still do his bit of magic) I wish he would do it more often.
Let's get behind all of them. Barry's form has dipped significantly but we need him (on form) in a 5 man midfield Barkley Naisy Mirallas MUST tuck in as quickly and tightly as possible when not in possession and we must break at pace even if it's an outlet ball to Lukaku. Leave Lukaku up for City corners, I hate the ball being cleared to the opposition what do coaches see in having all 11 back – pointless. I've tried to pick the best players in the most formidable formation possible to frustrate City match them in midfield and counter. I can't improve this personnel except for McCarthy.
David Greenwood
109
Posted 10/01/2015 at 08:35:44
Cannot make my mind up about this game.
We normally do well against them, and the last time out was heavily influenced by some very favourable refereeing in City's favour. Yes Barry should have been red carded for his elbow but by that time City should have had nine men for nearly an hour.
Referee aside, we still didn't put in a performance.
I want to see players in their natural positions, no square pegs and round holes.
I want us to be difficult to play against, with and without the ball.
I want the players to play with confidence and belief in themselves and their teammates.
And perhaps most of all, I want them to play, and the manager to have them set up, like it means something to them to play for Everton.
Not sure all of the above will happen so having said all that, 2-2, with City getting a late equaliser courtesy of Mr Atkinson.
John Malone
110
Posted 10/01/2015 at 09:20:36
Same tactics as last year when Utd and Arsenal came to town park the bus and counter.
Kone and Oviedo could have big parts to play if used correctly in a 3-5-2 later on in the game.
Michael Winstanley
111
Posted 10/01/2015 at 09:27:13
Shaun's picked the team for me, let's hope Roberto doesn't tinker, 5-2 with Barkley scoring a few.
Ian Burns
112
Posted 10/01/2015 at 10:36:21
Former Everton winger Pat Nevin: "He doesn't work hard enough off the ball. I've been to two of Everton's last five games and there's a lot of walking about. I'm shocked by that. He might be offended if he heard me talk like this but he could be brilliant. He has to work. He scored the goal the other night but he only got decent in the second-half when he got kicked. Roberto Martinez should kick him and get him angry before he goes out! I just want more out of him. But he's not the only problem at Everton. They've got bigger problems."

Mark Wilson
113
Posted 10/01/2015 at 10:26:20
Sounds a bit daft but....
Robles, Garbutt, Jags, Stones, Coleman
Oviedo, Baines, Besic, Barklay, Mirallass
Lukaku
Three left backs ? How could that work ?
Well it won't happen but...its balanced with right side of Coleman and Mirallas, Baines and Besic sit in front of back four and basically spend all the game snapping at the heels of City's world class forwards......Oviedo really will help stop City getting the width they enjoy and he can attack with strength and surprising pace AND he can cross the ball.....Garbutt can defend AND he can take a corner and cross the ball.....harsh on Naisy but for me for the next few games it feels solid yet with attacking potential and Ross behind a returning-to-form Lukaku is simply light years better than a Barklay left wing berth.

Ian Burns
114
Posted 10/01/2015 at 10:37:46
He was referring to Rom

Ian Bennett
115
Posted 10/01/2015 at 10:35:25
I like Mark's (78)team, although Barry and Naismith will start.
Brian Harrison
116
Posted 10/01/2015 at 10:35:04
The BBC webpage commenting on our game today with City produced an interesting stat, apparently City haven't won an away game without Yaya Toure in their side since Jan 2013. At first I thought well thats something to have confidence about today's game, then I realized we specialize in breaking other clubs dismal records. So not sure if this stat is a positive or negative.

Ian McDowell
117
Posted 10/01/2015 at 11:14:27
I'm not looking forward to today. Robles and the CB don't exactly give you confidence. Add to that a team low on confidence and a home crowd thats juts cannot get lifted I can only see a comfortable City win. The West Ham game was a slight improvement but no where near the standard needed.
Michael Upton
119
Posted 10/01/2015 at 12:41:27
Two things stand out on the comments left so far:
1) Noone has mentioned Lampard - surely he's nailed on for a goal today? His presence means City won't miss Toure.
2) Mark #95 - Take a look at why O'Neill got sacked by Sunderland. Talk about living off past glories.
Brian Waring
120
Posted 10/01/2015 at 13:30:47
Lineup: Robles, Coleman, Stones, Jagielka, Baines, Barry, Besic, Mirallas, Naismith, Barkley, Lukaku
Denis Richardson
121
Posted 10/01/2015 at 13:41:57
Brian is that line up right? if it is then we fucked before a ball has been kicked with either Naismith or Ross playing wide again and Barry fucking starting!
Wonder how many minutes it'll before one of Barry or Besic is carded, am going for 27th minute.
Ian McDowell
122
Posted 10/01/2015 at 14:03:12
Team on BBC:
01 Robles
23 Coleman
06 Jagielka
26 Stones
03 Baines
17 Besic
18 Barry
07 McGeady
14 Naismith
20 Barkley
10 Lukaku
Substitutes
05 Eto'o
08 Oviedo
09 Koné
11 Mirallas
29 Garbutt
30 Alcaraz
45 Griffiths
Brian Waring
123
Posted 10/01/2015 at 14:07:32
Sorry Denis, that was just my guess.
Can't believe Mirallas doesn't start.
Brian Waring
124
Posted 10/01/2015 at 14:10:03
Kompany and Aguero on the bench for City
Brian Waring
125
Posted 10/01/2015 at 14:11:53
Man City team :
01 Hart
05 Zabaleta
26 Demichelis
20 Mangala
22 Clichy
06 Fernando
25 Fernandinho
15 Jesús Navas
21 Silva
08 Nasri
35 Jovetic
Brian Waring
126
Posted 10/01/2015 at 14:25:32
Should have benched Barry, Barkley in the middle with Besic, Mirallas on the left, McGeady right, Naismith behind Lukaku, looks a bit more balanced.
Michael Polley
127
Posted 10/01/2015 at 14:26:12
Start Mirallas FFS !!!
Henrik Lyngsie
128
Posted 10/01/2015 at 14:33:23
Dear mr Mcgeady from what I have seen so far you should be nowhere near our starting line up. Please prove me wrong today. Please don't loose possession all the time in the middle of the field. Please beat your man a few times and deliver a proper cross for a blue teammate. And please show some tactical awareness. Or just score a goal. Just please prove me wrong. I am sure since Roberto shows faith in you the skills must be somewhere. I would rather eat my words than seeing you loosing the ball all the time

---
Add Your Comments
In order to post a comment, you need to be logged in as a registered user of the site.
Or Sign up as a ToffeeWeb Member — it's free, takes just a few minutes and will allow you to post your comments on articles and Talking Points submissions across the site.
© ToffeeWeb