Deulofeu Returns in €6m Deal!
Signing on 1 July finally confirmed by Everton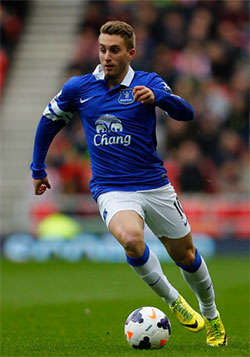 The 21-year-old will officially become an Everton player on 1 July.
(Paul Thomas/Getty Images)
Everton have now finalised the acquisition of Gerard Deulofeu on a full-time basis from Barcelona, sealing the return of a player who spent the 2013-14 season on loan with the Blues.
The 21-year-old completed a successful medical at Finch Farm on Monday and returned to the club's training complex on Tuesday to put pen to paper on a contract after the Spanish club ratified the transfer.
The fee is €6m, with Deulofeu reputedly turning down better terms elsewhere to sign a three-year deal until the summer of 2018, with Everton having the option of a further year on the Spaniard. The contract includes a release clause if Barcelona make an offer to Everton meeting certain requirements within the first two years, and they also have a right of first refusal if Everton decide to sell the player.
Billed as another star to come out of Barça's famed youth academy, Deulofeu's arrival at Everton in July 2013 was seen as something of a coup for the recently-arrived Roberto Martinez and he became a cult hero among many supporters as his exploits helped Everton to 5th-place finish that season.
The touch of magic and unpredictability he brought to the Blues' side complemented the graft and solidity of the defensive midfield axis of James McCarthy and Gareth Barry and it was hoped that he would return to Merseyside for another loan spell last season.
I'm back! Once a blue, always a blue! 🔵⚪️

— Gerard Deulofeu (@gerardeulofeu) June 25, 2015
Deulofeu's heart remained with his beloved Blaugrana, however, and he returned to Spain determined to win a place in incoming boss Luis Enrique's squad. Unfortunately for Gerard, the quality that was present in a team that would go on to recapture the Spanish league title and win the Champions League meant there was no room for him and he was eventually loaned out to Sevilla for the duration of last season.
The Riudarenes-born player's experience at the Ramón Sánchez Pizjuán Stadium was mixed, however, and he would find himself a largely peripheral figure over the second half of the season as Sevilla went on to win the Europa League.
Sevilla boss Unai Emery spelled out his issues with the player, ones that will not be all that surprising to Evertonians, when he said last month that, "[Deulofeu] has incredible qualities, but also a lot of deficits. He can do one vs one but.. playing with team-mates, in a big stadium, it's complicated. He isn't mature enough yet and needs spirit of sacrifice".
Martinez was thrilled to land his former player but he will be under no illusions about the need to refine those parts of Deulofeu's game. With the explosive qualities he possesses, however, the 41-year-old boss no doubt sees a favourable risk-reward scenario given the low fee and high potential.
"Gerard needs no introduction to anyone here at Everton, for we are all well aware of his incredible footballing talent," Martinez said.
"We got to know him really well from his loan period, not only as such a talented player but also his great character. He will be a fantastic asset to our Club."
Quotes sourced from Everton FC.com
Reader Comments (171)
Note: the following content is not moderated or vetted by the site owners at the time of submission. Comments are the responsibility of the poster. Disclaimer
Mark Riding
1
Posted 25/06/2015 at 14:20:00
Deal announced. ٢.2m. Welcome back!!
Mark Riding
2
Posted 25/06/2015 at 14:22:15
"I'm back. Once a blue. Always a blue!" — even Jim Bennings can't hate that???
Shane Corcoran
3
Posted 25/06/2015 at 14:34:16
Great to get him. Also great to see he'll always be a blue. Makes that buy-back clause pretty irrelevant.
Keith Glazzard
4
Posted 25/06/2015 at 14:41:37
Benvinguts Gerard!
Sharabi Singh
5
Posted 25/06/2015 at 14:42:06
Glad that ones in the bag. Don't care what anyone says about him being frustrating and lazy. He's exactly the type of player we need
Kevin O'Regan
6
Posted 25/06/2015 at 14:41:30
Brilliant news. I Like. Now for a decent central defender and we're looking good for starters. Also hope we can also have a couple of players in the box to get on the end of all these crosses and fast breaks.
Kim Vivian
7
Posted 25/06/2015 at 14:43:23
Get in.......
Breathe again.
Welcome, Gezza!
Ross Hutchinson
8
Posted 25/06/2015 at 14:40:48
Great news, has made a bad day into a good one for me. I saw his quote on Twitter account was " I'm back! Once a blue, always a blue!". Absolutely fantastic!
Thomas Surgenor
9
Posted 25/06/2015 at 14:45:32
First signing in years that I've got genuinely excited over!
Kase Chow
10
Posted 25/06/2015 at 14:47:30
Nice!! Great news at a good price!
Side question, why is no one converting this back into £?
(٢.2M in case anyone is interested)
Richard Reeves
12
Posted 25/06/2015 at 14:44:38
Great news! Hope he gets a warm reception and particularly when his name is called out before kick off,he only wanted to come back to England to play for us.
James Byrne
13
Posted 25/06/2015 at 14:50:28
Great news.......Gerard has some work to do to raise his game but overall it's a fantastic signing.
My main concern is the situation of the Manager and how he approaches next season. We could end up easy pickings by a lot of teams next season.
Mike Rourke
14
Posted 25/06/2015 at 14:45:54
...and release! I can breathe again! Was convinced we were going to mess this one up.
Well in EFC and Geri, I guess that leaving note was sincere too then.
*swoons*
Easily the most exciting signing made since Kanchelskis.
Made up doesn't even get close!
Sam Hoare
15
Posted 25/06/2015 at 14:56:41
Great stuff! Will have to work hard to find the consistency required but the lad is capable of special things and will certainly add some more entertainment to proceedings.
I reckon it will be another year or two till we begin to see the best of him but when we do...
Still need a central playmaker and a CB to my mind.
Dean Adams
16
Posted 25/06/2015 at 14:58:14
Welcome home GD. Once the Royal blue has touched you, you will always feel the love!!!
Mark Riding
17
Posted 25/06/2015 at 14:57:32
I posted the ٢.2m Case, but it disappeared.
Our first 11 is looking very strong now. We all know where we need to strengthen, but it's looking very tidy indeed, and what's more, young.
Jim Bennings
18
Posted 25/06/2015 at 14:59:08
Welcome home Gerard!
Can't wait to see you dazzling opposition defences again and hope you will continue where you left off before that hamstring injury, came just at a time when you were hitting top form.
Tony J Williams
19
Posted 25/06/2015 at 15:11:13
First two signings - Tom and Geri....hmmmm
I feel a little bit better for renewing now.
Eugene Kearney
20
Posted 25/06/2015 at 14:58:55
Great news. Welcome home, Geri !!
Phil Walling
21
Posted 25/06/2015 at 14:51:16
The return of (nearly) everybody's Wonder Boy puts a big question mark over the future of Mirallas. I suspect Roberto will have them starting game and game about although I can see the Belgian yet finding a new home before the end of August.
Del Boy hardly took La Liga by storm last season but perhaps the Premier style is more suited to his particular attributes. But whatever the outcome, I can't help thinking Martinez loves going back to players he's had before. To me such a obsession indicates a lack of confidence in his own judgement in the market but perhaps he, like us, hope they are all better second time around !
Paul Kennedy
22
Posted 25/06/2015 at 15:19:49
Great to get him back and we saved quite a few hundred thousand with the exchange rate!
James Stewart
23
Posted 25/06/2015 at 15:27:43
Great business! A day after the rs get taken to the cleaners to the tune of 29m!

Victor Yu
24
Posted 25/06/2015 at 15:29:09
Look for him to scare the hell out of Luke Shaw when we beat Man Utd 2-0 at home!
Jamie Barlow
25
Posted 25/06/2015 at 15:25:57
Yeah, very good Tony. I like it.
Simon Jones
26
Posted 25/06/2015 at 15:33:57
I'm genuinely excited! Good lad, top Tweet too.
Kelvin Thomas
27
Posted 25/06/2015 at 15:34:37
Tommy Coleman
28
Posted 25/06/2015 at 15:37:27
Great signing.
Let's keep them coming.
David Morgan
29
Posted 25/06/2015 at 15:37:20
That is an absolute steal at 4.2m, I saw one poll that valued him at around 16m. Martinez deserves credit here for this one and shows the pulling power he has helped us get. Lukaku might get some service now
Are we stilling going for Lennon? and shouldn't we offload Mcgeady before we let Mirallas go. Unless Monaco are gonna give us good money for Mirallas. And are we still getting a number 10?
Craig McFarlane
30
Posted 25/06/2015 at 15:41:52
Made up we've signed him!
Well done to Everton for getting this done and of course to TW's own Glastrodamus for predicting this all the way back in January....who's next Colin?
Julian Wait
31
Posted 25/06/2015 at 15:49:49
Good news
David Chait
32
Posted 25/06/2015 at 15:52:47
Could be a brilliant move for both club and player! We have signed a flawed genius with the hope to iron those out... Seems we have a few of them ready to step up and set the world alight!
Really exciting though and man we need someone to spark this side that had no fire last season! Maybe Dela is that guy!
Mike Hayes
33
Posted 25/06/2015 at 15:55:26
Great news and about time we can all settle down and wait for the next one. Still not convinced Martinez is the man to push Everton forward but looks like we are stuck with him.
Still give him one game (opener) that's it.
Alan Brown
34
Posted 25/06/2015 at 15:59:49
Tony. At least they can't call us a Mickey Mouse club now.
Keith Glazzard
35
Posted 25/06/2015 at 16:04:32
Tom and Geri?
Lennon and McCarthy would suit me too.
David Ellis
36
Posted 25/06/2015 at 16:05:01
Two solid signings before June is even out....have slipped into some kind of parallel universe??
High probability that they will both strengthen our first XI and certainly deepen the squad. GD in particular gives us a weapon that other clubs will fear and have to think hard how to counter.
Hope that we still get Lennon and keep Mirallas for now. It should strengthen our negotiating hand with Spurs as we obviously will now be a lot less desperate to sign Lennon. See no need for McGeady if Lennon also comes over.
Ben Jones
37
Posted 25/06/2015 at 16:08:44
Good signing! Need that luxury player to create something out of nothing.
All I want is a centre back and a good central playmaker then we have no excuses not to make a push for the top 4 and 6 places. That squad's good enough.
Thomas Surgenor
38
Posted 25/06/2015 at 16:10:29
Stones, McCarthy, Besic, Barkley, Geri, Lukaku...
If they fulfil their potential we have one heck of a core.
Added to the current core of top quality like Baines, Coleman, Jags and were a only few players short of a potentially immense 11.
Alex Doyle
39
Posted 25/06/2015 at 16:22:04
Delighted and excited. Is clearly not the finished article, but a great counter attacking player. A tidy finisher, which was really lacking last season.
Harold Matthews
40
Posted 25/06/2015 at 16:19:04
Luv it Tony. haha.
Tony Abrahams
42
Posted 25/06/2015 at 16:36:55
Phil walling = impending danger.
Lev Vellene
43
Posted 25/06/2015 at 16:38:09
'Fantastic', instead of 'Phenomenal' from RM?!? I choose to see that as reality intruding on RM's world view! Yay!!!
Mark Riding
44
Posted 25/06/2015 at 16:52:26
Phil Walling - turning a new signing thread into an anti Martinez one within a pair of hours.
Linda Morrison
45
Posted 25/06/2015 at 16:53:01
He has great potential and a lot of trust in Martinez to help him develop. I think this is very good business but with a lot of young players who will no doubt at times drive us all to drink with their inconsistency you watch those boys fly!
Martinez wants players who want to be at the club. If I was KM I would start to eat some very big pieces of humble pie!
Milos Milenkovic
46
Posted 25/06/2015 at 16:57:10
Yes!!! Welcome Deulo!!!
Lev Vellene
47
Posted 25/06/2015 at 16:51:43
Phil #19. I always expect good youngsters to learn from their errors, and thus become better with age. He's still wet behind the ears, and years of being top-of-the-crop as a youngster may need some heavy dosing of reality to convert him to actually find his own place/style within a team.
IF that happens, we've made a very good deal, I'd say! If not, he'll just end up average enough for our level that we won't have lost much on any deal we made to bring him here.
Jim Knightley
48
Posted 25/06/2015 at 16:58:36
Phil, I think you are following a oddly simplistic argument with that assertion. Deulofeu is not a Wigan player; he is a player we had on loan at Everton. Managers routinely make loan deals permanent if players have been successful/prove that they can be successful. We did it with Pienaar and Arteta, and will do it again in the future. I have a problem when Martinez goes back in for players who just played ok for Wigan, because Wigan were not at our standard. Surely you can see the difference between that, and taking a highly rated 21 year old back who we had on loan during a fantastic season?
Deulofeu is a great signing. He has massive potential, and has the ability to drive us, and opponents, crazy. Even after a poor season in Seville, he still managed 9 assists and 3 goals in 16 starts (albeit with alot of sub appearances). Sometimes loan spells don't work out. Cheryshev had a poor spell at Seville before dazzling at Villareal, and I'd prefer to have Deulofeu because I feel that he has the potential to be a better and more dangeorus player.
Tony Abrahams
49
Posted 25/06/2015 at 17:03:13
It's a long time since I've been impressed with the values of a footballer, but if it's true this boy could have made a lot more money to play elsewhere, I really hope he succeeds!
What did Alan Ball's father tell him when he signed for Everton? "Work hard for these fans, and they will love you son".
Same thing still applies today, especially if you have got great ability. GOOD LUCK KID!!!
Brian Porter
50
Posted 25/06/2015 at 16:59:09
Welcome back, Geri. Good to see RM doing something positive in terms of signing players with a touch of creativity. Now go get Aaron Lennon too, Roberto. The big thing here is that Deulofeu actually WANTS to come to Everton and that says it all for me. He reportedly received better and bigger offers but we were always his first choice as evidenced by his comment on Twitter. Maybe this transfer window will prove to be more exciting and positive than some of us imagined.
Dave Harper
51
Posted 25/06/2015 at 17:06:25
Welcome home lad.
Nicholas Ryan
52
Posted 25/06/2015 at 17:01:58
Lots of positive comments, with a few [legitimate] reservations. But the word that keeps getting mentioned, with Gerry, is EXCITING! We haven't had a lot of exciting recently!!
....And even if the 'always a blue' tweet is a PR exercise, it's a bloody good one!
Brian Harrison
53
Posted 25/06/2015 at 17:18:23
As some have already said this kid excites you, I described him on his first visit as Alex Young on speed. Yes at times he will frustrate the life out of us, but at other times this kid can have us drooling. Even Barca have made sure there is a buy back clause in his contract, and I believe they know this kid has talent and at present isn't producing it often enough. But that will change as he gets older and more mature.
With Deulofeu on one wing and either Mirallas or Lennon on the other then we will have genuine pace. And as the signs say speed kills.
Christy Ring
54
Posted 25/06/2015 at 17:14:42
Great to have Dellboy back, love the 'blue' quote. Bob wants to do transfer business early? We have only spent ٢.3M, so let's not get carried away. Now bring in a keeper, centre-back, playmaker, striker and another winger and I'll have a lot more faith in Bob and Bill?!!
Mark Riding
55
Posted 25/06/2015 at 17:36:39
Brian #51
Totally agree. Already dreaming about him doing his "guns" in front of the Kop here.

Mick Wrende
56
Posted 25/06/2015 at 17:41:12
Lukaku will be quaking in his boots now with Delofeu and Mirallas setting up sitters for him to miss. If only we had that 28 million to spend on a couple of decent strikers I would be feeling optimistic but neither winger are true goalscorers so we will have to rely on that big lazy lump to finish off their approach work. And lets be realistic that is never going to happen.
Eugene Ruane
58
Posted 25/06/2015 at 17:25:37
Basically what Sharabi Singh (3) said - delighted to see Deulofeu back and look forward to seeing more of his playground dribbles.
(of course the ones that don't come off will be met with 'oh for fuck's sake lad!!' but c'est la vie)
Phil Walling (19) - Suspect you're right the re the question mark (now) over Mirallas, but if we got great money for him, that would suit me.
As talented as he is, there were too many games last season where he genuinely looked like he couldn't give a shite.
(I'll always support 'greedy' but not giving 100% is a crime)
Up the Toffees! (look it up Gerard).
Dave Abrahams
59
Posted 25/06/2015 at 16:55:20
Glad we signed, he will frustrate us, but he also will certainly excite us, hope he gets lots of starts and not too many 10-15 minute cameo's like last time. Excellent signing, still want Lennon.
John Raftery
60
Posted 25/06/2015 at 17:54:36
I would have thought McGeady more likely to be heading towards the exit door than Mirallas. KM does score goals.
Mick - 54 I don't recall Lukaku missing too many chances. A few were saved by goalkeepers, but he converted the majority that came his way. One of his problems was that the service from the flanks was at best inconsistent, at worst awful last season.
Tahir Abdullah
61
Posted 25/06/2015 at 18:00:41
Smashing! Welcome home Delboy
Ross Edwards
62
Posted 25/06/2015 at 18:01:42
Happy he's signed. Still need some quality brought in. I think the reaction was very exaggerated because Deulofeu is not as good as people are making out.
Still, he'll learn. But he's far from being the finished article.
Peter Morris
63
Posted 25/06/2015 at 17:57:51
On balance I'm pleased. I think it's either, or with regard to Lennon, unless Mirallas goes, that is.At ٢.3m, it is some way less than what Lennon was being touted for, and although we don't know the wages, anyone coming from Spurs will be on big money, as they are in the top 5 in terms of payroll by some distance. Also, this lad is 6 years younger than Lennon, so has more sell on potential, and is probably more talented too. That said, Lennon showed he is prepared to work hard for the team, and this will NOT be one of Del Boys strengths!
I also think he will be a challenge to manage-very big ego and could disrupt the dressing room. Could you see Moyes buying him, under any circumstances? Absolutely not! But it just makes me look forward to that season ticket landing on the doormat that little bit more.
p.s. anyone speculate why we announced the fee? We never do that. Maybe Barca insisted on it to appease their fans?
Karl Jones
64
Posted 25/06/2015 at 18:02:20
What a wierd contract...If he has a great season, we will have to sell him back to them for an already agreed fee, whether we want to or not, and the same applies the following season... Football nowadays is a strange sport.
Rob Esteva
65
Posted 25/06/2015 at 18:32:43
@Peter Morris #61 - largely so Barca outgoing president can show revenues have broken 600m Euros for first time in club's history.
Phil Walling
66
Posted 25/06/2015 at 18:20:39
I do so hope you are all right about this guy. Having said that, if the word POTENTIAL was banned from these columns it would be PHENOMENAL !
Ian Jones
67
Posted 25/06/2015 at 18:34:17
The fee and deal is a little odd. Perhaps check the small print. Possibly the buy back clause allows us to include Messi coming to Goodison Park. I would take Messi back once he has learned how to use his right foot. Too one footed for my liking
Brin Williams
68
Posted 25/06/2015 at 18:46:16
I am very suspicious of these sort of deals - 'messy' is a word that comes to mind.
Jim Jennings
69
Posted 25/06/2015 at 18:51:58
Phil Walling,
You are the online equivalent of a kid stomping his feet for attention and screaming "LOOK AT ME!!! LOOK AT ME!!!"
Dennis Ng
70
Posted 25/06/2015 at 18:51:21
Is there published specifics for the buyback?
Sandra Bowen
71
Posted 25/06/2015 at 18:58:46
FairPlay to Martinez on this. He said when he first came that we'd have to be creative in the market and whilst we will never all agree on valuations, duration of contracts, ages of players etc, I think that he has done bloody well to secure the services of lukaku, deleufeu, Barry, Macarthy and to tie down the other youngsters to long deals. Yes of course, some transfers won't work out as hoped but not all will. Look at all the big money signings at utd, City and the scum. They make many more m
Steve Guy
72
Posted 25/06/2015 at 19:10:41
Glad he's here but the deal is just a glorified loan. Worse, if he's crap he stays but if he's any good they get him back and we get compo.....another stonking BK deal !
Sandra Bowen
74
Posted 25/06/2015 at 19:12:15
Bloody phone!!! They many more expensive mistakes than we do, obviously they can afford to but his record in the market really isn't that bad. After his first season, we'd have all been happy with the purchase of the 3 loan players.
I agree with the comments regards potential, yes, there is loads in the squad but the next 2/3 signings need to be proven players now. A big dominating cb, the elusive 10 that we so desperately need and a striker to pressure Lukaku.
There will inevitably be a couple of departures, I would imagine Mirallas and maybe even Barkley if city are willing to make a silly money offer.
An interesting couple of months ahead.
Phil Walling
75
Posted 25/06/2015 at 19:20:53
Nailed it in one, Steve. Methinks he will be here a long time !
Ian Jones
76
Posted 25/06/2015 at 19:14:20
Apologies to all those moaning about the deal being a loan. So what if it is. It still seems reasonable bit of business to me. Credit where it's due to Martinez and whoever else helped the deal go through.
Lets hopefully enjoy the fact we have someone who is potentially exciting to watch. Enjoy him while he is here. I would prefer to see him at Everton for a season or two or how many etc rather than at another premier club. As long as he puts the effort in and looks interested he will do for me .....for the time being!
How many times have we commented on missing out on players who were available for next to nothing and who have rocked up at places like Stoke etc. Bojan springs to mind. And we have mostly gone. Why Stoke?
Lev Vellene
78
Posted 25/06/2015 at 19:33:53
Sandra #72. Just to expand as I see it. I would happily submit to a non-relegation placing for a season, no matter how bad we ended up, as long as I thought RM was doing like SAF was doing way back with bringing his young ones up to take their places in a top PL team.
Unfortunately, I see RM being much like DM was, and only trying the young 'uns on whenever he's either desperate or feeling safe, for whatever reason.
How I'd love to see what could happen with 3-4 veterans and the rest being rookies, without going down at the end of the season, and all the rookies learning from the experience... But I guess that's what you can't do anymore, as the game changed after SAF did his thing anyway.
Or, maybe... ?
Phil Walling
79
Posted 25/06/2015 at 19:23:23
Jim, the easiest thing is to follow the party ( ToffeeWeb) line. On the subject of BK, I follow the herd but I reserve the right to say that on the evidence of season 13/14 and a season in La Lega, this is a crap deal for a show pony.
Having said that, my contribution to the Club next season will be an indirect one via Sky in two countries. Have I retained my right to moan? Probably not .
Sam Hoare
81
Posted 25/06/2015 at 19:53:56
Phil, how's it a crap deal?
٢.3m is not a great deal in todays crazy market and even if he really bombs I'd be amazed if we could sell him for a similar amount to some midtable Spanish team in 3 years time when he will still only be 24.
If he's good then hooray.
If he's really good and Barca buy him back then we've had a player who has done well and essentially been paid to have him. It will be annoying perhaps but we will have benefitted.
I'm struggling to see the downside of this one....No doubt you can let us know.
Chris Kelly
82
Posted 25/06/2015 at 20:07:41
Likewise with Tom Cleverley at Man Utd, for Deulofeu to be retained by Barcelona as he grew up he must have had outstanding qualities. These are the best of the best in terms of worldf top flight football clubs and have the pick of the litter. Loads of decent kids get cut every year. Both players must have the potential to be fantastic players. The challenge for RM will be to nurture this talent and bring out the best. Both are decent gambles at reasonable costs to Everton. They are young, talented with bags of potential. Now it's over to Roberto to find a role within our club and make them grow into outstanding players. We have done it before and don't have the cash to splash on fully finished articles that cost pots of cash. Both guys chose us over other teams and I quite like that.
Jay Woods
83
Posted 25/06/2015 at 20:20:41
I don't think we should call this "a signing" per se. It's closer to a glorified loan deal, going by the obligations on us in the terms.
Still, I'm delighted he's back and hope he reaches Barca standard in any case.
(Said with the sadness of wondering what could have come of us as a club had Heysel not happened).
Phil Walling
84
Posted 25/06/2015 at 20:24:10
I do hope you are all rewarded for your faith in this guy. But to me, it just shows how far our club has fallen when so many hard nosed supporters are doing handstands over a La Liga flop !
Nicholas Ryan
86
Posted 25/06/2015 at 20:43:09
Chris Kelly (80) .... Thank God, some sanity at last!!
Doug Harris
87
Posted 25/06/2015 at 20:44:32
Without reading all the way through this thread and with due respect Phil, how many within the team last season where any better than your said La Liga flop.
There comes a time surely that one realises new blood is needed albeit he has been here before..lets judge it on how he and the team perform next season and of course the manager and coaching staff.
Geoffrey Risebrow
88
Posted 25/06/2015 at 20:22:09
Welcome home Gerard! Fantastic news! Let's all hope he goes on to fulfill his potential, dare I say it. I completely agree with Sam. Can anybody cheer up Phil?
Nicholas Ryan
89
Posted 25/06/2015 at 20:57:29
Just think, a player who can't get into the Barcelona team, because MESSI, NEYMAR and SUAREZ are ahead of him, must be really, really, crap!
I hope the (angry) sarcasm is obvious enough!
Dave Abrahams
90
Posted 25/06/2015 at 20:56:11
Phil (77), no I think, as a long standing Evertonian, you have earned the right to have a good moan, so enjoy your days away from Goodison, there will be lots of days next season when you'll regret not being at the Old Lady, whether we do it on a regular basis, we'll have to wait and see. Either way you'll be back, I'd bet on it.
Chris Funk
91
Posted 25/06/2015 at 20:58:41
La Liga plays a different style. You can be an excellent player in the right setup in the PL and still be a "flop" in most La Liga sides. GD always struck me as too direct for Barcelona's tiki-taka, and La Liga in general.
I don't think anyone believes that GD will suddenly transform Everton, just that he represents a good risk, given his pace and one-on-one ability.
If he works on his crossing and defensive effort, he can be an outstanding winger. If he doesn't, he's still a dangerous commodity to put in when you are chasing the game.
Clive Rogers
92
Posted 25/06/2015 at 21:08:59
Deulofeu has a lot to learn and a long way to go. He has not established himself as a first team player anywhere yet, even when he was with us. He only started 9 games for us and similar at Sevilla where he didn't figure at all in the second half of the season. He has 4 senior goals.
Geoffrey Risebrow
93
Posted 25/06/2015 at 21:22:20
Fantastic post by Nicholas Ryan! Hilarious! Lionel Messi is only one of the best footballers of all time! And we all know how good rat boy is.
Dave Abrahams
94
Posted 25/06/2015 at 21:26:36
As one or two have mentioned on here, Gerard can be more than a winger, I think he could play as an auxillary striker if needs be.
Pete Ellingham
95
Posted 25/06/2015 at 21:31:30
Brilliant, Brilliant news! Great bit of business by the club which ever way you look at it. Just over ٢ million, outstanding!!!
Tony Abrahams
99
Posted 25/06/2015 at 21:37:00
Phil, I was born cynical I think, and there's nothing wrong with moaning either, but what exactly is it that you want.
This kid could be anything from a show pony, to a great, but he wants to play for Everton, so let's see how it goes.
You make some very good points at times, but if you have told us a twice, you have told us a thousand times.
Sit back and enjoy the show, you can even put the kettle on at half time now!
Denis Richardson
100
Posted 25/06/2015 at 21:30:03
Well I have to say this is great news. A player of genuine pace who can dribble all day long - we haven't had that for a long long time (ignoring his loan with us).
Exciting signing and Cleverly is a solid addition on a 'free'. Squad is being built up nicely now, although I think we now have 11 midielders!
Creative CM, CB, Striker and LM and we're good to go.
Can happily get rid of McGeady whilst we're at it.
Conor Skelly
101
Posted 25/06/2015 at 21:46:30
Stones, Barkley, Delboy, Lukaku all 21 or younger and all ours. Can you imagine they came through the academy. Scary potential.
Gavin McGarvey
102
Posted 25/06/2015 at 22:00:47
Really pleased with this signing. I didn't post on the other thread about this as I didn't want to jinx it. I was a bit ambivalent when he first came on loan: running down blind alleys etc..., but by the end I thought he was one of our most exciting players since Kanchelskis.
He's not the same class yet, but in a couple of years who knows. Certainly, he's skilful and direct, and when a team is parking the bus, he could make all the difference. I'm not sure about Martinez, particularly after last season, but if he can get the right players maybe he can make it work.
Unfortunately, as is always the case in football, I'm now thinking about the No.10 people have been talking about. Can we get in someone classy without selling first? Regardless, this has been a great start to the summer, roll on August.
Gary Willock
103
Posted 25/06/2015 at 22:08:24
Daaayyyyoooo. Easadayoooo. Deula come, he wanna come home ;)
Leung Chi Ho
104
Posted 25/06/2015 at 22:05:45
In any sense, it is a win-win-win situation for Barca, Everton and Del-boy. I don't know why some people still pessmistic on this deal!
For Barca, we are the best place for Del-boy to grow and fulfill his potential with a manager and teamates know his style of play and trust his ability. If he is really that good, let's say if he scores 10 goals and 15 assists for us in any of the following 2 season, he must worth more than that €14m they can buy back for this fee.
For Everton, it is a steal for someone with such potential in €6m. I don't think you can find any other player with such potential for €6m in today's market, even a Championship player with less talent may cost more than that. Barca can easily sell him for more than €10m to any other team, but you should applause Barca for not holding ransom like Spurs to sell Del-boy for us.
A €6m signing worth €14m potentially must be a very good business.
For Del-boy, he comes back to a team that fans love him and need him, and he knows this team well.
Mike Iddon
105
Posted 25/06/2015 at 22:24:54
Phil Walling in "I hate anything to do with Martinez" shocker. Hold the front page. Sad how some people are wedded to their philosophy....oops.
John Daley
106
Posted 25/06/2015 at 22:38:08
Phil,
Is there anything you actually look forward to in football, other than the possibility of seeing someone fall flat on their face?
We've just signed a young player of fantastic potential whose future progression could go either way. We all saw what he's capable of when on song, but also witnessed him struggle to translate his talent into being an effective team player at times.
Everyone knows his fortunes might fluctuate now he's actually here full time and no one (apart from you) is labelling him 'a saviour', but if we can harness his ability to force opposition players back on their heels, whilst working on addressing the weaker aspects of his game, then that's some potent weapon we could have in the side. Then again, he could prove to be nothing more than Bobby Warzycha minus the mullet and Brotherhood of Man tash.
Such positives and potential pitfalls go hand in hand when you're talking about a player looking to transcend the 'hotly tipped youngster' tag. Can't you just hope for the first, rather than seemingly relishing the second? Willing an Everton player on has got to be worth more than waiting to say 'I told you so', otherwise why waste your time even following the fuckers in the first place?
John Malone
107
Posted 25/06/2015 at 22:31:35
Pleased the kid has signed for that money it's a no lose situation like mentioned above he's a great asset when teams come to park the bus.
I'd still like to see another attacking option i.e. Lennon or number ten, but what I really want to see wether or not it be in this window is a leader in the top half of the pitch, someone who will turn up everyweek and who brings some strength and leadership to the team like Jags does at the back and is not afraid to give other players a rollicking when needed!
Peter Laing
108
Posted 25/06/2015 at 22:38:46
Great signing, I would also go for Lennon and keep Mirallas - playing him as a second string centre forward as he is too greedy / selfish on the wing and can finish.
Kunal Desai
109
Posted 25/06/2015 at 22:47:51
Some much needed pace in the side, a good signing albeit the deal may contains various clauses. I guess it could be the same for many of our better players, a certain bid would trigger a release clause.
That said this signing is a start, we need atleast 2 possibly 3 more in of a 'certain' quality. As it stands I could see us pushing up a further few places from last season but without the quality required I still feel top 4 is not within our reach as the squad currently stands.
Leung Chi Ho
110
Posted 25/06/2015 at 22:54:39
For that "foreign no. 10", I hope the Kagawa's rumour is true. I think he is the answer for this role and won't be expensive.
Then, a striker, a CB, Garbutt contract situation, and a GK please.
Mark Boulle
111
Posted 25/06/2015 at 23:03:12
Delighted to see him back. I've already had an amazing day, making my first ever hole in one on a work golf event, and this is some very fine icing on the cake!
RM must not think his work is done though. Ideally I'd like a new centre back and striker as permanent signings, perhaps with the creative No 10 the manager mentioned on loan, as that kind of player is hard to find...
Tony Williams
112
Posted 25/06/2015 at 22:38:37
Other clubs were interested but he has chosen us over them which has got to be a bonus.
Ever Blue
Ever True
EVERTON
Chad Schofield
113
Posted 25/06/2015 at 23:13:15
It's great news in my opinion. Very rexciting player and if he does go back to Barcelona it's because he's excelled.
I think getting caught up in negative possibilities is a waste of time. Well done Roberto and Co!!!
Jamie Sweet
114
Posted 25/06/2015 at 22:50:52
It's times like this that the genuine hard-core glass half empty "only happy when I'm moaning" brigade really start to stand out.
Mr Walling. If you can ONLY see negative aspects of this deal, and absolutely no positives, then I really do despair.
I am sure you are able to see through your whatever-the-opposite-of-rose-tinted-glasses are enough to observe that we aren't in a position to spend 㿀-㿊million a pop on ready made super-stars so I'm at a loss as to what you think we should be trying to do. (I also note from the latest acquisition from that lot across the park that this kind of money may still only really buy you "potential").
Would you prefer:
a) Paying 㾻million for a player like Deulofeu with no buy-back clause which would in turn reduce the budget to spend on the rest of the squad while putting us at risk of having a 㾻m "flop" on our books rather than a ٢m one?
b) Filling our squad with a Steven Naismith type player in every position who won't cost a lot, will never amount to very much but at least will put in a shift? Essentially NEVER investing any money whatsoever on potential superstars in case they never fulfil that potential?
c) Raiding the continent for some players we've never really heard of who have good stats in which ever no-mark European league they play in and end up with the next Ricky van Wolfswinkel?
Don't you think it's good that we are actually trying something a bit different? Bearing in mind that our transfer strategy in the past 20 years has resulted in zero trophies.
For me, the positive aspects of this deal outweigh the potential negative ones quite significantly. For you to only be able to focus on the negatives is possibly something to discuss the next time you sit down with your shrink.
Colin Glassar
115
Posted 25/06/2015 at 23:36:17
Phil is our very own Don Quixote, fighting windmills and all that, bless his old cotton socks.
Brian Furey
116
Posted 25/06/2015 at 23:21:36
Good to read so much positivity on here and I too am excited by this acquisition.
Some lads though remind me of modern day kids being asked what's Santa bringing them. A CB, Lennon & keep greedy KM, a great No 10, a new GK and of course a free scoring striker.On yer way out Santa take that McGeady fella with ya & maybe Gibson too. I think Browning, Galloway and Garbutt are our defensive backup with Bobby standing by Timmy for another year. Has Podolski moved on yet?
Christy Ring
117
Posted 25/06/2015 at 23:41:30
I'm delighted Delboy has signed.
Kieran Kinsella
118
Posted 25/06/2015 at 23:55:45
How's does he compare to previous ١ - 4 million:
Simon Davies
Slaven Bilic
Steve Simonsen
Stephen Hughes
Steve Watson
Danny Williamson

Paul Kelly
119
Posted 26/06/2015 at 00:00:47
Interesting stat on SSN: Delboy, last season, when he was "shit", had more assists than any of our midfielders!
Welcome back.
Paul Smith
120
Posted 26/06/2015 at 00:03:31
Sweet and sour for me. Every time he does something good the guy next to me is gonna say "That's him back in Spain soon as". Enough to drive me mad.
Keith Harrison
121
Posted 26/06/2015 at 00:11:15
Next season's Everton will be like the new England one day team. Brash, fearless, full of attacking intent, and ready to take on the world. Let's stop making with the negative waves. At least until September eh!!
Ant Dwyer
122
Posted 26/06/2015 at 00:57:52
Great bit of business by Roberto, hopefully he can unleash him an not hold him back and turn him into a negative Nancy.
Ross, Del Boy and Mirallas behind Lukaku could be frightening. Throw Baines and Coleman into the attacking third too and we will be great to watch again, like in Roberto's first season.
Grow some balls Roberto an go all out.
Lloyd Moore
123
Posted 26/06/2015 at 01:16:43
Absolutely Brilliant News!!!
Nothing better than a young fearless player, yes he may be rash at times and a little selfish but he is also brilliant at other times. The Maturity that will come as he develops will lead to less of the bad and more and more of the good.
Having him in the team is going to make it a lot easier to watch all out fixtures next season in the early hours of the morning from down here in Aus!
Jay Harris
124
Posted 26/06/2015 at 01:59:47
Putting views on Martinez to one side this is a very good signing if only for the feelgood factor it is bringing supporters and the rest of the squad.
Bringing new signings in gives players a lift and brings pressure for them to perform.
I still believe we need a good quality MF general in the Peter Reid mould and I'm still not convinced McCArthy will be with us when the season starts and having lost 2 experienced centre backs we need quality reinforcements in that area too.
The other area I believe we should invest most of our kitty is in a top class Goalie. Tim Howard's star is fading and it seems Robles is not up to it.
Victor Yu
125
Posted 26/06/2015 at 02:12:50
I don't think we need Lennon now. I would rather try to sign him on a cheap in January or on a free next season. We should spend the money in Kagawa and a center back instead (the team should be complete if we can accomplish that).
Mark Andersson
126
Posted 26/06/2015 at 01:49:48
Welcome back Gerard, you have a lot of supporters backing you, don't let them down.
I don't think there are any negative views comming from Phil it's just a different point of view.
Jamie Sweet
127
Posted 26/06/2015 at 04:26:00
I just watched a few video's of his "best bits in Blue".
More entertainment in a 2 minute video than we had all last season!
Also, the chap who "flopped" at Sevilla, registered 9 assists in 22 hours on the pitch. More than Mirallas, McGeady, Lennon and Naismith had in 120 hours combined.
Bob Parrington
128
Posted 26/06/2015 at 04:59:18
Just looked this up in the dictionary of lesser known meanings.
"Phil Walling" (n) = "Devil's advocate"
Judging by lots of responses, this is the correct meaning :) :) :)
Steven Jones
129
Posted 26/06/2015 at 05:52:23
John Daley 104 - Love the Bobby W comment!
Agree with all the positive comments on here ..
Think the CB and the number 10 signings are guaranteed ...
Questions are whether RM plays CKM as a central striker and or whether perm signing or loan we get a Stevie P replacement/back up ...
Paul Bromley
131
Posted 26/06/2015 at 06:06:39
Sorry to go slightly off topic (although I think this thread already has), but if we need CB cover then Barry started life as a left sided CB ( yes, I am old enough to remember) so we should focus our monies on more urgent needs like replacing Pienaar if Oviedo is fit enough to or buying Kagawa / Austin.
Mark Tanton
132
Posted 26/06/2015 at 07:02:28
Barry played on the left of a back three a Hull City Tigers over Christmas. The prosecution rests M'Lord.
Tony Abrahams
134
Posted 26/06/2015 at 09:14:30
No more witnesses required Mark, thought dismissed!
Eddie Dunn
135
Posted 26/06/2015 at 09:27:37
This is good news, and if he eventually does well and earns himself a move back to Barça, then fine. They developed him, and why shouldn't they benefit?
Now the lad has lots of incentives to get out there and show everyone what he can do.
James Marshall
136
Posted 26/06/2015 at 10:14:56
Interestingly I just noticed Deulofeu is good mates with Denis Cheryshev – maybe he can have a word with him about popping over for a season or two as well....
Kim Vivian
137
Posted 26/06/2015 at 09:57:21
I, for one am pretty thrilled with this news. We have the basis of a VERY GOOD team.
However, how many people have realised that we now have, as near as makes little difference, pretty much the same squad as we had the season before last? Exceptions being Distin, Alcaraz who won't be missed, Pienaar has become a fringe player for one reason or another, and everyone is a couple of years older and maturer (for better or worse).
Last season, we had a couple of pretty crap loans as it turned out, one half-decent one, and I consider it at least one step back from the previous season, or two steps back if you factor in progress made by other clubs. Therefore, if the squad performs as well as it did in the 13-14 season, we have moved forward again that first step, still leaving us potentially expecting a 7th - 8th place at best. So we do need to make further progress and build strength in depth if we are going to do better than that.
I cannot make my mind up about the goalkeeper: Howard and Robles both have me crapping myself but both could turn out to be solid again.
I do not religiously follow all the transfer movement and rumours so cannot be too specific about who may be available but there must be some likely candidate available with the current merry-go-round that is currently happening.
Podolski would be a good acquisition in my view if, indeed, there is any merit in the gossip, as would Kagawa I think. A solid central defender also please, Santa.
Most importantly – please Mr Manager, be a motivator and get the players playing with flair, enthusiasm and optimism. Everybody, it can be said, is probably very good at 10% of what they do, very bad at 10% of what they do, and pretty average at 80% of what they do. So play to their strengths, iron out their weaknesses, improve their averages and do not try to change them so dramatically. I have said it before and I will say it again – our players' heads were just not in the right place last year and I blame RM. I honestly do think he can make a shit hot team out of the squad which is building but someone really needs to tackle the psychological benefits.
I find myself eagerly looking forward to the new season (without wishing the summer away!) and so hope that come Xmas I am not in the same frame of mind as I was last year. If that is the case, then it will be time for change at the top because, with the personnel we have, someone for sure could do a damn good job.
COYB... Let's rock!
Denis Richardson
138
Posted 26/06/2015 at 07:27:55
Barry is too slow to cover at CB for me. I would rather use Galloway if we have to or even Browning.
If Pienaar and Oviedo are fit then the LM spot is not an immediate issue. The No 10 is however. I can't see Barkley doing the job and Osman will be on the bench most games and is not the answer in any case. I would love us to get Kagawa.
Tony Abrahams
139
Posted 26/06/2015 at 11:09:38
I would also like Kagawa, but like people have already said, maybe Deulofeu could also play off the striker.
Mark Rimmer
140
Posted 26/06/2015 at 11:10:25
"Once a blue, always a blue" I seem to remember someone having that on a t-shirt.
Ross Edwards
141
Posted 26/06/2015 at 11:41:49
I think Martinez must be given credit for this signing. And I hope that we keep looking in the European market for players because the valuation of English players these days is just ridiculous.
We still need some more quality brought in, but I'm sure Martinez knows that himself. A midfielder, playmaker, CB and a striker hopefully.
Sergi Roberto, I think Colin said we're looking at him didn't he? He'd be a good option on loan, in terms of a playmaker, Cabaye would be perfect, although Palace are apparently interested in him which would be great for them.
Someone like Hernandez or Remy would be a good option for a new striker because lets face it, Kone is barely Championship level.
In terms of a CB, we should avoid Scott Dann, especially with that ridiculous 㾻m valuation Palace have put on him. I think we should go for Van Dijk. We're linked with Ogbonna, he'd be a decent option also.
I think we need another winger, not Lennon though. Maybe Cheryshev from Real Madrid, he'd probably be available on loan or quite cheaply if they're looking to get rid. Certainly less than Levy would hold out for that's for sure.
Tim Greeley
142
Posted 26/06/2015 at 12:09:50
DelBoy, Kagawa and Ogbonna would be a damn coup for Everton. Let's do it.
Weak in the knees just to see DelBoy and his short-shorts back in Blue. Per his Instagram account, his shorts get even shorter on vacay in Ibiza. But I digress.

Exciting offseason thus far. Can't wait to spank Watford week 1!
Sean Kelly
143
Posted 26/06/2015 at 13:48:29
Welcome aboard DelBoy. At least you didn't come from Wigan. Now that would have given PW to moan about
Phil Walling
144
Posted 26/06/2015 at 14:15:12
Bob at 126; If people need a hope to hang on to – and see that hope as Deulofeu – so be it. But to paint this kid as a latter day Kanchelskis is going some, I feel.
Just as with Barkley, post after post mentions 'potential'. I swear that word now outflanks the cursed 'phenomenal' so loved by our learned manager!
Personally, from what I've seen and more recently read about Delboy, he – just like our local boy – has so far failed to 'train on' and last season was still indicating the shortcomings he displayed as a teenager.
But perhaps, just perhaps, this manager will discover a way to bring the best out of these young bucks towards the future glory of our club. It's just that I'm not betting on it!
Hugh Jenkins
145
Posted 26/06/2015 at 14:36:57
Karl (62) Not sure if anyone else has said this since your post - but, notwithstanding the agreed fee with Barcelona, surely the player will have to agree personal terms too?
It is all about player power since the Bosman ruling and presumably, if Barca want him back and he says, OK, but I want 𧷤,000 per week and a five-year contract, if they won't meet those terms, the sale doesn't happen.
Shane Corcoran
146
Posted 26/06/2015 at 14:58:40
Hugh (#143), I often wonder about this and also about the "first refusal" bit.
What if they player just doesn't want to play for the club for whatever reason?
Is there any real point to these clauses in such cases?
Nigel Gregson
147
Posted 26/06/2015 at 15:15:53
Great point Hugh. 2 two young exciting signings even before the window opened - feels like a dream. When was the last time this happened does anyone remember ? Oh and BTW both these players want to play for the club as much as they want to play for the manager !!
Colin G could you please tell who's next on the list ? Who will be our midfield general ? Will we get Kagawa ? Who will be the new left footed rock in defence ?
Nicholas Ryan
148
Posted 26/06/2015 at 16:41:04
Something important, that's getting slightly lost in the transfer hype. Both Cleverley and Deulofeu CHOSE to be at Everton. Both had credible offers elsewhere, presumably on at least as much money, and possibly more.
I think we will be better off, with 2 guys who have slight question marks over them, but are desperate to prove themselves; than one sulky superstar who is going through the motions.
Think about it; the window isn't even open yet, and we've signed 2 young international-standard players, for a total of about ٢ million. Plus, Luke Garbutt has signed up, which most of us thought was a lost cause. Not forgetting David Henen, who I have an instinct, may turn out to be a 'good'un'.
Now, I'm not Bobby's greatest fan... but, if talented young players are queueing up to play for him, maybe the jury should stay out a little longer!
Shane Corcoran
149
Posted 26/06/2015 at 17:03:38
Is there any evidence that Del had offers from elsewhere or does it just fit in cosily with his tweet?
Jim Hardin
150
Posted 26/06/2015 at 15:24:17
Wow, wish the fans on here would actually compare the production of Lukaku and DelBoy and see who has been more productive over the last three years for players approximately the same age. Odd that the more productive one gets slagged off and the great blond (for now) hope is welcomed with open arms.
Don't rate the player as much as others as he wasn't good enough to displace Pedro as the fourth forward at Barca. Please don't tell me he is a steal since there were no other serious inquiries, just rumours and preliminary queries apparently. The fee however is fine for a player with potential to be no worse than McGeady and could be ggod to to very good. The buyback could also mean a profit. Hope his pace can be an asset but worry whether speed will ever be relevant to an RM sideways and backwards system.
Still a positive move for a younger player so COYB!
Mark Wilson
151
Posted 26/06/2015 at 23:26:45
So, we sign the boy from Barca.....then we hope and pray he has a great season.....he does.....we are made up....then we are forced to sell him back, probably for about ٣m.....
Or........
Barca boy arrives and is rubbish all year and of course we have signed him permanently so tough.....
Leaving some of us thinking this is all just so bloody Everton it's not true.
Meanwhile the rumours of Lukaku to Roma grow......

Ernie Baywood
152
Posted 26/06/2015 at 23:56:44
Of course Mark it might not just be ٣M so the scenario might be that we get a player who is brilliant and we make a good profit. Not bad.
There's a chance he would be awful. How bad would he gave to be for us not to make a profit on a young man with such a reputation?
There is a third scenario where he is somewhere between decent and brilliant but not quite good enough for Barcelona. That would be far more likely wouldn't it?
Barry Jones
153
Posted 27/06/2015 at 01:55:45
There hasn't been a negative comment so far, so here is the first. He failed to make an impression at Barcelona or Sevilla. His coaches criticised him for being a "schoolyard footballer" not thinking about the team but just his own egotistical profile. Quite honestly, that was my own estimation of him in his loan stint at Everton. I wonder how many people on this site have actually played football at any level. I hope he succeeds and proves me wrong, but I don't believe he will.
Colin Glassar
154
Posted 27/06/2015 at 08:12:11
There's a good piece in The Echo talking about how the players love playing for Martinez. As Lukaku says, "Mr. Martinez will be one of the best managers in the world. It is a privilege playing for him now".
I'll get my tin hat on and get into my Anderson shelter now.
Trevor Peers
155
Posted 27/06/2015 at 09:02:42
Every manager is judged by results Colin, it's irrelevant if the players like him or not. Let's see how the team does during the course of the season, there has to be an improvement from last season when we were simply awful.
Looking at the squad so far I can see us struggling to score enough goals, we definitely need to sign a goal scorer hopefully Roberto will address this soon.
David Greenwood
156
Posted 27/06/2015 at 09:12:43
Room for one more in there Colin? Mark @149 'Lukaku to Roma rumours grow'. Well no they don't Mark. As Colin has pointed out elsewhere, they couldn't afford the transfer fee, nor the wages.
There is not a chance of him going to Roma.
Barry @151, Del Boy and his ego? In the same piece as you let us know that the world class coaches at Barcelona share the exact same opinions on players as you. Haha.
Derek Knox
157
Posted 27/06/2015 at 09:15:48
Really glad Delboy is back.
Does this mean that Aiden McGeady will be rarely seen again?
If that is the case is like a double bonus!
Dave Abrahams
158
Posted 27/06/2015 at 09:16:24
Barry (151) you don't have to have played football at any level to understand it, it might help more if you have played, but one of the best managers in the world never played for a professional team, Mourino and Arsene Wenger never played either. Some of the most capped and best players were hopeless at managing teams, Bobby Charlton and quite a few more, so don't be too hard on supporters who have never played the game.
John Crawley
159
Posted 27/06/2015 at 09:35:37
Dave Mourinho did play professional football in Portugal, not to a high level but he did play.
Dave Abrahams
160
Posted 27/06/2015 at 09:59:38
John (157) fair enough John, I didn't know that, I stand corrected.
Barry Stevens
161
Posted 27/06/2015 at 10:58:56
This is a great bit if business by the club. He is a get people off their seats player and is made for the premier league. Even if he doesn't improve from his current level, he's still a match winner at certain times.
Add to that the signing of Cleverley and we have made a solid start in the market. Now hopefully a couple more to follow before season kicks off. I'd like us to go in for a couple of Brentford players. Button their goalkeeper, and Odobajo who can play right back/right wing.
Peter Gorman
162
Posted 27/06/2015 at 11:48:19
Phil.....seriously.
Even if I accept Deulofeu was 'a La Liga flop' (which I don't), I am reminded that we once bought another flop from that league who turned out to be the best little Spaniard we knew.
I watch football to be entertained and Deulofeu is entertaining so he gets my vote.
Barry Stevens
163
Posted 27/06/2015 at 12:23:44
Forgot to say much kudos to Mr Colin Glasser. Got it right last summer and hit the nail on the head once again.

Ernie Baywood
164
Posted 27/06/2015 at 14:03:36
Come on Barry Jones #151, let's not roll out the "who played at the highest level" game. Roberto Martinez played at a decent level and he rates Del... in fact he must know more than us generally. Should we pack in the comments section then?
Whatever level you played at, you must be able to see the potential in the lad. His career isn't exactly guaranteed (there are very few you could say that about at his age) but he's got a chance of being a very good footballer.
Andy Osborne
165
Posted 27/06/2015 at 17:15:16
Being a manager is a tough gig. Far easier, building a team with seemingly unlimited funds, that being creative, and recruiting within a very tight budget. I have more respect for RM than I do for Brendan Rogers. Everton don't have the cash to splash, so we have to be creative. And so far, the two we have brought in excite me. Yes, they could fail, but paying millions for the finished article doesn't always work out, either. The Premier League is full of expensive players that didn't work out.
No amount of comments on here, will give RM more cash to spend, he has a budget, and he is working within it. No amount of comments on here will get the players we all want, so we have to accept the players we can afford. Everton should be in the top four, but we aren't. Everton should be one of the rich clubs, but we aren't. What are we going to do? Give up and go home, no, we get the players we can, and create the best team we can buy. I don't feel sad about that, it is just how it is. I met a Chelsea fan the other day, who lamented that he preferred his club before the Abramovich millions, how his team had lost its working class background. I nearly hit him. I would love the millions, but I am on the outside looking in. He is on the inside and not enjoying it.
Andy Crooks
166
Posted 27/06/2015 at 21:09:46
Colin #152, at last, you have seen the light. England players loved playing for Sven. Newcastle players loved Keegan. West Ham players loved Greenwood, Bonds etc. Players love an arm-round-the-shoulder guy who thinks every lame, lacklustre, spineless display is excusable and phenomenal.
I suspect that Clough and Ferguson weren't loved by their players. Playing for Everton is a privilege. I imagine playing for Martinez is money for old rope.

Steven Jones
167
Posted 28/06/2015 at 08:14:24
Andy (#163), brilliant post, and I have a close friend Man City fan and he feels the same.
It is the vision, the hope that one day we will have a special team that makes me believe that RM is the so so so right person to roll the dice and give us the chance to have a team. We are more Ajax with their mid-90s team than an oil-money team. Play and build the youngsters and we have a chance.
Steven Jones
168
Posted 28/06/2015 at 08:18:48
Andy (#164). You will find that Clough was feared and loved by his players.
Mark Whyment
169
Posted 28/06/2015 at 10:00:03
I think it's hilarious that we now have our own Gerard just as Liverpool lose theirs. Can you imagine the flags and potential banter at the Derby!
Welcome 'Gerard', enjoy showing us what you can do. ;))
Brent Stephens
170
Posted 28/06/2015 at 10:36:03
Mark (#167), "I think it's hilarious that we now have our own Gerard just as Liverpool lose theirs. Can you imagine the flags and potential banter at the Derby!"
The only Gerard flags will be ours as I heard Bill has bought a job lot from LFC and fans.
Barry Jones
171
Posted 28/06/2015 at 13:40:04
Ernie #162, I agree with you. The boy has absolute bags of talent for sure. He needs to turn that potential into being more productive, especially in a team sense. I said in my previous post that I hope that he proves me wrong and I totally want that. I suppose we will have to wait and see, but I will be ecstatic if he churns out the season of his life for us.
Phil Walling
172
Posted 28/06/2015 at 13:56:26
That's just the problem, Barry. We hear so much about POTENTIAL. But so many of these kids never fulfil it. Barkley has it in abundance, Delboy MIGHT make a decent player whilst Garbutt and Galloway COULD reach Premier League standard. Let's hope they all come good.
Meanwhile, at the other end of the scale, there is so much deadwood at Everton, it make you wonder if we will ever have a balanced, talented side. We've waited 20 years for one. At least.
Barry Jones
173
Posted 28/06/2015 at 14:10:26
I agree, Phil. I suppose we have to put some faith in our coaching system. I concur about Barkley too. In flashes, he is something to behold, a world beater, but all too often reverts back to school yard stuff also. At least we are investing in YOUNG talent.
If we do not break the bank with a single transaction (like Rom) then maybe we can go some way to getting that balance of youth, talent and savvy. It is critical that a club like Everton understands the importance of the word VALUE.
Nigel Gregson
174
Posted 28/06/2015 at 14:40:12
Phil (#170) – did you think we had a balanced side when we finished 5th?
Tom Bowers
175
Posted 28/06/2015 at 14:34:34
Whilst RS are as usual spending like confetti, Everton have to be much more conservative and the deals thy make seem to be much more protracted because of the financial constraints. A far cry from the Sixties when Everton were the millionaire club.
However, just sometimes a club with little to spend can surprise and whilst very few Everton aficionados would expect a top four finish the rest of us would be happy on a big improvement over last season.
A lot depends of course on some of the younger players like Besic and Barkley really stepping up on a consistent basis otherwise it will be more like last season.
Hopefully the incoming of Deulofeu, Henen and Cleverley will put pressure on the others to perform better.
Nigel Gregson
177
Posted 28/06/2015 at 14:52:42
For those whining about us recently buying flops and rejects, let me point out the irony.
Pienaar – Bundesliga flop;
Arteta – La Liga flop;
Jagielka – bought from a relegated team;
Cahill – bought from a Championship team;
Lescott – bought from another Championship team;
Howard – a Man Utd reject ;
Gibson – another Man Utd reject.
(And others who I might have missed).
We have a long history of taking these bets and turning so called 'flops' into Premier League first team regulars.
There is absolutely nothing new in us taking a chance on these type of players. The only difference now is that the manager is Roberto Martinez and some folks just don't like him. It irks them that we are attracting a slightly higher potential young flops who like to play for this manager and would likely never have been signed under the previous regime.
Peter Jansson
178
Posted 28/06/2015 at 15:02:03
Brilliant signing Del!
I have said it before and I say it again. I think we should try to sign John Guidetti!! He is without contract and he is a good player with great potential. Maybe the best player om the pitch yesterday when Sweden knocked out Denmark 4-1 in semifinal at the Uefa21 eurocup.
Come on Roberto! Call Guidetti!!
Terry Downes
179
Posted 28/06/2015 at 15:19:03
We need a number 10 top priority! Jordy Classe is my shout apparently he's available for around ٦-10 mill but we'll have to be quick as Koeman is rumoured to be interested.
Tommy Webber
180
Posted 28/06/2015 at 15:50:11
Ha ha, who would have thought 2 seasons ago we'd have signed Lukaku, Deulofeu and Barry all on permanent deals with Manchester United's Tom Cleverley already in the bag – all for less than Martin Samuel's reported "㿞m Loan Sham"?
In your face, Martin! IN YOUR FACE!
Phil Walling
181
Posted 28/06/2015 at 16:02:42
You are pleased about those deals, are you, Tommy?
I bet all in all, they wont cost much less than the 㿞M mentioned. I hope for all our sakes you will be laughing at the end of next season!
Jackie Barry
182
Posted 28/06/2015 at 16:25:21
Please explain, Phil, if they didn't cost 㿞 million, how do you come to that conclusion? You can't figure in wages because all players get a wage, and we are talking solely about the cost of signing them.
Tommy Webber
183
Posted 29/06/2015 at 13:41:11
Yes Phil I'm pleased! If I was anymore pleased about those signings I'd need a tissue followed by an apology (you know, for all those tears of joy)! Barry cost us NOTHING, Cleverly cost us again NOTHING and if we don't get Lennon this season then next year he too will cost NOTHING! Plus... the other two players are barely in their 20s – both already capable of tearing the Premier League a new one!
Pleased? I'm Elated!!
Peter Jansson
184
Posted 29/06/2015 at 18:24:52
Guidetti would also cost NOTHING :-)
---
Add Your Comments
In order to post a comment, you need to be logged in as a registered user of the site.
Or Sign up as a ToffeeWeb Member — it's free, takes just a few minutes and will allow you to post your comments on articles and Talking Points submissions across the site.
© ToffeeWeb