Naismith would have grabbed the chance with Norwich
by

58 Comments [Jump to last]
| 14/09/2015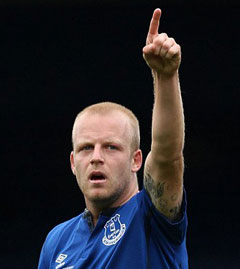 Steven Naismith admits that his desire for regular first-team football means that he would have taken the opportunity to join Norwich City on transfer deadline day had Roberto Martinez not insisted that he stay with Everton.
The Scot was the subject of an £8m offer from the East Anglia side on the final day of the transfer window but the Blues' boss felt that the forward was too valuable to lose.
Naismith proved his boss right and also proved a point of his own in some style on Saturday as he stepped off the substitute's bench early on against Chelsea before scoring a memorable hat-trick to consign the defending Champions to an emphatic defeat.
"When you are not playing every week it is hard to look past these opportunities [to leave]," Naismith said of the rejected bid from Norwich. "But it was out of my hands because the manager said he didn't want me to leave. That was nice in a way but when you're not playing it is hard to take.
"Things can change so quickly in football, though. Hopefully I've shown my worth to the team. At my age, you do wonder how long it is going to be before you are playing regularly again. I was still coming on in games with a good bit of time to play, so that gave me hope that I could still be here at Everton.
"When the manager said it wasn't going to happen, I knew then I had to work hard and be ready for a day like this against Chelsea. The manager said he saw me as a valuable part of the squad and wanted to keep me. Everyone has a role to play."
Despite never really convincing as a regular starter under David Moyes when he was frequently played out of position as a right midfielder, Naismith blossomed in Martinez's first season in charge of Everton, finishing the 2013-14 campaign as the club's second-top scorer behind Romelu Lukaku with nine in all competitions.
He notched another eight last season but struggled to hold down a starting role in what was a disappointing period for the team as a whole.
His goalscoring exploits against Chelsea will have restored the 29-year-old's reputation as one of the team's most natural finishers and give Martinez plenty to ponder in terms of team selection going forward.
"If we are going to be a big team competing for things we need a large squad. You can't just rely on 11 players," Martinez said on Saturday.
"As you saw today [with] injuries, it's good to have a player like Steven who has the right mentality and sets the standard for the other players."
---
Reader Comments (58)
Note: the following content is not moderated or vetted by the site owners at the time of submission. Comments are the responsibility of the poster. Disclaimer
Mark Andersson
1
Posted 14/09/2015 at 07:22:17
As stated on a previous thread, Martinez did the right thing keeping Naismith. Let's just hope we can continue Saturday's form into the next game.
Naismith deserves a start, not just because of his goals, but he closed down and harassed the Chelsea players into making mistakes.
The manager has a few egos to keep happy, who knows what team he will pick next.
Ian Jones
2
Posted 14/09/2015 at 07:23:13
I am one of those who has been critical in the past re Naismith and have been happy to eat my words....regularly.
Someone on TW said a few years ago that, out of Naismith and Jelavic, Naismith was the one to watch. You can never fault his attitude. Always willing to give it a go and have a go at the opposition with aggression. Perhaps kicking Ivanovic (I think it was him) was a bit uncalled for but not complaining that he did.
It's a squad game so even scoring a hat-trick doesn't guarantee you a part in the next game these days. Glad he stayed.
Kieran Fitzgerald
3
Posted 14/09/2015 at 07:31:01
He's a player that even the mighty Chelsea don't have and seem to need badly at present. Both Utd and the RS were very poor on Saturday and both clubs would jump at the chance to have a player with his attitude and energy at present.
You would wonder how Naismith would do playing thirty games a season. When we are playing well our counter attacking style and quick passing really suit him. You can see this by the type of goals he scores.
Perhaps with Cleverley and now Besic injured, Naismith may get a start against Swansea on Saturday. His effort and constant running, combined with Barkley, Kone and Lukaku all confident and playing well, may be exactly what we need against a defensively sound team like Swansea.
Sam Hoare
4
Posted 14/09/2015 at 07:40:47
Naismith had a phenomenal day on Saturday but I'm afraid it doesn't change my overall opinion that he is a very useful squad player but not an automatic starter for Everton. One swallow does not make a Summer and all that.
His work rate and movement are top class but his touch, technique and passing are a much lower standard. He does not necessarily have the skill to suit a possession game or the pace to suit the counter attack but if movement or fight are required then he's top pick. Depends on the situation and that's why I'd keep him on the bench even though is heroics on Saturday will be long remembered.
Adam Fenlon
5
Posted 14/09/2015 at 07:41:51
Appreciate the honesty there that he would've been off if it was up to him. Would rather that than hear a load of bs about how special Everton is to him, then have him off in a heartbeat anyway.

Thomas Surgenor
6
Posted 14/09/2015 at 08:00:16
The thing I took about the comment (which we all pretty much knew anyway) was that the lad just wants to play football.
Some modern players are happy to sit on a bench and pick up a pay cheque. Fortunately, we seem to have players who want to play and are unhappy when there not. Even Mirallas looked annoyed at being on the bench.
This can only be good for us as it puts pressure on the players to perform when they get a chance. If they don't play well then who knows when there next chance may be?
Colin Glassar
7
Posted 14/09/2015 at 08:45:34
I agree with Sam, despite having a great game Nessie is now no more than a squad player. Yes, I love his drive and effort but there are better players ahead of him now. He's a great impact sub to have but that's about it.
Dave Abrahams
8
Posted 14/09/2015 at 08:46:50
Sam (4) I agree with your reasonings on Naismith, a player I've never had a go at because of his work rate and willingness to play as a team player and not for himself. But he does have limitations, so his main value to Everton is as a squad player, a valuable one at that.
Colin Williams
9
Posted 14/09/2015 at 08:58:17
Great performance by the lad, but one good game in....how many is not what the gaffer needs! Nais has had plenty of chances and he's been very poor. We have a very strong group of players, with a few exceptions! The lad was a different class on Saturday taking his chances, everything came off for him.
Looking back at his overall performances since signing... The lad's been very poor on core individual technical and tactical skills. Nais is 28 now, he will carry on doing what Nais does, which is lots of effort, the odd goal, but constantly giving the ball away and giving free kicks away.... (He's not really a Roberto type player.) The lad's not really got a position he can be comfortable with...One just doesn't stand out!
Nais has a big heart, but asking him to fit into the technical tactical philosophy of our managers game plan is asking too much (not fair on Nais) on a consistent basis. The lad would have more game time with a manager whose philosophy is more like Naismith's core skills when playing. Big Sam would love his playing style; Roberto, I think not.
Shaun Traynor
10
Posted 14/09/2015 at 09:14:11
Anyone else notice how not arsed Super Kev was when the goals were going in? Not even a smile on his face. The rest of the bench were up and celebrating the goals however.
Eddie Dunn
11
Posted 14/09/2015 at 09:20:29
People can moan that Nais isn't the quickest, or that technically he is not quite top-notch. He has suffered from being asked to play in various roles, so even when getting regular games, he has had to adapt for the particular position that he has been asked to play.

For me, he is best playing just off the front man, and he has benefited from Kone's resurgence. Indeed on Saturday when we broke forward we suddenly had Nais, Kone and Rom for the Chelsea defence to handle. Naismith may not have the fancy footwork of Mirallas or Del-boy, but if he has a bit of space his shooting is very accurate.

Naismith also wins plenty of headers both in attack biut also in defence, which helped our cause when we were under pressure at the weekend. He could have had even more chances on Saturday had Barkley not dallied on the ball before playing him in, or if Lukaku had managed to control the ball, or lay it off accurately.

Ironically we play our best football, on the quick break and Naismith's instinctive game benefits this style, as opposed to the keep-ball approach that has characterised much of Roberto's tenure. I hope that the manager is actively encouraging this energised play, as it is great to watch and seems to be effective.
Tony Abrahams
12
Posted 14/09/2015 at 09:25:58
Never saw that Shaun, but I think actions speak louder than words. He's in it for himself is Super Kev, but he does possess great ability.
It's only one win, but it was a collective effort, and if we are going to progress, it's going to have to be done, AS A TEAM!
Ian Robert
13
Posted 14/09/2015 at 09:46:48
I am one of the defenders of Nessi, I have never understood the rejection of his ability and/or efforts by Everton fans. I will maintain his contribution is just as important as any of our strikers... his control is far far superior to Lukaku's... his effort (well let's not go there re Lukaku) is excellent and his shots-on-goal to goals-scored must be reasonably good (enter the stats geeks).
I'm glad he stayed but I really can't see him resisting another offer of first team footy elsewhere when the next window appears!
Drew Shortis
14
Posted 14/09/2015 at 10:10:43
I can understand Naismith's desire for first team football. He wants to be involved and that is very evident every time he is on the pitch. Never stops running and isn't afraid to put his foot in and niggle at the opposition. His patience has paid off and he can now stake a claim for more starts.
It's a long season and there will be injuries, players out of form and games where Nessi's qualities will give us an edge. As Martinez says, its all about the squad, not just our strongest starting eleven.
Jamie Barlow
15
Posted 14/09/2015 at 10:49:07
I don't get this "Naismith is only a squad player" and should play only as an impact sub. If he is in form, he should start. As should any other player.
Aren't they all squad players? Nobody deserves to start.
Trevor Lynes
16
Posted 14/09/2015 at 11:31:39
Every player is in it for himself and most are selfish too. Everyone wants to play and the manager has to juggle his assets according to the opposition and tactics needed. I am sure that had we played a side who had really fast direct wingers we would have had a different starting team.
I was totally wrong in my opinion of the side that Roberto selected against Chelsea and he would have been castigated if it had back fired. But luckily he was right and most of us were totally wrong. Naismith is a valuable member of the squad but he needs to play to the same level each time he pulls on an Everton shirt and that has not been happening until Saturday.Nowadays the midfield players and strikers are the usual one's subbed if things are not going well. It is quite unusual to see a defender subbed unless he is struggling against an opponent or injured. Our side has had basically the same defenders in place in every game and they have been the main stay of the team.Barkley, Naismith and Osman when fit have been subbed or brought on more often than others. This is a fact of life for a midfield player and it would be the same whatever club they played for from top to bottom. Naismith would be in the same boat at Norwich. We have decent players who have been hardly used at all yet eg; Deulofeu, Mirallas and Besic.This is understood by every player and that is what the manager needs. Mirallas and Deulofeu will get their chances according to who we play and who is fit or off form. Naismith is no different or Barkley for that matter.
Chris Gould
17
Posted 14/09/2015 at 12:03:22
Why do people keep questioning his technique or technical ability?
He is one of our best headers of the ball. He strikes the ball well with either foot. He finishes better than anyone in our squad. There is nothing wrong with his technique!!
He doesn't have a burst of pace and relies on good movement. He doesn't have a box of tricks and isn't a player who's going to dazzle, but his technique is great. He is never going to play well on the wing and a lot of the negativity comes from the poor games he's had in that position. His technique is far far better than Lukaku's, but he can't spearhead an attack. Calling him a squad player is odd. What does that make Mirallas or Deulofeu?
We have competition for places in the 3 roles behind Lukaku. Barkley seems to have nailed down a place and that leaves two places with Lennon, Mirallas, Deulofeu and Naismith all competing for them. He has certainly staked a claim to start next week.

Gordon Crawford
18
Posted 14/09/2015 at 12:04:23
Ian (12) Jamie (14) I agree with you both. Naismith gets a rough deal sometimes on here. Colin (7) please name me a striker apart from Lukaku, who is better than Naismith? Yes Kone has played well, but he isn't better. And the rest are not even worth a mention.
We seriously lack firepower at the club and so I would start with Naismith for the next game, and possibly play Kone on the right wing. If you play well, you should stay in the team. My opinion though.
Gordon Crawford
19
Posted 14/09/2015 at 12:08:56
Chris (15) well summoned up.
Steve Jenkins
20
Posted 14/09/2015 at 12:17:31
I concur with Sam, and ultimately it's why I think he will move on within a season as the quality of our squad I predict will increase - and his starting chances will then decrease further, ultimately I believe he'll then move on for two reasons.
One - for the benefit of his Scotland career which he places importance above all else.
Two - he's 29 and not the kind of player that will want to sit on the bench and pick up a pay cheque.
Saturday couldn't have a happened for a nicer bloke, on merit he definitely deserves to start the next game.
He's a player that can go on a purple patch once he gets a goal, so let's hope that's the case.

Victor Jones
21
Posted 14/09/2015 at 12:19:08
I don't get this criticism that Naismith is not technically gifted. He just managed to score three perfect goals. Not bad for a "headless chicken".
And talking about headless chickens, take a close look at Mirallas, Lukaku, Deulofeu. They could do with some of Naismith's attitude and effort.
Did anyone ever stop to think that Naismith had to adjust to the pace of English football? And that he was also often played out of position?
Just a little point. Tim Cahill, a fans' favourite, and also one of my favourite players. But just how technically "gifted" was he? Just asking.
Jim Lloyd
22
Posted 14/09/2015 at 12:21:07
I love Naisey as a man and as a professional footballer. To me he does have weaknesses and one of the major ones is his passing. I'm glad he is staying with us. He can get in some great goal scoring positions and is a good finisher with head or either foot. And on top of that, his work rate and his passion are great attributes
I think though that he is not going to improve his passing, but who knows? What I'm glad about is that he is in our first team squad. There will be injuries, I hope we're going to do well in one or both of the cups, and it seems now that we might have a go at reaching 6th, 5th place.
I think now, that there are a number of good players who are just going to have to wait their chance to get in the team this season. I hope Naisey does start next week. After that display, he deserves to but I don't think he is going to be able to overcome the passing aspect of his game to become a regular first teamer.
Jim Lloyd
23
Posted 14/09/2015 at 12:27:11
Well said Steve.
Martin O'Sullivan
24
Posted 14/09/2015 at 12:33:54
For me, Sam Hoare (above) says it all. Great bloke, hard-working, good intuitive touch and movement, but lacking for a team with any real ambitions. Maybe it's a matter of where and how you play him: just off the centre forward's shoulder in certain types of match? A lovely hat-trick Alex Young would have been proud of.
Sam Morrison
25
Posted 14/09/2015 at 12:41:01
Naismith's hat-trick seems to have prompted a thread largely about how limited he is as a player. I agree he's not a box of tricks but I think this first-touch-poor and can't-pass stuff is verging on nonsense now. His touch looked okay when he did a step-over and lost two defenders in the build-up to the first goal.

And most of the squad could learn from his movement, which is probably the best we have around the box. Worst first-touch? Lukaku, by a margin. Worst passer we have? Um, well RM for all his faults doesn't seem to play people who can't pass.
Dave Whitwell
26
Posted 14/09/2015 at 12:46:57
What a great problem for Martinez to have.
Personally I do really like Naismith but I wouldn't necessarily have him in my 1st team, or would have brought him on in place of Besic.
It has become a bit of a joke in my household that I tend to scream at the TV when he comes on, stating my beliefs that another player should be on instead, only for him to come on and more often than not score, to show me just how little I know!
After scoring a perfect hat-trick though Naismith must start against Swansea, its now up to the others to rise to the level required, to get him back on the bench.
Harold Matthews
27
Posted 14/09/2015 at 12:58:40
Terrific squad player with a fighting attitude, intelligent movement in the box, good in the air and scores goals. Would not like to lose him but it might happen.
Wants to start more games but can be a liability in those all too frequent horrible matches where we build up slowly from the back, the back four plays too high and loss of possession splits us wide open.
Whether we like it or not, and in this case we do, our good start has put us up with the big boys again. Not many sides will wipe the floor with Chelsea and the experts now see us as one of the favourites for 4th place. Despite last season's hiccup, we're widely rated as one of the bigger Premier League clubs and many opposition coaches will park the bus.
This is when we'll need the skilful feet of people like Barkley, Osman, Pienaar, Mirallis and Deulofeu. Martinez loves people who can beat a man and open things up and doesn't think Naismith is able to do this. Fair enough in my opinion. I like the little Scotsman with his poaching intinct, his big heart and mighty leap but if he wants to start every week he'll have to find himself another coach. It ain't gonna happen with Martinez.
Mark Daley
29
Posted 14/09/2015 at 13:27:18
RM could and should have said more than he did after the match in praise of Naismith. Leaving aside his hat-trick (all right, that is impossible, but just try for a moment) he was everywhere on the pitch, his turning – for example, in the lead in to the first goal – is fabulous, and he showed exactly the spirit we did not see very often last season, and do not see this season from certain other team members who are apparently not merely "squad players" but "proper footballers"...
Perhaps the version of the game I saw on a TV in Turkey was a doctored version of the original (they also did some funny censorship on the James Bond film that was on later the same day) but I find it difficult to reconcile what we saw of Steven Naismith on Saturday with the disparaging comments on here and RM's seemingly less-than-fulsome praise.
And as for the hat-trick... I have never seen a better one. I would love to know what Duncan Ferguson thinks.
I saw James Barry saying that RM now had a selection problem, which I hope means the team want him as a starter. To my mind, he has earned the right to start the next 4 games at least and surely to God he is a man we want on the ground from the kick-off against the RS?
Jim Gore
30
Posted 14/09/2015 at 14:06:43
Chris (#15), spot-on, mate. Naisy is a good honest hardworking player who will run his socks off for the team, always makes an impact when he comes on, and as we saw, can score goals.
Dave Abrahams
31
Posted 14/09/2015 at 14:23:44
Not to prolong the debate on Naismith but I bet plenty of Everton fans were very surprised that Norwich City had offered ٦M for Steven.
I hope he stays until we manage to sign a proven goal scorer to play alongside Lukaku and maybe even improve the big Belgium striker, although that will not be easy to do.
Jay Harris
33
Posted 14/09/2015 at 14:32:34
It is amazing how some fans are so quick to knock Nais but will defend Lukaku to the hilt.
Very few players are perfect but Nais scores more than Kone and puts a shift in every game and if HK rates him then so do I.
Mark Andersson
34
Posted 14/09/2015 at 14:40:33
Dave Whitwell, I like your logic, but logic goes out the window being a Evertonian.
Good point though.
Paul Mackie
35
Posted 14/09/2015 at 14:43:06
I love Naismith but he seems to be a bit of a 'big game' player. Always turns up against the like of Chelsea but is anonymous against the smaller teams.
Now whether that's down to the player or how RM sets the team up I'm not sure. But he definitely doesn't have a killer pass in him. That said, neither does the rest of the team on the evidence of last season.
Mark Andersson
36
Posted 14/09/2015 at 15:04:11
So that's, Stones, Mirallas and now Naismith we are going to lose in January. Nooo... we will be sitting nicely in the top 4 with Chelsea and the RedShite near the bottom looking for new managers.
Now that would make my Christmas happy.
Les Martin
37
Posted 14/09/2015 at 15:27:57
I love the defenders of Nais but wonder about those who question his technical ability, but we all have our right to a view.

A hat-trick with both feet and header and we would have been purring if some of our more "gifted?" players would have scored it.

I think he is unique as a link up man and goal poacher, name me another Premier League player of his style, we are damned lucky to have him and he is becoming a great ambassador with his off-field activities as well as those on it.
Aidan Trimble
38
Posted 14/09/2015 at 15:58:27
We seem to be getting overrun now by the people who never rated Naismith, but were forced to keep quiet after he scored the perfect hat-trick against the reigning champions. Now they can slide back out and pontificate "yeah, he did
ok
, but he can't do this that and the other".
Bullshit!! He's very, very good at what he does - the role he plays is to harass the opposition, win fouls and score instinctive goals requiring intelligent movement. You might as well criticise Stones or Howard for their scoring record, or Lukaku for his defensive qualities. We don't have anyone else like Naismith in the squad; if he leaves we'll have no-one capable of doing the job he does. I don't give a shit what he can't do if he keeps doing what he did on Saturday. If he's played in the right position, he's invaluable to us.
Keith Glazzard
39
Posted 14/09/2015 at 16:34:31
Naisy was right to be interested in the move, who in his situation wouldn't have been? And the honesty of the man, he's quite open about it.
Roberto was quite right to keep him, certainly at that stage of the window. Saturday was exceptional of course, but he is a valuable squad member, and the season's hardly started.
And, we turned down £8million. Now, that is progress!!
Ray Robinson
40
Posted 14/09/2015 at 16:45:57
Aidan #35. For what it's worth, I agree with you. The guy is a true professional, an out and out trier, a niggler (in a good way) and a goal poacher. Added to that all else, he is obviously a top bloke.
However, his hat-trick notwithstanding, he is a limited footballer. There again, so was Cahill, Latchford and even Lineker. I'd always have room for such players - he might just have to accept that at Everton, particularly if we only play one up front, that he may not always be in the starting eleven. And we the spectators will have to accept that when he plays and isn't scoring, he may contribute little other than honest endeavour.
He won't get much stick from me either way.
Dennis Ng
41
Posted 14/09/2015 at 16:51:02
I remember RM once said about Coleman being a specialist. Being a specialist means being good at one thing and one thing only (maybe a few more for more talented players). That's describe most players nowadays.
Why do we keep haggling over the worth of Naismith and his skillsets? He puts on the shirt, run till his legs drop, and this time round, score a hattrick over "mighty" Chelsea. What's not to love?
Brian Cleveland
42
Posted 14/09/2015 at 16:59:55
Aidan, (35), exactly right. We don't have anyone else similar.
If you just want someone to run and harass, you have the likes of Besic and McCarthy, but someone who is a forward to do that and add to the goals in the way he does is pretty unique.
No, he isn't a fancy dan so may not catch the eye of those who like the little frills, but don't let the obvious blood and thunder attitude he has overshadow the skills he has in tucking it away when he has a chance, he probably wastes less chances than other forwards.
Who else do we have with as much energy who will help out defensively, link up through midfield and provide some goals? He is a very intelligent player as well as passionate. Not perfect, but I prefer to look at the positives he brings to the team rather than some of the weaknesses.
He is not an automatic starter, it depends on the game, but that's why you have a squad. You need different types of players for different occasions, not just because of injuries or tiredness, and he is a valuable part of that with nobody else providing similar skills.
Dave Winter
43
Posted 14/09/2015 at 17:50:02
I think when we are playing counter attack, and / or a pressing game, he warrants a place in starting 11 if the manager sees fit. He reminds me of Kevin Keegan, and he loves to get on the end of his own moves. I like him a lot and what a weapon to have? Ultimately, though, Roberto decides which ones to use.
Brian Cleveland
44
Posted 14/09/2015 at 18:41:43
Everton, if that is your true name, I congratulate your Sir. I expect your middle name is 1878? ;-)
Dave Winter
45
Posted 14/09/2015 at 19:36:13
Yes and my Mum's name is Chelsie believe it or not, Brian 41. I'm genuine.
Tony Draper
46
Posted 14/09/2015 at 20:01:15
Steven John Naismith, Happy Birthday.
A quality human being who shines decency, honour and responsibilty.
Terrific "Perfect Hat-Trick".
I'm so bloody glad that Roberto turned down £8M, 'cos frankly it was a bloody insult. Heart of a Lion.
Worth two players. One of my most favourite ever signings. William Ralph would have LOVED that hat-trick, Naisy, and he knew a thing or two about 'em.
Tony Draper
47
Posted 14/09/2015 at 20:15:42
For any who think that Nais lacks technical ability, you are utterly wrong, utterly.
On 2s of this vid, watch how he deliberately hoodwinks two Chelsea players, then swiftly 180s leaving them both treading water. The proof is repeated on about 24s.
And his 3rd?
World Class. World Class.
Thanks, you looked after Stonesy when the wankers were berating him at the service station on the return from Barnsley.
You gave EVERY Evertonian the result we wanted against the pompous, arrogant and sleazy ex-champions.
Happy Birthday, Nais!
Tony Draper
48
Posted 14/09/2015 at 20:17:46
Here's the link !
Terry McLavey
49
Posted 14/09/2015 at 22:07:08
I refer you to my comments on match day reaction thread. Steven Naismith will always put in a good shift, we have a proud tradition of Scottish players and Steven is no exception.
I have always thought he is a true Everton player in the old school (because I am old!). He will always look for the ball rather than wait for it, unlike like some players. Let's hope this is a spring board to ignite our season?
Happy Birthday, even if you only got a match ball for a present! This will be talked about for years! (Can we book a hat-trick in against the RS?)
David Hallwood
50
Posted 14/09/2015 at 23:45:54
Ta for the link Tony(#46) I could watch the 1st& 3rd on a loop forever! Great movement from Nessie.
Laurie Hartley
51
Posted 15/09/2015 at 01:05:26
When your wrong - your wrong. Thinking back over the years I have been coming on ToffeeWeb, I can think of quite a few posts that I wished I hadn't made. If I could retract them, my first pick would one I made about Steven Naismith's ability as a footballer.
I have always admired Naismith the man for the fact that he has never forgotten where he came from and his work in the community. According to my view of the world, he will get his reward for that one day.
However, having watched the game on Saturday night here in Australia, and the highlights on the official site, how anyone can come to the the conclusion that he isn't a very, very, accomplished player if played in the right position, confuses me.
If that had been Kun Aguero on Saturday, the pundits would be raving about him. Naismith's movement for the first goal in particular was word class. As soon as he had passed the ball out to the outstanding Galloway he was off into the space between Terry and Ivonavich. Have a look at the replay - he made two very experienced defenders look like statues.
Personally I can't see how the manager can leave him off the team sheet for the next game.
Anthony Dwyer
52
Posted 15/09/2015 at 02:02:13
I will hold my hands up on this one lads, I for one am very critical of Naisy. I've never doubted his work rate, or his ability to pop up with some important goals, my main problem is I don't feel he has multiple goals in game in the EPL.

I know I can hear you all saying it, he's proven me wrong. Well, that's right, he has proven me wrong and it's about time I ate my humble pie. So I did, and I enjoyed every single bit of it. Naisy was fantastic v Chelsea, there's simply no other way to describe it.

For me though he is still just a squad player. He's not consistent enough to take Rom's role and not creative enough for the attacking midfielder roles. If he wanted to start every game then for me Everton can't carry him and finish in the positions we would like to.

Again though, that said he still showed he is a valuable squad member.
Nicholas Ryan
53
Posted 15/09/2015 at 02:31:55
Some people say Naismith is 'limited'. I couldn't help thinking, that the list of 'limited' goalscorers I have seen in my life, would include:
Paulo Rossi ... Gerd Muller ... Toto Schillachi ... Miroslav Klose ... Bob Latchford ... Duncan Ferguson ... Mario Gomez ... and, yes, Gary Lineker!
Not such bad company to be in!
David Torpey
54
Posted 15/09/2015 at 07:28:51
Nais's performance Saturday was highly extraordinary and prodigious; exceptional... one could even say PHENOMENAL! He's a confidence player so let's see him bang in a few more next game.
Paul Cherrington
55
Posted 15/09/2015 at 10:30:37
I also have been critical of Naismith in the past but I think it was justified based on performance. Looking at the weekend though and reflecting more, I don't think it was his fault. It seems pretty obvious now that he is a striker and, if he plays, that's where he should be.
He is probably our best finisher and I think would work well with Rom playing two up top. Play him anywhere else and that's where he looks ordinary and isn't much good (not his fault). He's not one of these players who can play anywhere on the pitch.
Zac Farbrother
56
Posted 15/09/2015 at 12:23:36
I was delighted that we declined Norwich's £8M bid. Like most on here, I agree he is not a starting-11 player, however he always showed he has that determination in him and I would love to see him play in the big important games... Think about the goals he's scored over the last few seasons:
2 vs Arsenal
1 vs Liverpool
1 vs Man City
1 vs Man Utd
1 vs Wolfsburg
1 vs Keiv
4 now past Chelsea
And I'm sure more that I can't remember off the top of my head! All very important goals, and well taken ones too. I think this is a "make it or break it" season for him, and what a great start he has now made!
David Torpey
57
Posted 15/09/2015 at 14:05:01
Fuck the past – judge the last performance. He is currently the best striker in the world. Squad player this, lacking technical ability thay... ffs. Goals are all I care about for a striker. Nais my man – go tear another one in Swans. He must start – and he obviously will.
Jim Hardin
59
Posted 17/09/2015 at 02:34:57
David, 55, The best striker in the world? Based upon 3 goals in one game? Ronaldo had 5 over the weekend so how do I do the math to arrive at your answer? One game sir, one game. Hold onto your hat to see what the next few weeks bring.
Let's not get carried away over a player whose career stats for Everton in the regular season are one goal every 5 games. He is a key member of the squad but not a key member of the starting 11. Not every game. It depends upon the opponent and the manager's set-up for Everton.
David Torpey
60
Posted 17/09/2015 at 12:19:31
Jim (56);
Ronaldo shows quality on occasion, granted, Ron's a valued squad player for Madrid and for sure he works his cotton socks off, bless him. However, many of us would agree he lacks technical ability. Don't get me wrong, I like Ron as a person, he seems a genuine lad...
Obviously I'm parodying the analysis we see posted here re Naisy... But, if he sticks another few past the RedShite, I'm going to have to insist he's the best striker on Earth. COYB! Nil Satis.
Jim Hardin
61
Posted 18/09/2015 at 03:54:55
David,
Outstanding! If he does it to Liverpool I will agree (unless and until Ron scores 3 against Barca).
Add Your Comments
In order to post a comment, you need to be logged in as a registered user of the site.
Or Sign up as a ToffeeWeb Member — it's free, takes just a few minutes and will allow you to post your comments on articles and Talking Points submissions across the site.
© ToffeeWeb