Stones "should be ready" to face Manchester United
by

43 Comments [Jump to last]
| 14/10/2015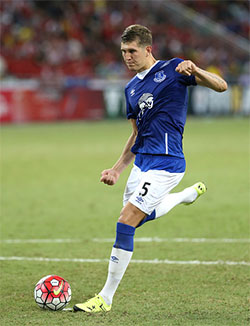 Roberto Martinez says that John Stones is likely to return to the Everton team that will face Louis van Gaal's side on Saturday.
Stones has missed the last two Premier League fixtures and his country's final two Euro2016 qualifiers with a knee injury but the Blues' manager reports that the defender has been training well over the international break.
He is expected to be in contention for a starting berth when United come to Goodison for the resumption of the domestic league programme this weekend.
"I think he should be ready," Martinez told evertontv today. "Remember that John has been having a lot of quality work at Finch Farm and it will be a matter of just getting that match fitness.
"We have still got very three important days ahead of that fixture in terms of preparation so we'll get a better idea on Friday of where John is.
"I would say medically he is ready now. He's been joining the group and from a medical point of view I don't think there is a concern or worry."
Stones will likely be joined by Seamus Coleman who made his own return from injury in the Republic of Ireland's 2-1 defeat in Poland on Sunday. It was the first action the fullback has seen since Everton's win over Chelsea a month ago in which he damaged a hamstring.
Coleman played the full 90 minutes for his country and should be in the side on Saturday to resume first-team duties from his deputy, Tyias Browning.
Martinez also provided updates on the rest of his longer-term absentees, saying Tom Cleverley and Leighton Baines have rejoined first team training which is an indication that they are in the final stages of their recoveries.
Baines told the Liverpool Echo last week that he is now training three times a day in a bid to regain fitness as quickly as possible following a second operation on his troublesome ankle in August. The England international hasn't played any competitive games since April but he too has been deputised well by a blossoming young player in the form of Brendan Galloway.
Steven Pienaar, Muhamed Besic and Tony Hibbert are also progressing with their respective rehabilitations and Martinez said that he expects to have all three back in training by the international break next month.
---
Reader Comments (43)
Note: the following content is not moderated or vetted by the site owners at the time of submission. Comments are the responsibility of the poster. Disclaimer
Michael Polley
1
Posted 14/10/2015 at 17:54:54
Good news. Now let's get a result against the Manure.
Can't believe the match isn't been televised??
Peter Morris
2
Posted 14/10/2015 at 18:11:18
Michael,
I agree but have to say I'm not sorry about it. I wonder how many Man Utd games aren't televised throughout the season? Must be very few. Must be because it's us!
Richard Reeves
3
Posted 14/10/2015 at 18:32:15
I think Man Utd are pretty average to be honest and it's a bit of a wonder as to how they are up there. On our day, and on theirs, I think we are the better team... but Martial does look a threat.
I'm a bit worried Rooney will not be the same after his warm reception from the Goodison faithfull, so I hope Stones is ready to return, as good as Funes Mori has been.
Jeff Beaumont
4
Posted 14/10/2015 at 19:15:15
Michael,
I think that to date we've probably been on TV more than anyone else.
Philip Yensen
5
Posted 14/10/2015 at 19:21:54
For me, the back 4 stays as it's been the last 2 games. Funes Mori has played well. He passes the ball pretty well, not scared of a tackle, as good in the air as anyone in our back 4.
The first goal against WBA was the fault of Howard by throwing the ball into a dangerous area. As was the red shite goal, by not coming for the cross into the 6-yard box.
Give Stones a bit longer... and Coleman if needed
Stephen Brown
6
Posted 14/10/2015 at 19:38:32
I always forget we have Steven Pienaar!!
Tim Greeley
7
Posted 14/10/2015 at 19:44:37
Other than the League Cup games, I can't think of a single match that hasn't been on live here in ze States. Maybe against Spurs, oddly enough.... all the rest though, so that is cool.
Anyway, I can't usually handle the pressure and cut out at half-time, record it, and watch later!! I'm sure this Saturday will be more of the same.
And I'm only 36... ten more years and I'll probably drop dead screaming at us down 2-1 second half against the upstart, newly promoted Aldershot Town! How do you Scousers do it for an entire lifetime!?
Great news on Stones and Coleman. How many have we won at home versus the Red Devils now? Three straight I believe. That is the only reason that I am feeling a draw: 2-2.
Richard Lyons
8
Posted 14/10/2015 at 20:23:51
Who is Tony Hibbert?
James Stewart
9
Posted 14/10/2015 at 20:46:30
Great news. Coleman and Stones back will give us a shot in the arm to beat Man Utd again.
Surely Mirallas should be back in the squad as well? He has been an important player against them in the past, let's not forget.
Craig Fletcher
10
Posted 14/10/2015 at 21:13:39
Good point James.
Mirallas has always done well against Man Utd, and surely he'll feel like he has a point to prove to RM.
David Hallwood
11
Posted 14/10/2015 at 22:30:13
I would like to see Deulofeu, Barkley & Mirallas as the three behind Rom, because we need more attacking threat given that Baines is out and the whole idea of two holders in MF is to allow the backs to bomb forward.
Galloway, outstanding as he is, doesn't provide that width on a consistent basis. Therefore Martinez can afford to be a bit less conservative.
Harold Matthews
12
Posted 14/10/2015 at 00:55:57
Unfortunately, David, with right-footed Jags moving over to replace Funes Mori, young Galloway will need plenty of left-wing support and that will only come from Naismith or Oviedo. Mirallas won't track back, Kone can't track back.
This has been a problem for quite some time now. The athletic Stones and McCarthy carefully guard the right and allow Coleman to venture forward but Jags and Barry tend to stay central. Without Distin and Pienaar, Baines couldn't budge and all the subsequent left backs have landed in the same boat. Martinez is well aware of this.
Funes Mori made a difference but is still finding his feet and it was interesting to hear Mo Besic saying that he was being trained for the Number 6 role which has always been left midfield.
All-in-all, with the amount of money laid out we have decent quality on the pitch and on the bench. Howard splits opinions and I won't bother going there. Martinez knows the situation and it's up to him.
How we'll do against Man Utd is anyone's guess. I hope MotM is a toss up between Howard and Lukaku.
Julian Wait
13
Posted 15/10/2015 at 01:40:43
Harold @9 - I hope MotM is a clear toss up between Barkley and Lukaku with Howard remaining unused for the whole game. ;-)
Kieran Kinsella
14
Posted 15/10/2015 at 02:43:39
I think it will be 2-2. We will have a Naismith goal wrongly disallowed for an imaginary infringement by Lukaku. Funes Mori will upend Martial and concede a penalty; Man Utd score. A couple of mins before half-time, no-one marking from the corner and their centre-half makes it 2-0. Boos ring out, Deulofeu is subbed for Kone.
Second half, Barkley barnstormer 2-1. Then Funes Mori fouls Martial – red card. Funes Mori does a Materazzi and flips out. Howard then drops a few crosses, Man Utd hit cross bar. More boos.
Then quick break Kone to Rom 2-2. Few nervy minutes, couple of last ditch Jag tackles. Game over.
Conn Prosser
15
Posted 15/10/2015 at 03:41:07
Kieran @11, that is all highly believable!
Jimmy-Ã…ge Sørheim
16
Posted 15/10/2015 at 03:45:27
We are depending on Stones in order to win.
Martinez seems to have forgotten how we played against Southampton. If we are not up for United then I think fans are going to start turning pretty quickly against Martinez again.
I have not forgotten last season, and neither have the fans.
Brian Cleveland
17
Posted 15/10/2015 at 05:25:59
Here in Colombia I've also had all our games on live other than the cup games, the majority with English commentary available too surprisingly. (Although when David Pleat is on I sometimes flip to the Spanish commentary!)
Darryl Ritchie
18
Posted 15/10/2015 at 06:19:36
It seems we've survived the international break without anyone getting injured; add that to the news that our wounded are ready, or almost ready to suit up.
The hardest job RM will have come Saturday, will be picking a starting 11. It's a "problem" that we haven't had too often.
I really like the way things are shaping up!
James Marshall
19
Posted 15/10/2015 at 08:08:25
I live in Thailand so I get to see every game live on Saturday night!
But I don't get to go to games, so y'know....
Mike Gwyer
20
Posted 15/10/2015 at 08:32:01
Harold Matthews (#12),
Wise words. For sure, all EPL teams are aware of our weakness down the left and for me Martinez looked at Cleverley to fill this hole. When both boys are back to match fitness, I believe we will see Baines and Cleverley running the left side.
No question, Galloway has more than compensated for the loss of Baines, so much so, that he has probably put Garbutt into 3rd place for the LB slot.
James Marshall
21
Posted 15/10/2015 at 08:41:01
Harold, I'm not sure I agree with your bringing up Jags being right-footed and playing as the left-sided centre-half as an issue.
When he's passed the ball by the left full-back, he can naturally receive the ball on his stronger foot, and also pass to the left-back with his stronger foot.
Personally, I think given the way we play across the back from left to right and right to left, having left- or right-footed centre-halves is irrelevant.
Chris James
22
Posted 15/10/2015 at 09:16:13
Great news, but I think Coleman being back is more important than Stones; he gives us another genuine attacking option down the right.
Don't get me wrong, Stones is world class but the new lad Funes Mori has slotted in incredibly well alongside Jags.
Phil Sammon
23
Posted 15/10/2015 at 09:57:05
James (#20),
I totally agree with you – it's not an issue. I don't know why some people worry about it. It's not like he's getting to the byline and struggling to swing in crosses.
Clive Rogers
24
Posted 15/10/2015 at 10:27:13
Deulofeu and Naismith should be left out as they were both poor against the RS and we have other options.
Ian McDowell
25
Posted 15/10/2015 at 10:35:37
I'd have Mirallas and Naismith on the flanks for this one, both offer a really strong goal threat. I hope Stones and Coleman are back too.
Laurie Hartley
26
Posted 15/10/2015 at 10:47:58
James @ 20,
I think Harold is correct about Jagielka being better value on the right. Most right-footed defenders will not only trap and pass the ball with their right foot but will also tackle with their right foot.
In my view, a full-back's primary role is to show the winger the touchline then tackle or block a cross. It is easier to tackle or block with your favoured foot. This is why Baines plays at left back.
When the full-back bombs forward, the centre-half's job is to cover him therefore it is preferable for his favoured foot to be the same as the full-back's.
As Harold points out, Baines knew that in Distin he had someone who would cover his back adequately and perhaps why the Baines - Pienaar partnership was so successful.
This is, according to my understanding of the game, a "square pegs in square holes" issue. Left-footed players playing on the left flank bring balance to a team. That is why they are so highly sought after.
I could never understand why David Moyes played Lescott at left-back and Heitinga and Jagielka as centre-halves. I always thought we looked safer when Lescott played centre-half.
I will be interested to see what happens when John Stones is fully fit because he it would seem is an automatic choice and Martinez will be faced with, because of Funes Mori, a similar situation as Moyes was with the Heitinga, Jagielka, Lescott conundrum.
It is a good problem to have.
John Raftery
27
Posted 15/10/2015 at 10:55:56
Arguably Jags looks more comfortable on the left side of the defence. That is where he has played most of his football for club and country in the past twelve months.
Assuming he is fit, Stones must return. He is one of our big players and an automatic choice. As Funes Mori will still be recovering from his long flight home, he will be on the bench at the most.
I doubt Deulofeu will start this one. Mirallas could start in one of the wide positions, preferably on the left, with Kone or Naismith to support Lukaku from the other side.
The return of Seamus will give us the additional dimension in attack we lacked against the RS.
David Hallwood
28
Posted 15/10/2015 at 11:16:41
Kieran (#14) If you're a fan of Only Connect:

12-13: 1-0.
13-14: 2-0.
14-15: 3-0.
15-16: ?-?
Brian Harrison
29
Posted 15/10/2015 at 11:32:25
Funny how things work out. In the Summer, when Chelsea looked like they may get Stones, everybody rightly said, "If we sell Stones, then that leaves us short at the back." Now we seem to be spoilt for choice, with Funes Mori settling in nicely, plus Galloway and Browning who are both considered as better central defenders than full-backs.
I wonder with this will RM look to maybe sell Stones in the January window and use the £40 million to improve in other areas? Hopefully we wont sell Stones and just increase competition for places, because if we are serious about challenging for a top 4 place we will need Stones to stay.
James Stewart
31
Posted 15/10/2015 at 12:40:14
@20: Have to agree. This left-sided centre-back issue is nonsense. Jagielka looks a better fit there and being left- or right-footed doesn't make a blind bit of difference. Most of the best left-sided centre-backs in world football past and present have been right-footed.
@24: I like your thinking and think you are right. I have a feeling Mirallas might start this one on the left-hand side. Naismith won't like it but he is better from the bench.
Alan McGuffog
32
Posted 15/10/2015 at 13:17:23
Brian,
I agree with your points. Now, without using emotive terms like "we are / aren't a selling club", we would all agree that every player has a price... Ronaldo, Suarez, HIbbert et al. Why, though, should we even be talking about sums in the region of 㿔 million for John Stones?
If Abramovich or his opposite number at Real Madrid, or wherever are serious then let's take them to the cleaners. The lad is on a contract to play for us, but, if he expresses a desire to leave then slap a reserve price of at least 㿞 million on him.. let potential suitors get into an auction.
For once, let us turn the screw!
Aidy Dews
35
Posted 15/10/2015 at 15:13:30
Great news that Stones is back and on the injury front in general. But I wouldn't rush these lads back this time and we have no need to either!
But I've read today that Martinez is gonna keep an eye on Funes Mori and is concerned about him after all the air miles he's put in. Sorry, but if you was going to be worried about a player travelling so far to South America and wherever, why sign him? Why not go for a European player? Funnily enough, when Stones was injured, Martinez wasn't worried about Funes Mori the last time he came back from international duty.
If you ask me, I think Martinez is looking for an excuse to throw Stones straight back in and to be fair most would as he's a top player, but Funes Mori has played well and deserves to keep his place for now. There is no need to rush Stones back.
Over the next month, the squad is gonna start to look seriously healthy, especially if the players can stay fit! I really do hope Pienaar can stay fit for a sustained period when he does come back as he can add something to the team down our left. It looks like Martinez doesn't want to use genuine width down the left and is using the likes of Kone, Naisy & Cleverley there. Don't get me wrong, all three at certain times have done well there but if we're not going to play someone like Mirallas or Deulofeu there, a genuine winger, then Pienaar as we know is the best player for that position and will improve our play in the final third further!
Matthew Williams
36
Posted 15/10/2015 at 15:34:57
Keep the back 4 as it is... we'll still beat 'em without Stones starting!
Graham Mockford
37
Posted 15/10/2015 at 15:57:09
Aidy, Matthew;
If Stones is fit, he plays.
You play your strongest team — it's a simple as that.
Jay Harris
38
Posted 15/10/2015 at 16:01:58
We have to play our best team and that definitely includes Stones. This Funes Mori love-in after only a couple of games makes me laugh. Let's see the guy over a longer period before we decide how good he is.
John Stones will get better and that is a scary thought. We need Stones's athleticism in this one to take care of Martial while Jags looks after the prodigal son.
I would definitely start Mirallas in this one to give him a confidence boost and test his will to reestablish himself although I don't think Martinez likes him as much as we do.
We need to go out guns blazing like Arsenal and not do our typical snails-pace first half and pick it up second half.
At least the crowd will be up for this one as Fortress Goodison starts to reestablish itself.
Dave Pritchard
39
Posted 15/10/2015 at 16:27:39
As Seamus had a run out, and looked good against Germany, I would think he will start. If Stones is fully fit he should play. I wonder if he will be though and if there is any doubt then hold him back until he is ready.
Jay Harris
40
Posted 15/10/2015 at 16:37:19
I have only just realized that if we beat them we will go above them in the table.
Let's see how the media react to that one (hopefully).
Tim Wardrop
41
Posted 15/10/2015 at 17:41:11
Laurie (25): Lescott and Heitinga were never at the club at the same time.
Mike Powell
42
Posted 15/10/2015 at 20:17:29
It's a no-brainer: if Stones is fit, he plays... you don't leave the best centre-back in England on the bench.
The same goes for Coleman; you have to play your best eleven. COYB
Laurie Hartley
43
Posted 15/10/2015 at 21:30:53
I stand corrected Jim at 38 – you are right. The three centre-backs were Yobo, Jagielka and Lescott.
Laurie Hartley
44
Posted 15/10/2015 at 21:32:27
Sorry, Tim at 38, for getting your name wrong.
Mike Childs
45
Posted 16/10/2015 at 13:49:31
For anyone thinking Funes Mori has a chance of starting instead of Stones let us remember ole Timmy Howard just walking back into the starting 11 last year. Shows you what RM thinks about in-form players versus his favorites. Besides if we're going to get over 50 million for Stoneys this summer or January he has to play.
Aidy Dews
46
Posted 16/10/2015 at 14:57:58
Graham #34 & Jay #35, yes we should play our strongest team, when everyone is fully fit! Too many times last season we were rushing players back and then they'd get injured again and be out for longer. Why risk that, especially when the lads that have come in have done really well?!
And Jay, you talk about this "love in" for Funes Mori and tbh, the lad as done well and shown some early promise but in the same sentence you say we need to put Stones in ahead of him but don't get the instant love in with Funes Mori and say we need to give him a run of games and then judge?! How's that possible then when you want him dropped for Stones?!
I'm not saying for one minute that Funes Mori is better than Stones, but whilst the lad as been out, Funes Mori as stepped up to the plate and looks more than capable and personally I'd be happy to see the lad continue until Stones is 100% right. If he is, then great, start him, but listening to Martinez in his presser yesterday, I'm not sure he is fit enough to start. So why not hold him back and start him midweek.
As for Coleman it's a different kettle of fish as he got 90 mins under his belt with Ireland through the week and came through with no issues so he should come in for Browning, even though he's done well.
Add Your Comments
In order to post a comment, you need to be logged in as a registered user of the site.
Or Sign up as a ToffeeWeb Member — it's free, takes just a few minutes and will allow you to post your comments on articles and Talking Points submissions across the site.
© ToffeeWeb