Martinez could play the long game with Baines
by

18 Comments [Jump to last]
| 19/11/2015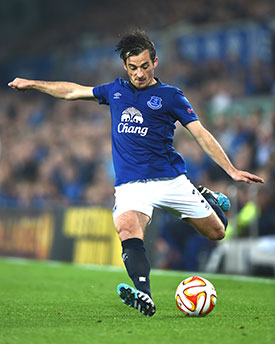 Mindful of the relapse the fullback suffered on virtually the eve of the season, Roberto Martinez says he won't risk throwing Leighton Baines back into action before he is completely ready.
Baines has been back in full training since before the international break and played 90 minutes of a behind-closed-doors friendly against Preston North End last week but he still lacks match sharpness.
Based on his manager's latest comments, that may give Martinez pause before rushing him back into the first team, even if he lacks cover in that part of the team in the short term. Brendan Galloway, who has deputised for Baines superbly for most of the season so far, is a doubt for Saturday's meeting with Aston Villa with a thigh problem and Bryan Oviedo is ruled out with a hamstring injury.
With Luke Garbutt on loan for the season at Fulham, Martinez could be out of first-choice options at left back this weekend but it doesn't look as though he will make a hasty decision over Baines.
Indeed, he says that even though he considers Baines to be "medically fully fit", he is more concerned about ensuring that the England international stays available throughout the second half of the season by allowing him to gradually build up to full fitness.
"With Leighton, it is day by day," Martinez told the Liverpool Echo.
"He has enjoyed a really successful period but he needs to get his confidence back and it is about finding that match tempo.
"The game behind-closed-doors was a real success. He played for 90 minutes at a really good tempo in everything he did. But we won't put pressure on Leighton and won't be throwing him in.
"We must err on the side of caution and make sure there are no reactions. We want to make sure he is fully fit for the second-half of the season."
Having said that to the Echo earlier this week, the boss told reporters in his press conference this morning that a decision about whether or not to include Baines in the squad to face Villa will be made tomorrow.
"It would be very difficult to put an exact date [on his return] but I consider Leighton to be very close to being involved in the squad from now on.
"We don't know [if he will be involved this weekend]. On Friday we will make that decision. We have a very important session today because everyone is back from international duty and Leighton will be part of that session. It will be exactly the same on Friday and the decision on him will be made just after that session."
---
Reader Comments (18)
Note: the following content is not moderated or vetted by the site owners at the time of submission. Comments are the responsibility of the poster. Disclaimer
Darryl Ritchie
1
Posted 19/11/2015 at 07:08:30
Barry goes to left back and Cleverley gets a start.
[Never mind what I've just posted on the "Cleverley fit" thread.]
Jim Bennings
3
Posted 19/11/2015 at 08:12:23
If Barry plays left back, let's hope Villa don't possess any tricky right winger.
Sounds like being a New Year return for Baines if you read between the lines of what Martinez says.
Colin Glassar
4
Posted 19/11/2015 at 08:16:09
Barry will be fine at LB and this gives a chance for Cleverley or Mo Besic (who played very well against Ireland) to stake a claim in MF.
Paul Andrews
5
Posted 19/11/2015 at 08:27:31
Barry at left back? No, no, no.
He's been very good for us this season in his own position. Milk turns quicker than Gareth, unfortunately.
Trevor Peers
6
Posted 19/11/2015 at 08:59:06
Whatever side he picks I would expect the same cautions start to the game, even though Villa are relegation fodder.
We only get going once we have conceded a goal under Roberto.
Shane Corcoran
7
Posted 19/11/2015 at 10:22:59
Colin, you thought Besic played well against Ireland?
Apart from a couple of touches and simple passes under no pressure, he was involved in three other incidents of note: the last chance of the game was a free-kick from deep which he overhit out of play; he put another cross into the keeper's hands; and a ball going out for a throw-in to Bosnia, he chased down and gave the throw to Ireland.
I was delighted with his performance but it was very far from good.
Jim Bennings
8
Posted 19/11/2015 at 11:10:22
I might be the only one but even from last season's performances I just don't really get the massive over-rating of Besic.
He was competent last season but never spectacular, he gets about the pitch (in his own half mind you) but he can't play a forward pass and I think he had about three shots off target all season.
His discipline is very suspect and temperament and frankly he seemsto have gained cult status for running around like a maniac but not actually having any type of impact on games apart from collecting the odd silly booking.
The midfield should, at home to Aston Villa in a game we want the win in, be consisting of more attack-minded players rather than two defensive stoppers.
Gareth Clark
9
Posted 19/11/2015 at 12:45:41
I think Baines should get a place on the bench against Villa & Cleverley a start! Give McCarthy a break, after a tough international break! I'd also like to see Mirallas get a decent chance to prove himself!
Howard
Coleman
Stones (captain when Barry goes off)
Funes Mori
Galloway
Cleverley
Barry (c)
Deulofeu
Barkley
Mirallas
Lukaku
--------
Robles
Baines
Browning
McCarthy
Naismith (on for Barry 65')
Lennon (on for Lukaku 75')
Kone (on for Mirallas 60')
Harold Matthews
10
Posted 19/11/2015 at 13:54:42
Operating in a real Leighton Baines type role, left back Callum Connolly played a blinder for the England U21s last week. His intelligent overlapping runs had the commentators drooling. Often MotM for the Everton U21s, this young kid can also play defensive midfield and has a good future.
Besic was clearly far from fit against the Republic the other day, hardly breaking out of a walk throughout the whole 90 minutes. For Everton he is being coached for the number 6 position which is left midfield. The position he occupied early on in the Chelsea game when he pulled a hamstring as he burst into the left side of the box.
Matthew Williams
11
Posted 19/11/2015 at 16:27:35
Playing him left side of a midfield 3 would suit me fine...sadly ain't going to happen until Martinez has long gone first!
Helen Mallon
12
Posted 19/11/2015 at 19:04:53
Jim Bennings, Mo Besic is a top-class midfield player. His best position is centre midfield. He can tackle, gets around the pitch and he can pick a pass. His only problem is he's not Barry.
Jim Bennings
13
Posted 19/11/2015 at 20:29:34
He's not top class, Helen! If he was top class we wouldn't have got him for £4 million from a Hungarian team. If he was top class he'd be operating at a club in Europe, the Champions League even.
As for the jibe at Barry? Yes, he's slow now, but this is a guy who has been there and won major honours and was so pivotal at Aston Villa, that the Redshite were willing to pay big money for him until Manchester City eventually did, and Barry, for all his faults mobility-wise, is still a fine passer of the ball.
I saw a lot of heart from Besic last season but, in the main, just a competent stopper in the Joey Barton mould, and no, even in his younger years, Joey Barton was never "top class" either.
Mo, like Joey, is just a cruncher with discipline problems.
Colin Glassar
14
Posted 19/11/2015 at 20:33:35
Mo has the potential to be top class, Jim. Mark my words, Mo Besic will make you eat yours!!
Jim Lloyd
15
Posted 19/11/2015 at 20:45:55
Disagree with you there Jim. I think Helen is right. The lad is a fine, fine player and has the potential to be a great one. As for the price. It was a steal in my view.
I don't think he is the finished article yet and perhaps "top class" is a bit premature but I don't think it's fair to say he isn't a top player because he only cost £4 million. The lad has definitely got it in him to become a star.
I think you're right about Gareth Barry though. He has been top class for ages and can still influence a game with his interceptions, tackling and passing. Hopefully he is showing the likes of Mo Besic the finer aspects of top class football.
Jim Bennings
16
Posted 19/11/2015 at 20:48:41
Colin
There's that word "potential" again.
If I had a pound, or even a penny, for every time I've heard that word "potential" over the years, then I'd be living next door to David Beckham, in whichever of his mansions he spends most time.
Anthony Dwyer
17
Posted 20/11/2015 at 01:10:25
I can't see how any Evertonian can give a true opinion on Mo Besic, the lad has not been given a chance to string 7-10 games together. Until that happens, you don't get to see the best of any player.
In my opinion, the kid can clearly tackle; he may be a bit too aggressive but so was Vieira and Roy Keane, he can pass and passes forward a lot more than McCarthy, and he has a big engine.
If McCarthy or Barry become injured, it would be interesting to see who Martinez would go with in the centre: Besic or Cleverley?
If Martinez thinks he's best to use Cleverley, he should loan Mo out to a Premier League side who will be willing to play him to gain valuable experience rather than having him sitting on the bench.
If I was asked to choose whether he will make the grade with us or not, I would guess he would as I do believe he is a talent.
Conor Skelly
18
Posted 20/11/2015 at 03:18:38
Mo Besic came on for the last half an hour against Ireland and was slightly below average. This is slightly below his usually standard of bang average.
I have as blue tinted glasses as most people when it comes to all things Everton. At the start of every season since '05 I've felt we could get Top 4. I have a history of consistently over-rating our players. By that logic, Besic is actually shite.
Abhishek Saha
19
Posted 20/11/2015 at 05:32:09
Is Galloway good to start this weekend? I guess that's the most important question now, for this weekend at least.
Add Your Comments
In order to post a comment, you need to be logged in as a registered user of the site.
Or Sign up as a ToffeeWeb Member — it's free, takes just a few minutes and will allow you to post your comments on articles and Talking Points submissions across the site.
© ToffeeWeb