Boss: Now is the time to show what we can do
by

18 Comments [Jump to last]
| 19/11/2015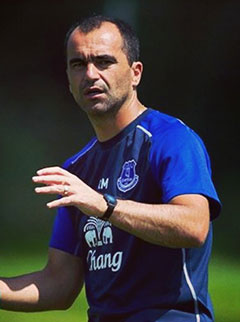 While he isn't revealing any specific targets for where Everton will end up at the end of the season, Roberto Martinez is looking for his players to build on the decent start they have made over the next few months.
The manager has made much in recent days of the unbroken stretch of domestic matches until the next international breajk in March and, having negotiated the tough opening set of fixtures and with important players coming back from injury, he feels as though the conditions are right for his team to put a run of results together.
"Now is our time to show what we can do," Martinez said. "The theme of this period between now and the next international break is to [find the answer to what this team can achieve].
"There have been signs already that we've shown as a team [this season] that have been very impressive. Some of the young players [like Romelu Lukaku, John Stones, Ross Barkley and James McCarthy] that we felt over the last two seasons could become very important players – I think they are very important players now.
"Now is the time to show how good we can be and the next block of 19 games in the League are going to give us that answer."
Last week he outlined his goal to collect enough points between now and March to put the Blues in a position to finish around the 70-point mark by the end of the season, but the manager stopped short of spelling out specific targets for the season in terms of points or places based on the current situation.
"In the League it's impossible to set a target now," he continued. "The only target is always to win the next game and then when you get into March then is when you've got that dream of a final target because the points you accumulate in the first two thirds of the competition allow you to have that.
"At the moment, I just feel like we can compete against anyone in the League on the day.I don't feel we can be inferior to anyone when we are at our best. The only task we need to achieve is to be our very best every time we are on the football pitch."
---
Reader Comments (18)
Note: the following content is not moderated or vetted by the site owners at the time of submission. Comments are the responsibility of the poster. Disclaimer
Tim Greeley
1
Posted 19/11/2015 at 20:01:31
I want a Sunderland-esque scoreline on Saturday, but without the 2-2 drama. Like we go up 4-0 and then it gets wacky from there and ends up 7-3. Mirallas hat trick, 2 for Rom 1 each for Coleman and Fune Mori (who jumps into the crowd and drinks someone's Crabbie's draft to celebrate).
Also, Tim Howard 3 own goals so we can all still have something to cry about. I'm getting carried away.
Paul Andrews
3
Posted 19/11/2015 at 20:07:04
Lyndon, I agree with your comment re the tough start we have had to this season, a start against top teams that could have seen a bigger points return except for some bad luck and some individual mistakes.
I also agree with Roberto's comments. Far better to target 70 points than the previous state of mind of "let's get to 40 points first and see were we end up". It's not long since Martinez accrued our record points total in Premier League history.
Brian Williams
4
Posted 19/11/2015 at 20:12:34
Please don't start that again!!
Tony Rio
5
Posted 19/11/2015 at 20:39:49
C'mon Eddie, the world's best centre back wouldn't replace Stones never mind a 17-year-old prospect...
I'm genuinely excited by the next 10 games. Former 'prospects' (Deulofeu, Besic, Barkley, Lukaku and Stones) are now maturing and with that comes consistency.
I've been taking a YouTube trip down memory lane recently and was reminded how young most of our '80s team were. That 'no fear' youth coupled with skill, a positive manager and some experienced old legs in the team... well... can't win anything with kids? We have and we will!
Mark Rankin
6
Posted 19/11/2015 at 20:45:14
I would be happy with 3 points against Villa.
James Flynn
7
Posted 19/11/2015 at 22:38:32
I thought it would be this time next season we'd see the best of our youngsters developing together.
But if Roberto says it can be now, I'm in.
Harold Matthews
9
Posted 19/11/2015 at 00:03:35
Yes, a win against Villa would be a good start but I wouldn't put money on it. Not that I'm worried about Villa.
Till we eradicate the slow tempo, the lack of intelligent movement and the loss of possession in vital areas, we will never be a banker bet to beat anyone. Oh yes, we'll win games but not as many as we should.
Anthony Dwyer
10
Posted 20/11/2015 at 00:35:35
My prediction for the weekend is for a good game of football, with both teams looking to get it down and play.
This will suit us down to the ground, when teams like Aston Villa try to play football against us, I'm always confident of winning.
It's when teams come to Goodison for a point, with 11 men behind the ball, that's when I become concerned.
Get Rom and Gerry in your fantasy teams this week because I think we are in for another goal feast.
4 goals minimum for the Blues I'm predicting – and I'm not going to hold my breath for us to keep a clean sheet.
Mark Andersson
11
Posted 20/11/2015 at 06:41:59
Clean sheet good performance and a win will make me happy.
I want to see Ross step up and get the crowd excited we have the talent the players and supports need to believe. Martines is right on our day we can beat anyone.
Hugh Jenkins
13
Posted 20/11/2015 at 09:14:58
Mark (#5).
I'm happy with 3 points against anybody. But, would like to see, 3 points against everybody - home and away.
Not asking for much - I know! But, that's my personal ambition - LOL.
Paul Cherrington
14
Posted 20/11/2015 at 10:11:33
I agree with Harold – lack of movement and losing the ball in bad areas is a main concern for me. I think the lack of movement is number one priority to sort out as a lot of lost possession is due to the man on the ball having no-one to pass to...
Paul Kelly
15
Posted 20/11/2015 at 11:14:22
"... and, having negotiated the tough opening set of fixtures."
Please, don't make me laugh. On paper, yes; in reality, out on the pitch, with the squad we have... No, most definitely not.
Most of those teams were there for the taking, only Man City weren't; Arsenal just got their tactics correct (unlike our boss), ie; not practising crosses/set pieces, and after writing that last point I'll stop going on.
Just stop making excuses for a tactically inept out-of-his-depth charlatan.
Jim Knightley
16
Posted 20/11/2015 at 11:43:44
Paul, don't make me laugh! In what world were our opening 10 fixtures not tough? We played 8 of last year's top 10!
As for them being there for the taking – I wonder how many teams looked at us, with a decimated back four, and thought that Everton were there for taking? With players with next to no Premier League experience (Browning, Funes Mori and Galloway) deputising in place of some the best defenders in the league over the past few years (Jagielka, Coleman and Baines). Or a team reeling from an upsetting transfer saga which threatened to derail us before the season had even begun?
But don't worry, it makes utter sense to look at other teams but ignore our own situation. (I also like the idea that Man City were not there for the taking, but that Arsenal, joint on points with them and in form, were... as was a Man Utd side 2 points off Man City. Spurs, unbeaten since the opening day, were also evidently there for the taking for some reason).
Before New Year we have Aston Villa (h), Bournemouth (a), Crystal Palace (h), Norwich (a), Leicester (h), Newcastle (a) and Stoke (h). Now unless these teams have suddenly become better than the ones we've played, I'm going to suggest that we've had a hard start! Unless of course you are labouring under the woefully misguided assumption that we are a top 4 side playing massively under potential.
Martinez scares me because I do not think he can set teams up defensively. But we will be favourites in all of the games we play before the New Year. We should be aiming for 15 points from those games, and if we can get them or thereabouts, we will be in the top 6 ahead of a home game with big rivals Spurs, and ahead of a second half of the season in which we have not labored in European competitions.
With Leicester going into a tough schedule and West Ham Payet-less, we can expect to be looking at a different league table then. We could also find ourselves in the last stages of a League Cup competition, in a season where multiple young players have demonstrated their potential.
I wonder if this season might not be so bad.
Paul Kelly
17
Posted 20/11/2015 at 12:23:07
So what, Jim, we played 8 of last season's top 10, yes, but out on the pitch, most of those teams were fucking woeful... or was I watching a different game?
Most of those teams could've been beaten but, week-in & week-out, we have the same shit setup, mind-numbing football I've ever had to witness in my years at Goodison. That idiot in charge is not much better than Walker or Smith. At least I had optimism in the former two; nothing now... same old turgid shit, week-in & week-out, while professional athletes aren't practising the basics – or doing it on the pitch for that matter.
As for last season's top 10, THEY WERE LAST SEASON'S TOP TEN!!! Look at our own finish after finishing 4th if you're going down the stats route...

And just to piss on your chips: Palace, Norwich, Stoke and Leicester are all above the current champions, but they shouldn't beat them because they finished higher the previous season! Your logic, not mine.
Paul Andrews
18
Posted 20/11/2015 at 16:05:36
I would have a decent bet that the majority of them 8 teams will finish in the top 10 again Jim.
So a decent return that could have been better if we had cut out the individual mistakes and had a little more luck.
Anthony Dwyer
20
Posted 20/11/2015 at 23:50:34
Jim (#13) makes some very valid points but I'm on the fence as I'm also of similar views to Paul Kelly (#12 & 1#4) too.
Yes, Jim, clearly the sides from last season are teams who are quite often up the right end of the prem. But clearly, Liverpool were miles off their best hence they sacked Rodgers, a draw at home to them was not good enough. Chelsea are crap, but we won that anyways. Spurs away, a point wasn't bad.
Man Utd, slightly out of form, with Rooney unable to hit a barn door, absolutely hammered us. Watford and Swansea draws were points thrown away. West Ham game we should have gone for the throat, especially once they lost Payet.
All-in-all, I'd say we've only really excelled in the Southampton game, and possibly the Chelsea game (although they've lost to everyone).
In my opinion, we've thrown away a big opportunity and played well within ourselves all season really. We should have at least 6 more points from our fixtures.
Jim Knightley
22
Posted 21/11/2015 at 21:18:14
Paul...
I'm struggling to grasp how illogical what you are saying is... I really am.
Firstly, take a look at the top half of the league; What do you notice? Take a look at the top 9 in particular. Aside from Leicester, we've played everyone of them THIS SEASON! You are unbelievable.
Only a fool would consider our second set of 10 fixtures harder than our first 10. That's already being demonstrated by the fact that we've taken 7 points from our last 3 games, ahead of a very promising run of fixtures. In the process we've scored 11 goals, but don't get that get in the way of your mind-numbing rant. Incidentally, we've scored the 3rd most goals in the division. "Turgid shit" indeed.
Again, I find it incredible how you find it illogical to point to last season's table, which as a measure of 38 games is probably more accurate than the 12-13 these games, but find it acceptable to utterly ignore our own problems. Principally, the saga involving probably our club's best player, and the severe injury problems to our first choice back 4. If any club's form and problems are taken into account, why not ours? Give me one good reason why so many of these teams are beatable, but why we are not? Give me one good reason why our start isn't hard, even though we've played all but one of the top 9. and last season's top 8?
Your post is representative of the stubborn nonsense I hate to see on this forum. I, as I've said before, and as I said before the start of last season at a time of incredible optimism, have fears over Martinez and his ability to set up a team defensively. But we are 7th, ahead of a winnable run of games, in good form and with the most impressive contingent of young players in the league enjoying themselves. We are six points off 4th, in the last 16 of the Capital One Cup, and currently scoring goals for fun.
Then we've got a post like yours. A post complaining of mind-numbing football and turgid shit, without any useful tactic insight. There is only one mind-numbing thing currently, and it is not the football.
I look forward to a reply but doubt I'll get one.
Great win today, by the way.
Paul Kelly
23
Posted 22/11/2015 at 11:02:06
Hello Jim, happy?
Add Your Comments
In order to post a comment, you need to be logged in as a registered user of the site.
Or Sign up as a ToffeeWeb Member — it's free, takes just a few minutes and will allow you to post your comments on articles and Talking Points submissions across the site.
© ToffeeWeb