Manchester City vs Everton
by

93 Comments [Jump to last]
| 12/01/2016
Match Preview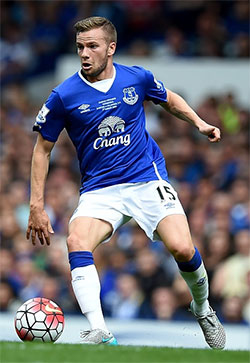 Tom Cleverley's potential absence with a calf problem could cause a selection headache for Roberto Martinez
Everton may have one foot tantalisingly hovering over Wembley Way ahead of the much-aniticipated return leg of their Capital One Cup semi-final against Manchester City later this month but, as Roberto Martinez acknowledged this time last week, it's in the bread-and-butter Premier League that the greater long-term riches lie.
Thanks, of course, to the series of disappointing results between Bournemouth away in late November and the Stoke defeat at the end of last year, the Toffees find themselves a fair way off the top-four berth for which they're striving and they now face two of the most difficult fixtures on their calendar, starting with a dress rehearsal for that second leg at the Etihad Stadium. Needing to start putting a run of victories together – Martinez's side haven't managed to win successive League games yet this season – Everton face City and then seemingly rejuvenated Chelsea at Stamford Bridge in the space of four days this week.
When Romelu Lukaku limped out of the first leg, many Evertonians feared they would have to face those two daunting-looking games without their leading scorer but the manager has indicated – and reiterated, somewhat unconvincingly it must be said, this morning – that the Belgian should be fit to face City, potentially postponing the dreaded question of "what do Everton do without Lukaku?" Arouna Kone, the only other experienced striker on the books not on the brink of joining Norwich City, may have scored only his seventh goal in Everton colours in the FA Cup against Dagenham & Redbridge on Saturday but overall his was not a performance that would have convinced many that he could be a regular source of goals in Lukaku's stead.
Ramiro Funes Mori, who came off against the Daggers with a gashed head and required 10 stitches, should be fine to play if needed and Leighton Baines is expected to return at left back. Tom Cleverley and Seamus Coleman, both of who also hobbled out of the first leg, are unlikely to be as fortunate. The Irish fullback is ruled out until at least the home game against Swansea in 12 days' time, while Cleverley, having been forced to come off early in two games since his match-winning heroics at Newcastle on Boxing Day, is rated as "50-50" by Martinez but could be rested for one more game to allow his calf injury to properly heal.
Given that the Blues have no natural cover at right back, Coleman's absence is, theoretically, the more problematic of the two but Bryan Oviedo acquitted himself well there in the FA Cup at the weekend (albeit against League Two opposition) and is probably the most likely to fill the role again this time. Tony Hibbert has been unable to maintain fitness for many months, Mason Holgate is untried and carrying a knock, Matthew Pennington is similarly green at senior level and Martinez has already stated that he does not see pulling a first-choice centre half in the form of John Stones or Phil Jagielka out of their primary position. In goal, the manager has hinted that Tim Howard will retake his spot as first-choice goalkeeper.
With Cleverley a doubt, James McCarthy injured, Steven Pienaar just back to fitness, Darron Gibson potentially the subject of a loan move this month, Kone less fancied as an option away from home and Martinez reluctant to deploy two wingers, who fills the slot on the left side of midfield is perhaps the biggest question mark ahead of this game. Does the manager go for another central midfielder like Gibson (he looked rusty on Saturday), deploy two wide players but instruct Aaron Lennon to be mindful of his defensive duties, or go for a more attacking option that risks exposing Baines at left back without cover?
Meanwhile, Manuel Pellegrini, who has seen his side win their all of their last five home games in all competitons, was likely to make changes from the side with which he started at Goodison a week ago, with players like Raheem Sterling and Aleksander Kolarov candidates to retake their places in the starting XI. Wilfried Bony, Smair Nasri and Vincent Kompany are major doubts and unlikely to feature and the Chilean will be forced into further alterations with Eliaquim Mangala and Fernandinho ruled out.
Where ordinarily a draw from the next two games would be considered good results for Everton, their failings against lesser teams in the first half of the campaign – you could throw the fairly meek 2-0 defeat in the reverse fixture against City back in August in there as well – mean that they are going to need to pull some spectacular results out of somewhere if the top four isn't to an unattainable and unrealistic dream for another year, even in this most unpredictable of seasons.
It's not beyond the realms of possibility. Liverpool, whose results have been chequered since, showed the way when they blitzed Pellegrini's men with a first-half display of relentless pressing and clinical finishing back in November on the way to a surpise 4-1 win. Everton have been a bit more circumspect in their last two games against top-flight opposition as they've tried to tighten up defensively so coming out of the traps like that might not be something Martinez would consider but it at least shows that City can be got at and unsettled.
Kick off: 7.45pm
Referee: Roger East
Predicted line-up: Howard, Oviedo, Stones, Jagielka, Baines, Barry, Besic, Lennon, Barkley, Kone, Lukaku
Full details: ToffeeWeb Match Report
---
Reader Comments (93)
Note: the following content is not moderated or vetted by the site owners at the time of submission. Comments are the responsibility of the poster. Disclaimer
Paul Hewitt
1
Posted 12/01/2016 at 17:38:30
Surely Martinez won't drop Robles after the last two games. Against City the back four looked so much more solid and not as nervous than in previous games.
Ajay Gopal
2
Posted 12/01/2016 at 17:47:54
No Deulofeu, Lyndon? I don't think so.
Howard
Stones, Jagielka, Funes Mori, Baines
Barry Besic
Lennon Barkley Deulofeu
Lukaku
Subs: Robles, Mirallas, Kone, Osman, Oviedo, Galloway, Gibson

Dean Adams
3
Posted 12/01/2016 at 18:02:07
If you listened to his press conference today, Paul, you would know that he strongly intimated that Howard would get his 350th league appearance for Everton and that Howard's experience was likely to keep him there. I realise some of us don't agree with him, but he is the one who gets paid silly money by the club. Allegedly he knows best!!
Mark Daley
4
Posted 12/01/2016 at 18:04:52
Sorry about the noise. The pigs that just flew past my window were having a laugh at "if the top four isn't to be an unattainable and unrealistic dream for another year".
Jay Harris
5
Posted 12/01/2016 at 18:21:47
I am by nature an optimistic person, Lyndon, but I have little faith in Martinez so I have already called it a day regarding top 4.
I would like us to get some more points on the board and go for 6th in the hope that the likes of Stones and Lukaku will give it another season but that is more hope than anticipation.
While he continues to alienate supporters with his bizarre support of Howard and his penchant for 4-2-3-1 with Kone out wide, ignoring the goalscoring ability of Mirallas, his "project" will not come together.
Gordon Crawford
6
Posted 12/01/2016 at 18:22:11
Roberto is having a laugh. What more can Joel do? I actually feel for the guy.
Paul Smith
7
Posted 12/01/2016 at 18:32:47
My team to play Man City in a 3-4-2-1 system is as follows:
Robles
Jagielka, Stones, Funes Mori
Lennon, Barry, Besic, Baines
Deulofeu, Barkley
Lukaku
I know that Howard will start but feel this could give City problems and feel it's worth trying out to see if it works until Coleman is back. If not, we can change back to our normal system.
Brent Stephens
8
Posted 12/01/2016 at 18:37:07
Lyndon, surely top 4 has passed us by. If the top 4 maintain their current points per game average, we need an average of 2.3 points per game for the remainder of the season – and that's assuming no other clubs currently between us and 4th spot have a good run in. We'd need something like 12 wins and 5 draws out of 18 games!
Neil Wood
9
Posted 12/01/2016 at 18:54:31
We have the beating of these lot I genuinely believe that. Have faith Brent!
Things will start to come good I'm sure of it
Brent Stephens
10
Posted 12/01/2016 at 19:00:11
Neil – okay, I'll take the 12 wins and 5 draws to the end of the season. You've convinced me! I would be ecstatic.
Denis Richardson
11
Posted 12/01/2016 at 19:01:50
I find it amazing people are still talking about top 4. I know that the old 'mathematically possible' is still out there but we have as much chance of winning the league as we do of getting top 4 - i.e. zero. In fact we need a minor miracle for top 6, never mind top 4.
Lets look at the facts, we've managed 6 points in our last 6 league games, with not one home win in the last 4 games at GP out of those 6. In fact the only win in that run of six came against relegation placed Newcastle (where we needed a 94th minute goal to win..). Now taking that into account, and keeping in mind that we have both City and Chelsea away over the next 5 days (after which we'd have played 22 games) what are the chances we're going to be much better off than the 27 points we currently have come Sunday? (Imo there is more chance of us losing both these games than getting one win.)
Granted we beat City at home last week but we now play them away and in the league - different kettle of fish and we won't keep a clean sheet.
I'm not worried at all about relegation as we only need 10 points from 18 games but if we keep up the point a game average for another few games our final position is going to be woeful come May. Unless we produce something special this week I can see us struggling to finsh top half, never mind top 4.
Sorry to say it but being realistic, the league is probably already a write off for the European places. All hope in the cups (saying that I'd take a trophy and 17th place now if offered!).
Colin Malone
12
Posted 12/01/2016 at 19:07:48
I feel for Howard. He catches a simple ball and the crowd cheer, it's embarrassing and that uncomfortable for the rest of the team. There is only one person to blame. Get a grip Martinez.
Kunal Desai
13
Posted 12/01/2016 at 19:11:55
We need to give this top 4 challenge nonsense a rest. We haven't been good enough to crack it for 11 years now. The time we did was only because the RS were shite and Man City weren't bought out.

You wouldn't finish on 61 points and get top 4 now. It really does get tiresome every time this challenge is mentioned. Can we just give it a rest.
Neil Wood
14
Posted 12/01/2016 at 19:12:28
Ha... Brent, you're right — it is extremely optimistic but, we are growing as a side and getting better. I do think that next season will be a special one and hopefully with Lukaku etc all staying.

Jim Bennings
15
Posted 12/01/2016 at 19:14:56
You know what I'd really like?
Just for once to see us travel to one of these venues like The Etihad, Stamford Bridge etc, and actually win the game!
Since Martinez won at Old Trafford in his first season it just seems to slowly be going back to the glass ceiling that held back the David Moyes era away to these so called top sides.
West Ham went to Man City, Arsenal and Anfield and won, Crystal Palace went to Anfield and Stamford Bridge and won, Bournemouth won at Chelsea too!
It seems like only Everton that never seems to get wins away to these sides.
When Martinez first came and we won at Old Trafford it almost seemed as though a psychological barrier had been broken down but since then we've had 2 trips to Liverpool, 3 at Chelsea, 3 at Arsenal, 2 at Manchester City and we have barely scored a goal!
Let's see what tomorrow night in Manchester brings but Martinez speaks of this golden generation at Everton at the moment but, it's really time to start pulling up some tree's now.
Jim Bennings
16
Posted 12/01/2016 at 19:20:16
The Cup win last Wednesday was fantastic, a great night, but there's no getting away from the fact our league form has been rank bad for two months: one win since November 20th, with the last touch of the ball at St James Park.
We could be going into the Swansea home game on January 23rd in about 15th place if we are slack, you don't need undue pressure on the team going into a busy period.
Gerard Carey
17
Posted 12/01/2016 at 19:44:17
We need to lose the fear factor going to these grounds. Hate it when we let these so called Sky 4 teams walk all over us.
I hope Lukaku shows no ill-effects from last week. Don't rush him back if he's not 100% fit; RM rushed Macca back and we saw what happened.
Michael Williams
18
Posted 12/01/2016 at 19:53:05
I guess I am one of the few that is not disappointed in not making the top four this year. From the beginning I thought the team was too young, inexperienced and have not played together long enough. That goes even with Chelsea struggling. I always thought next season was to be the beginning of something possibly special, especially if they can keep Lukaku for one more year.
However, I do think they should be higher in the table than they are now.

Jim Bennings
19
Posted 12/01/2016 at 19:56:41
Gerard,
I couldn't agree more.
We looked like we had mastered it with that Old Trafford hoodoo being banished at Martinez first time of asking but since then we just seem to offer nothing going to this places, limited attacking threat and little defensive resistance.
If Liverpool went to Manchester City and won 4-1 , and West Ham went there and dominated the first half, is there any reason at all why we shouldn't go there and face them up?
We seriously need to cut out the defensive lapses though against the top teams, it has cost us dear all season.
Martin Mason
20
Posted 12/01/2016 at 19:57:33
I'm reluctantly resigned to a narrow loss tomorrow. The reason is that I don't believe that we have the strategy and mind set needed to win against a side that can force us to play in our half and who can strike quickly in response to our attacks. Yes, we're likely to score a brilliant goal but reality tells us that we can also then give away two.
Moyes did well against Man City, if only we could mix the best of RM's attacking play and Moyes's tightness at the back.
Joseph Terrence
21
Posted 12/01/2016 at 20:08:48
I'm optimistic about this match as Man City are a much worse team without Kompany. With Mangala also being out, I like Rom's chances to score.

If we can keep it tight at the back, a big if, then this is a winnable fixture. Gonna go 1-2 to the blues with a brace by big Rom. COYB.
Gerard Carey
22
Posted 12/01/2016 at 20:13:34
Martin, we had that in RM's first season or for most of it. We had Moyes defensive qualities and RM's attacking flair. Sadly now we are so vunerable at the back, I think most of us quake in our boots when the ball comes anywhere near our penalty area.
Andy Crooks
23
Posted 12/01/2016 at 20:32:06
If Howard starts tomorrow it will, in my view, confirm, that Roberto Martinez is the worst coach we have ever had.
Mike Hayes
24
Posted 12/01/2016 at 20:39:19
Andy (#22), I realised that the day we signed him – still not improved after Wigan – he didn't learn then; why should he now? But if we play fast and go at Man City, we should win.
Minik Hansen
26
Posted 12/01/2016 at 20:57:03
If you call the first half of the season unlucky, I see every opportunity to dismiss luck/unluck and give this game proper Everton football, then enjoyment is doable/possible/there. With slight different luck, we'd be around where Tottenham is.

With Baines back been gelling back into the team and Oviedo being fresh for a challenge as always, we'll get at least some proper football from our side, with all respect to City being desperate to control the game if they can. That'll depend on the final result.
Jim Bennings
27
Posted 12/01/2016 at 21:04:02
Minik
I'm not sure you can really put the first half of the season down to bad luck or good luck.
We have been slack in too many games, defensively we have been fragile and disorganized and have never really worked on bettering this problem, which I point out, was a problem last season too!
Then of course there is Martinez and the goalkeeper situation which he remains stubborn on.
Donr get me wrong, in sone games our attack has been excellent but blaming luck for so many consistent bad defensive shows won't get the team anywhere, the manager talks of the team needing to learn it's lessons, facing up to the problem not blaming luck is the only way of learning.
Jack Cross
28
Posted 12/01/2016 at 21:15:43
Andy Crooks 22.
Howard is playing. RM, said on news he brings confidence to the team. Not sure how that is, would have thought that is was the other way around, with his recent displays.
I can't see us getting three points there. A draw if were lucky.
we might have inform Lukaku, but who else? Barkley, maybe if he doesn't try and take on three players, then loose ball.
They have so many players that can put the ball in the net, I've a bad feeling we will see tomorrow.
my favourite City player Silva, superb.
I don't think the same team will turn up as at Goodison. But we will see.
As someone as already said, we can score against anyone, but I still have my head in my hands when any team gets near our defence. And that's been our season's downfall as we all know only too well.
Jim Bennings
29
Posted 12/01/2016 at 21:22:31
It's about time Barkley turned up again in one of these big games and took the game by the scruff of the neck!
He too often let's games away from home against the better teams pass him by, he's 22 now, if he's going to really fulfil his potential then now has to be the time he starts doing it, by the time the likes of Gerrard or Rooney were that age they were taking team's on and being talismanic figures in their respective teams.
Stephen Brown
31
Posted 12/01/2016 at 21:52:09
I'm afraid I think Denis (#11) has it spot on! Eggs in the cup basket I think!!
Jack Cross
32
Posted 12/01/2016 at 22:01:23
Jim Bennings 28.
Spot on Jim. I think people on here forget how old Barkley is. As you say Jim, Rooney was several years his junior, and was world class.
To be truthful all that attacking dribbling is exciting it gets us all going but seems as if there is a glass shield preventing him going further than the edge of the box.
he has a great shot, but doesn't do it enough for me. As you said needs to take the game by the scruff of the neck. So what's stopping him?
Eddie Dunn
33
Posted 12/01/2016 at 22:21:49
Jack, he has been a bit unlucky recently with good shots being saved. He only seems to be let off the leash with 15 mins to go!

Jim Bennings
34
Posted 12/01/2016 at 22:42:35
I agree, Jack.
There's only been glimpses of what Barkley does best, not enough for the talent he's got though.
If he's talking, or rather Martinez is talking about him showcasing this great talent then he has to start doing it on the big stage, away games like tomorrow and at Chelsea on Saturday.
I think the 2014 World Cup was too soon for him but, 18 months on, he needs to start consistently doing it more .
Gary Carter
35
Posted 12/01/2016 at 22:57:17
I think that fourth is totally unattainable now, and always was under Martinez. We are no closer to it now than last season yet we have a better squad.

It doesn't matter who we bring in player wise either, it won't cover up the massive shortcomings he has, his football philosophy does not work, it NEVER has done, most people can see it, the hard facts point to it unarguably, he has to go.
Jamie Crowley
36
Posted 12/01/2016 at 23:10:49
I agree with Brent Stephens.
Unfortunately, this season is turning into a numbers game. If you do the math(s), our points-per-game total has to be ridiculous to get top 4.
But that's why they play. Who knows?
I'd take the double with the League and FA Cups and 10th in the league... :0)
Pigs just flew by a window again.
Gavin Johnson
37
Posted 12/01/2016 at 23:19:56
The bad news is that Howard looks set to play. The good news is that Martinez has said he doesn't know if Tim Howard will be still at the club in the summer. This is from a story in The Guardian.
David Hallwood
38
Posted 12/01/2016 at 23:30:35
BTW we're 5/1 to win, so it's comforting to know that football isn't played on bookmakers' floors. Sadly I agree with Lyndon's team; I'd put the house on Blue Beard being back between the sticks, and that the experiment with Kone hasn't run its course.
A quick response to top 4; there's still 20 games to play and we're 9 points off CL spot. Yes it's an uphill struggle and normally you'd say no chance. But this season isn't normal and IMO there are a lot of clubs ahead of us that are dependent on 1 or 2 players, Spurs, Leicester and Watford come to mind (and so do we).
So with 54 pts up for grabs it is still achievable-just. But 6 pts v Citteh and Chelsea is essential. Yes it really is that easy.

Ian Glassey
39
Posted 12/01/2016 at 23:34:47
Would anyone take a point or a narrow defeat tomorrow, for a win in the 2nd leg semi? I would.
I have been watching the blues since 1958 and I want to see silverware and a trip to Wembley..
Colin Hughes
40
Posted 12/01/2016 at 00:03:07
Ian,
We only need a draw in the second leg or even a 3-2 defeat after extra time but I see your point and I also cannot see us getting two positive results at City given our defence this season.

On the other hand, we could lose both heavily and be out of the cup and about 14th in the league. It has to be one game at a time really.
Terence Leong
41
Posted 13/01/2016 at 00:16:39
I can understand why many would prefer a realistic target and outcome.
However, just as it ain't over till the fat lady sings, why give up on lofty goals?
Every season, I think we can win the league. Does that bring loads of disappointment? You bet it does, but we don't watch the games and support the team because it's the realistic thing to do, isn't it?
Unless there are real negative effects on the team that we hold such goals, I don't see why fans who hold such views should be knocked.
I am still believing for two cups and a possible Champions League place.
Man Utd wouldn't have won the Champions League in 99, despite being outplayed for 89 mins and a goal down, and being a goal down if they didn't believed that it was possible.
Liverpool wouldn't have won the 2005 Champions League if they didn't believed they could have overturned a 3-0 deficit against a world class Milan.
Liverpool wouldn't have overtaken us in 86 despite being a good number of points behind us, after we beat them in the derby in February, if they didn't believe that it could be done.
Man Utd wouldn't have overtaken Newcastle to win the league in '96 if they didn't believe that it can be done.
So, I think it's worth believing that you can win each game that is ahead of you. Focus on the 90 mins ahead of us, and then do it again for the next game.
I shudder to think that if I were the manager, I would go into the dressing room and tell the lads, "well, let's take a cup and 17th place, shall we? Okay, that's great, so about the Man City game that we are about to play in 5 mins' time..."
Patrick Fennell
42
Posted 13/01/2016 at 01:11:23
We're suppose to get a snow storm here in Nova Scotia tomorrow. I'm hoping we do so I can stay home from work and watch this match!
David Smith
43
Posted 13/01/2016 at 02:09:53
Barry and Besic - the new dogs of war?

Craig Fletcher
44
Posted 13/01/2016 at 03:17:08
Nice one, Terence. Champs league may be a bridge too far this season, but Euro league is still on if we keep up this little upturn in form.
A two points a game average from this point on will give us 63 points, and in seasons' gone by that has been enough to pinch a Euro league spot. If other results go our way and the likes of Watford, West Ham, the RS, Crystal Palace etc. start to drop off, then who knows?
Phil Walling
46
Posted 13/01/2016 at 05:33:01
We could lose 0-4 tomorrow and there would still be people saying we can make fourth. The truth is that ship sailed long before Christmas and our league results have shown no improvement on last season.
All the talk above about what Man Utd and Liverpool once did has absolutely no significance in our situation of a measly SIX wins all season.
Be optimistic by all means but base that feeling on success in the cups. At least Martinez has shown that even a poor manager can get his hands on one of those!
Abhishek Saha
47
Posted 13/01/2016 at 05:59:32
Howard
Oviedo Jagielka Stones Baines
Barry Besic
Lennon Barkley Mirallas
Lukaku (Kone, 60')
Don't let them see what Deulofeu can do and have a plan for him in the Cup tie.
Not a min more than 60 for Rom, take him off whatever the scoreline reads at the hour mark.
Let Kev play all 90 min, he deservingly needs it. if he can get something going with Baines, then we're talking of something special here.
If required sub Lennon with Osman; his experience will help provide some defensive cover for Oviedo.
COYB!
Harold Matthews
48
Posted 13/01/2016 at 06:11:51
I'm just hoping for a decent performance.
Abhishek Saha
49
Posted 13/01/2016 at 06:19:56
You're right Phil (43), the fourth place ship had weighed anchor long back. My pick on the time would be the Norwich result.
If you can't pick up even one win against 3 promoted teams in your own league, then you don't deserve to play Champions League.
Laurie Hartley
52
Posted 13/01/2016 at 09:08:37
I think we can win this and if we do, anything could happen. Therefore I have got the jitters (If I was resigned to a defeat there would be no jitters).
If we go 4-5-1 with Lukaku as a lone striker we will play right into their hands. Kompany and Mangala are out, so Lukaku could have a field day with a bit of support from Barkley.
This would be my starting eleven:
Goalkeeper
Oviedo, Stones, Funes Mori, Baines
Gibson, Barry, Besic
Lennon, Barkley, Lukaku
Up the Blues.
Tim Wardrop
53
Posted 13/01/2016 at 10:19:50
Why do people (Jim, 28; Jack, 30) talk about Barkley's age all the time, as though it's relevant? The age of a footballer means next to nothing when measured against their development. It's the number of games they've played that's important.
Ross has played.....what....80 - 90 Premier league games? So, yes, I agree that is coming into the stage of his development where he is "taking the game by the scruff of the neck". But I would suggest he is doing this, just perhaps not with the consistency some would like. To compare him with Rooney, who must have played double that number at the age of 22, or Gerrard (probably similar) is daft. When Leon Osman was 22 and only just breaking into the Everton first team no one would have expected him to be a dominant presence in the team, just because of his age.
Barkley is playing really well at the moment. He's an immense talent. Yes, he can be frustrating and yes we all want / expect more, based on the flashes that he shows. And if he is still at the same stage of his development after another 50 Premier League appearances I think we'd all be disappointed. But his age has nothing to do with it. Given time and more games and he will continue to grow.
Jim Bennings
54
Posted 13/01/2016 at 10:44:41
Tim,
Maybe Martinez does Barkley and other young players more harm by constantly talking about the "best crop of youngsters in Europe".
Robbie Savage is a clown but he's got a point referring to Martinez's superlatives.
If they are that good then why are we looking at a mediocre league table?
Colin Glassar
55
Posted 13/01/2016 at 11:00:50
Not my preferred team but I think he will go with:
Howard
Stones
Jagielka
Funes Mori
Baines
Lennon
Besic
Barry
Kone
Barkley
Lukaku
Subs: Robles, Oviedo, Cleverley, Osman, Mirallas, Deulofeu, Gibson.
Clive Rogers
56
Posted 13/01/2016 at 11:13:06
Barkley has had 6 goals and 7 assists in 20 PL games this season which is pretty good. His pass success rate is almost 90%. Although he has not taken many games by the scruff of the neck, he is becoming much more consistent, game to game and during games. He is already an excellent player and could well become great IMO.
Ernie Baywood
57
Posted 13/01/2016 at 11:18:54
Tim, I take your point and agree with it but any comparison with Rooney or Gerrard is pointless. Completely different styles of player, different attributes, different roles.
Gerrard and Rooney mastered the crowd pleasing at an early age using their physical attributes. Both brilliant footballers from day one. Ross is developing his decision making and playing well but does things with the ball that Rooney and Gerrard could only dream of. For me, he's on a different plain from those two with the potential to be anything over the next 10 years. I'm certain he'll also still be top class in his 30s, unlike Rooney or Gerrard. He's not so reliant on his pace and power... he just happens to have those attributes too.
Feels like people are waiting for him to start going box to box throwing tackles in. What a waste that would be.
Ged Simpson
58
Posted 13/01/2016 at 11:23:00
Gary – that is way over the top. I think we play the best football for years and it is only Season 3 for the boss and he is creating a potentially great team.
Jim Bennings
59
Posted 13/01/2016 at 11:24:34
I think people miss the point that we initially making regarding Ross Barkley.
He's a good player, a talented player but what I said is he needs to start doing it in these kind of big away games to truly showcase his so called great young talent.
In the summer, Barkley will go to his second major international tournament; this is not something Leon Osman had done by the age of 22.
Whether Barkley was rightly or wrongly selected for the World Cup in Brazil is irrelevant; he went. He should soon be past the stage of just potential and promise; he is meant to be at the fulcrum of our attacks and is a regular starter but so far he fails to be dynamic in these big away games that you are looking at him to do something or create something yet too often it's passed him by.
He's a talented footballer, no doubt... but, over the next 12 months, the challenge is digging in and doing it more consistently in harder games when we are looking for inspiration.
Ged Simpson
60
Posted 13/01/2016 at 11:29:27
Bang on, Jim.
Jon Withey
61
Posted 13/01/2016 at 12:30:11
We blew our top-4 chance with all those draws. I find it a bit cringeworthy when we talk about it from our current position – a bit like last season.
Still, we've improved on last season and we really should be 6th. One or two cup finals are not beyond us.
I'm encouraged by the gradual improvement of the squad, it looks like Pienaar, Gibson, Naismith, Howard, Hibbert will be freeing up wages by the summer, maybe Osman too – they've all been good players but can move on.
Although I appreciate people are bored of Howard's mistakes, there is still a question mark over Robles too.
David Ellis
62
Posted 13/01/2016 at 12:54:50
As ever far too much negativity here. We are playing attractive football and beginning to go toe to toe with the so-called big guns in a footballing sense (and not just in a running around and kicking them sense). This is nothing like last season at all.
I agree that the top 4 ship has sailed and it would take a major set of results to get us into the top 6. Top 8 is perfectly feasible...if a little disappointing. However we do now carry a real threat and other teams I am sure will worry about handling us.
The real disappointment with that run of draws against lesser teams is that it may have blown our opportunity to hang on to our "fab four". This could be a serious blow to our long term ambitions. But that ship has not sailed yet so maybe we can keep the gang together for another season and have another shot at it.
Say what you like about him but Martinez has brought in some excellent players and seems to have kept them mostly happy. His transfer picks have on balance been very good and we certainly seem to have far less transfer howlers than other clubs. Those oft cited examples of failures such as Alcaraz and McGeady (and in some quarters Robles... or is he the new Messsiah... opinions seem to differ here) were either free transfers or very little outlay so there was far less downside than a failed high price tag signing – and they were never meant to be first team players – more rounding out the squad.
Barry, McCarthy, Lukaku, Deulofeu are all excellent signings and Funes Mori and Cleverly have also done well. A good set of youngsters has been acquired although we will have to be patient to see how many of them mature into first team players – the signs are there that Galloway will make the breakthrough at least. This compares very well with other clubs' acquisitions. Moyes was good at this as well but Martinez seems to have a slightly more exciting brand of player on his shopping list... perhaps because we have a bit more money now relative to clubs on the continent.
Joe Clitherow
63
Posted 13/01/2016 at 13:11:11
We are not playing attractive football. We look good going forward some of the time. We defend very poorly almost all of the time. If we did not have the currently outstanding goalscorer in the division we would be languishing near the bottom. Our successful sides have always spread goals throughout the team, including, famously, a defender reaching double figures.
Our imbalance and inconsistency is not good enough for me as a paying member of the match going fraternity. Good football is both attack and defence not the fundamentally flawed approach Martinez does and has historically always taken, and always will.
Brian Harrison
64
Posted 13/01/2016 at 13:17:36
The next 4 games will define both Everton's position in the league and RM's future as manager. We are currently 11th; if both the away games to Man City and Chelsea go badly, we may well drop to 14/15th. Then his only chance of retaining his job would be to get through to the League Cup Final and win it.
Steavey Buckley
65
Posted 13/01/2016 at 13:19:45
Probably, Martinez will pick either Osman or Kone as a left winger as the manager of Man City is rubbing his hands with glee how best to exploit Everton's weaknesses and naivety of Martinez's choosing.
Colin Glassar
66
Posted 13/01/2016 at 13:26:22
How come the RS and Spurs games kick off 15 minutes after everyone else? Doesn't that give them an advantage knowing the results of the other games?
Jim Bennings
67
Posted 13/01/2016 at 13:36:23
Brian,
I must be the only one at present that's looking down not up, all this talk of top 4 but, as you say, we could be 14th or 15th in two weeks time. Then we don't play Swansea until the Sunday 23 January, teams above and below can make more points the day before, putting yet more pressure on us.
Mike Oates
68
Posted 13/01/2016 at 13:40:06
Top 4 is out of the question, to far behind with too many other clubs ahead of us trying for that 4th place only 3-6 points behind Spurs.
I'm one of those who consider fate and I cant see us winning tonight and also in 2 weeks. I know that we only need to draw in the Semi-Final but I still don't feel we can get a result in both games. I do feel as I've said in another thread that Martinez needs to demonstrate to the likes of Stones and Lukaku that we can compete and beat the current "Top 4" normal favourites as if we don't then they are definitely off in the summer. So we need to get at least 4 if not 6pts from the City and Chelsea games .
Best for tonight and Semi-Final is two draws! I hate draws...
Phil Walling
69
Posted 13/01/2016 at 13:48:15
Last week's news that we are consistently the eighth best payers in the Premier would seem to indicate that we are only under-performing if we finish below that level.
Conversely, we can hardly expect Martinez to achieve Top Four on top eight expenditure. He's done it once and his predecessor made a habit of it but it is by no means our right. Perhaps the current frustration is borne out of a belief that the present manager has more than sow' s ears to work with even though the purse that seeks to keep them here is made from cotton!
Patrick Murphy
70
Posted 13/01/2016 at 14:16:16
Colin (#61),

The selection of games for live coverage continues to 'puzzle' me as it often skews in favour of those teams selected for such coverage. An extra day's rest here and there, a 15 minute window to push on for a win if rival teams have won or settle for a point if the rival team has lost. The TV companies have far too much influence on proceedings, as do the multitude of betting sites.

In midweek fixtures like tonight, the Premier League should insist that all games kick off at the same time. Tonight's fixtures are the nearest that Everton and Liverpool will have kicked off at the same time on the same day, apart from the Goodison derby match.

Bill Gall
71
Posted 13/01/2016 at 14:38:11
Patrick (#40)

I don't now how much snow you got but I have just finished clearing away the snow to my garage to get at the snow blower here in Sussex, New Brunswick and will be watching the game later on... providing we don't have a power outage.
David Hallwood
72
Posted 13/01/2016 at 14:38:17
Mike (#63),

I've just been told that Adele is going to do a duet with Leonard Cohen, just thought I'd let you know so you could be the first in the queue to buy it.
Kim Vivian
73
Posted 13/01/2016 at 15:03:17
Can we really just start encouraging the players – especially Tim Howard – instead of barracking them/him and knocking his confidence even more? The guy really must feel like he's playing an away match every week. Criticism is one thing, abuse another. We all now how the wrong type of criticism can exacerbate things and the right approach gee things up.
We have him... RM is playing him... So let's get behind him and the rest of the lads.
I don't think we can win 3 in a row against Man City so if we have to blow one, it might as well be tonight. Fingers crossed for a good confidence-boosting performance and result, though.
Mike Oates
75
Posted 13/01/2016 at 15:37:44
Dave (#67),

Lost on me, who are Adele and Leonard Cohen? I just got out of Solitary Confinement after 50 years of watching the Blues to be enlivened only in 1966, 1971, 1985-88 and 1995... hoping to see success before I re-enter voluntarily.
William Cartwright
76
Posted 13/01/2016 at 15:51:55
Colin (#61),

Yes, it does give them an advantage. So does starting the season away to the team you lost heavily against in the previous season. Why are you surprised?
Eddie Dunn
77
Posted 13/01/2016 at 16:28:38
Joe (#58), good point about the reliance on a main goal scorer. I remember when Lineker joined us. We finished second and lost in the Cup Final.

The season before and the one after, we won the league, with lots of players chipping in with goals.
Denis Richardson
78
Posted 13/01/2016 at 16:53:45
Phil (#64) – care to guess where Leicester sit in the wages league table?..........17th.
Others include: West Ham 11th, Palace 16th, Stoke 9th.....
All clubs above us in the league I believe... (also we're only £1M behind Newcastle in 7th.)
What I would add though (and I haven't reviewed other clubs for 'waste') is that we chuck away multiple millions every year in wages on senior players who don't even play. Either crocked, old, shite or a combination of the above. Everyone knows the players and if we even got rid of just 2-3 of them we'd free up a good £5M a year in wages. (Btw, our total wagebill is running at around £75M/year....)
I know you can't legislate for injuries but the contracts to the likes of Gibson, Howard, Pienaar and even extensions to Hibbert and Osman have got some real head scratching about them. Why do we give such long term contracts to old and/or injury prone players? What happened to the 'nothing more than one year' once a player gets to 32 or 33. Even Barry still has 2 years left after this one and he's 34.
So whilst we have one of the higher wage bills, a lot of the cash is actually going to players who make little or no contribution...
Denis Richardson
79
Posted 13/01/2016 at 16:55:31
David 36 - you mention that a lot of teams above us rely on just a handful of players. Sorry to point it or but if Rom gets injured then our season is over....
(Just hope Martinez only plays him tonight if 100%!)
Denis Richardson
80
Posted 13/01/2016 at 16:57:34
Re Barry, make that one year after this one and he's 35...
Shane Corcoran
81
Posted 13/01/2016 at 16:58:30
I'm a little more confident than I was seeing their injury list.
With Fernandinho out then Yaya will have to remain in his defensive role in which, as he showed at Goodison, he's not very good at. He'll most likely still be inconsolable about not winning his fifth African Player of the Year award.
Aguero, unfortunately, is coming into form but they're also down to Otamendi and Demichellis at the back.
I'll go for 1-1 and I'd take it now.
David Hallwood
82
Posted 13/01/2016 at 17:29:44
Denis (#73), I did include us in the teams that are heavily reliant on 1 or 2 players. My point is that there's no stand out teams, or even a team that's nailed on for CL (I know controversial but hey ho)
Mike (#69)... good retort!!
Alan Bodell
83
Posted 13/01/2016 at 17:42:43
David (#67),

Tindersticks are the band with Nick Cave guesting on the show. I heard local hotels are not taking high-rise room bookings.
Ged Simpson
84
Posted 13/01/2016 at 17:48:13
Kim (#68)... agree with you. Amazes me that after the point has been (over) made about Tim Howard, people seem to want him to fail even more. Imagine how some may feel if the coaches made him better at commanding the box!

Just like they seem to be dealing with our defence. And mixing how we attack. And playing out a lead. Stubborn manager? Bollocks. Just remember Phil Neville with OFM... who had a lot more experience.
David Hallwood
85
Posted 13/01/2016 at 18:05:05
Alan (#77) – and leave yer belt and shoe laces at reception!
Joe Edwards
87
Posted 13/01/2016 at 18:11:51
I am sick to death of Martinez's bullshit regarding Howard. Robles has been consistent and reliable commanding his box far better than Howard so citing his experience is complete nonsense.

The truth is that what Howard used to bring to the team has now been outweighed by the failings he now displays on a consistent basis. Martinez must be afraid of not getting a transfer fee for Howard at the end of the season if he is dropped as it will half any post the stupid Spanish shoe salesman has no option but to pick him
Darryl Ritchie
89
Posted 13/01/2016 at 18:21:02
Hoping for the best; expecting the worst.
Reality probably somewhere in the middle: 2-2.
Alan Bodell
90
Posted 13/01/2016 at 18:48:04
I hope the pressure on Howard doesn't affect him because he really knows he is in a spotlight like never before.

I, like most, want Robles to get in; if Tim fucks up tonight, then it's hasta la vista for sure.

Dave Southword
91
Posted 13/01/2016 at 18:50:56
3 at the back? Stones at RB?
Ste Traverse
92
Posted 13/01/2016 at 18:54:15
Yet another joke selection from Martinez. Osman ahead of Mirallas??? WTF, and Howard back too? Pathetic.
Neil Wood
93
Posted 13/01/2016 at 18:55:19
Can't find the team... Someone post it please.
James Morgan
94
Posted 13/01/2016 at 19:03:19
Howard, Stones, Jagielka, Funes Mori, Baines, Barry, Besic, Lennon, Barkley, Osman, Lukaku.
Subs: Robles, Oviedo, Kone, Mirallas, Lennon, Pienaar, Galloway.
Mike Hayes
95
Posted 13/01/2016 at 19:05:25
I've got absolutely nothing against Ozzie... top bloke and he has weighed in with some great goals but WTF – no Mirallas – he must be fuming.
Neil Wood
96
Posted 13/01/2016 at 19:06:05
Lennon playing and subbing!!!! Ha.
Cheers though, James, I presume it's Deulofeu on the bench... Joke!
Most assists and he's benched. Best chance of scaring them to death and he's a sub.
Colin Glassar
97
Posted 13/01/2016 at 19:08:40
More or less the team I said he choose. No surprises there.
Neil Wood
98
Posted 13/01/2016 at 19:20:41
I thought he might have more balls and go for it Colin.
I hope I'm proved wrong but we shall see.
Colin Glassar
99
Posted 13/01/2016 at 19:23:42
Looks like he's going to pack the midfield, Neil. I'm quietly optimistic about tonight, don't ask me why.
Neil Wood
100
Posted 13/01/2016 at 19:26:25
why is Lennon named twice? Whose playing!!!
Colin I was quietly optimistic but it's slowly fading!
Neil Wood
101
Posted 13/01/2016 at 19:28:40
Just looked at Twitter feed and it is showing Deulofeu. Hope this is right as my optimism will sky rocket!!!
Add Your Comments
In order to post a comment, you need to be logged in as a registered user of the site.
Or Sign up as a ToffeeWeb Member — it's free, takes just a few minutes and will allow you to post your comments on articles and Talking Points submissions across the site.
© ToffeeWeb