Competition for places is keeping Baines on the bench
by

72 Comments [Jump to last]
| 09/02/2016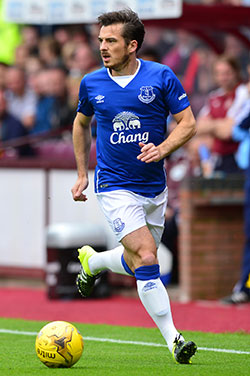 After missing the Carlisle tie with a knock, Leighton Baines is now having to battle with Bryan Oviedo for the first-choice left-back slot, according to his manager.
After years of being an automatic choice in Everton's back four, Baines has been absent from the team for the past three games, leading many fans to wonder whether he was struggling for fitness following a long lay-off from back-to-back surgeries on his ankle last summer.
While the 31-year-old was omitted as a precaution for the trip to Brunton Park in the FA Cup Fourth Round at the end of last month, Roberto Martinez has revealed that Baines is now being kept on the bench by the form of his deputy, Bryan Oviedo.
Speaking with the Liverpool Echo, the manager hints that the form of his entire back line, including goalkeeper Joel Robles, has been rewarded with continued selection over them past two wins in the Premier League and perhaps suggests that the likes of Tim Howard and John Stones won't walk back into the team when they are fully fit themselves.
"Leighton did well enough when he played and then he picked up a knock and missed the Carlisle game," Martinez explained.
"At that point, as we always do, we allowed competition for places to ensure our levels were kept up from game to game.
"Bryan Oviedo did really, really well, the whole back four did, as did Joel Robles and they all kept their place.
"That continuity has given us a very good platform and that's what you want as a squad.
"You want players who work hard to get an opportunity, they wait patiently for an opportunity and when they get that opportunity they need to be given the chance to keep that place.
"That's where competition for places can become very effective and very strong. That's why we've been working really hard to get a squad that is as strong as the one we have now and making sure that the standards of every player and the moments of form of every player contribute to what the team wants to achieve of a weekend."
---
Reader Comments (72)
Note: the following content is not moderated or vetted by the site owners at the time of submission. Comments are the responsibility of the poster. Disclaimer
Jim Jennings
1
Posted 09/02/2016 at 20:18:33
As good a servant as Baines has been, Oviedo is there on merit. Who knows, Baines might soon be third choice behind Galloway.
Keith Conchie
2
Posted 09/02/2016 at 20:21:49
Oviedo has been playing well, just hope he can stay fit. He's been very unlucky with injuries, so it would be nice to see him have a good run. And with competition in that position, especially from Baines, then he will have to keep performing well to keep his place. It's all good for the team. We could do with the same amount of competition in the
Baines is 31... Fuck, I didn't realise he was that old.
Julian Wait
3
Posted 09/02/2016 at 20:25:27
I can't help but feel this is also being used to deflect from Robles replacing Howard and the volte face in that regard.
If this were always true ... then why not 6 months ago for Robles?
Henrik Lyngsie
5
Posted 09/02/2016 at 20:31:37
Interesting one. I have always felt that Oviedo is overrated. He played here in Copenhagen before joining Everton and I never thought he would become more than a useful squad player. However, I must admit in the last two games he has been really impressive. Whether that is due to him (and the whole team) to hit form or whether it is due to some relatively poor opponents is still to be seen. I suspect he would struggle a bit against a real top team like Arsenal. I hope will be proven wrong.
Obviously Baines has been having a poor season with injuries. But he was almost back to his best against Chelsea. Very good defensively and two assists I think.
So honestly I don't think Oviedo will overtake Baines for the next two years. And after two years it will be Garbutt or Galloway before Oviedo.
Mark Tanton
6
Posted 09/02/2016 at 20:37:09
Football is an sympathetic game sometimes and Baines is finished as the player he once was. Serious injury and age catch up with everyone. He's been superb, but we should probably see less of him now.
Phillip Mark
7
Posted 09/02/2016 at 21:05:13
Oviedo has been one of the unluckiest players with injury, but when he's been fit he's looked very impressive (which has not been often, but remember Man U 1-0?)

I hope he gets a good half dozen more games to show us he can be considered a true replacement. Galloway will be centre half eventually anyway.
Ciaran Duff
8
Posted 09/02/2016 at 21:07:47
I wouldn't write off Baines just yet but if Oviedo and the team is playing well then we should keep the same team (same goes for Robles, Lennon etc).
Minik Hansen
9
Posted 09/02/2016 at 21:24:25
Henrik > same surprice for me too, as I have an idea of the level of Super Liga (living in Nuuk, watch the odd FCK game but rarely), but I saw early on how important Oviedo is, I suspected he would blossom under Martinez due to language advantage to the manager.
Alan Humphreys
10
Posted 09/02/2016 at 21:27:16
"You want players who work hard to get an opportunity, they wait patiently for an opportunity and when they get that opportunity they need to be given the chance to keep that place"
Let that nugget of wisdom sink in, then cast your mind back to Robles last run of games and Howard's immediate return to the first team when he returned to fitness.
The man is a charlatan.
Declan Campbell
11
Posted 09/02/2016 at 21:28:48
What is it with ToffeeWeb members looking to put Baines out to pasture? Two years ago it was replace him with Oviedo. Last year it was Garbutt. First part of this season Galloway.It has now gone full circle and it is Oviedo again.

Baines was brilliant in 1st leg against Man city and brilliant against Chelsea. He is still Everton's best left back.
Mark Robson
12
Posted 09/02/2016 at 21:34:18
Great position to be in. I can't remember us ever having such choices in so many positions. Oviedo, Baines, Galloway and even Garbutt all for left back. Stones, a player allegedly worth £50m, cover as it stands for Jags and Mori. Even Delafeu being kept out by Lennon. Can't comment on Niasse yet, but expecting big things for the money we've spent and he won't oust Lukaku on 20 goals but options in the final 3rd with the likes of Mirallas. No negative comments here about Howard, Kone or the manager. I'm still optimistic as this is the most entertaining football I've seen since 85'. I do think we've got a great squad and a fantastic team when we get it right. It has been unbelievably frustrating this season to witness such an amazing opportunity squandered but judgement will be reserved until May as I still believe we can achieve something. I know we need to though if we are to hang on to the quality we have. NSNO
Christy Ring
13
Posted 09/02/2016 at 21:46:53
The player in form should always hold his place, and thankfully Martinez has done a u turn on his ridiculous comment earlier in the season that experience was more important than form, that's why Robles and Oviedo have to keep their place. I think the fans swayed his views.
Henrik Lyngsie
14
Posted 09/02/2016 at 21:54:40
True Mark. Imagine a subs bench with Stones, Baines, Mirallas, Delboy, Niasse and Besic. And still playing your strongest 11 as starters. I still remember sometimes Moyes having four teenagers and a few journeymen. Certainly the squad quality has improved now we just need the results to follow.
Trevor Lynes
15
Posted 09/02/2016 at 22:38:36
Baines played really well versus Chelsea and he is by far the best creator of chances from the back four of any on our books. Some comments on here are OTT and pretty obviously by armchair fans rather than ones who have actually played the game.Oviedo has done well but just for the last couple of games. Similar comments were raised about McCarthy being overtaken by Besic.....we need ALL our best first team squad players fit and available.
Les Martin
16
Posted 09/02/2016 at 22:48:18
Oviedo and Robles should definately stay in the team. Otherwise what message does it send out to those who are performing well, or those whose form has dipped?

I expect an unchanged side despite Roberto's past judgements. If it's not and we under-perform, then I am sure the faithful will let him know.
Gerard Carey
17
Posted 09/02/2016 at 22:57:55
Let's hope common sense will prevail with our manager, and he fields the team that has gone unbeaten in the last three games, and that is growing in confidence with each win.
Anthony Dwyer
18
Posted 09/02/2016 at 23:20:33
Baines needs slowly bringing back into the fold, December and January are hectic months and the games come thick an fast.
As a result of these games, Baines has needed to be careful, credit should be given to both Martinez and Baines competition (Galloway & Oviedo both).
No matter what people forget about Baines, he is an outstanding left back, and is undoubtedly our best left back, head and shoulders above Oviedo, Galloway and Garbut.
If daft Roy wakes up soon enough, he may realise Baines is head and shoulders above Gibbs and any of Baines young pretenders for the European Championship left back place.
Blue fans please be clever and patient, do not write Baines off, he is still world class.
Declan Campbell
19
Posted 09/02/2016 at 23:21:42
Trevor Lynes, spot on. If Besic had not have got injured and had been dropped for McCarthy, there would have been blue murder on here. Now McCarthy is back in the team the consensus is now he makes the difference.
Ernie Baywood
20
Posted 10/02/2016 at 00:46:23
I'm not writing Baines off. No reason he can't get back to fitness and he's always going to have that bit of true class that I'm not convinced our other options have shown yet.
Oliver Molloy
21
Posted 10/02/2016 at 00:53:27
More absolute bullshit and total from The Incredible One - total hypocrite.
Oliver Molloy
22
Posted 10/02/2016 at 00:54:46
Total crap that was...
Teddy Bertin
23
Posted 10/02/2016 at 01:01:58
Martinez is inflexible when he sticks with a player who is suffering a confidence crisis and now he's a charlatan for picking Oviedo on merit ahead of Baines. Anything to stick the the knife in with some of you guys.
We all know that goal keeping is a confidence position look at Paul Robinson and Tim Howard at United. Once they were dropped they were finished. Paul never recovered but Howard got a fair shot here and has been a good keeper for us.
There's a lot more to a football team than what goes on during 90 minutes guys. Martinez clearly doesn't feel Robles is good enough to cut it consistently at this level yet and by all accounts has been looking at other goalies.
You can do what Chelsea did and drop Cech if you have a top quality keeper lined up but Martinez clearly doesn't believe he does have, so the best course of action is surely to try and get your proven number 1 goalie, who is a big character in the dressing room and has been at the club for years, back to form and back to full confidence.
Goalies aren't like outfield players, it's more of a psychological position and often being dropped isn't a positive kick up the back side but a confidence shattering questioning of your ability.
I think Martinez will bring a new goalie in this summer but in the meantime he has to try and get the players we have to the top of their game.
John Stones will come back much stronger from this blip too. The kid is a class act.
Oliver Molloy
24
Posted 10/02/2016 at 01:18:24
Teddy ,
Tim Howard has been DONE for the last two seasons.
Robles deserved his chance last year but was dropped even after performing admiraly - that was a big mistake in my opinion.
Robles may not be the goalie Everton require but he's better fit than Howard is right now.

Jim Hardin
25
Posted 10/02/2016 at 01:43:11
The defense has been crap the last two seasons so it is impossible to tell what GK is in form or not. I take the article to mean that perhaps defense has been practiced maybe? The last two games look it but Stoke has not scored for four games now and Newcastle has trouble scoring too. Would have liked to see this defense versus Man City in the 2d leg of the Cup ahead of either Howard or Robles.
However, I am a huge Baines supporter but Oviedo is my favorite Tico. Over here we get to see him play for Costa Rica in our mighty CONCACAF. He is incredibly versatile and an excellent player for them. I believe that Oviedo should get the nod over Baines because he stops crosses and Baines doesn't. Simple. Baines is craftier and anticipates a little better. However, I would not complain about either player starting at left back so long as he covers Howard's left side of the pitch effectively (See what I did there Oliver #23).
Ron Marr
26
Posted 10/02/2016 at 02:01:07
Howard and Martinez look to have the same trainer. Tim flaps at crosses and Bobby flaps on the dance floor.
All joking aside it really irks me that Martinez hasn't allowed Howard to phase out gracefully, causing a really good club servant to be subjected to abuse, which is only going to intensify if keeps starting him.
Michael Williams
27
Posted 10/02/2016 at 02:50:10
I agree with Mark #11 about the amount and quality of depth, especially as it has been acquired for relatively little money.
Jay Harris
28
Posted 10/02/2016 at 02:51:19
Teddy
There is nothing wrong with Tim's confidence. He has never been the same since basking in the glory of his world cup heroics.
I do think he is being blamed for all and sundry but there can be no doubt he is not the keepe he used to be and a blind man can see on games we have seen him in Robles is currently the better keeper.
In JS case I think his confidence did take a beating by the crowd's reaction and some of the so called experts but he can use that to motivate himself back to his former levels. I hate that the same people who were singing "money cant buy you Stones" now think he should go.
I have seen Labby, David Weir, Richard Gough and Ratters who were all great CBs and for me Stones is right up there with them and given time and encouragement could be the greatest CB in EFC history.
Ernie Baywood
29
Posted 10/02/2016 at 02:57:30
Ron Marr, I'm inclined to agree with you on Roberto's continued selection of Howard. But let's not excuse the flack Tim has copped from the crowd. I'm sure it hasn't helped and that in itself is reason not to do it.
Ron Marr
30
Posted 10/02/2016 at 03:23:13
Ernie, agreed it's never good to be sarcastic to the crowd. He's been told he's the Secretary of Defence by the POTUS and it appears to have gone to his head. He shouldn't have been playing in the first place. To early to tell if Robles is the answer. I don't think he's played a full season at Wigan or Atletico. If Everton are serious about Champions League aspirations they need a top class goalkeeper
Hugh Jenkins
31
Posted 10/02/2016 at 05:10:38
Teddy (#22). I'm surprised you take the view that RM may not think Robles is "good enough to cut it consistently at this level". If that is the case then it makes you wonder why he insisted on firstly buying him for Wigan whilst he was manager there and they were and EPL side, then insisted on buying him for Everton, when RM became our manager?
That, in itself, seems inconsistent.
Carsten Hansen
32
Posted 10/02/2016 at 07:24:54
It's a really nice headache for the manager to have, but one thing people havn't picked up on, is the fact that you could play both, Baines at left back and Oviedo in front of him. This worked really well in a 12-13 match period in 2013, until Oviedo broke his leg. Cleverly has done great, granted, but these two would create havoc down our left, both able to go forward, both able to defend, two good left feet, ability on the ball and decent speed - what's there not to like:-)
Christine Foster
33
Posted 10/02/2016 at 07:28:43
Lord.. Baines was brilliant against Chelsea and against Man city in the first leg, he stood out, same as Mirallas and his goal the other week.. one thing is certain, players do not appear to be getting a fair shake at their place even if they do play well.
Playing is about winning, not looking good. Its about a team fit. Lets face it we have kept Kone and sent Mirallas packing, we almost certainly if it goes to form, drop Robles for Howard when he is fit, same with Furi, when Stones is fit.. what happens when Besic is fit?
I really don't get this guy or respect his comments, I bet the players don't either.
Harold Matthews
34
Posted 10/02/2016 at 07:45:28
Baines and Oviedo are both vunerable to players who cut in across their righthand side but are fine footballers with a great determined attitude nevertheless.
There is a difference however. Oviedo, who was totally exposed when playing right back with only Deulofeu in front of him and Stones or Jags not getting across, has enjoyed the support of Cleverley and Funes Mori in recent matches and has managed to bomb down the wing and through the middle on numerous occasions.
Baines, on the other hand, suffered many months of being exposed behind Mirallis or Kone and I also believe the possession philosophy did him no favours. Constantly hemmed in, instead of risking forward passes with his right foot, he would turn clockwise and pass backwards with his left. This was something I noticed because it helped stop our forward tempo and got on my nerves. With full support will he return to his best and bomb down the wing? Yes, I think he probably will. Not sure he'll fly down the middle and send Cleverley in on goal as Oviedo did against Stoke but he'll still provide his usual assists.
On the defensive side, neither are particularly brilliant but Baines has a mountain of Premier League experience and must shade it.
Will Martinez go with the experience of Baines or stay with the free spirit of Oviedo? His remarks suggest he will stay with the same side but we know he likes to tinker. Interesting stuff indeed.
Jon Withey
35
Posted 10/02/2016 at 08:50:38
Completely sound point from Martinez - and a sign of a good squad. Don't write off Baines and be happy that our new 2nd keeper is an experienced one, should Robles get injured or lose form.
Tony Abrahams
36
Posted 10/02/2016 at 09:04:33
Great points made by both Jim H, and Harold. Oviedo, tries to stop crosses much more than Baines, but whoever has played left back for us, until the last 30 minutes against Spurs, has been totally, totally exposed by the system.
I said after the City game, that I expected the senior pro's in the squad, to be knocking on the managers door fuming, at the way he changed our shape during a cup tie we were winning. I wonder if Baines, has said something? Or maybe after what Martinez said a couple of years ago we might just see him in midfield at some stage?
Frank Bortoli
37
Posted 10/02/2016 at 09:06:30
What a great position to be in when you have competition and a choice were you can fine tune to suit the opposition of the day. We must have the best cover at left back in all the premier, its a shame its so one sided as we certainly don't have that cover at right back.
We must be close to having decent cover in most positions now which bides well should we get into Europe or have major injuries. I can recall during Moyes's last season we were a decent side when fielding all our first team but as soon as we lost one or two of those first team players our results dropped off markedly. Lets hope our manager makes the best of the situation and picks teams accordingly.
Lets hope he can see the obvious decision and start playing Robles, which hopefully should lift the whole back four.
John Crawley
38
Posted 10/02/2016 at 09:30:52
Competition for places, playing people on merit, Matinez is having a laugh, he hasn't done it since he's been at the club! I will wait to see how the rest of the season develops before believing he's truly changed his previous policy.
Colin Glassar
39
Posted 10/02/2016 at 11:24:47
Henrik 4, I don't know which Oviedo you saw in Denmark but the Oviedo I've seen here, after a run of games under his belt, is an excellent LB and well deserves his chance to occupy that position.
I'm not writing Bainsey off, he's still my 1st choice LB, but I'm quite happy to see him fighting to regain his inclusion in the team. That goes for all of them, that's why we have a squad isn't it?
Daniel A Johnson
40
Posted 10/02/2016 at 12:06:42
Surely though as a manager you say to the squad players wait for your chance and lets see if you take it.
If they then play well and take the opportunity what reason do you have for dropping them again apart from pure favouritism?????
Robles needs to stay in the team.
There is no justifiable reason at all for Howard to march straight back in. This descision will define Martinez for me.
Tony J Williams
41
Posted 10/02/2016 at 12:29:11
We'll see if this holds up when Tim is fit again.
Baines, to me, is still our best left back by miles.
Oviedo is a great player but Baines is better.
As above, has Baines said something to Martinez? He let slip last season about Martinez's inflexibility when he was a pundit in one of our games at half time. Has he has a word in his shell like again and is now being Disitined?
In regards to McCarthy, I like him but I still think we lost the semi final the second Besic went down holding his hammy against Swansea
Tony Abrahams
42
Posted 10/02/2016 at 12:32:54
Tony J, we lost that semi final the minute he brought on Kone for me.
Brian Harrison
43
Posted 10/02/2016 at 12:39:18
Well lets hope that the manager is picking players on form rather than any other agenda. Oviedo has done well and deserves to stay in the side along with Robles, so if RM is right then its same team again against West Brom.
I just wonder if Baines comment about us needing to manage the game better, may have cost him his place. Because the following day RM was quoted as saying "Don't blame the players for their game management".
I don't think RM likes his players to voice their opinions, but would rather they toe the party line. So if you do speak out then don't be surprised to find yourself on the bench.
Colin Glassar
44
Posted 10/02/2016 at 12:49:32
Tony, I don't recall seeing you play in that game. You must've had a stinker if Kone replaced you
Dave Pritchard
45
Posted 10/02/2016 at 12:54:57
Ha ha Colin. We have a new whipping boy now to replace Hibbo or Ossie. Tony Abrahams was to blame for every defeat this season. Why Martinez keeps picking him I'll never understand.
Mike Gaynes
46
Posted 10/02/2016 at 13:12:17
Trevor #14, I'm surprised at you. Waxing superior because you played pro and others did not isn't your usual style.
And if you think Oviedo hasn't been a major contributor to our current shutout streak, I think you're wrong. Baby is much the better defensive player at this point. He pressures and blocks crosses, which Baines does not, and he's quicker into the tackle and a better marker. Ask Shaqiri, whom Oviedo drove to the bench.
Baines may be the superior creator, and he was certainly superb in the Chelsea game, but Oviedo is no slouch in that area. His thru ball to Cleverley for the pen was sweet, and he set up Kone's goal against D&R very nicely.
Anthony Hawkins
47
Posted 10/02/2016 at 13:17:53
#24. I question the reason the defence has been crap. My view is the keeper hasn't been good. The keeper is the general at the back and has to dictate the play that's in front of him. If the keeper isn't on form and isn't marshalling the back line correctly then it will all fall apart.
Yes, defence is a team issue but the approach has to be dictated by the keeper.
Is everything Howard's fault? No but he's a big part of it.
Brian Harrison
48
Posted 10/02/2016 at 14:22:03
Mike
Who the hell is Baby and what is a shutout.
Maybe we might need to brush up on American expressions when the new owners arrive. Maybe you could give us some Americanisms related to football or will that now be soccer.
Henrik Lyngsie
49
Posted 10/02/2016 at 14:32:40
Colin 37. Fortunately most players are developing and the Oviedo I have been watching the last two games is far better than the Oviedo I have seen in the past.
For me Baines is world class and still far better than Oviedo. But if Oviedo continues to shine like the last two matches also when the opponent is better than Townsend then we have some healthy competition.
I think we have a strong squad and competition for most places. Right back and centre-forward are the two areas were it is difficult to see the alternative. I guess Niasse is meant to be the striker alternative. While I see no alternative to Coleman. I wish Oviedo would have been right-footed. We need more an alternative there than on the left.

Paul Ellam
50
Posted 10/02/2016 at 17:40:08
Baines has (for me) been the best left back we have had at this club since Ray Wilson but I always think that you should pick your team on merit .
A winning team should always be kept together and if that means the likes of Howard, Stones, Baines etc missing out then so be it.
That's how a squad should be used.
I am sure he will be back in the team soon but for now has to prove to the boss that he is better than Oviedo.
Mike Gaynes
51
Posted 10/02/2016 at 17:50:28
Brian #47... Baby is the nickname Oviedo picked up two seasons ago when Goodison started serenading him with "Oviedo Baby" as his anthem, sung to the Human League. Oviedo's own version is on YouTube along with the traveling Everton fans singing it at Old Trafford after that glorious matchwinner: https://www.youtube.com/watch?v=NmKa9lkUwmM
As for Americanisms invading Merseyside, we Blue Yanks solemnly promise to stand strong with you and never let the word "soccer" find a foothold. But shutout is an improvement over clean sheet.
In fact, if you think about it, clean sheets are the result of being shutout on your date.
Sam Bull
52
Posted 10/02/2016 at 18:41:25
Why not play both on the left? They're both natural left footers. We don't play enough down the left and always wait for Baines to cross it if we're not trying down the right.
With different formation options (442) both would do us no harm either defensively or in attack if both were over there.
Jim Hardin
53
Posted 10/02/2016 at 19:22:16
Mike,
Now you tell me. Well so much for my petitions to change the name of the World Cup to the World Soccer Cup and the EPL to the EPSL. Can't tell you how many countless hours I have wasted on trolling graveyards for names and "signatures."
Tony Abrahams
54
Posted 10/02/2016 at 19:24:39
Like Delaefou, after a hour Colin, I'm very tired!
I just think that if he would have brought on a fresh Lennon, for a tired Gerry, we would have held out. The minute City got the second, I just thought Baines looked across at Jagielka, and gave him a look that said we are fucked here.
It wasn't broke, it didn't need fixing, except out wide were our two boys were blowing for tugs. Fresh legs, a better defensive player in Lennon, who still would have had the pace to keep us playing effectively on the counter, and everyone knowing their job.
Colin I would have done well to last 30 Minutes, but there's no way, I would have let the manager bring Kone, on for me though!!!
Mike Gaynes
55
Posted 10/02/2016 at 19:48:42
Jim... great petition technique. I didn't know you were from Chicago too!
That's how they used to vote in my old home town when I was a kid... names from headstones. The incumbents never lost.
Don Alexander
56
Posted 10/02/2016 at 20:33:48
Joel Robles is 25 years old, as is De Gea, and has played for Spain at every level up to U23.
He couldn't get games for Atletico because they had Courtois. He may well become a challenger in the national team to De Gea for all we know. He just needs games and this season and last he's done really, really well.
Okay, he looked nervous last season and was a worry once or twice, but that's all it was, once or twice... but, with him in goal, we consistently don't concede. What else does a goalie have to do to keep his place?
James Stewart
57
Posted 11/02/2016 at 00:28:59
@10 & 33. Spot on lads. Oviedo has played 2 good games and suddenly he's better than baines, the best left back ever to play for the club, not for me. Harold is right too, it depends what support our fullbacks have in from of them. Virtually zero whoever plays behind Kone or Del.
John Roberts
58
Posted 11/02/2016 at 01:07:49
I love Oviedo for his winning goal at old Trafford! He has class and we are fortunate to have two excellent left backs.
Best squad in decades and Martinez has had a shocker, just like last season. No European commitments this season, top goal scorer, and he has failed, no question.
Brian Denton
59
Posted 11/02/2016 at 01:29:12
James, you can't just fling about statements such as "the best left back ever to play for the club". Leighton is undoubtedly a fine player, but at least a case can be made for World Cup winner Ray Wilson, and possibly others before him. Please say "the best I've seen" or something similar. Using "ever" is just silly, when the club has been in existence for nearly 140 years!
Gary Russell
60
Posted 11/02/2016 at 04:01:43
Some of you may already know that the word soccer is British. It went out of fashion here but not in the US.
http://www.todayifoundout.com/index.php/2010/06/the-origin-of-the-word-soccer/
Steven Jones
62
Posted 11/02/2016 at 07:27:40
RM is building a squad of depth. Through this he builds competition.
He also needs squad harmony – I suspect the transition from defend kick-and-rush under Moyes (I exaggerate) to passing from the back (again exaggerate) may have caused more dissent – some players like Mirallas, Distin and Eto'o – taking advantage. He perhaps became too loyal to Howard who has a big positive influence in the squad and dressing room.
Now RM has more competition – then he has more power on the senior players if they dissent, ease up in training, and generally not focus to the intensity required.
The reason we got beat against Man City was the referee – according to the rules, we should still be in the competition.
Geoff Evans
63
Posted 11/02/2016 at 13:45:50
Bainsey is a top pro and knows you shouldn't change a winning team, hope his manager does.

David Price
64
Posted 11/02/2016 at 15:19:34
Baines every time for me, top quality player, but Oviedo the man in possession of the shirt at the moment. Bobby making sense with his comments and has clearly learned a lesson from his errors with Howard both this season and last.
Shane Corcoran
65
Posted 11/02/2016 at 17:16:34
When are the yanks going to let teams from other countries play in the World Series?
Si Turner
66
Posted 11/02/2016 at 17:21:05
James (56) spot on; Baines is the best left back I have seen play for us (in my 28yrs) aswell. Oviedo does not have the same qualities as Baines and I don't recall Baines making mistakes before his injury?
You cant compare Baines trying to get his place back to Howard or Stones who had made multiple mistakes and so they need to fight for their place again.
The cynic in me tells me Stones will be back in regardless of his recent form to ensure we get top €€€ in the summer. If he was sat on the bench for a coulple of months we can forget £50m.
James Hughes
67
Posted 12/02/2016 at 16:02:43
Just been reported that Oviedo has signed a new 3.5 year deal
Paul Kossoff
68
Posted 12/02/2016 at 16:37:54
Baines has started to do that annoying ballet like turn when defending, turning your back on an opponent with the ball is madness. He and Coleman don't close down enough, and give too much room for attacking players.
If I was his manager, I would tell him not to do that and if he did, well let's see how he likes the Under-21s for a while.
I don't like John Terry, but he knows how to defend.
Kevin Elliott
69
Posted 12/02/2016 at 19:08:08
Dread to think how you would deal with tiger Tim if you were in charge Paul.
Brin Williams
70
Posted 12/02/2016 at 19:16:49
I'm a firm believer that Baines should have been sold to United when they made that (derisory) offer - although that price was not right - he was worth more than that.
To my mind he has been on the decline since his mucker Pienaar lost his place and I certainly wouldn't open the door wide for him to be let in on anything other than merit or when we are short of cover.
31 isn't old these days but when you have the calibre of Oviedo and the whipper-snapping of Galloway to fall back on - why hurry and rock a steady ship!
Ian Bennett
71
Posted 12/02/2016 at 19:34:02
He's been a class act for years and is a local lad.
Sometimes players are worth more to the club than simply just the money. I am glad we turned it down. The young lads learn from the likes of Baines, Jags and Barry. You can't bin this experience off, or expect loyalty, when it's not a two way street.
Paul Kossoff
72
Posted 12/02/2016 at 20:31:46
Kevin (#67),
Oh well he would not have been signed Kevin, not good enough for Man Utd; not good enough for us.
He's a shot stopper, I would have a good keeper coach making him an all rounder, but I don't think our current manager likes to mess with a player's psychology.
Mike Berry
73
Posted 15/02/2016 at 08:22:24
I thought Baines was being groomed to be a centre midfield player? And has everybody forgotten Garbutt.
Dave Abrahams
74
Posted 16/02/2016 at 01:00:16
Everton have a good left back in Oviedo and a young player Galloway who can play in this position, also Garbutt who may or not make a good left back, but the best man to play for the foreseeable future is Leighton Baines, the only thing he has done wrong, in my opinion, is open his mouth and upset the present manager.
Martinez you are upsetting this club, a good percentage of the supporters and any player who comes out with an honest opinion that you don't agree with, you will be here for some more time but when you go you will not be missed by a majority of the support and quite a few players in my opinion will shed few tears.
Add Your Comments
In order to post a comment, you need to be logged in as a registered user of the site.
Or Sign up as a ToffeeWeb Member — it's free, takes just a few minutes and will allow you to post your comments on articles and Talking Points submissions across the site.
© ToffeeWeb