Barnsley reject Moyes claims over Stones fee
17/02/2016

50 Comments [Jump to last]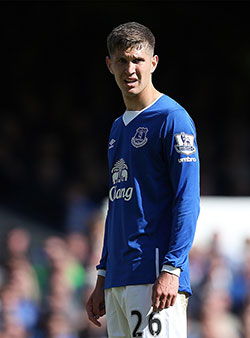 Barnsley have felt compelled to comment publicly following an assertion made by former Everton boss David Moyes that the Blues only paid £1.25m for John Stones.
The Yorkshire club released a statement rejecting the claim and saying that Moyes was not a party to the final negotiations for the then 19-year-old defender.
"I laugh when people say we paid £3m for John Stones. It was £1.25m," Moyes said on Sky's Goals on Sunday show. "It was in the January and the last signing of the window. We were trying to bring a striker in that we needed but we didn't have the money."
Following queries from some of their supporters, Barnsley responded to challenge the Scot's assertion, saying:
"Ordinarily, we would not comment on matters of speculation, but the article on the Mirror website carries the headline, 'David Moyes reveals Everton paid just £1.25m to sign John Stones from Barnsley'.
"The amount paid by Everton to Barnsley is Commercial in Confidence, and we would have expected that David Moyes would be bound by that obligation of confidentiality to his former employer.
"However, given the categoric nature of the assertion made, it is incumbent on Barnsley FC to correct such a statement when it is markedly and unequivocally wrong and yet is made by someone that the public might think is authoritative on the subject.
"This is particularly the case since he has cited the same erroneous fee on previous occasions also. David Moyes played no part in any negotiation with Barnsley FC concerning the transfer of John Stones, which may explain why he is mistaken as to the fee paid."
The initial fee that Everton paid for Stones is believed to have been £3m and there was no sell-on fee built into the transfer.
---
Reader Comments (50)
Note: the following content is not moderated or vetted by the site owners at the time of submission. Comments are the responsibility of the poster. Disclaimer
Liam Reilly
1
Posted 17/02/2016 at 07:31:25
No sell-on fee; deary me...
Colin Glassar
2
Posted 17/02/2016 at 08:33:43
Can't find a job in football, useless as a TV pundit, now showing his lack of understanding of his own transfers. I think OFM would be better off returning to Scotland and managing boyhood club, Dumbarton.
Ajay Gopal
3
Posted 17/02/2016 at 08:44:50
Why does Moyes feel the need to comment on John Stones transfer fee? Wants to be in the limelight? Wants to remind the media what a great bargain hunter he was? Because he was lucky to be managing a bigger club at that time, Moyes (and Everton) got lucky – otherwise, Stones was almost taken by Martinez at Wigan.
What a fraud he has shown up to be! (At one time, I was one of his biggest fans, and still appreciate what he did the first 5 years of his 11 year long tenure). He fooled us all into believing that only the monied clubs could be successful in the Sky Sports Premier League age.
Leicester (much poorer relatively than Everton ever were) are showing us how wrong he was! They are challenging for the title – not as 'plucky underdogs' , but they are going toe-to-toe with the big boys. Moyes always had us believe that we were overachieving and that we were lucky to have him as our manager. What a loser!
Matt Traynor
4
Posted 17/02/2016 at 09:02:39
"Moyes played no part in any negotiation with Barnsley FC concerning the transfer of John Stones".
Alex Ferguson stated in his book that Moyes agreed to join Man U in December 2012.
Did BK tap up RM and did RM tell EFC to sign Stones (who was on his way to sign for Wigan)?
X-Files is back on TV.
The truth is out there. Maybe.
Phil Walling
5
Posted 17/02/2016 at 09:37:00
I'd rather trust Fergie's memory than that of Moyes' Matt, although I can find no mention of OFM's 'Christmas' deal with Man Utd in the book you refer to.
What I can say is that at my Wigan based family's Christmas party in 2013, a senior Whelan employee was confidently forecasting the managerial scenario that was duly played out in the following spring.
He told us that David Moyes Snr had been Fergie's youth time coach and a strong link existed between the families. Wigan's FA Cup exploits had not yet begun but he said 'You can lay bets on who will succeed Moyes at Goodison.'
As a betting man, it is one of my greatest regrets that I held off 'executing my commission' on the sequence events until the real gossip started late in the season – although I did end up a tidy sum!
Tony Abrahams
6
Posted 17/02/2016 at 09:47:15
I would believe you over them two Phil. What odds did you eventually get?
Phil Walling
7
Posted 17/02/2016 at 09:48:29
I meant to add that I do believe the Stones' signing was instigated by who was to be OFM (Our FUTURE Manager, in this case!) and the very real prospect that our Club will make a ten-fold profit on his sale will be enough to keep Martinez in his post at least until that profit is realised!
Phil Walling
8
Posted 17/02/2016 at 10:04:16
Tony, I backed Moyes at all prices from 9-1 down to 2-1 and Martinez at 7-1 to 6/4. Additionally, I landed two doubles at 30/1 and 18/1. All modest stakes.
My brother-in-law really 'cleared out the satchels' with an 'up, down and double' in early New Year. Let me assure you the proceeds more than paid for the party !
Eric Myles
9
Posted 17/02/2016 at 10:17:53
Have to agree with Phil, Matt, unless you're referring to Fergie's 2nd book. In his first he indicates that they didn't know who the manager was to be in the February.
Brent Stephens
10
Posted 17/02/2016 at 10:37:41
Unless there's more out there, interesting that Barnsley don't seem to state what the fee actually was, so we're left speculating still?
Jon Bentley
11
Posted 17/02/2016 at 10:45:48
If you search for public available information at Companies House, Barnsley's audited accounts confirm a sale for £3M. A these are audited by professional accountants, I know which figure to believe!!!
Peter Roberts
12
Posted 17/02/2016 at 10:48:18
Moyesie - never mind mind trying to lay claim to the signing of John Stones... your scout had to convince you, Round and Lumsden to sign him, none of you were convinced. So as above what actually changed this??? He was on his way to Wigan to play for Martinez.
I would sooner you explain how Mustafi, the only Everton player who went on to be a World Cup winner since Marco Materazzi, never got a look in whilst Tony Hibbert was being used as a centre half. I won't talk about Eric Dier at this moment – the abandonment of Barkley and Rodwell can wait till another time.
Nick Entwistle
13
Posted 17/02/2016 at 10:52:43
"He fooled us all into believing that only the monied clubs could be successful in the Sky Sports EPL age. Leicester (much poorer relatively than Everton ever were) are showing us how wrong he was!"
How wrong he was indeed AJ, taking Everton to 4th himself.
Us and Leicester, in 14 years of top 4 football that's 2 out of 56 opportunities taken by those without big money. Just how wrong was he?
Gavin Johnson
14
Posted 17/02/2016 at 11:08:14
How would Moyes know? He didn't even want to sign the lad.
Paul English
15
Posted 17/02/2016 at 11:20:52
Nick, as I said on another thread, about our OFM..... Leicester are winning "Gunfights with a knife"...
Moyes is the biggest bluff merchant ever!!!!!!!
Matt Traynor
16
Posted 17/02/2016 at 11:42:13
Eric (#9),
I have read neither book, as football biographies whether unofficial or ghost-written are seldom interesting (maybe Roy Keane's was a little bit), but I do recall extracts of his 2nd book being published in various news sites where he definitely suggested it was wrapped up in the December.
These extracts may have been tasters before the final publishing date, so may not have made it into final copy, and may have been embellished, but there's no way Man Utd rushed such a decision, and no way their #1 candidate backed by Taggart didn't know well in advance. He was on ٢m a year FFS, why would you stall on signing a new contract?
Eugene Ruane
17
Posted 17/02/2016 at 11:53:44
So Moyes says £1.25M and the audited accounts show ٞ3M – a difference of £1.75M.
(You do the math..SSSSS!)
Wonder if the difference is a clue as to why we haven't heard (American accent) "Doo diligence has now been compleeded, we are now the owners of the Evertonshire Candymen. WOOOO!!"
By the way, now must be a strange time for David 'Icarus' Moyes.
For the 11 years he was at Everton, all for him was stability and relative calm.
The worst he ever got from supporters at games was occasional anger at certain substitutions (eg: Spurs at home, 0-1) but for the most part it was 'He's got red hair...' etc.
He was in charge of everything, no transfer committees, no pressure to win stuff, earning fortunes and anyone who thought of crossing him got...the stare!
Arms folded, he was a man who appeared thoughtful – a 'football man' to be taken seriously.
A 'young coach' who 'studied the game' and was 'going places' (although 11 years with us suggested rather than going places, he was taking fucking root).
At Everton, for many, he was practically a cult (yeah, yeah, too easy).
These days (especially after reading about his time in Spain) he seems kind of pathetic and jittery, a figure of fun who is now probably a little gun-shy (irony?) re management.
Tony Abrahams
18
Posted 17/02/2016 at 11:58:27
Lovely story Phil, even if you have had nothing to celebrate since Martinez, came to Everton!
When Wigan got drawn against Everton, in the cup, I thought Martinez, gave the game away then.
Back to Stones, I wonder when he will play for Everton, again?
Jay Harris
19
Posted 17/02/2016 at 13:31:44
On the subject of tapping Moyes up didn't his daughter let it slip that he had agreed to take the Man Utd job at Xmas?
Many of us believe that RM was lined up in January/February hence there was no interviews for the job apart from a token meeting with interested club insiders.
As regards the fee, we will never really know what Stones cost because of the way these deals are done with add-ons, agents' fees, etc – and the sell-on clause.
William Cartwright
20
Posted 17/02/2016 at 13:32:36
Do we think that John Stones will play for Everton again? Hope so, a great player and a smashing bloke. I am surprised he has managed to remain a sense of normality with all the media nonsense surrounding him, whether it's Barnsley or Barcelona.
Moyes...? History. 'Nuff said.
Anton Garvey
21
Posted 17/02/2016 at 14:52:05
Moyes, Bingham, Walker, Smith, Martinez [enough said] – we've had some shit...
John Daley
22
Posted 17/02/2016 at 15:01:14
William,
I would be absolutely astounded if he doesn't. It would be of no benefit to anyone to send Stones into exile until the end of the season. In fact, I wouldn't be surprised to see him start our very next game.
Tony J Williams
23
Posted 17/02/2016 at 15:23:51
Who gives a dingbat's dangler what we paid for him?
He is going to make us a nice little earner, no matter what we ended up paying.
Is this going to be our annual 'have a go at our previous manager' post?
Isn't the current one causing enough arguments?
Victor Jones
24
Posted 17/02/2016 at 16:21:55
So that was why he was called "dithering Dave". He didn't even know what was paid for Stones. Only kidding. I think we all know why he was King of the ditherers. Anyhow, just read somewhere that Moyes also did not rate Oviedo and that certain scouts pushed through that deal. Did Moyes know anything that was going on around him? IMO Moyes) should have been shown the door when the rumours of his tapping up was first known. That was the worst kept secret in the history of EFC. Everton were bloody awful at that time. Every supporter with half a brain knew that something was wrong. Everyone except our dithering Board. Does dithering appear in our motto? It should do. Well since BK and DM ran the show it should. Add Martinez also to that. Moyes knew nothing about some of his buys. And Martinez has Everton playing " dithering "football. One step forward...two steps backwards. But enough about Moyes. As said above, we have enough problems now with El Bobby in charge. Just think what this squad could potentially do with a proper manager.
Big changes coming up with the Premier League big money. Let's pray that Everton get on board. Let's hope that Everton come to the party with a proper game plan. Let's hope that we do not squander this opportunity by having Martinez keep the team hovering in mid table. Let's hope that we approach this era with a proper manager. As said, Spurs and Leicester have shown the way. Martinez is not that manager. Nor was Moyes. But they are out there. So no more fooking dithering. Let's get one in. Let's rock and roll. Let's get with the plan. COYBs
Eric Myles
25
Posted 17/02/2016 at 16:49:49
Matt (#16), Ferguson said that he decided to retire in the previous December when his wife's sister died but that he didn't tell anyone until he told his sons in the March.
Darren Hind
26
Posted 17/02/2016 at 19:01:46
You would think Moyes was wondering around like Syd Barrett, all confused and seemingly skint.
It's not bad enough that he took the piss to the tune of around £18 million in wages... then got the Man United gigg on the back of that piss-taking.
Now we have people saying things like he should go back to Dumbarton thinking THEY are the ones doing the ridiculing!
Not sure which of his mansions he is counting his money in, or how much more he will make from the game as a pundit/manager/reporter, but by my reckoning he has already trousered about 30m quid.
The richest failure in sport had the lot of us over (even his critics believed he was an honourable man). Yet we still have people on here thinking THEY are taking the piss out of HIM.
Oh the fucking irony...

Ian Brandes
27
Posted 17/02/2016 at 19:11:00
And he has a heli-pad in the grounds!
Eugene Ruane
28
Posted 17/02/2016 at 19:11:22
Darren, why would anyone think he's (seemingly) skint?
Can't see anyone even suggesting that.
Andy Crooks
29
Posted 17/02/2016 at 21:04:52
Eugene, # 17, I agree, Moyes could have been manager at Everton unti he was a hundred years old. It was perfect, made for him, no pressure, only a few a few oul lads on ToffeeWeb ,giving him a bit of stick and then, as you say, Icarus.
Anyway, what about a skit on Moyes watching Everton as a pundit. I'd write one myself but I have a tin ear and, frankly, no discernable talent.
Jim Jennings
30
Posted 17/02/2016 at 21:25:55
Moyes says:
"It was in the January and the last signing of the window. We were trying to bring a striker in that we needed but we didn't have the money."
Maybe his memory is not what it was but Stones signed on 31 January 2013. A full three days after Everton announced they'd agreed to sign Leroy Fer for circa £8.5m. Which kind of flies in the face of (a) trying to sign a striker and (b) not having the money to so.
It's almost as if an out-of-work manager is using his media chums to give him the platform to desperately try to remind the great British public of what a top, top (TM) manager he actually is...and not a failure two jobs on the spin.
Ian Bennett
31
Posted 17/02/2016 at 21:47:31
Jim I think we were in for Negredo when he was sat Seville. I always liked him.
http://www.mirror.co.uk/sport/football/transfer-news/Everton-transfers-alvaro-negredo-is-now-1564287
Moyes confirmed it in the following Feb.
http://www.goal.com/en/news/11/transfer-zone/2013/02/02/3719957/Moyes-confirms-failed-Everton-bid-for-negredo
Tony Abrahams
32
Posted 17/02/2016 at 22:01:12
Brilliant Jim, if only Moyes would talk a little bit more!
Colin Glassar
33
Posted 17/02/2016 at 22:06:23
Who's saying he's skint Darren? Has anyone on here mentioned his financial status?
As for Stonesy, I hope he's back ASAP. Our best defence is JS and Jags. Funes Mori doesn't inspire me with too much confidence.
Grant Rorrison
34
Posted 17/02/2016 at 22:22:30
Colin (#33).
I think Funes Morihas done really well. I was sceptical at first given the fact that he came from, in many respects, an inferior league. But, I think the fella is not a bad player at all, and will probably get better with experience.
That said, John Stones is pure class and those that don't appreciate his obvious talent are arseholes who do not deserve to watch such precocious ability and would be better off watching Mitch Ward or such like.
I completely respect your opinion though.
Tony Abrahams
35
Posted 17/02/2016 at 22:31:52
Darren did, Colin, when he talked about him counting all his money in one of his mansions.
It's obvious Moysey is ready for another job, when the rewards are astronomical. Pimping himself on TV is a just another way of saying, "I'm not skint, but I might just be the experienced manager you're looking for!"
Grant Rorrison
36
Posted 17/02/2016 at 23:04:30
Tony 35. I have said a lot on other forums against Moyes in the past, but, while I feel he was a tad bit over-rated, there is no denying he did a lot of a good here and deserves a fair bit of respect for it.
Colin Glassar
37
Posted 17/02/2016 at 23:37:01
Grant, I've said before that I think Funes Mori will become a really good player but my preferred two centre-backs are still Jags and John.
I know Darren brought up the money, Tony; I just don't know why as it isn't relevant to him not knowing how much he paid for his own players.
Darren Hind
38
Posted 17/02/2016 at 00:04:28
Nobody Eugene.
I just cringe when I see some of the "Haha, look at him" stuff.
Martinez is often dismissed as a fraud who takes the piss, but when it comes to piss-taking, he doesn't hold a candle to this fella. For years he was allowed to manage expectations here and he is still kidding the rest of the footballing community.
To suggest he can't get a job in football ,as Colin did, is foolish. He could walk into another job any time he wants... but even now he is waiting for a premiership side. Who would be surprised if in 2-3 years time, half a million Geordies were eating out of his hand because he had delivered mid table security for them?
The worst thing about this con man is... he doesn't even have a trick, Unlike Martinez he s completely without charm, although he has kinda got sincerity off to a tee.
I never understood how his stock got to be so high, despite never winning anything... and I still don't get how people can mock him.
It's a bit like mocking a burglar who turned your house over because the clown forgot to take your 10-year old toaster
Darren Hind
39
Posted 18/02/2016 at 00:06:37
BTW Eugene,
I laughed out loud when read your posts about him and his Mrs on Holiday.
I guess anything is good, if it's funny.
Kieran Kinsella
40
Posted 18/02/2016 at 01:29:13
So he's trying to make a few quid to stay off the dole. We shouldn't ridicule people who have fallen on hard times. I remember people giving Brett Angell stick for working at Tesco but at least he was trying to make a living. As far as Moyes goes, manual jobs are limited because of his age. Too much to expect tight wad Kenwright to give him a pension so good luck to him getting what money he can get here and there.
Danny O'Neill
41
Posted 18/02/2016 at 02:08:21
And Jim @ 30 let's not forget, a failure at Everton in his last few seasons. Like many on here I defended and respected what he had to do in his first several seasons with us. But when the expectation rose and the players at his disposal were of a better quality, he ran out of ideas and didn't know how to go that mile further. Parallels to the criticism labelled at Martinez but for for different reasons
Anto Byrne
42
Posted 18/02/2016 at 03:06:34
I wish he would just fuck off. Neither Stones or Barkley would be playing in this Everton side had this knob stayed at Everton.
Once Martinez gets his defensive structures right, he might just survive in this job. Unlike some other teams, we have not had a settled line-up all season. Cleverley, Baines, Besic, McCarthy, Mirallas, Jagielka, and even Coleman have all had long layoffs and then it takes a few games for them to get up to speed.
Having said that, I thought Galloway was very unfortunate to get dropped. Stones and Funes Mori are just not experienced enough and there was a distinct lack of leadership on the park.
David Barks
43
Posted 18/02/2016 at 04:36:04
Moyes did far better than Martinez with much less. He also did a hell of a lot better at Man Utd without being given any money to spend, unlike Van Gaal who was given around £200 million to spend. He wasn't a failure, the United board was he failure there.
Jay Harris
44
Posted 18/02/2016 at 04:57:09
Jim (#30),
But we didn't sign Leroy Fer, did we?
We made up some bullshit story that his knee was still suspect even though he had been playing for 8 months since the injury and has played regularly since.
I know Moyes let us and himself down badly in the last season but we need to respect the transformation he brought about in the club on a shoestring budget.
Roberto big licks has had far more to spend and only taken the club backwards.
Matt Traynor
45
Posted 18/02/2016 at 07:21:22
Jay (#30), I think Fer may be in danger of becoming the new Hermann Hreiarsson or Nathan Blake...
Maybe it was a good thing we went for the pay-in-installments approach!
Alan Thompson
46
Posted 18/02/2016 at 09:05:14
Not to mention our beloved Chairman's, "You don't need £5M to sign a £5M player". It may be endemic but I seem to recall a time when, at regular intervals, we had to stump up for outstanding transfers on the never never which sent the accounts into a tailspin.
Roman Sidey
47
Posted 18/02/2016 at 11:47:25
Darren, I don't think it will be 2-3 years before you see Moyes at Newcastle. I honestly believe he will be there within six months.
Kase Chow
48
Posted 18/02/2016 at 23:01:50
I'm no Moyes apologist and he didn't half annoy me when he moved to Utd and made his comments regarding Baines and Fellaini
BUT
To deny he did a great job for us is just being bitter
1) he stabilised us away from relegation candidates
2) he cemented top half finishes (something we can no longer take for granted)
3) he had us competing for European positions regularly
4) he had us playing some brilliant football at times (Baines/Pienaar axis; Arteta on the right wing was amazing; the Yak and Cahill combining together; Saha in his pomp etc)
5) we reached a cup final and finished 4th
Yes he's done some stupid things but you know what? I'd take him over the current fella every day of the week
John Codling
49
Posted 19/02/2016 at 09:25:11
Grant (#36),
Deserves respect?!?! Are you right in the head? The prick knew he was leaving and then tried to steal two of our players on the cheap. Then again, a man leaving a job and moving to a competitor should have cleared his desk and left.
Oh no, Comedy Central – aka Everton Football Club – allow him and pay him to stay and sow his seeds of discontent and also gain knowledge of future plans. You could write a good comedy series based on this.
And I have read comments on this site from supporters who would welcome him back, more fucking losers. The man is a liar and a charlatan.

Jim Hardin
50
Posted 20/02/2016 at 14:23:19
John Codling,
What the heck are you on about? Was Moyes here at the club only 6 months? did you miss all of the positives? Wait, your rambling hate-filled bitter rant just wouldn't be the same if you actually used facts would it? How did he try to take two players on the cheap? He made a package offer, not a back-room agreement with BK and the offer was rejected. He then paid a large fee for Fellaini right? Also, what is the current offer for Baines from the line of suitors?
Plus, exactly which manager were you referring to when you used the term "Liar and a charlatan?" It seems you are mixing the current manager with the former one.
It does seem that some of you would only be pleased if any Evertonian, player or manager, died on the pitch or the technical area and was carried off on his shield. Sparta is a long way removed both time-wise and distance-wise.
It seems there is no other way to leave this club than with loads of venom being hurled at you. . We have people objecting to testimonials because hey, the player got paid a ton of money to play a game. Other players that are aging are now money-sucking arrogant bastards. Some that try, but are not good enough, are lazy, money-sucking bastards, Others that talk about higher aspirations are disloyal, arrogant, greedy, money-sucking bastards. God forbid if they happen to get a very nice car or something as the fans must pull up to the games in oxen carts. Of course none of the previous comments apply to the only player to hand in a transfer request as he is nearly sainted by many on here.
Moyes is gone. he was good for the club. He is not coming back. Get over it.
May I suggest that
Add Your Comments
In order to post a comment, you need to be logged in as a registered user of the site.
Or Sign up as a ToffeeWeb Member — it's free, takes just a few minutes and will allow you to post your comments on articles and Talking Points submissions across the site.
© ToffeeWeb