Howard: I couldn't pass up Rapids opportunity
by

23 Comments [Jump to last]
| 24/03/2016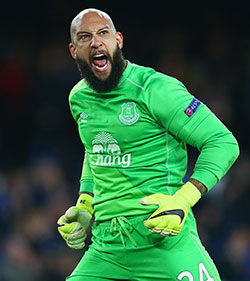 Tim Howard says that the chance to put himself front-and-center ahead of the 2018 World Cup combined with the prospect of "building something" at Colorado Rapids are his motivations for leaving Everton this summer.
The 36-year-old announced last week that he will be joining the MLS soccer side in July, two years before his contract with Everton expires, confirming speculation that started towards the end of the January transfer window that he could return to the United States.
Howard, who first joined the Toffees on loan 10 years ago, has made over 350 Premier League appearances for Everton but recently lost his first-choice berth at Goodison due to faltering form amid the team's defensive struggles, particularly at home.
After three years as his understudy, Joel Robles has assumed the mantle of regular starter in the team and that has provided Howard with the chance to revive his career with a fresh start and a new project in Colorado.
"It gives me an opportunity to be in the shop window before the next World Cup," Howard said. "And the excitement about being in Colorado and building something…people don't care to hear that but that's the most important thing for me.
"I had two years left at the club I love and I planned on playing them out until this opportunity came up. It was an opportunity I couldn't pass up."
The move to the Rapids also allows him to be closer to the eyes of USMNT manager Jurgen Klinsmann as he plans for the World Cup in Russia in tow years' time.
Howard's decision to take a year's sabbatical from international football after the last World Cup in Brazil has meant he has had to share the first-team jersey with Aston Villa's Brad Guzan since last autumn as Klinsmann assesses which is his most reliable stopper.
"We have the highest respect for Tim and Brad," Klinsmann said recently. "Having a player like Tim back in our group is huge because of his experience. Is it more ideal if he (were starting for Everton)? Absolutely. …
"He's played I don't know how many hundred games in the Premier League. He knows how to deal with (inactivity). He is calm. He is a top professional."
Quotes sourced from Sky Sports
---
Reader Comments (23)
Note: the following content is not moderated or vetted by the site owners at the time of submission. Comments are the responsibility of the poster. Disclaimer
Jon Cox
1
Posted 24/03/2016 at 18:17:58
Thanks for all your efforts Tim. You've been a good and loyal servant over the years.
Wish you all the best of luck in the world mate. Oh,
Just before you go, Tim, could you do us all a really big favour, thanks mate?
Yeah, could you please take that fuckin' dickhead Blert of a manager with you?
Again, thanks awfully,
Bye.
Michael Penley
2
Posted 24/03/2016 at 18:21:00
Good luck Tim, but the comments are a little bit disingenuous in my eyes. He left because he was dropped, not because the Colorado opportunity came up.
But then, he never was able to be completely honest with himself. When he was making mistakes in the past year or two, he refused to admit he was ever at fault.
Colin Glassar
3
Posted 24/03/2016 at 18:46:25
Once again, good luck Tim. It's a pity your Everton career is ending under a cloud. I hope you get to play, at least, the final home game of the season as you deserve a decent send off.
Jim Bennings
4
Posted 24/03/2016 at 19:11:00
Another example of keeping a once fan's favourite at the club for too long.
It happened with Kevin Campbell and Big Dunc to an extent, players that were once thought of highly now made the butt of jokes and scapegoats.
Ian Brandes
5
Posted 24/03/2016 at 19:14:49
Best of luck to Tim Howard. Very good goalie until he wasn't. A shame he was retained as No 1 when his time had passed.
I prefer to think of Howard in his prime, rather than his recent performances.
But then he was not used to playing with a crap defence, was he?
Matthew Salem
6
Posted 24/03/2016 at 19:53:50
I second what Jon Cox is saying.
Kevin Johnson
7
Posted 24/03/2016 at 20:28:37
Tim, you've entered yourself into the hearts and history books of our great club. Thanks for all your service. Hope the club grant you a testimonial. A great servant.
Phil Sammon
8
Posted 24/03/2016 at 20:28:48
One of the few sportsmen I've come across who genuinely believes they have nothing to learn and nothing to prove.
Good riddance.
Brin Williams
9
Posted 24/03/2016 at 20:30:40
CG3 "I hope you get to play, at least, the final home game of the season as you deserve a decent send off.'
Just you wait – he'll probably be first choice for the final, if we make it!!
Colin Glassar
10
Posted 24/03/2016 at 20:37:36
Bloody hell Brin, I hadn't thought of that!!! Goodbye Tim.
Nick Armitage
11
Posted 24/03/2016 at 20:45:36
When he was good, he was good... but he hasn't been good for a long time – and he's been shite since he grew that stupid beard.
Jon Cox, well said. Where shall we send the blert's taxi to?
Patrick Murphy
12
Posted 24/03/2016 at 20:46:25
Sorry, Colin, If Howard isn't good enough at the moment, rightly or wrongly in the manager's opinion and for a large amount of the fan-base why on earth should he be given a start or appearance in any first-team game?
This sentimental streak which pervades the club at every level undermines our seriousness of ever seeing the club properly compete with our rivals in the Premier League and it's something we need to rid ourselves of and quickly.
Fair enough if Everton were on the way to the title and had it wrapped up prior to the last couple of games of the season, it might be acceptable, but when we are supposedly battling for every league point available in order to earn more merit money, I can't see any good reason for Tim being given an outing. Although if something happens to Robles and we make the Final, Tim will have my full support at Wembley.
Nick Armitage
13
Posted 24/03/2016 at 20:49:14
Patrick Murphy - it was painful to watch Cahill towards the end, and that same sentimentality means we're stuck with Kenwright pulling strings until whenever.
Nick Entwistle
14
Posted 24/03/2016 at 21:18:45
I said we should have gone for Schmeichel last summer, but he's hardly going to leave now. I don't know who we're going to get, but Robles isn't the answer.
If the biggest outlay this summer is on a keeper, it wouldn't be too bad a thing. So long as it isn't from the current man in charge.
Mark Andersson
15
Posted 24/03/2016 at 22:57:49
Good luck, Tim. Everton never really used your fame in the USA commercially. Saying that, in hindsight, it's a good job as you and the team have been shite the last few years.
Spill the beans on the manager and win some fans back. It's his fault you're leaving under a cloud.
Oh and tell us about our new £13.5 million striker. Strange times to be a Blue, eh.
Jon Cox
16
Posted 24/03/2016 at 23:13:33
Michael Williams
17
Posted 25/03/2016 at 00:18:48
Everton. The club where half the supporters can't help themselves ripping a player who is leaving after ten years or use the occasion to slag the manager.
If I were a footballer I would not dare hang around here for more than a few years. The fans here turn ugly fast and hard, regardless of service or circumstances.
All I can say to Howard is good luck in the future. He's leaving. No need to say more...for me.
Jon Cox
18
Posted 25/03/2016 at 01:06:16
The fans here turn ugly fast and hard, regardless of service or circumstances.
I wonder why....
Ian Burns
19
Posted 25/03/2016 at 14:51:47
Not my favourite Everton goalie during my 57 years supporting the club but nevertheless he played for EFC and that is good enough for me to wish you all the best, Tim, and many thanks for 10 years of service.
Dan Parker
20
Posted 25/03/2016 at 15:54:56
He's been fabulous over the years, provided some real highlights – not limited to ending our extra-time penalty hoodoo. As a Brit living in America, he's done an awful lot to further our brand.
He leaves with respect and thanks.
Jay Doyle
21
Posted 25/03/2016 at 21:27:01
10 years undone in a second when he failed to clap the Gwladys St. Ta-ra, lad.
John Keating
22
Posted 25/03/2016 at 21:57:10
Just another well-paid guy who passed through.
Pity we aren't and can't.
Bob Cumiskey
23
Posted 26/03/2016 at 09:34:13
Good luck to Tim.
I was never his biggest fan but have to acknowledge his service to the club and the role that he has undoubtedly played in building the brand throughout the States.
I don't really know why but I have never felt the connection with him that I have with other long servers to our great club. I have more great memories and affection for Nigel Martyn, who was with us for only 3 years, than I do for Tim.

Add Your Comments
In order to post a comment, you need to be logged in as a registered user of the site.
Or Sign up as a ToffeeWeb Member — it's free, takes just a few minutes and will allow you to post your comments on articles and Talking Points submissions across the site.
© ToffeeWeb