Koeman aims to bring Dutch style to Goodison
by

78 Comments [Jump to last]
| 19/06/2016
Ronald Koeman has promised to bring attacking football fused with defensive solidity to Goodison Park as he looks ahead to the new challenge he has taken up after taking the decision to leave Southampton.
Everton's new boss has been spelling out the way he likes his teams to play since his appointment was made official last Tuesday, an approach that is rooted in his origins as a Dutch star who was influenced by and played under Johan Cruyff.
Koeman admitted in his first press conference that "being the boss of your own stadium" is important, a nod to the Toffees' awful home record this past season under his predecessor, Roberto Martinez, and that is one thing he wishes to change.
He goes further in an interview with Straits Times, however, explaining that he adheres to the Dutch way of pressing the opposition, dominating the game and attacking rather than merely playing keep-ball.
He also stressed that, once he has fully assessed the squad he has inherited and brought in any reinforcements he feels will be needed, the best eleven players will play and that it will be up to the players to prove their worth in training.
"My approach, my philosophy is very straightforward. I hate to lose and I like to have a really good relationship and respect with the players. Ultimately, the one who is responsible is the manager.
"I like to do things in a good, positive way because I believe, if you enjoy your job, you get the best out of yourself and we need to show that we are a strong team not just on the pitch but also off it. We will respect everyone.
"The best 11 will start and you win your place in the team every day by training and how you behave – that's very important.
"I'm one of the Dutch coaches, of course, and Dutch coaches like to dominate games and not wait. I like to play attacking football and to press the opposition, to make it difficult. That's what we like to do and that's how we will do the (training) sessions. It's all about trying to dominate the game and giving the fans enjoyable football."
Koeman arrives with his brother, Erwin, and fitness coach, Jan Kluitenberg, and both the latter and the new manager have been sharing photos of their first introductions to Finch Farm and Goodison Park on social media over the past few days as they take in their new surroundings.
As a player during Everton's glory days in the mid- to late-1980s and having played at Goodison Park for Feyenoord in 1995, Ronald was all too aware of the Blues' rich history before he arrived. And his frequent references to the club's past achievements suggest that they formed at least a part of his decision-making process when it came to opting for his move to Merseyside.
"From the beginning, I got the feeling from the chairman, Bill Kenwright, and from Farhad Moshiri, the club's major shareholder, that I was their No 1 choice and that is always a great feeling," the 53-year-old said.
"Everton, of course, is a club with a really big history. In terms of league titles, we are the fourth most successful club in the history of English football with nine championships, as many as Manchester City and Chelsea combined. Now it is about what we can do to claim our own special part in this history."
Project Barkley
While Koeman has pledged to sit down with the likes of Romelu Lukaku and John Stones to discuss their Everton futures as the former continues to talk about a possible move away from Goodison and the latter is being linked heavily with Manchester City, Ross Barkley is one player who many feel could benefit from the new manager.
Where Martinez was criticised for the 22-year-old's nose-diving form and an apparent lack of focused coaching, Koeman's more rigid, disciplinarian approach could be the kind of structured environment under which Barkley can thrive. As such, he represents an early challenge for Koeman and his staff.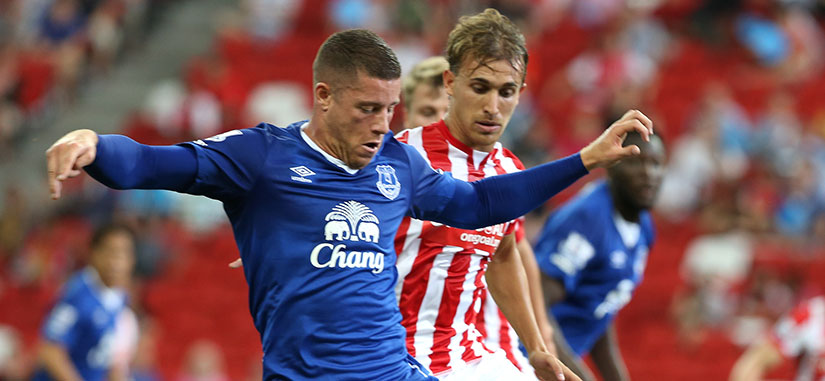 "[Ross] is already a key player for Everton, even at a young age. I look forward to working with him and making him a better player," the former Saints boss told MailOnline.
"I like him as a player because he is good with his left foot, right foot and has a good view of the pitch. But he needs to improve, he is not just a talent any more he is a national team player and expectations are strong.
"We will give him every support. It is about building a good relationship with the players, showing them what they have to do to improve. It starts in the morning and finishes in the evening."
Telling it like it is
Koeman has already hinted that he can be more authoritarian behind the scenes than the jovial front he puts on for the media and the cameras and after three years of Martinez's sunny rhetoric but deteriorating record, that will come as music to most Evertonians' ears.
"I don't like to lie or even make the picture nicer than the picture is," Koeman explained. "If we play bad, we play bad. I think that is the way to win. Put ambition and high standards to everybody.
"I am a nice man in the press; in the dressing-room, sometimes different. You need to be critical if you have reason but most of the time, you keep that inside the club."
---
Reader Comments (78)
Note: the following content is not moderated or vetted by the site owners at the time of submission. Comments are the responsibility of the poster. Disclaimer
Ian Jones
1
Posted 19/06/2016 at 06:29:40
How refreshing...
Steve Bingham
2
Posted 19/06/2016 at 07:15:27
I wonder how our self professing world class superstar striker will handle a large slice of brutal honesty from the gaffer ? It may be the first ever time he has not had it all on a plate served up with a silver spoon ! I am guessing he will want away even more sharpish than attempting to improve as a player and learn under the new management team .
Martin Nicholls
4
Posted 19/06/2016 at 08:24:12
Like most others I'm keen to see how he can improve John Stones. Funes Mori, a player I'm undecided about, seems to have gone under the radar in this debate so it'll also be interesting to see if RK can help him bring the consistency he shows at international level to the PL.
Colin Glassar
5
Posted 19/06/2016 at 08:45:40
I like what I'm hearing.
Bob Butchard
6
Posted 19/06/2016 at 09:01:15
So refreshing, plain talking, realistic, all backed up with a great c/v. Why would any player want to leave ? Stones , Lukaku, Mori, Barkley are a must to improve in the new environment and with the academy, a few new key signings and a rejuvenated following on the terraces, any player should be excited to be involved in this new era.

Jim Lloyd
7
Posted 19/06/2016 at 09:01:46
I can't wait for the opening match! I don't expect us to suddenly morph into title contenders by the start of the season. Ron will not have had time to make that drastic a change, in my view.
What I think will be the major change that will be apparent, is our attitude; and also our approach to every game. Ronald Koeman is setting the scene for our players...and they better react!
Roll on August!
Aidy Dews
8
Posted 19/06/2016 at 09:03:55
Anyone who has seen Southampton a lot over the last 2 seasons will know that Koeman's teams play really good football at an high tempo. They press and work hard and their football was quick and slick at times, but could defend also. I just hope he gets the required quality in and makes strides with the squad straight away with his methods and ways of working and we hit the ground running.
With a manager now that commands respect and believes in discipline, doesn't butter players up and shoots straight from the hip and says it how he sees it, has that work ethic, organisation and has his teams fit, this will all be a great benefit to the club and it's what we need after the last 2 seasons!
And I'm liking what I'm hearing when it comes to the likes of Barkley, I'm liking the approach he's wanting to take. He knows Barkley is a good player but he still thinks he needs to improve and get better. He won't wax lyrical every week about him and massage his ego, if he's played well he'll say so but if he's not and hasn't pulled his weight, then he'll tell him, even drop him sometimes no doubt and after the past 2 season I think this is exactly what Barkley needs to kick on now, a bit of tough love. He was given a platform to come in and just play but now hopefully he's going to learn how to become a top player, learn his role, work for the team and be rounded off.
And looking at Koeman's track record with CB's in the past few years, the likes of de Vrij & Martins-Indi at Feyenoord, Alderweireld, Fonte & van Dijk at Southampton, he can clearly pass on his wisdom and get the best out of those types of players and IF we can hopefully keep Stones, then I'm sure he will learn a great deal off of Koeman and start to really show his true potential. And I'm sure he'll work wonders with Funes Mori aswell has there's a decent CB in there aswell!
It feels like it's gonna be exciting times finally at Everton. We have a world renowned manager that is well respected and well thought of in the footballing world, who is a good manager and has his teams playing a good brand of football who is a straight talker and seems to take no shit and also has a great eye for a player and I'm sure he will build us up and put us right back on the map of English football!
Tony Draper
9
Posted 19/06/2016 at 09:05:21
One word for your Ronald mate, just one.
Silver.
Robert Elliott
10
Posted 19/06/2016 at 09:19:18
"I don't like to lie or to make the picture better than it is, if we play bad we play bad". You mean we've heard the last of words such as incredible, phenomenal and great moment of form?!
Olalekan Taofik
11
Posted 19/06/2016 at 09:20:25
I think I like Ron for his Dutch philosophy and the style of play he is bringing in.
He is willing to make Ross a better player; this is highly welcome.
Let the game start!
Ian Burns
12
Posted 19/06/2016 at 09:22:36
His philosophy sits well with me and I am sure the vast majority of Evertonians and the more I read the more I anticipate the new season with excitement along with more than a little hope.
I really hope John Stones sees the benefits of working under Koeman; Ross along with the other players will benefit enormously I am sure - but I am also just as sure that Lukaku will go no matter what RK has to say to him.
Bring the new season on!
Ian Bennett
13
Posted 19/06/2016 at 09:24:54
Really looking forward now. Barkley, Stones and Lukaku would all benefit next season by working with this guy.
If the latter two leave, they will have to contend with high media scrutiny over big transfer fees on incomplete talent. John Stones had a difficult season, but can you imagine his confidence if that had happened at Chelsea with a £40m+ fee? Professionally they'd benefit from another year, and could see that improved contracts could be a decent compromise to give it another year. Both have time on their side for a 'big' move.
Sunday's see us linked with Schneiderlein which I guess is dependent on Matic moving to United. I'd be happy with him. He's a decent player that would cement one midfield berth and would make us harder to beat having played brilliantly under Koeman. Sign another and that puts a big question on the futures of McCarthy, Barry and Besic. My guess that all 3 could be gone over the next 12 months.
Matt Williams
14
Posted 19/06/2016 at 09:31:39
I expect every player to improve by at least 20% now we have a proper manager on board. Not actually sure how you quantify that. Just getting them fit to compete for 90 minutes will be a vast improvement.

Not sure he can do anything with McCarthy though. A player who makes Claus Thomsen look like Iniesta.
Paul Ellam
15
Posted 19/06/2016 at 09:41:24
Saying all the right things.
Now it's time to show us what he wants by bringing in a few players of quality.
John Graham
16
Posted 19/06/2016 at 09:45:09
At the moment it's all talk, good talk but just talk. We won't be able to see the true effect of his appointment and how he will set up the team until we get into pre season games. Like the thing he says and how he comes across at the moment.
Guess there will be a few bumps in the road along the way and there will be a few players who stay, go and come in that we all won't like but I'm already feeling excited about next season unlike with Martinez where there was a feeling of being on edge and nervous.
Fortress Goodison here we come.

Laurie Hartley
17
Posted 19/06/2016 at 09:47:41
I like this bit:
"I like to play attacking football and to press the opposition, to make it difficult."
It may be the Dutch style but it also sounds very Harry Catterick and Howard Kendal to me. I think we are in for some good times ahead.
Phil Walling
18
Posted 19/06/2016 at 09:49:00
Well, that's the philosophy covered, all we want now is action.
Jim Lloyd
20
Posted 19/06/2016 at 10:00:23
I think the action will have already started. He will be checking with Dunc and Rhino, all the points of each player in their respective squads, in great detail. Good points and bad, strengths and weaknesses and definitely, character traits. I guess he'll also be weighing up Dunc and Rhino as well.
So, until he's seen the players, weighed up whether the're staying or going, then I don't think we'll be seeing a lot of action until the players come back. But I think the preparation will be well underway.
Danny Broderick
21
Posted 19/06/2016 at 10:03:40
We obviously need a keeper, but I think the biggest changes will have to come in midfield. I think we have the personnel to have a really good back 4. It just needs organising. And if we keep Rom, get his head right and give him the service, he can get us 25 goals again.
For me, the whole midfield needs a re-think. We can't have 2 centre mids whose sole purpose is destruction. We can have 1 maximum. McCarthy has the engine to burst forward more, I'm hoping Ronald addresses this. Likewise, I don't want to see Barkley trotting around overweight with no thoughts of defending. He needs to get properly fit, and do some of the basics a bit better. The wide positions should take care of themselves, between Lennon, Deulofeu and Mirallas, as long as they are fit.
If we can just sort out our centre mids, press teams a bit higher up the pitch and push the defence up a bit higher, we'll have a decent season, because the other thing that was apparent last season was that we were way too deep. Oh, and we need a good pre-season, as I'm sick of seeing millionaire footballers who are not fit enough to play for 90 minutes!!
Colin Glassar
22
Posted 19/06/2016 at 10:16:01
After the last world cup, Roberto said we wouldn't see the best of our players until January. Somehow I doubt Koeman will come out with such a bizarre statement.
As much as I liked Roberto I now feel like the cheated husband who was the last to find out about his wife's extra-marital affairs. I feel very angry with him now.
Anthony Jones
23
Posted 19/06/2016 at 10:25:02
An incredible statement. Just phenomenal. What a moment.
John Zapa
24
Posted 19/06/2016 at 10:26:41
I'm not convinced of all this hot air talk. He is saying all the things he knows supporters what to hear, by portraying himself as the opposite of Martinez on everything.
If Rom and Stones leave, I struggle to see a top 10 finish.
Also I'm worried about how the club is suddenly willing to throw millions about, whether thats for Martinez and Norman's compensation, huge salary increase in the managers position, then all the talk of bumper contracts for many of the players. Add to that the potential DOF position which would need another big salary. Soon Kenwright will be demanding a multimillion pound salary for the chairman's role....
John Zapa
25
Posted 19/06/2016 at 10:27:53
Auto Spellcheck has turned Koeman into Norman!!
Barry Pearce
26
Posted 19/06/2016 at 10:36:09
Saying all the things I wanted to hear.
He was always my first choice from day one. I believe Ronald will be the man that makes us a force again. COYB.
Marc Jones
27
Posted 19/06/2016 at 10:42:44
John @24 I agree with the sentiment of your post but all new managers say the things supporters want to hear. I remember feeling giddy by Martinez early interviews (talk of title chasing CL football etc...) The reason I feel different about this is Koeman can actually back up his statements. He's actually won things as a player and coach. He took a small/mid table team (Saints)and turned them into a decent unit.
Now he's with us he's got a bigger budget, good academy and a massively underperforming squad that he can mould. If the like of Stones and Lukaku leave (I want Stones to stay btw) I trust him to replace them or evolve the style of play to suit players he brings in.
I think we're all in agreement we were one dimensional the last 2 years here's to 16/17 season seeing us adapt to playing teams with a Plan B and C.
COYB

Patrick Murphy
28
Posted 19/06/2016 at 10:47:12
As many have said previously, we've fallen for the talk far too often in the past to be swayed one way or the other by a new manager's rhetoric at this moment in time. I'm always a little bit wary of a new man saying the polar opposite of what the previous man has said.
Only once the pre-season matches are under way, and more importantly when we have played half-a-dozen or so Premier League games, will we know how Ronald is going to shape his team and how his players are reacting to their new boss. Add to that the inevitable changes to the playing staff and we could be in for a rocky ride at the start of the season or we might be fortunate and everything falls into place - who knows?
Incredibly Ronald is the oldest manager to be appointed by Everton FC which is a good thing because that experience will be invaluable in the coming months. Oldest Boss
Like many others, I'm not that interested in philosophies I'm only interested in seeing a team that represents the supporters on the pitch and broadly reflects the values of the club but most importantly a team that shows us that they care and that they want to win every time they take to the pitch.
At least 31,000 fans have backed the club with hard cash and they and everyone who supports the club deserve to have a team that they can be proud of and hopefully Ronald is the man to provide such a side, but words and charm offensives won't matter a jot if the results are not an improvement on the last 18 months - we've been down that road far too often in the last 20 years.
Jon Withey
29
Posted 19/06/2016 at 10:51:35
All sane stuff. What most fans want to hear - so a bit strange that he is already being criticised for it.
So, they've listened to what the fans want - damned if you do, damned if you don't !
Martinez spent a lot of time building up the young players confidence but I think a bit more structure and discipline will do Ross some good - a base to express himself from.
I wonder if he'll agitate some of our current squad, e.g. Lukaku - it might have to be the price paid for progress.
Losing Lukaku could definitely affect our league-standing - but I don't see that Stones has had much affect on our last season.
I'd happily sell-to-buy both of them if it meant a more cohesive team.
Ian Hollingworth
30
Posted 19/06/2016 at 11:00:38
All good so far
I am liking him more and more
Now for the signings to improve the team and finally start showing some real ambition.
COYB
Daniel A Johnson
31
Posted 19/06/2016 at 11:02:26
Its clear to me Ronald Koeman is in a very important moment with the club. His first few days have been incredible and I hope he moves forward with phenomenal momentum.
Bye bye side ways passing, bye bye doing nothing off the ball.
With Koeman shit is shit and he will tell you to your face.
Some of these players are due a rocket and they fucking know it.
Rocket Ronald will light a few fireworks and if any of the soft lads don't like it they can get out of goodison pronto.
Welcome to the new era boys pre season will be a shock to the bloody lot of them.
Brian Harrison
32
Posted 19/06/2016 at 11:26:40
Koeman is not saying the opposite to what the charlatan spouted to win over the fans. He is saying this is how I manage and this is how I want my team to play. Yes it is the complete opposite to what we have had to endure for the past 2 seasons, because RMs philosophy of style being more important than results and possession being the be all is not how Koeman will want us to play.
I like the fact that he has said its time for Barkley to step up to the plate as an international player and not be assessed as a young player any more.
Andy McNabb
33
Posted 19/06/2016 at 11:29:46
Phil Walling #18 - you have summed it up. Of course he is going to say the right things at this point and it is relatively easy.
I just remember the wave of positivity that arrived with Martinez - we "loved his positivity" and demanded a better approach than the "Moyes misery".
Don't tell me I'm being negative. I'm just yet to be impressed. I desperately want him to do well for us but I was told on TW that I just had "pre-wedding jitters" when I expressed concerns re Martinez' appointment.
Good that he has time to address the squad situation well before the season starts and nice we have someone who isn't simply trying to escape a team he got relegated but let's see what he can do before we start salivating. The higher we build them, the further they fall.
Phil Walling
34
Posted 19/06/2016 at 12:05:16
I've vowed never to re-act to what ANYBODY at Everton SAYS in future and to concentrate on their actions - whether that be in respect of playing matters or shiny new stadiums on the riverfront.
Sod philosophies and five year building plans, lets judge the new regime on what they achieve. Points on the board and seats in the stand is all that matters. Talk, as always, is cheap !
Damian Wilde
35
Posted 19/06/2016 at 12:15:13
Sounds amazing! So different from the Spanish clown!
Attacking football, defensive solidity, being the boss of our stadium, pressing, high tempo, not pkaying keep ball (RM's fave), playing the best 11, hating losing, being positive but hard when he meeds to be...could he sound any better?
Excited!!!!! I'm starting to love the man...
Paul Conway
36
Posted 19/06/2016 at 12:19:10
I just hope he plays 11 top world class players, who are consistently consistent, with huge talent on the bench and chomping at the bit.
I can't help thinking that, when Funes Mori returns, he is going to be 3 times the player he was before he left and possibly captain material!
Everton Wint
37
Posted 19/06/2016 at 12:36:30
Brian # 32- spot on mate. Now we can judge him on his words and philosophy. RK is the type of manager, with the playing style, most of us, on here anyway have been screaming for. No more "possession for the sake of it" etc, etc. So let's sit back watch who comes and who goes, I personally don't care cos when their here I love them, when they go I love the replacement. Everton FC NSNO. RK will get us there within his contract or he'll be replaced "nothing will be the same"
Mike Allison
38
Posted 19/06/2016 at 13:03:26
Fellas, I know there's not a lot happening but we're taking 'reading too much into what someone says' to a whole new level here.
I guess he's saying the right things, but they're only "I believe in defending well, attacking well and winning" when it all comes down to it.
Yes that beats "I don't believe in keeping clean sheets and set pieces aren't important" but it's not exactly ground-shaking.
And you can't possibly be really called Everton Wint... can you?
Jay Wood
39
Posted 19/06/2016 at 13:09:57
Two items ticked on Moshiri's 'to do' list to date:
1) dismiss existing manager who was not delivering the required results and performances
2) appoint credible manager with the potential to improve results and performances
Moshiri still has to show his hand on retaining and recruiting players as well as revealing concrete plans on the stadium issue.
As for the manager and coaching staff, I think I'll wait and judge him on results and games played then any soundbites offered in the closed season.
Colin Glassar
40
Posted 19/06/2016 at 13:15:06
A bit off topic but I see Wenger is being offered a new two year deal. Does that mean Usmanov might now throw in the towel at the emirates? He's been a fan of Wenger but has apparently grow disillusioned over the last couple of years and with Stan the Man blocking his every move, who knows?
Sam Hoare
41
Posted 19/06/2016 at 13:29:10
Words are easy but at least the sounds are comforting.
Will be curious to see what moves we make this Summer and how he judges the likes of Mori, McCarthy, Deulofeu, Mirallas etc.
A GK is the obvious need and after that much will depend on who Ronald rates and who sticks around.
I would be happy to see 2 or 3 really good players come in rather than 6 or 7 good ones. Reckon Ronald can get a lot more out of the current squad.
Sam Hoare
42
Posted 19/06/2016 at 13:30:23
E.g Forster, Witsel, Lacazette.
Paul Black
43
Posted 19/06/2016 at 13:33:48
Colin, 40...
Wasn't it mooted early on, the plan was for him to follow Moshiri to EFC?
John Otway
44
Posted 19/06/2016 at 13:46:29
Colin. 40. It's an appetising thought having Usmanov on board. There are those who have suggested all along that Moshiri was merely the advanced guard. Doubtless it'll all come out in the wash!
Damian Wilde
45
Posted 19/06/2016 at 13:55:39
I don't understand the Usmanov talk. There are no credible links with him to us whatsoever, so isn't even a discussion point.
Brent Stephens
46
Posted 19/06/2016 at 14:02:55
I'll judge him by his deeds and performance not his words. I'll wait.
Ged Simpson
47
Posted 19/06/2016 at 14:06:15
If anybody is not excited I would be amazed. This is all brill. I would enjoy these times it and have fun whilst you can.

A bit of joy now, if it goes pear shaped at least you had a moment of joy !
Peter Gorman
49
Posted 19/06/2016 at 14:20:38
Not so sure we should be going for a Dutch philosophy - they haven't even qualified for the Euros.
Would prefer a German philosophy meself.
Damian Wilde
50
Posted 19/06/2016 at 14:43:19
Peter, what has the Dutch national side got to do with Koeman managing Everton?
If you like German, I believe one Premier League side has a German manager.
William Cartwright
51
Posted 19/06/2016 at 14:51:54
Colin (22) I know what you mean. Although I had my reservations about Roberto at the start I was quickly (too quickly) won over in 14 - 15 with the influx of Barry, McCarthy, Geri and Rom and the general happy days are here again feelings.
As the situation deteriorated and Roberto's ramblings and general mumbo jumbo worsened there was obviously no way back. However it is only now that the combination of hindsight and enthusiasm for the new manager is starting to bite.
RK has to say something to the media, and here he has not put a foot wrong. Also, whether consciously or not he has put Roberto's performance in the spotlight and the shade at the same time!
The real gulf between what Everton should have been, what they were, and the complete balls up he made of managing the club's team interests will become apparent very quickly. For me the question will be the balance RK manages to strike between re-invigorating the already excellent squad, the burgeoning U 21's and selected use of the mid to high end of the transfer market. Some task but I think Everton have got the right man for the job.
By association, Roberto may find it very difficult to be taken seriously in the UK in the future. Every man and his dog (except BK) new how badly under-performing for the last 2 years, and with RK at the helm, if we do as well as we could then this really could be a surprising season!
Danny O'Neill
52
Posted 19/06/2016 at 14:54:11
Either would do for me gents. Both are similar in that they are probably where English football wants to be; a blend of the tenacity and physicality we seemingly pride ourselves on with the technical ability we generally lack.
The Germans are probably more superior in terms of organisation and discipline (what would you expect), but the Dutch over the years have probably had more flair.
Either way, both have it right at grass roots which is where we are screwed. Go to any Dutch or German village (yes village) and compare the facilities to the mud patches our kids still play on to this day. And we wonder why we lag behind the other leading football nations.
Dutch is fine with me.
Paul Thompson
53
Posted 19/06/2016 at 14:59:44
I'm not sure what the grounds for critical comment on the lines of 'this is just talk' are given that at this moment that's all an incoming manager can do. Purely as talk, I think it strikes a nice balance between Moyes's dour realism and the hyped up uber-positivity of Martinez.
Patrick Murphy
54
Posted 19/06/2016 at 15:08:45
Colin (40) I hope your version of the future is fulfilled but couldn't it also be the case that Arsenal have half an eye on Koeman as Wenger's replacement, if he does well at Goodison Park, in a couple of years time?
It's also not beyond the realms of possibility that Moshiri, if Everton's ground move is completed, could cash in his chips at Everton FC and return to Arsenal in a few years time.
No concrete or even paper-thin evidence for any of the above scenarios but no less plausible than any others suggested.

Colin Glassar
55
Posted 19/06/2016 at 15:20:27
My understanding of the Arsenal situation is there was a power struggle between Usmanov and Kroenke and Kroenke won. There's no way Usmanov will ever get to control the Gooners while Stan is there, so If he ever wants to have control of a Premier League club, then he already has his man in place at one.
Usmanov and Moshiri weren't happy with the Kroenke acceptance of a top 4 finish every season and have greater ambitions than that. Let's see what happens.
As for German vs Dutch managers, I can't think of any German manager who's been successful in the Premier League... didn't Magath get relegated with Fulham? And as for the clown across the park? Well the verdict is still out on him; I hear there are problems in Mordor between Klopp and his transfer committee.
Ben Jones
56
Posted 19/06/2016 at 15:32:37
I don't understand this comparison of Koeman to Martinez.
The reason why I'm excited is quite simply Koeman is a better manager than Martinez. Its a step up. Martinez wasn't a step up from Moyes, more a sideways move with different style of football.
So I don't understand why everyone's saying be careful about Koeman, because Martinez also said the right things. Koeman is a lot better than Martinez, simple. That's why I'm excited, and seeing him in the press conferences saying all the right things can only help.
Paul Black
58
Posted 19/06/2016 at 16:27:45
Damian, 45...
Would it make it more of a discussion point if Moshiri and Usmanov had been partners for years? (They have, dude.)
I checked him out on Wiki... maybe you should; it's a very interesting read...
Peter Gorman
59
Posted 19/06/2016 at 16:27:54
Ha ha Damian, but wash your mouth out at the very suggestion.
I was thinking more in terms of philosophy, not individuals of the nationality, with a cheap dig at the Dutch for not qualifying.
Danny knows it; the German national side is full of quality youngsters who know they need to perform or they are out. Result of giving opportunities to players at an early stage, something I hope Koeman does. I am happy to indulge him for a while in that regard, irrespective of results, so long as there is evidence of progress.
On a side note, just watched the full press conference with big Ron and thought he handled the media with class, especially regarding his former employers, the Everton players under transfer speculation and his opinion of our playing squad. In essence he said, these are things I would rather discuss with those concerned than with outsiders. The way it should be.
David Price
60
Posted 19/06/2016 at 16:29:07
"You have to be boss of your own stadium"
Love it...
Don Alexander
61
Posted 19/06/2016 at 16:49:15
If any of our players want to leave without trying to improve under a manager such as Koeman I'll treat them with the contempt they deserve. Stones and everyone of our defenders and midfielders would be the opposite of professional if they ignore the advice of one of the best defender/midfielders in history. Oh, and in 600 games he also scored over 200 goals besides! So maybe he knows something to benefit strikers too.
Whenever I saw him play he exuded strength, class and even arrogance but boy did he earn the right to do it. I hope he shows the squad the same "Kean M.O", and has no time at all for wimps.
Colin Glassar
62
Posted 19/06/2016 at 17:00:11
Apparently, Mr Ryazantsev (Moshiri's main man) has told Lukaku's agent to get stuffed. According to some reports they met this weekend and bigmouth Raiola was told to forget a summer move. He will have to find a commission somewhere else.
Paul Black
63
Posted 19/06/2016 at 17:11:04
Colin, 62...
Where did you get this from please?
Mike Green
64
Posted 19/06/2016 at 17:24:32
Colin - interesting.
I was thinking about the Rom situation last night, especially in view of RK's comment in one of his appearances saying "you don't sell your best players".
If you remain objective about it Lukaku is undoubtedly one of our best players (he's one of our only strikers for a start) so it makes sense that RK's told them to forget it.
I'm sure he will be looking at strengthening around Lukaku rather than looking to spend time and money replacing him, and given he's still got three years to run on his contract we're not compelled to do so either.

Jim Bailey
65
Posted 19/06/2016 at 17:29:20
Ffs, RK is our new manager.
The guy's done nothing yet and already there are people raising questions about his skills, temperament etc.
Listen up you glass half empty merchants, this is a world renowned and respected player who hasn't been too shabby in his managerial career either.
Give the guy a chance, Martinez is but a distant memeory.
COYB
Carl Sanderson
66
Posted 19/06/2016 at 17:29:26
I don't care if he speaks in Dutch, English, Swahili or Serbo-Croat. I don't give a toss if he does the mad scene from Lucia in the dressing room, or the Dance of the Sugar-Plum Fairy during the pressers. He can dress in a chicken suit at training, for all I care. As long as he can organise a defence.
Craig McFarlane
67
Posted 19/06/2016 at 17:32:00
Colin - poor Raiola! At least he's going to get a big payday out of Ibra eh? Else he might not be able to put food on the table....I can't stand these agents, absolute leeches!
Colin Glassar
68
Posted 19/06/2016 at 17:40:43
Mike I agree. I'm sure he will want to build his team around JS, Barkley and Lukaku and the best way to convince them to stay on is tell them that, and hint at the kind of players he wants to bring in to support them.
I'm almost 100% certain that Stonesy and Ross will stay. Rom as well although by default.
Paul Kossoff
69
Posted 19/06/2016 at 18:37:11
I'm looking forward to a top-seven finish minimum this season. I can't wait to see who he brings in and who he let's go.
I'm sure that Ross will knuckle down and improve or at least go back to his form of Martinez's first season.
Lukaku – I'm not convinced he even thinks he has to improve his abilities. I would love him to stay and try to get a top four or five finish, but I think his dad's got other plans for him.
Danny O'Neill
71
Posted 19/06/2016 at 19:21:34
Colin, as I said previous on the German / Dutch thing, I'd take either.
The being successful in the Premier League thing doesn't wash with me personally. I would argue most top German managers have never felt the need to "prove" themselves in the self-proclaimed best league in the world (4 European Champions in 24 years since the Premier League's existence hardly constitutes dominance). Whereas managers from Erd Divisie may see the Premier League as a step up, perhaps those in the Bundesliga don't.
Splitting hairs but Dutch or Deutsch fine with me.
Colin Glassar
72
Posted 19/06/2016 at 19:33:23
A combination of German steel and Dutch flair would be perfect then, Danny.
Danny O'Neill
73
Posted 19/06/2016 at 20:53:23
Facebook Like Colin!!!
David Edwards
74
Posted 19/06/2016 at 21:06:26
Patrick (#28),
I agree with your overview. I am very excited by these statements from Koeman, but I was equally upbeat with Martinez's opening utterances too. Most of us were, I remember.
I think we are talking about a manager with experience and gravitas now though – but it'll be how he builds his own squad and stamps his authority tactically in that first month or two.
This will be the true measure of how far this 'project' will take us to the silverware we crave. If he can give us a real boost over those first two months, we are going to be near the top come the end of October. After the Spurs match, I see every other match as very winnable!
Paul Andrews
75
Posted 19/06/2016 at 21:44:19
A mate of mine who is involved in youth football coaching in the Southampton area told me a fascinating story about a day he had at Southampton training ground watching a session Koeman took.He made a report of his day.
I will ask him to email it to me and post it. He is on holiday at the moment with his lady,not sure she would be pleased with him talking football on a romantic break but you never know.
Eric Owen
76
Posted 20/06/2016 at 02:08:09
"...we are the fourth most successful club in the history of English football with nine championships, as many as Manchester City and Chelsea combined."
For me, I just loved what he said above. Watch out everyone, "Elvis is back in the building".
Ian Linn
77
Posted 20/06/2016 at 05:39:07
Nice words I guess but they mean nothing.
Koeman - and don't get me wrong I'm happy about his appointment - will be judged by the results.
Football, like sales, is a results driven business, live or die by the number, dutch style, complete football, total football, shit football, nobody gives a fuck so long as you are winning, I'd take shit football 1-0 victories all day long.
Paul Black
78
Posted 20/06/2016 at 09:17:22
Ian Linn, 77...
Your mentality of being accepting of 'shit football' and taking '1-0 victories all day long' and your proclamation that 'nobody gives a fuck as long as we're winning' is the polar opposite of what myself and I'm sure many others are trying get away from.
Well, I care... and I would guess that, if not all, the vast majority want attacking football. I want to see us 'bossing' matches at home. I want to see a squad all playing for each other, the coach and ourselves. I want 3-0, 4-0 uncompromising, clinical dissections of anyone who's in front of us and a fucking lot less of people like you and your 'small potatoes' thinking.
"I'd take shit football 1-0 victories all day long" – your 'potato' ambitions remind me of someone... are you David Moyes?
Alan McMillan
79
Posted 20/06/2016 at 12:53:24
His pressing style of play demands that the players are fit. It is essential this is sorted out if they are to execute his game plan effectively. My worry is, with so many away on international duty until later on in the summer, his preparations may be impeded.
Very encouraging to hear what he has to say; no shite, just honest talk. And the fact that he's actively working playing and non playing staff so early in the summer rather than doing media work for ESPN!
Perhaps we may win something this year with a fit team who believe in the manager and who believe in each other; a piece of silverware would be nice to mark the 30th anniversary of our last league title.
Matthew Williams
80
Posted 20/06/2016 at 15:06:25
All I ask is for next season is...
1. Win the League Cup.
2. Win at Anfield.
3. Finish in a Europa League qualifying position in the Premier League.
Not asking for too much from a Gaffer on ٣-7 million a year!.
Damien Wilde, I wanted De Boer cos he won a League title as a manager of Ajax, then he did it again, then again, then again! I'd be happy if any boss at our great club could win 4 derby matches on the bounce!.
Me, I'm cautious, that's all. Unless we win at Anfield I doubt we'll win anything meaningful EVER again. We can only hope and dream...
Danny O'Neill
81
Posted 20/06/2016 at 16:43:08
Well said Paul Black. I seem to recall major discontent on here when we used to do exactly what Ian Linn advocates during the Moyes era.
We've literally been there, seen it and done it; wins you nothing and has negatively impacted on the mindset and expecation levels of a generation of Evertonians. We then had a manager who placed far too much emphasis on the style he wanted to play and seemingly prioritised performance over results.
So results first; yes. But not at all costs (subtly different). Style yes; but combined with substance and a desire to win
If we're going to rise to heights we have previously occupied, amongst other things, we must believe like, behave like and think like a big club once more.
Paul Black
82
Posted 20/06/2016 at 18:33:15
Danny O'Neill, 81...oh man, I have had to bite my tongue so many times but then again, there's only so much any man can take right?
Danny, the sun is shining blindingly and it's all hanging over Goodison Park right now for the first time in decades. I want this to be a time when I can talk with some conviction about almost anything related to our club because I have complete belief in Koeman and Moshiri. I want it to be a time I can enjoy and talk about what I want to see happen in the future knowing there's a good chance it could.
I don't want to listen to those (who thankfully seem to be in the minority but who I still find disproportionally annoying) bang on about what they're prepared to settle for....ouch!
It's over! Those days are gone! It is a new dawn, not another false one and it's happening right now and just how cool is it that this has come about, eh?
I wonder what we'd be talking about if BK was still the main man and no Moshiri in sight...no money would have meant we'd be advertising Lukaku and offering his agent an extra 5% if he guaranteed to get us our 㿈m back. Instead of talking about a 21st century spanking new riverside stadium we'd probably be having a whip round so we could get some urgent pointing done or ask for volunteers from our brothers and sisters in the building trade.

And then, the new coach. Ahhh possibly having the choice between Neil Warnock and a semi-retired circus monkey looking for a less mobile and more settled position. You can imagine the questions...can the monkey talk? No but he's very tactically adept and he'll work for Green Shield stamps. Can Warnock juggle 3 coconuts like the monkey? No he can't do anything as well as the monkey.
Gutter level ambitions will take us to the gutter and to paraphrase you Danny, without believing, behaving and thinking like a big club, we never will be.
Ian Linn
83
Posted 21/06/2016 at 14:33:00
Paul Black, there isn't a football fan in the world, me included who doesn't want " 3-0, 4-0 uncompromising, clinical dissections of anyone who's in front of us " – but very few teams achieve that.
Likely I had been drinking when I made that post – don't get me wrong, I want to see good football too but, for me, the results come first.
So, which game did you enjoy the most and have the most pleasant memories of, the 0-1 at Newcastle where we slugged it out and scored in the last minute, or the 3-3 against Saints (or Chelsea; take your pick) – plenty of goals, end-to-end, last-minute action.
I preferred the Newcastle game.
---
Add Your Comments
In order to post a comment, you need to be logged in as a registered user of the site.
Or Sign up as a ToffeeWeb Member — it's free, takes just a few minutes and will allow you to post your comments on articles and Talking Points submissions across the site.
© ToffeeWeb