Opinion
32 Years, 32 Seconds: My Delirious Goodison Pilgrimage
Mike Gaynes
18/04/2017

200 Comments
[Jump to last]
Share:
So let's start with this picture. It's pretty rare that the most unexpected, mind-blowing moment of your life is captured in a photo, but that's what this is.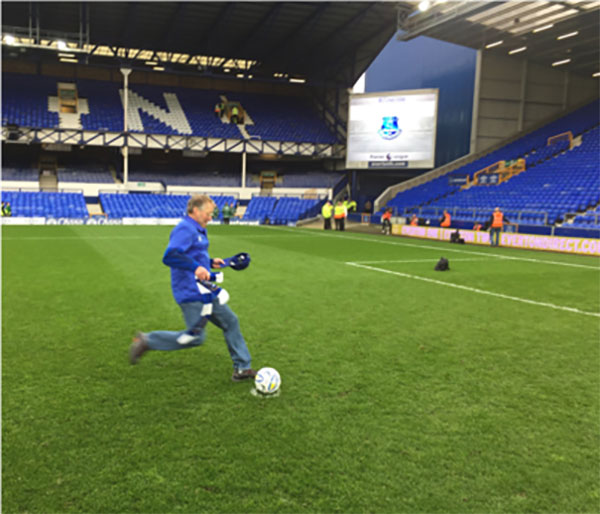 April 9, around 6pm. The delirious clown with scarf in one hand and hat in the other is me.
And I'm taking a pen. At the Park End. AT GOODISON.
I'm like a Vatican tourist who just jumped the fences to stand where the Pope delivers Mass on Sundays. Ridiculous. Impossible.
So how in the hell did this come to happen?
OK, first the backstory for those not aware. I've been a US Blue since '85… not easy when American TV was showing one English game a week, always ManU, Arsenal or you-know-who. Couldn't support a team among that bunch, so I just cheered for whoever ManU was playing.
The moment that turned me into a Blue was Kevin Sheedy's famous double free kick against Ipswich in the Cup tie. Pure magic. After that I followed Everton in the newspaper and caught a few more games on TV. I watched the '95 Cup final in a California soccer bar (UK translation: footy pub) packed with several hundred ManU fans and one solitary Blue… cheering Rideout's goal very, very quietly.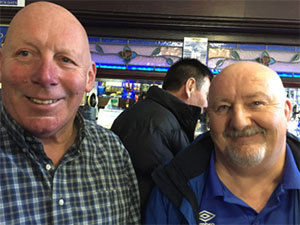 Pete and Keith. Everton spirit personified.

I joined TW around 2006, making friends (and enemies) and enjoying the fan experience vicariously until I could finally get around to making the Goodison pilgrimage myself. Someday.

Many of you know this next part. Incurable cancer. Surgery, treatment, complications. Shit, you fucking idiot, you waited too long… never get to Goodison now.

But I caught a break. Remission. Unexpected, glorious remission. Time added on. And not just time, but really good time, strong, not sick, feeling great. So no more waiting. Wife off to her native China to visit family. Have a good time, dear. I'm going to England.

And when I posted my intentions on TW in January, I got a flood of get-your-ass-over-here-mate-we'll-take-care-of-ya. Eventually two magnificent gents named Peter Mills and Keith Harrison stepped all the way up to deliver everything from travel guidance to tour services to game tickets.

Blue Mecca, here I come.
Day 1
One day. In chronological order, three planes, four trains. If there's a record for the most conveyances in a 24-hour period, it's mine. After a puddle-jumper flight from my little beach town to Portland, and then a slightly bigger hop from Portland to Seattle, British Airways to Heathrow (awesome movie selection, not enough food), and then the Underground to Kings Cross, transfer to London Euston, and a Virgin Train to Lime Street (with a change at Crewe). This is a Steve Martin movie.
People keep asking about my Everton ballcap, from the BA flight crew to the immigration man to the young Irish lawyer on the train who studied in my hometown of Chicago and with whom I chat sports for over an hour. (He turns out to be a ManU fan, but I don't say anything sarcastic.) And all the way I'm wondering how the ToffeeWeb contingent awaiting me will react to the strange Yank dropping into their midst.
I'm met at Lime Street Station by His Honor Rob Halligan, the white-haired Official TW Ambassador to Visitors From The Colonies. As he walks me to my hotel, I realize there's a serious language barrier. I've played footy with Englishmen, Irishmen and Scots over the decades and thought I could handle most accents, but the scouser variant is beyond me. I'm able to grasp about one out of every three words Rob says to me (with the hotel desk clerk it's one out of four). Gotta be driving Rob crazy asking him to repeat everything. But his patience with my density is limitless.
We take a little walking four around the Liverpool One area, with the first stop being the Everton Two store (ah, Liverpool One, Everton Two, may it actually happen someday!). I steal a jersey for £20, marked down from 50 — perhaps because the Chang logo is going away — and I have my kit for the game. Rob shows me our owner's latest acquisition and explains what a Liver bird is, then I see for the first time why Evertonians regard Kings Dock with such wistfulness — what a setting that would have been for the club. After my first UK fish and chips, it's back to the hotel for an extended coma.
Day 2
My TW travel agent Peter Mills treats me to an auto tour of Liverpool, including a swing by our future home at Bramley-Moore Dock — no sewer smell detected — and the Hope Street cathedrals, before I finally get my first look at Goodison. We do a couple of loops around the park to see the historical displays, and then it's on to Pete's home in Crosby for a pastie-and-pie lunch in his garden and a quick trip to the expansive beach on the Irish Sea, with the eerie standing sculptures in the mud.
And then I get to see my very first game in Britain — an Ivo-Stik Premier Division game (7th level of English football) between Pete's hometown Marine AFC and visiting Mickleover Sports. I love local grounds like this with houses on all sides, one covered stand and crowds of 300 or so. I want to buy a Marine jersey because hey, who else in America has one? Unfortunately, they've already run out for the year. In a less-than-cracking late-season battle for 18th in the table, the home side scores first but fails late in a 3-1 defeat. (Typical Marine!) Given the perfect weather and Pete's delightful company, I can't imagine a more pleasurable day.
Except, of course, if I'd bet on One For Arthur to win the Grand National.
Day 3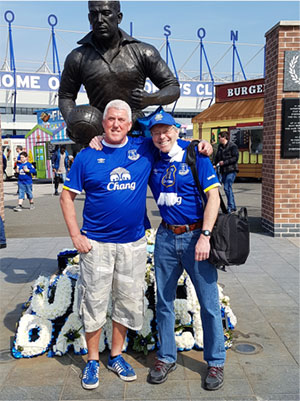 With two big fellas — Dixie and Rob Halligan

Today's the day. Rob and Keith are my "minders"… and after a quick lunch and more shopping at Everton One, we are walking into the legendary Winslow. Half a Guinness (my limit) and I meet more ToffeeWebbers — David Greenwood, Patrick Murphy, the well-dressed madcap Kevin Tully. Then it's off to the Dixie Dean statue to meet a TWer none of us knows named Kev Johnson, who had posted on a thread suggesting some pregame photos there. But when we meet, Kev grabs my hand and tells me we'll get photos later — on the pitch. WHA? HUH? On the pitch? Who is this gent? I'm so gobsmacked I can barely respond before he's gone.

OK, Keith, let's head inside. Through the Park End gate, up the stairs and out… and there it is. The green pitch, the blue seats, the footballs flying around. I'm here. And I lose it. I choke up and start leaking. Damn, Keith, I thought I had fucked this up. No, mate, he says, you made it.

And there's Kev down on the pitch. He's a part-time groundsman, using that long metal thing to tamp down the grass after watering. How lucky did I get to have him reach out on TW???

Keith and I talk a little footy… I opine that Schmeichel is a superb fundamental keeper but lacks the talent for the big saves… and then the seats are filling and I head up to mine in Row EE. Z-cars, the parade onto the pitch, Grand Old Team. I'm singing and overdosing on goosebumps.

Kickoff, and I'm officially watching Everton in person. Cool. I mention to the gent next to me that it's my first Goodison game after 32 years of waiting. And suddenly Super Kev is slicing through and being pulled down, and Davies arrives after a 60-yard run and fires home. The Park End levitates, and while I'm still in midair I glance at the clock and it reads 32 seconds. That's right, 32 years, then 32 seconds. You couldn't write that into a movie script. And I'm suddenly sobbing like a five-year-old. My neighbors must think it's an odd way to celebrate an opener, but nobody says anything.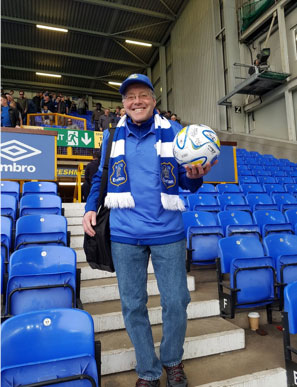 Of course, then we get pantsed on a counterattack, and then right after that Pennington makes another callow blunder and Joel gets caught flatfooted and suddenly we're behind. I'm not concerned, we're dominating. At that moment Kev Johnson comes bounding up the stairs and tosses me an autographed Everton ball and tells me to meet him down in the right corner after the game. I still can barely form words in response.

After that, there's no way we can lose. Sure enough, Barks hooks a two-iron onto Rom's forehead for 2-2. Then Barks is rounding Schmeichel for a sure… oh, my god, that's the guy I said never made big saves, and that was amazing. And it costs nothing, because Super Kev's corner is perfect and the captain flies highest. BAM. 3-2. The crowd is chanting to the Leicester supporters, "Up 2-1 and you fucked it up… up 2-1 and you fucked it up." Love it.

The second half is pure pleasure, especially after Jags soars for another corner and his deflection falls to Rom for the clincher. My neighbor and I are agreeing that Schneids is pure class, Barks is having a party and the previously-panicky Matty is now maturing before our eyes into a Prem defender.

And it's over. Two more rounds of Grand Old Team and the place empties out with startling speed, and Keith and I head down to the corner. Is this really gonna happen?

Yep. Here's Kev. He walks us onto the pitch, telling us to pretend we're old friends. (Well, we all are, sort of.) We get photos on the end line, and then in the goal, and then I actually have the bollocks to ask him if I can take a pen. Incredibly, he says OK. I put down the autographed ball on the spot. Keith goes in goal. Don't save it, mate. I sidefoot it like I've done my whole life and listen for the rippling sound of the net. I hear it. I must be hallucinating. That didn't really just happen. Hope we haven't gotten Kev in trouble. The Lukaku-sized official requesting our immediate departure from the pitch looks peeved.

And then the next day I find that photo on my phone. Snapped by Kev at the exact moment. You are one great human being, sir. Later Kev will tell me that the corner I picked for my pen is the same one Sheedy hit for that second free kick, the one that turned me Blue. Cosmic.

I never even dreamed a day this good.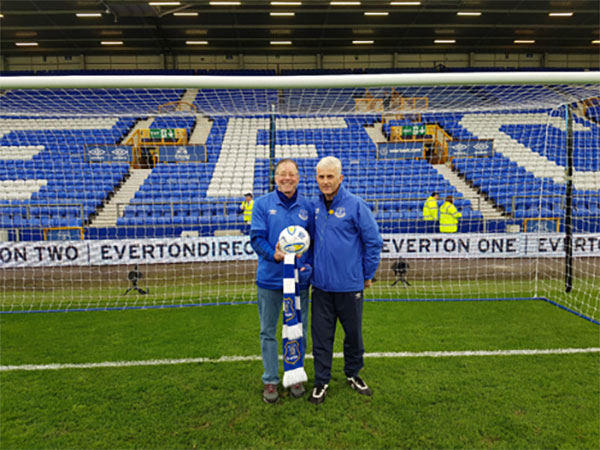 With Kev Johnson
Days 4-7
Scotland. Trains. Rains. Cullen skink. Raining in Fort William. Raining sideways in Mallaig.
Edinburgh is a fantastic walking city. Beautiful old buildings by the hundreds. Beautiful young women by the thousands. I photograph neither. I buy a cashmere scarf for my wife as a tacit apology for my impure thoughts. The proprietor is a Rangers fan who teases me about my Everton hat. I tease him about Kenny Miller's finishing.
End of travelogue. Paul Theroux I'm not.
Day 8
A lovely Lake District tour with Keith and a very comfortable night at the Harrison Hotel. The view from Keith's front door seems to take in half of Northern England.
Game tomorrow. What we are gonna do to Burnley….
Day 9
Great gathering at the Winslow… Keith, Pete, Patrick, Rob, Kev Tully, Kev Johnson and a great gent named Dave Carline all gather for suds and photos. Kev J. presents me with another extraordinary gift — an Everton leather sport bag filled with awesome swag, much of it Sheedy-related, plus a tracksuit. He even somehow found a program from that '85 FA Cup tie. Can't imagine the thought, time and expense that must have gone into assembling that package. Amazing. And then Pete walks in with a yellow Marine jersey for me. Since the club shop was out, he just rang up the team owner.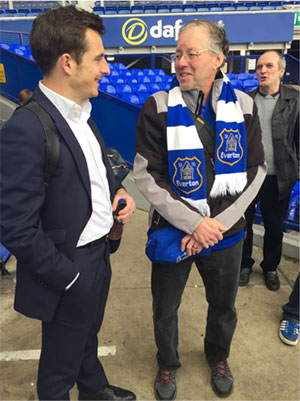 Baines and Gaynes
Turns out Keith has also been doing a little secret operating this past week… he contacted the club and got my photo and a TW welcome into the game program and onto the scoreboard display. At halftime the PA announcer is reading birthday congratulations and such… then suddenly he's talking about me and my first trip to Goodison. Keith is pointing at me and the fans in the vicinity are applauding. Too much, man, too much.
You'll notice I have skipped over the first half of the game completely. So did the team. The second half awakens when Jags forces a rebound over the line and does an actual cartwheel down the end line, but shortly thereafter Joel has the brain fart and the pen makes it 1-1. Nothing to fear, however, because Barks then pinballs a shot off two defenders for the lead, and then Rom pulls a 5G fighter-plane turn that leaves our future (?) CB Keane screwed into the ground. 3-1. So I've seen two 2-goal victories in a row. Thanks, boys.
Keith's last surprise is another postgame trip onto the Goodison turf with the rest of the posse, and we get photos with Baines and young Tom and visit for a few minutes outside with Duncan McKenzie, who it turns out was my close neighbour 35 years ago in Northbrook, Illinois near Chicago.
Another fantastic, incredible day at Goodison. How lucky can a guy get in one trip?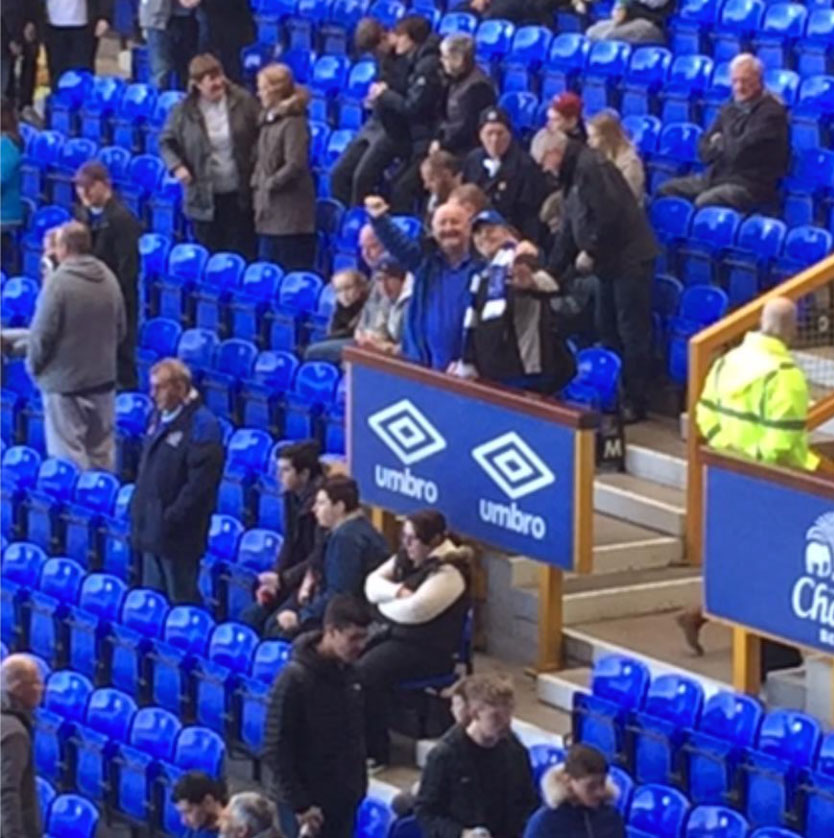 The view of Keith and me in the Park End from his seat
Finale
Planes, trains and automobiles back in the other direction. Texts from the lads wishing me a safe trip home and inviting me back. They actually seem to mean it. Who would have thought?
What Keith had the club put on the message board and what Kev texted me later keeps coming back to me… "Once Everton touches you…."
I wasn't just touched by Everton. I was enveloped in an affectionate bear hug. What kind of people would serve up such warmth and consideration to a stranger from way out of town? Everton people. Slogans like The People's Club, family and community are easy to recite, but my four hosts and literally everyone else I met on this Blue Odyssey lived it and breathed it, and went out of their way to share it with this pilgrim. Every thoughtful gesture, every laugh, every handshake and hug reminded me how incredibly fortunate I am to be an Evertonian.
So to Peter, Keith and his wife Chris, Rob, Kev J, Patrick, Kev T, David, Dave, Mike from Pittsburgh, Joe the Blue Taxi Driver, Bainesy, Row EE and everyone else inside the club and out who made this trip so special for me… thank you from the bottom of my heart. Whatever the future holds, please know that I will cherish your generosity forever.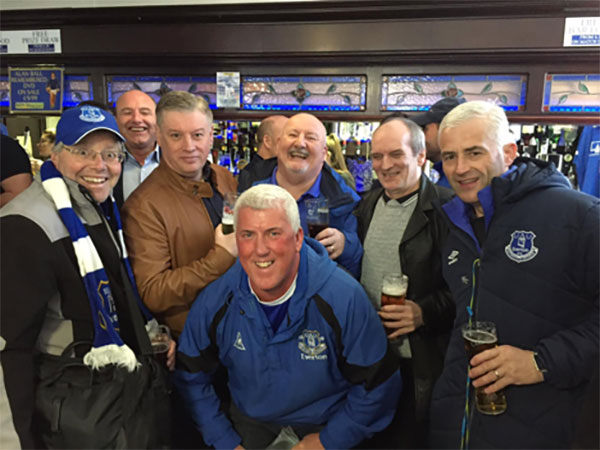 The Winslow gang.
L-R: Mike Gaynes, Dave Tarline (rear), Kevin Tully, Rob Halligan, Keith Harrison, Patrick Murphy, Kev Johnson
---
Reader Comments (200)
Note: the following content is not moderated or vetted by the site owners at the time of submission. Comments are the responsibility of the poster. Disclaimer
Adam Luszniak
1
Posted 18/04/2017 at 07:34:39
Wow! What an incredible read!
Dermot Byrne
2
Posted 18/04/2017 at 08:04:21
Now that put years in my eyes... a little embarrassing sat alone on morning commuter train.
So pleased it was great for you Mike and hats off to the lads who looked after you.
Steve Hogan
5
Posted 18/04/2017 at 08:10:59
Thrilled for you Mike, sounds like a great bunch of lads who made all the 'events' happen for you.
Call me bias, but I'm not sure any other club or its fans would have reacted in that way. it does make you really proud to be part of that 'family'.
Christopher Arellano
6
Posted 18/04/2017 at 08:15:31
As a fellow Yankee Doodle Evertonian, I read with pride and envy about your trip. Good for you! You made us (on both sides of the Atlantic) proud. So glad you made it.
I started following the Blues in '98 (long after you!) and made it to Goodison in December 2014. There's nothing like it. I am not sure how to put it. You dream of being in a great spot for years and the day never comes.
Then it comes and you are there and it feels like home and you are surrounded by people wearing Everton shirts and scarves.
Again, congrats. Great retelling of a day you'll never forget.
Brian Williams
8
Posted 18/04/2017 at 08:42:56
Congratulations Mike. Made up for you. Being a "survivor" myself I know how something like your incredible trip can have even more significance.
Hope you enjoy many more seasons of being a Blue!
Eugene Ruane
9
Posted 18/04/2017 at 08:46:43
Delighted your trip was all that you'd hoped for.
And well done to all those who helped make it so.
John Raftery
10
Posted 18/04/2017 at 08:48:41
A great story, Mike. Really pleased you saw two wins at Goodison. Well done for making the trip and to all the lads who helped make your visit so memorable.
Tony Abrahams
11
Posted 18/04/2017 at 09:04:31
A great story, made by great genuine people. I tried to make the effort, but I don't recall seeing any of those handsome faces in the Winslow on Saturday afternoon, Mike!
I would have recognised me arl schoolmate Kev, and it seems he's helped to make your trip that extra special, with your "Pen at the Park End" which has obviously helped put the icing on the cake!
Throughout my life, Football has made me loads of great mates, and it looks like it's just done the same thing for you, Mike. That was a really heartwarming story!
Dave Abrahams
12
Posted 18/04/2017 at 09:24:56
Great story Mike, you could never have dreamt a journey like that. Really pleased you enjoyed time with such brilliant company. Well done to all those Evertonians who made you so welcome. Again, Mike, good luck and good health in the future.
Ed Fitzgerald
13
Posted 18/04/2017 at 09:41:07
Sounds like you had a great trip, Mike, and witnessed two good wins as well. Certainly well deserved given your devotion to the cause from afar.
Well done to all the Blues who made it happen for you.
Barb Ellis
14
Posted 18/04/2017 at 10:23:00
Great post, Mike. I think I spotted you at Dixie's statue before the Leicester game. I had read in a previous post you were going to meet other Twebbers there. I heard an American accent and a face with a smile as big as the Mersey. I thought, yes, that has got to be you.
During the game, I kept looking over to the Park End, me and the hubby sit in the main stand MS4, kept thinking couldn't have been a better game for your visit. I wondered if you joined in when the whole of the Park End chanted "Who are yer, who are yer" at the Leicester fans?
I'm made up it was everything you could have wished for and then some, hats off to all those blues who helped to make your trip so memorable. Continuing good health is wished for you, Mike. NSNO.

Terry Underwood
15
Posted 18/04/2017 at 10:35:24
Glad you had such a great trip, the team didn't disappoint. To the lads who looked after Mike, a huge well done, what stories he will have to tell when he gets home.
David McKitt
16
Posted 18/04/2017 at 10:36:01
Lovely heart-warming story, Mike, great read. Thanks for sharing your experience with us.
Bill Griffiths
17
Posted 18/04/2017 at 10:46:13
Congratulations, Mike, great reading, glad you had a great time. Well done you Blue Boys who looked after him and made his dreams come true.
Jim Pearce
18
Posted 18/04/2017 at 10:52:19
Have read, re read and then re re read this and just smile even more each time I finish it
We just do it right don't we?
A wonderful read and glad you had an awesome time, Mike!
Colin Glassar
19
Posted 18/04/2017 at 10:53:09
Brought a lump to my throat, Mike. I'm made up you lived your pilgrimage to the hilt. I hope you make it back to see us crowned Champions in a few years time.
Paul Thompson
20
Posted 18/04/2017 at 10:53:36
Mike – you (and your hosts) are an inspiration to us all. Sorry I wasn't able to look after youyou in Edinburgh – you would have to pick that week!
And two wins out of two – doesn't get any better.
Chris Williams
21
Posted 18/04/2017 at 11:08:46
Wonderful story, what an experience.
Great people.
Rob Halligan
22
Posted 18/04/2017 at 11:18:39
Was a real pleasure to meet you, Mike, and so glad you enjoyed your trip over.
Mike was due to stay at my house on the Saturday night, before I took him to Lime Street on Sunday morning for his train. However, I only found out on Friday evening that he is allergic to cats, so he couldn't stay. Anyway, after a phone call or two, he managed to book himself into a hotel on the Albert dock. Sorry about that, Mike!!
As mentioned by others, once Everton touches you, nothing else is the same. For the majority of us, we just see going to Goodison as the norm, but to see the joy on Mike's face was something else. From his visits to the Everton stores, Dixie Dean's statue, the walk through the Everton fanzone, his pint in the "famous Winslow", his appearance on the famous Goodison turf and meeting players, past and present was a joy for all of us who had the pleasure to meet him.
Welcome to the family, Mike, and I'm sure Brian Labone wouldn't mind my slightly altering his famous quote: "one Mike Gaynes is worth a thousand Liverpudlians".
I left Mike on the Saturday evening, dropping him off at his hotel. Our last words were, "See you soon, either a cup final in the next year or two, or our first game at Bramley-Moore Dock. Once again, Mike, it was an honour and a pleasure to meet you.
Steve Brown
23
Posted 18/04/2017 at 11:28:12
Great scouse hospitality and an amazing pilgrimage for Mike. Born not made.
Ray Roche
24
Posted 18/04/2017 at 11:53:22
Well done, Mike, Livin' The Dream, eh? And well done to the Blue Boys who helped make the occasion an unforgettable one, including the team.
Colin Williams
25
Posted 18/04/2017 at 11:55:59
Magic read, thanks for sharing. Well done, Evertonians.
Barry Pearce
26
Posted 18/04/2017 at 12:03:18
What a (fan)tastic story, Mike.
What a great bunch of lads, who made your experience so very special.
Makes you proud to be an Evertonian.
Kev Johnson
27
Posted 18/04/2017 at 12:33:38
Hey Mike, you made me cry. Glad to have helped you .See you at Wembley next year. COYB
Stephen Brown
28
Posted 18/04/2017 at 12:37:37
Honestly one of the best articles I've read.
Well done to all involved! True Blues
Rick Tarleton
29
Posted 18/04/2017 at 13:20:34
A lovely narrative, glad you had such a great time and lovely to see the photographs.
Tony Hill
30
Posted 18/04/2017 at 13:42:38
What a tonic all of that is.
Keith Harrison
31
Posted 18/04/2017 at 13:45:25
Mike,
Glad you enjoyed the trip, and had a safe journey home.
Now be a good lad, and send our towels and cutlery back please.
Hotel Harrison,
N W Cumbria etc .
Hehe...
We do not choose, we are chosen.
Kev Johnson
32
Posted 18/04/2017 at 13:51:02
Keith, very funny. 😂
Ian Burns
33
Posted 18/04/2017 at 14:08:43
Mr Gaynes – what a read; what a trip and what wonderful company you kept during your visit. You can also add that you have never seen Everton lose at Goodison!
Like others have said, this brought a lump to my throat and I am happy to admit, a tear of joy reading this report and seeing that you finally made it to God's own theatre.
Thank,s Mike, really enjoyed that article. I'll drink a gin to you tonight!
Mark Creevy
34
Posted 18/04/2017 at 14:22:01
Mike, I've been lurking here for years, albeit with a login that had long since been forgotten. After reading this, I felt compelled to finally get around to retrieving my details and giving you a reply.
Reading that made my eyes well up with pride for being a Blue, and the lads that made you feel so welcome and 'one of our own' deserve extra credit, though if you'd never have met them I'm sure someone else would've stepped up to fill the void. It's an Evertonian trait.
Glad you enjoyed your time over here, and make sure it's not your last. Next time, bring the missus along!
Keith Harrison
35
Posted 18/04/2017 at 14:42:18
Mark (34). How on earth did you know Mike's Chinese missus is called A Long.
Scary that, mate!
Rob Halligan
36
Posted 18/04/2017 at 14:47:47
Hope you didn't slip any of that cheese stuff in Mike's bag, Keith. You know what those American customs officers are like!!
Mike Gaynes
37
Posted 18/04/2017 at 14:54:35
Thanks one and all for the comments. None of the credit for this story belongs to me. It goes to a bunch of great people and 139 years of tradition.
Rob, the honour was mine. Great meeting you and your lovely spouse. My apologies to the cat for the snub.
Keith, sorry about that but your spoons were just stunningly attractive. Couldn't resist. I'll ransom them for a little more Cumberland sausage. Heh-heh.
Paul #20, no worries, mate... in fact, many thanks for the information you sent on Edinburgh. I followed your advice and walked to Dean Village and along the Waters of Leith to Stockbridge, Leith and the Royal Botanical Gardens. It was an outstanding day of walking your beautiful city.
Tony #11, sorry we missed, would have enjoyed meeting you. We were at the end of the bar closest to the door.
Kev #27, it's a date. Nothing I'd enjoy more.
Paul Tran
38
Posted 18/04/2017 at 15:13:59
A great heart-warming read. The best of Everton, the best of Scouse.
I'm so glad you had a good trip, Mike, and so sorry I was in a different part of Scotland while you were here. Nice surprise you watched Marine. I grew up in Crosby and have fond memories of Rossett Park in the early 1970s.
As soon as the fixture list cones out, shall we crowd-fund a trip to the Goodison derby for Mr 100% Record?
Patrick Murphy
39
Posted 18/04/2017 at 15:23:11
Mike (#37),
It was you and your favourable reaction that made a trip to Goodison change from a routine past-time – to those of us who have been fortunate enough to be attending matches for years or even decades – into a very memorable occasion.
As has been posted, if it hadn't have been our pleasant honour of helping you out whilst you were in the UK, many many others would have been ready and willing to do the same and they too would have been chuffed at how you embraced everything about the club and its fans.
Everybody on ToffeeWeb will no doubt wish you well in the months and years ahead and I'm sure that we would all warmly welcome you back whenever you choose to return.
Without the aid of ToffeeWeb and the hard work of Lyndon and Michael, it wouldn't have been possible for so many fellow Blues to meet up and become friends and it is those two, that you should really thank for enabling you to make contact with those such as Rob, Keith, Kev and Peter and all the others that had the honour of meeting you.
Don't forget to pencil in the FA Cup Final date for 2018, you never know – Everton might just make it, and if they do, we'll all move heaven and earth to ensure you are there to see it.
Mike Gaynes
40
Posted 18/04/2017 at 15:27:00
That's a great point, Patrick, and you're absolutely right. I'm as guilty as anyone of taking Lyndon and Michael for granted, and I do thank you two gentlemen for your great work in building and maintaining this extraordinary online community. It was priceless for me in preparing for this trip.
Thanks again.
Peter Mills
41
Posted 18/04/2017 at 15:29:21
The reward for helping Mike out a bit was to meet and befriend him. He's a hell of a nice guy.

Gordon Crawford
42
Posted 18/04/2017 at 15:35:57
Glad you had a super time, Mike. :) And that you were treated so well.
Nigel Dooley
43
Posted 18/04/2017 at 16:12:25
That was the best read I have had on this site, it brought a tear to my eye, it sums up why Everton and there fans are second to none.
Well done to all the blues that went out of there way to help make it such a special occasion for you and all the very best for the future. Maybe the next time you visit will be at Bramley-Moore...

Peter Gorman
44
Posted 18/04/2017 at 16:33:51
I'm genuinely made up for you, Mike, and also very proud of the TWers who made the journey so memorable.
Plus, all of the above a great read; come over again soon and write some more.
Darryl Ritchie
45
Posted 18/04/2017 at 16:42:02
You have lived my fantasy, Mike. I'm so envious .
One day I will make the trip, hopefully twice. Once to the Grand Old Lady, and then a pilgrimage to the Blue Palace By the Mersey.
Happy to hear you're healthy. Stay well and make the trip a few more times.
Paul Columb
46
Posted 18/04/2017 at 16:42:59
I've been watching for your write-up Mike, rolled over at 6 or so this morning, opened TW on the phone and started the day well with a shit-eating grin. (Where the hell does that expression come from? Can't imagine elation at eating a bowl of shite.)
Great tale and memories to last a lifetime. When I used to take the trip from Alaska each year for the derby (the good lad Tony Marsh obliged with tickets), despite the results I would hit the hay each night for months after with memories of the push through the turnstile with a Winslow buzz in anticipation of all that was to follow.
Nothing beats the feeling of walking those final steps into the Old Lady, nothing. My first was into the main stand in '87 as a 14 year old, a 4-0 thumping of West Ham (Clark, Reid, Stevens, Watson) and I can still smell it, triggered by a whiff of some type of bleach cleaner which I only smell in south and central America these days. Christ knows what it was, but it's obviously potent and banned in most countries now.
My last game to date was the final game of the season 2011, the Beckford last-gasper against Chelsea, viewed from the letter box of the Lower Gwladys with my wife, her first time.
I'm really hoping this was one of many trips to Merseyside (and hopefully London for a cup final) for you. When you're planning the next, give me the heads-up. I really should have found a way to make it with you this time; would love to have shared your first pilgrimage with you. I'll likely be heading that way next spring.
Thanks to Lyndon and Michael for all you do and the Blues family at large for existing. Squeeze the memories to the last, Mike, and then fill up again next season. Let's have an ale at the ToffeeClub this spring next time you're in town... you have a tale to tell and I want it hear it to the last. Nil Satis...
Alexander Murphy
47
Posted 18/04/2017 at 16:50:41
Mike, I've literally been aching waiting to read this piece. It was well worth the wait. As others have correctly said above, welcome home.
The lump in my throat when the announcer read out your mention and your supporting cast at half time, had a signed football sized lump in in my throat.
Am I surprised that Royal Blues went to such great lengths for you? Not for one second Mike. Style and dignity since 1878.
Full credit to all of these guys, and still, had they not, then others would have "come on as subs", without a shadow of doubt. Just personally disappointed not to have given you a Bearpit Bearhug ! But that's me being selfish.
Certainly count me in on the crowdfunding suggestion, may not be a millionaire, but I'd hate to miss out.
As an aside, Barb (post 14), I know for certain that Dave Ganley and his Mum are also in MS4. So are Tony Draper his two very longstanding match going mates and their kids. All will be present again next season.
Come home again soon, Mike.
Mike Gaynes
48
Posted 18/04/2017 at 16:54:41
Sounds good, Paul. I'll be back up your way in three weeks, as usual. I'll tell you all the stories the lads made me promise not to publish!!!
Kevin Tully
49
Posted 18/04/2017 at 16:58:00
Fantastic to meet up with you, Mr Gaynes (or my Uncle Mike) as the barmaids in the Winslow thought you were... don't know who told them that???
Come again soon pal, you'd be most welcome. Plus I never had to put up with Keith Harrison's 'stories' about that time he turned out for Cockermouth U-12s!!
Keith Harrison
50
Posted 18/04/2017 at 17:01:42
AGAINST Cockermouth U12s, Kev, not for them. I sometimes think you just don't listen, mate.
Keith Harrison
51
Posted 18/04/2017 at 17:06:10
Anyway, Mike, in all the excitement of chaperoning you and other Evertonians about, arranging lovely surprises etc, buying hollow legged Tully drink all weekend, I forgot our wedding anniversary today. Contributions to a huge bunch of flowers, slap up meal etc etc gratefully appreciated.
Please send donations to:-
The Dog House,
Harrison Hotel,
N W Cumbria.
Mike Gaynes
52
Posted 18/04/2017 at 17:18:53
Keith, I'll send you and Chris a nice silver set for the occasion. I already know your pattern. Seriously, just blame the Yank. That's what I'm here for.
Kev, great meeting you too. It was an honour to be seen in the company of the best-dressed man in Merseyside.
Pete... I'm wearing the only Marine AFC jersey in the entire USA. Couldn't be prouder.
Tim O'Connell
53
Posted 18/04/2017 at 17:23:39
Wonderful story, and really looking forward to the next instalment!!
I can also vouch for the wonderful hospitality of the Blue fraternity. I was born in Solihull but have always been a blue and was at Sheffield Uni in 1978 when John Wattrett was there and invited me for my first pilgrimage to the Grand Old Lady where his family put me up for the night and really looked after me!
We went onto help form the Everton Supporters Club at the Uni so we could hire the minibus to get to games, and I found out recently that the club is still thriving after about 36 years! Once you have been touched....
Keith Harrison
54
Posted 18/04/2017 at 17:27:38
Too late for donations lads, just send plasma.
The light is fading fast....
Gordon Crawford
56
Posted 18/04/2017 at 17:38:33
How could you Keith??? That reminds me minds in June I think. Lol.
Peter Mills
57
Posted 18/04/2017 at 17:46:07
Mike, I'll get you the white home top next time you come over.
Simon Bradley
58
Posted 18/04/2017 at 17:49:59
WOW! What a brilliant read! Mike – it seems as though you had the time of your life, and thanks to so many fellow blues, and the teams two great performances – it couldn't have gone any better. Your story is heartwarming.
Your recalling of your trip to the Marine match brings back so many memories for me. I used to live in Crosby, and would walk to Marine's ground (5 minutes) for most of their home games. I had a season ticket at Goodison from 1983 right up until I left the UK (work) in 1995. I haven't been home for about 6 years – I'm planning it for 2018 and can not wait to see the Blues once more.
Steven Sturm
59
Posted 18/04/2017 at 18:02:25
Great read, Mike, and what a pair of games to see at Goodison! Here's hoping this run of form continues now that you're back here in the Pacific Time Zone with the rest of us on the dawn patrol. See you on the forums.
Mike Green
60
Posted 18/04/2017 at 18:15:58
What a brilliant read - and an incredible effort by all those involved. Awesome :)
Christine Foster
61
Posted 18/04/2017 at 18:25:02
Mike, living a dream... imagine the smile on your face is still there too! So glad you could get to do it and so happy that the guys made your trip so special for you. Fabulous read and yes, I shed a tear or two for the shear joy in your words.
That's what memories are really made of, that's why Everton are unlike any other club... that's why the fans are too.
John Audsley
62
Posted 18/04/2017 at 19:37:44
Brilliant read and we'll done, Mike and the lads.
That's exactly what makes Blues a different class of person.
Great to put a few faces to names as well.

Dean Adams
63
Posted 18/04/2017 at 19:40:02
Mike, so glad you made it to Goodison, not once but twice and that the players gave you two great victories to cherish.
I know what a great bunch Rob, Keith, Patrick, Davie and Kev Tully are and eagerly anticipate meeting Kev J sometime soon.
Maybe the OF lads will induct you into our inner circle, haha!! Anyway as an envious fellow toffee (for scoring on the greatest stage), I hope to catch you on your next visit.
Colin Metcalfe
64
Posted 18/04/2017 at 19:47:25
Great post, Mike, always nice to hear fellow blues coming from all corners of the earth to make the journey to Goodison, and well done to all the TW boys for helping out.
Mick Davies
65
Posted 18/04/2017 at 20:20:40
So glad you enjoyed your pilgrimage (the Blue Hajj), and I wouldn't expect anything else from our Everton family.
You wouldn't believe the times I've jumped into cars and coaches in the '70s/'80s to get back from away matches (having hitch hiked there) and been welcomed, even though I was penniless. Then there was the time a blue gave me a ticket to get into Plymouths ground at 04:00 in Lime St Station, just because I gave him a sandwich!

Yes, you were certainly chosen, and the effort you put in to get to the Goodison shrine is testament to your devotion to the club; I hope you stay in good health and can get back over here again to savour the hospitality of the greatest fans on earth. I'd also like to echo the great job Lyndon and Michael have done in uniting blues from all over the world – Nil Satis Nisi Optimum

Paul Hewitt
66
Posted 18/04/2017 at 20:23:23
Glad you had a great time, Mike.
Ian Hollingworth
67
Posted 18/04/2017 at 21:35:07
Brilliant read makes you realise how great it is to be an Evertonian.
Niall McIlhone
68
Posted 18/04/2017 at 21:45:45
Mike: You achieved more in that small time frame than most of us do in a lifetime!!! Most importantly, I'm sure all Evertonians will join me in wishing you good health, and continued recovery.
(Though supporting Everton does raise the risk of a cardiac event, that's for sure!) :)
Jamie Sweet
69
Posted 18/04/2017 at 21:50:09
Sounds like you didn't just make it to extra time Mike, you hammered in a 90th minute winner from 35 yards, arrowed into the top corner, against Liverpool, to win the league (metaphorically speaking).
And all with the help of your Blue family, and some very special and generous people. Makes you glow with pride. Well done to everyone involved.
Jags might pay for your airfare every week, Mike, considering he has a 100% scoring record with you in attendance!
Peter Warren
70
Posted 18/04/2017 at 22:07:22
Well done, Mike and gang, fantastic.

Terry Underwood
71
Posted 18/04/2017 at 22:13:43
Keith... come back to the light.
Paul Ferry
72
Posted 18/04/2017 at 23:08:33
Wonderful, Mike! Glad it was all you wanted and expected. No name check for me on train travel???? Seriously, the Offside lads and others – nice to put faces to Pete Mills and Kev Johnson – are stars and I'm so glad you sent so much good time with you. Your description of Tully is spot on. Love the indecipherable suntan Halligan verbals.
The Gaynes effect came up again and again on the Live Forum v Leicester and Burnley.
Seriously moved by the understated personal and emotional in this. The happy remission 'story' coupled with the gift of the Old Lady and your new bezzie mates.
Wish I'd been with you and Pete in Crosby. Hope he took you for one in the Crows. Is George and Angela's still open. A must after Marine.
All together, Pete – to the tune of Yellow Submarine: 'In the town of Waterloo [Waterloo?]
There's a team called Marine.
We support them yes we do. And their name is Marine [2, 3, 4...]
We all live to support the great Marine,
Support the great Marine,
Support the great Marine...
Sorry Eds, couldn't help it.
Seriously made up for you, Mike.
Joseph Terrence
73
Posted 18/04/2017 at 00:03:16
I have no shame in admitting I teared up reading this. I'm very pleased for you, Mike. To all the gentlemen who helped Mike and did far more than anyone could imagine, hats off to you. Absolutely brilliant.
John Daley
74
Posted 18/04/2017 at 00:03:27
Mike,
I can honestly say, I don't think I have ever been genuinely made up for somebody I have never met before, until now. How much the whole experience meant to you shines through in your words and the wide perma-smile you're sporting in the accompanying pics.
A couple of things I'm curious about though: (1) how close did 'Keith the Cat' come to keeping it out and (2) why does Patrick Murphy appear to be mercilessly heckling Baines in the photo where the two of you are having a blather?
("Pass on some penno tips while you're talking to him, Mike!! Don't laugh, Bainesy. I wasn't joking. If you're so confident in your spot-kick skills, let's see you slot one past Keith. Yeah, didn't think so, Leighton, lad.")

Paul Kelly
75
Posted 19/04/2017 at 00:39:38
Brilliant Mike, top drawer, what an emotional read.
All you boys who helped out, take a bow. Pure class.
Dave Rinehart
76
Posted 19/04/2017 at 01:48:16
Mike, as a fellow US Toffee, this article made me swell with pride. I've never doubted my decision to support Everton, but your experience affirms that I made the right choice.
I made the pilgrimage a few years back. I hope you get back and if you do, if you didn't get to St Luke's, it's a worth stop in to say hello for tea and pastries.
Mike Gaynes
77
Posted 19/04/2017 at 01:52:41
John (#74), how did you know Bainesy and I were comparing notes on pens?
The only advice I gave him was "Don't ever let anybody take the ball out of your hands again!"
As for the Cumbria Cat, he played me for a Panenka and stayed right in the middle. Kind of him.
Mike Gaynes
78
Posted 19/04/2017 at 02:01:13
Paul (#72), thanks, your best advice was the advance reservation on the train out of Euston. Grand National fans had snapped up every seat, and the few open ones were going for an extra 100 quid.
Definitely enjoyed your old neighborhood in Crosby. Delightful town. Can't remember the name of the place where we got the pies and pasties, but they were outstanding.
Dave Lynch
79
Posted 19/04/2017 at 05:07:33
So glad it lived up to your expectations, mate.
Well done to the lads for looking after you as well, top bombing boys.
Ron Marr
80
Posted 19/04/2017 at 06:20:32
Awesome thread, Mike. Glad you had a great time and everyone was so helpful and friendly.
James Power
81
Posted 19/04/2017 at 07:21:33
Dermot (#2) exactly the same here. I am on the 6:59 from Tunbridge Wells to London and had to make a few disguised wipes (hay fever early this year). I don't know whether I feel extra emotional on Wednesday mornings or Mike's experience was a joyous and touching account of what it means to be an Evertonian.
By the way Mike, what a wonderfully written piece, you have a great talent there. To everyone else involved in making Mike's trip special, thank you – it not only gave Mike something he will never forget, but it has brought many here a proxy happiness and warmth that cannot be measured.
Will Mabon
82
Posted 19/04/2017 at 07:39:42
Add me to the teary-eyed list, a fantastic story.
Bet you'll be back sooner than you think.
Dan Egerton
83
Posted 19/04/2017 at 07:56:13
I didn't know where else to ask this, but can we have a poll on what we fans here think the new name of the new stadium should be?
I think it should be called Dean Stadium after WR Dean.
Keith Harrison
84
Posted 19/04/2017 at 08:23:27
Terry (#71), No chance. It's the missus with an axe and a torch.
John (#74), I honestly didn't move. There was no way Rob would let me in his car with mud-splattered jeans. Plus it actually was right in the corner.
Will (#82) ,I also cried like a bitch yesterday. I will NEVER forget our anniversary again. My testicles in a jar on the mantlepiece will be a constant reminder.
Dan (#83) Are you talking about the USM Blue Liver People's Pride of Merseyside Stadium? Wonder what we should call it?
Vijay Nair
85
Posted 19/04/2017 at 08:37:39
Great read, Mike... I too have been a Blue since '85, as a kid growing up in Singapore, to an adult now in Melbourne, Australia.
Plan to make my first trip to Goodison next year. I'll​ be rapped if I have half as good an experience as you!
Eddie Dunn
86
Posted 19/04/2017 at 08:44:17
Mike, I am so pleased for you. What a good bunch of Evertonians and great hospitality. A fantastic read! I shall go out and meet the day with renewed hope for mankind!
Up the Blues!
Tony Abrahams
87
Posted 19/04/2017 at 08:44:57
I'm more concerned about The William Kenwright enclosure – although I definitely think we should have a KEIOC Stand!
Peter Mills
88
Posted 19/04/2017 at 08:55:15
Paul (#72), I remember the song very well, in fact I claim to have co-written the lyrics in the late 60s – I reckon the second line should read "there's a famous football team".
Didn't make it to The Crows, and I think a trip to George and Angela's would have seen Mike off after the pie and pasty fest from Satterthwaites at lunch-time!
Eugene Ruane
89
Posted 19/04/2017 at 09:13:59
Dave # 76 -
"I made the pilgrimage a few years back. I hope you get back and if you do, if you didn't get to St Luke's it's a worth stop in to say hello for tea and pastries."
Actually that reminds me of a current bugbear.
That St Lukes has become...well, to give it a name, "The Big Fat Idle Copper Tearooms"
Anyone know if this 'move' is permanent?
This 'Sorry tea only available to Police' bollocks?
I wandered in there before the Leicester game - 15 fat twats sitting drinking tea and eating custard creams, and getting fucking paid for the pleasure.
The Church must be losing a big chunk of revenue, that place used to be heaving before home games.
If anyone is thinking of making a pilgrimage there and really wants to get in, I'd suggest the following disguise.
First put on 5 stone.
Add a high-viz jacket covered in gravy stains and crumbs.
Stick a large belt round your waist and have a load of Maglite torches (n' shiz) hanging off it.
A cap three sizes too big will help complete the overall effect.
Paul Tran
90
Posted 19/04/2017 at 09:16:16
Paul (#72), Pete (#88), I remember the song like this:
In the town of Waterloo
There lives a gear team
We support the best we do
And their name is Marine (2, 3, 4)
We all live to support the great Marine
Now getting a nostalgic buzz thinking of the great cup win v Barnsley. Great days!
Ken Buckley
91
Posted 19/04/2017 at 09:34:34
Great read, Mike. Your wonderment and awe shines through in every paragraph.
It had me thinking about how much we match-going fans take for granted.
Come back soon.
Kirindeep Singh
92
Posted 19/04/2017 at 11:02:41
Great article and I am so happy for you, Mike. So wonderful to watch 2 victories in a row, walk on the pitch, meet the players, a dream come true!
We have something in common – we started supporting Everton around the same time. My journey began in 1984 after watching the FA Cup Final victory over Watford on TV in Singapore. My older brother supported Liverpool and I just couldn't stand them so I loved the blue and started supporting Everton just to piss him off. But I have never stopped since although I am all the way in Singapore!
Never been to Goodison but hope to make the trip soon, possibly this November. I have however seen Everton play though. Once at Highbury in 1996-97 season when they beat Arsenal 2-1! The second time here in Singapore a couple of years back when they came for the EPL Trophy, beating Stoke but losing to Arsenal in the final.
However, nothing can beat visiting Goodison and hope to do so one day soon. especially when the fans are so wonderful and thoughtful. Great gesture and hospitality guys. Makes me proud to be an Evertonian. Cheers!
Gareth Rosslee
93
Posted 19/04/2017 at 11:23:38
I don't know how many Blue taxi drivers named Joe there are in Liverpool, but as a South African making my way to my first game at Goodison I was picked up at the train station by one who told me some wonderful stories, drove us to the ground and refused to take a fare. What a welcome.
Adam McCulloch
94
Posted 19/04/2017 at 11:56:27
Fantastic read, Mike. Congrats on making the absolute most of your time over the pond. (Clearly a lucky charm as well with two wins from two!)
Speaking as an English blue who is visiting the States at the moment, it was great to hear your passion, knowledge and connection with everything Everton. Come back soon!
Paul Avery
95
Posted 19/04/2017 at 12:09:06
Nice one, Mike, that's a really nice read.
Dave Abrahams
96
Posted 19/04/2017 at 12:13:31
Sorry to butt in on Mike's parade, do any of the Marine supporters on ToffeeWeb remember 'Ben' Forster? He played centre-forward for Marine in the 1970s, an excellent player and a great character. His first name was Alex but he was always called Ben, which was his middle name, Benjamin.
Peter Mills
97
Posted 19/04/2017 at 12:37:00
I remember him well, Dave, although I thought it was more from the 60s. He was an excellent centre-forward.

Peter Mills
98
Posted 19/04/2017 at 13:06:48
Dave, I'm pretty sure he played in the famous Marine 3-4 Dagenham match in the Amateur Cup in 1968. This game was mentioned in a very nice tribute written by Dave Prentice about Marine's former coach George Scanlan on his passing away a few months ago – just google "David Prentice George Scanlan" – it's well worth reading about a man who had a fascinating football life.
Garry Corgan
99
Posted 19/04/2017 at 13:26:57
Hi Mike,
I've been here on ToffeeWeb since 1998. I don't post very often, but I read a lot. In that time, I've quietly and passively followed 19 years of Everton and the lives of Michael, Lyndon and many other ToffeeWebbers through births, marriages and, sadly, the occasional death.
Yours is a truly heartwarming story and I have read almost everything you've had to say over the past few years. I'm delighted you're in remission and had the chance to come to our city and fulfill a dream. I hope you'll get the chance to visit again someday.
ToffeeWeb, like Everton itself, is its own community. We may disagree with each other from time to time but there are very few people who don't deserve respect. You and those that conveyed during your trip you deserve the utmost respect and you have it, even from those of us you probably don't know exist!
I wish you all the best for the future and thank you for putting this blog together.
Paul Tran
100
Posted 19/04/2017 at 13:27:29
Yep, I remember Ben Forster, Dave.
Paul Ferry
101
Posted 19/04/2017 at 14:40:06
Peter (#88) and Paul (#90),
I was at that Barnsley game. Remember some nasty looking Barnsley lads; little fat round one with a bobble and beard. Peter, you must know Barry Lenton from I think Ilford Ave or around there, mate. Satterthwaites! Wish I could stroll up Moor Lane for a pie!
I'm gonna defer to you lads on the lyrics!
Once a shed lad always a shed lad!
Best to both of you.
And thanks to Mike and the Eds for making this wonderful thread possible!
Barb Ellis
102
Posted 19/04/2017 at 15:45:42
Hi Eugene (#89). Usually the Church hall is not open to the public if the match falls on a Sunday. I don't know what the arrangement is with the police though.
Liam Reilly
103
Posted 19/04/2017 at 16:44:24
Great read – truly memorable and nice to be able to put some names to faces.
I must try that Winslow the next time I'm over for a game (as I don't actually think I've ever been in there).
Ray Roche
104
Posted 19/04/2017 at 17:19:52
Eugene (#68).
I think it's only on religious festivals or Sundays that the lovable Bobbies have the exclusive use of the Church Hall.
Chris Williams
105
Posted 19/04/2017 at 17:43:51
Ray
Aren't the Lovable Bobbies extreme fans of Martinez?
Gerry Quinn
106
Posted 19/04/2017 at 19:38:06
Mike, super, super, super – so, so pleased for you on a fabulous trip - and what a great team those Evertonians are with their kindness and hospitality – brilliant read and I know now that it won't be the last.
Cathie and I had the privilege of being looked after by the lovely John and Pat Raftery (remember a few years back Moyes's last match as Man Utd Manager when I had my first trip back to Goodison in 43 years!)
You cannot beat the Merseysiders for hospitality and genuine warmness... and if ever Everton come back to Houston then you have a Scouse-house you can use here anytime.
Good on ya, loved your refrains, Gaynes! :)
Damian Wilde
107
Posted 19/04/2017 at 19:38:59
Mike,
Absolutely superb narrative, beautifully told.
I'm made up you got to make your journey and take in two wins!!
The kindness of the Blues involved is fantastic, but it doesn't surprise me; great people.
It sounded a very eventful and emotive trip... and great to bang one in at Goodison!!
Keep the great support up maybe see you on your next trip. 😊
Take it easy, buddy,
COYB.
James Morgan
108
Posted 19/04/2017 at 19:44:41
I read this at work and had to pretend I had some sort of cough/cold coming on in case they wondered why I was tearing up!
Magical stuff, Mike. I always keep an eye out for your posts to get a Stateside perspective on all things blue. Glad you enjoyed your time here, but I have to admit I'm not one bit surprised by the hospitality!
Gerry Quinn
109
Posted 19/04/2017 at 19:45:08
Dave (#96) (sorry to go off topic on your story page, Mike – but this is typical TW)
I lived in Victoria Road, Crosby, and used to go to Marine whenever Everton were away (too young to travel at that age)
Ben Forster – wow, that was a long time ago... and I can still picture that ugly bastard centre-half we had at that time – Alan Favanger was it?

Peter Mills
110
Posted 19/04/2017 at 20:00:33
Gerry, see my post #98 above – Alan Favager scored the last minute equaliser to take the match into extra-time.
Tony Steele
111
Posted 19/04/2017 at 20:40:53
A fantastic read! As a London-based blue I thought I was out of the loop but you've truly made me realise how fortunate I am to live so close to Mecca. Sadly my recent trips haven't been as fortuitous!
I'm chuffed to bits you witnessed us at our most prolific. Richly deserved. Best of luck to you.
Steve Ferns
112
Posted 19/04/2017 at 20:43:46
Great read Mike, I'm made up you had a cracking time. I hope you come back again.
I hope this encourages others to make the pilgrimage, as I am sure more blues will also roll out the blue carpet for you as well.
Mike Hughes
113
Posted 19/04/2017 at 21:04:38
I enjoyed reading that – cheered me up. I'm glad the day went very well, Mike, and that you had a great time.
Thankfully, the Mighty Blues never let you down on the day either, not that they ever do... (cough).
I daren't speculate at the cost of all that -– but priceless I'd guess.
Reminded me of the famous quote – one Blue is worth a thousand Reds. Very true, that – we are a class apart and a cut above the rest.

Bob Unwin
114
Posted 19/04/2017 at 21:52:00
Brilliant, what a great read this is. Made up you had such a memorable time, Mike.
Ciarán McGlone
115
Posted 19/04/2017 at 21:59:38
Cracking read. Fair play to be the local lads who took you under their wing.
Dave Abrahams
116
Posted 19/04/2017 at 22:12:10
Peter (98), Yes, you could be right about Ben Forster playing in the sixties. I must confess I've only read about Marine, never seen them.
The reason I asked about Ben was I went to school with him and stayed mates with him until he passed away. Thanks for your reply.
Kev Johnson
117
Posted 19/04/2017 at 22:13:09
Hey Mike, have you downloaded the Everton pitch songs yet onto your iPod? I would pay to see you with the top down cruising along Route 101 with "Here we go" blasting out!
Peter Mills
118
Posted 19/04/2017 at 22:30:06
Paul (#101), I do know Barry and still see him occasionally, he does a great job of linking Marine with the local community.
I was a founder member of the Rossett Park Mariners Association with Barry circa 1967, along with Ned Kelly, Jim Voiles, and a few more other guys, inevitably also Evertonians, who I think follow this site.
I don't think the Marine meanderings are deflecting too much from Mike's original post. It was a huge pleasure to go to Rossett Park with him, he "got" Marine completely. I explained to him that my grandad and dad had season tickets for Bullens Road stand, they used to slip the guy on the turnstile a sweetener and my brother would squeeze through at the same time as one of them. Occasionally it would be my turn, and I remember seeing the Charity Shield match against Man Utd in this manner as a 7 year old. But when I wasn't able to go to Goodison Park it would always be Marine.
I'm delighted at the thought of Mike wearing his Mariners shirt when not wearing the royal blue. I'm conscious tonight that he has returned home to immediately resume treatment. Mike, I'm sure you will be reading all this stuff, may the Evertonian bearhug stay with you for many years.
Ian Cowhig
119
Posted 19/04/2017 at 22:39:21
What a great story Mike. And what great hosts and Evertonians Rob, Kev etc.. were not just at Everton games, but also showing you our great city. Take a bow gents 👍
Colin Grierson
120
Posted 19/04/2017 at 23:00:13
"You can choose your friends but you can't choose your family..." – You were chosen, Mike, and now you have a huge family, full of friends.
Every trip to the 'Old Lady' is special but your visit was clearly meant to be extra special... 32 years – 32 seconds! Amazing coincidence! Thanks for sharing your experience. A truly moving read.
A huge thanks to the ambassadorial ToffeeWebbers who facilitated Mike's trip; your generosity defines you. I'm sure all that have read your story have swelled with pride at being a part of the 'Blue family'. Keep well mate, NSNO!
Keith Harrison
121
Posted 19/04/2017 at 23:13:07
Peter, this thread looks like both uniting, and re-uniting many people both across Merseyside, and much farther afield, so keep up the Marine and other obscure (to me at least) Merseyside references which further re-inforce this. This would really please Mike, as we know.
I hope everyone's kind thoughts are with Mike as he undergoes a day of treatment today. As Oddball said in Kelly's Heroes "No one make with the negative waves!"
Bill Watson
122
Posted 20/04/2017 at 00:18:29
What a fab read! It makes me appreciate living only 7 miles from Goodison.
Best wishes, Mike, and don't leave it so long, next time!
Mike Gaynes
123
Posted 20/04/2017 at 00:38:41
Thanks everybody for your responses to this article... much appreciated.
I love what Peter calls the "Marine meanderings"... as I'm now a Marine supporter as well! I'm glad this thread has reconnected so many people with their memories of watching this great little club.
Keith, you cracked me up with the Oddball reference... Kelly's Heroes is one of my favorites too.
Nicholas Ryan
124
Posted 20/04/2017 at 00:44:41
Mike, great story I wouldn't worry too much about the accents, it's not an American thing. I was at school with Rob Halligan and his brother, and I never understood a single word either of them said!!
Karl Masters
125
Posted 20/04/2017 at 01:06:28
The best thing I have read on here in ages.
Brilliant and reminds me of my first pilgrimage to Goodison as a lone 15-year-old from 270 miles away in 1981 (Kendall Mk 1 first match vs Birmingham).
Like you Mike, I found warm and welcoming locals, who helped me find Goodison and get back to Lime Street on a bus safe and sound.
The whole story reflects so well on Evertonians, Scousers and yourself for making the effort to reach out and come half way round the globe from the Pacific coast. It restores your faith in humanity.
Jay Wood
126
Posted 20/04/2017 at 01:30:32
I tell you what Mike, your Goodison baptism has got to rank as one of the all-time greats.
Your story is all the more poignant because of your (thankfully, much improved) health issues.
All praise to the TWers who helped to make your visit extraordinary.
Rob Halligan
127
Posted 20/04/2017 at 09:48:19
Nick Ryan .... jeez, is that really you!!!
Must be about 35 years since I last seen you. Hope you've keeping well mate.
Jim Potter
128
Posted 20/04/2017 at 10:48:22
Nice one, Mike – and all the Blues who made your trip such a memorable one.
May your health, like our success, continue on the up.
Jamie Crowley
129
Posted 20/04/2017 at 15:54:36
Mike! I've not been on in a few days, saw this, and read with real interest.
WHAT A STORY!
If anyone questions the existence of an Omnipotent Being after reading this... 32/32.
I actually welled up when you described your entrance into Goodison. That really doesn't happen to me. Wonderful.
And it must be said the ridiculous hospitality shown to you by Rob, Keith, the two Kev's, Patrick et al, is really just a wonderful example of the inherent kindness of human beings. That sounds a bit weighty, but I honestly can't think of any other way to describe it.
I thought as well, Harold Matthews was surely there too.
I've not been so happy ever, reading about your joy, amazement, child-like happiness – for someone I've never met. ;0)
Awesome. Nay, Brilliant!
Planes, Trains, Automobiles, Steve Martin, Goodison, Everton, Good "Blokes"... you deserve it.
William Cartwright
130
Posted 20/04/2017 at 15:58:17
Wonderful report, Mike, and a wonderful set of response comments.
All the best from a far away semi-scouser Toffee in Dubai! (born and bred on the wrong side of the Mersey!)
Stephen Brown
131
Posted 20/04/2017 at 16:12:04
A ToffeeWeb annual get together would be good!
It's been really interesting putting faces to names I read on a daily basis!
A guest speaker, chicken in a basket, and a chance to debate/discuss in the flesh!
Dave Abrahams
132
Posted 20/04/2017 at 16:34:52
Peter (#98) just read that piece about George Scanlan, a very interesting and intelligent man.
On the photo of Marine's cup winning teams that could be Ben Forster on the end of the middle row, he would have been 28 at the time... I can't swear it is him but there is a good resemblance.
There was another Marine player I worked with in Threllfalls Brewery in town, Graham Trowler; he played right back, that was in 1961.
Peter Mills
133
Posted 20/04/2017 at 18:10:54
Dave, I think you are right but wouldn't like to stake my life on it.
When referring to the photo it was good to see the Liverpool Senior Cup trophy. What a beautiful piece of silverware, I remember being awestruck when I saw it as a small boy. To this day it is why I would much prefer to see Everton win the FA or League Cup rather than finishing 4th. I explained the idea of the Liverpool Senior Cup to Mike, he thought it was a pretty cool concept.
I'm glad you enjoyed the George Scanlan piece, he was a fine gentleman.
Eddie Dunn
134
Posted 20/04/2017 at 18:35:53
Sorry to jump in on the "Marine" tangent, but Alan Favager taught me English at Eastham County Sec in the seventies.
He was a very popular teacher. A rugged face and over six foot tall, he was an imposing presence, but very fair. I think he became Deputy Head.
I didn't realise that he had played for Marine, but he was fit, still playing squash when I joined the 6th form and a few of us lads would join some staff in games at the "Oval".
God, you can learn a lot on ToffeeWeb!
Paul Ferry
135
Posted 20/04/2017 at 19:00:40
Nick (124), you gotta spill the beans mate. What was Halligan like at school? Did he have a permanent suntan? He was a bully right? Crap at ollies? No girls liked him right? Failed the 11-plus? Crap at collecting footie cards; never got the full Everton team? Wore short trousers till he was 14? Liked progressive rock yeah (fecking hippy)?
Love this thread. It is so apposite and appropriate that this highly personal story should lead to so many personal links amongst the posters and so many stories and memories.
Love the Marine stuff. Love the names Pete. Barry Lenton must be in his 60s now – still got a streaky beard?
'We got Billy Billy Billy Billy Morrey on the wing, on the wing'
Comoelter Apriaproa And Apposiote
Darren Hind
136
Posted 20/04/2017 at 19:06:49
Fantastic read
Well done all
Who's that really handsome fella next to Pete Mills in the second picture? The one just behind Keith?
Rob Halligan
137
Posted 20/04/2017 at 19:19:01
It's not you, Darren!!!
Barry Lenton
138
Posted 20/04/2017 at 19:20:50
Great article and thanks to everyone regarding the Marine comments, Mike, I am sorry you saw our worst performance of the season against Mickleover but at least we have escaped the drop .never been relegated in our 123-year history.
Big Fav is still going strong and looked in tremendous shape when I saw him a couple of years ago when he came to a home game. Ben Forster is not on the photo referred to. I know this because I wrote the tribute to George Scanlan for Marine's web site and for the EvoStik site that was picked up by the Echo and other sources. I have the original photo here.
Mike, if you would like a home Marine shirt (you have the away shirt) then I will do my best to get the home one (black and white) for you. Pete Mills can pass your address on to me.
Re the words to "We All Live To Support the Great Marine" — close, but Idon't want to bore Everton fans with them right now! I think Ned Kelly and myself have taken credit for them for 50 years but happy to include you, Pete, providing we don't end up in a copyright wrangle, a la Brian Wilson and Mike Love.
Finally, I used to watch Everton one week and Marine the next but realised that Marine was my future. However, as the old saying goes, Once a Blue, always a Blue — I even made it into the Everton v West Brom programme a few weeks ago (KitAid article); my Uncle Ron, who took me to watch Everton in the 1960s, would have been very proud. (Everton fans admitted next season to our league games for a fiver).
[Community Officer, Marine FC, and general dogsbody]
John G Davies
139
Posted 20/04/2017 at 19:25:40
Dave (#116),
Tommy Nezzer's mate?
Keith Harrison
140
Posted 20/04/2017 at 19:38:46
Darren, were you in the Park End, Saturday? Some arl feller sat next to me with I assume his grandsons and called Gana shit until he was taken off at half-time. Then proceeded to discuss the finer merits of Ted Nugent's 'Stranglehold' track with me, and a decent discussion followed on rock guitarists.
And the guy is definitely not you Darren. Rob's mate Billy.
Dave Abrahams
141
Posted 20/04/2017 at 19:41:49
Peter (#133), Yes I saw the Liverpool Senior Cup after Everton beat Tranmere Rovers 4-1 around 1950, as you say a much better looking trophy than the FA cup, it was presented to the. Everton captain Peter Farrell (I think) after the game in The Main Stand, along with a cheque for to Ted Sager for completing so many years service to the club.
Along time ago but the trophy always stands out in my memory along with Ted Sager who served Everton for over twenty years and probably earned as much in that time that many players now earn in a week.
The present players don't know how very, very lucky they are or appreciate it either.
Keith Harrison
142
Posted 20/04/2017 at 19:52:12
Stephen (#131). A seed of an idea that mate. Feel free to join a good few of the lads match days in The Winslow. The People's Pub!
Darren Hind
143
Posted 20/04/2017 at 20:03:26
Ha Ha, Rob.
He's about forty years too young.
I would have loved to gotten along and met Mike, we were only half a mile away on County. but there was a few out including a couple of old mates I hadn't seen for ages.
Keith,
I now know what you all look like, but I'll still try to get in The Winslow and buy you a beer before the seasons out anyway. I'll bring me mouth organ.
BTW. Rob Halligan looks enormous, do I have to call him "Sir"?
Malcolm Dixon
144
Posted 20/04/2017 at 20:23:24
What a great story. Well done, everybody involved! Makes you proud to be a Blue.
NSNO!
Gerry Quinn
145
Posted 20/04/2017 at 20:33:57
Barry, lovely to see you write your name into ToffeeWeb history too – boy, it's been a long, long time since we were at a College Road match together watching the "Great Marine"...or playing headers in that park near your house in Manor Road.
I lost touch with everyone totally moving here to the States, but so nice to see all the re-unions going on here on TW – brilliant.
Is Robbie Parker from Ince Avenue still about in Crosby?
Peter Mills
146
Posted 20/04/2017 at 21:13:46
Barry (#138), when I was trying to get my hands on a Marine shirt for Mike my first port of call was your house, but you weren't at home. So I went down to Rossett Park to see if you were there, no sign of you, but I met Paul Leary (Chairman) and another Paul who I think is a director.
I explained the situation, they could not have been more helpful, asked me to come back the following evening, and sure enough they came up with the goods which Mike is now wearing in deepest Oregon.
Would you do me a favour please, and show Mike's post and this thread to the two Pauls to show them the result of the trouble they went to, and also how much we enjoyed the afternoon at College Road?
I'll let you keep the royalties, I was only ever Al Jardine!
Mike Gaynes, we spoke a little of karma and yin/yang. See how your journey has had such a positive impact – have we ever had such a happy, united thread on TW? It's down to you now to channel all these positive waves, our friend.
Barry Lenton
147
Posted 20/04/2017 at 21:42:28
Firstly, Pete, if you can let me have Mike's email (post it to me) then I will do my best to post him some Marine souvenirs from our club shop. like the Al Jardine quip!
I have sent Paul Leary the link and between us we will make sure our fans read all this because all the comments are very perceptive.
Gerry! I knew you as Ged so the penny didn't drop. Great to hear that you are doing well. I remember you being an Evertonian and a good footballer as well. I bump into Rob Parker now and again. He rarely misses a Tranmere game home or away and goes with his son, Andrew. He has retained his sense of humour and I am always uplifted when I see him. Rob played for our Marine supporters team as well as for Waterloo Grammar Old Boys in the IZingari League.
Jim Voiels, my best friend and who was really responsible for the formation of the first Marine supporters' club, sadly passed away from Motor Neurone disease in 2012.
Gerry, you have a good memory! I lived in Manor Avenue but moved to Mayfair Avenue in 1983 and am still there. Happy to say that the Avenue is almost totally Blue with a sprinkling of black and white. Next time you come over, please look me up. I will also be behind the goal at Marine games.
One of our supporters who lives in Stockport sent me the link to this brilliant story so Mike has put me in touch with some great people from my past.
Stephen Brown
148
Posted 20/04/2017 at 21:45:52
Keith (#142),
Next time I'm up for the game (I get to about 6 a season from Swansea), I will take you up on that!

Keith Harrison
149
Posted 20/04/2017 at 21:48:49
I think the madman formerly known as Dean Adams is near you, Stephen. It might be worth getting in touch with him. Let me know, and I'll put you in touch.
Dave Lawley
150
Posted 20/04/2017 at 21:55:59
Beautiful, Mike, just beautiful.
Paul Ferry
151
Posted 20/04/2017 at 00:05:47
You won't remember me, Barry (Lenton), but we used to chat a lot in and around Marine in the late 70s. Sat behind you on the coach to South Liverpool; think it was you. Lovely to see your name pop up on here. Good memories.
I was Manor Road too; corner of Sherwood opposite Kaigh Ave. Remember you as Marine through and through, for some reason I had forgotten the Everton. Keep up the great work!
Mike Gaynes
152
Posted 21/04/2017 at 00:47:55
Peter, you're right, this thread has been a remarkable thing to read... especially all the beautifully unexpected side trips it has taken.
I think the karmic waves will continue long after we start drubbing each other again over Rom's first touch and Barkley's passing.
And yes, I'm wearing my Marine shirt right now.
Tony Draper
153
Posted 21/04/2017 at 06:06:09
Vijay @85.
When you make your Baptismal Visit, you can stay at my place mate. I'd consider it a privilege.
Can't guarantee to surpass or equal Mike's experience. But we can certainly get to Bramley-Moore Dock, a stroll around "The Grand Old Lady", and photies at St Ruperts Tower.
I'll not be the slightest offended if you secure a better offer.

Alexander Murphy
154
Posted 21/04/2017 at 06:44:36
Mike Gaynes,
Your wonderful recounting of your Baptismal Visit of itself was such a gift. Now look what you have done! This whole thread has created all manner of connections.
Being an Evertonian is infectious. We cannot help but reach out to one another and to others too. There is no arrogance in our True Blue Blood, and yet there is much humility and thoughtfulness.
Thanks Mike, your thread has paid back your fellow Toffees. Reminded us, we once again, of why one True Blue is worth twenty of the others.
NSNO.
Paul Tran
155
Posted 21/04/2017 at 08:05:58
Barry (#138), Paul (#151), what a coincidence! Brought back lots of memories of bus trips to games in the Cheshire League and bumping into Barry after an Arsenal game when Bally was in a red shirt.
I went to most Marine games in the early 70s, only going to Goodison when me Dad had a rare Saturday off. Once I hit my teens, I became a full time Blue.
Tony Abrahams
156
Posted 21/04/2017 at 08:18:07
Darren, the mouth organ belongs in the dark house with George!
Tony Draper
157
Posted 21/04/2017 at 09:24:38
I keep thinking that I should go along and see The Mighty Marine.
Growing up in Maghull, me and up to three mates used to hop on our bikes and go to Town Green Aughton to watch Guinness Exports.
We were there on the drizzly night that Guinness beat the mighty Skelmersdale United 1-0 there was apparently 1,100 in the ground that night.
The bollix to that tale is that we arrived 5 minutes after kickoff. Guinness scored in the opening minute!
Like others, once I was old enough, we'd jump the 310 or 300 and go to the worlds very first football ground. Still makes my heart skip a beat hearing Z-Cars in MS4. And I still get double the buzz under the floodlights.
Sam Morrison
158
Posted 21/04/2017 at 10:34:29
Lovely read, Mike. Glad you had such a great trip!
Andrew Clare
159
Posted 21/04/2017 at 10:57:35
Great to hear that you had a fabulous day, Mike. Sounds like you were looked after well.
There is no place like Goodison Park!
Barry Lenton
160
Posted 21/04/2017 at 11:43:11
I remember you, Gerry, but everyone used to know you as Ged in those days so it took me a few minutes to work it out. You were a good footballer and a passionate Evertonian.
Rob Parker, who you enquired about, supports Tranmere, rarely missing a game and he goes with his son, Andrew. We have lost two along the way in recent years, both played for the Marine supporters' team. Jim Voiels, my best friend who was responsible for the first Marine Supporters' club back in 1968, died in 2012 from motor neurone disease and Rob's friend, our goalkeeper, Stu Morgan, passed away I think in 2014. Rob and Stu both played for Waterloo Grammar Old Boys as well. I am still in touch with Stu's brother, Nige, and Jim's wife, Gaynor.
Pete, I have passed on this story and comments to our chairman and others at Marine. I am sure the story, perceptive comments and links will uplift many at Marine.
Thanks to Paul Tran and Paul Ferry for your nice comments and for the memories. They were good days and long may they continue.
Pete, if you can pass on my contact details to Mike then I will do my best to send him some Marine stuff from the club shop.
John G Davies
161
Posted 21/04/2017 at 12:13:12
Dave (#116),
Sorry mate, pressed send to early.
Did Ben play in the same side as Tommy Nesbitt?
A cultured ball player, Tommy. :-)
Gerry Quinn
162
Posted 21/04/2017 at 12:29:15
Paul Ferry, can you contact me (try LinkedIn), please?

Terence Leong
163
Posted 21/04/2017 at 12:50:43
Congrats Mike, brilliant write-up and read.
I'm also a Toffee from outside of England, fan for the past 33 years. Hopeful to visit Goodison for a tour at least (if not an actual game) before the club leaves the Old Lady.
Dave Abrahams
164
Posted 21/04/2017 at 13:35:03
John G Davies (#139), well they played against each other... not too sure they were mates!!!!
John G Davies
165
Posted 21/04/2017 at 13:39:17
Memory playing tricks Dave. If I recall, Tommy played for The Lobster?
Who was Ben's team? He could cut you in half with a tackle Tommy. Was Ben cut from the same cloth?
Michael Lynch
166
Posted 21/04/2017 at 13:55:41
What a magnficent and uplifting tale, beautifully told. Thanks to everyone involved. The "newspaper" that shall not be named should carry this story on its front page to balance out the shameful nonsense it printed the other week.
Dave Brierley
167
Posted 21/04/2017 at 15:04:20
Fabulous, Mike. You're gonna struggle to beat that.
Great story, great people.

Dave Abrahams
168
Posted 21/04/2017 at 15:15:39
Yes, Tommy could cut you in half with a tackle whether you had the ball or not!!!
Ben was a good strong striker with two good feet and and good with his head, scored plenty of goals, he played for a few teams including The NUR, teams in The Welsh Leagues where you got payed then Marine along with a few more Sunday League teams.
He went to De La Salle with me after winning the 11-plus, I used to tell him the worst thing he ever did was winning the scholarship, if he had stayed in St Nicks, by the Bullring he would have played for Liverpool Boys and hen picked up by Liverpool. Ben was a Red, but that's life for you. He was a sound fella well liked and very good company.
Dave Abrahams
169
Posted 21/04/2017 at 15:20:49
John G, I'm not sure but Ben might have played for The Lobster as well; he was always in demand as a player by the top Sunday league teams.
John G Davies
170
Posted 21/04/2017 at 15:34:59
Some very good players in the Sunday League, Dave. Crowds used to be in the thousands for some games.
Tommy is a good mate of your mate Alan.
Peter Mills
171
Posted 21/04/2017 at 15:59:29
Barry (#160). Thanks for doing that. I don't have all your contact details so I'll call round and get them from you. Cheers.
Dave Williams
172
Posted 21/04/2017 at 16:09:52
What a heartwarming story in these days of depressing news.
Made up for you, Mike, and well done to all who got together to help make it happen!
Now THAT is what a football club's supporters should be about!!!
Martyn Thickitt
173
Posted 21/04/2017 at 17:36:25
Wonderful to hear and read about your wonderful trip, it has made me even more proud to be blue. Come back soon.
Barry Lenton
174
Posted 21/04/2017 at 17:51:32
Ben Forster bought me my first alcoholic drink.
We stopped at the old Carr Mill on the East Lancs Road after a midweek game at Droylsen I think it was. Somewhere around 1968. He bought me a half of Mild.
I was 16 and absolutely chuffed as we idolised Ben. Best header of a ball I have ever seen in Non League. When he died a few years ago, his daughter came onto our web site and the tributes to the great man uplifted her family.
(The drink was awful and I never drank Mild again.)
Denis Richardson
175
Posted 21/04/2017 at 18:53:11
Truly fantastic read.
Hope you had a safe trip back to The States, Mike. We'll have to get you a cup final ticket next year. :-)
Paul Tran
176
Posted 21/04/2017 at 20:40:58
Paul Ferry, one of my favourite memories of that Barnsley gane was the mob of Barnsley marching from the shed to the stand at half time, pushing the dugouts to the ground as they went past the halfway line!
Peter Mills
177
Posted 21/04/2017 at 22:29:11
Paul Tran, Paul Ferry, Gerry (Ged) Quinn, Barry, there is every chance we have played footy with each other at Sherwood, Moorside, Viccy or Coronation Parks.
I walk my grandsons around there now!
Paul Ferry
178
Posted 22/04/2017 at 01:05:29
Sherwood for me Pete. Lived on the corner of Sherwood and Manor but Coro Park too, Sunday afternoons, newsmags afterwards.
Paul they were fecking hideous mate. The small fat one with the bobble hat and beard still gives me nightmares. Remember he kept growling dead loudly.
That was 1975 wasn't it?
Paul Tran
179
Posted 22/04/2017 at 08:36:00
Peter, that's very possible. I played in all those parks back in the day!
Gerry Quinn
180
Posted 22/04/2017 at 11:13:29
That's a deffo, Peter (#177), I had Paul Griffiths contact me yesterday on LinkedIn.
I feel as guilty as anything – all those friends I played footie with and can't remember anyone, let alone their faces – old age is truly embarrassing – 66 now and retire in 2 months time (officially), but may stay doing what I am doing a bit longer – we'll see...
Julian Exshaw
181
Posted 22/04/2017 at 20:51:57
I am away from ToffeeWeb for a few days and this gem of a story pops up! What a heart-warming and poignant read. It resonates deeply for all of us who live far from Goodison, a place which for all of us is more than just a football stadium.
Good luck to you Mike and I hope it won't be long till you'll be back.
Barry Lenton
182
Posted 22/04/2017 at 22:36:53
Marine 5 Buxton 5 today and a beer festival at the ground on a warm, sunny last game of the season. Hope some of you guys made it!
Gerry Quinn
183
Posted 23/04/2017 at 00:34:57
Mick, I know you will appreciate this, a story the LA Times has about Speedo Mick – what a guy – brilliant...
Why do I mention it? Journalism at its best – note the line about the "shark-infested" English Channel. American journalism – love it!
http://www.latimes.com/sports/sportsnow/la-sp-speedo-mick-20170422-story.html

Peter Mills
184
Posted 23/04/2017 at 00:35:56
Barry: Marine 5-5 Buxton?
As Mike Gaynes might say – "Typical Marine".
Mike Gaynes
185
Posted 23/04/2017 at 01:11:21
5-5??!!!
Now THAT'S a game.
I should have stayed one more week!
I wore my Marine jersey jogging today. Somebody asked me what Beckie-L and the key were all about... and I realized I had forgotten to ask about the sponsor.
So Pete or Barry?
Paul Ferry
186
Posted 23/04/2017 at 01:41:22
Beckie-L is a well known Crosby escort and dogger, Mike, often to be found in the Sandhills or Sniggery Woods, mate.
Mike Gaynes
187
Posted 23/04/2017 at 15:49:53
You realize, of course, that I have no idea what any of that means.
John Daley
188
Posted 23/04/2017 at 15:55:01
Colin Glassar
189
Posted 23/04/2017 at 16:01:03
She's a brass, Mike.
Terry White
190
Posted 23/04/2017 at 20:06:05
Let me belatedly add my story about the Marine-Dagenham cup tie in the late 60s.
My family moved to Crosby when I was 6. We lived in Allenby Avenue at the bottom of Kingsway, close to Chaffers. Some years later my Dad met Peter Mills' Dad and they became great friends. The Mills family moved to College Avenue, a chip shot from Viccie Park. I too played there as well as at Moorside and on the tarmac at Coro Park behind St. Mary's. I am a few years older than Peter so I certainly did not play with the rest of you.
I didn't go to Marine too often, primarily late season midweek games. But I do remember Alan Favager.
By the late 60s I had moved to work in London and played in the same work team as Dennis Moore who was a Dagenham defender and an Amateur international, a nice player who went for a trial at Arsenal. Before the first game at Dagenham Dennis came up to me and asked me to help him with the Marine line up for the Dagenham programme. As we remember, in those days they did put a possible team line up in the programme. Marine had sent a full roster without any effort to show who would play where (a George Scanlon ploy perhaps?). If I had had any sense I would have confessed to Dennis that I did not have a clue and could not help but I did my best. I suspect there were 11 team changes that were announced from the team in the programme.
When it came to the replay at Rossett Park, my younger brothers, Mike and Dave, attended the game. When it was over they went on to the pitch and approached Dennis. Politely, I am sure, they told him that they were my brothers. Dennis, a true Eastender, replied, "Well, that's your problem, innit". Just as well Dagenham won, who knows what his reply would have been if Dagenham had lost!
Barry Lenton
191
Posted 24/04/2017 at 12:35:26
Great story, Terry. I remember Dennis Moore. Top Amateur International and quality player. I also remember a Terry White at St Mary's... is that you? Played guitar?
Re Beckie-L, our former chairman, John Hall, had various businesses as an export/import businessman. When he began selling bags, he asked Becky Eustace, now on Marine's management committee, to take over sales and Beckie-L became the brand name. Nothing more exciting than that.
I won't mention Paul's posting to her! Beckie sells the Marine programmes at the home games. Nice girl, very attractive but certainly not seen in Sniggery Woods! Lol
Barry Lenton
192
Posted 24/04/2017 at 13:19:13
John Hall was a former President, not Chairman by the way. We have only had two Chairmen in the last 60 years.
Terry White
194
Posted 24/04/2017 at 15:23:51
Barry (#190),
St Mary's... yes; guitar... most definitely no. Must be my doppelganger. But my brother Mike played.
Barry Lenton
195
Posted 24/04/2017 at 18:08:09
Terry. It came to me this afternoon who you are and we were friends. Were we around 12-15? Do you remember?
And, yes, there was another lad called White who played the guitar who went to St Mary's. I think he was Andy White. Great to know you are well.
Paul Ferry
196
Posted 24/04/2017 at 18:46:14
Sorry, Becky!
Terry White
197
Posted 24/04/2017 at 20:35:30
Barry (#195), I have a great recollection of all things pertaining to Everton at that time but otherwise my memory often lets me down. I left St Mary's in '66. Does that tie in with your recollections?
Tim Greeley
198
Posted 24/04/2017 at 21:43:51
I just literally read 197 comments, the article was that good.
Chuffed to bits, as they say, for Mike and his amazing journey, all the more poignant for what he has gone through. If I was Mike, I'd submit some version of this to my local Oregonian newspaper, if they have them up there. Deserves a wide audience, a real FEEL GOOD piece.
The local Offside Forum wack-pack "hosts" all look like they would be a good time at that Winslow! Probably drinking Crabbie's too. Good work to all of them for their generosity.
I also had never heard of Crosby, UK but now just Google Maps'ed Paul Ferry's childhood home. Internet! BTW, the whole town looks like the same building...and the beach is huge. Is that where they filmed the scene in Robin Hood when Kevin Costner returns from the Crusades and makes out with the sand?!
Barry Lenton
199
Posted 25/04/2017 at 13:32:18
Terry, Pete has just popped in and we had a brief chat. It appears that the Terry White who was my friend at school was five years younger than yourself so not the same one but when you next have a reunion then I will do my best to come having been invited along just now.
Mike, Pete has given me your email address and I will be in touch re Marine stuff.
Tim, re Crosby the town centre is the same building but the rest is slightly different. You can Google Earth "Marine FC in College Road".
Terry White
200
Posted 25/04/2017 at 15:36:17
That's ok, Barry. I wondered if our Mums had known each other and that is how we may have been connected. At least Pete remembers who I am! My brother, Mike, is 5+ years younger than me. Do you remember him from St. Mary's? We Whites are so common.
Take Care. I do check out Marine's score each weekend along with Braintree, the side for whom I played in the Eastern Counties League as was in the mid 70s.
My next visit back will be October, drinking at the Freshie, so you have early warning. See you there!
Barb Ellis
201
Posted 26/04/2017 at 11:34:21
Tim (#198), I don't think it was Crosby Beach. It's a while since I last saw the film, but didn't they show the white cliffs of Dover as he was landing, could have been a beach down there. Also the scene where Robin is supposed to be in Nottingham,the one where he is running along a wall (Hadrian's) I think, It has a single tree in the background and was filmed in Northumberland.
Barry Lenton
202
Posted 28/04/2017 at 16:42:13
Terry, I vaguely remember your brother at school. Interesting that you have a connection with Braintree. It is amazing how they have progressed.
I met their former captain in 2012, Kenny Davis, at an awards presentation at Chelsea and chatted to him and his wife for a while as we were among the first to arrive. Really nice bloke who won caps for England C and who is now playing for Boreham Wood.
Terry White
203
Posted 28/04/2017 at 20:18:43
Barry, I spoke with Mike the other day, he has a similar recollection to you. He thinks he was in the same class as you but isn't sure!
Braintree has certainly moved on since my time with them. We were Braintree & Crittall Athletic then... "The Iron". We finished 4th in the old Eastern Counties League one season. Played at the market towns such as Wisbech, Ely, Newmarket, as well as Yarmouth, Gorleston and Lowestoft.
Now Braintree Town. Play at the same ground. Not up to league standard if they are ever in a position for promotion.
Keith Harrison
204
Posted 02/05/2017 at 16:22:39
Just to let you good people know, Mike played a FULL 90 MINUTES for his local football team this weekend. And no, he's not a goalie. I've pdf'd him signing-on forms for Marine! I can vouch he takes a mean penalty.
Paul Ferry
206
Posted 14/05/2017 at 00:46:49
This thread deeply deserves to be 200 long!
---
Add Your Comments
In order to post a comment, you need to be logged in as a registered user of the site.
Or Sign up as a ToffeeWeb Member — it's free, takes just a few minutes and will allow you to post your comments on articles and Talking Points submissions across the site.
© ToffeeWeb