Opinion
Return of the Prodigal Son: What Would Wayne Rooney Do for Everton?
Gary McCarty
29/04/2017

167 Comments
[Jump to last]
Share:
Sidelined at Manchester United, it's clear the future for Wayne Rooney is not at Old Trafford. Should his rumoured return to Goodison Park come to fruition, how would his arrival impact the team?
A talismanic figure, the England captain would undoubtedly have a positive footballing and commercial impact on any side he joins. And it's often easy to forget that, while his powers may have waned in recent seasons, he is still only 31.
With most betting sites having him pegged to join Everton at the end of the season, many Toffees fans are wondering what to expect from a player who left the club 13 years ago.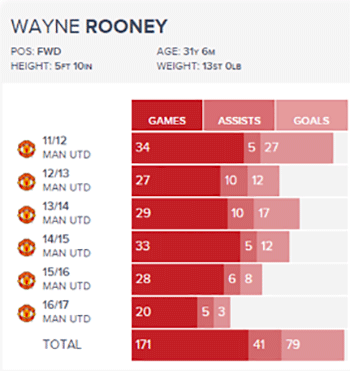 After a poorly received switch to a 'quarter-back' midfield role for England during last summer's disastrous European Championships campaign, his season has failed to ignite at Man Utd.
Seemingly unwanted by new manager Jose Mourinho, it seems Rooney's desire to adopt a deeper playmaker role more suited to other players at the club, combined with the emergence of Marcus Rashford and signing of Zlatan Ibrahimovic, have left him caught between two stools.
His dalliance with a change of position has only highlighted his waning powers in recent years. As a forward, your primary responsibility is to score and make goals, something Rooney is struggling to do.
Just three goals in the Premier League this season tells the story of a player who is no longer the goal threat he once was. You've got to go back to the 2011-12 season to find the last time he hit over 20 goals in a season. He hit the same milestone in the 2009-10 campaign, but has failed to hit the same heights in the following five.
Of course, goals have never been the only measure of success for a player who also creates opportunities for his team mates. His assist tally hit a high point of 13 in the 2007-08 Premier League season, but has not reached double figures in the last three.
Stats alone don't tell the story, but even a layman can see Rooney now labours on the pitch in a way he never used to.
But of more interest to Everton fans is how he would fit into the well-drilled and resourceful side Ronald Koeman has shaped. It seems unlikely the arrival of such a stellar signing would not have some impact on other players, but who would make way for him in the team?
At this stage of his career, any comparison with Romelu Lukaku is simply unfair on Rooney — he doesn't hold a candle to the big Belgian in front of goal.
A more telling comparison, considering Rooney's drop in pace and preference to being used as withdrawn forward or midfielder, is with Ross Barkley.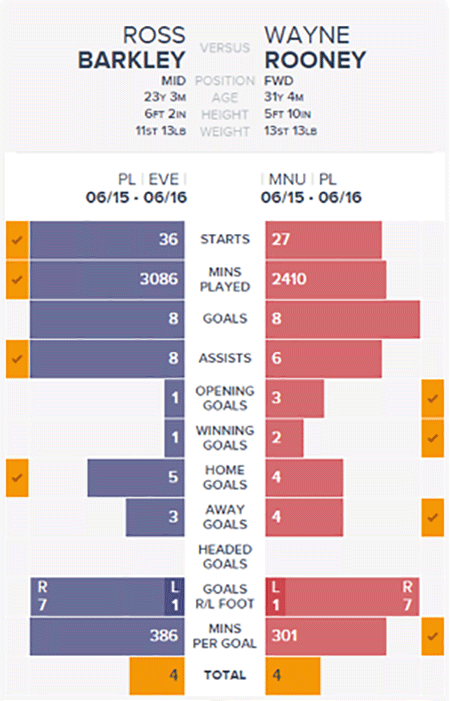 Both Rooney and Barkley were given opportunities to shine at a young age by Everton. And while Rooney chose to move on to Man Utd, Barkley is still plying his trade at Goodison Park.
Barkley's detractors describe him as inconsistent, but a quick look at his performances last season in the Premier League show that his output was in-line with Rooney's.
Unless, as recent rumours suggest, Barkley is to leave Everton this summer, there is real danger that the arrival of Rooney could overshadow him and reduce his opportunities within the side.
The return of 'Wazza' to his spiritual home could be a blessing or a curse. No doubt Rooney's spirit and desire for the game is undiluted. But while his footballing mind may be willing, his body is may be less so.
For a player whose game up to this point has been built on tenacity, it is hard to see how he can adapt his game in the twilight years of his career.
---
Reader Comments (167)
Note: the following content is not moderated or vetted by the site owners at the time of submission. Comments are the responsibility of the poster. Disclaimer
Colin Glassar
1
Posted 29/04/2017 at 07:51:48
Hart - Kompany - Yaya Toure - Rooney. An experienced, new spine in the team, that's what we need. Players who are used, and expect, to win games. We have a lot of talented youngsters waiting in the wings, let them learn from the best.
Pete Edwards
2
Posted 29/04/2017 at 08:01:38
Not sure about Toure, Colin, he only seems to put the effort in these days once every blue moon!
I would take the other 3 though, for sure.
Will Mabon
3
Posted 29/04/2017 at 08:05:27
It's kind of ironic that some forwards are moved back into midfield when their powers begin to fade, or that it's suggested. It's not just the pace that diminishes, it's often the fitness and endurance, too.
This isn't the case for all players, but for those that are most affected, a hectic midfield is usually the most demanding place to be, albeit in a different way. Many forwards take the route of continuing their role at a lower-league/club level, even if their abilities might suggest a suitability for playing deeper.
It's hard to tell just what Rooney still has to offer. Playing less this season has placed less demand on him. It also indicates of course that Mourinho can't/won't use him, though it would be hard to distill the exact reasons for that, from the outside.
Personally, I question the importance of the talisman/commercial angle to us, and equally the suggestion that his presence would attract other players to the club at this stage. His beneficial influence on younger players – I'm not sure. As well as a football brain, Rooney simply had masses of talent and you can't give that to others.
Similar points were cited in regard to the signing of Ibrahimovic to United, but the plain truth is, he's delivered the goods on the pitch.
Speculation has quietened recently, but should Wayne return, the thought of a season or two of the old magic is a fantasy thought for sure... but I'm not sure. So, I have to agree with your closing line, Gary.
Paul Smith
4
Posted 29/04/2017 at 08:10:09
No! No! No!.
No Rooney, no has-beens, Ginolas, Gazzas or any of Col's suggestions. Look at Spurs, the average age of their team, that's what we need.
The game is changing: pure stamina, energy, flexibility, changing positions ad hoc from the sidelines. No old dogs that can't change at Everton, please!
Colin Glassar
5
Posted 29/04/2017 at 08:19:39
On his day, Kompany is still one of the finest defenders in the world, right up there with Bonnucci and Chielini (who are both older, I think). Yaya is still unplayable when he feels like it, he would be a great squad player for at least a season. A refreshed, and reinvigorated, Rooney is a no-brainer as is Hart.
These guys are all winners and they are certainly no Gazza/Ginola type washouts.
Ian Bennett
6
Posted 29/04/2017 at 08:23:23
No retirement home please!
Butland, Koulibaly, Tielemans, and a decent back up striker. Big outlay, but still some deadwood to shift.
Brian Williams
7
Posted 29/04/2017 at 09:27:57
A big 'No' as far as I'm concerned. We have to live life in the present – not in the past. Why should we be looking at players way past their best?
I know and understand the feelings where Rooney's concerned and I've never been one of his haters but it's too late in my eyes. The money could be spent much better somewhere else.

Eugene Ruane
8
Posted 29/04/2017 at 10:29:50
Worth considering that with Toure, any contract would be certain to contain hidden add-ons...
Link
Tony Abrahams
9
Posted 29/04/2017 at 10:39:08
Yes, no... yes, no... I'm not sure! Did he fuck us, or was there things going on in the background?
Trevor Birch didn't last long, especially once he told Ring-Fence Bill, that he had to sell Everton's only real asset, but I think we all felt cheated at the time. But why would a grown man cry down the phone to the buyer, unless he had no other choice but to sell?
Back to the footy, and the same thing applies. Will we be getting a footballer who is finished, or will we be getting a footballer with un-finished business? Will Everton, be getting a hungry player, or is it just too late for Rooney to reignite his quality?
Questions that will only be answered if he returns.
Paul Tran
11
Posted 29/04/2017 at 11:09:44
No. Better to look forwards than backwards. If Koeman went for a player with a similar profile who wasn't an ex-Blue, he'd get almighty deserved stick.
Paul Thompson
12
Posted 29/04/2017 at 11:26:18
Gary – first of all congratulations on a good article. It's nice to have some facts alongside the opinions. There is no doubt that a Rooney return would be big risk for club and player. It could go horribly wrong.
Set against that, Rooney is under-played and under-motivated at Man Utd. He would be a man on a mission with a lot to prove for us. His motivation and leadership could be a vital asset. If I was him, I wouldn't do it, but if he comes, I'll back him to the hilt.
Dave Ganley
13
Posted 29/04/2017 at 11:44:49
Difficult one this one. I guess it would depend on wages and how motivated he is. On the plus side, I think he would be such an asset and mentor to Ross. The things go he could teach him about positioning and when to slide a ball through would be priceless if Ross took it on board.
I'm of the opinion that it would be worth having him back for a couple of years. I don't believe Koeman would welcome a passenger back and would only have him if he thought he could deliver.
A yes for me as he is exactly what we're missing at the moment, someone who is an intelligent footballer who can see things others can't. He's available and more to the point would want to come and prove he still has it. He's not a Gazza or Ginola, he's still only 31 and still very talented with a lot to offer. A win win for me.
Definitely no to Kompany and Toure. Kompany way too injury-prone and Toure, crikey if we thought Lukaku was bad with his ego, Toure takes it to whole new level. Absolutely not, he's just trouble. Not worth it at his age. I would have Hart though.
Martin Nicholls
15
Posted 29/04/2017 at 12:17:53
It's a No from me but, like Paul (and I suspect most Blues), I would back him to the hilt if he did come, despite my feelings on the circumstances of his transfer.
No to the likes of Kompany and Toure, and for that matter, also Butland whose injury record makes him a huge risk.
Unsure about Hart as I believe there are better goalkeepers out there (eg, TImo Horn of FC Koln) who are younger and would probably be available for less.
Jim Bennings
16
Posted 29/04/2017 at 13:24:35
Still unsure if bringing Rooney back would really be of any real benefit to a team looking to go forward. It could just be like when Duncan Ferguson returned in 2000, one for the romantic sentimental archives and nobody actually really working out if this is a good move for the playing side of it.
We know it would not be the crisp laser-sharp pacy Wayne Rooney that broke through in 2002 as a teenager and dynamically destroyed the likes of Arsenal and Leeds United. It would be a player that's battle weary, maybe no longer possesses the will to win as much as he did 14 years ago.
Maybe the brain is still there to play behind the striker and pull the strings? But will the body allow it? He certainly won't be the answer to a 20-25-goals-a-season striker if Lukaku goes.
As for Kompany? Great in his younger days but we don't need a player who appears three times a season and has had too many injuries to still be the same as he was.
Toure? Again too old, too much self-indulgence and would be too much a sideshow with him, great at his peak but his peak long gone.
Hart I would have and we should have done this last summer especially if there was a lone option available; hard to fathom if we could have got Hart on loan though why would Koeman prefer to go for Stekelenburg??
Peter Lee
18
Posted 29/04/2017 at 14:15:29
Koeman has said publicly that he would be interested. Rooney is still buying our shirts for his lads and makes no secret of his passion for our club.
Looks nailed on.
Rooney, contrary to my concerns when he was a youngster here, has shown himself to be a team player par excellence. He has played in any position his managers have called for and never given less than his best. He has appeared to me to be somewhat disillusioned this season though. Josie doesn't fancy him, that much is obvious, and he is a player who thrives on playing football, week-in & week-out.
He looks heavy at the minute, probably because of that lack of game time. If we had him he'd be first name on the sheet for me.
I would look to play him behind the main striker. He has an eye for a pass that we haven't had since Leon Osman was at his best, and before that, Mikel Arteta.
Paul Holmes
20
Posted 29/04/2017 at 14:58:35
Peter Lee, spot on with your comments. Rooney has got a footballing brain and can see a pass early, he's not like Ross who plays with his head down.
Play Rooney behind any striker and he will create plenty of chances for the team. He's a player who would find a second chance at his boyhood club and he has the strong winning mentality to take it, hopefully we get him for at least one season.
Mark Morrissey
21
Posted 29/04/2017 at 15:17:00
If anyone starts a conversation saying "on his day" you can exchange that immediately for "he used to".
I don't want players who "used to do it"... Kompany "on his day"... Rooney "on his day"... Sturridge "on his day" – yesterday's men or sicknotes = on his day.
Mark Hughes
22
Posted 29/04/2017 at 15:32:12
Big risk but Rooney would give his left nut to play for us again. He never wanted to score against us and was dropped on several occasions for that – SAF knew he was a blue at heart. He's not like Slippy or Carra who changed to Red; Rooney couldn't.
I would like to see him play for us for one season, then get into the coaching side with Unsy. By the way, Unsy should be our next manager, although I want Ronald Koeman to stay for 10 years+.
Tony Abrahams
23
Posted 29/04/2017 at 15:42:40
Fair point, Mark, but not even in place of players who have never done it? It seems to me that Everton, don't find it easy attracting top players at the minute, and maybe Rooney coming would help change this?
Plus he would also be bringing a winner's mentality into the changing room, and this has got to become the biggest change to happen to Everton.
Never go back they say, and especially so if nobody's waiting for you with open arms!
Carl Rutherford
24
Posted 29/04/2017 at 16:02:09
I was just thinking for the hundredth time no he is finished the pace of the Premier League has left him behind when the following occurred to me. If we were to get him, it would certainly be at a discounted rate compared to what Man Utd could sell him to China for. And even if it did become obvious his Premier League days were over after a season, he would still retain his appeal to an MLS or Chinese market and would have a sell-on value. Therefore we may well be able to recoup the money we pay for him.
Similarly I'm sure he would accept a huge pay cut to rejoin us and his global and local marketability may temper some of his wage outlay. Therefore it may well be worth taking a punt on him for a season or two if the opportunity presents itself.
I'm sure Rooney feels he has unfinished business here. Also, casting my mind back a few years, I remember Alan Shearer being similarly written off after injuries before Bobby Robson managed to inspire a couple of extra seasons out of him.

Henrik Lyngsie
25
Posted 29/04/2017 at 16:26:28
Assuming we loose Lukaku I would buy back Rooney. Then play him behind the new striker which is basically Barkley current position when we play 4-2-3-1. Then I would keep Barkley and take away the main man burden from him. Let Rooney be the main man and let Barkley play left midfield. Barkley might thrive from not having to do magic all the time.
As for Rooney assuming United will let him go and we pay no sign on fee but just his salaries at Everton level. Over a two year period he would cost us less than £20 million in transfer fee and salaries. You could not even get an average Championship player for that these days.
Best case Rooney will be highly motivated both from playing for Everton and since it is a World Cup year. Best case he will lift the whole team because he is a fantastic team player at his best. Worst case well worst case we will look back at Ginola being a success compared to old Rooney.
But I would take the risk as it might be easier financially than his current salary would indicate.
Shane Corcoran
27
Posted 29/04/2017 at 19:24:57
Colin, I couldn't disagree more.
Kompany is an accident waiting to happen. On his day? Any sign when that's about to happen?
Toure? Best make sure to get the birthday cakes ordered in case we forget. Oh, and about 𧷤k per week too.
Have you been watching Hart this and the last few seasons? I'd as soon keep Joel.
Rooney. See Toure for wages plus he's just not that bloody good.
Shane Corcoran
28
Posted 29/04/2017 at 19:26:12
Mark Hughes, Rooney was dropped for what by Ferguson? Not wanting to score against us?
Seamus McCrudden
29
Posted 29/04/2017 at 19:40:07
Not for me either; egos and has-beens.
Kieran Kinsella
30
Posted 29/04/2017 at 19:40:34
Lots of talk about us buying Rooney, Terry, Defoe etc. we have to balance it with some youth so I'd sign Pike and maybe Walker. We can line up
Manwaring
Godfrey
Terry
Kompany
Jagielka
Jones
Pike
Walker
Defoe
Fraser
Biblical figure Adam
Colin Glassar
31
Posted 29/04/2017 at 19:48:28
Listen, Kompany is a brilliant defender. His timing and positioning is superb. He's now played 4 games on the run and looks like he's back fit. The city players always talk about how he's a model pro and a great influence on and off the field. Jesus, if we've gotten the best out of Barry why can't we do the same with a much younger Kompany?
As for Yaya, well I know it's a no-goer but I can't help but admire his skill and football brain.
Like I said, these guys are winners and we need winners in our team.
Brian Williams
32
Posted 29/04/2017 at 19:49:38
Awesome line-up, Kieran. The opposition don't like it up em, yer know!
Colin Glassar
33
Posted 29/04/2017 at 19:51:38
You forgot Warden Hodges and Reverend Farthing, Kieran.
Guy Hastings
34
Posted 29/04/2017 at 19:53:10
Mark (#21), I use 'on his day' whenever people ask me about Ross.
Seamus McCrudden
35
Posted 29/04/2017 at 19:53:45
Great player Kompany but can't stay fit for any length of time. Yaya is a complete & utter tool. I wouldn't want him anywhere near our club.
Kieran Kinsella
36
Posted 29/04/2017 at 19:59:23
Warden Hodges not really a team player, Colin.
Danny Broderick
37
Posted 29/04/2017 at 20:00:09
The figures will decide if we can get Rooney back or not. But at 31, he is far from washed up. He could play at least another 3 seasons. If we sell Lukaku, I would happily have Rooney playing just off a striker with legs.
I would love to see Rooney and Vardy up front for us next year. Rooney could play just off Vardy, and we would have a much bigger goal threat than we currently have. We could also bring in a young striker – we could probably get all 3 of them for the price that Lukaku would fetch...
Mike Gaynes
38
Posted 29/04/2017 at 20:23:17
Gary, this is good work. I like your statistical comparison. According to the raw numbers, they are similar players beyond the goal numbers – comparable on shots, shot accuracy, assist frequency, big chances created, passes per match, even goal chances missed – yet we know that on the field they are very different people.
It's worth asking if Rooney is still comparable to the Rooney of past years, but it's also worth asking if the real Barkley is the often-dominant player we watched last year or the frequently confused one we have seen this season.
My feeling is that Barks would benefit enormously from having Rooney next to him, and I agree with Paul Thompson that Rooney is worth taking a chance on based purely on his motivation – he will be a seriously driven player.
But I won't be heartbroken if it doesn't happen.
James Flynn
40
Posted 29/04/2017 at 20:42:18
If he quits smoking cigarettes for the next 2-3 years, sign him. Can't believe he's gone thru the career he's had while puffing away.
Raymond Fox
41
Posted 29/04/2017 at 20:57:04
Would I want Rooney in our squad? Most definitely, yes.
As Dave said earlier, it depends what he would cost if we signed him. If he does indeed come back, he must want to badly because he's going to have to take a big hit on his earning capabilities.
Yes, he is/should be loaded by now, but the potential earnings in China must be very tempting for him.
Dean Adams
42
Posted 29/04/2017 at 21:01:11
Raymond, two years with us and he could still go to China for a mega pay day, plus we could get a huge wedge!!
James Flynn
43
Posted 29/04/2017 at 21:02:02
Anyway, he'll come or he won't. We'll see.
So... to turn it completely away from Rooney or football, I'm sure there are some here still enjoy a game of snooker.
Remember this?: Link
Rob Dolby
44
Posted 29/04/2017 at 21:14:40
He wont be coming back now that Ibra is injured.
I don't want to see an over-the-hill Wayne Rooney in a blue shirt, a la Gazza, Ginola, Samson.... I hope he moves to The States and does well.
Mick Davies
45
Posted 29/04/2017 at 21:38:03
We could bid for John Terry, or Ibrahimovic, and how about bringing Pienaar back now Sunderland are down?
I reckon we could also tempt Osman out of retirement and a cheeky bid for Darron Gibson or Joleon Lescott – yes the new slogan could be 'back to our future' or (with Terry, Drogba and maybe Lampard) the 'new ex-Chelsea pensioners'.
Imagine the money we could make on all those unwanted Premier League 2 winners like Walsh, Kenny, Pennington, Davies etc...
Mike Dolan
46
Posted 29/04/2017 at 21:43:23
Rooney is still a great player. This whole article is nonsense it is just a conclusion garnished by selective facts to justify the whole thing.
Rooney's "stats" do seem to have diminished alarmingly but McCarthy hasn't played him much either. So what does his stats tell us? Well dick actually they are meaningless.
Rooney will never score as many goals as Lukaku. Wow what an insight, he would not be playing in Lukaku's position and if Lukaku leaves he would not be signed to replace him he would be a second striker who would be playing behind a main striker. He would be the main outlet for balls out of our defense, the balls that right now bounce off the brilliant Belgian would be controlled and distributed.
If Rooney was on our books right now. He would start tomorrow over Mirallas. Lukaku and Barkley would find that all of a sudden they have that extra yard of space.
Rooney could play for any team in the country. Give me Rooney for his two twilight years and we will win things.
Ian Riley
47
Posted 29/04/2017 at 22:59:29
A player who wants to leave should never return. So disappointed when he went. Whatever the reasons. No thank you.
Mike Dolan
48
Posted 29/04/2017 at 23:53:39
His transfer fee saved this club. Kenwright and SAF had discussed the move way before he requested a transfer; they used the greedy agent song-and-dance routine for cover. Blue Bill even strung it out so the money went straight into the bank. All power to him – the club was broke.

Dean Adams
49
Posted 29/04/2017 at 00:01:06
Wayne will be back! .,. and when he does come back – just remember: he is a fellow blue!!
Anthony Dwyer
50
Posted 30/04/2017 at 00:13:11
Rooney in; Barkley and Rom out.
Stones out; Williams in.
Has anything changed?
We need to convince the talented young players to stay, and add to them.
Rooney could be a good squad player, certainly better than half the shit we have (Kone, Valencia, Cleverley) and probably more Premier League ready than Lookman and Calvert-Lewin, but not as a marque signing, and certainly not as a makeweight in any deal to move any of our main players.
David Booth
51
Posted 30/04/2017 at 01:02:46
Putting aside who he is and his Everton heritage, and looking at him purely on his merits as a player, has ANYONE who has watched Rooney play in the last 18/24 months seen ANYTHING that made you think: 'Oooh yes please, he's brilliant'?
I suggest not.
Sentimental, fantasist nonsense to even think about having him back.
He's past it, marginalised, has no identifiable position and struggles to get on the bench these days.
He may have had a part to play in the West End theatre production of Everton 1996-2016, but he has absolutely no place in Everton 2017 and beyond...
Kieran Kinsella
52
Posted 30/04/2017 at 01:03:51
Well apparently he was out on a 3am bender last night...
Jim Harrison
53
Posted 30/04/2017 at 01:23:46
Someone mentioned Shearer earlier in the thread, and looking done before having a late resurgence. I think this was when he retired from England duties with the aim of prolonging his club career. Perhaps this would benefit Rooney?
I doubt he would do the same though. By all accounts, he wants one last crack at the World Cup.
Mike Gaynes
54
Posted 30/04/2017 at 03:37:46
David (#51), yes. Twice this year. Saw him dominate an FA Cup tie in January against a Championship side (Reading or Newcastle, can't remember) and the goal against Stoke was a cracker.
Also saw him have a great game last May in one of his first outings as a midfielder. Don't remember the opponent.
You asked for ANYTHING. There's three.
Not being sentimental at all. Just think he's worth a punt... IF the price is right. Small risk, potential return.
Mike Dolan
55
Posted 30/04/2017 at 05:34:23
Also, Mourinho is I believe the gentleman who sold Lukaku for a third of his present value. He also sat Schneiderlin out for all but 3 games this season. Maybe he isn't the best judge of talent. So Rooney not making his team might just be a great reference. As the song goes "Jose can you see".
Amit Vithlani
56
Posted 30/04/2017 at 06:19:03
"What Would Wayne Rooney Do for Everton?"
1. Add some fight and courage to the team in derby matches, I would say.
2. Rooney would be an upgrade on Mirallas and would be a better leader than Jags.
3. Keep Rom and Ross and stick Rooney alongside in a front three with very different attributes
4. Could propel us into the top 4 and perhaps, just perhaps, persuade Rom and Ross to sign new deals.
Danny Broderick
57
Posted 30/04/2017 at 09:22:06
David Booth (#51),
His free kick away at Stoke wasn't bad!
John Audsley
58
Posted 30/04/2017 at 09:24:10
Agree with all of that Amit.
Rooney would be a real asset on and off the pitch.
It's going to happen and it's worth remembering when he left in 2004, the money saved the club.
He ain't the bad guy most think but the man who sold him... well, that's a different story.
Sam Hoare
59
Posted 30/04/2017 at 09:37:32
Amit @56, you could be right. Or conversely:
1. Get tremendously fat.
2. Chug around the pitch doing a mediocre impression of himself 5 years ago.
3. Destroy our wage structure.
4. Upset the team spirit and ethic with his 'dubious' living and training standards (very possibly an unfair and unbased criticism but just what I've heard) and block younger, fitter, hungrier players from getting game time.
I honestly don't know what way it would go but my instinct is that for the money he will likely be on we can find a player with more to offer possibly in the short and definitely in the long run...
Matt Traynor
60
Posted 30/04/2017 at 09:41:03
A believer in no smoke without fire, the noises around this suggest a done deal.
Yet again, we are doing Man Utd a favour. A few years back they would never sell him to another English club. Because he is past his best, and may not be interested in a move abroad for family reasons, it's now fine.
I've got nothing against Rooney for his move in 2004. His medal cabinet and bank balance will prove it was the right move for him. All the talk about making him our highest paid player (㿞k a week) at the time was bluster – he was the only saleable asset in what was a very poor quality squad at that time and the club was in financial dire straits.
A move back to us in the close season is not in Everton's interests in my opinion. People talking about the financials being right for us are forgetting who his agent is. Only a sentimental Kenwright would think this is a smart move, and for that reason alone I fully expect it to happen.
Brent Stephens
61
Posted 30/04/2017 at 09:42:11
I'm not enthusiastic about signing him. But if we did sign him I'm sure I'd be excited at his first start. Amit's point about adding some fight and courage in the derby is a really good one.
Shane Corcoran
62
Posted 30/04/2017 at 09:44:56
Mike Dolan, any evidence of this at all?
Martin Nicholls
63
Posted 30/04/2017 at 10:17:32
His transfer fee may well have "saved the club" as some claim but does anyone seriously think that was even a passing thought in Rooney's mind when he jumped ship? No, I thought not.
The only thing in his mind was furthering his own career – I don't necessarily blame him for that but please don't credit him with some altruistic motive in his desertion.
Mick Davies
64
Posted 30/04/2017 at 13:17:31
Mike Dolan @ 48, "His transfer fee saved this club." – Evidence please, or is this just another nonsensical, emotional piece of fake news?
Everton lost out on millions of pounds in merchandising, and sent a message out that 'we sell our young players'. The potential recruitment of fans worldwide can never be estimated, but surely we can say that, for a paltry 㿅m in installments, rather than 'saving' this club, as you ridiculously stated, we missed out on the inestimable value of having one the world's most high profile players, and probably trophies too. In fact, I'd say losing Rooney was the biggest disaster to affect this club since Heysel.
Mike Gaynes
65
Posted 30/04/2017 at 18:56:29
Mick, Rooney's departure was a teenager chasing his dreams.
People died at Heysel.
A little perspective, please.
Brian Williams
66
Posted 30/04/2017 at 19:10:14
Mike (#65).
In Mick's defence he refers to Heysel purely from the standpoint of how it affected Everton singularly. I don't believe he meant any disrespect to those who lost their lives.
It can be argued though that the ban arising from the events at Heysel had a hugely detrimental effect on our club and set us back many, many years. I don't think it's disrespectful of Mick to mention it.
Maybe a little more contextual explanation wouldn't have gone amiss though.

James Newcombe
67
Posted 01/05/2017 at 15:29:57
I had this debate with some (Man Utd supporting) colleagues, who are convinced this deal is on. My reasoning for not wanting Rooney back – he's well past it; and that we should be looking to the future, not backwards; was met with derision and comments like
'beggars can't be choosers'.
And they wonder why everyone is so delighted when their club chins United!
Brian Wilkinson
68
Posted 01/05/2017 at 16:41:38
31 and washed out, blimey! Good job Stanley Mathews looked after himself on pies and Guinness.
Players nowadays have a better training and diet than they did in the seventies and eighties, look at Defoe, Zlatan – well older than Rooney.
31 is not old in the modern game today, he still has 3 to 4 seasons if not more left in him, as for those saying he has lost some of his pace would you prefer a whippet of a player running like a headless chicken, or a slightly slower pace but footballing brain.
Gibson was not blessed with pace but he had a great footballing brain and played that first-time pass, he read the game well, similar to Rooney.
Forget the has-been, Rooney still has that winning mentality and would bring so much to our team.
No-brainier for me, if we can get him on a free, we should snap the guy up without a shadow of doubt.

Tony Hill
69
Posted 01/05/2017 at 18:14:53
I think he'll come to us, but hope he doesn't.
I've never been bitter about Rooney, I think that at his peak he was the most naturally gifted English player there has been in the modern era (including Charlton and Gascoigne) and his records are astonishing (assists as well as goals).
But his body shape and lifestyle, and the sheer grind of a 15-year Premier League career at the very top, meant that he was never going to be able to keep it going into his thirties and so it has proved.
I understand the investment and return argument and his football brain remains fine – his legs, though, won't do what they're told.
Chris Williams
70
Posted 01/05/2017 at 18:28:02
I'm fairly open-minded about this, but it depends on the deal. A free transfer has been mentioned in some circles as has wages of 𧵎k per week. This would be more than acceptable, as would anything in the region of this sort of level.
In return, you would get an instant injection of winning mentality, someone who has got football nouse and guile as well as skill and instinct in the final third. All of which we currently lack.
With the right attacking players around him (most of whom we don't currently have) it could help to lift us to the next level.
Jay Harris
71
Posted 01/05/2017 at 18:45:12
It's a definite no from me.
It is at least 5 years since Ferguson dropped him and warned him about his lifestyle.
And for those that bother to watch him laboring about the pitch these days he is obviously past it.
We should not be considered a retirement home for Man Utd has-beens.
Rob Halligan
72
Posted 01/05/2017 at 18:47:28
Been watching this thread, which is now three days old, with a lot of interest. Every post either saying would have him back, or won't have him back, will he come back, or won't he come back?
Well, now I will add my opinion, and whether you want to believe me or not, but this is cast iron.
Rooney is definitely coming back in the summer, and what's more, he will be playing alongside Lukaku. Lukaku will be kicking off next season with Everton, and if we are not in the top four by the January transfer window, then he will be sold.
So now, I wait for all the posts to come flying in: "Yeah, it's all a load of bullshit, who's your source? Lukaku is definitely going in the summer," blah, blah, blah!!!
My source, well obviously I won't reveal who my source is; safe to say it's a very very close relative who works and is based in Old Trafford.
My source has daily contact with a lot of United players, and was speaking to Rooney a couple of weeks back, who said he was returning to Everton in the summer, and had been told of Lukaku's situation.
So, as I said, you can believe me or not, but we shall be seeing Rooney in an Everton shirt next season, and certainly alongside Lukaku for at least half the season.
I await with anticipation, the first post to say what a crock of shit. I'll give it 5 minutes!!!
Chris Williams
73
Posted 01/05/2017 at 18:53:22
Well Rob, you've nailed your colours to the mast. I hope you're right for your sake and for Everton's
Danny Broderick
74
Posted 01/05/2017 at 18:56:31
Rob,
I hope that's not true about Rooney and Lukaku up front, for the simple reason that Rooney is a ball-playing Number 10 now. He needs movement to play off. Lukaku doesn't provide this – it will be 2 square pegs. That's kind of why his career has dipped so dramatically at Man Utd, because he can't play off Zlatan.
I'd love Rooney back, but playing behind a Vardy type.
Mark Riding
75
Posted 01/05/2017 at 18:56:44
Is right Rob. Welcome home Wazza.
John Audsley
76
Posted 01/05/2017 at 19:01:31
Terence Tyler
77
Posted 01/05/2017 at 19:16:17
Trust in big Rob, the suntan kid.
Rob Halligan
79
Posted 01/05/2017 at 19:26:07
Is right, TT!
Paul Smith
80
Posted 01/05/2017 at 19:45:04
Jesus no!
Ed Fitzgerald
81
Posted 01/05/2017 at 19:51:08
Rob
You may be right as both of those events are not exactly unlikely, given various bits of media gossip and statements from Koeman himself. Whether it is a truly done deal, however, remains to be seen. I'm not saying it's bullshit but it's just speculation until it's confirmed.
Personally, I never want to see Rooney in an Everton shirt – not because of the manner he left, or his sliding around the Goodison turf clutching the Man Utd badge – just because I think it's a retrograde step given his performances or lack of them for the Mancs over the past few years.
I can't see us being in the top four by next January, can anyone realistically? We are miles off and need quality players at, or reaching, the peak of their careers in at least four or five positions.
Dean Adams
82
Posted 01/05/2017 at 21:48:18
Rob, be worth a little flutter then!!
Colin Glassar
83
Posted 01/05/2017 at 22:12:20
Rob, I believe you, my good man. I've heard the same as well.
Rooney is deffo coming back and Rom has been informed that no one has shown anywhere near serious intent regarding even coming close to our asking price.
None of the big clubs, and I've been saying this for a while now, are desperate to buy him. There are bigger, better and cheaper fish out there and Rom and the club know it.
Sam Hoare
84
Posted 01/05/2017 at 22:15:09
I watched Man Utd vs Swansea and, of the two goal scorers, was considerably more impressed by Siggurdsson than Rooney.
If he comes, it will be heart ruling over head, I reckon.
Dan Davies
85
Posted 01/05/2017 at 22:28:37
Maybe they will both be Everton players next season, Sam?
Brent Stephens
86
Posted 01/05/2017 at 22:52:54
Rob, is your source Mike Halligan?
Dan Davies
87
Posted 01/05/2017 at 23:21:36
Yea, or it could just be a crock o' shite with Rob talking through his backside like?
Kieran Kinsella
88
Posted 01/05/2017 at 23:25:19
Rooney's return as a replacement for Lukaku is a different proposition than Rooney alongside Lukaku. I support the latter not the former.
Gavin Johnson
89
Posted 01/05/2017 at 23:39:20
Thanks for the info, Rob. I fully expect Rooney to sign anyway and will embrace this signing so your post is music to my ears.

Brian Williams
90
Posted 01/05/2017 at 00:00:50
... because Everton are bound to tell Rooney their plans for Lukaku – it's not like it's privileged info or anything...
Dave Abrahams
91
Posted 02/05/2017 at 01:02:04
Rob (#72), from your previous posts on here I accept you are a genuine Evertonian so with your post I believe there is a good chance that Wayne will sign for The Blues.
I loved Rooney playing for The Toffees but I hope he doesn't come back to Everton, his best days playing football are long gone. If he signs I obviously hope he does the business but will be amazed if he does.
Steve Ferns
92
Posted 02/05/2017 at 01:21:44
Please don't call him "Wazza", it's a typical jibe by the southern press at northern working class guys. The press wanted so much for Wayne to be the new Gazza.
Anyway, we had our own nicknames for Wayne, and if he does come back, I'll return to calling him the Duke (after John Wayne).
Kieran Kinsella
93
Posted 02/05/2017 at 01:37:12
Brian,
Yes they probably would. It's not untypical for coaches and players to get the lowdown on what's going on at a club before they arrive. They don't want to get Walter Smithed upon arrival.
John Daley
94
Posted 02/05/2017 at 01:59:31
What if we're sitting in 4th place by the skin of our teeth (say, by goal difference or something), only to slip down to 5th right after the transfer window slams shut? Rom will be fucking fuming.
What if we're 5th or 6th at the start of January, Lukaku is begrudgingly let go and we then win our next two games to suddenly go 4th with a week of the transfer window still left to run? Ron will be fucking fuming.
What if we fluctuate between 4th and 5th throughout the entire month of January, resulting in Rom constantly moaning about not knowing whether he's coming or going and getting on Rooney's tits so much he scraps his New Years resolution to ditch the tabs, before almost getting caught having a sly toot out the window of one of the empty rooms in the east-wing, clambering out onto the ledge to evade capture and being spotted by a concerned passer-by who mistakes the Everton mans cat-like escape for a 'cry for help' suicide attempt and immediately calls the emergency services... after first texting Jim White and shouting something supportive like "JESUS CHRIST! IT'S NOT WORTH IT WAYNE. THERE'S LIFE AFTER LUKAKU, LAD!!"? Coleen will be fucking fuming.
Kieran Kinsella
95
Posted 02/05/2017 at 03:45:14
John Daley
What about if we are 5th in January, Rom leaves to join Man Utd in 4th? But we win the Europa League, and Spurs in 5th place win the Champions League and nick Man Utd's spot? Will we have to take him back?
Jim Harrison
96
Posted 02/05/2017 at 06:40:57
I watched the Man Utd game the other night, and like a previous posted, I agree that Sigurdsson looked better, but thought up until the silly foul he gave away Rooney looked decent. His passing seemed good, narrowly missed getting a goal.
Signing both would be a good step. But would probably be the end of Barkley. I couldn't see why Koeman kept him on against Chelsea, he was stinking. His passing was way off the standard required.
Ray Roche
97
Posted 02/05/2017 at 08:10:05
Steve Ferns (#92),
Steve, why not call him "Marion" – John Wayne's real name?
Brian Williams
98
Posted 02/05/2017 at 08:20:39
Kieran. Nah, not going for that mate. Lukaku will be sold in January if we're not in the top four? How's that an incentive for Rooney?
It's all a bit too "my mate's mum works for someone who cuts a player's dog's toenails" for me. But rather than argue we'll wait and see.
Having said that,I do think Lukaku will be here next season and have done since Koeman mentioned about respecting his contract, backed up by the fact that nobody will pay 𧴜m for him.
Rob Halligan
99
Posted 02/05/2017 at 08:29:50
Brent (#86) ... maybe, maybe!!
Kevin Tully
100
Posted 02/05/2017 at 10:39:02
I think Rooney's return would be fantastic for the first dozen games or so. He would have a new lease of life, and we would see some great performances pulling the strings in midfield.
Sadly, though, I believe all the football he has played is also starting to take it's toll. Injuries and loss of pace is a killer in the Premier League. Does anyone think he will be able to keep up with those lean speed machines at Chelsea, Spurs or even Liverpool? The top teams are full of players who possess limitless energy and eye-watering pace. We looked like a team of old men against Chelsea, why add another to the ranks?
The argument can certainly be made that he's better than the current options we have at our disposal. But that doesn't mean we are unable to find an upgrade on Rooney either for the massive wage he would command.
One question I would ask everyone on this thread: Will any of the other teams above us be in for his services? No chance. I don't like players coming back to the club because it suits them, it should be on our terms.
I also think many people remember Rooney in his prime, and not the player who cannot get into a poor England side and is surplus to requirements at Man Utd, who can't even break into the top 4.
Andrew Ellams
101
Posted 02/05/2017 at 10:45:28
I guess the question is: If we were linked with any other injury-prone, over-30 player who surplus to requirements at Man Utd and has just scored his first home league goal of the season, would we want them?
John Raftery
102
Posted 02/05/2017 at 10:57:25
Rob – thank you for the information. I know it must be from a reliable source or you would not be posting it. The only thing which might now stop it would appear to be a serious injury to Rooney. We will need a larger squad to compete in four competitions so this deal would not necessarily preclude keeping Barkley or signing Sigurdsson.
My two main concerns about Rooney are his injury record and the amount we will be paying in wages. I also hope his presence around the club is not a distraction especially if he manages to get back into the England squad with the national tabloids looking for the slightest excuse to print anything negative.
Dick Fearon
103
Posted 02/05/2017 at 10:59:14
At 31, he has at least 5 more seasons. If we are to be honest, Wayne at his worst is better than many of the sicknote idle chancers we have made millionaires out of.
Laurie Hartley
104
Posted 02/05/2017 at 11:41:07
Rob Halligan's post #72 has got me worried because it has credibility.
The return of Wayne Rooney will not, in my opinion, result in us achieving a spot in the top four and would be a backward step. If it does happen, I will start having serious doubts about Messrs Koeman, Walsh and Moshiri.*
In the summer I am really hoping we will sign players that are about to reach, or have just reached their peak as footballers.
* I am starting to have flashbacks to the end of Martinez's first season and what followed. I hope I am just having a wobble and that my previous optimism was well founded.
Paul Tran
105
Posted 02/05/2017 at 11:46:44
Thanks for the info, Rob. I'd rather we went elsewhere but, as with all transfers, it's handsome is as handsome does and I'll hope he does well for us. I'd livid if no-one else followed.
Really hope you're right about Rom cos we need him and I've got money on him playing for us next season.
Brian Furey
106
Posted 02/05/2017 at 12:17:20
Let's look at it from Rooney's point of view first. He probably feels his career is on the slide now and he's no longer first choice at Man Utd so he needs to find a club where he can see out his career.
Yes, he has the option to go to China or maybe the US but he's got kids and a wife from Liverpool and he is already a multi millionaire so he doesn't need the money. So I can imagine for family reasons he knows they would be a lot happier living around the North West near all their friends and family bringing up their kids.
What's the point in having millions if you can't live the life you want to live? Wayne probably sees himself happy playing out his final years with Everton and isn't too worried about the wages at this stage. Maybe he wants to become a coach like Rhino or Ferguson and he wants his kids to play for Everton.
It all sounds a lot more pleasant than moving his young family to a foreign country or to another club that he has no affiliation with.
For Man Utd they are happy to let him go on a freebie as he's costing them HUGE wages every week and not getting the return they want. For Everton though, this is the big dilemma. Some will argue he burnt his bridges with the fans and he's not up to it any more.
Koeman and Walsh certainly seemed interested when this move was first mentioned which certainly made me sit up and wonder why. Both know players a lot better than me or you, I'd say, and so they obviously feel he still has something to give. Maybe we only give him a year by year contract or the wages aren't such a big issue but surely having a player like Rooney at your disposal is better than not having him.
Of course he doesn't have the pace he once had or the explosiveness but if he's been offered for free and we can afford his wages then it's not really a tough decision.
I don't buy in to this "but he'll be taking someone else's place and prevent the younger guys from breaking through." If anything he will improve the younger lads and inspire them to raise their game and he will teach them what is needed to make that next step.
We've had similar situations in the past where players like Gazza, Ginola and Eto'o all came to us in the latter years and done a job for us. It doesn't mean we still can't sign big-name players for 㿞M and let Rooney play alongside them.
Anthony Hawkins
107
Posted 02/05/2017 at 12:32:11
I'm still not convinced Rooney coming home is a good idea...
Dave Abrahams
108
Posted 02/05/2017 at 12:55:52
Brian (#106),
Eto'o wasn't too bad a signing and got us plenty of publicity.
Gazza got us publicity and had a great game versus Exeter City in the FA Cup, didn't do anything else.
Ginola, I remember him coming and then going... I can't remember anything in-between.
Steve Ferns
109
Posted 02/05/2017 at 13:20:51
Ginola was dog shit. He's one of the worst signings ever. He was well past his best when he came here.
Gazza had flashes here and there, but knowing how great he was, it was painful watching him.
Eto'o? I don't know. Again, flashes were there, but his pace had gone. Something serious happened off the pitch that ultimately stopped him giving his all.
What about the other retirement signings? Whiteside? Blomqvist? Gough? Barry? Who else have we signed well into their 30s with their careers on the skids?
Barry was great as we all know. Gough was outstanding for a year, even alongside Watson, in the oldest partnership ever. Whiteside was younger than 30 but he was clearly finished by injury and a terrible gamble. Blomqvist was simply dreadful.
Sam Hoare
110
Posted 02/05/2017 at 13:23:09
Kevin @100
Good post, I think. This is NOT the Rooney of a few years ago. Jesse bloody Lingard is preferred to him at Man Utd.
It would create a buzz and a little nostalgia and sure he's still got a good football brain but by all accounts he has not treated his body well and it is showing. He will have some decent games, perhaps score a free-kick or two but he will give away needless free kicks (like the one that Swansea equalised from) because he is frustrated and will struggle to keep up.
The exciting teams in Europe right now are the likes of Spurs, Monaco and Dortmund – filled with technically gifted athletes able to press and move all day long. Rooney would be a step back from that.
If he comes then I will welcome him as I do all blue players but the wages that he will get would be far better spent bringing in the 'next' Wayne Rooney rather than the 'spent' one.
Kieran Kinsella
111
Posted 02/05/2017 at 13:53:24
I fear watching Rooney & Baxter leading our team out at an athletics stadium as Kenwright's latest snake-oil salesman scheme goes down the toilet.
John Raftery
112
Posted 02/05/2017 at 14:28:53
Given how much his form has deteriorated in the past couple of years, I doubt Rooney has anything like five seasons left in him. With a lot of miles on the clock and a long catalogue of injuries, he looks an old 31 to me.
As others have commented it does smack of the last two years of Walter and the desperate signings of Gascoigne and Ginola. The excitement lasts about one match and then it dawns on people how much they have fallen below the standard they once reached.
I would much prefer to build a young team with players like Tom Davies who have energy, skill and something to prove. Some fans are keen to see the back of Baines, Jags, Williams and Barry; individuals who are the wrong side of 30 and will need to be replaced in the next year with international class players. Bringing Rooney back adds to the age imbalance in a squad which needs more – not less – youthful energy.
Tony Sullivan
113
Posted 02/05/2017 at 14:30:37
Referring to gifted players who have an 'Indian Summer' in the twilight of their careers... Remember what Bobby Collins did for Leeds Utd when we sold him? I think he was 33 when sold.

John Raftery
114
Posted 02/05/2017 at 14:35:26
Tony (#113),
Bobby had actually just turned 31 but I take your point. He brought Leeds up from the old Divison Two and got them to a Cup Final.
John G Davies
115
Posted 02/05/2017 at 14:41:23
Rob (#72),
Sounds like your confident Lukaku is staying. Looks like Koeman has convinced him to be part of the project. Just need a Number 10 who will get double figures in goals and can create opportunities for other players to go with Roms goals.
Bolasie back within a couple of months of the season starting, hopefully a left-sided, forward-thinking player with pace, and we're in business. We are covered for defensive midfielders with Davies's development into a box-to-box midfielder coming on in leaps and bounds.
Two centre-halves and a keeper, the continuation of the youth that Koeman and Unsie are showing, and that's us 👍.
John Daley
116
Posted 02/05/2017 at 14:52:42
"
At 31 he has at least 5 more seasons"
In other news: the Illuminati plan to implant us all with ID chips at the behest of the beast of Revelation, you can't get rid of the Babadook and Mama Cass choked to death on a ham & pickle bap.
As recently as four days ago, even Rooney himself was only brave enough to predict being able to turn out for another "two to three years". How the hell do you arrive at five, minimum?
Okay, you can point to his age and say "he's only 31", but you only have to factor in the 15 years of top flight football he's already got on the clock, the lifelong battle to keep the chunk off, the long-rumoured liking for a tab/tilt combo, the complete loss of pace and the continually diminishing effectiveness of his displays, to cast doubt on the likelihood of him hanging on in there for a couple years more, never mind the next half-decade "at least".

John Daley
117
Posted 02/05/2017 at 14:58:41
"...he's still got a good football brain but by all accounts he has not treated his body well and it is showing"

Chris Williams
118
Posted 02/05/2017 at 14:59:51
Gough did well for us, as did Whiteside who, although past his best, scored a fair few goals in a piss poor team, from memory.
Collins played well for Leeds for several seasons until his leg was shattered in a European match. Hard little bastard and a great player with a point to prove, aggrieved with the way he was treated by Everton.
Having said that, none of this has bugger all to do with Rooney and his circumstances, unless he also has a point to prove.
Andrew Ellams
119
Posted 02/05/2017 at 15:31:52
Chris Williams, Whiteside was only the same age Lukaku is now when he signed for Everton, he just seemed like he'd been around forever.
Chris Williams
120
Posted 02/05/2017 at 15:34:04
Andrew,
Now that was one player with a very old body, knees and liver by all accounts!
But he did a job for a while.
Andrew Ellams
121
Posted 02/05/2017 at 15:42:43
Chris, I think the state of his liver was why Ferguson got shut.
Dave Abrahams
123
Posted 02/05/2017 at 16:10:05
Tony Sullivan (#113),
Bobby Collins was a great professional who looked after himself who prided himself on being fit and gave everything in every game he played. He was an exception to the rule, he even came back from that terrible injury with Leeds, playing for Morton in Scotland at a tidy age.
Will Mabon
124
Posted 02/05/2017 at 16:27:56
"In other news: the Illuminati plan to implant us all with ID chips"
And there is of course, no such thing as VeriChip, never was, and no-one has ever been implanted with them over the last decade, and the masses of information easily found online is obviously all fake.
VeriChip is one of several that don't exist.
John Daley
125
Posted 02/05/2017 at 16:37:33
"In other news: the Illuminati plan to implant us all with ID chips"
'And there is of course, no such thing as VeriChip, never was, and no-one has ever been implanted with them over the last decade, and the masses of information easily found online is obviously all fake.'
... and, of course, there is not a second half to the statement you selected that deliberately serves to hoist it from the realms of plausible to completely fucking bat-shit potty.
Eddie Dunn
126
Posted 02/05/2017 at 17:01:08
My own little shopping list would include Sigurdsson, Van Dijk, Vardy and Forster.
I wouldn't mind if Rob Halligan's hunch came true, as I am sure Rooney would contribute in a larger squad with Europa League games added to the burden.
Will Mabon
127
Posted 02/05/2017 at 17:52:51
Sorry, John (#125),
Maybe I'm tired but you've lost me there... are you saying it's real or potty? Two lots of possible sarcasm have double-confused me/the issue.
John Daley
128
Posted 02/05/2017 at 19:20:51
Ok, Will @127 (and apologies in advance to anyone wanting to read something with even the slightest link to Wayne Rooney. Although, I would guess he's had more than his fair share of 'chips' over the years and could very well be considered something of a connoisseur).
I'll try again.
My full (admittedly mocking) statement was "the illuminati plan to implant us all with ID chips at the behest of the beast of Revelation".
You then chose to quote only the first part and alluded to the existence of 'Positive ID', when the OTT ludicrousness of the statement primarily resides in the second part.
The bat-shit crazy bit isn't (1) the mere suggestion of micro-chips being implanted under human skin, but rather (2) the conspiracy against Christianity shite sometimes spouted about how such chips constitute the biblical 'mark of the beast' and are a significant part of the Antichrists cunning master plan.
It's like you posting this:
-----------------------------------
Will Mabon:Â 
Posted: one week day, at some time or other:
"Man survives being swallowed whole by a whale"
'Yeah, because that James Bartley bloke wasn't discovered alive in the body of a sperm whale suffering from a seriously bunged up arse way back in 1890, was he? That wouldn't be possible at all, would it? Nobody could ever survive that. Why, it would be absolutely ludicrous to suggest otherwise'
-----------------------------------
Then sitting back and slowly puffing on a stogie, when the complete sentence you chose to prune was actually:
"Man survives being swallowed whole by a whale after Pinnochio and Gepetto generously give him a push and provide pretty graphic directions on how to get straight through the gastrointestinal tract"
Hope that helps.
Ian Burns
129
Posted 02/05/2017 at 19:35:05
Back to the point of the article – will he or won't he?
He might... but, despite Mr Halligan's contacts, Lukaku won't be here. Many TWers might not rate him but you can be sure top teams in the Premier League and wider European top teams in the Champions League most certainly do.
Golden Boot (to boot) and he has made it obvious he wants to leave – he will have a choice of top teams, you can be sure, and good luck to him. I don't like his attitude towards EFC but he is not a "blue" in the way Ross is a "blue", whereas Mr Rooney is a "blue" and may well return to his roots.
For what it is worth, despite my support for Rooney's success since he left us, it is a major "No" from me. He is no longer a force and to make the next step up, we need to look for a Mata rather than a Rooney from Man Utd.
Brian Wilkinson
130
Posted 02/05/2017 at 19:37:29
As the saying goes, stop Lukaku and you stop Everton... which takes me back to Gary Lineker. We played everything through Lineker, he got bags of goals... but that was it; are we now too dependent on Lukaku and is there a Plan B?
That is something we do not know because Lukaku plays every week. My feeling has never changed – if silly money was offered, I would take it all day long and rebuild. We do not need to sell, of course, but for me I would go flat out looking for a centre-forward who can be a team player, who gets goals, and who wants to play for Everton.
No, I am not a Lukaku fan, the disrespect over the time he has been here towards Everton and him wanting away is wearing thin.
Unless we are in the top 4 before August 31, it will all start again, I would sooner rebuild early doors in July rather than it going tits-up 3 weeks into the new season.
I would bring Rooney back and link him up with a new striker.
Rob Halligan
131
Posted 02/05/2017 at 19:43:13
So, Ian Burns, I've been told by a very reliable source that Lukaku will still be with us next season. You seem so certain that he won't, so what have you heard, and who is your source?
Brian Williams
132
Posted 02/05/2017 at 20:44:31
Why would someone post as two different people????
Ian Herbert
133
Posted 02/05/2017 at 20:54:34
If we want to move on to the next level, then Rooney is not our man. I couldn't care less about the world-wide coverage his name would, allegedly, bring us; next season is all about results.
What will Rooney bring to the table next season for us? Very little, I would suggest.Go for tomorrow's players, not the has-beens.

Ian Burns
134
Posted 02/05/2017 at 21:16:55
Rob (#131), No source – just common sense tells me he will be gone. You will receive a grovelling apology if I am wrong.
Sam Hoare
135
Posted 02/05/2017 at 22:48:36
See Dolberg has come out and said that he doesn't want to go to one of the PL elite as he wants minutes on the pitch. The lad looks quality.
Won't happens in a million years but if somehow we got Butland, Koulibaly, Tielemans, Siggurdsson and Dolberg then I'd be getting seriously excited. Sadly that's about £150m worth of talent so I won't hold my breath...
Kieran Kinsella
136
Posted 02/05/2017 at 23:02:31
Why don't we raid the Chinese league? The government are clamping down on these ludicrous contracts. The bubble will burst soon enough anyway. Just say "Alright, Jackson Martinez, you've mad your nest egg – are you ready to come back to proper football?"
Gavin Johnson
137
Posted 02/05/2017 at 23:38:38
Sam,
Just seen the stories about Dolberg. I'd like to us sign him as our 2nd striker or as Rom's replacement.
I think we will be signing Wayne Rooney. I'd also like us to sign Defoe who'll be out of contract. That way, even if takes a while for a young striker like Dolberg to adapt to the Premier League, we'll have to proven strikers who will score goals.
Will Mabon
138
Posted 03/05/2017 at 06:28:20
John (#128):
All very esoteric. Looked to me like a simple dig at the idea of ID chips... which is certainly much more than plausible.
Jon Cox
139
Posted 03/05/2017 at 16:05:04
Will, it's already been used in the states for ahem, "medical purposes". It was then rolled out to keep track of the homeless people and to show how "caring" the establishment are to the less fortunate in society.
Wait till everyone cottons on to what smart meters are really for.
As for Rooney, get him signed. He may not have the pace but with his footballing brain he wouldn't be trying to beat the same guy four times before he has the ball robbed off his foot.
Kristian Boyce
140
Posted 03/05/2017 at 16:38:54
Listening to Man Utd fans, their biggest criticism of Rooney was that he slowed down their attack when he played, especially when Zlatan was on the field. I would have that worry too as we do have a pacy forward line, and it seems Rooney is always looking for that 'Hollywood' pass when he's on the ball now.
15 years of top flight football has had its toll on him and I think a move to the States would be a great retirement stint.
Jon Cox
141
Posted 03/05/2017 at 18:29:58
Brian (#132),
We don't know. ;-)
John G Davies
142
Posted 03/05/2017 at 18:43:47
Dolberg? I've watched him half-a-dozen times. Not for me.
I guarantee none of the top 6 will bid for him.
Andrew Clare
143
Posted 03/05/2017 at 19:18:52
If we want to remain a mid-table team, yes, sign him. If we want to challenge, don't even consider it.
We are going nowhere if we sign over-the-hill players, they have no ambition, no fight, no stamina... in fact, nothing to offer.
Build a fast, skillful young team and take the league by storm. Scour Europe for the top young talent and watch them go.
Brian Williams
145
Posted 04/05/2017 at 15:25:25
Brian Reade summed it up perfectly in today's (Thursday's) Daily Mirror.
Agree with him 100%.
Ian McDowell
146
Posted 04/05/2017 at 15:44:43
I missed that, Brian. What did he say?
I did read a classic quote from him talking about Sunderland ref: Moyes sucking the life out of the club.
"Defeatism spreads like a rash through football clubs, especially when it comes from the man paid handsomely to bring victories."
That could have also applied to his time at Everton.
Brian Williams
147
Posted 04/05/2017 at 20:12:33
Ian#146.
He started by saying "after watching Rooney huffing and puffing around the pitch in his latest game",,,,,he ended up questioning why Everton would want someone past their prime because of the history with him instead of a player reaching or at his peak. Questioned " do Everton need him."
That was the crux of it really mate.
Ian McDowell
148
Posted 04/05/2017 at 20:33:14
Thanks Brian.
I would also question how fit Rooney is but, he hasn't played much football recently. I was listening to Gary Neville discussing him. He basically said from previous experience at Man Utd together. Wayne is the sort of player that needs to be playing regularly and takes a run of games to get fully fit.
I still believe he could have something to offer if we can get him fully fit and playing regularly. The question for me is, where would he play?
Gary Hughes
149
Posted 05/05/2017 at 00:15:14
I thought the days of being a retirement home for bewildered footballers vanished with Walter Smith. Rooney is finished as a top drawer player, that alone should be enough reason to not bring him back.
Factor in the Judas, Man Utd badge-kissing antics and I wouldn't take him back on principal – no matter how good or bad he may be. I despair of some Evertonians, I really do.
Greg Hasbrouck
150
Posted 05/05/2017 at 19:53:50
Even if you were to give Rooney the benefit of the doubt and say he would be better than Barkley, it's only the slightest of improvements.

We need to target our positions of greatest weakness and upgrade them significantly. Replacing Barkley with Rooney does not raise our game and it doesn't make us more likely to threaten the Top 6.
Anthony Dwyer
152
Posted 07/05/2017 at 22:01:45
Watching Rooney today was awful, he's simply done and dusted, no longer a forward, if we brought him in he'd have to be used as a Barry.
Stay away.
Tom Bowers
153
Posted 07/05/2017 at 22:13:24
I have to agree, Rooney is no longer the player he was which in my opinion was as a striker nothing else. Something happened late in Ferguson's tenure which saw Rooney being played deeper and this may have been because he no longer had that killer touch around the box in a way that suited Man Utd.
That's not to say he still doesn't have an eye for goal but despite still having the smarts I suspect he is not happy playing in the middle of the park and he is also looking a little slower maybe the result of several injuries over the last few seasons.
In any event I don't see him fitting in back at Everton especially now they have the money to go after younger, hungrier players.
Ste Traverse
154
Posted 08/05/2017 at 12:35:42
Rooney was anonymous yesterday. He's so far past his best, it's untrue.
Given this, why the fuck do so many want him back?
Craig Walker
155
Posted 08/05/2017 at 13:03:47
Rooney seemed pretty good to me in the semi-final last year. He is a winner and we need more of them around the place.
The lads look like they're on the beach at the moment. I'd take an over-the-hill Rooney over Valencia or Kone. I'd sell Ross why we can still command a decent fee for him. He's nowhere near as good as we want him to be or that we need him to be if we have aspirations of being a consistent top 6 side.
Andrew Clare
156
Posted 08/05/2017 at 13:36:21
Rooney has had his day. Too expensive and too old. We want fast, skillful young players – not old strollers.
Colin Malone
157
Posted 08/05/2017 at 14:34:24
Rooney would do a lot more damage than Rom, he has the skills to come deep and play with Barkley and Davies, as Spurs play.
We have got to get rid of a goal hanger that Rom is, then we will see goals coming from the team rather than one.
Peter Thistle
158
Posted 10/05/2017 at 08:12:45
He would just annoy us. Stay where you are, traitor that's finished.
Mark Tanton
159
Posted 10/05/2017 at 08:17:24
You can put Rooney in the not-so-glorious category of Ginola and Gazza in terms of Everton signing players embarrassingly beyond their best.
Tony Williams
160
Posted 10/05/2017 at 18:26:16
I don't want him back; I would do if it was the Rooney of old. Why are the Mancs getting shot?

Peter Laing
161
Posted 10/05/2017 at 23:16:50
Breath a sigh of relief, good old money bags has stated his desire to stay at Man Utd next season. Bet the Mancs will love that as he extracts every last penny of that 𧶲,000 grand per week for doing fuck all.
Kenwright is probably weeping as he had the script written I'm sure for the return of the prodigal son!
Kieran Kinsella
162
Posted 10/05/2017 at 23:41:12
Peter Laing,
Funny how different journalists spin the same comments. Sky have Rooney staying at Man Utd. The Guardian have him leaving.
The Guardian had a longer quote where he said he's doing what he can at Man Utd but he wants to play football so will consider his options. Then when asked "would you like to play football at Man Utd?" He said "of course."
Sky only reported that last bit and not the prior comments that made it sound like he's ready to leave Man Utd. The truth? Who knows.
Tony J Williams
164
Posted 11/05/2017 at 10:04:36
"Plus he would also be bringing a winner's mentality into the changing room, and this has got to become the biggest change to happen to Everton."
Could have closed the thread after that post. We have been the nicey nicey shithouses for too long. Last niggly bastard we had was Cahill.
It's interesting reading the comments, because a lot seems to want to paint this transfer as our marquis signing, far from it, if he comes he will be one of a few signings (hopefully).
He will be invaluable in the dressing room and around the youngsters also his experience in Europe has to be a plus.
Just keep him away from the tabs and the grannies and we could have a good couple of seasons from him and then let him have his final payday going to China or the USA.
A squad player for a season in Europe; I see no down side
Simon Jones
165
Posted 11/05/2017 at 12:28:59
Carl (#24), yeah, that.
We keep saying Rooney is all about what we do off the pitch rather than on it. Imagine the commercial possibilities, alongside a new stadium, Wayne and his media-savvy missus. It doesn't matter if he is 16 stone, can't run, hit a pass, play at Number 9, or 10, 74 or wherever.
Take your Blue-tinted specs off, he's Wayne-fucking-Rooney and that will open more doors than it closes. Whether you like him or loathe him, if he comes back, he is our David Beckham.
Anthony Hawkins
166
Posted 11/05/2017 at 13:11:10
Simon @#165 Are you suggesting we should buy Rooney and then not play him? That simply doesn't make any sense in the clubs current position.
We need quality players and numbers on the pitch. It doesn't matter what level of marketability Rooney has if he's not doing it on the pitch.
There's more likelihood of Dele Alli being on the cover of FIFA18 than Rooney.
Simon Jones
167
Posted 11/05/2017 at 14:15:24
Anthony (#166),
No, if he comes back, IMO it will be about far more than just footballing reasons. In reality, I don't believe we would make the transfer if he couldn't play, or at least fit in somewhere, if only from the bench.
The lad can still clearly play; the discussion here is usually about his standard and where he would fit in the team. My argument is, he'll be made to fit somewhere if the commercial opportunity is deemed great enough – plus, like Carl says, we can still sell him on to a Chinese team, because he is Wayne Rooney.
Colin Glassar
168
Posted 14/05/2017 at 17:35:37
Watching Man Utd today, I must admit that Wayne looks a lot lighter – like 𧺬k lighter.
Colin Glassar
169
Posted 14/05/2017 at 22:22:42
Sad to hear, or maybe not, from Gary Neville saying he doesn't think Wazza will ever be considered an Old Trafford idol or legend.
The Mancs loved Wayne's goals and commitment. He's their record goal scorer and has won everything under the sun with them but, at the end of the day he's still a scummy (in their eyes) Scouser.
I don't think he'll become another Charlton, sitting in the stands like some Mancunian deity, there'll be no red carpet treatment for him like when Beckham returns, no banners or chanting of his name etc . In fact I don't think either party will miss each other once he leaves for good. Sad in a way.
Chris Williams
170
Posted 14/05/2017 at 22:43:24
Colin, I think he brings his lad to Goodison, doesn't he?
He chose to go there, or the odious Stretford did, but it was only ever an arranged marriage so to speak. No question of a love match, I suspect, especially after him looking to join City a few years ago, presumably with Stretford's collusion.
Neville is no lover of Scousers in any case.
Colin Glassar
171
Posted 14/05/2017 at 22:51:40
It's sad in a way though, Chris. He followed the money and gave his best years to the Mancs now, according to one poll I've seen, the majority of them don't care if he stays or not.
Today he looked really out of sorts. Chasing shadows and looking really frustrated. It looked a cert, a few weeks ago, that he'd be coming home but now I'm not sure if there's anything left in the tank.
Tony Hill
172
Posted 14/05/2017 at 23:00:18
He saved Ferguson's bacon when he arrived, maintaining the team as it risked decline and then moving it to renewed success with Ronaldo (who was behind Rooney initially in development).
Ferguson never took to him because he didn't bend the knee and most of the gobby Manc fans are fuckwits who get their football from Sunday Supplement or the like. The real United fans I know are very appreciative of what they enjoyed with Rooney at his peak, and so they should be.
Neville is right because Rooney is a difficult character in his way and he doesn't fit a mould, but I agree with Robbie Savage (God help us) that this is a player whose talent and achievements will be properly recognised only once he has retired and time has passed.
Chris Williams
173
Posted 14/05/2017 at 23:15:09
Colin, it is pretty sad and I reckon he has been manipulated by a total arsehole who seems to have taken in the entire Rooney family over the years.
What was written on the walls of Goodison when he left?
'You could have been a hero but chose to join the devil'
Something like that I think.
Dan Egerton
174
Posted 15/05/2017 at 06:16:00
Rooney is old and slow now. No more has-beens. We are no longer the Man Utd pasture for old people.
Brian Murray
176
Posted 21/05/2017 at 00:16:10
Koeman has no emotional attachment to us or a past-it Rooney so why would he even look twice at him? Let him sail on the slow boat to China and take the two boardroom buffoons with him before they do any more damage and disastrous calls.
Alexander Murphy
177
Posted 21/05/2017 at 13:12:17
Do I truly believe that Wayne Rooney is on Koeman & Walsh's shopping list?
Nope.
Matter closed.
Peter Thistle
178
Posted 24/05/2017 at 05:01:57
He'd just annoy us. Avoid.
---
Add Your Comments
In order to post a comment, you need to be logged in as a registered user of the site.
Or Sign up as a ToffeeWeb Member — it's free, takes just a few minutes and will allow you to post your comments on articles and Talking Points submissions across the site.
© ToffeeWeb