Fan Comment
Remembering Harold Matthews
Keith Harrison
26/08/2016

34 Comments [Jump to last]
The Odyssey of Harolds' Wreath – The Toffeeweb (Offside Forum) tribute to Harold Matthews
Background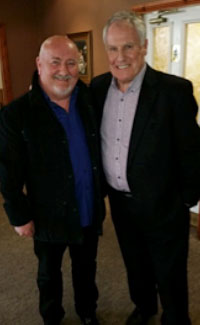 When the most regular users of the ToffeeWeb 'Offside Forum' met up in May for the last match of the season against Norwich, a more disparate bunch of individuals it would be hard to find.
Builders to Book-keepers were represented, and all manner of jobs in between for the 11 good men and true (and one wife) who turned up to see the first post-Roberto side filled with youth put Norwich to the sword.
Having spoken to Joe Royle at a Sportsmen's dinner in Cumbria 2 days earlier, I had an inkling of the team make-up, and the likely departure of John Stones this summer.
Although some of us had met before, in fact at the corresponding game the previous season – a turgid affair against Spurs I was by no means the most distant traveller, as Scotland, Wales, Ireland and France (Portsmouth, but that's near enough French to me) had representatives, and 1 lad had even flown in from America, heavily disguised and with a hat so he wouldn't be picked up by the fashion police.
The Offside Forum is often no place for the faint-hearted or of delicate disposition, and declarations of war have occasionally broken out on there between us which make the Live Forum on matchday look like a Woodstock love-in. Despite this, and a definite unease between posters in the week before the last game, most met up initially at the Albert Dock, bite to eat and a few in town, then on to the Winslow, where the rest awaited. Protagonists of the week before embraced warmly and the beer flowed well into the night, as we discovered we were Blue Brothers, united by a common love - we got two football coupons up!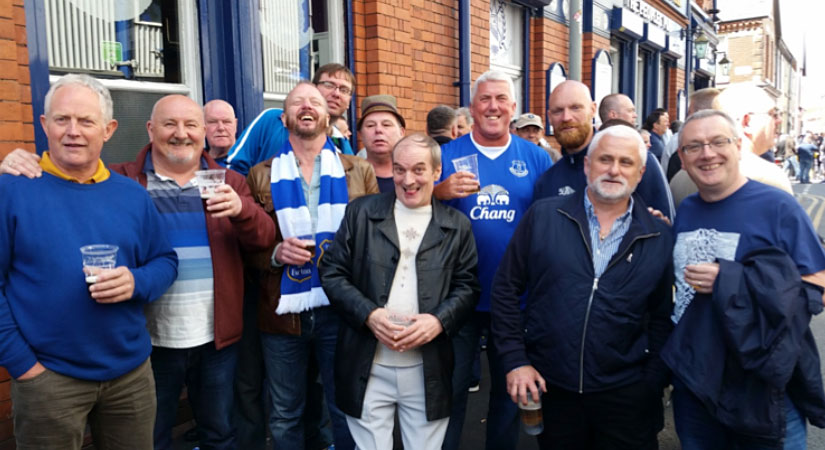 Harold
It was Patrick Murphy who made the observation that he had fully intended to get a pot plant, and lay it at Dixie's statue in memory of Harold that day in May. For those who don't know, Harold was considered – without exception – as the sage of ToffeeWeb.
Whilst the likes of Eugene R and John D can be considered as past masters of the humorous articles, and certain other posters can bring the mood down akin to being given the news you have the big C, or a loved one has died, with respect, none of those posters are universally agreed with by everyone.
Harold WAS. Whenever he posted, people looked to see what words of wisdom he had chosen to impart to us lesser mortals. His knowledge of his beloved Everton was immense. His knowledge of football in general was also immense.
I didn't know Harold, in any way shape or form. I'm not from Merseyside, don't know the area he was from or frequented, and had certainly, to my knowledge, never met the man.
I was deeply upset when I read of his death, as were most of the regular posters on here, judging by the hugely respectful posts on the article posted by one of his sons. I sincerely felt I had lost a mate. Everyone had lost a mate. That was also keenly felt by the boys last May, and we were disappointed with an opportunity missed to remember Harold in a small but personal way.
Footnote: I had a nice letter from the Merseyside boys in blue relating to the day Harold died. It was the Arsenal game, and they brilliantly spotted I was doing 36mph on the 3 lane Scotland road up to Walton Sports centre from the Albert Dock. Well done to them, and the £100 I donated to their Xmas party was money well spent I say.
Wreath
Having procured a season ticket for the upcoming season no less than 30 minutes before Roberto was sacked, it was a no-brainer I would be down for the Spuds game. Having mentioned it to a few of the lads on the OF by text, we agreed to get a wreath and lay it at Dixies statue on the first game. I ordered it from a local florist in Cumbria on Friday for me to pick it up first thing Saturday morning. When the lady asked what it was for, I told her to lay a memorial at a football statue in Liverpool the following day. She said "Oh, you'll want red and white flowers then eh?" Sorry Harold, forgive her. "Definitely not", said I, "It's for the football team in Liverpool, so they need to be Blue and white!"
Journey
The day dawned fair – in Africa. It was pissing down in Cumbria when I hit the M6 Around 9.15am, having picked up the admittedly beautiful wreath in Wigton, and sampled Gregg's Bacon Bap and Coffee for £2. You can't really afford not to have one.
The rain kept going until just after Preston, but grey skies were still the order of the day. Once I hit the M62 west, however, the sunshine peeped through. I engaged the Sat Nav to try and find the Mansion Halligan so I could pick Rob up.
I've never really mastered the Sat Nav/Music Player balance, and this lady was attempting to tell me where to turn off while Rob Halford live was screaming 'Metal Gods' and drowning her out. Halford won, and turning the volume up to hear her only succeeded in screeching guitars making old ladies crap themselves on the pavements as I glided slowly looking for street signs.
I pulled both usb sticks with the music finally, and the Sat Nav kicked in again. The normally sexy voiced Sat Nav lady was by now hysterical "For God's sake, do a U-turn as fast as you can, even if you're on the Motorway" "Don't stop round here, keep the wheels rolling" "You're on your own now, buddy" as her hitherto English Rose tones descended rapidly into Noo Yawk akin to Officer Mick Belker off Hill Street Blues.
Rob, who previously hadn't answered his mobile because he was touring the perimeter fence of his estate on a quad bike, finally picked up. When I told him I was at a place called Menlove Avenue, with a hysterical Sat Nav lady, and feeling more than slightly vulnerable myself, he said he would find me and guide me to his White House residence. Every street had a Menlove connotation of either N, S, W, E, or Avenue or Street. The fact I had 2 x 24" length rings of Cumberland Sausage in the car did nothing for my shredded nerves.
I tried to close my mind to the Menlove reference, as that sort of thing is still illegal, and punishable by a trip to the ducking stool in Cumbria. Rob eventually found both me and the Sat Nav lady in tears in the middle of what I assumed was Menlove village.
After handing over the sausage and 2kgs of the Lake District extra mature Cheddar beloved by Rob in the safety of his grounds, I composed myself enough to drink a welcome cup of tea, watch the England bowlers toil almost fruitlessly for half an hour in the final test, and then we made our way to Goodison.
I parked on the roadside by the Walton Sports Centre. Not sure why, but this certain "Watch yer car mister?" kid never bothers me now. Maybe it's because I took a photo of him last time he asked, and said I'd hunt him down like a dog if anything happened to it. The previous time, I gave him some sweets instead of cash, which I assumed was normal as he only had one tooth, top and bottom, and those were hanging on for dear life.
From there, we walked up to Goodison with the wreath in a bag. And some cheese for Patrick.
Laying
Having put a small mention on a ToffeeWeb thread, I thought something of a crowd may be there round 1.30 for when Rob and myself got to Dixie's statue. I imagined on the way down having to make a small speech in front of like-minded 'friends' of Harold, and sombrely and ceremoniously laying the wreath at the feet of one of the greatest Evertonians.
The reality was there were a number of people laying floral tributes to friend and family, it being the first game, and all reverent thoughts were shattered when this small cockney voice  said "Who's the bronze geezer, dad?" Yeah, Tottenham were in town too. The Farver of this Mary Poppins type urchin had vaguely heard of Dixie, but in fairness was only too happy to take the snap of Rob and myself with the tribute wreath to Harold. I had printed out an A4 sheet with a photo of Harold, ToffeeWeb logos and a small message on there from the Offside Forum, and this was duly and reverently placed in about the only space available to the backdrop of deafening music from the Fanzone, mere yards away. Only Everton!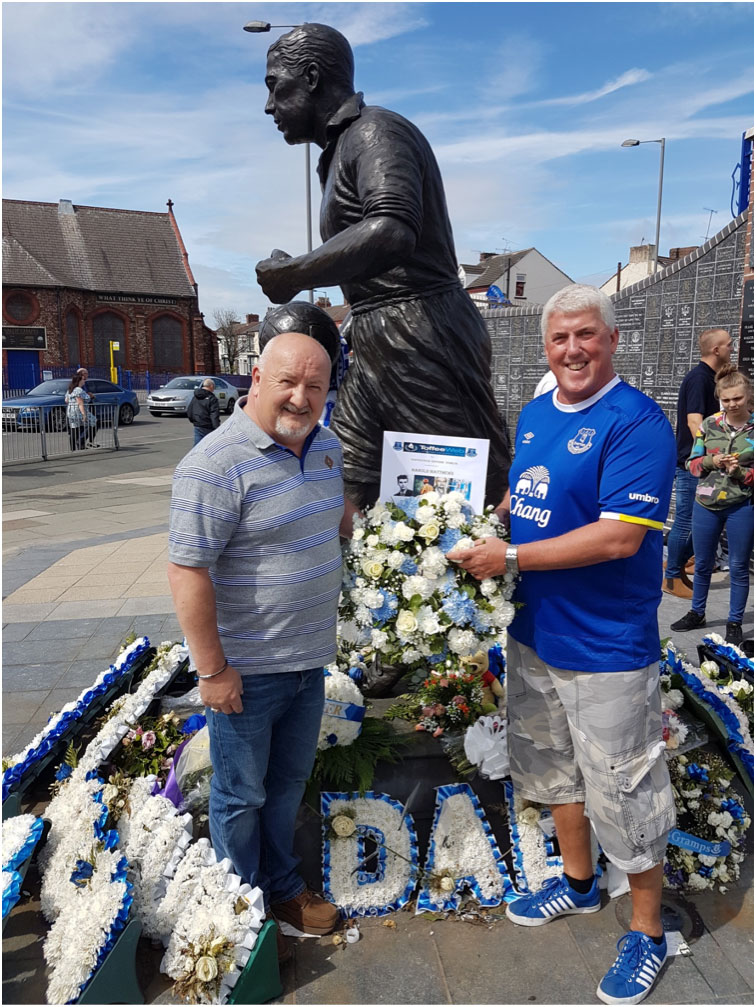 Winslow
We walked back to The Winslow just in time not to see Kev Tully, who had arranged to meet us there at 1.45. It was 1.40, but Kev's exquisite Swiss timepiece seems to run 15 minutes faster than mere mortals' watches, and my Klaus Kobec limited edition Everton timepiece with jarg batteries was obviously not up to the job. Rob confirmed it was only 1.40.
Patrick then turned up just after 2, having arranged to meet us and lay the wreath at 1.15. Patrick, of mixed lineage, is very proud to tell you he is half Indian, half Mexican, half Irish, and a third English. And a trifle confused. His sense of direction is legendary, given his antecedents, and he is to tracking what Margarita Pracatan and Les Dawson were to classical piano. He has been known to take over a week to get home after a match, spending hundreds of pounds on public transport as he criss-crosses the city in search of a familiar landmark.
We stood outside the Winslow having decanted our drinks into warm plastic glasses instead of the warm glass ones, and a scary moment then happened.
A complete stranger then came up and rightly pointed us out in turn – "You must be Patrick Murphy, Keith Harrison and Rob Halligan!" My boy scout training kicked in right away, so I quickly established he wasn't carrying a gun, but I pulled Patrick in front of me and Rob just in case he was carrying a knife. After a few seconds of inactivity, he said he was Terence Tyler, and recognised us off photos posted on the Offside Forum after the Norwich game.
Thus ended the excitement, and we three split up and headed for our respective sections of the ground where our Season Tickets are based, comforted by our small but meaningful tribute on behalf of the Offside Forum, and indeed all who sail the good ship ToffeeWeb, to a true blue gentleman loved by all, called Harold Matthews.
Finally
The wreath cost £40, and has been paid for by £5 donations from myself and a number of other regular 'Offsiders'. If any other ToffeeWebbers would like to donate retrospectively in memory of Harold, and to feel they have contributed to this gesture, please could you donate your contribution to Everton In The Community or a similar charity, as the original cost has been covered thankyou.
There has been a smidgeon of journalistic license in this tale in which I have hopefully poked fun internally towards myself, Cumbrians, and the lads of the OF, and I would appreciate PC keyboard warriors keeping their council to themselves regarding the above.
Reader Comments (34)
Note: the following content is not moderated or vetted by the site owners at the time of submission. Comments are the responsibility of the poster. Disclaimer
Paul Kelly
1
Posted 27/08/2016 at 05:12:42
Quality read, and a fitting tribute to a TW legend. Hats off to all.
Jon Withey
2
Posted 27/08/2016 at 08:13:12
Not much more to be said really, lots of class from all involved and I never met Harold but always enjoyed his considered thoughts on all things Everton, RIP.
Terence Tyler
3
Posted 27/08/2016 at 08:54:48
Excellent tribute for Harold. Have a good day if you're down for the match today Keith. 4-1 to the blues.
Keith Harrison
4
Posted 27/08/2016 at 09:26:57
Cheers, Terence. Just setting off in a min if she gets her backside in gear. 4-1 is my take too mate.
Dave Williams
5
Posted 27/08/2016 at 10:02:22
Great post Keith.
Never met him but seemed a really nice man with insightful and measured comments and always able to bring down the more irate posters from their perch.
RIP.
Dean Adams
6
Posted 27/08/2016 at 10:35:19
Well done Keith. As our spokesman for the OF, I think you have done a reasonable job on this occasion. I would like to say well done to Terence for not being perturbed having met the "less than normal" OF representatives.
Seriously though it was nice to be able to say goodbye to Harold in this manner, even though we never met, I always felt he would chastise me for his particular dislike, "for copying and pasting his name and contribution number" when I referred to his posts. RIP Harold and best wishes to all who knew him.
Ian Robert
7
Posted 27/08/2016 at 10:53:35
Great post Keith, always sad to lose a blue. A good read and fascinating insight into some of the TW miscreants. I must look up the OF sometime.
Mark Fitzgerald
8
Posted 27/08/2016 at 10:59:05
Nice read Keith, thanks. I also never met Harold but, like many, was always interested to read his insightful and well though out comments on Toffeweb.
Was saddened to read of his passing but buoyed by the universal reaction from the Everton fans with their respectful and heartfelt comments of condolence.
Being a distant Evertonian (Cork-Ireland) it's genuinely uplifting to read comments like yours in relation to a gentleman that you only got to know through his written observations. And that thoughtful gesture to his memory on your visit to Goodison. Another reason for me to be glad that I support this club; Evertonians like you.
ps: As a layman historian I'm also going to claim you as a fellow Celt . You can tell 38.5% Irish Patrick that your Celtic background comes from your association with the kingdom of Rheged.
Eric Holland
9
Posted 27/08/2016 at 11:05:11
Keith how about a L to R and we can put some faces to names.
Ian Robert
10
Posted 27/08/2016 at 11:09:51
Don't do it, Keith, Eric could be HMRC, or CIA or HMP Park Lane!!
David Greenwood
11
Posted 27/08/2016 at 11:18:10
Great post Keith.
Never met Harold, always enjoyed reading his posts. Sensible, calm, well thought out, no malice, no personal abuse in his posts.
Sadly missed here and on the OF.
He'd be made up to see we have signed Bolasie.
Dave Abrahams
12
Posted 27/08/2016 at 12:08:41
Lovely read, Keith.
Like most on here, I never met Harold but when he passed away, it was like losing a friend. Well done Keith and party, laying the wreath and putting Harold in the forefront once again.
Dennis Stevens
13
Posted 27/08/2016 at 12:29:52
Thanks for that excellent piece, Keith.
Harold Matthews was a great ToffeeWeb contributor & is still much missed.
Dennis in Portsmouth - or, as you call it, France!
Mark Riding
14
Posted 27/08/2016 at 12:44:23
Be arsed reading all that Keith.
Shron Maguire
15
Posted 27/08/2016 at 12:45:51
Great post, Kieth, the 'lads' off the OF sound a great bunch. 😉😁
Dean Adams
16
Posted 27/08/2016 at 15:02:06
Eric, It is Keith, Dixie, Rob and some random lurker!!
Eddie Dunn
17
Posted 27/08/2016 at 18:32:59
Really enjoyed that. Thanks Keith. I never met Harold but loved his contributions, and it is a shame that he is not still with us to enjoy this new chapter in the Everton story that binds us all together- whether we like it or not!
Darren Hind
18
Posted 27/08/2016 at 20:56:22
Touch of class.
Colin Glassar
19
Posted 27/08/2016 at 21:32:38
Great post Keith. Harold's wisdom is sorely missed as is his calming influence.
I'm glad I didn't go to that meet, what a bunch of ugly looking sods!!
Ray Roche
20
Posted 27/08/2016 at 22:00:51
Says Brad Pitt, AKA Colin Glassar!
Thomas Surgenor
21
Posted 27/08/2016 at 22:06:21
I have really missed all Harold's insight into transfers. He always spotted/knew something about the abilities of potentially candidates. I trusted his word much more than the press opinions.
Keith Harrison
22
Posted 27/08/2016 at 22:07:15
Just got back from today's game. Last time I let the missus loose in Liverpool one without me.
One of the lads had a cardboard cut-out of you there, Colin!
I daren't give the names out, Eric, except PF is the one with the hat, who looks like George Clooney. After a car crash. Rob Menlove and myself should be obvious.
Keith Harrison
23
Posted 27/08/2016 at 22:13:21
Mark (8). Not Celt, mate. Not having that at all. Full blown Anglo Saxon direct descendent of the Duke of Cumberland (okay – I know he was German) that fought the Celts and picts on the border.
I'll explain to Patrick if he ever turns up for today's match.
Keith Harrison
24
Posted 27/08/2016 at 22:20:50
Just seen on Sky that the guy who took ill in the Park end behind us today has died.
Sincere condolences to his family after this tragedy. We had applauded him out when he was being carried out on the stretcher, and to be fair, the Stoke fans, who I thought were well anti-scouse throughout, applauded too.
Ray Roche
25
Posted 27/08/2016 at 22:43:44
Keth, to be fair to the Stoke fans, they were effusive in their support and applause for the 100-year-old Everton fan, and I apologise for not remembering his name, who came on the pitch before the match. Pretty good going for a man born during WW1!

Keith Harrison
26
Posted 28/08/2016 at 00:14:10
He looked a bit sprightlier than me, Ray.
Still a sad day mate, and the emergency services sprinted up the stairs when the fans were calling for them.
Sad.
Patrick Murphy
28
Posted 28/08/2016 at 13:19:05
Nice write up Keith, and I'm glad it has been so well received by the TW family. That is something that Evertonians pride themselves on, we are supporters but we also take care of each other when the need arises.
I saw the stewards and emergency services up at the back of the Park End stand and almost immediately thought that there had been some minor trouble, never for a moment did I think that a man and fellow Toffee, may have lost his life. As others have already said sincere condolences to his family and friends for their loss. It does remind us all that life is precious and extremely tenuous and we should all make the most of it whilst we are able to.
As for my travails, I really must get an up-to-date navigation system, using the stars to guide my journeys home is proving problematic, particularly when it's overcast - Keith I should be home pretty soon, Wednesday is the latest estimate:)
Paul Hewitt
29
Posted 28/08/2016 at 20:49:39
Excellent piece, Keith. First time for everything, mate.
Keith Harrison
30
Posted 30/08/2016 at 00:01:13
Are you still bitter over the sound thrashing I gave you in the Fantasy Football, Paul?
hehe.
Derek Knox
31
Posted 30/08/2016 at 08:59:23
Shows how out of touch I am, I did't realise till reading this article, that 'Harold had passed away' so apologies fellow TW'ersw for that.
I have recently got married, and had less time on the site recently, than previously.
Great Evertonian and TW'er will be sadly missed!
John Daley
32
Posted 30/08/2016 at 15:17:00
Failed to spot this piece nestling further down the page. Made for a very enjoyable read and a great gesture by the guys who contributed to the wreath. Well done to all involved. 
Special credit to Keith though for writing through the pain after probably taking a kicking when he returned to pick up his car:Â Link
As long as you got a few licks in on that one on the left before you went to ground, you can keep your head held high, Keith!
I was also going to say, with the inclusion of pictures, it was nice to be able to (try and) put a few faces to names but, truthfully, it was all a little bit traumatising. Like walking in on someone after they just finished pissing about with the puzzle box from Hellraiser and catching a brief glimpse of the Cenobytes. (Although, it was nice to see Elmer Fudd made an appearance in the middle of wabbit season. Thought he might have coughed up for a new hat to mark such a momentous occasion, mind.)
Maybe, you should make these sneak peeks into the adventures of the super exclusive Offside Forum a regular thing?
Next up: Â Link
The boys from the Offside Forum go hunting for canoeists on the  Cahulawassee River.

Jamie Crowley
33
Posted 30/08/2016 at 18:29:21
Keith - fucking brilliant.
Absolutely fantastic Keith.
Rob Halligan
34
Posted 30/08/2016 at 19:58:25
John Daley (that name sounds so familiar to me from many years ago) everyone and anyone is welcome on the Offside Forum. Have a look in, it's quite fun.😂😂😂😂😂😂😂😂😂😂😂😂
Keith Harrison
35
Posted 30/08/2016 at 21:41:33
Thanks John. You had an honourable mention in the article, as I enjoy your flights of fancy too mate.
I should have asked Lyndon to put this in the Articles section, as being on the message board has obviously meant it being out of sight/mind. The two-fold raison d'etre of the diatribe was to pay our respects to Harold, and hopefully get ToffeeWebbers to make a small donation to EitC in memory of Harold. It would be nice to have an inscribed tile or similar dedicated to Harold at the Docks ground when it opens.
I could probably do an irregular feature from the OF pages, but wouldn't dream of a 'from my seat', or similar, as having done it in the past for the local Rugby Club, you spend all bloody week trying to think of different funny things.
Over to you, Lyndon.
Add Your Comments
In order to post a comment, you need to be logged in as a registered user of the site.
Or Sign up as a ToffeeWeb Member — it's free, takes just a few minutes and will allow you to post your comments on articles and Talking Points submissions across the site.
© ToffeeWeb