Fan Comment
Moving On? A Ross Barkley Conundrum
Daniel Mottram
14/05/2017

138 Comments [Jump to last]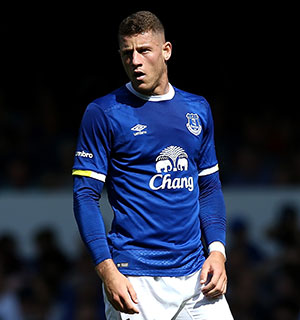 Decision time for Ross Barkley: Sign or be sold
Firstly, I want to make it clear that I like Ross Barkley. I want him to stay at Everton, continue to improve and fulfil the potential that has been bestowed on him ever since people started to notice him as he worked his way through the youth teams. The expectations for Barkley were and still are, high. At one point or another, we've all had an opinion on the comparisons between him and Wayne Rooney. Then there are the possibly more relevant and certainly more emotive comparisons between Barkley and Steven Gerrard. Whenever I have heard this particular comparison, it has always been by someone slating Barkley for not being as good as that person expected Ross to be by whatever age he was at the time. "Just compare him to Gerrard at 22, Gerrard was two-footing people, scoring screamers and winning games single-handedly every week. Barkley is 22 and scared to put a foot in." You get the idea.
The fact that Barkley is compared to two of the best players to come out of this city shows how much is expected of him. Part of the expectation stems from our desire for the local lad to be the star of their local team, the team they grew up supporting. It is one of the few pure, traditional values that still means something in modern day football. Another part is the satisfaction that comes from simply seeing a player make the step from the youth set-up to the first team. The most recent example of this is Tom Davies; aside from his exciting potential, it is just a good feeling to see him performing consistently in the Premier League knowing that he has grown up with the club and with its supporters.
For Evertonians, there is another reason why we are so desperate for our young players to become the best players around – because we can't afford to buy them as the finished article. We need to get them as kids and develop them into the top players without having to fork out a huge transfer fee. John Stones is far from the finished article and he cost Man City £47½m. How much would it cost in today's money to buy a Ross Barkley at 28 when/if he has fulfilled his potential? £50m? £60m?
At least, that was true of the Everton of 18 months ago. Now, the only obstacle to buying who we want is, according to our Chairman & thanks to investment from Farhad Moshiri, not how much they cost, it is whether or not they want to play for Everton. Morgan Schneiderlin is a prime example, I can't remember the last time Everton bought a high quality player that is already playing at a high level, a 'finished article'. We don't have to wait for him to fulfil his potential, he is already there. Who is the last player Everton bought that you can say that about? It's difficult isn't it? One of the people I asked went all the way back to 1995 and the signing of Andrei Kanchelskis, his reason being that "he was already too good for us when we signed him." I struggled to argue.
Cahill, Arteta, Pienaar, Fellaini, Coleman etc – all proved to be great signings but initially they were either unproven or had another element of risk attached to them. They were each a well scouted bargain, a gamble, an effort to be a differential that helped in our efforts to bridge the gap to the rich clubs without having to spend the same kind of cash. If anyone else wants a Seamus Coleman, it is going to cost them £20m plus, I don't need to remind you how much ours cost us.
It is increasingly apparent that Everton is now operating to a different model. Sure, there will still probably be the occasional 'bargain' such as Idrissa Gana Gueye – Steve Walsh will see to that – but more and more the club will be going after the marquee signings. The signings that, like Schneiderlin, will slot right in and immediately bring us closer to clubs above us. It is a kind of impatience coupled with responsibility. Signings like Lookman & Calvert-Lewin show that the club still thinks about the long game but at the same time, Koeman, like the rest of us, wants success NOW.
At the time of writing this article, we have just heard Ronald Koeman tell us that Barkley needs to decide in the next week whether or not he wants to sign a new contract. If he refuses, he will be sold this summer. Koeman, in public at least, seems quite ambivalent about the situation. He's been straight with us about most things so I'm taking him on face value with this too.
On balance, Koeman has been more critical than complimentary of Barkley. This seems to be his approach in getting the best out of the player but the response from Barkley has been mixed. In how many matches this season has he been our best player? How many times has he controlled a game? He's been good but not great. Some players will never be left out of the team when fit, such is their importance; Ross should be one of them but he isn't.
Something occurred to me when I was going through the coverage of the end-of-season awards. Between the awkward interviews, highlight reels, thank you speeches and of course Bill Kenwright's passion-filled monologue, one thing stood out: Ross was barely in the conversation. Not in the running for any of the awards, not picked out for interview and mentioned by Kenwright only as what sounded like an afterthought subsequent to him singling out half of the squad for personal accolade or mickey-taking. The only time Barkley's name was mentioned with any significance on the night was when Romelu Lukaku said during an acceptance speech how he was inspired by how Barkley had improved, it almost felt like Lukaku had thought 'someone best mention Ross.'
It shouldn't be this way, should it? Ross should be one of the standout stars by now, shouldn't he, on the shortlist for every award? With everyone wanting to hear him talk and highlight reels filled with footage of him tearing the opposition to pieces? In a campaign where the team has broken records and repaired much of the damage of the previous two seasons, Barkley's contribution hasn't really been celebrated at all. He is our second-highest scorer this season (5) and leads the way with assists (8), which is good but only 2 more than Kevin Mirallas who has scored 4 and assisted 6 despite having almost 1,000 less minutes on the pitch than Barkley.
Going back to what I said earlier about comparisons, I thought that Barkley would have progressed more than he has by now. Lukaku is a similar age and for three years we have watched him get better and better. He has noticeably improved almost every aspect of his game. Barkley has also improved over the same period but not significantly. In a recent home game, he had three clear opportunities to play a through ball to put one of our players in on goal. Each time he got the pass wrong and the chance was gone, I think it is reasonable to expect one of the three passes be successful given he is our main playmaker.
This sort of example doesn't do much to dispel the complaints that Barkley doesn't have the 'brain' to go with his obvious physical ability. When he does things instinctively, they tend to come off; when he has time to think, Barkley quite often appears hesitant, taking too long and missing the opportunity. You can counter this argument with his goal against Watford, I could just sense the crowd about to vent their frustration at him seemingly delaying a forward pass to play in Valencia for too long before taking a few more steps and sweeping the ball into the corner of the net. Another criticism levelled at Barkley is that he loses his head when games get heated, especially in the derby matches where he has been involved in countless handbags and a few unpleasant tackles where he's been lucky to avoid a red card. It shows he cares and that he's passionate but it also stops him from affecting the game in a positive way.
It is a source of frustration given his obvious talent, which is partly why Barkley has less patience offered to him by supporters than other players. We've seen glimpses of outstanding ability so we know it is there, but how long do we wait until we stop talking about it as potential and accept that maybe this is as good as he will get?
The club is changing; we now have the means to buy what we need. Maybe we are no longer reliant on waiting and waiting for a player to become the one we hope they will be in order to help us climb the league. We can go and buy a finished article instead. This could be why Koeman is ambivalent to the prospect of Barkley leaving and it could also explain why, during the final home game of the season, the song for Lukaku was far more loudly sung than the song for Barkley, despite the latter scoring the winner. It is clear which one is harder to replace.
Koeman wants to win; if he sees a way to do it better without Barkley he won't want to let sentiment get in the way and, thanks to Mr Moshiri's millions, he probably doesn't need to.
Everton are moving on... is there is a chance that Ross Barkley is being left behind?
Reader Comments (138)
Note: the following content is not moderated or vetted by the site owners at the time of submission. Comments are the responsibility of the poster. Disclaimer
Kunal Desai
1
Posted 14/05/2017 at 16:35:08
In all honesty, I don't care what 11 players plus substitutions are used on the day, be it with or without Barkley and Lukaku. I finally want Everton to bring back some silverware to Goodison Park whether it's the League Cup, FA Cup or Europa League.
If Koeman puts together a side on the playing field winning silverware this time next year, no-one will care about the likes of Barkley and Lukaku. Players come and go, the club will always remain.
As for Barkley himself, he was never going to be our answer to Gerrard. He is not a player who takes the game by the scruff of it neck and drives the rest of his team mates forward. Us fans need to become mentally stronger and let go of the sentimental side, we want to finally win something.
Andrew Thompson
2
Posted 14/05/2017 at 17:53:45
Great piece, Daniel. Sentiment has too often gotten in the way for our beloved team. Ross is one of ours, but has had more than enough time to show his worth. I won't be as disappointed if he leaves as others have (that weren't Blues).
The biggest clubs in football that get success aren't shackled by postcode affinity... I can't imagine that happens at Real and Barca to such a degree. I am sure someone will tell me wrong.
All I want is for my son, and my much younger Blues fans, is to see a trophy, let alone a League winning team. Like I did in the Eighties.
Can't do all that in this era by not being more hard-nosed in business.
Stan Schofield
3
Posted 14/05/2017 at 18:06:09
Since the start of this year, Barkley has to a large extent 'recovered his game' after what happened to the entire team last season. At least for home games, but not so much away from home. He's been MOTM on a number of occasions, showing flashes of brilliance. Those flashes could be more frequent.
If the tactics and team selection, and overall team performance, are poor, Barkley also tends to be poor. When the team gels, Barkley excels. So he doesn't take games by the scruff of the neck and sort things out. In that sense he's not a leader. We clearly need a leader for attacking creativity, and he's generally not that. So if he stays here, perhaps our expectations of him will need to be changed. To ones where we expect him to be useful, seldom a game changer, but where he thrives in better company as we get new signings.
A good manager gets the best out of what he has available, until he can get what he considers better. Our relatively poor away form is a puzzle apart from some tactical issues. Assuming tactical issues are a big contributor to this problem, provided they are sorted by the manager, then we could reasonably expect further improvements in Barkley's impact, in away games particularly.
In addition, there still seems a mentality problem pervading the club, for example in Derby games. Barkley seems to get caught up in that, and again he's no leader of men in terms of inspiring the team to get out of this rut. But again, if this problem is sorted by the manager, then we could expect Barkley to be less affected in the big games.
So in my opinion, there are several IFs to do with how Barkley might fare next season and beyond. It seems to me that tactics and mentality could have a big say in how he performs. They seem more likely to impact him, than he to impact them.
Dave Abrahams
4
Posted 14/05/2017 at 18:33:23
Daniel, you seem to think we have the money to buy whoever we want, I hope that is true but it is yet to be proved, the summer transfer window will tell an awful lot about how we will buy from now on.
Dermot Byrne
5
Posted 14/05/2017 at 19:22:02
Jesus, I hope this gets sorted one way or another very soon. God knows how many posts on threads exchanging opinion based on guesswork or views already entrenched about Koeman and/or Ross. Christ knows what summer on TW will be like.
Note to self: do something interesting when no games are on and avoid rumour like the plague!
Denis Richardson
6
Posted 14/05/2017 at 19:40:02
Stan #3 – Ross has had ONE MotM in the league this season, not sure where you get 'He's been MotM on a number of occasions'. I guess different media sources may all give their own MotMs so different players can get it for the same game. Stats on the internet, however, show one for Ross.
Ross is supposed to be one of our few star players and to be fair, 5 league goals and 8 assists is not a bad haul this season, just not great from someone who's supposed to be one of the star attacking players. (Even Jagielka has 3 goals and 2 assists and he's a centre-back who played half the season. Also has two MotMs).
In comparison, Coutinho (only 1 year older than Ross) has scored 12 league goals this season and 7 assists, whilst playing 5 games less! He also has 7 MotMs (averages one every four games for 'them'). That is what we've been waiting for from Ross but I just don't think it's ever going to happen.
I like Ross and the fact he came through the club but from a pure footballing / business sense, I personally think the club should cash in and move on. He's a good player to have in the team/squad but not one you can build a team round and if other clubs are offering silly money, then sell.
Mark Frere
7
Posted 14/05/2017 at 19:50:38
I'm pretty sure we can't buy whoever we want, Dave. We have to remember Moshiri doesn't have the personal wealth of Abramhovic or the Man City owners - he has the similar wealth to Peter Coates at Stoke.
We can't attract the elite players because we can't offer Champions League football or 𧶀k a week wages. There's FFP to take into consideration and our annual turnover is way below the top 6 teams.
I don't expect us to be throwing silly money about, buying star players like Chelsea and Man City did when they bought their titles. I think we will have to be shrewd in the Transfer market... follow the examples of Atletico Madrid and Dortmund by spending wisely and putting together a side that can compete with the much wealthier clubs.
As for Barkley, I want him to stay... but wouldn't be devastated to see him leave. He's done okay since the turn of the year but I'm yet to be truly convinced he is the playmaker we need. I'm also getting a little tired of the Lukaku ongoing saga... he clearly wants to move onto bigger things – 𧴜 million for Lukaku and Barkley along with whatever extra money available in the summer, will give Walsh and Koeman massive kitty to rebuild the whole squad.
Dave Abrahams
8
Posted 14/05/2017 at 20:05:26
Mark (#7),
I'm as sure as you that we cannot buy who we want. I didn't want to be too dogmatic in stating that.
I'd hoped we had moved on from the last few years with Kenwright in charge of transfers but it looks like he still has a big say in these matters...
Unless Moshiri is just biding his time before he buys the rest of Kenwright's shares and waves him goodbye, or is that just wishful thinking?
Mike Green
9
Posted 14/05/2017 at 20:44:51
Ross wont sign a new contract. Fine. Lets help him find a new club in the summer.
Rom wont sign a new contract. Fine. Lets help him find a new club in the summer.
It's not fucking difficult.
Christine Foster
10
Posted 14/05/2017 at 20:58:12
Mike Green... until it's the next player to get on the wrong side of our esteemed manager, I cannot help feel that, for what we would have to pay to get a better player, someone should be sitting down with Ross and getting to the bottom of this.
If, and I mean if, Koeman doesn't want him or care for him, then he should move on, but that doesn't mean he should carry the can for a manager who is beyond caring.
As I have said before, I doubted it was about money, more so Barkley having principles about the way he is treated and why... (or made an exception of).
Steve Cotton
11
Posted 14/05/2017 at 21:03:36
Denis Richardson (#6) spot on. We have one attacking midfielder / No 10 at the club who has to be the magician and back up goal scorer. Meanwhile, the RS have three, namely: Coutinho, Firminho and Lallana. If Ross doesn't turn it on, then we have nothing else to swing things.
He has been potentially a great player for 4 years; successive England managers have realised that he is not the finished article... so, in my book, it's time to move on.
Getting Sigurdsson or Lanzini or Klaassen or Mata or Gotze or Bernado Silva or Motta or preferably two of them would be a sign of intent.
If Ross stays, then he should be back-up – and then perhaps he would realise what he has to become to fulfil his potential.
Jay Harris
12
Posted 14/05/2017 at 21:20:42
Christine, for once I fundamentally disagree with you.
At 23 years of age and getting paid over £50k a week, I would expect Ross to respect and fall in line with his manager and the rest of the team.
Gone are the days when football is an arm around the shoulder. It is now a highly paid profession and, as Peter Reid said, if he doesn't want to be here... ship him out asap.
A lot of us feel for Ross and hoped that he would be the next Rooney but it has become obvious to all and sundry that, despite his undoubted ball skills, he is not the complete article and looks like he never will be.
For that reason alone, he should stay at "his" club but – if he wants to be a dick about his contract – then we should let him go.
Gordon Crawford
13
Posted 14/05/2017 at 21:30:03
The conundrum is that we will struggle to get a better midfielder anywhere, without paying a lot more than what we will get for Ross. The players we have been linked with are not any better than Ross, in fact they are worse in my opinion.
Tony Abrahams
14
Posted 14/05/2017 at 21:43:21
Have to agree with you, Jay, and also add that it's not very often that I disagree with Christine. Koeman doesn't praise Ross that much, (although he plays every week!) but I don't really hear him slagging him off that much either, in contrast to Martinez, who praised Barkley even when he was awful.
Maybe Ross thinks Ronald doesn't rate him that highly, and maybe Koeman thinks Barkley has now started to show improvement in his game since the start of 2017?
Maybe this is the reason that the manager has started putting pressure on the player to sign a new contract, because he's starting to improve and he might also actually be starting to win him over?
Whatever the answers, the whole top and bottom is the same because, if Ross Barkley won't sign a new contract, then the only way he won't be sold is if he's prepared to sit out the final year of his contract, with everyone knowing that he doesn't want to play for Everton FC anymore...
Chris Jones [Burton]
15
Posted 14/05/2017 at 21:45:58
"The conundrum is that we will struggle to get a better midfielder anywhere, without paying a lot more than what we will get for Ross..."
Gordon, mate, there's no conundrum there. It's simple logic. If we want better than we have, we have to pay more, unless we get lucky. If you want to upgrade your car, house, or computer, you're going to be paying more than the value of what you're selling.
Tom Bowers
16
Posted 14/05/2017 at 21:51:24
Whilst we do not know all the details about the contracts being offered and what exactly these players want, it is obvious the club cannot be held to ransom. No player is bigger than the club and very few players are irreplaceable.
Everton have to move on with or without these players and let's face it, Ross and Rom do lack certain qualities as we have seen over 3 seasons despite some obvious talents.
Bolasie may have really started up a great partnership with Rom that might have seen the club finish in the top four but subsequent injuries to other areas put paid to that, as some poor results have proved since the end of March.
It is quite obvious that the defence is poor and although Jags. and Williams are steady performers they are a liability together because as aging performers along with Baines they really struggle to contain even teams like Watford the other day.
When you look at Spurs and Chelsea's back lines you realise just how ineffective Everton's is in comparison despite the raiding of Seamus before his injury. Even when Funes Mori played, the centre of the defence still looked shaky and with the less than top-class goalkeepers we have available the problems were always there.
If Koeman moves forward without really addressing that back four problem, then it will be déjà vu next season.
Chris Williams
17
Posted 14/05/2017 at 22:31:14
Oh great. Another Ross Barkley thread. Let's all debate whose fault it is that a man approaching 24 with 5 years experience and nearly 180 games hasn't achieved his potential.
I have never seen so many words wasted on a single player in my life watching Everton.
Ian Riley
18
Posted 14/05/2017 at 22:37:19
Koeman has expected more from Barkley. Last season we the fans expected more. This season we have seen it.
Problem is, one year left on contract and not signing a new contract. What are we to do?
Only one outcome. Sell him and wish him well. Ambition and money should not be mentioned. If anyone thinks Koeman has been harsh on Barkley, it has worked. Barkley has been much improved.
Everton need to sell players who want out, and quickly. Three months till the start of next season.
Mike Corcoran
19
Posted 14/05/2017 at 22:59:18
Reality is there's only 8 weeks-ish to get sorted for europa. Hence an ultimatum so they can organise their squad targets.
I don't think anyone that he may want to go to is going to come in for him as anything other than a bench-warmer and not at the price desired.
I actually think he has been hampered by Lukaku's lack of intelligent movement but he needs to learn how to bully and control a game
Christine Foster
20
Posted 14/05/2017 at 23:05:53
Jay, Tony, I understand perfectly the economics and the emotions involved with Ross. As I say, if he or the manager cannot see eye to eye then he should go.
My beef is that I don't like the way things are being done, for so long we have heard that all business dealings are subject to strict commercial sensitivity... well, that's gone out the window.. Koeman may well have views on Ross but if he isn't interested in signing or if Koeman doesn't want him then just do the business and let him go.
Or let the board handle it. (who is supposed to be handling these negotiations and why is Koeman issuing the ultimatum in these "commercially sensitive negotiations?"
I don't want him to go. But I understand his reluctance to stay. But it doesn't do his value any good by publicly hanging him out to dry.
Phil Hoyle
21
Posted 14/05/2017 at 23:38:42
Really enjoyed reading the article.
I have one response – Dele Alli. 2-3 years younger than Ross but what a player! That is the standard he needs to get to.
Danny Broderick
22
Posted 14/05/2017 at 23:55:45
Ross has 5 goals and 8 assists from 32 starts in the Premier League.
Sigurdsson has 9 goals and 13 assists from 36 starts in the Premier League.
The teams above us all seem to have better second strikers and number 10s than us. Based on these figures, Sigurdsson might help us to bridge that gap, especially considering we are a much better team than the one he currently plays for - presumably he would have had even more goals and assists in our team.
I think Barkley has tried his best for us, especially since January, but he just doesn't produce enough in the final third for me. That key pass often goes astray, he'll turn back on himself or something like that.
Time to cash in for me. We need an upgrade in any weak areas, and we need better quality and consistency from the attacking midfielders and wide players.
Paul Holmes
23
Posted 15/05/2017 at 00:17:34
Danny Broderick you are right, but Sigurdsson is playing for a team that nearly got relegated, and Ross is playing for a team that nearly got into the top six, and he's still scored more goals than Barkley!
John Daley
24
Posted 15/05/2017 at 01:13:52
Don't want to get into the whole Barkley thing again (as I've been banging on about that elsewhere), but this statement by Mark Frere (@7) hit home with me:
"I don't expect us to be throwing silly money about, buying star players like Chelsea and Man City did when they bought their titles. I think we will have to be shrewd in the Transfer market"
I have a sneaking suspicion we will splash out a considerable sum this summer, particularly after the damp squib of last year and the noises Koeman has been making about shortages in his squad (even more so if one, or both, of Barkley and Lukaku are sold). However, that is something of a worry in itself. My concern is what we will end up with after whacking down what will in all likelihood be, for this club, unprecedented amounts.
Nothing I've seen thus far from Koeman or Walsh gives me great confidence in their ability to conjure up game changing signings, whether they be bargain buys or considerably more expensive captures. Schneiderlin was a signing of convenience who had worked under Koeman before, was available and was looking to get regular games. Gueye was a bargain for the price, but a known solid quantity well scouted over a year before.
Apart from that, every signing and almost every name strongly linked (Tielemans apart), has seemed unimaginative in the extreme and struggled to engender even a slight raise in pulse.
㿆M for Bolasie. 㾹m for Williams. Near misses for cloggers Kone (㿀m) and Sissoko (㿊m) and the bang average Arnautovic (㾺m) and Belfodil (㾶m) thanks to the saving grace of outside forces.
Rumours of circa 㿞m for Pickford and Sigurdsson and a return for Rooney?
At that rate we could end up with a squad costing the sort of money we could only fantasize about a few years back, but barely besting the quality of player we possessed under Moyes and Martinez for the most part.
A signing such as Sandro would seem a sensible start, but it's hardly likely to have Jim White busting out at the seams and the temptation to 'make a statement' by spending big is always going to be bubbling under the surface while Moshiri seeks to make his mark.
Matt Traynor
25
Posted 15/05/2017 at 03:45:15
John (#24), "At that rate, we could end up with a squad costing the sort of money we could only fantasize about a few years back, but barely besting the quality of player we possessed under Moyes and Martinez for the most part."
Spot on – one of the impacts of the increased broadcast revenue is, as well as filling the pockets of players and agents even further, clubs are demanding ever higher transfer fees. Also we need to remember that all clubs benefit from this increase in broadcast revenue. It is the clubs who have huge commercial income who are ahead of the pack – and we've lacked in this area for years.
Where people like Walsh and to a lesser extent Koeman really earn their corn now is in spotting talent at a decent price. It's fine to shift someone like Barkley out for 㿏m, but if you're spending 㿅m on Johnny Average to replace him, with agent cuts and bonuses etc. you are no better off. Finding bargains like Gana last season, or potentially Sandro is key, along with progressing our youngsters.
Jim Harrison
26
Posted 15/05/2017 at 03:56:27
Christine, you don't like the manager. Simples. You can bang on about "commercially sensitive negotiations" in every post you make, the tune is the same.
From my point of view, I can't see how he is disclosing anything of significance. Contract offered, has not been signed. If player doesn't sign, he has to move on as he is too valuable an asset to be allowed to devalue. No details of the talks, value or terms. Everybody knows he hasn't signed.
Koeman doesn't want or care for him?? Riiiighhht.... because he drops him when he plays badly and doesn't go all wobbly at the knees when he puts in a good performance?
Listen to his post-match comments. Read the interviews. In pretty much every one, he states that he wants the player to sign. But if the player doesn't like the manager, that's fair enough, perhaps he feels he will be better treated elsewhere. Okay then, let the club know and be on your way with best wishes for the future.
Steve Carter
27
Posted 15/05/2017 at 05:20:42
I'm with our manager on this one: sign by season's end or be shipped out. That makes business sense to me. Nobody is irreplaceable; people can get run over by a bus tomorrow; etc.
We either secure our investment for a further period or we realise its value now when it's at its highest.
That said, I think it's sensible to be consistent with one's "messaging", and I don't think Koeman has with Barkley vis a vis Lukaku (at least in terms of what's been put out there for public consumption).
Mike Gaynes
28
Posted 15/05/2017 at 06:16:56
Tom (#16)...
"Bolasie may have really started up a great partnership with Rom that might have seen the club finish in the top four..."
No, it wouldn't. I'm a big Bolasie booster but his injury didn't cost us 14 points, which is what we would have needed to reach the Top 4 this year (not to mention our best stretch, January through March was without Bolasie). We were NEVER contenders this season for Top 4. Not enough talent. Period.
Paul (#23), worth pointing out that Sigurdsson has also out-assisted Barkley by 13-8 with one barely adequate striker ahead of him (and if you think Rom is lazy, watch Llorente for a while!). But I think we can all agree Sigurdsson is simply a superior player. Ross is second class... has generally the same stats as Zaha, Wijnaldum and even Matt Phillips.
Brian Porter
29
Posted 15/05/2017 at 06:55:51
Like the long-running Lukaku saga, the Ross Barkley Show has taken wings and become another source of endless discussion and speculation. As there's nothing we can do about it, I've reached a point where I'm happy to wait and see what transpires at the end of the week when Koeman's ultimatum expires.
My sole thought at this point is that, if Ross is the 'true blue' we've always been led to believe, he wouldn't be dragging things out this way. It's perfectly reasonable for Koeman, with the Europa League starting in July, to want to know who wants to be part of the new look team he is planning for the coming season. If Ross can't see that, then he really is blind to reality.
A millionaire already, is financial greed now the only obstacle to Ross signing the new contract? New managers require different approaches from certain players and if Ross personally dislikes Koeman and his style of management then he should go.
But, he needs to look carefully at what has happened to the careers of others who have left the club only to see their careers founder like the Titanic. Does he really want to end up warming the bench at somewhere like Spurs or Man Utd, where Mourinho takes no prisoners when dealing with under performing players?
Or perhaps end up as some journey man player, moving from lesser club to lesser club, another Rodwell, Jeffers etc?
Okay, enough, I said I would wait and see so let's do just that.
Digressing for a minute, we now hear Rooney is being offered as a makeweight in a deal for Rom. Although many are against his return, describing him as a has-been, over the hill etc, it is worth pointing out that Rooney is actually younger than Cristiano Ronaldo and would anyone want to tell that gentleman he's too old or over the hill?
It might make sense to get a couple of years out of Rooney who would probably add some much needed guile and experience to the team. Just a thought to consider.
Kieran Fitzgerald
30
Posted 15/05/2017 at 07:12:35
I can't see Barkley being viewed as consistent enough for the teams above us to take a chance on him. Certainly not at the £30m plus we would look for. A couple of seasons ago top teams may have taken a punt on him as a 'huge potential' type player.
I would look at other teams around us and below us in the Premier League. Cash in on Ross this way. For example, I would look to swap him with Swansea plus cash for Sigurdsson and Llorente. Offer better wages and Europa league football.
Mike @28, I think Llorente's work rate may improve under Koeman. With Lukaku, he has to be pampered a little as Koeman must know we would be totally screwed without his goals. Lukaku never had to worry about being dropped. Llorente has scored fourteen league goals this season and there may be room for improvement. Adding him to the squad means proper competition for Lukaku if he stays.
The squad will presumably be upgraded this summer, hopefully adding goals all over the pitch. It means we're less reliant on one player.
Alastair Donaldson
31
Posted 15/05/2017 at 07:19:32
Dermot (#5),
Not taking the Lord's name in vain might be a good activity for you also...
Christine Foster
32
Posted 15/05/2017 at 07:20:39
Jim, can't argue with that, but my beef is with the club as a whole and the way it's been handled. Not just with Koeman. Simples.
Jim Harrison
33
Posted 15/05/2017 at 08:13:21
Fair enough, Christine. I stand on the other side of the fence on this one.
Charlie Lloyd
34
Posted 15/05/2017 at 08:26:04
Kieran @ 30,
I honestly don't think Llorente is the answer. Yes, he's had a very good season in a struggling side and he has proven quality but he's 32 and I can't see him running around much more than he does now. I doubt Barkley would agree a swap to Swansea either.
A tough and possibly not popular decision is being made on Barkley. He's improved under Koeman, may do better if he had more options in front of him but he's got one year left on his contract and business has to rule here. The ball is firmly in Barkley's court now and he has a pivotal decision to make regarding his career soon.
Dermot Byrne
35
Posted 15/05/2017 at 08:27:22
A new day. Has he signed yet? No ? Oh well, round and round we go again. Maybe a "Ross B – how is he feeling this morning​?" thread is needed?
Dermot Byrne
36
Posted 15/05/2017 at 08:32:50
Anyone know of any good British attacking midfielders or strikers we could get? Are there any? Never seem to spot any names but may be my ignorance.
Trevor Peers
37
Posted 15/05/2017 at 08:49:12
I agree with Stan @3, Barkley is no 'leader of men' but there is talent there. His best option would be to sign that contract offered to him, because it will secure his future. Which ever club he chooses to join, the manager and fans won't offer him the comfort blanket of support he currently enjoys at Goodison.
Ross is being badly advised by his greedy agent. If he did move on, he will be expected to perform to the highest level or be dropped pretty quickly. If he stays he would greatly benefit if we bought two or more quality creative players to help him share the burden, and further bring out whatever talent he possesses.
The ball is in his and his agent's court now, but it looks like he's going to make a huge mistake, unless he comes to his senses and signs up.
Dave Ganley
38
Posted 15/05/2017 at 08:54:56
John (#24), I think you're being a bit unfair on Koeman/Walsh with your assessment on their transfer dealings to date. You grudgingly accept that Schneiderlin and Gueye are okay although stress that it was convenience and known quality and highlight Williams and Bolasie as flops.
Now I agree to an extent about Williams although the defence is far better than Martinez's defence. Bolasie I think you can't judge yet given the amount of time injured. Did we overpay? No doubt but in the current climate everyone in England is overpaying.
As for castigating them on the rumours and near misses, well we didn't get those players so no problem. Sigurdsson and Pickford imo are infinitely better than we have so as to suggesting ending up with a squad that barely tests Martinez's squad, well I think that's wide of the mark. It's become patently obvious Martinez's players are just not good enough and that includes the subject of the article, Barkley.
You may be right about Koeman and Walsh, we won't know for a couple of years, but a home record not surpassed since 1990 is nothing to be sniffed at. There is a lot of work to do, we all know that but for me, he's going about it the right way.
He sees that Barkley isn't the answer and won't be held to ransom, he cleared deadwood out of the way in January and more will go in the summer. Will we get who we need in the summer? Time will tell. At least we have European football to offer next season.
We are a work in progress. We have progressed and we shall see if we can take the next step forward. As I say, Koeman may not be the answer long term but it's premature to judge just yet and harsh to castigate signings and alleged targets who we didn't sign. Apart from Williams, most signings have done okay.
If we feel the need to have this discussion this time next year then you may have a point but at the moment, Koeman has done okay imo given the squad he has at his disposal. I also like most of the players he has brought in too. Let's see what the summer brings
Paul Ward
39
Posted 15/05/2017 at 09:02:44
As stated by many others on TW, I am sick of this saga because the conclusion is very simple. Ross signs the new contract next week or he will be sold. He has known this fact for a couple of weeks and he has a choice.
If Peter Reid was the manager, Ross would not have this choice, Peter's view is a strong one, that being if you don't want to sign for the club, "leave". To the people who think the big bad manager doesn't like Ross, grow up!!
I think as Evertonians the Barkley saga is not our main concern in our push to progress as a club. My biggest concern is Kenwright's part in the upcoming transfer window.
Whether we sell Lukaku and / or Barkley, are we going to sign a number of lesser players that cost around the same amount as what we get for the discards?

Stan Schofield
40
Posted 15/05/2017 at 10:16:17
Paul, the only problem with all the tough talk from pundits (Peter Reid included) is that Barkley has a contract. If he so wishes, he could run his contract down, then leave Everton on a 'free'. If he's sold before then, it'll be with the agreement of both parties (him and Everton FC). All the hard case talk in the world won't change that reality.
Keith Monaghan
41
Posted 15/05/2017 at 10:53:25
Trevor @ 37 – you state:-
"Ross is being badly advised by his greedy agent."
Has Ross told you the advise his agent is giving him? Or are you just blaming the agent 'cos, like me & loads of others, you have a low opinion of them.
My understanding is that the player employs & pays the agent – the player has a mind of his own & doesn't work for the agent. Therefore the blame lies fairly & squarely with Ross.
It's up to him whether or not he signs – for us or anyone else who may offer him a contract –I'm sure he'll get offers, but will they be from top 6 clubs?
IMO he's not good enough for a club in the top 6 with trophy winning & Champions League ambitions.
In spite of the realities of our position (no trophy etc for 20+ years), I confidently expect us to sign a quality creative player who can improve us and give our front players decent service. (We obviously need better central defenders who are quicker and can pass forward decently as well.)
Time will tell!
Charles Barrow
42
Posted 15/05/2017 at 11:06:02
Too many people are already selling the lad. We can't afford to lose any of our good players – and surely we all agree he is a good player – but inconsistent.
Of course if he's desperate to leave - well goodbye then. But I think there must be more to this – I suppose we'll find out in years to come when they are all retired and selling their autobiographies.
Brian Furey
43
Posted 15/05/2017 at 11:38:48
I too would like Ross to stay to see does he improve when there's better players around him. We know he can do it at times but often he makes the wrong choices but maybe if we had better wide players he wouldn't be losing the ball so much.
On another note, I see Deulofeu's scored an equalizer for Milan via a deflection yesterday yet a lot of their fans aren't sure about him after all. If you read most reports, you would think he's done very well during his time there but some fans seem to think he's quite misleading with his electric pace and skill but not much final product.
Sounds familiar, doesn't it. I can't see Barca wanted to buy him back either, so I've a feeling he will be coming back to us after all unless someone else buys him.
Keith Monaghan
44
Posted 15/05/2017 at 11:56:13
Brian @43:-
Re Ross, I'd say it'd be interesting see how much better our wide players (including Baines on his forward surges) would appear if instead of often being ignored when in good positions, they were seen and received good passes from a quality midfield player?
Re Deulofeu – I agree 100% with your points – we're only hearing little bits like he's scored or made an assist – not hearing the full story of what he did in the 90 (if he lasted?) minutes. A bit like judging a player from 10 mins on MotD compared to watching the whole game from in the stadium! If Barca really rated him, they'd not have let him go – the buy-back options were a "just in case" insurance policy (memo to Bill K: perhaps we could do that with Ross?)
For me, Deulofeu is very talented, but lazy & ineffective; file under "flatters to deceive" with McGeady, Lennon (not a comment on his current circumstances).
Frank Mullin
46
Posted 15/05/2017 at 12:14:56
Ross Barkley is a good player. There's no doubt he has talent in abundance but, yes, he is inconsistent. Then again, look at the rest of the squad. I'd say 95% are inconsistent.
He has the most difficult role on the park. Expectations and pressures on him are way higher than virtually every other player. We expect goals, assists, tackles, vision, even miracles, and he's an easy target when things don't go to plan. Let's not forget, it's a TEAM game.
The lad needs better players around him to allow him to flourish. He needs teammates and fans alike to support him as he can't be all things to all men and always be expected to single-handedly win games on his own.
If he stays, and I hope he does, the priority is to recruit better players in the summer to allow Ross Barkley to fully demonstrate exactly what we all know he's capable of.
Tony Abrahams
47
Posted 15/05/2017 at 12:43:09
Stop and think... If you don't like Koeman, then this telling the player to sign by next week, or leave will seem very unprofessional. If on the other hand Ronald is the man, then this can also come across as very professional and sends out a message that our club wants to move forward, and it's up to the player if he wants to be part of it?
The reason it's out in the public domain is quite simple, because if Barkley stalls, then Everton are going to put him up for sale, and this is just alerting anyone who is interested in Ross if he doesn't sign.
It's up to the player which way this goes because the club want an answer, as they want to start preparing for next season. The players hold the power but, if they don't want to sign, then what's wrong with putting them up for sale, especially if it means losing them for next to nothing 12 months down the line?
Eugene Ruane
48
Posted 15/05/2017 at 12:45:18
Frank (#46) – I sit in the Upper Gwladys, in the corner where it meets the Upper Bullens.
In the first half of games, when we're (usually) kicking towards the Park End, we get a really good view of us attacking as a... erm... 'unit' so to speak.
The view (obviously) changes in the second half and the perspective and what you see then is completely different (the closer the action, the more your perspective is on individuals and you see less of a 'pattern').
Anyway, on Friday (same applies to many games this season), on a few occasions, I saw Barkley receive the ball and look to see his options. And on so many occasions he was basically looking at a still photo. Virtually no movement at all. Four or five players standing still (sometimes almost hiding behind defenders).
On two occasions, he was pressed and forced into hitting passes that had no chance of finding a (fucking static) man, "OH FUCK OFF, BARKLEY!!"
But for the most part, he just turned back on himself and knocked a ball sideways or back as they were the only options of us retaining possession – "OH FUCK OFF, BARKLEY!!!"
He's not perfect, Barkley, but, fuck me, the stick he gets on here genuinely makes me believe many on here simply don't understand football (and have never played the game).
Simply put, if he has players around him who will move their arses and make the runs, you'll see a much much better Ross Barkley.
Nicholas Ryan
49
Posted 15/05/2017 at 12:59:56
Eugene, in relation to the last sentence of your post; we don't have the players who will make those runs... but, unfortunately, Spurs do... and it's they who are supposedly after him!
Colin Glassar
50
Posted 15/05/2017 at 13:09:55
Great post, Eugene. Watching the games on the box and watching them live are like chalk and cheese. I've been to about 8 home games this season and I can't remember how many times I've seen Ross look up and his team mates look like they're either running away from him or it's them who are marking the defenders!
There's no movement in our team. We don't have clever players who make room for themselves, we don't have players who are tactically aware of what's going on around them, we don't have the players with the skill to find the killer pass etc.
Ross in a team with the likes of Schneiderlin, Siggurdson, Klaasen etc... players who are clever, cute and naturally talented will let Ross blossom into the player a lot of us know he can be. But, in a team with too many stiffs, he just has to keep hold of the ball or attempt an aimless sideways pass.
Frank Mullin
51
Posted 15/05/2017 at 13:14:25
Eugene, bear in mind also that Barkley's emergence has coincided with Lukaku's time at the club, so Ross has only really had the experience of trying to feed a striker who doesn't exactly bust a gut to give him too many options. Think what Ross could do with better options.
Frank Mullin
52
Posted 15/05/2017 at 13:19:22
Thank you Colin. Summed up far more eloquently than I ever could. Spot on.

Joe Brennan
53
Posted 15/05/2017 at 13:26:43
If my memory serves me right? In March 1967 Everton signed a certain Howard Kendall from Preston North End (and I think Bill Shankly was trying to sign him as well).
I remember thinking why have we signed this fella? He kept playing through balls or balls over the top that nobody got on the end of! What a waste of money I thought.
Cue the start of the following full season and suddenly he was a genius in the company of Ball and Harvey. Had he changed? In my opinion no. It was just that his teammates knew where to run in the knowledge that Howard would find them with an inch perfect pass and the rest is history.
I think Eugene has hit the nail on the head where Ross is concerned. He may not be another Howard Kendall but better movement from his colleagues could make him look a lot better than he does at present!
Tom Bowers
54
Posted 15/05/2017 at 13:32:31
We can make excuses for Barkley all we want but they won't change the fact that when he has the ball at his feet and time to play it he makes his own decision as what to do next.
Far too often he makes the wrong decision and it's not because some other player isn't where he wants him to be. Better players like Silva of City will hold on to the ball and protect it but Barkley doesn't.
Somehow I get the impression that Barkley hasn't been tuned in much this season and that may be something to do with Koeman much like Rooney under Mourinho.
It's down to attitude and the body language tells a story as it does for Lukaku over the last month.
Steve Ferns
55
Posted 15/05/2017 at 13:36:18
We need to let go of Post Code affinity?
It depends what Everton means to you. Everton is and always has been a club of the community. We're named after the local region. We've been supported heavily by the most local regions, so much so that even the area around Anfield is or was mostly blue (ask Big Joe).
The post code affinity means a lot to Everton. It means everything to me. Do I want to see us win the league like Chelsea or City with a team of mercenaries? No.
Personally, if Everton won the league and there's not one scouser in the side, then they ain't won the league for me, because that's not my Everton.
Steve Ferns
56
Posted 15/05/2017 at 13:38:05
As for Barkley, I agree completely with Eugene, and I fear some will have their eyes opened wide if he does leave us and actually plays for a side with good movement.
Jonathan Tasker
57
Posted 15/05/2017 at 13:57:48
Good article.
However, the "owners" want to sell Barkley, and that's what will happen this summer.
John G Davies
58
Posted 15/05/2017 at 14:17:06
Any midfielder is better with movement in front of him. Lukaku doesn't offer that movement. "The run makes the pass" as they say.
Eugene Moore
59
Posted 15/05/2017 at 14:52:35
Regarding the Gerrard comparison as mentioned (plus some other stats that readers may or may not find relevant). No further commentary; you pays your own money you makes your own judgment.
Premier League only – seasons up to age 23:
Scholes: 98 apps; 26 goals; 8 assists; (goals per season: 5; 10; 3; 8)
Barkley: 149 apps; 21 goals; 18 assists (goals per season: 0; 0; 6; 2; 8; 5)
Gerrard: 170 apps; 20 goals; 27 assists (goals per season: 0; 1; 7; 3; 5; 4)
Lampard: 185 apps; 29 goals; 14 assists (goals per season: 0; 0; 5; 5; 7; 7; 5)
-
Premier League only – first five seasons since Everton debut:
Cahill: 164 apps; 45 goals; 17 assists (goals per season: 11; 6; 5; 7; 8; 8); (ages 24 - 29)
Barkley: 149 apps; 21 goals; 18 assists (goals per season: 0; 0; 6; 2; 8; 5); (ages 18 - 23)
After eight seasons in total, Tim Cahill finished at Everton, aged 32, on 226 apps, 56 goals and 22 assists.
(source for all: www.premierleague.com/stats)
Christine Foster
60
Posted 15/05/2017 at 15:13:36
Eugene, good point regarding movement; normally you would expect players forward of Barkley to make diagonal runs, except he is usually the only player forward together with Lukaku who 9 times out of 10 wants it to his feet to hold up or turn. That's it.
Our wing backs, depending on who is playing where, aren't bounding forward behind full backs, we do not have three or four options when he is on the ball, generally speaking he ends up holding it until others make the run, or not.
In short, we don't play to his strengths as a team and perhaps that's why the manager is finding it hard to get the best out of him.
Thinking about it some more... just who is supposed to be making those runs?? Mirallas if he plays and ?????? no-one in midfield.. all stoppers, Barry, Gana, Davis...
More often than not it becomes a deep break when Coleman, Baines or Mirallas with Davis as follow up are hitting on the break, often with Barkley or Barry hitting the splitting pass to send then on their way.
One last point.. we do not cross a ball. Hardly ever do you see a cross coming in from a full back or a wide man when we play them. They never attack a full back (except possibly Seamus but that's it). It's a bug bear with me – especially when you have a muscle-man the size of Lukaku in the box.
Mike Gaynes
61
Posted 15/05/2017 at 15:21:10
Trevor (#37):
"Ross is being badly advised by his greedy agent."
I realize you have this stereotype of the shifty football agent with the three cell phones working the media and lining his pockets, and sometimes it's true (Raiola), but not in this case. It's a big US agency called Wasserman Media Group, which reps some superstar Yanks, and Gerrard and Tim Howard among other footballers.
I assume the point man for Barkley is a young fellow named Daren Flitcroft, the agency's director of global football. You've never heard of him because he doesn't make public pronouncements. But you can bet that whatever advice Ross is getting from the Wasserman team, it's good. They know their business.
Keiran (#30) and Charlie (#34), my mention of Llorente was in no way a suggestion we pursue him. He's a one-dimensional player – in the air only – and, as mentioned, he's pretty old.
Dave Abrahams
62
Posted 15/05/2017 at 15:34:50
Barkley is allowed to make runs himself; watch the attack when Tom Davies runs forward: Barkley and Lukaku are ahead of him on the right, Davies is waiting for either of them to make a run, but they stay on the wing together so Davies just runs on and has a good shot which the goalie turns away for a corner.
I don't expect Lukaku to make a move, he's always on his heels but Barkley is a footballer so he should have the brains to move and anticipate what the other players are trying to do. He doesn't; there is very seldom any pass and move from Ross, he gives a three yard pass and then stays for the return pass, getting nowhere.
He constantly passes and then moves towards the ball, instead of finding space away from the ball. Davies can do it and does; Barkley is like a moth to a flame regarding the ball.
Dave Abrahams
63
Posted 15/05/2017 at 15:39:47
The first paragraph above is about Friday's game with Watford.
Jay Harris
64
Posted 15/05/2017 at 16:18:03
My criticism of Ross is not his passing in fact I think the majority of his passes are top drawer.
My criticism is that he does not score enough goals, very rarely wins a header, jogs around rather than close the opposition down, and is therefore very one-dimensional..
He is not a bad player... he is just not top 4 material.
John Hughes
65
Posted 15/05/2017 at 16:24:16
Dave Abrahams: you are spot on regarding Barkley's lack of awareness off the ball. And sadly, if he hasn't got it now he never will. As many people have said over the years, he certainly has all of the physical and technical attributes but without that awareness he is average at best.
Don't get me wrong, it is a tragedy for obvious reasons but I get the impression that Keoman will be relieved to move him on for a good price. Remember, Moyes saw something in the lad years ago that made him question his long-term ability to progress at the highest level.
Michael Kenrick
67
Posted 15/05/2017 at 16:29:25
Christine (#60), to be fair, Mason Holgate does get up the line and put crosses in... they're just not all that accurate (or Lukaku is not in the right place to benefit from them).
And then there's the exception that proves the rule: that fabulous cross from the touchline that Barkley delivered and Lukaku powered home with his head against Leicester.
You're right: we need a heck of a lot more of that type of footy!
John Pierce
68
Posted 15/05/2017 at 17:00:18
Everton have a player whose style is at odds with the manager. That is the only mitigation I can offer. Our build up is slow, Barkley revels in exactly the opposite.
Ultimately, Barkley as a player and a leader of the team(being the most talented) has to step up.
Any player in the world can complain about his lack of options, certainly plenty on this thread are throwing themselves to the defence of a player who does not produce performances akin to his talent level.
He has the physique and fitness to be able to trade on his skills for 90 mins, he is 24 and rarely gets injured.
The bar is high and the stick so stinging not because he is a local lad, but because he has shown skills that can separate our oft opinionated backends from our seats. We all quite clearly would like to see more please!
So this circles round to a lad whose options are 'limited' when we attack? Were is the intelligence to either understand that's the plan and you have to modify you game to suit?
Friday was the first time in ages the lad has driven forward and had a pop from distance. How much was down to him was debatable as they backed off but doing that more often will only create more chances.
Does he not realise having been freed of the drudgery of central midfield berth, mostly because he didn't have the appetite in the middle to work hard enough, he is the luxury? He's the one who has to dribble and commit, shoot more often and place doubt were there was only certainty in a defenders mind. Oh, get in the 'effing box!
He plays more often to retain possession in the top third of the field in an area were I can forgive players for taking a chance under most circumstances. So how much is down to orders or how much is down to the player?
If I were Ross, I'd leave because I firmly believe the 'managers style of play' certainly inhibits Barkley's natural instinctive game. That ain't gonna change lovers of powerful slow build up flat track bully footy. (Sorry, Koeman digs I find hard to leave out).
But I also believe if Ross was as good as many want him to be, then he would have found a way round it by now? He still may but Everton cannot wait to find out.
Most telling for me are the clues away from Goodison. Disappointing loan spells, England managers mistrustful of him and little paper talk from teams who often coming knocking at Everton for their precious gems 💎
Individually easy to dismiss, mock even on these pages, but every element has a grain of truth to it.
The saga continues... do you think Ross will get his own origin story?

Eugene Ruane
69
Posted 15/05/2017 at 17:01:54
Tom (#54) –
'We can make excuses for Barkley all we want but they won't change the fact that, when he has the ball at his feet and time to play it, he makes his own decision as what to do next.'
'Excuses'?
So... any counter-arguments to 'he's shite!' are excuses?
You're the one who sounds desperate for an excuse - a couple of reasonable considered posts arrive suggesting possible reasons for why Barkley might not be performing like Pelé, and you're in a panic.
"I'm not having that, my reasons explaining why Barkley is shite, are good solid reasons, their reasons for why he's not shite are just excuses!"
Behave.
Chris Leyland
70
Posted 15/05/2017 at 17:19:24
Isn't the truth in between?
There are times when there is zero movement ahead of Barkley and he has to either turn back and play the simple ball in order to retain possession or, on occasion, simply hit and hope as his statuesque team-mates stand idly by.
However, there are also times when he has the opportunity to play the killer through ball and he under-hits it or doesn't react quickly enough and waits too long and the chance has gone.
Dave Ganley
71
Posted 15/05/2017 at 17:21:14
Michael (#67) – you are correct we do need that kind of cross so much more. Unfortunately that kind of ball in seems to be the exception rather than the rule. To be fair it's not often that Lukaku gambles and makes those runs on the off chance but also Ross doesn't often play that kind of ball.
Eugene, to disagree with your points doesn't mean that Barkley is shite. He's actually a decent player but, as Dave A says, he's just not top drawer imo. Too often he goes up blind alleys, slows down possession when players do make the runs, he turns back on himself so often and so slowly that he gives the opposition time to reorganise themselves then the break is lost.
His stats against other top players at their age aren't bad as you point out but I tend to make a judgement with what I see on the field. Ross can be great but I can't actually remember a game against good opposition whereby Ross influenced the game and stood out.
The players like Scholes, Lampard, Slippy G etc all influenced important games, Ross doesn't. It doesn't mean he's shite, it just means he's not top drawer. Compare with Coutinho even in the derby, he's only a year older than Ross and was woefully out of form but he took that game by the scruff of the neck and ran it. Ross just ran round in circles and the Holgate chance aside created nothing.
Yes, we need players to make movement but we also need our talented players to lead by example. Ross just doesn't do that. He's not a kid anymore, he's played in excess of 150 games and should be stepping up to the plate.
We all want him to be a success but I fear he will just be a decent player and nothing more. Sigurdsson would definitely be a step up in class. Problem with Ross is that, every once in a while, we get a glimpse what he can do... then it just disappears as fast. Frustrating to say the least.
e need someone who can do that on a regular basis not someonWe who still only shows promise 5 years after his debut.
Mike Hughes
72
Posted 15/05/2017 at 17:31:49
I see that Kelvin "gobshite" McKenzie has been "moved on".
Tony Abrahams
73
Posted 15/05/2017 at 17:35:56
Lukaku, scores goals, he's also improved every season he's been with us, but I don't think he will ever have great movement.
Ste Fearns wants to see Everton win the league with a scouser, I want to see how Everton do with a striker with more movement!
Chris Williams
74
Posted 15/05/2017 at 17:36:30
Yes, Mike.
He was mutually consented seemingly.
Chris Williams
75
Posted 15/05/2017 at 17:40:19
Tony,
I genuinely hope you get your wish. It might be a different scouser though and I haven't a clue who the striker might be.
Paul Tran
77
Posted 15/05/2017 at 19:13:43
This isn't about the emotive argument that Ross is brilliant / shit or Koeman is professional / an arsehole.
The legal position is that it's down to Ross whether he stays goes. Koeman / the club can lean on him to go and he can run his contract down and go on a free.
He's entitled to play brinkmanship to get the best deal and Koeman is equally entitled to publicly say what many have on here – ie, we want to do business early and we need to know where we stand.
Ross/his agent know they don't have to say anything. They can leave it to Koeman to shout his way through the negotiation and look daft. Doesn't make Ross a better player though. If Koeman had paid, say, 㿅m for such an inconsistent player, would you be criticising his team-mates' lack of movement, or would you say he's a shit signing by a shit manager?
At the end of the window, I want us to have at least two decent midfielders who play forwards, who like to shoot and score. I don't think Barkley, Mirallas and Deulofeu are consistent enough to do this regularly. I'd like Ross to stay, because I think the penny might drop when he has better, mobile players around him.
I'm not going to pretend to know what's gone on behind the scenes. I can give my opinion, which is that I don't think Ross is good enough to get a regular game in any of the teams above us... and that, if he is the focal point of our midfield at the start of next season, I will be very, very disheartened.
Danny Broderick
79
Posted 15/05/2017 at 19:30:41
If Ross's problem is that he has got no-one to pass to because there is no movement in front of him, why has he only scored 5 goals? Is that someone else's fault as well?
I agree with the guy who said that Ross's problem is he takes risks when played deeper (in areas where you don't want to lose the ball). And he keeps possession when playing as a Number 10 (when you don't mind him risking a shot, a flick or a dribble).
Peter Roberts
80
Posted 15/05/2017 at 19:41:57
Glad to see not all fans are blind to the absolutely farcical primary school level movement that presents itself to Ross... namely by our supposed world class striker.
Lukaku has been a media darling for some time and, even though every now and then he gets pelted for his lazy no shows... his lack of movement has not been critiqued for the piss poor standard that it really is.
What is Barkley meant to do when he has a striker who makes straight line runs which allow opposition players to block the route to?
Ever seen Lukaku drop and do a give and go with Ross? Ever seen him feign to go one way then go the other? Ever seen him use the new offside rule creatively... which actually doesn't see him getting called offside. Ever seen him bend runs?
Doesn't do them... he just has one setting... a straight line.
My fear is watching Barkley play with a striker of intelligence and movement for another team.
Ian Hollingworth
81
Posted 15/05/2017 at 19:44:04
Our play is often laboured and slow and I do believe that hinders Ross. However, there are times when he is responsible for the play being laboured and slow as he does not look up enough or quick enough.
We need better quality players and he would prosper but its stick or twist time for us with regards Ross. I just hope the club / manager have a game plan they can execute this summer.
Maybe that's why they need a quick decision from Ross as, not knowing if he staying or we have to sell, could seriously affect the game plan.
Darren Hind
82
Posted 15/05/2017 at 20:04:10
I've been arguing all season long that there is no movement in the team when we have the ball. There's plenty of effort when we don't have it, but that only restricts other teams, It doesn't hurt them.
I wrote on the matchday report that Barkley suffers because of his extremely limited options, but I should not have stopped there. It's not just him; they all suffer.
Good football requires good movement; disjointed football is nearly always the result of poor or no movement. That's the reason we look like Stoke's ugly sister. Our players will bust a gut to get back, but when was the last time you saw, Gana or Schneiderlin or Barry bust a gut to get beyond Lukaku? It simply doesn't happen. Michel Platini would struggle to pick out a pass in this team.
Koeman has deliberately stalled all season long when it comes to Barkley's contract; he repeatedly trivialised it. "We'll discuss it in the summer" leaving Barkley and his agent in no-man's land. Now he is getting a taste of his own; he has lost control. His hysterical demands to "sign or be sold" don't seem to have worked.
What will he do when his latest deadline passes? Become even more Basil Faulty, then draw another line in the sand? What if Barkley comes back in three weeks and says "You know what, now that I've had a break from playing and a proper chance to mull it over, I reckon this is a good offer, where do I sign?"
Daft, corner, himself, twat, into, painted.
Eddie Dunn
83
Posted 15/05/2017 at 20:35:24
Peter (#80). I agree that at times Ross would benefit from a bit more movement from others.
However, you ask if we have seen Lukaku play one-twos, bend his run, feign to go one way- then go the other? The answer to all of these questions is yes.
Lukaku often looks to play others in, he often wanders into an offside position and ambles back- causing confusion in the defence, and I have seen him bend or slow his run to good effect,
The real problem is that Lukaku is often the only one doing anything and so the options are limited. We looked so much more creative v Watford when Valencia's movement and Davies' pace down the right, were added to our play.
The team, is often too static, especially away from home. Baines doesn't help with his reluctance to get over halfway, the loss of Coleman and the attempt to squeeze Holgate into a right-back haven't helped, and the decision to play so many defensive midfielders also stymies our approach.
Add to this a tendency between Jags, Williams and Joel to launch hopeful long balls to a lone striker, who wins one in 8 of them and you see the burden on Ross or any incoming Number 10.
Of course, if Lukaku also leaves the whole scenario will change anyway.
Trevor Peers
84
Posted 15/05/2017 at 21:07:41
Cheers Mike @61, I had no idea who Ross's agents were or how powerful they are.
Just shows you how irrelevant our opinions really are I guess. Money talks; as supporters, we're just observers.
Lev Vellene
85
Posted 15/05/2017 at 21:26:46
Eddie (#83),
You see a lot of the things I see, but what is so annoying about Lukaku for me, is that he so often probably sees someone coming in with the ball, but he doesn't try to move in front of that defender near him.
How many crosses into the box have been easily intercepted by the player who was on that same side of Lukaku for the previous half-a-minute or so already?
He's very good when he's got the ball outside the box, taking on players and trying to set someone else up, even for a return pass. But he just looks like he's always expecting any cross towards himself to magically pass over (or through...) his marker!
Ian Riley
86
Posted 15/05/2017 at 23:30:03
Koeman has been harsh on Ross this season at times when I have thought he has played well. Also he has come under pressure by the home fans when the team are not performing.
This may be due to being the local lad and us expecting more. Does anyone think by moving the pressure may be off to allow him to perform better?
All I know is he has improved under Koeman and will only get better. Koeman has been harder on Ross about the contract publicly than Lukaku, who has never been out of the press, wanting to move. Perhaps an arm around Ross might help things... But I fear it might be too late.
Eugene Ruane
87
Posted 16/05/2017 at 00:55:23
Dave (#71) –
"I tend to make a judgement with what I see on the field"
(sighs, raises eyes, tuts, mutters 'ffs!') Do you really? That's very novel, I tend to do it the old-fashioned way, based on Madame Zaza's reading of tea-leaves.
By the way, when you're expertly using this 'seeing' method, do you look as closely at player performances, as you do at TW posts?
You began by addressing me – "Eugene, to disagree with your points doesn't mean that Barkley is shite..." then add "His stats against other top players at their age aren't bad as you point out."
Yeah... except I didn't point out any stats, that was someone else.
You also (seemingly oblivious to arguments about the standard of players we have) give us "I can't actually remember a game against good opposition whereby Ross influenced the game and stood out. The players like Scholes, Lampard, Slippy G etc all influenced important games, Ross doesn't."
Think you'll find those players were surrounded by team-members who played for top 4 sides who were winning titles and cups (and were rarely involved in playing for sides for whom 7th place was an improvement on the previous two seasons).
Don Alexander
88
Posted 16/05/2017 at 01:28:22
But Eugene, the fact remains that Ross disappoints in so many basic areas, regardless of the alleged ineptitude of team-mates re movement.
For instance, he's repeatedly shown himself to be unreliable in scoring or taking free kicks and corners around the oppo's area (and admittedly he's not the only one in that regard) but he's also visibly useless when it comes to trying to win the ball back in their half.
If he wants to refrain from the muck-and-bullets of winning the ball he just has to make more of a case for himself when in possession, but in that regard he has a major problem of his own creation because, like any other player on the field, he'll usually have possession for just two minutes per game.
He and Koeman therefore share one identical expectation courtesy of Ross's outlook and that is "play me and I'll cause havoc to the opposition". But Ross rarely ever does, and that's why his very few "worldy" moments are already written on fast yellowing paper.
And okay, England aren't replete with world-beating forwards but they're way more mobile than our Incredible Sulk, yet Ross is rightly unselected for internationals. The lad's football SatNav just ain't switched on, and that's not permissible if we want success.
Eugene Ruane
89
Posted 16/05/2017 at 02:13:56
Don # 88 -
'But Eugene, the fact remains...'
SFX: Family Fortunes wrong answer noise.
No, the fact doesn't remain, your opinion remains (facts are something entirely different).
And sentiments like 'the incredible sulk' (chortle chortle) tell me yours is an entrenched position, that I'm not going to get much sense here and that even if Barkley scored a hat-trick in every game for the next 10 years, you'd still be giving it "Yeah but they're all with his feet, he never scores with his head" etc.

Jim Harrison
90
Posted 16/05/2017 at 07:01:32
John Pierce (#68), your thoughts about him being a leader are interesting. A big, strong lad with plenty of talent. But I have been thinking on Eugene's comments back at #48.
If as Eugene says (and I don't doubt him to be fair) the lad is receiving the ball, looking up and seeing no runners, why have I never seen him gesticulating or calling out his team mates? I would say that the quality he lacks to be a leader in the team is... well, leadership?
I play a shit level of football. If people are not making runs up front the midfielders generally give a bit of a verbal volley. A kick up the arse.
If Ross is continually finding the same happening, why cant he be giving a shout? Would the manager give him a bollocking for a little call of "wheres the movement?"
Even Jags gives that little "Anyone actually want this thing" shrug with his shoulders and hands before pumping it aimlessly forwards!
Happy to be corrected if someone can say they have seen him do this.
Paul Tran
91
Posted 16/05/2017 at 07:52:20
Darren (#82), you're spot on there. The team suffers from a chronic lack of movement in the other team's half. It's worse away from home where they rarely venture into the other half.
Koeman had the right idea building from the back. He needs to sort out his attacking options this summer. As I've said previously, two midfielders who are energetic, mobile with the ability to shoot and score are badly needed. The grafters need people to pass to.
That's more important than what anyone 'knows' about Koeman and Barkley.
Tony Abrahams
92
Posted 16/05/2017 at 08:52:08
I hope you're right that he's building from the back, Paul, (it's what I also believe). Otherwise, I would be like Darren, and I'd have already given up on this very highly paid manager.
Movement, as Darren says, is everything, and so is playing with real drive, which is something Tom Davies always tries to do. I also sit in the Upper Gwladys, Eugene, and when Davies had to have a shot the other night with his left foot, it was because Barkley or Lukaku simply don't match his drive.
He broke forward, they both looked at him, he carries on driving, they then have to move forward, but it's too late, and he's already advanced to within 5 yards of both of them. A dangerous pass before will now be a nearly square pass, so he might as well just fucking hit it himself. Great save by the keeper, but if they got up to speed in both movement and thought, I'm sure one of them would have been played in on goal?
Best thing Lukaku did all night was his little dummy to let Gueye play Valencia in for a one-on-one near the end. The keeper saves it and Lukaku is berating Gana for not playing him (Lukaku) in earlier. I always hated playing with this type of player, unless of course this type of player was the hardest working player in the team!
Dave Ganley
93
Posted 16/05/2017 at 09:01:36
Ah yeah sorry about attributing the stats to you, saw the wrong name.
So Eugene, you castigate people who sound desperate for an excuse and you're doing it yourself. Barkley can't influence anything because the players around him don't play for a top 4 club?
Oh dear... That the best you can come up with? Even big Dunc managed to shine against good clubs, especially the Mancs and RS, and you could pick out the number of great games he had on one hand.
Great players will shine no matter what. That's a really piss-poor arguement tbh. So you take by trying to belittle posters with acidic wit to blind your shitty argument from the fact that it's thinner than wastrel model.
We're all meant to be supporting the same team here so, if you can't reason with constructive arguement, then save your breath from just insulting someone. I think I'm over school-ground mentality now.
Dave Abrahams
94
Posted 16/05/2017 at 09:15:25
Well, we all have an opinion on Ross and we will find out soon whether he will stay with us and prove he is more than just a good player. Or if he is transferred to another team and becomes a star for that team and it's supporters, or he becomes a player to be argued about among them.
Whatever the outcome, I wish him well.
John Daley
95
Posted 16/05/2017 at 10:34:00
Dave,
Have you selected "castigate" as your word of the week or something?
Hardly think I went that strong on the subject.
I merely stated that:
"Nothing I've seen thus far from Koeman or Walsh gives me great confidence in their ability to conjure up game-changing signings, whether they be bargain buys or considerably more expensive captures".
Not exactly hammering the pair and they can quite easily prove me completely wrong this summer by working this transfer window more successfully than they have the previous two. I haven't written them off altogether as weak transfer-wrangling wankers, rather merely mentioned that their manoeuvring in the market thus far has barely raised (in me) a reaction above "meh".
----------
"As for castigating them on the rumours and near misses, well we didn't get those players so no problem."
I was careful to only include those players the club actually wanted, made a verified play for and only failed to purchase due to outside forces. Anything that failed to rise above 'rumour' remains securely in the drawer marked 'speculative shite'.
Sissoko opted for Spurs over Everton; Moyes refused to countenance Kone leaving a club he was about to adrenalise with his cocaine like charisma; Arnautovic chose to stick with Stoke (despite a load of seductive 'come link up with me' calls from Lukaku) and the attempt to sign Belfodil turned into a typical Everton / Scooby Doo 'What the shit is going on' saga, with player, agent, Scrappy and both clubs seemingly working off different scripts until everyone got sick of it and the plug was pulled.
We were definitely in for all of the above, with none of those named 'links' being simple page filling defecation let loose from a red-top journo's dirty ringer.
You say it is 'no harm, no foul' because we didn't actually bag those players, but one, or both, of Koeman and Walsh damn well wanted them and were willing to spunk away circa 㿷m to get them.
That they were subsequently prevented from shelling out such astronomical sums on the most popped-arse foursome since fucking All Saints were polluting 'Pure Shores' and perforating eardrums all over the place, shouldn't prohibit questions being raised over the pairs eye(s) for a quality player or the behemothic barrel of quids they were quite prepared to throw at those bordering on bang average.
Tony Abrahams
96
Posted 16/05/2017 at 10:54:33
I think that all three of those players that you mention, have proved that they can be good players, when they want to be, John, whereas I don't know anything about Belfodil.
But isn't that the crux of the problem for everyone now though, with most players being decent, but not really caring that much once they've signed such a lucrative contract?
We all want to sign very good players, but it's never been so difficult with the ridiculous prices bang average players now command. We all want to be prudent or just look outside the box, because it seems to me that the more money you have, then the more money you waste, and it's possibly one of the reasons it's so hard to get excited about the transfer market right now.
One things for sure though, and that's if the final say doesn't come from the manager, then it really does leave me puzzled, or does it really matter because there's too much of a muchness in the players that are out there, right now?
Dave Ganley
97
Posted 16/05/2017 at 11:00:40
Ha ha, think I shall have to use another word rather than 'castigate' John, have been bit carried away by that.
From the interviews I read Belfodil was a Walsh target, the Stoke guy was all rumour and no substance, I don't think I read an actual quote from Koeman or Walsh on the validity of that.
Sissoko was a real dodged bullet for Koeman but even the very best fuck-up in the transfer window, remember Kendall's magnificent 7? Kone, well he can be a quality defender and at the time most were advocating getting him, although watching him this year I glad he isn't with us as attitude is appalling.
Fair enough you haven't given up on them but I think Koeman is in credit at the moment for transfers. Schneiderlin and Gana huge plusses; Bolasie question mark still as has been injured for a while; and Williams who is so-so. Sissoko would have been a negative but we didn't get him anyway. I accept that it could have been £30m wasted (although may not have been you never can tell how these things play out, wouldn't be the first to go to Spurs and bomb out and do better elsewhere, Sigurdsson, Pienaar spring to mind).
You may be right, time will tell but I just think it's bit too early to be too critical of transfers when I think it's been okay at the moment with players in and out. Hopefully 'okay' will turn to 'very good' this summer
Don Alexander
98
Posted 16/05/2017 at 11:07:16
Eugene (#89), when it can be seen that many of Ross's crosses fail to get past the first defender, it's not an opinion, old bean. Ditto for my other points but, as I've said many times, when he's at his best he's only a good player, in my opinion.
The "Incredible Sulk" was a reference to Lukaku by the way, but maybe I should have checked with Les Dennis what 100 people might have said if they'd been asked who I was talking about. Sorry!
Eugene Ruane
99
Posted 16/05/2017 at 11:17:44
Jim (#90) –
"If as Eugene says (and I don't doubt him to be fair) the lad is receiving the ball, looking up and seeing no runners, why have I never seen him gesticulating or calling out his team mates? I would say that the quality he lacks to be a leader in the team is... well, leadership?"
You know what, I wouldn't dispute this, he doesn't look like a 'leader' to me either. However, I would ask why he's picked out for special lack-of-leadership criticism?
He's basically playing in a team of mutes, we have senior players (including our captain) who appear to have been coached by The Pinball Wizard.
If it wasn't for the crowd shouting 'fucking man on!!!' no one would. Why the easy/easier ride for Baines/Jags/Barry etc?
When you look at these senior pros, do you honestly think 'leader!'
Dave (#93) - I'm glad my post rattled you and I won't respond to your individual points (loud whines) as I've heard them all before (always know a poster is floundering when I see "We're all meant to be supporting the same team here..." cry, winge etc).
It is a strange TW phenomenon how so many of those who confidently, loudly or stridently criticise players, suddenly get a fit of the vapours when someone pulls them up on their 'insights'.
Dave Ganley
100
Posted 16/05/2017 at 11:39:50
Yeah, I'm not actually loudly criticising Ross – just pointing out a few of his flaws in response to the likes of you suggesting it's everyone else's fault but Ross's. I have stated he's a decent player but just not top drawer in my opinion.
But again, instead of replying with a constructive arguement, you throw out "loud whines and cry winge etc" toys and pram spring to mind with you when you can't formulate an arguement.
Fair enough if you post to supposedly rattle as you don't have enough in the tank to counter argue, then I'll just bypass your posts in future. Being insulting doesn't make you intelligent smart or better – just makes you small minded incapable of engaging in debate.
Eugene Ruane
101
Posted 16/05/2017 at 11:43:33
Don (#98) –
"Eugene (#89), when it can be seen that many of Ross's crosses fail to get past the first defender, it's not an opinion, old bean. Ditto for my other points but, as I've said many times, when he's at his best he's only a good player, in my opinion."
Hmmm...'when it can be seen'? And 'ditto for my other points.'
So just to be clear, you're talking facts NOT opinions?
Well let's take that first 'point' about crosses – key word here for me is 'many.'
Let's say you don't want to be seen as someone who, for some mad reason, has a downer on Barkley (heaven forbid) and will always be analysing what he does with a critical eye.
How many crosses are we talking about?
How many good crosses were there?
What are the figures?
Because (and this is a fact) without the stats, it is, as I state, simply opinion.
Let's have a look at another...
"But Eugene, the fact remains that Ross disappoints in so many basic areas, regardless of the alleged ineptitude of team-mates re movement."
Sorry but more none facts.
'He disappoints you' is a fact; 'he disappoints' is opinion.
So Link
(By the way, I'm presuming you're completely unaware how passive aggressive 'old bean' makes you look.)
Eugene Ruane
102
Posted 16/05/2017 at 11:59:50
Go on Dave, get it all out!
"Being insulting doesn't make you intelligent smart or better – just makes you small-minded, incapable of engaging in debate."
That's exactly what Ernest Mayflower-Thrussett said in a letter to Oscar Wilde.
(Who's Ernest Mayflower-Thrussett? Exactly!)
Dave Ganley
103
Posted 16/05/2017 at 12:08:26
Ha ha... comparing yourself to Oscar Wilde now, then?
Eugene Ruane
104
Posted 16/05/2017 at 12:42:08
Dave –
Ha ha... comparing yourself to Oscar Wilde now, then?
Compare myself to Wilde?
No, absolutely not!
Don't get me wrong, he was a witty enough feller but he rarely got big laughs and (like you) simply was't in my league re Ross Barkley-related analysis.
(A Reading fan I think... him, not you.)
Dave Ganley
105
Posted 16/05/2017 at 12:54:16
I could have sworn that you quoting, you were comparing, so if not comparing was there any relevance to any of your comment at all? Or was that another witty rejoinder that I thoroughly failed to see?
The master of quick wit and ready repartee strikes again... erm ,so good that no-one managed to get it. A legend in your own mind.
Have to admit that, with witticisms like that, I'll accept not being in your league – as I'm sure Oscar Wilde would agree too.


Jim Harrison
106
Posted 16/05/2017 at 13:25:03
Eugene, the comment was made in response to John citing him as a leader and referencing your comments.
Meant more as an observation than an overt criticism. You are right on the count that he isn't the only one with this affliction, but he is the subject of this thread.
Don Alexander
107
Posted 16/05/2017 at 14:07:19
Eugene, I'm sorry if my words "old bean" upset you. It wasn't intended.
"Passive aggressive" had me scurrying for the dictionary however and, as I'm sure you know, it's defined as:
"Passive-aggressive behaviour is the indirect expression of hostility, such as through procrastination, stubbornness, sullen behaviour, or deliberate or repeated failure to accomplish requested tasks for which one is (often explicitly) responsible."
Can't think who that reminds me of, unless it's Rom and Ross when the ball is lost in the oppo's half. But that's only my opinion, and quite a few others'.
Eugene Ruane
108
Posted 16/05/2017 at 14:18:58
Jim (#106) –
"You are right on the count that he isn't the only one with this affliction, but he is the subject of this thread."
Agreed, he is the subject of the thread (and many others this season – an unfairly disproportionate amount imo), but he is part of a team and his performances will always be influenced and affected by those around him.
He is one man in a team of 11; ask yourself (honestly): Is the stick he gets fair compared to others?
Personally, I have no doubt it's way over the top and see much of it on TW as simply repetitive venting (my opinion – often more revealing about the insecurities of posters than enlightening about the subject).
Dave (#105) –"The master of quick wit and ready repartee strikes again... erm, so good that no-one managed to get it."
When you say 'no-one' are you speaking for the entire world or just one rather narked feller?
Love that first sentence though – "Could have sworn that you quoting, you were comparing; so, if not comparing, was there any relevance to any of your comment at all?"
(Although I personally wouldn't let my kitten run around on my keyboard...)

Eugene Ruane
109
Posted 16/05/2017 at 14:24:58
Don –
Eugene, I'm sorry if my words "old bean" upset you.
Nowhere do I say (or hint) it upset me, I merely pointed I knew what it was.
(If, by a billion to one shot, your boss is named Bertie Wooster, I will accept I'm wrong.)
John Daley
111
Posted 16/05/2017 at 14:44:06
"Who's Ernest Mayflower-Thrussett?"
Didn't he predict the coming of the jet-propelled portaloo and the 'dead popular' terrace chant "fucking batty-fang that Ross Barkley, for he remains naught but a nose bagger"?
Brian Harrison
112
Posted 16/05/2017 at 14:48:22
On a completely different topic, I thought the "Little Boy Blue" series was brilliantly acted and gave just a little insight into the suffering Rhys Jones's Mum and Dad went through. I read that most of the actors used were from Liverpool, so nice to see local actors being given a chance.
Far more important than football.
Jim Harrison
113
Posted 16/05/2017 at 15:22:17
Eugene, again I agree with you that the criticism he receives overall is over the top, but not all of it. Not sure though why that excludes commenting at all?
In this particular case, could the lad help himself by being a bit more vocal? I think probably yes, and not relating that to leadership, simply to communicate to his team mates that they are not giving him good options. Fans may see this (may) and take note of his feelings/intentions. That "Fuck off, Barkley" could become "Fuck off, Kev". Or maybe not...
Should other players be more vocal? Yes, and it has been highlighted on TW – particularly in relation to Williams.
Eugene Ruane
115
Posted 16/05/2017 at 17:01:08
Dave # 114 - You say John didn't understand, yet he was
100% correct
re Mayflower-Thrussett - nailed it.
You add..
'Try actually reading my first sentence and it'll make sense.'
I did.
It doesn't.
And just to make yourself look even dafter, we get...
'Night worder your posts make for no sense/laborious reading Eugene'
Let me guess Vulcan?
Or Jibrovian maybe?
(I do believe you're pissing yourself though...you poor devil)
Dave Ganley
116
Posted 16/05/2017 at 17:15:30
Ah predictive text however you can't just jump on John's funny retort about that just because it suits you. My sentence was perfectly understandable. If you didn't try, badly, to compare yourself to Oscar Wilde, what was the point of you quoting it? Still waiting for that one...
Oh yeah you're too busy quoting other posters words to actually make a reply that makes sense.
There's a bag of straws that you're trying to clutch and failing miserably.
I guess you understand Vulcan or Jibrovian because that's what you write in mostly.
Eugene Ruane
117
Posted 16/05/2017 at 19:24:33
Chris Gould
118
Posted 16/05/2017 at 19:33:14
Not getting involved in your argument but hahahahahaha
No coming back from that, Dave!
Er sorry, carry on...
Andy Crooks
119
Posted 16/05/2017 at 19:56:22
That kitten on the keyboard gag give me a really good laugh. I will use it.
Graham Fylde
120
Posted 16/05/2017 at 20:38:29
Ross Barkley's stat regarding the number of chances created this season – this includes assists and key passes. Ross created 80 chances across the season, nearly double any other Everton player.
For context, this is in line with might be considered the top midfield players Alli – 47, De Bruyne – 85, Hazard – 84. Source – Squawka.
Dave Ganley
121
Posted 16/05/2017 at 21:03:18
Ah very good, Eugene, insults and cheap laughs win the day.
Andy Crooks
122
Posted 16/05/2017 at 21:07:37
I agree with Darren Hind about our lack of movement. It is abysmal. Ross runs into blind alleys because he often has little choice. He has Lukaku ahead of him and fuck all else.
Now, I admire Lukaku; I want him to stay, but little triangles, lay offs are not what he is about. He needs top delivery from wide. We are devoid of width right now. Ross gets the ball and nine of the team are behind him.
In the right team, I believe he will be top drawer. For now, I am prepared to believe we can be the right team.
Unfortunately, right now, it seems to me, that Koeman is setting up a team that makes Ross look a shadow of what he can be. Perhaps he is an arm-round-the-shoulder player. Ronald does not strike me as an arm-round-the-shoulder coach. Maybe they cannot work together. I hope they will because I would hate to see Ross become a star somewhere else.
Brian Williams
123
Posted 16/05/2017 at 21:14:31
The main reason, in my opinion, that Ross gets more stick than others is that "we" want to him to do well above all others, because he's local, "one of us" if you like.
Also, I think, because we've all seen glimpses of absolute sublime skill and vision from him but then more often than not we've sen moments when he looks either clueless or frightened to death of making a mistake.
I feel for the lad, especially as he's oh so uncomfortable with the celebrity side of his football fame.
Peter Lee
124
Posted 16/05/2017 at 22:40:04
The reason I would not regret his departure is because I have yet to see any vision, much less vision I would describe as sublime.
Gerry Killen
125
Posted 17/05/2017 at 04:16:22
I wrote an article before this Season started re: transfers, Luakauu refused to commit to Everton until the very last days of the window, by which time all decent players were snapped up. Koeman had to scramble to plan his tactics for the coming season.
I am sure he will not want to be in that position again. Tell Ross and anyone else, "Sign before Monday or you aren't part of my plans, thanks and goodbye."
Here's hoping we get all our targets in as early as possible and get the pre-season up and running quickly.
Brian Williams
127
Posted 17/05/2017 at 12:02:10
Peter, you must have been eating your pie at the time ;-), I did say "glimpse".
Rick Tarleton
128
Posted 17/05/2017 at 19:57:01
For two years on these threads, I've been saying that to be an attacking midfielder at Everton is impossible. Lukaku is an excellent finisher, but he wants a through ball he can run on to. Last season he was 503rd out of 503 players on Opta statistics for covering the least ground in a match.
If Barkley had Kane, Costa etc ahead of him, he'd have occasions when the central striker would make a run that pulls the defence out of shape and there would be space ahead in which he could operate.
Christine Foster is absolutely right. For reasons which to me seem unfathomable, Koeman does not like the lad and has handled him appallingly: lots of stick, very little carrot. Some people respond to stick with determination, others just say, "Bugger it". Koeman is not a man-manager, he's a bully and he will cost us the best Everton-grown midfield player since Colin Harvey.
Jim Wilson
129
Posted 18/05/2017 at 19:52:57
You are absolutely spot on, Rick, I couldn't agree more.
I want Barkley to stay – he has so much more to offer – and I want Lukaku to go; he is not good for Barkley or the club and we shouldn't have to explain why... it should be obvious to anyone who goes the game.
Koeman does seem to have it in for Barkley which is very worrying. He could sell Barkley and then leave the club himself. And it is Koeman who has under performed – not Barkley.
Damian Wilde
130
Posted 18/05/2017 at 22:55:13
I hope we sell Barkley.
I'm sure someone will provide BOLD Links in deg2ence of, Ross, though 🙄
Eugene Ruane
131
Posted 19/05/2017 at 01:16:07
deg2ence
(see hopeless cat).
John Daley
132
Posted 19/05/2017 at 02:20:31
"
deg2ence
(see hopeless cat)."
---------------
"Hopeless cat? More like a lion! Got my own mane and everything. A g2erocious lion!!! You hear me mother g2ucker?"

Link
Tony Hogan
133
Posted 19/05/2017 at 13:57:56
Jim Wilson (#129), well said – Ronald Koeman is at fault over the Ross issue.
Andrew Ellams
134
Posted 19/05/2017 at 14:35:57
Andy Crooks's comment above reminds of when Yakubu was at Everton and how often he benefited from those quick passing triangles on the edge of the box by the likes of Arteta, Cahill, Pienaar and Osman.
I'm liking the look of the middle 3 that Koeman is starting to put together but I think he's struggling with what to do up top. A Mata or Silva type player (probably not actually them) is what we need if Ross moves on.
Gordon Crawford
135
Posted 19/05/2017 at 14:39:56
Well said, Rick (#128).
Mike Oates
136
Posted 20/05/2017 at 14:02:16
Barkley will go; Koeman will not tolerate being made a fool of, if Barkley hasn't made a decision by Monday. After Monday, I can see Koeman saying to Barkley, "You'll be playing in the reserves next season if you stay, there is no way I'll pick you, don't cross me – find yourself a club"
Tony Marsh
137
Posted 20/05/2017 at 16:14:45
Players come, players go. My main concern is the new stadium not Barkley... It's all very Kings Dock-esque. I thought Moshiri had pull.I thought our players would die to stay here now the big money had arrived?
I thought a new ground was a shoo-in now we are awash with money. Guess we must of gotten our selves one of those skint billionaires... Liver Building was a nice touch but we are no nearer moving home than we were 12 months ago.
Barkley... who cares??
Will Mabon
138
Posted 20/05/2017 at 23:18:40
Mike, if Koeman doesn't want to look a fool, he should first make sure the threats he makes are actually relevant and enforceable.
This whole thing has become like a silly soap opera and paints the club in a very poor light to potential signings, amongst other areas. Koeman, whilst not the only one responsible, is the chief protagonist in what has been a very poor start to our communications in the Moshiri era.
Koeman and the senior people at the club need to sit down with someone that really understands communication and they need to do it fast. Negotiations may be difficult behind the scenes and may occasionally turn into a pig's ear despite everyone's efforts but can it really be so hard for a huge business like Everton to get something like this right in 2017?
Whether or not Koeman is made to look a fool is small beans in comparison to the good standing of the club.
Brian Porter
139
Posted 28/05/2017 at 06:00:50
Are West Ham a bigger club than us? If not, how come they are apparently looking to sign Barkley on 𧵄k a week while we offer him a 'mere' 𧴜k?
If we truly have aspirations to be a top 4 or even top 6 club, then we have to be prepared to pay the higher wages that those clubs offer. If clubs below us are able to outbid us and offer better salaries then we will be going no further forward and Koeman and his project will be dead in the water.
Moshiri has to get Kenwright out of the picture when it comes to contract negotiations or I sense another disastrous transfer window looming.
Gary Russell
140
Posted 28/05/2017 at 06:12:54
If your numbers and info are correct, Brian, then the powers that be at Everton don't rate him as much as the Hammers do. But it is all conjecture as no-one knows what the fook is going on.
David Barks
141
Posted 28/05/2017 at 06:13:47
Brian,
What makes you think Moshiri doesn't share the same "so things on the cheap" mentality? So far he hasn't actually put forth any cash to sign players. We've sold players like Stones and used that cash. But actually showing big investment in the playing squad? Moshiri hasn't shown any of that.
Do you think that maybe that is the reason Kenwright chose Moshiri to come aboard? We already see that plenty of the supporters are happy to settle for a third string Southampton castoff as the "best we can expect" because we're not in the Champions League.
I'm beginning to feel like I've seen this movie before.
James Morgan
142
Posted 28/05/2017 at 07:23:13
May have been said but I see Man Utd are in for Perisic. Now that would've been a statement.
Derek Thomas
143
Posted 28/05/2017 at 08:29:44
So to sum up; we basically have a number of protagonists auditioning for parts in a new version of:–
Will Mabon
144
Posted 29/05/2017 at 17:46:59
Derek -– greatly missed. I still watched TV back then.
Jay Harris
145
Posted 29/05/2017 at 18:05:04
So it's Koeman's fault that Barkley doesn't score enough goals, doesn't close down or win the ball back?
Add Your Comments
In order to post a comment, you need to be logged in as a registered user of the site.
Or Sign up as a ToffeeWeb Member — it's free, takes just a few minutes and will allow you to post your comments on articles and Talking Points submissions across the site.
© ToffeeWeb