Everton History
Neville Southall – The Winding Road from Winsford to Goodison
Rob Sawyer

30/03/2017

20 Comments
[Jump to last]
Share:
A version of this article was previously published in When Skies Are Grey, the digital Everton Fanzine. The WSAG team are offering a discounted subscription rate to ToffeeWeb readers for a limited period via this link. 
George Rooney was a boyhood Blue, growing up off Mere Lane and, later on, in Knowsley. The full-back represented Liverpool Schoolboys and joined Everton as an apprentice in 1962. Coming through the ranks with him at Goodison had been the likes of Gerry Glover, John Hurst, Tommy Wright, Jimmy Husband and Aiden Maher.
Released by Everton after two years George joined Coventry City under Jimmy Hill but promptly suffered a broken leg. Laid up back home on Merseyside, George was lent Jimmy Husband's extensive Buddy Holly record collection to listen to during his convalescence. George recalls what a great prospect Husband had been as a teenager: 'Jimmy was a lovely lad and a hell of a player. He made such an impact when he got in the first team – he was surrounded by some wonderful players of course. He was almost like a piece of rubber – even when boxed-in he would shake his hips and be able to break out of jail. It was wonderful the way he could go past people.'
A subsequent Achilles tendon rupture effectively ended George's playing days so he turned to coaching. After getting a grounding at Bangor City he had spells at Burscough, Altrincham and South Liverpool. Now based in the Midlands he has scouted for a number of clubs including Reading, Aston Villa, QPR, Burnley, Hull City and Fleetwood Town. George has remained an Evertonian but has few opportunities to see his beloved Blues in the flesh. His mother was still a Goodison season ticket holder when she died at the grand age of 98.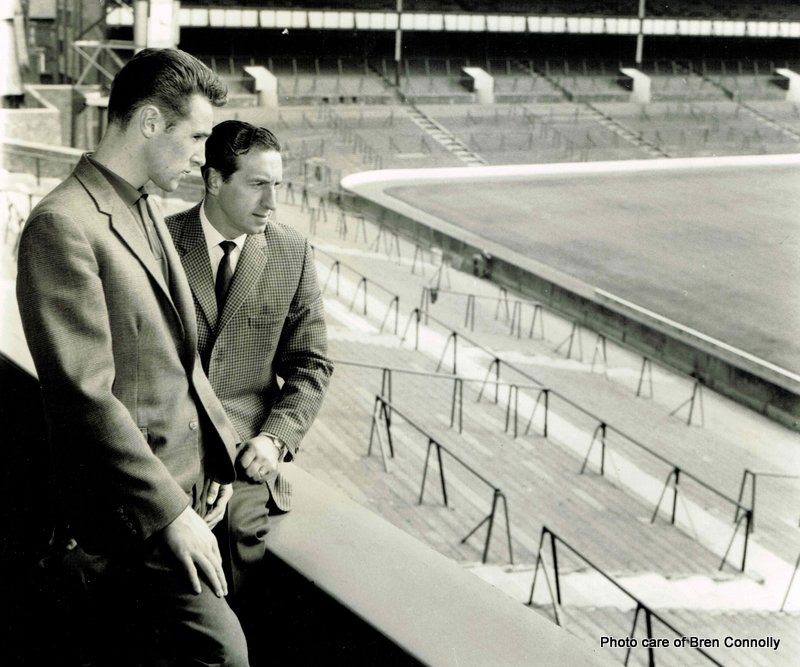 Being shown around Goodison Park
In the boardroom at Goodison, circa 1964
Sixteen years after leaving Goodison as a player, George would play a small but significant part in the career of, arguably, the club's greatest-ever goalkeeper. In 1980 George had been appointed manager of Winsford United in the Cheshire League.
The first-choice goalkeeper was Neville Southall, a 21 year-old who had arrived at the club via Llandudno Swifts, Llandudno Town, Bangor City and Conwy United. Neville had already to the attention of Everton whilst attached to Bangor City. George Milligan, who made one appearance for the Toffees in the 1938/39 title-winning season, scouted for the Blues in North Wales and recommended the Bangor goalkeeper to Head Scout, Harry Cooke. Cooke had Neville watched on a few occasions but chose not to make a move at that time – however, his form at Winsford put him firmly back on Cooke's radar.
Taking up his post with Winsford, George was told that Neville was to be sold to a Football League club in order to raise vital funds. He takes up the story:
'I inherited Neville as my goalkeeper but I was told prior to taking the Winsford job that it had been agreed to sell Neville to Wigan Athletic for a one-off payment of £10,000. Then I took a call from the Bury manager Dave Connor – a midfielder at Manchester City in the Joe Mercer and Malcolm Allison era. He told me that he would love to sign Neville but he could only get together £6,000 for a transfer fee. Thinking of where the boy would make most progress, the big plus about Bury was that their keeper, John Forrest, was 32 and wanted to retire – he had only been playing on as a favour to Dave Connor. Neville only had to do a decent pre-season at Bury and he would quickly become the first choice keeper.
'So I decided that that would be the best road for Neville to make a success for himself in the game. I explained that to Nev and his dad that Bury was a much better step up the ladder than Wigan, where they already had two established Fourth Division keepers. Neville would have been 3rd choice there and would have to have spent a long time fighting his way through from the "stiffs".
'I told the Winsford chairman and he said, "Oh no, I have agreed with a deal Freddie Pye at Wigan. George, you have to see all this through." The next week I had to attend an emergency board meeting at Winsford United with only one thing on the agenda – and that was the sale of Neville Southall to Wigan Athletic for a one-off payment £10,000! In the meantime I had managed to get Dave Connor and the Bury Secretary together and they had agreed to pay £6,000 plus VAT (the irony was that Winsford were not VAT-registered so to it brought the fee to near £7,000) plus 33% of any future sell-on fee to another club. I received a phone call from Howard Kendall – the manager of Blackburn Rovers who, at the time, was hotly tipped to become the next manager of Everton, where he had spent much of his playing career. I knew that Howard was originally very keen to take Neville to Blackburn but then he cooled off on it. In my mind that was because he knew he would he heading to Everton and he didn't want to take the goalkeeper of his choice to Blackburn.
'Neville duly signed for Bury and I then attended the hastily put together board meeting in Winsford. I was invited to address the meeting with my manager's report. So I stood up and said: "Well gentlemen, the first thing that I have to say are that Neville is not going to Wigan for £10,000. This afternoon he signed for Bury for £6,000 plus VAT." The room just erupted! I remember the vice-chairman saying to me: "You what? If he is as good as we think he is you are a bloody fool Mister Manager. He could get run down by a bus tomorrow and we'll have lost out on 4,000 quid." A month later I was dismissed from Winsford for allegedly failing to control my players!
'Dear Dave Connor stuck rigidly to his word and Neville started that next season as Bury's first team keeper. Just over a year later Howard paid Bury something in the region of £150,000 to bring Neville to Everton and Winsford were entitled to a third of it. In fact they didn't get the full amount as Bury, who were often in financial difficulty, had subsequently negotiated a slightly reduced percentage. It still amounted to Winsford getting something in the order of £50,000 as opposed to the extra £4,000 they would have got from Wigan. What a great signing he was for Everton – he was a lovely boy as well.'
Neville would make his Everton debut in a 2-1 win over Ipswich in October 1981. After battling for the number one jersey with Jim Arnold he became the undisputed first choice by the autumn of 1983. He would make a club-record 751 senior appearances for Everton and 92 for Wales, winning two league titles, an two FA Cups and the European Cup Winners Cup. £150,000 well spent! Had George bowed to Winsford United's wishes and sold the promising goalkeeper to Wigan, the history of Everton FC could have turned out very differently.
Acknowledgement:
My sincere thanks to George Rooney for his assistance with this article

Follow @Handforth70
---
Reader Comments (20)
Note: the following content is not moderated or vetted by the site owners at the time of submission. Comments are the responsibility of the poster. Disclaimer
Peter Murray
1
Posted 30/03/2017 at 09:07:11
A real lifetime Blue great – always will be... like the Golden Ghost – a player ALWAYS – definitely not a yes-man, hence still on the outside, looking in!!!
COYB
Derek Cowell
2
Posted 30/03/2017 at 10:46:34
Neville won 2 FA Cup winners medals, 1984 and 1995, as far as I'm aware.
Derek Cowell
3
Posted 30/03/2017 at 10:49:36
Also I thought that he had made over 800 club appearances for Everton.
John G Davies
4
Posted 30/03/2017 at 10:52:47
Best keeper I have ever seen... for any club.
Don Alexander
5
Posted 30/03/2017 at 11:03:44
The best ever, anywhere, in my opinion.
That said, in the late '60s Gordon Banks was fantastic but Westy on the 1969 dry-run tour to Mexico (in preparation for the 1970 World Cup) was chosen ahead of him for the game. Only his self-confessed home-sickness prevented him from going to the 1970 tournament.
Cue Peter Bonetti and... well, let's not go there!
Paul Birmingham
6
Posted 30/03/2017 at 19:00:56
Best I've ever seen, and a True Blue and his own man.
Age showing but I'd say Jongblod, Martyn, Buffon, Neur were / are good, but what Neville did was magical and was game-changing on a scale like we will likely not see again.
Let's hope that with Koeman, we can forge a team to make their own lasting legacy at EFC. Saturday would be a good day to start...
Michael Coffey
7
Posted 30/03/2017 at 21:36:59
I saw Neville play for Winsford against Chorley in March 1980. Winsford at the time were 2nd in the Cheshire League, Chorley third. Neville had missed just one in 42 games that season. From memory, he let in four that day, so I didn't exactly have him marked for a future Goodison legend.
I still have the programme, and have just noticed it was 37 years ago yesterday! It was also George Rooney's first game in charge, according to the programme notes.
Tony Byrne
8
Posted 30/03/2017 at 22:05:50
The best goalkeeper I have ever seen in the flesh.
I have just watched the game against Luton town in '85 on YouTube, it always sticks in my mind. Big Nev going down to his left to keep out Ricky Hill at the Witton Lane End.
That's my best save from big Nev. The one against Roberts at White Hart Lane was another right up there.
Match winning saves in huge games was what big Nev was all about.

Ed Curry
9
Posted 30/03/2017 at 22:24:46
Legend. Nuff said.
Dermot Byrne
10
Posted 30/03/2017 at 22:57:56
I love rebels and he was and is one. No idea of the game but I remember he came out early after a team talk at half-time.
Dennis Stevens
11
Posted 30/03/2017 at 23:00:59
Thanks for that, Rob. An interesting read about my favourite player, ever.
Rob Hooton
12
Posted 31/03/2017 at 06:59:44
Thanks for sharing that bit of history – Big Nev was my hero at school where I became the goalie and wanted to be as good as my idol.
Best keeper ever!
Peter Murray
13
Posted 31/03/2017 at 14:31:52
I can still picture Big Nev, sitting against the goal post at Goodison during half-time when totally upset, and not returning for the team talk!!!
Defo his own man – nobody's fool – just cannot remember the game!
Oh for somebody of similar ability & attitude.
COYB
Lev Vellene
14
Posted 31/03/2017 at 14:42:40
Leeds at home, 25 August 1990 according to Google. We lost 2-3.
Tony Byrne
15
Posted 01/04/2017 at 00:53:19
Yeah, Lev... 0-3 down at half time I seem to recall, I was in the Street End.
I'm sure a few days later we played Coventry away, a banner appeared in the Everton end calling Nev a Judas or a binman? My memory is awful so I could have dreamt this!
Eugene Ruane
16
Posted 01/04/2017 at 01:23:10
Love big Nev, absolutely his own man .
No Sharpie, 'Diamond' and 'Snods' toeing the party line' for this lad, none of that 'Say fuck-all, we know what side our bread is buttered on' shite.
Thought Moyes top 10 philosophy was bollocks and said we should be going for the title.
Thinks the S*b shouldn't be allowed anywhere near Goodison/Finch farm and isn't afraid to say so (I agree and think our board shouldn't be allowed to pretend it's not an issue Link).
He was an immense keeper and I've no doubt at all had he avoided injury and he'd been available throughout 86, we'd have done the double and had three titles on the bounce.
He was that good.

Will Mabon
17
Posted 01/04/2017 at 05:08:12
There was a time in the '80s when, without fanfare, he was almost quietly alluded to by some as the world's best. Never small at his slimmest, his agility was staggering at his peak. Like others here, and without bias, the best I've seen.
Eric Myles
18
Posted 03/04/2017 at 14:55:15
Paul (#6), too young to remember Albertosi or Zoff??
Brian Murray
19
Posted 03/04/2017 at 15:42:15
The banner at Coventry said: "Once a binman, always a binman".
Andy Meighan
20
Posted 07/04/2017 at 13:50:34
Best ever... and not just for us.
I mean ever remember the Coventry game at Highfield Road, won 1-0, Cottee scored? He made save after save but three in particular stick out. One from Kilcline, one from Bannister, and a penalty from Downes... unbelievable!
How many points did he win us? And what a lad as well. Soooperbbbbb!!!!
---
Add Your Comments
In order to post a comment, you need to be logged in as a registered user of the site.
Or Sign up as a ToffeeWeb Member — it's free, takes just a few minutes and will allow you to post your comments on articles and Talking Points submissions across the site.
© ToffeeWeb